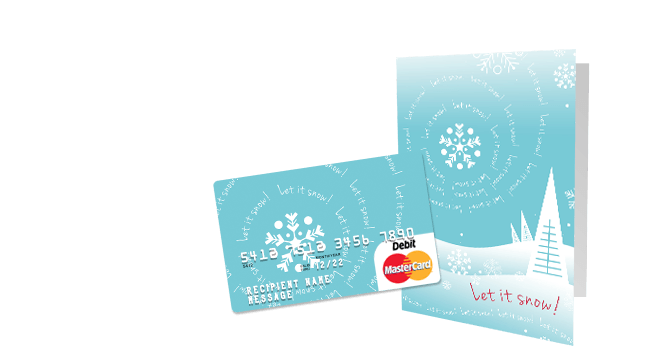 Top Winter Gift Cards
Winter Gift Ideas
As the calendar turns to the coldest months of the year, your thoughts may turn to shopping for Christmas gifts, Hanukkah gifts, Valentine's Day gifts, and gifts for other prominent holidays. Before you head to the mall, however, consider that gift cards are the most requested gift on holiday wish lists. So rather than battling crowds of people who are also looking for traditional presents, save time and reduce your stress level by ordering winter gift cards that are sure to please everyone on your list.
Here's how to give a Winter gift card:
1. Rainy Days. Take a photo of the kids running in their rain boots or stomping in puddles. Take a picture of yourself dancing in the rain. Or take a scenic photo of rain-drenched streets in your neighborhood. Turn the rainy day image into a gift card and deliver it, tied to the handle of a new umbrella.
2. Snow Man. Get outside and make a snowman. Take a picture of the final product or snap candid photos of the process. Upload the image to make a winter gift card and write the words, "Let it snow!" on the card embossing line. Deliver the snowman gift card with a new scarf, a pair of winter mittens, or supplies (carrots, coal, and corncob pipe) to make a snowman.
3. Peace on Earth. Dig out that old photo of the baby crying, the toddler throwing a tantrum, or all the kids having a post-holiday meltdown. Upload the picture to make your own gift card and write, "No Peace on Earth" on the embossing line. Deliver it to grandma and grandpa or another family member who is sure to give a chuckle.
If you don't have a winter photo of your own, select a winter gift card design from our predesigned gallery. The gallery is full of gift cards created by our designers.
Winter Savings
To save money on all your winter needs, shop discount gift cards before you head to the mall. Spend less on cold weather clothes from your favorite apparel stores like Banana Republic, TJ Maxx, and Old Navy. Or maybe you'd rather warm up on the inside instead with a discount gift card to Peet's Coffee and Tea. We've got gift cards for coffee shops all over town. Whether you're looking for home goods, gifts, or goblets, discount gift cards can help you save you a bundle during winter months.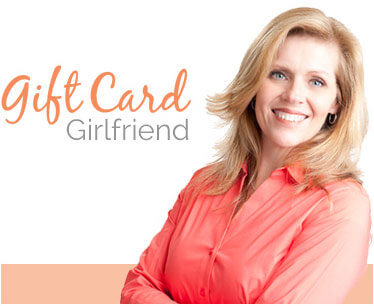 Winter Gift Tips
"Deliver a winter gift card with a bundle of firewood wrapped in raffia, a designer box of matchsticks, or a mug to fill with a toasty beverage on a cold winter's day.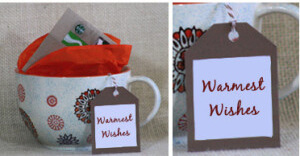 10 Great Winter Gift Cards
Great gift cards for enjoying the indoors, preparing for the holidays, and spending time with family.