If this year is anything like the last, our obsession and demand for technology will remain strong and steady. With every new iPhone or laptop release, consumers expect bigger and better things from their products – and the people buying them technology in the first place.
Be it via Pinterest or Oprah, there's a common theme you're bound to find on nearly every "best gift" list: technology and gadgets.
Whether you're looking for a gift for your loved one this Valentine's day, something to give to the kids, or even to surprise a special someone, some form of giftable technology will probably cross your mind in 2018. To help narrow down the best options (and rule out the worst), we polled over 1,000 Americans about the gadgets they wanted to receive this year and the ones they'd rather do without. From Valentine's treats to all-out "best gift of the year" status, read on to see what we discovered about the best and worst of the bunch.
Technical Love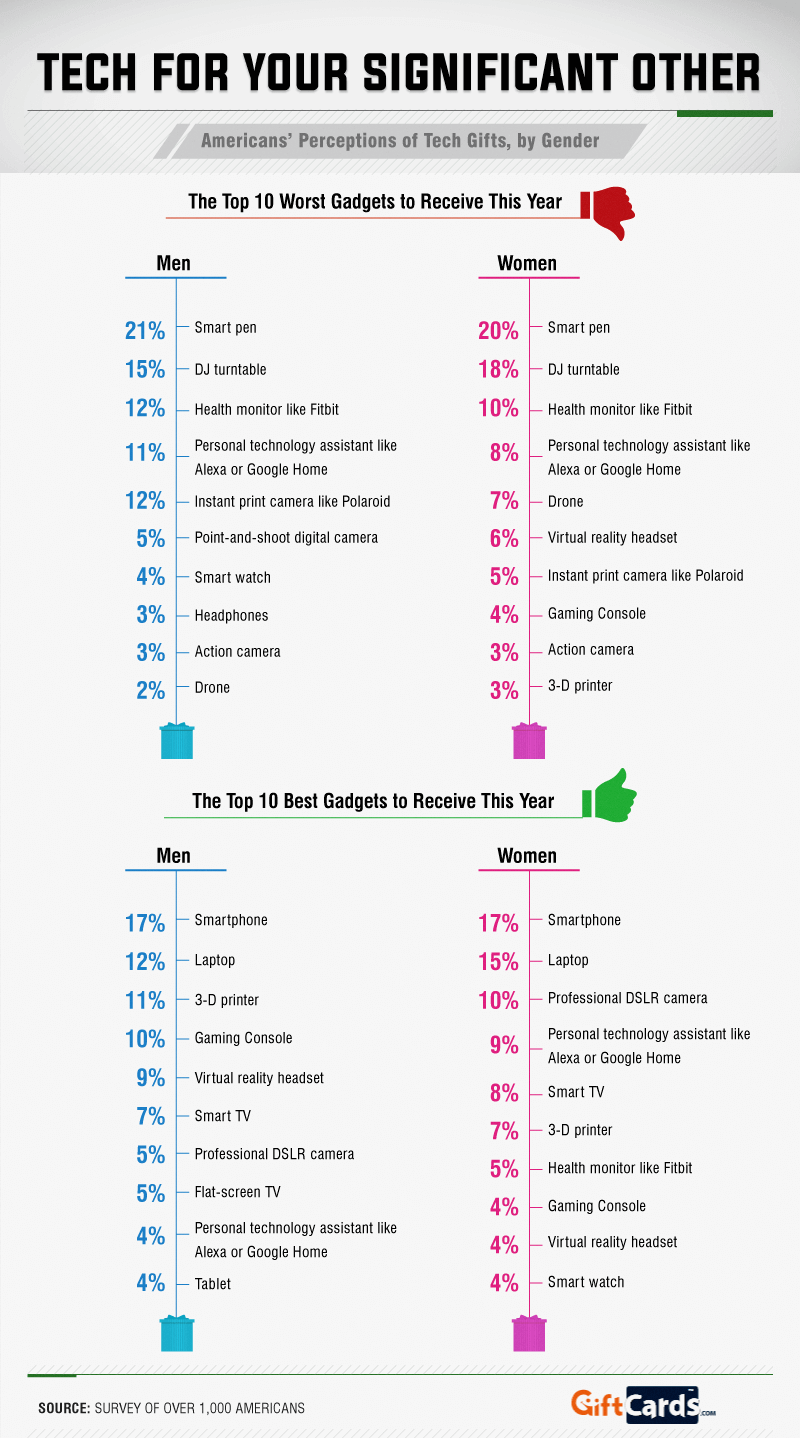 If you're still coming up empty on gift ideas this Valentine's Day, technology gifts can make for great purchases that still show you care. To go a step further, stick to the tech gifts most American men and women said they'd actually want this year – and avoid the rest.
While men and women agreed smart pens were better left in the store, women were the most likely to say a DJ turntable would be the worst gift they could receive this year. Men, on the other hand, were more likely to be turned off by a Fitbit (or similar health monitor). The two genders also agreed smartphones and laptops would make just fine gifts for any 2018 occasion.
Thanks But No Thanks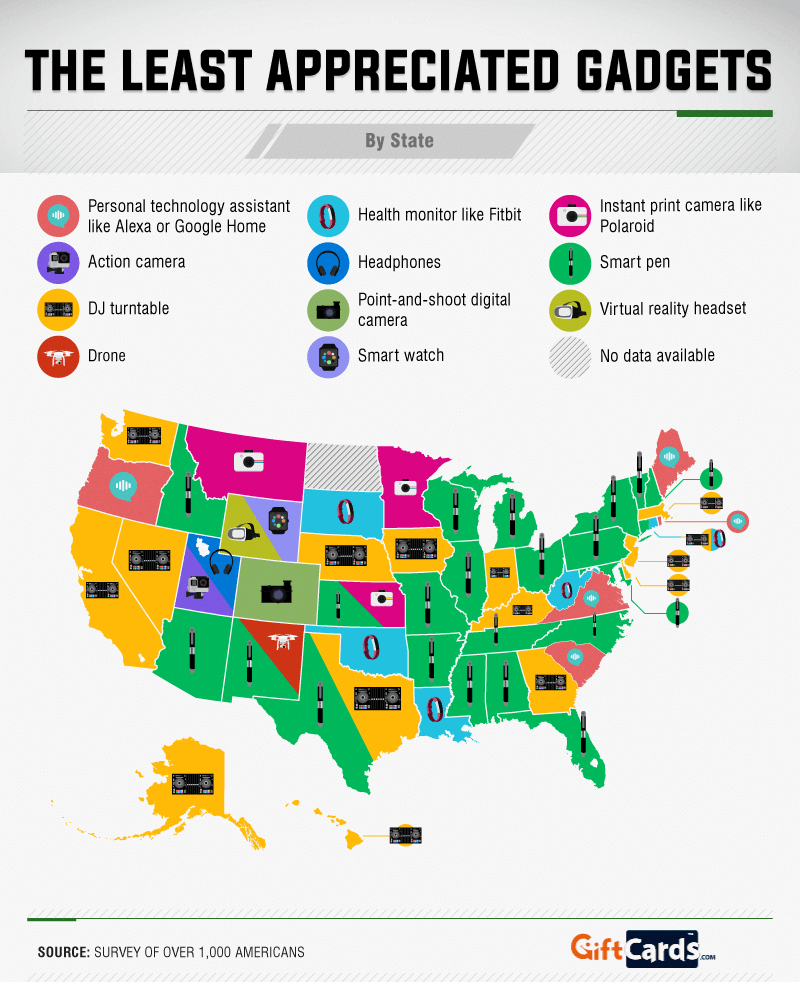 It's supposed to feel better to give than receive, but that might not hold true when you realize someone doesn't like the gadget you got him or her. Across the country, our panel of Americans gave us their opinions on which tech gifts were the least appreciated.
Across the majority of states, two potential presents turned up in the top spots on our least wanted list: smart pens and DJ turntables. "If it's not broke, don't fix it" doesn't exactly withstand the digital age when everything from cups to toothbrushes can incorporate some form of "smart" element. That said, not every product is better for it or worth the extra "smart" expense. Despite glowing reviews and "best of" lists narrowing down the many smart pen options, it's entirely possible that you've never even seen a smart pen in real life and, more importantly, Americans don't want them.
In states like Colorado, the worst gadget to be gifted might come as a surprise to some. Coloradans said point-and-shoot digital cameras were the worst tech gifts. In fact, most Americans may be relying on their smartphones to shoot quality snaps. Further, digital camera sales have been in steep decline since 2010.
America's Most Wanted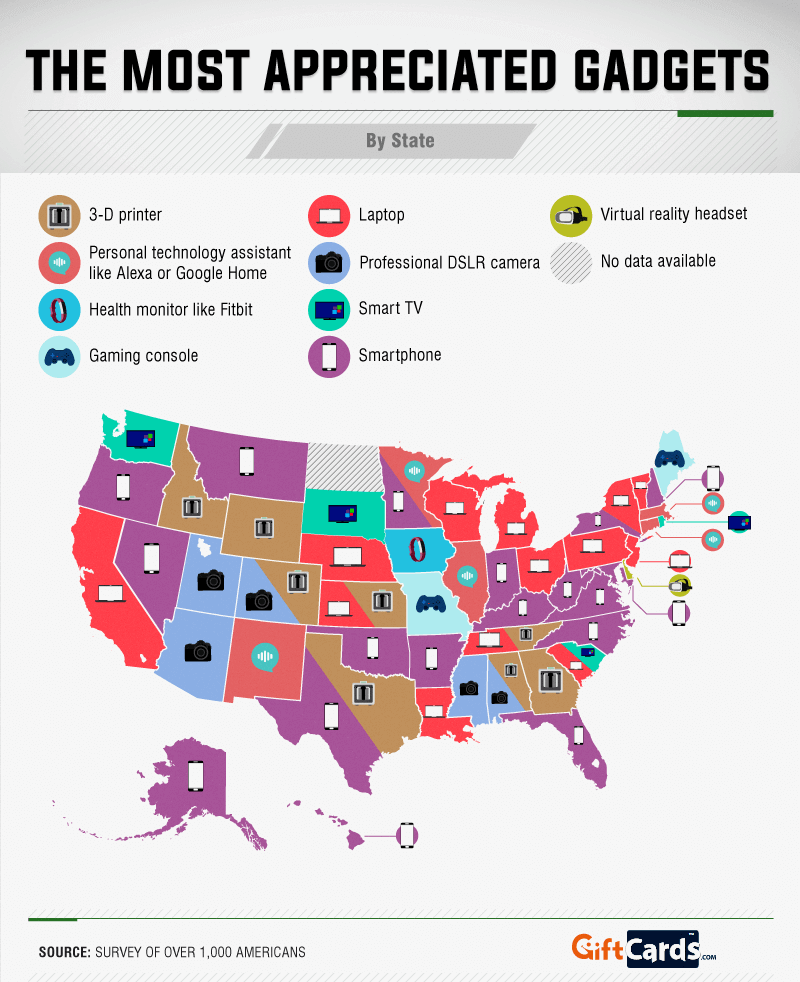 While some gifted gadgets may be destined to end up in the regift or return pile, others could be the smash hit of the year. When asked which gadgets they were most hopeful to receive, Americans were slightly more divided than the gifts they were hoping to never lay eyes on. Popular choices (in multiple price categories) included smartphones, laptops, 3-D printers, and professional cameras.
Though these gifts may be getting a lot of Americans excited, something like a new smartphone might set you back more than a few pennies. Apple and Samsung both launched new phones in 2017 with the highest price tags ever, and even if you aren't in the market for an iPhone or Galaxy device, the average price for a smartphone has drastically risen around the world.
Granular Gifting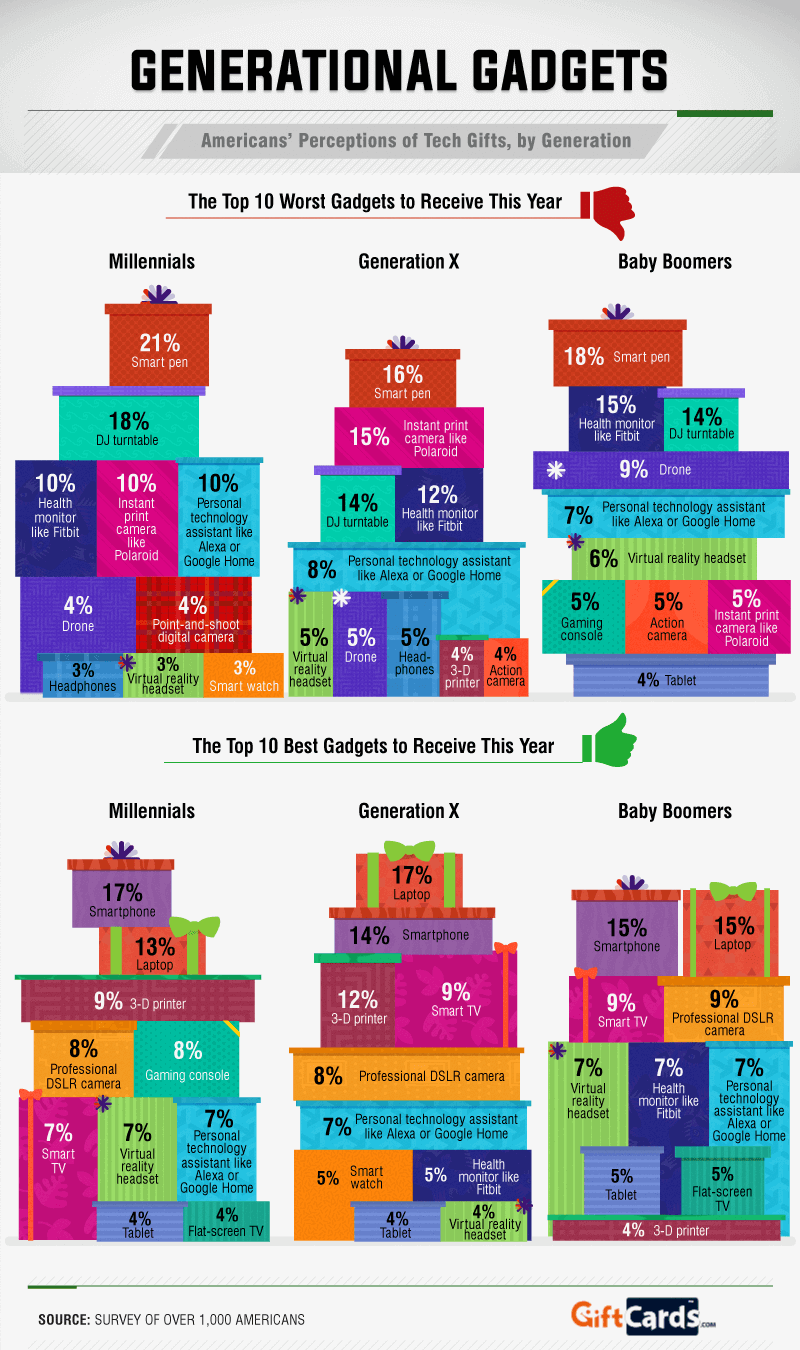 Technology may seem like it's everywhere these days, but Americans utilize tech gadgets and accessories differently. Even among millennials, devices that may seem essential (like cellphones) aren't entirely ubiquitous.
To hone in on the gadgets that might be best suited for older and younger audiences, we broke down the best and worst gift lists by generation, so you can steer clear of the electronic faux pas that could leave you feeling blue this year.
Americans of every age agreed on the gadget that would be the absolute worst to receive: the smart pen. With it being less popular among millennials and baby boomers than Gen Xers, the dreaded smart pen might be even less exciting to unwrap than socks, underwear, and toothbrushes. Beyond writing tools, wearable health monitors (like Fitbit) might be a no-no when shopping for parents or grandparents, and millennials are probably less interested in DJ turntables than some may realize.
When it comes to the best gadgets, bigger might actually be better. Our youngest and oldest survey respondents agreed on the gadget that would make them the happiest: a new smartphone. While a majority of Gen Xers said they'd rather have a laptop, a smartphone wasn't far behind on their lists either. As well, 3-D printers were popular choices among a somewhat younger audience, while baby boomers ranked a smart TV just behind a laptop to round out their top three gifts.
Take Note, Parents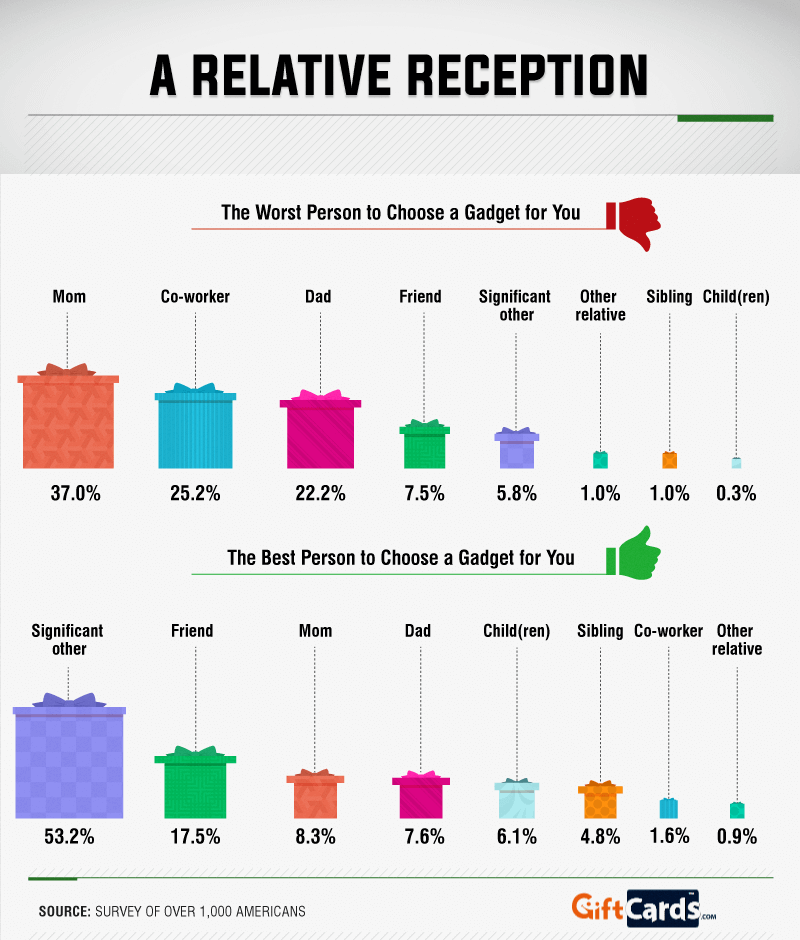 Even though you've probably heard "it's the thought that counts," the truth can be a bit more complicated when it comes to gift-giving. The big questions behind finding the perfect presents (like "how much should I spend?" or "what if they don't like it?") can make the entire gift feel more overwhelming than it should be.
When it comes to gifting technology, some people may have a natural skill at picking items you'll genuinely enjoy. According to our poll, more than 53 percent of Americans said their significant others were best at picking out gadgets for them, followed by nearly 1 in 5 people who said their friends knew their preferences best. Studies have shown gifts are received better when it's something explicitly asked for, and Americans surveyed might not be afraid to tell (or at least hint to) the people closest to them what they really want.
Unfortunately, not everyone can be an expert gift-giver. Our survey revealed more than 1 in 3 Americans believed their mothers were the worst at buying tech-related gifts, followed by co-workers (over 25 percent) and fathers (more than 22 percent).
Keeping It Simple
With all the do's and don'ts associated with finding the best gifts, locating that perfect treasure for someone you care about can be daunting and exhausting. To alleviate some of this stress, experts suggest the best gifts are usually the ones asked for, not what you think they might want.
Let us take the confusion out of the gift giving this year. At GiftCards.com, we'll help you gift the power of decision with the added touch of personalization and care. Make your gift card stand out with your own custom image or logo printed right on the front. You decide the amounts, the design, and even the way they're delivered – and we'll do the rest. With over 15,000 designs perfect for any occasion, we've got you covered from restaurants to spas, travel, and beyond. Give the gift that keeps on giving. Visit us at GiftCards.com to learn more.
Methodology
We surveyed over 1,000 Americans about 21 technological gadgets and asked them to choose the best and worst gifts this year. We also gave them the opportunity to include their own gadgets if their opinion veered from our list at all. We made sure to gather demographic information to determine which states, generations, and gender-identities affected their ideal (and least ideal) gadget gifts.
Sources
Fair Use Statement
Need to send this page to someone who may be in danger of buying you the wrong gadget? Feel free as long as it's for noncommercial purposes only. Just be absolutely sure to give credit back to this page and its authors with a link!