Wondering if you can get cash off your Visa gift card? The answer is probably not, but read this to find out why.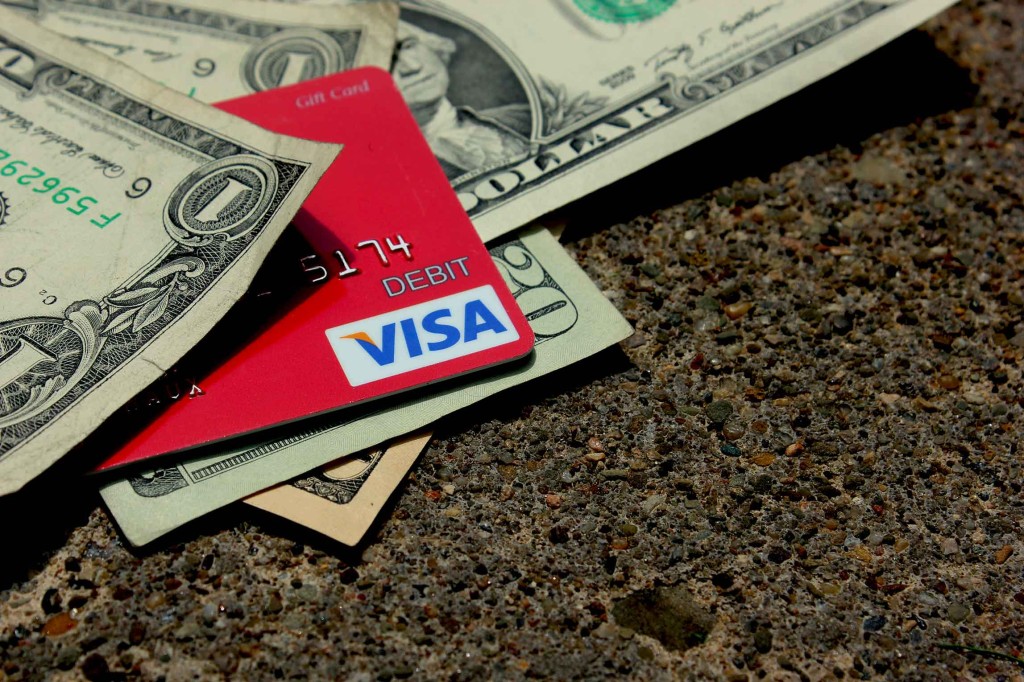 Which Type of Gift Card Do You Have?
Visa Gift Cards: If you have a Visa gift card and are wondering if you can get cash from it, the short answer is probably not. To fully answer the question, however, I need to clarify the difference between a Visa® gift card and a Visa Reloadable Prepaid Card. Both types of plastic may appear to be the same—both carry the Visa logo and come preloaded with a finite dollar amount to spend. Thanks to a new law that went into effect in 2013, both now also come with a Personal Identification Number (PIN) so they can be swiped as "debit" transactions on Point of Sale (POS) terminals. Though the two cards are similar, only prepaid cards can be used to get cash from an ATM or to get "cash back" from a merchant. Gift cards cannot. Read the terms and conditions on the back of your card to know for sure.
Store Gift Cards: If you want to get money from a store gift card, then Yes! You can get cash off a gift card if it's a closed-loop gift card (one that is only usable at a particular store). For example, you can get cash from a Target gift card, a Sephora gift card, a Home Depot gift card and more. Check out our Discount gift card page and you'll be redirected to Cardpool, one of the top gift card resellers in the industry. If, on the other hand, what you're really asking is how to save money on a gift card–how to get cash off the face value of a gift card–then check out my list of the hottest deals on discount gift cards around. I update this list often, so you should check back regularly.
Why You Can't Get Cash From a Visa Gift Card
Gift cards are marketed as gifts, whereas prepaid cards are typically marketed as an alternative to a traditional checking account. This distinction is important because the latter type of card can be reloaded with additional funds, be used to get cash from an ATM or allow the holder to get "cash back" from retailers who support this. To activate prepaid cards, you typically need to provide personal information such as your name, address, date of birth and social security or driver's license number. Merchants are also required to report suspicious purchases and track individuals buying large amounts of prepaid cards for five years. Gift cards, on the other hand, can be purchased and activated anonymously. As a result, anti-money laundering laws prevent gift cards from being used to get cash or from having a value over $1,000. Below are a couple of scenarios to help you understand the reasoning behind this.
Clean Cash. A thief uses stolen money or money from drug sales to buy a prepaid card, then goes to an ATM to withdraw cash from the card. The money is now clean, but because the card has to be registered and merchants are required to track purchasers of prepaid cards, the bank has a potential way to identify the person laundering money. Since gift cards don't need to be registered, cashing out is not allowed.
Just Plain Sneaky. A customer uses their credit card to buy prepaid cards at the grocery store in order to rack up gasoline perks from the store or airline miles from the credit card company (or both). Then, the buyer takes the prepaid card to an ATM to withdraw cash. The cash is then used to pay off the balance of the credit card. With merchants tracking prepaid purchasers, abusers of the system can be found. Also, merchants are increasingly closing this loophole by requiring that prepaid cards be purchased with debit cards instead of credit. Since gift cards can't be used to obtain cash, the loophole doesn't work.
Those are just a couple of examples and not even the worst. (Using prepaid cards to launder money across the border is a head-shaker.)
As wonderful as prepaid cards are for people who simply want (or need) an alternative to a checking account, unscrupulous practices by some result in regulations for everyone. Read here for more information about preventing gift card fraud.
PIN Doesn't Mean You Can Get Cash Back
It used to be that gift cards had to be run as "credit" transactions at the point of sale because they didn't come with the PINs needed for "debit" transactions. Prepaid cards typically have PINs so they can be run as either. In 2013, the Federal Reserve passed a law requiring that people have the option to get a PIN for a general purpose gift card, so they have to decide which type of transaction to perform. This law, however, led to people thinking they could use the PIN to withdraw cash from their Visa gift cards at an ATM or via cash back at a merchant POS. That's not the case. The PIN simply allows gift cards to be run as debit transactions. Read here for more information on gift card laws.
Bottom Line
Can I get cash off my Visa gift card? The answer is no, and even if there is a card issuer currently allowing it (I've seen reports online that suggest some issuers are out of compliance), the loophole will likely close soon or the gift card may actually be a prepaid card instead. So, read the terms and conditions on the card so you know for sure.
If you have other gift card questions, add a note in the comments below or leave a message for @GCGirlfriend on Twitter.
Happy Gift Carding!
~Shelley Hunter, Gift Card Girlfriend
YGWG-Final-Route-Map