Personalize
Create Your Own Gift Card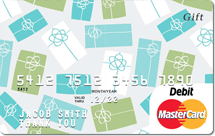 Pre-Designed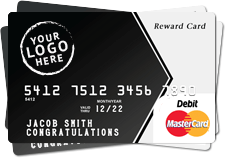 Corporate Bulk
Corporate Clients. Add Your Logo
Personalize Your MasterCard® Gift Card
GiftCards.com allows you the ability to create a custom MasterCard Gift Card, complete with a photo and message of your choosing.
Start by uploading a photo of your choosing OR select a gift card design from one of our thousands of pre-designed gift cards.
Next, you'll have the ability to add a dollar amount from $10 – $500 to the card.
Finally, customize the text on the MasterCard Gift Card by entering in the recipient's name and personal message that will appear on the front of the card.
Don't forget to fully personalize your MasterCard Gift Card with a custom or pre-designed greeting card.
Your newly created MasterCard Gift Card can now be used anywhere online or in-store where MasterCard Debit Cards are accepted.  This means less stress in figuring out a specific store where the recipient may want a gift card from, and more fun for you, with unlimited card customization options from GiftCards.com.  Happy gifting!
A Gift Card with a Cause
Join MasterCard by donating to the American Cancer Society with your purchase.
Gift Card Support Options

Check Balance
If you have received a MasterCard Gift Card from GiftCards.com, you can check your balance here or you can call 1-877-944-3822 24 hours a day, 7 days a week to get your balance.
Did you receive a MasterCard Gift Card from another popular retailer? Check your MasterCard Gift Card balance using one of the links below:

Activate MasterCard Gift Card
MasterCard Gift Cards from other popular retailers are typically already automatically activated. If you purchased a MasterCard Gift Card from GiftCards.com, activate your gift card by using our activate page. Or you can call the phone number on the back of the MasterCard Gift Card to activate.


MasterCard Gift Card Fees
If you purchase a MasterCard Gift Card from GiftCards.com there is $0 usage fee. Your MasterCard Gift Card will never expire. There is, however, a small processing fee for the purchase of a MasterCard Gift Card. Fee Schedule


Where To Buy MasterCard Gift Cards
MasterCard Gift Cards can be purchased in various retail locations around the United States, but the only place to get a MasterCard Gift Card personalized is online.  If you are looking for a gift card that is not customized, you can generally find a MasterCard Gift Card at these types of businesses:
Grocery Stores
Gas Stations / Convenience Stores
Drug Stores
Shopping Malls
Corporate Bulk MasterCard Buying
Perfect for corporate incentives or rewards:
50 or more cards
Add your company's logo
Custom greeting cards
Pros and Cons of MasterCard Gift Card vs. Competitors