Tuesday 9.23.2014
Top eGift Cards of the Holiday Season
For digital gifting newcomers, select egift cards that are as easy for the recipient to redeem as they are for you to give.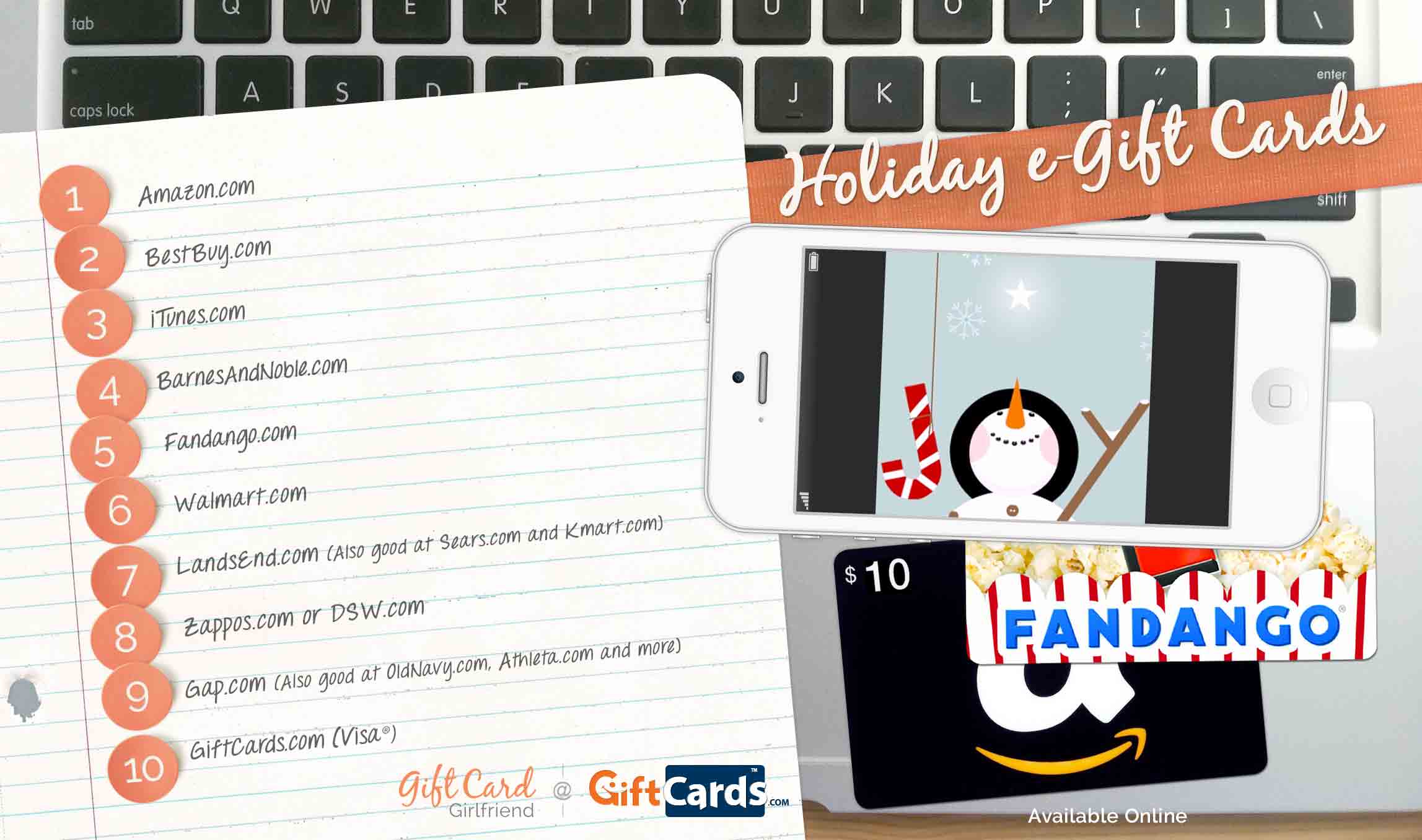 Recently I ranked top store egift card programs according to the personalization features available from each. I wanted to find out how easy it would be for a person sending an electronic gift card to add a custom message, image, video and so forth. For the list below, I'm looking at digital gift cards from the viewpoint of the recipient. The key factor in determining customer satisfaction with regards to gift cards is being able to redeem the card with ease. While many egift cards can be used in stores, it's almost certain that they can be redeemed online. So, below is a list of egift cards that I believe would be the easiest to spend electronically.
Having used egift cards in stores and online, I know that many can be used just as easily at a physical cash register as they can be used in an online shopping cart. However, not everybody is comfortable (yet) accessing digital gift cards on their smartphones or in their mobile wallets. So, below are Top eGift Cards that you can send at the last-minute knowing the recipient will be able to redeem the gift card with ease.
1. Amazon.com
From the longtime king of online shopping, Amazon egift cards are extremely easy to spend, and the site provides nearly an endless set of products to buy. Access and availability are tops! Additionally, I like that you can redeem a gift card by applying it to your account immediately, but you don't need to spend it until you're ready. So there's no fear of losing the card or forgetting to use it. The gift card credit sits in the shopping cart ready for access at all times. During checkout, Amazon asks if you'd like to apply the credit towards your purchase. That's a great feature.
2. Best Buy
Of course, electronic gift cards are easy to redeem at electronics stores. From digital cameras to desktop computers and gaming consoles to laptops, Best Buy has a range of products and services to buy. You can also use your digital Best Buy gift card to buy something delivered electronically as well! Sort of like iTunes — pay with an egift card online and download your gift in seconds. Talk about instant gratification!
3. iTunes
From kids to adults, iTunes has music and apps that nearly everyone can enjoy. What I like about iTunes egift cards is that you don't have to spend a great deal of money. With $5, the recipient can test out a few apps. With $20, he or she could buy an entire album and still have a little left over for a game or two. Like Amazon, the redeemed iTunes gift card is credited to the account immediately, but only used as needed.
4. Barnes & Noble
You may have noticed a theme here. Digital gift cards are seamless to use when buying digital products. With an egift card to Barnes & Noble, recipients can order and download a Nook Book in a matter of minutes and be reading the next great novel without ever getting out of bed. For people who prefer paper, the electronic gift card can certainly be used to buy paperbacks and more.
5. Fandango.com
Although many movie theaters sell egift cards, Fandango is a fantastic choice because the recipient can visit almost any theater. Since tickets are bought ahead of time, the recipient can use the gift card online and pick up the tickets when he or she arrives at the selected venue. The only downside to Fandango is that you pay a small surcharge with each ticket purchase and the gift card can't be used to buy popcorn or other concessions. If you're worried about finding a theater near the recipient, however, this is the best way to go.
6. Walmart.com
Walmart.com has a wide variety of products to buy and free shipping is available on orders over $50. I especially like the "Site to Store" shipping option because it's also free and the return process is easy. I ordered a bike a couple of years ago and had it shipped to the store. The bike was smaller than I had hoped, so I returned it on the spot and used the credit to buy something else. With a Walmart.com egift card, recipients will enjoy easy transactions and easy returns.
7. Catalog Clothing Stores
Lands' End started as a catalog store. So, naturally, the company is geared for online sales–complete with sizing charts, helpful customer service and guaranteed satisfaction. Additionally, this egift card can be used at Sears.com and Kmart.com. From clothes to screwdrivers, that's a lot of flexibility in a gift card.
8. Shoe Stores
While I'm a fan of trying on shoes in person, if you're going to shop for footwear online, then DSW and Zappos.com are my favorites. DSW egift cards are valid in stores, so recipients who feel comfortable shopping with mobile gift cards can head to the store for a new pair of pumps. Zappos.com offers free returns and top-notch customer service, so recipients who would rather shop online will have a positive experience as well.
9. National Brand Clothing Stores
If you've ever ordered merchandise from the Old Navy, Gap or Banana Republic websites and later needed to return the item, then you know how easy the process is. Return labels are ready to go and in-store returns are also an option. The reason I like these egift cards is because they can be used online or in-store, across all stores within their brand family. In addition to Old Navy, Gap and Banana Republic, the list includes Baby Gap, Gap Kids, Piperlime and Athleta as well. With this flexibility, recipients can choose how and where they want to shop.
10. Visa®
Since a Visa gift card can be used wherever Visa is accepted, the recipient can shop almost anywhere. The same is true with our Visa egift cards. Since most websites, including even the smallest one-product-shop, accept major credit cards, friends and family can use this egift card to shop their favorite online merchants, regardless of size. (Learn how to send Visa egift cards here.)
In time, digital gift cards will be as convenient and useable as their plastic counterparts. Until that happens, be sure to check where egift cards can be used. Some stores only allow their digital gift cards to be redeemed on their website. That could come as a surprise to someone who bought the card last-minute but still intended for the recipient to be able to shop for merchandise at a store. With egift cards to merchants that operate predominately online, that issue is removed. If you have other questions about digital gifting, read my Complete Guide to eGift Cards.
Happy Gift Carding!
~Shelley Hunter, Gift Card Girlfriend