If you wonder how charity gift cards work and how charities get the money, read these interviews with four businesses behind charity gift cards.
Every holiday season, I search for all the charity gift cards I can find. In addition to charity-based gift cards that are available year-round—like Giving Good® gift cards—I often discover a few stores and restaurants that donate to charities if their gift card is purchased during a specified period.
If you can give money to a worthy cause simply by purchasing a gift card you already planned to purchase, then why not do it? Seems like an easy decision to me.
There is another type of charity gift card, however, that works differently. When you purchase a gift card from Charity On Top, TisBest Philanthropy or CharityChoice, the bulk of the money spent on the gift card will go to a charity selected by the recipient.
In this post, I wanted to learn more about the business behind charity-based gift cards. Why do people create them? How do charity gift cards work? How do the charities get the money?
Below are answers to those questions (and more) from founders of the more popular charity-based gift cards.
Charity On Top Gift Cards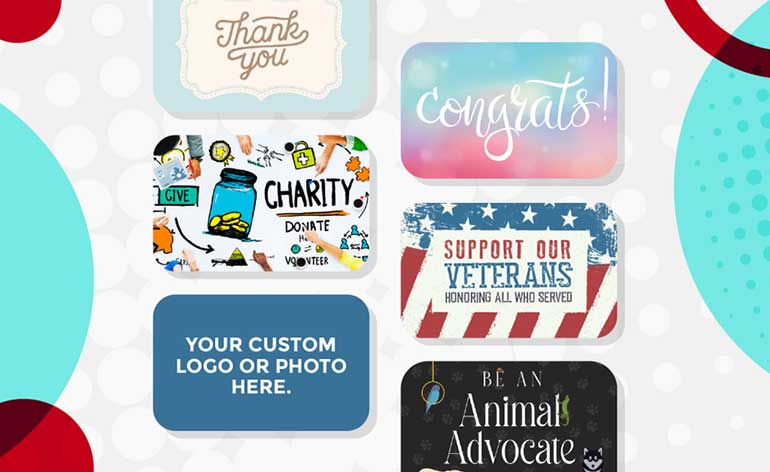 Learn more about Charity On Top.
Interview with Kathy Selders, Charity On Top Co-founder and Board President
What inspired you to create a charity-based gift card?
Marchelle and I have been working with nonprofit organizations together for more than twenty years, and even longer separately. Charity is our heart. We became increasingly frustrated with the limited resources nonprofit organizations had for fundraising. We put on beautiful galas, fun golf tournaments and wrote compelling grant requests galore. The outcomes felt precarious when compared to the vital missions we were supporting.
Like Marchelle says, "Seriously, a child's life-saving surgery, a person's next nutritious meal, a dog's rescue from a kill shelter should NOT rely on the outcome of some fancy gala or golf tournament!"
So, we started asking ourselves, "What else is there?". We realized that pairing charitable giving and gift-giving could be powerful and that a charity gift card could benefit all charities! So, we created Charity On Top gift cards!
How do the charities get the money?
Charity On Top gift cards can be purchased at charityontop.org, Amazon.com, from many third-party distributors and rewards/loyalty programs.
All Charity On Top gift cards are redeemed at charityontop.org. The redeemer chooses which charity or charities will receive the donation from their gift card. All 1.8 million charities are included! Each Monday we mail checks to the chosen charities. You can see a live feed of gift card redemptions and charities chosen!
What is a typical gifting experience?
Typically, a Charity On Top gift card is given as a gift to celebrate a holiday, birthday, wedding, etc., or to say thank you. The donor who is giving the gift chooses from our many colorful designs or customizes the gift card with a photo, logo or their own design. Kids' drawings and pet photos make terrific gift card designs!
The donor chooses a digital gift card that is sent by email to the recipient instantly or a physical gift card that can be mailed directly to the giftee or mailed to the donor. Our donors LOVE making the donation and giving their giftees the choice of all 1.8 million charities in the US! And boy, do we love sending out checks to charities of every size, all over the country!
Third-party distributors and corporate donors make up a large portion of our donor base, but the typical use is an individual gift-giver.
Please note: If purchased from the Charity On Top website, the donor receives a tax-deductible receipt immediately. If purchased from a third party, that program determines if the purchase is tax-deductible.
What is something unique about your charity gift card program?
Charity On Top Foundation is run by an all-volunteer team (who happen to be all women). Our volunteer board is all women too, actually!
We recently started using TrustPilot to track reviews. You can see some pretty great reviews on our TrustPilot.
CharityChoice Gift Cards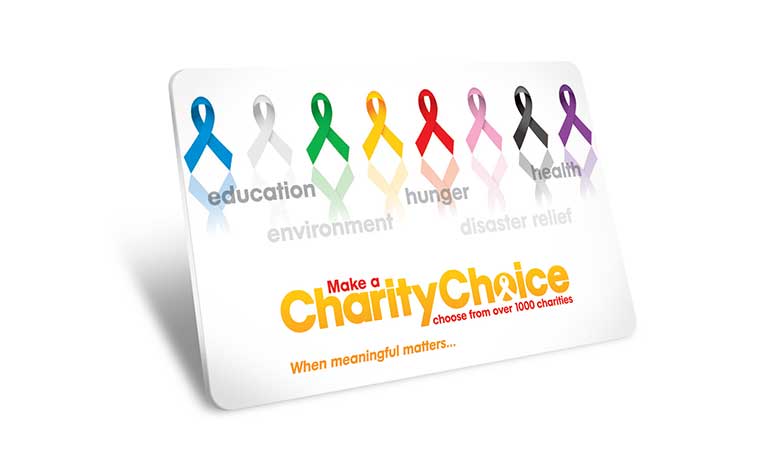 Learn more about CharityChoice.
Interview with Daniel Goodman, President / CEO of CharityChoice Gift Cards
What inspired you to create a charity-based gift card?
Our chairman, Mark Finkel had an employee whose father passed away and he wanted to donate to a charity in his memory but didn't know what charity the family would appreciate. That experience drove him to suggest creating a charity gift card that would enable the recipients to pick the charity. CharityChoice was launched in 2004.
How do the charities get the money?
The buyer is the donor, and the gift-recipient gets to select the charity (up to three) who will benefit.
What is a typical gifting experience?
Buyers at our website are giving the cards as a gift, while those redeeming their loyalty or employee incentive points are usually doing so to support a particular cause. We are the most widely distributed charity gift card in the rewards and incentive industry for hundreds of banks and Forbes 500 corporations, covered by Incentive Magazine.
What is something people don't know about your charity gift card program?
We also offer converting retail gift card balances to cash donations. Any unwanted or residual balances for over 900 popular restaurants and retailers can be donated through DonateYourCard.org.
Additionally, we have a robust customization suite for corporate clients including a free online wizard to create a custom landing redemption page with pre-selected charities. Also, a similar wedding registry enabling the pre-selecting of a group of charities the couple wishes to benefit for their special occasion. You can find that at our Bridal Registry.
TisBest Philanthropy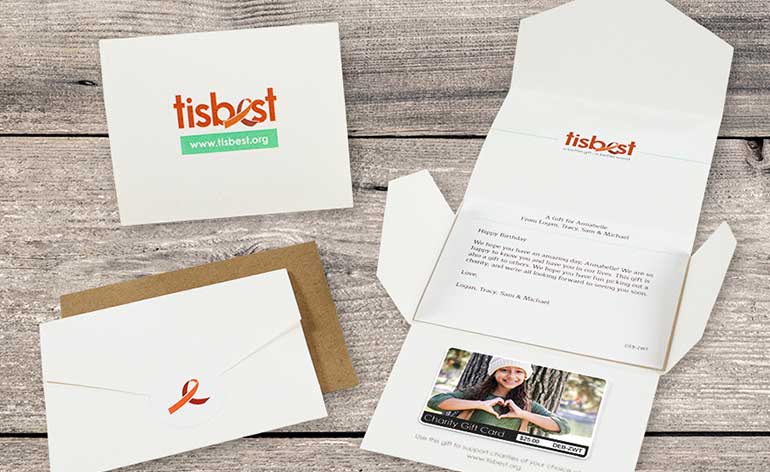 Learn more about TisBest Philanthropy.
Interview with Erik Marks, Founder of TisBest Philanthropy
What inspired you to create a charity-based gift card?
I first conceived of the charity-gifting concept in 1992. I was inspired by the charity-gifting concept because I had a rich uncle. I wanted to buy him a Christmas gift, but he already owned what he wanted; anything I could gift him would be more of a burden to him than a benefit. If I could gift him the opportunity to help others, it would make a great gift. But such did not exist at that time. The idea never left my mind, and 15 years later I was able to bring my idea to fruition by creating TisBest Philanthropy in 2007.
How do the charities get the money?
We make distributions to charities 3 times a year – on January 10, April 10 and July 10. Surprisingly, giving away the money turns out to be an effort. The only information the IRS provides us about charities is a name and mailing address, and so we must make distributions by paper check. We sent out more than 6,000 checks last quarter!
What is a typical gifting experience?
With a Charity Gift Card, the gift giver makes a charitable donation, and the gift recipient uses the funds to make a donation to charities of their choice.
Charity Gift Cards are useful for gifting, not as a tool for donating (anyone who wants to donate should just go to the organization's website and donate). In the gifting context, we have seen TisBest Charity Gift Cards used for everything across the board. Here are some examples:
Holiday gifts and birthday gifts are our bread and butter
Wedding gifts – by the hosts and guests both
Client gifts – from financial advisors, attorneys, real estate agents, steel manufacturers, software companies and food service companies–you name it
Guest gifts at a dinner of billionaires: charity gift cards were placed in ornate boxes at each place setting
Stocking stuffers for children
Retirement gifts
Conference speaker gifts
Employee appreciation gifts
What is the hardest part about running a charity gift card program?
The hardest part about running a charity gift card operation is walking with one foot in the charitable world and one in the commercial world.
All charity gift card offerings available today are from nonprofits; but we all need to sell our charity gift cards in a commercial world where our competitors are hawking wine, chocolates, t-shirts, and everything else under the sun that people give as gifts. We must be experts in the nonprofit and the commercial world. We must carefully choose our language to align with expectations in both worlds. We cannot raise venture funding, but we must compete with companies that have venture funding. The charity gift card platform is a very hard concept to operate and grow, but I would never walk away from the satisfaction of knowing at the end of the year that we have positively influenced the lives of so many people around the world.
Giving Good® Gift Cards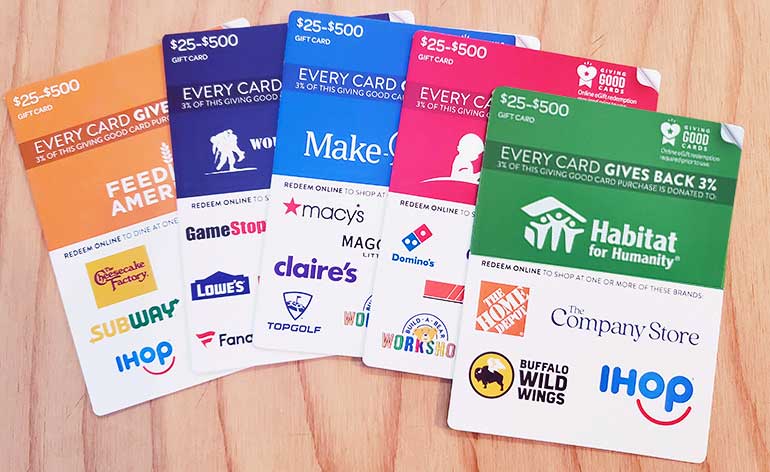 Learn more about Giving Good.
Interview with Marina Hodges, Senior Director Product Marketing at Blackhawk Network
What inspired you to create a charity-based gift card?
We were working on this card in the year before COVID hit based on our research and consumer insights that indicated a consumer desire to give back and connect with their communities. We accelerated the launch of these cards in 2020 because we heard that consumers were even more inclined to help than ever before. And we were fortunate to have relationships in place with many of the top charities that allowed us to feel great about our mission with these cards.
How do the charities get the money?
We think our cards have a unique model in that the giver and receiver get to play a part in the charitable giving, while retaining all of the utility of the card. What that means is that Blackhawk is making the charitable donation to the charity based on our financial model – not relying on the card owner to forfeit any part of their balance. When a card is purchased (and not conditioned on waiting for it to be spent), we calculate 3% of the value loaded to the card and send that donation to the charity. The recipient still has the full loaded value to spend as she/he chooses.
What is a typical gifting experience?
We have seen these cards used for both gifting and for self-use. We found that their appeal was very broad, spanning all gifting demographics. Consumers told us that they were very specific about the causes they support, which influenced their gifting choices.
How have consumers responded to this charity gift card program?
Consumers have told us that they either felt a personal connection to one of our causes (childhood cancer, veterans support, homelessness, food insecurity or childhood illness) or that they knew that the gift card recipient had a connection to one of these causes. For instance, we heard from many purchasers of our Wounded Warrior Project cards that they had family members who were veterans and therefore they felt blessed to be able to help other veterans as part of their normal giving.
Gifting is all about connecting and we think we have found a way to make even more meaningful and deeper connections through Giving Good cards.
What other questions do you have about how charity gift cards work? Let me know in the comments below or reach out to me on Twitter (@GCGirlfriend) or on Instagram (@Gift.Card.Girlfriend).
Happy Gift Carding!
~Shelley Hunter, Gift Card Girlfriend