Visa gift cards are widely available, but which ones are best and where should you buy them?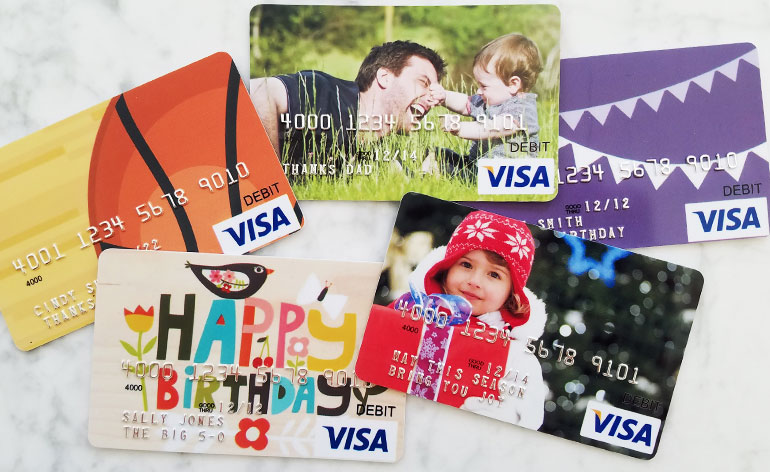 Where are Visa gift cards sold?
With gift cards widely available online, in third-party stores, at banks and in a variety of other places, it would almost be easier for me to explain where you can't buy Visa gift cards. But there are differences in the cards themselves and especially in the purchase price of each. If you want a personalized Visa gift card, for example, you'll have to order it online. If you want a Visa gift card quickly, you'll need to buy it at a grocery store or send an electronic gift card instead. If you want to pay a low activation fee, then the gift cards at GiftCards.com are some of the lowest I've found. Of course, I'm not a lawyer so I can't give legal advice, but I can speak from my own experiences. Below, I'll share the most common places Visa gift cards are sold and the benefits of each.
1. Visa Gift Cards are Sold Online

An easy place to buy Visa Gift Cards is online because you can order them right from your phone while you're out and about or you can buy one straight from your laptop or tablet when you're fake-watching TV with your kids. The best thing about ordering a gift card online is that you often have the ability to customize the card with a name, greeting and possibly even a photo or video. The downside to ordering a Visa gift card online is that you might have to pay shipping charges and, unless you order an electronic gift card, you'll have to wait for the plastic card to be delivered. If time is your friend, then this is the gift card I recommend. (And P.S., they are actually cheaper than most in-store Visa gift cards.)
Comparison of Personalized Gift Cards: Several years ago, as my son wrapped up another baseball season, I wanted to buy a personalized Visa gift card as a thank you gift for the coach. I researched all of the online options that would allow me to add a photo to the card at a reasonable price–including activation fees, shipping fees and personalization fees. Most custom gift card websites wanted a bulk order, but I found both GiftCards.com and GiftCardLab.com would allow me to purchase a single gift card with my own photo. (At the time, GiftCardMall.com sold single cards with custom embossing, but didn't have the ability to add an image. That has since changed.)
Although the websites had similar pricing, GiftCards.com had the fastest turnaround time. For a $100 Visa gift card, I paid $3.95 for activation, $1 for customization and $1.99 for next day processing and shipping within 7 to 10 business days. Compared to in-store options that don't allow any personalization, this product is a steal! (And it arrived earlier than promised.)
Here's the Visa card I bought and the thank you gift I made for my son's coach. This is one of my most popular Pinterest pins too, so check it out! And lest you think I'm playing favorites, I was not a GiftCards.com spokesperson back when I placed the order.
Best places to buy Visa gift cards ONLINE include the following:
GiftCards.com
GiftCardLab.com
GiftCardMall.com.
See Visa's list of trusted online vendors.
2. Visa Gift Cards are Sold in Stores
Walk into any major grocery store, drug store or gas station and you will likely find a rack of gift cards. Among the cards for stores and restaurants, you'll also see general purpose gift cards powered by major credit card companies. Though you can't personalize these gift cards, you can buy them off the rack in various denominations. Activation rates I've seen for a $100 Visa gift card range right around $6.
Depending on the store, you may be able to order these general-use gift cards from the store's website as well. Staples, for example, will ship Visa gift cards, but Giant Eagle will not. You'll have to buy Visa gift cards from Giant Eagle at a Giant Eagle location. Neither website offers personalization.
Best places to buy Visa gift cards IN STORES include the following:
Kroger Gift Cards
Giant Eagle Gift Cards
Ahold
Albertsons
Meijer
Safeway
Staples
See Visa's list of trusted in-person vendors.
3. Visa Gift Cards are Sold in Banks
Another place to buy Visa gift cards is from your bank. Not all banks sell them, but those that do typically sell cards to existing customers at a competitive rate–around $4 for any load value.
The primary benefit of buying gift cards from a bank is that you may be granted additional security features such as the same protection that comes with the bank's credit or debit cards. The downside is that you typically have to be an account holder with the bank in order to buy a gift card. Check your bank to see if you can buy gift cards and what additional benefits are given to existing customers.
Best places to buy Visa gift cards AT BANKS include the following:
U.S. Bank Visa Gift Cards
PNC Bank Visa
TD Bank Visa Gift Cards
Wells Fargo Visa Gift Cards
Chase Visa Gift Cards
4. Visa eGift Cards are Also Sold Online
If you need to send a Visa gift card quickly, the fastest way to do it is to send an electronic Visa gift card. In most cases, the activation fee structure is similar to plastic so you won't necessarily save money in the purchase price of the gift, but you will likely get customization and shipping for free. For example, If I want to personalize a plastic gift card and send it quickly, then I would have to pay extra for the customization and for rush delivery. But with digital gift cards, the personalization is free and so is the shipping–whether you ask for the gift card to be sent immediately or schedule future delivery. Ordering digital Visa gift cards is fast, convenient and cost-effective.
One thing to be aware of in sending a digital Visa gift card is that the cards are typically not usable in stores. Plan to use Visa egift cards online, over the phone, and anywhere else that a "card not present" transaction is allowed.
Best places to SEND Visa eGift Cards ELECTRONICALLY include the following:
GiftCards.com electronic Visa gift cards
GiftCardMall.com Virtual Visa.
5. Visa Gift Cards are Sold via Smartphone Apps

In a hurry and need to order a Visa gift card quickly? With the GiftCards.com gift card app, you can send plastic Visa gift cards and electronic Visa Virtual Accounts in minutes. Download the app and you can order either plastic or digital Visa gift cards, with personalization features available for both. The primary benefit to ordering a gift card via an app is that you can take care of the transaction in just a couple of clicks. Additionally, if the recipient downloads the same app, the gift card received will automatically be digitized and added to the recipient's app for easy access, tracking and use.
Best APPS for SENDING Visa Cards including the following:
GiftCards.com Gift Card App
Read the Fine Print
Regardless of where Visa gift cards are sold, there will be "good thru" dates and post-sale fees to consider. In most cases, the gift card funds won't expire but the plastic will. So if the recipient fails to use the funds within the specified time frame, he or she will have to order a replacement gift card. Also, most Visa gift cards charge non-use fees if the gift card isn't used within a year of activation or within a year of the last purchase. To avoid expiration and non-use fees, simply use the gift cards as soon as they are received.
Before making a purchase, however, it's always best to read the fine print on the back of the card or the card's packaging before making a purchase. By law, the terms must be clearly disclosed. Read more about gift card fees and expiration dates.
If you have other gift card questions or need gift card help, add a note in the comments below or leave a message for @GCGirlfriend on Twitter. I'd love to help you out.
Happy Gift Carding!
~Shelley Hunter, Gift Card Girlfriend