Shaped like a popsicle, this "You're the Coolest" gift card holder is the perfect way to tell a friend coach or teacher how COOL she is.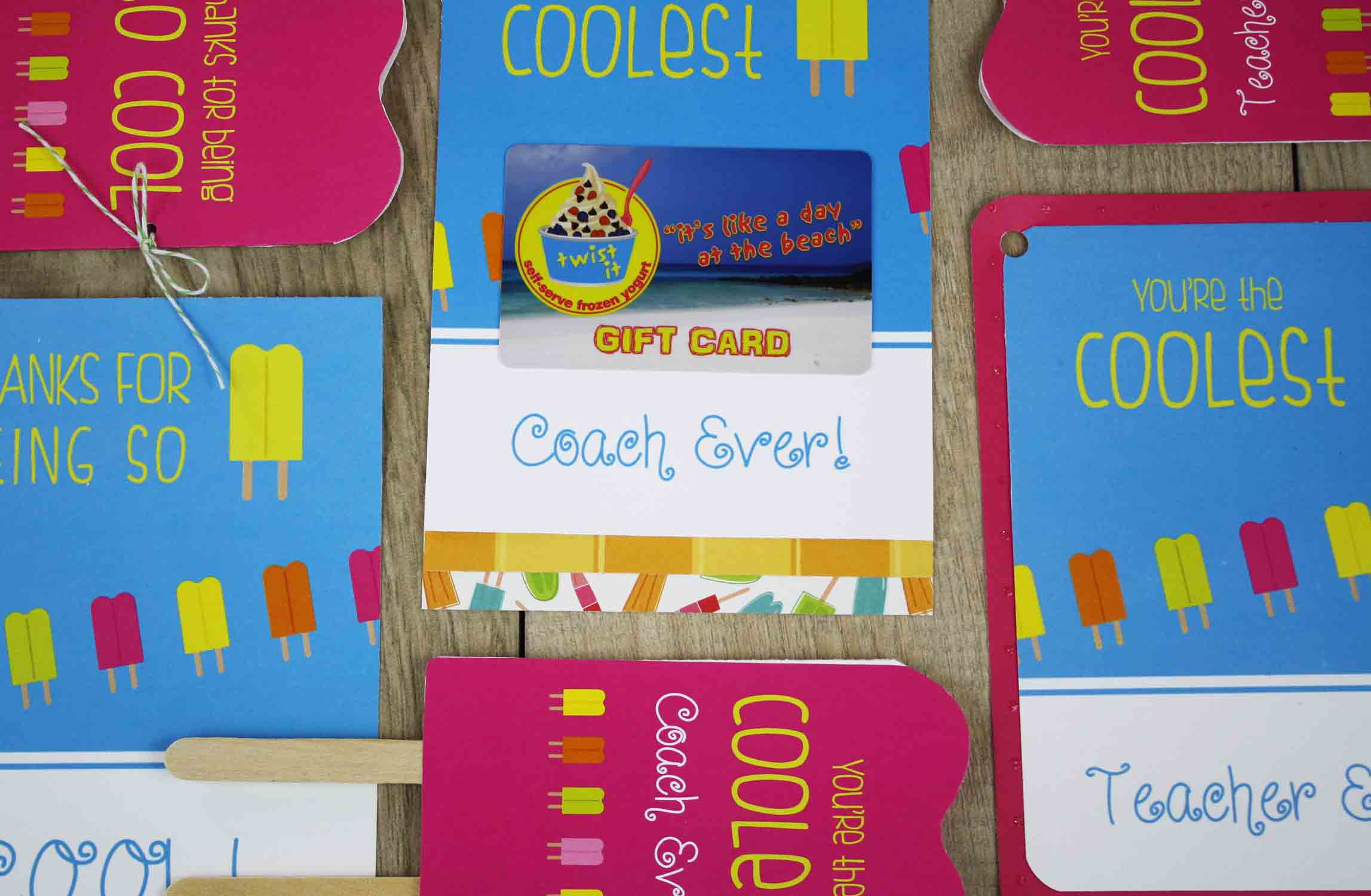 "Gifting Made Easy" by Gift Card Girlfriend
Cool treat gift cards such as ColdStone, Baskin Robins, Foster's Freeze, Dairy Queen or Jamba Juice are all great ways to tell your teacher, coach or friend that he's the coolest. With this cute cut-out, you can add even more to the gift card's cool factor. I crafted it up two ways for you. The first way is to simply cut, fold and deliver. The second way (which I prefer) is to cut off the graphic popsicle sticks and add a couple real sticks of your own. It's a simple touch that makes a big difference. (And it's a lot easier–cutting all three sets of sticks to match up evenly is actually not THAT cool.)

Download Printable
Below are the instructions for making the popsicle stick gift card holder. (If you want instructions for making the flat gift card holder, follow along on the "
Key Ring Full of Gift Cards for Teacher
" blog post.) Of course, any gift card will work, but a restaurant that sells ice cream, slushies, milkshakes and popsicles will be especially appropriate.
"Cool" Cut-Out Popsicle Holders
Cut-Out "Thanks for Being So Cool" General Gift Card Holder
Cut-Out "Coolest Coach Ever!" COACH Gift Card Holder
Cut-Out "Coolest Teacher Ever!" TEACHER Gift Card Holder
"Cool" Flat Popsicle Holders
Flat "Thanks for Being So Cool" General Gift Card Holder
Flat "Coolest Coach Ever!" COACH Gift Card Holder
Flat "Coolest Teacher Ever!" TEACHER Gift Card Holder

Print and Cut
After downloading the "Coolest" gift card holder, print it on a color printer using "best quality" and "actual size" settings. (Do not select "shrink to fit" or any other setting that will change the size of the printed .pdf image.) White, card stock paper measuring 8-1/2″ x 11″ works best. Cut the holder, following the outline of the popsicle.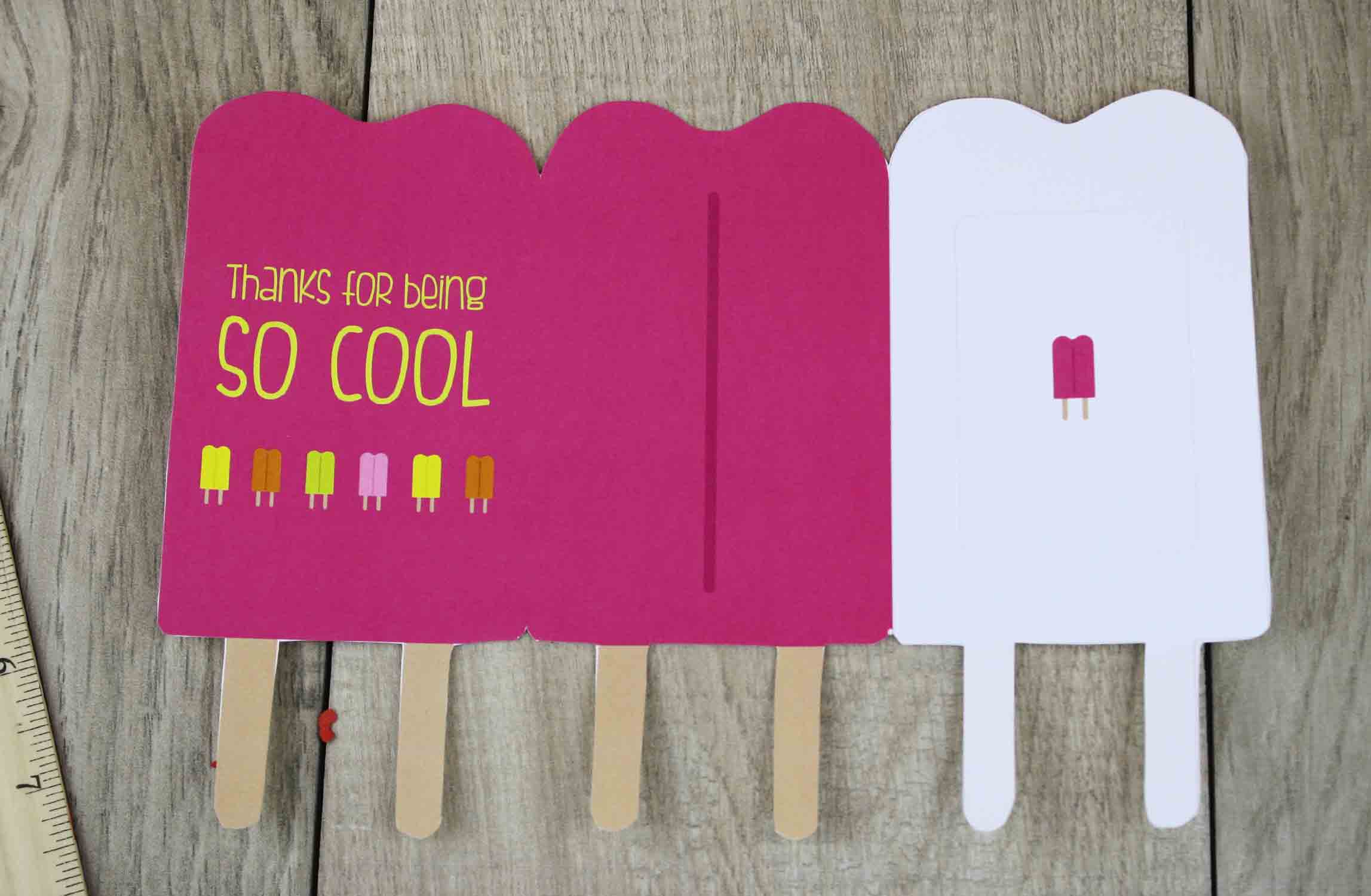 Score the Gift Card Holder
To turn this popsicle accordion into a cool gift card holder, you simply need to fold it so the pink sides are back-to-back. The white side will be the inside of the gift card holder. I find that card stock folds easier when scored first. Using a ruler and a
bone folder
(or another semi-sharp tool you have around the house like the back of a butter knife or the edge of the plastic gift card), score the paper along each popsicle.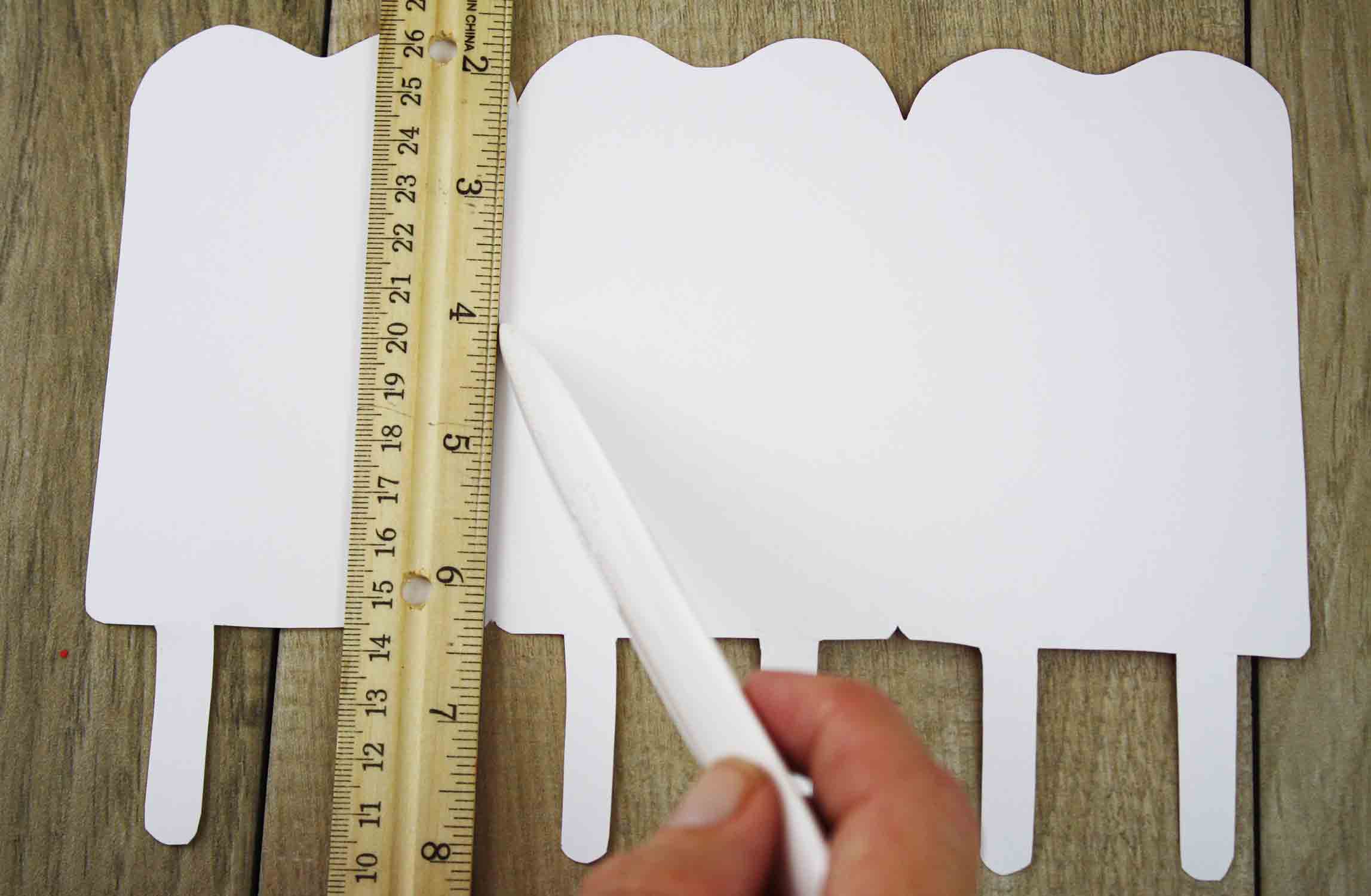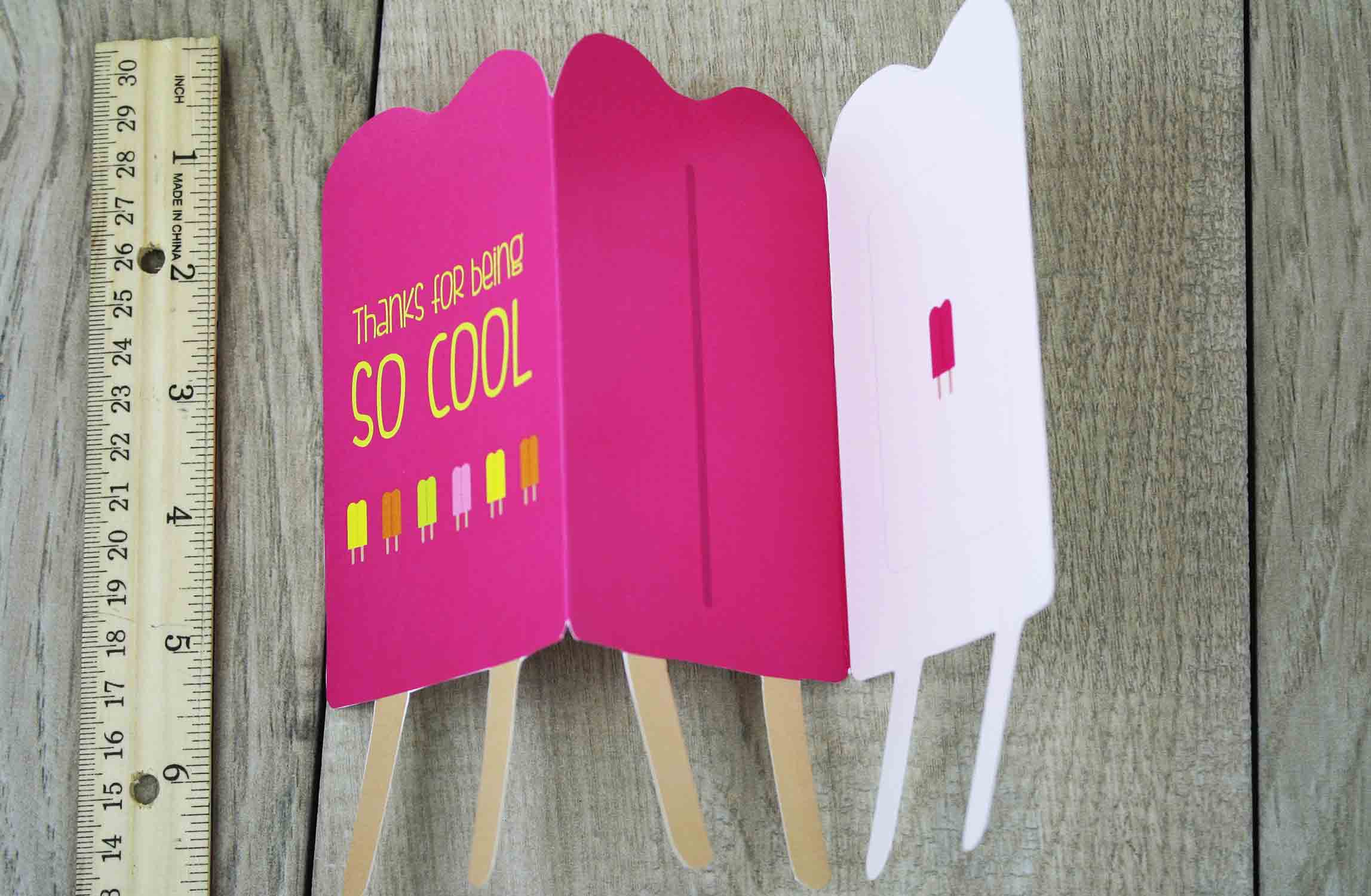 Attach the Gift Card
There are a number of ways to attach a gift card to the inside of the popsicle. You could use double-sided tape, glue dots or a quick swipe of a glue stick–just be careful not to damage the magnetic stripe on the back of the card. (I used
photo corners
to hold the Latte gift card.) This Jamba Juice gift card is held in place with double-sided tape.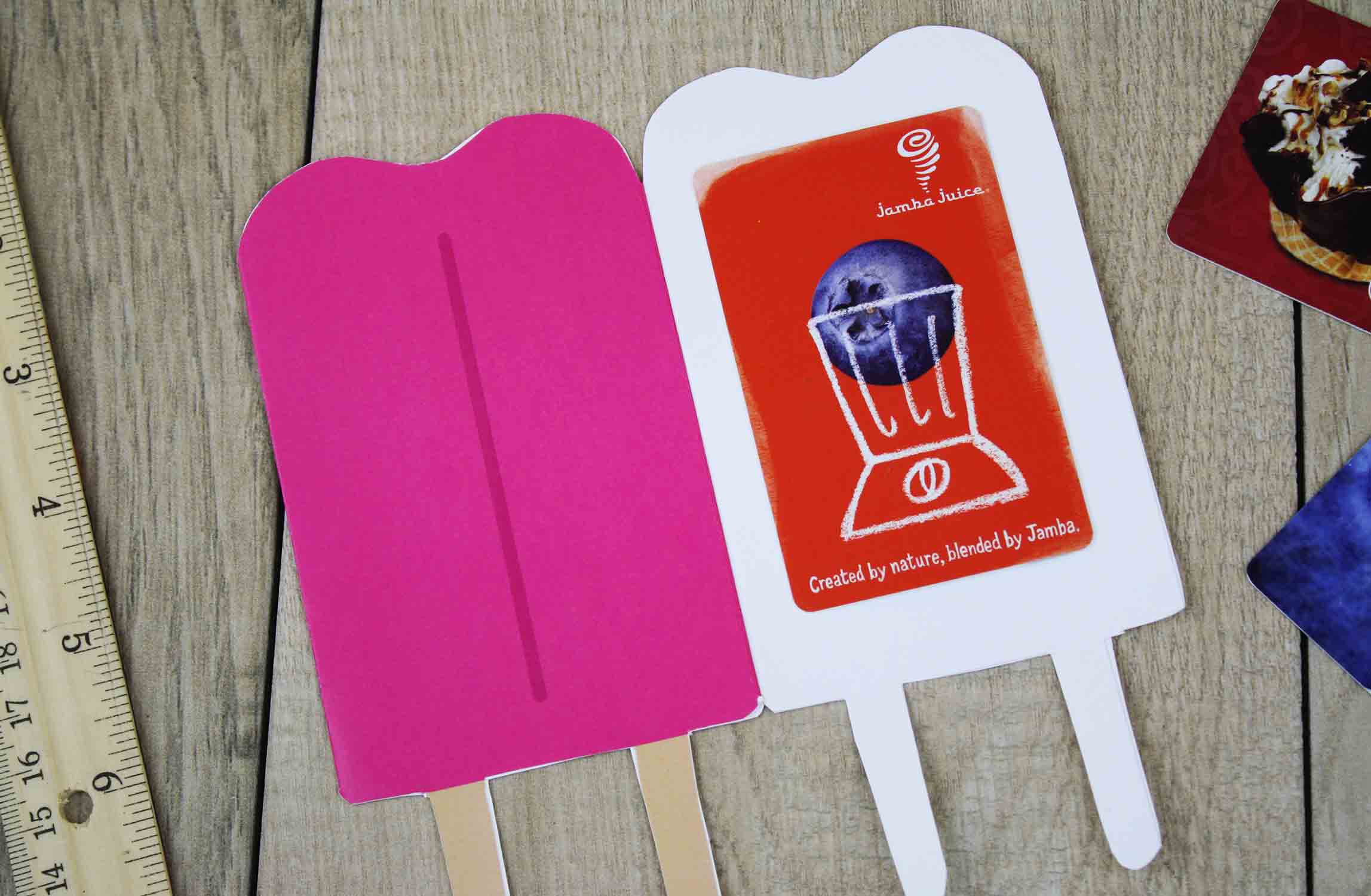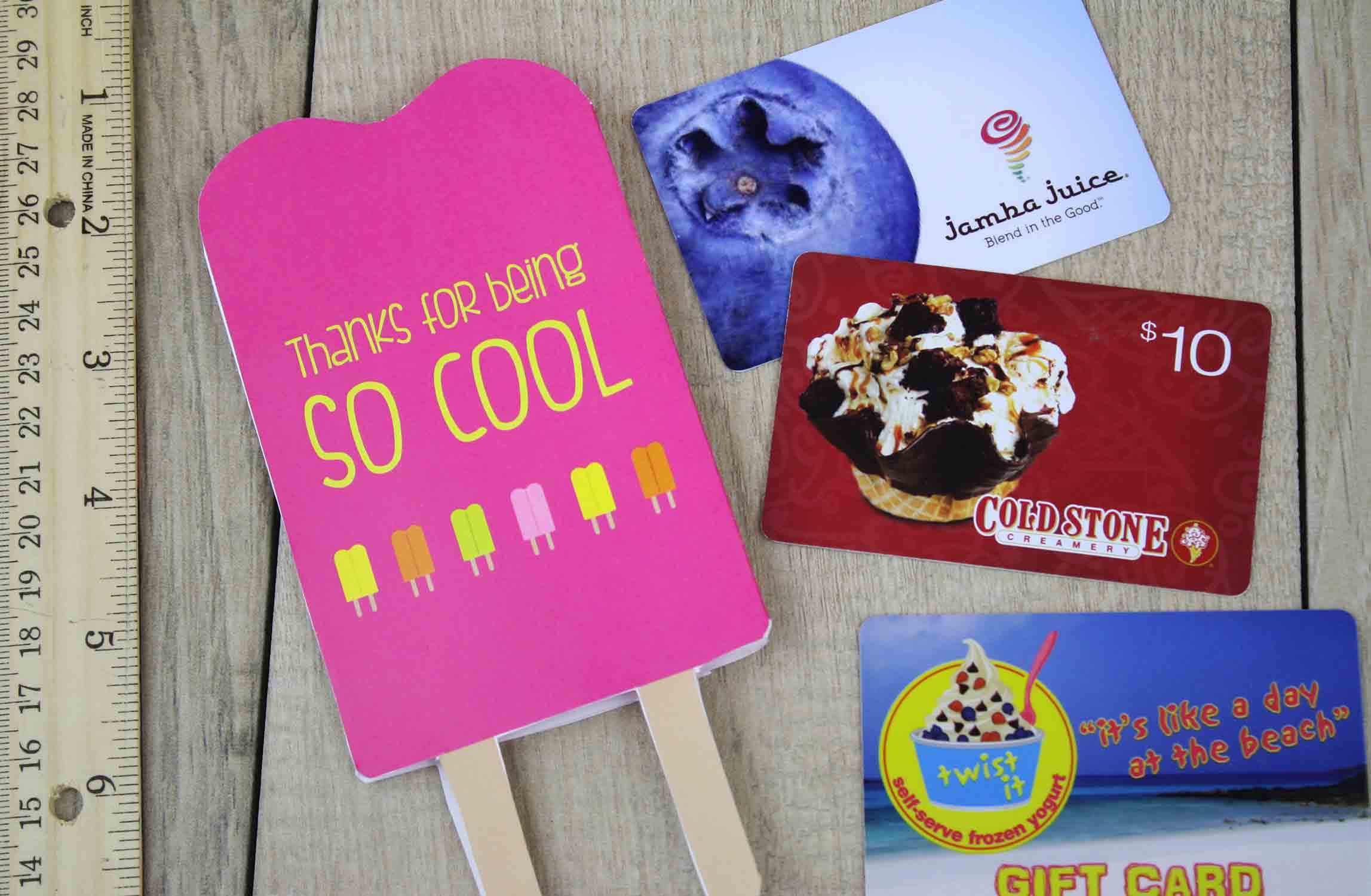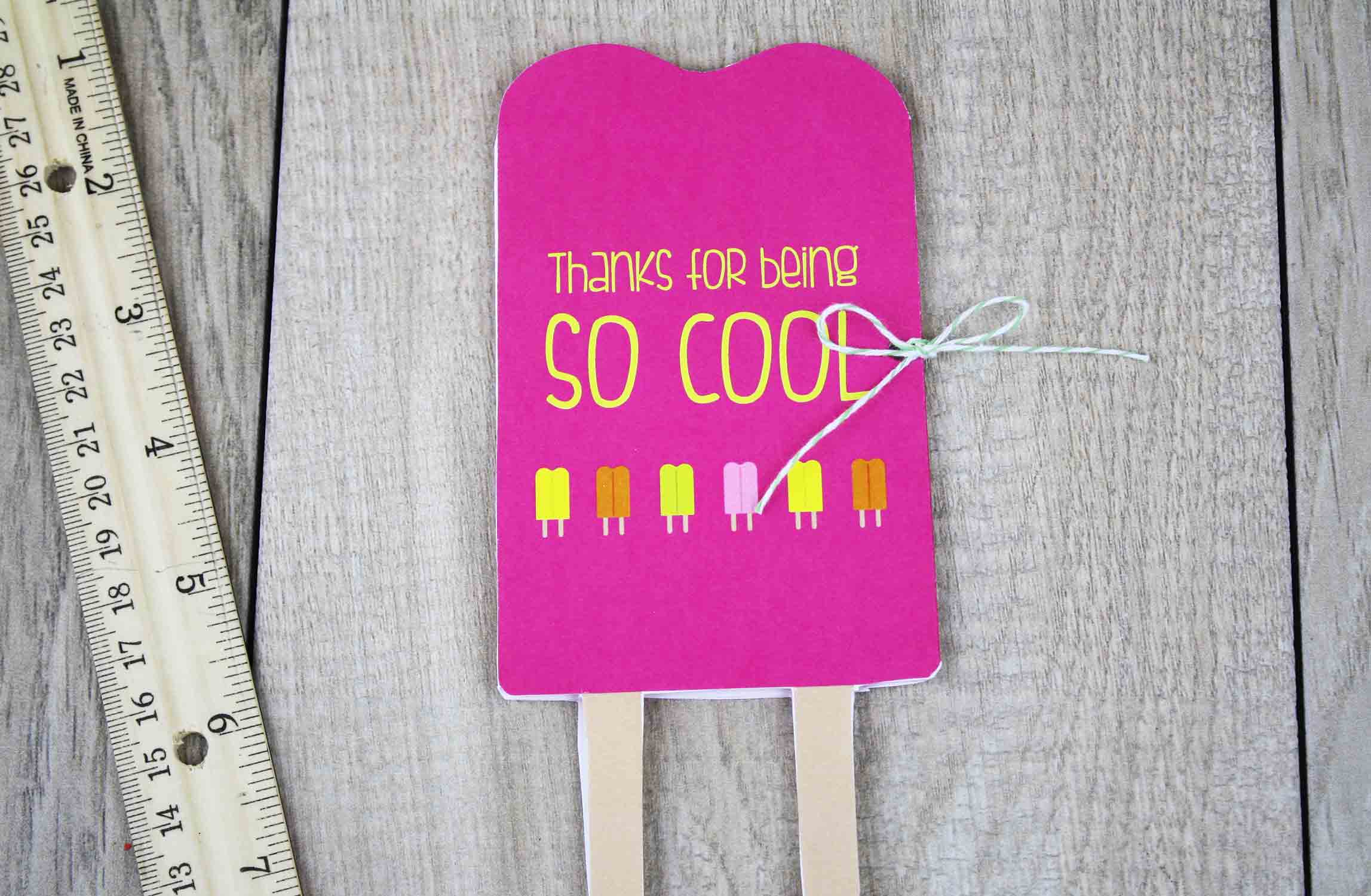 Add Real Popsicle Sticks. I found it a little difficult to cut the popsicle sticks to match so I only did it so I can show you how it looks. Adding real popsicle sticks is easier and gives the present a little pop! (Pun intended.) All you have to do is cut the popsicle out minus the sticks. Then glue two sticks between the pink popsicle sides. Super easy. Below is a picture of how all three "cool" gift card holders look. Clearly, the one in the middle (with the real sticks) looks the coolest.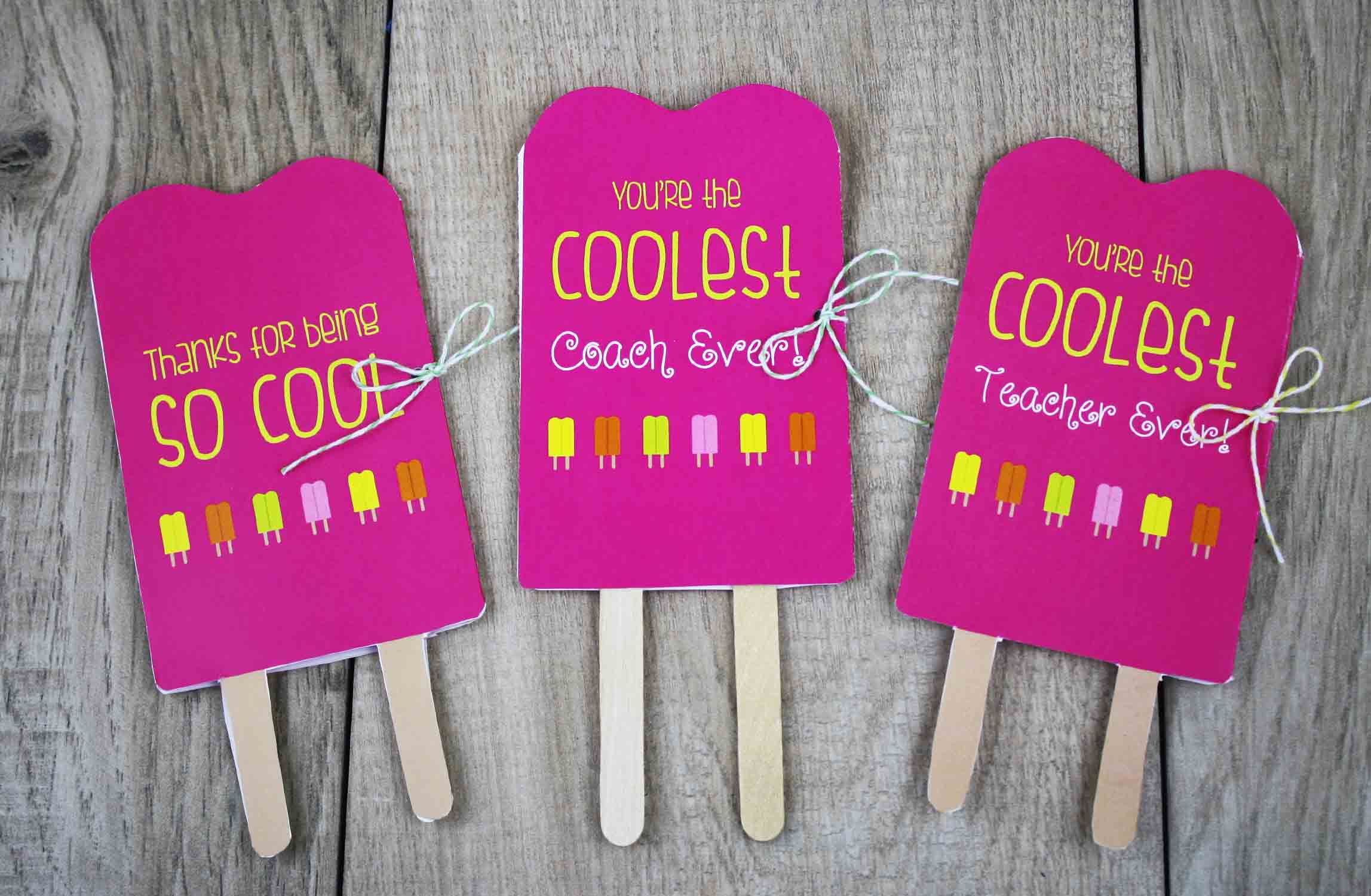 More on Pinterest
For more free printable gift card holders, check out the
free prints page
or follow
Gift Card Girlfriend on Pinterest
. If you use this printable, send me a link to your page in the comments below or contact me on Twitter
(@GCGirlfriend)
. I want to see what inspires you.
Happy Gift Carding!
~Shelley Hunter, Gift Card Girlfriend