Save $3 on most plastic Visa® Gift Cards with Cyber Monday Promo Code! Must have promo code and order on sister site, GiftCardMall.com.
Must Order On GiftCardMall.com
Use Promo Code: CYBERVISA17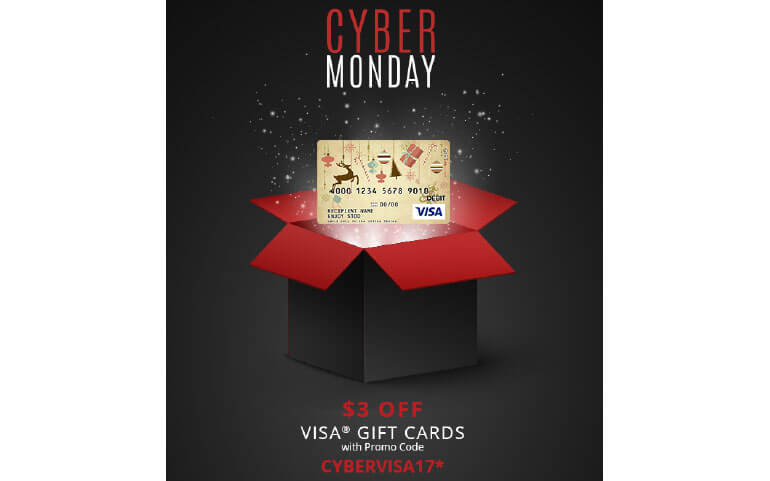 Cyber Monday Offer
This Cyber Monday, we are throwing some love to our sister site, Gift Card Mall, where you can save $3 on Visa gift cards from 11/24/2017 to 11/27/2017 with promo code: CYBERVISA17.
Must Order On GiftCardMall.com
All Plastic Visa Gift Cards EXCEPT Five Back Visa
11/24/17 to 11/27/17
Promo Code: CYBERVISA17
Promo code CYBERVISA17 valid 11/24/17 – 11/27/17 on physical Visa gift cards from giftcardmall.com only. Five Back Visa cards not eligible. Subject to availability. Quantities are limited and the offer is only available while supplies last. Virtual products and all other Store and eGift Cards are not a part of this promotion. See gift cards for details, terms, conditions and (if applicable) fees. All trademarks are property of their respective owners. Product may not be available in all states. The gift card featured is not a sponsor or otherwise affiliated with this company. Visit giftcardmall.com for all other terms and conditions.
If you have any questions, let me know in the comments below.
Happy Gift Carding!
~Shelley Hunter, Gift Card Girlfriend