Don't send coach into overtime waiting for a thank you gift. Here's an easy basketball coach gift that's a slam dunk!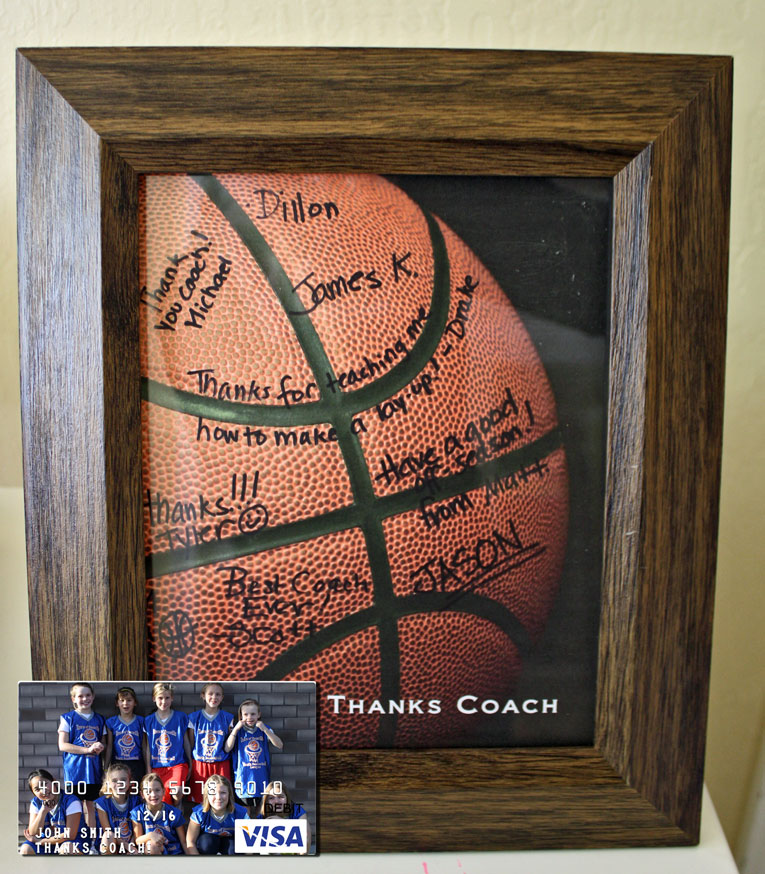 "Gifting Made Easy" by Gift Card Girlfriend
March may be gone, but the Madness isn't over! The NCAA basketball tournament this year has been full of surprises. If your bracket is a bust like mine is, maybe this thank you gift for the basketball coach will get you smiling again.
Personalized Gift Card
Before the kids step off the court for the last time, get them all together to take a team photo. Take a picture of all the kids smiling, making funny faces, or sporting their best game faces. Sometimes I skip the team photo and opt for a meaningful individual shot instead such as a picture of the coach with his son or everybody celebrating after a big win. Use the image to make your own basketball coach thank you gift card. If you can't find an action shot to use, try one of the designs from our gift card artists.
Free Printable Basketball
Several years ago, I bought a ball to have my team sign as a thank you for our basketball coach. After plunking down about $40 to buy the ball, I got out a permanent marker and started to write the team name. But I messed it up. So then I tried to color in one segment of the ball to make it look like a design. It looked hideous. I had to buy a second ball and start over. What a waste.
Don't make the same mistake I made. Print this basketball and have the team sign it instead of a real ball. It's free. So if you mess up, you can just print another one.
Here's what you need to make this idea happen:
Thanks Coach on Pinterest
Need more gift ideas? Follow Gift Card Girlfriend on Pinterest and check out the Thank You Coach Gift Ideas board. This is one of my most popular boards because we owe a great deal of gratitude to those people, whether professional or volunteer, who help shape the futures of our little athletes (or our own athletic endeavors). You can also review the Coach Gift Ideas page here at Giftcards.com. It's full of fun ways to make gift cards for sport.
Happy Gift Carding!
~Shelley Hunter, Gift Card Girlfriend