The straight answer on where egift cards can be used plus what you should know about Visa egift cards.
The Rising Popularity of eGift Cards
I have been reviewing top store egift cards for the past few years and results of this egift card study consistently prove out that the availability and the usability of digital gift cards is on the rise. For example, in 2014, only 64% of the merchants I reviewed offered an egift card. In 2016, that number is up to 72% and I expect it will increase as I review the gift cards again. In 2015, egift cards were usable in stores and online at 64% of the merchants reviewed and that number jumped slightly to 66% last year.
Some of the reasons that electronic gift cards are becoming increasingly popular are that egifts can be sent at the last minute, shipping is free and they are easy to track and use with a smartphone, so consumers are more likely to have their egift cards with them when needed. Merchants also like this virtual gift because they can make their egift cards available on a variety of websites and do not have to pay up front for inventory of plastic cards that may never be purchased (or that get outdated with branding changes).
Where can eGift Cards be Used?
Because the technology is still fairly new and there is no plastic card to present to a cashier, consumers often have questions about egift cards and want to know where they can be used. In most cases, store and restaurant egift cards can be used both online and in their physical stores, but that is not always the case. And Visa® are only usable online, over the phone and anywhere else that a "card not present" transaction is allowed. I will elaborate more as you keep reading the tips below figuring out where egift cards can be used.
How to Check Store and Restaurant eGift Cards
Popular store and restaurant egift cards are often usable both online and in physical locations. GameStop egift cards, for example, are usable at any GameStop store or at GameStop.com. Although digital gift cards typically can be used in both places, it is not always the case. The best way to find out for sure where gift cards can be used is to visit the issuing merchant's website, select "gift cards," and look for instructions on where their physical and digital gift cards are redeemable.
Here is a quick video showing you how I look at a store's website to find out where egift cards may be redeemed.
In the video above, you will see that I first go to the website's main page, then look for gift card information. Although you might find a "buy gift cards" button at the top page, I generally look for "Gift Card FAQ" or "Gift Card Help" links at the bottom of the page. Then I look for information on where the egift cards can be redeemed.
How to use an eGift Card at a Store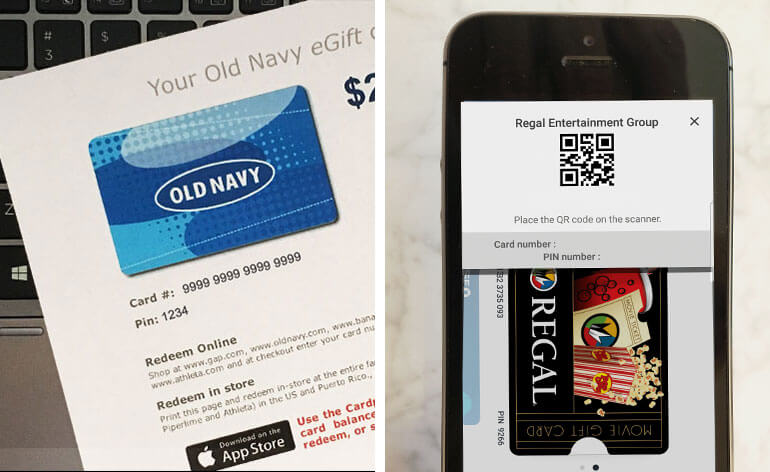 If you are able to use your gift card at a physical location, then the next step is to create a way to present that egift card at the register. You can watch this video on how to use egift cards in stores or read the quick recap below:
Print the eGift Card at Home: When you receive the egift card via email, text or social media, you should be able to print a paper copy of it and bring it with you to the store. Please remember, that the email alone probably does not contain the egift card number (or PIN if one is available). Most often, you will click a link inside of the egift card message in order to retrieve or claim the code. The egift card number and PIN is what you need to print and bring to the store.
Claim the eGift Card at the Store: If you are certain that you can easily access the email or text that delivered the egift card, then simply open it up on your phone when you get to the store. Although this works, make sure you can get adequate cell phone coverage at the store and that your phone is fully charged. If either outage prevents you from pulling up the egift card, you will not be able to use it.
Load the eGift Card into a Mobile Wallet: I typically load egift cards into a mobile wallet or a gift card app for two reasons. The first is that I like keeping my egift cards organized and in one place. The second is that many apps and wallets can be used to automatically check the balance of an egift card so I know how much is on the card before and after I use it.
Take a Screenshot of the eGift Card: A simple way to easily access your egift cards is to take a screenshot of the egift code and PIN when it arrives. I often do this as a backup method in addition to putting cards in my mobile wallet. If there are any issues with the internet connection at the store, I can simply access my stored images to pay.
When you get to the cash register, tell the cashier that you are paying with a egift card and be ready to present either the paper copy or the digital version on your phone. In some cases, the cashier will be able to scan the code and other times you will have to enter it by hand. Although paying for merchandise with a digital gift card may be a new experience for you, I have found that most cashiers are able to handle either the paper copy or digital image with ease.
How to use an eGift Card at a Restaurant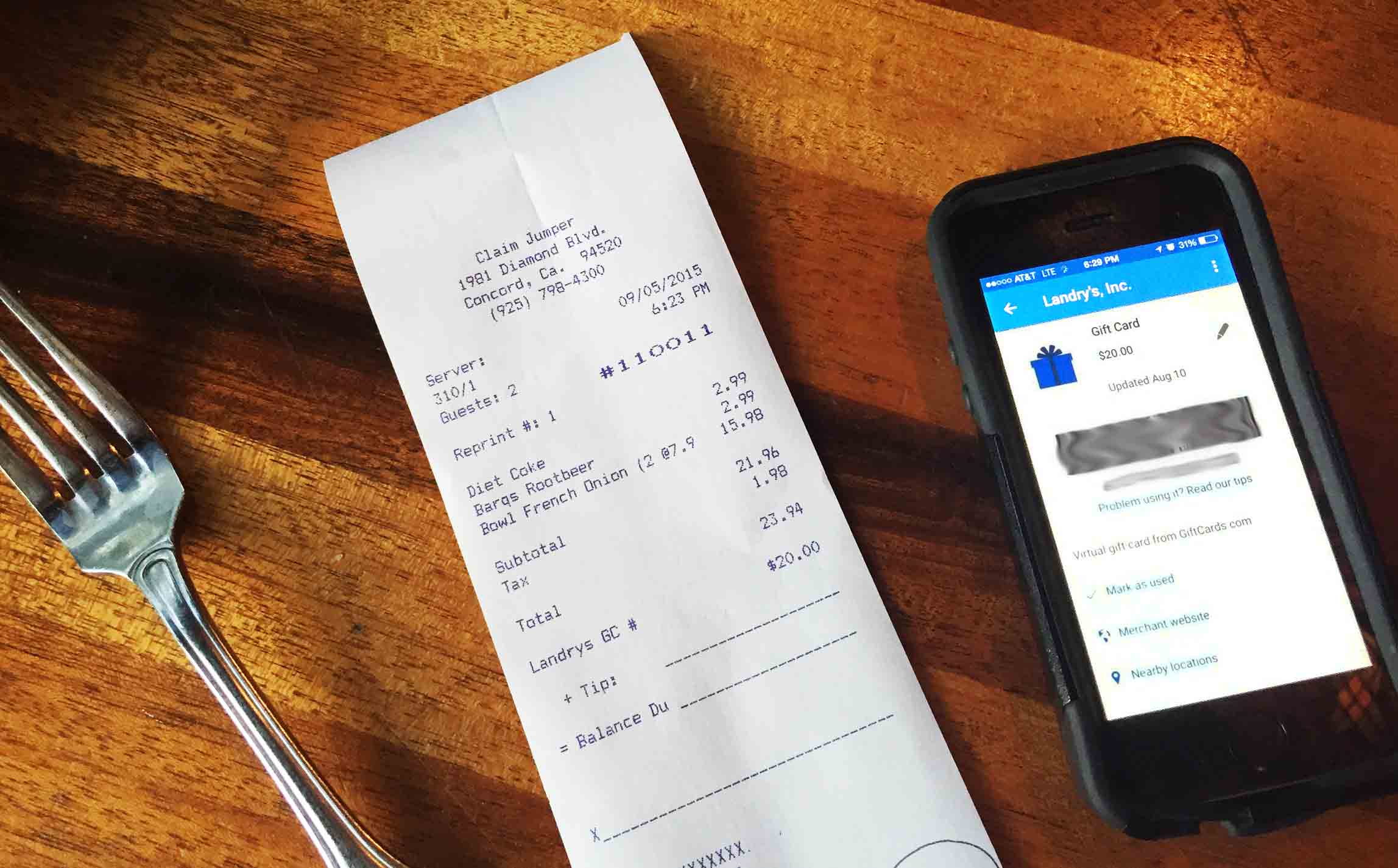 I have found that using an egift card at a restaurant is a different from the typical egift card transaction because the cash register is seldom near the dining area. When you are at a restaurant, for example, the waiter or waitress generally brings the bill to your table when you are finished. If paying with plastic, you can slip your card into the credit card folder and off it goes. But I am not comfortable doing that with my phone. So read this post on 3 Ways to Use an eGift Card at a Restaurant for my solutions.
How to use Visa eGift Cards

Although I have used a Visa egift card at a physical location in the past, the rules of the game have changed. Digital Visa egift cards are only usable online, over the phone, by mail-order catalog and anywhere else that a "card not present" transaction is allowed.
So now the most important thing you need to know is where to enter the eGift Card number. The Visa egift card number goes into the credit or debit card field during online chack-out. If the dollar value of the Visa egift card does not cover the full amount of the purchase, however, the transaction will decline. Not to worry. I have a couple of work-arounds.
Partial Payment: Read this blog post on how to use a Visa egift card online for partial payment. This is also called a split-tender transaction. Basically, I will show you my trick for being able to use both a Visa egift card and a regular bank card when necessary.
Ship to Store or Pick-Up in Store: One way to use a Visa egift card online and still pick up something you want or need at a physical location is to make your purchase online, but select "Ship to Store" or "Pick up At Store" as your delivery method. That way you can honor the gift card restrictions while still mostly getting what you want in a physical location.
One Last Tip: Self-serve Check-out
One last thing to keep in mind is the newness of self-service checkout registers. A few years ago, I had an egift card on my phone when I stepped into the self-serve checkout lane at a hardware store. Since I could not hand my phone to the cashier and the kiosk did not support key-entering a card number, I had to pay with a debit card instead of my digital gift card. Though I think self-serve issues will resolve (I used one at a Target self-serve recently), I suggest asking the cashier before you get in line to make sure egift cards will work at your location.
Have you used egift cards at the store? If so, add a note in the comments below or leave a message for @GCGirlfriend on Twitter and let me know how it went.
Happy Gift Carding!
~Shelley Hunter, Gift Card Girlfriend