A list of gift cards recipients will be able to use (almost) anywhere–stores, restaurants, and even downtown businesses.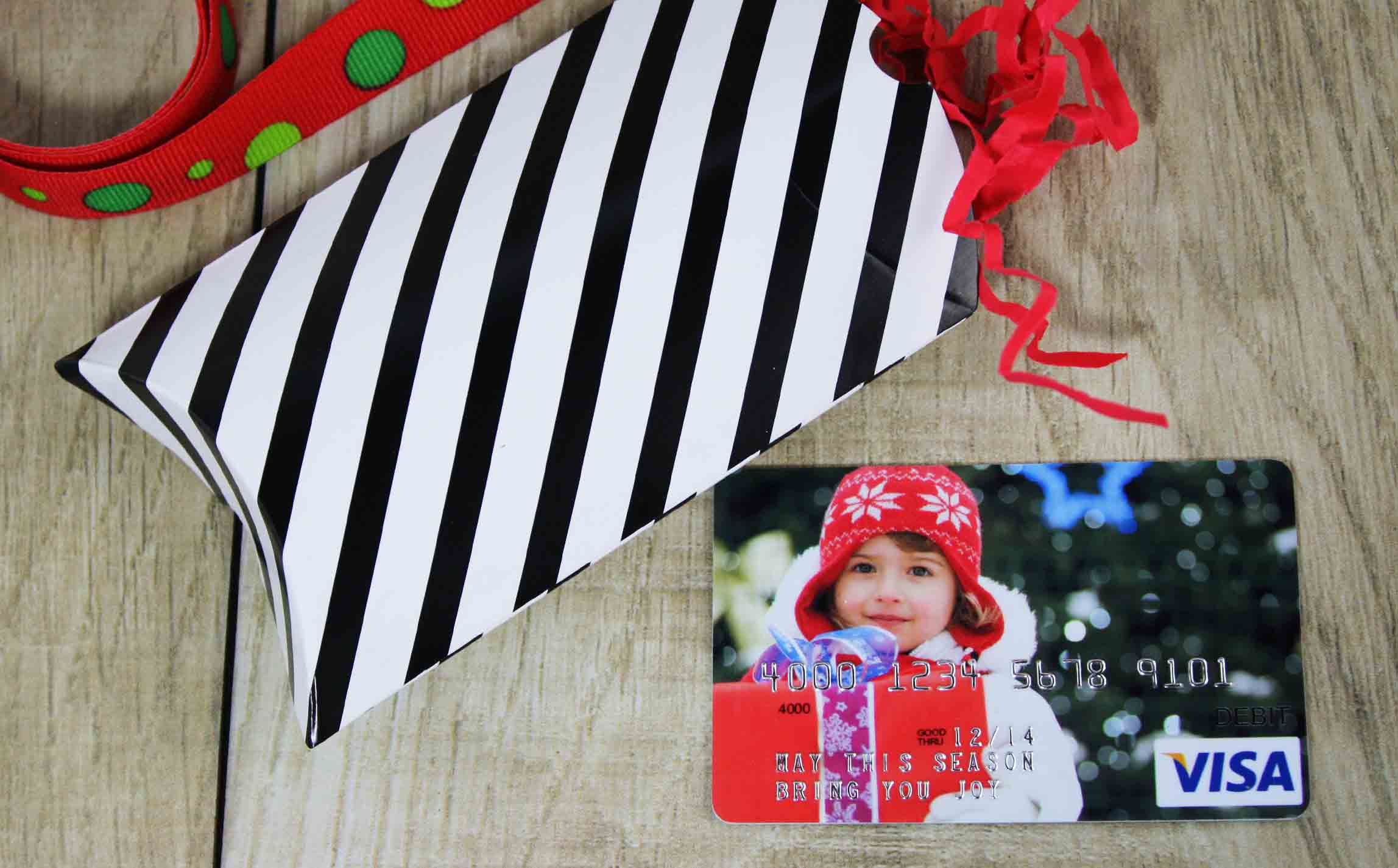 One of the reasons gift cards are the most-requested gift on holiday wish lists is because the recipient can use the card to pick out his or her own gift. There is, however, a huge gift card reseller market made up entirely of unwanted gift cards, suggesting that not everybody is happy with the choice of gifts available. (Some people simply need cash more than they need another product, so that factors in as well.)
If you look at the discount gift cards available, you'll find that inventory for the more flexible gift cards (ones that can redeemed for a wide variety of products) is often low and the cards are slightly discounted. Conversely, you'll find bigger discounts on gift cards redeemable for a single-category of merchandise such as shoes, women's clothing or Chinese food. Thus, the more flexible a gift card is, the easier it is for the recipient to redeem it. So if you want the gift cards you buy this holiday season to be "wanted" (a.k.a. useful, flexible, easy to redeem, not sold for cash), then check out the list below–flexible gift cards you can use (just about) anywhere.
Four Gift Cards that are Easy to Use
The gift cards below can be redeemed at a variety of merchants and can be used to buy a wide range of products and services. From the Visa gift card that can be used anywhere Visa debit is accepted (Mastercard gift cards as well) to the mall gift card that can be used at any store within a mall, the recipient will have a choice of where to use the card and the validity of the card won't be dependent on any one store being close by, having the right sizes or staying in business. If one store doesn't work, the recipient can choose another.
1. Visa Gift Cards
Without question, the MOST flexible gift card you can buy is a bank-issued gift card such as our Visa® gift cards and Mastercard gift cards. These cards are redeemable wherever Visa and Mastercard are accepted, which means they can be used in stores, in restaurants, online and over the phone at merchants big and small. They can even be used to pay a non-recurring bill, to cover your doctor visit co-pay or to buy flowers from a farmer's market vendor that accepts credit cards. (Here are a few tips on how to use a Visa gift card.)
Please note. With Visa gift cards and other bank-issued gift cards, non-use fees generally apply. If the recipient does not use the card at least once a year, the balance of the card will drop by a few dollars every month until the card is used again or the balance is depleted. So don't save these cards for a rainy day. Use your gift cards to get the full value loaded onto the card. Learn more about gift card fees.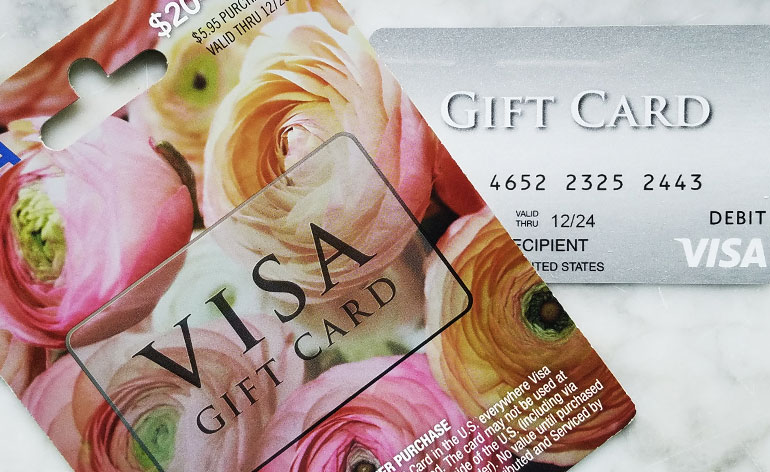 2. Mall Gift Cards
Did you know that most shopping malls now have a gift card redeemable at any store or restaurant within the shopping center? Check the information booth at your local mall to find out if your favorite shopping center has a gift card you can buy.
Here's a tip: Most mall gift cards work the same as any other bank-issued gift card. Although the mall name is printed on the front of the card, in most cases, the card is redeemable at merchants both in and out of the mall. Simon Mall gift cards, for example, are actually Visa gift cards that can be used wherever Visa is accepted–whether the merchant is in a Simon Mall or not. Westfield Shopping Center gift cards are powered by American Express, and they work the same way. If a store accepts American Express, then your Westfield gift card will work. Check the terms and conditions before buying a mall gift card to ensure it can be used in as many places as possible.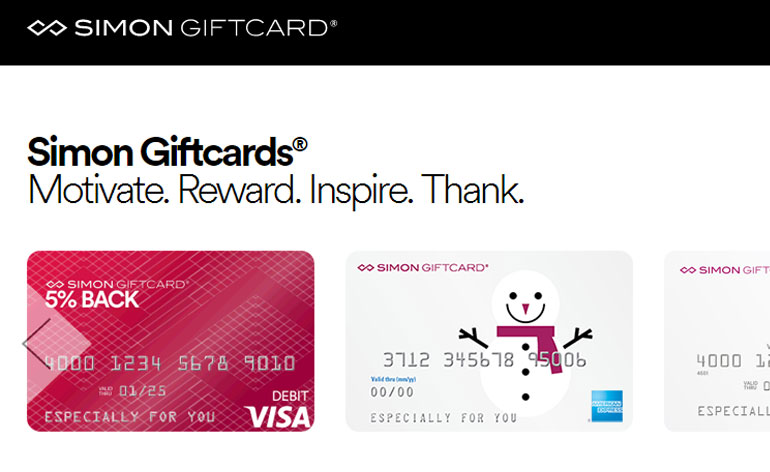 Photo: Simon Malls Website
3. Chamber of Commerce Gift Cards
Similar to the mall gift card, many small business owners within a Chamber of Commerce, downtown association or community strip mall, have banded their stores and restaurants together to offer a gift card redeemable at all participating merchants. These "Main Street" gift cards often run on a bank network (e.g. Discover card) so that the stores don't have to unify their credit card processing machines to accept the cards, but the cards themselves are restricted for use only at stores signed up for the program.
Having a local gift card available gives residents a convenient way to support local businesses and funnel their gift card buying dollars back into their own communities. One example of a flexible downtown gift card is The Downtown Pleasanton Gift Card.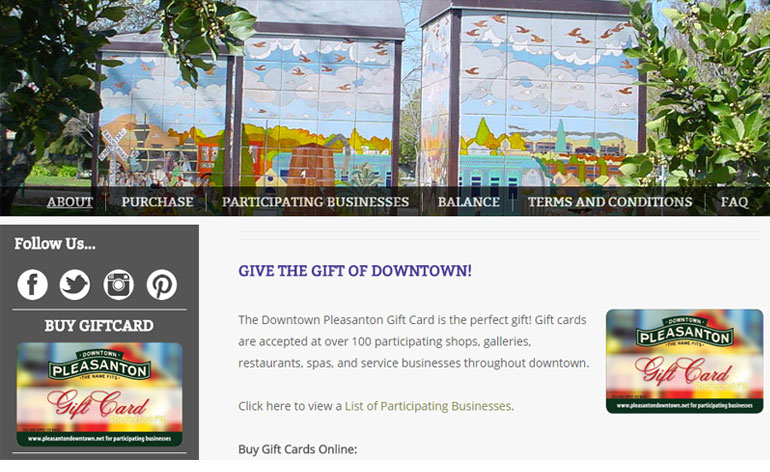 Photo: Pleasanton Downtown Website
4. "Everywhere" Gift Cards
At grocery stores all over the country, you'll find a new slew of highly flexible gift cards that can be used within a category. These cards are called "Fuel Everywhere," "Dining Everywhere," "Movies Everywhere," "Style Everywhere," and "Explore Everywhere." As their name suggests, you can use the gift cards at any merchant within a particular category. For example, the Explore Everywhere gift card can be used as parks, museums, tours and zoos–everywhere Visa debit is accepted in the United States and online. If you want to treat a family to the gift of adventure but don't know exactly how they'd like to explore, this Explore Everywhere gift card is the perfect solution. Want to treat a friend to the movies but don't know which movie theater will be convenient for her to visit? Get the Movies Everywhere gift card and let your friend decide.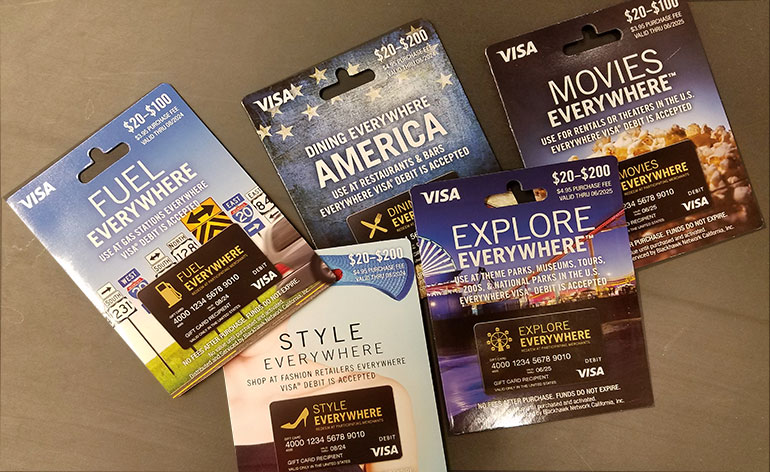 Now remember, general use gift cards don't have to be basic. You can personalize our Visa gift cards and our Mastercard gift cards with photos and custom messages–adding a very personal and pizzazz-y touch to what might be considered a slightly (you didn't hear me say it) generic gift. Some of those mall gift cards can also be personalized as well, and the local shopping district gift cards are unique and interesting on their own. If I were to give someone a local gift card for my downtown association, I would deliver it with coupons from local stores and menus from local restaurants. I might even throw in a cupcake from our delicious downtown bakery. (You know what this is making me think of? A housewarming gift for new neighbors or a congratulations gift from a realtor.)
When delivering one of these flexible gift cards, take a few moments to add a personal touch and possibly even a suggestion on where to spend it. Or maybe not, because half the fun of these gift cards that can be used anywhere is allowing the recipient the freedom to do so.
Let me know if you have other gift card questions or need gift card help. You can leave a note in the comments or reach me at @GCGirlfriend on Twitter.
Happy Gift Carding!
~Shelley Hunter, Gift Card Girlfriend