Missed the free shipping window? Worried your gift won't get delivered in time? Don't want to pay expedited shipping charges? I've got 5 gifts you can deliver digitally for free.

Need a Last-Minute Gift?
I exceeded my holiday shipping budget this year by a long shot. I guess I've grown so accustomed to having products delivered for free (or a low-monthly fee a la Amazon Prime), that I didn't really factor sending packages into my holiday spending. The problem started with the shopping. I purchased items without considering the size or weight of each item. The problem got worse when I packed each item with extra padding so it wouldn't break. And things got really out of hand when I discovered that I would have to pay oversize box charges as well.
The thing is, I could have pulled everything out of the big boxes and repacked them into smaller boxes or flat rate boxes, but I couldn't stomach the task of hurriedly repacking Christmas in the middle of the post office after I'd spent hours lovingly doing the very same task at home. So I just gulped and paid the enormous fees…which I now regret.
To spare you that same anguish, I want to show you three ways you can send digital gifts that come with free and on-time delivery. I will also share some tips on how to make each one feel more personal than the typical "click and send."
1. Happy You eGift Cards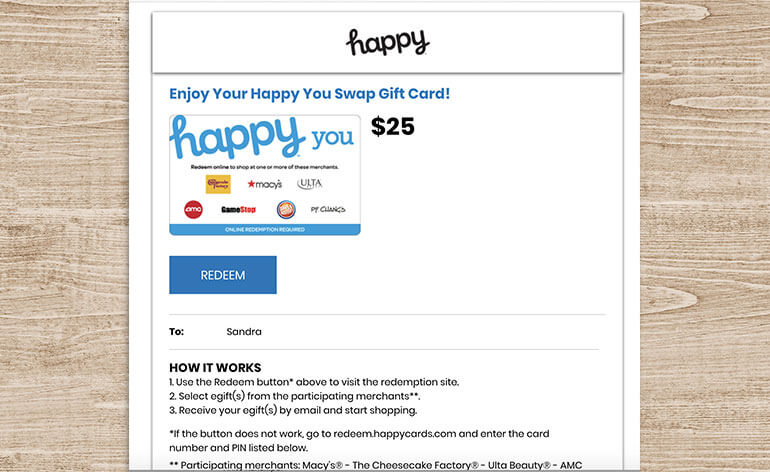 Blackhawk Network launched a new line of gift cards called Happy Cards. Each gift card is usable at a collection of stores and restaurants listed on the card. Though initially Happy Cards were almost exclusively usable in stores, they now have a variety of egift cards available as well. The Happy egift collection allows the recipient to swap the gift card received for one (or more) of the name brand gift cards shown on the card.
When I tested the Happy You egift card swap process, I received a brand name egift card in my inbox within a couple of minutes, and I spent it shortly thereafter.
How to Make a Happy You eGift Card More Personal
To make the Happy You egift card more personal, you can add a personalized message, an egreeting or a photo as part of the ordering process. My advice is to add a note that says something like this:
"Wishing you a Happy Holiday and wishing I could also be there to spend it with you."
"Wishing I could spend the day (and THIS gift card) with you!"
"Though we are apart this holiday season, you are always in my heart. Please treat yourself and enjoy!"
You get the point. To make a digital gift card feel more personal, I think it's important to just acknowledge that you wish you could be together this day, but are sending virtual hugs nonetheless.
2. Holiday Favorites eGift Cards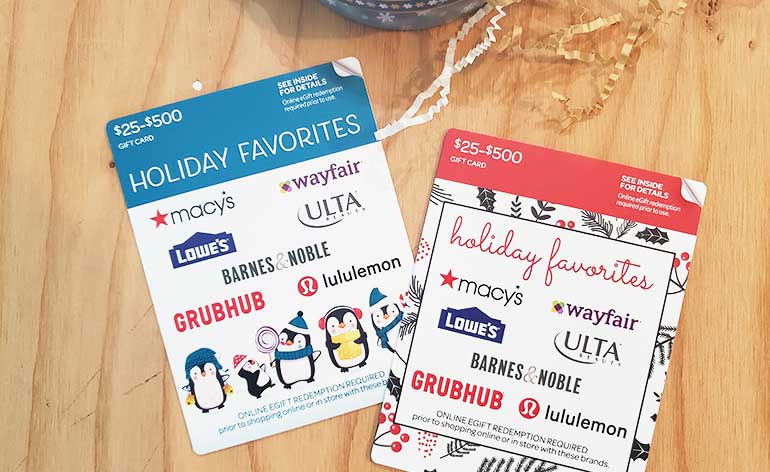 Holiday Favorites egift cards can be picked up on stores and ordered online. So that might be confusing. But here's how it works.
When you buy a Holiday Favorites egift card, the recipient will go to redeem.giftcards.com to swap the gift card for an egift (or several egifts, depending on the card balance) to a store or restaurant listed on the card. For example, you might swap the Holiday Favorites egift card for a Lowe's egift card or an Ulta egift card, or both.
If you buy the physical Holiday Favorites egift card at the store, you will need to send that physical card to the recipient, or, I suppose you could start the redemption process yourself to save the postage. But if you order the Holiday Favorites egift card from Giftcards.com, then the card will be sent digitally to the recipient. That way, shipping is free and fast.
Buy Holiday Favorites eGift Cards
3. Virtual Visa Gift Card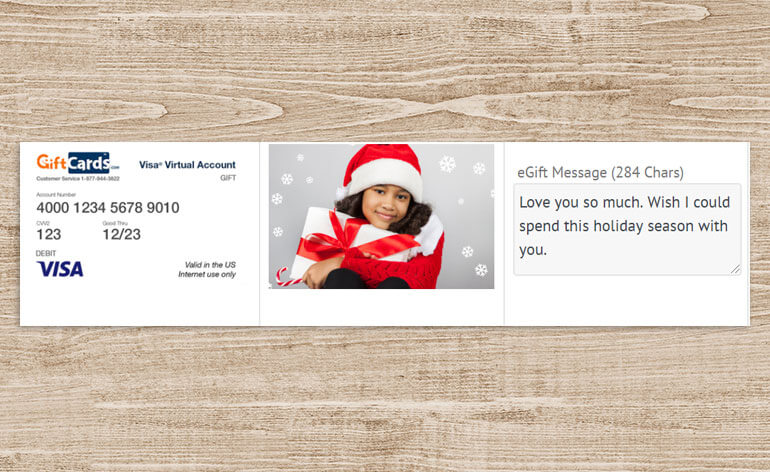 For the ultimate in flexibility, you can also buy a Virtual Visa gift card that can be delivered straight to the recipient's email. The primary benefit of a Virtual Visa is that the egift card be redeemed at almost any online store or restaurant. But there are two things to remember with this card. First, you will pay a few dollars extra to buy this card. Second, the recipient must use it online.
I have sent and received many Visa egift cards. The ordering process is simple and the cards are easy to redeem online. However, since most shopping carts will only allow a single bank card in a transaction, you may want to read my hack for using a Visa egift card online when the card balance is less than the money owed.
How to Make a Visa eGift Card More Personal
To make the Virtual Visa egift card more personal, you can also add a personalized message, an egreeting or a photo as part of the ordering process. Here are some suggested notes to include:
"I wanted to buy you a pair of shoes, but decided Visa would be a safer choice." (Insert picture of ugly shoes.)
"I hope this arrives just in time for you to Treat Yo' Self this holiday season! You deserve it!"
"Me sending this to you is like we are "spending" the holidays together. Right? Miss you!"
Here are some other things to write on a gift card to make it more personal.
4. Giving Good® Gift Cards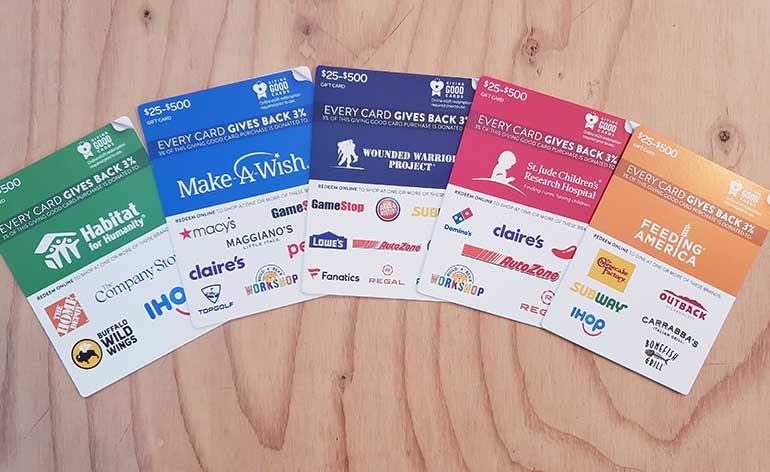 Giving Good® gift cards are similar to the Holiday Favorites in that each gift card is redeemable (or swappable) for an egift card to any of the stores and restaurants listed on the card. But there is one significant difference. These cards MAKE a difference.
When you purchase a Giving Good egift card, 3% of the purchase price is donated to the charity listed on the card. That's currently Wounded Warrior, Make-A-Wish, Habitat for Humanity, St. Jude Children's Research Hospital and Feeding America.
The recipient still gets full access to the dollar value listed on the card–the company makes the contribution on the giver's behalf. It's a great way to do a little more with the money you already intend to spend on gifts this holiday season.
5. Venmo (or other peer-to-peer) Payment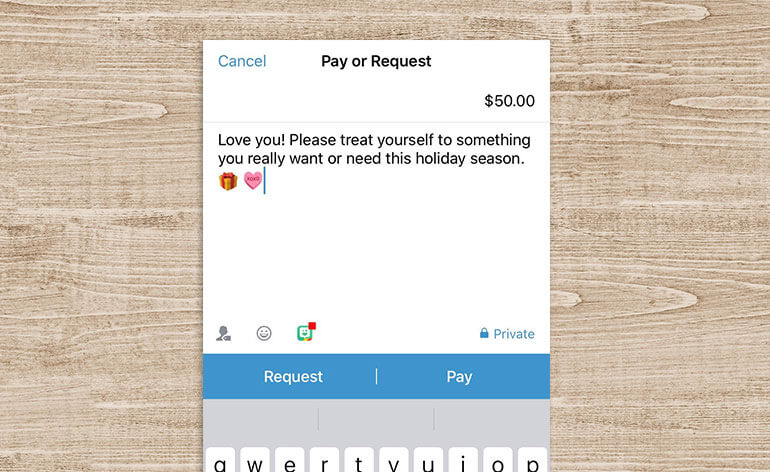 I bet you didn't see this one coming!
I have always tried to be a thoughtful gifter. Whether it's a few days before Christmas or a sunny day in April, if I hear someone casually mention wanting or needing something, I make a note of it. When the next gifting occasion rolls around, I pull out my list and review it for possible gifts. As much as I love to find the perfect traditional present or gift card for someone, sometimes even I think that cash is the best present.
To send cash, however, I suggest using a secure digital option.
A few years ago, most people I knew were trying out the various peer-to-peer payment apps. It was not unusual for me and my girlfriends to go to lunch and decide that one person would pay the bill and the rest would "send" money via an app. But invariably, the conversation would then turn to which app the majority of us used. That doesn't really happen anymore. Everybody I send or receive cash from is on Venmo. So Venmo has become my cash-giving app of choice. (But there are others available for sure.)
How to Make a Venmo Gift More Personal
Unlike the other suggestions above, there are limited personalization options available on Venmo, but you can still write a cute note and add an emoji. Here are some suggested notes to include:
"Please spend this responsibly…or at least tell me about it afterwards if you don't. :)"
"The elves are exhausted and the workshop is way behind. I'm doing my part to lighten Santa's load."
"This is more than just a Christmas gift–this is also the gift of time. Time you won't have to spend in the return line."
One last tip. If you don't want other people to read about your "gift" in their Venmo feed, mark the transaction as private before sending payment.
Benefits of Digital Gifting
In addition to free shipping and speedy delivery, I like that digital gifts are easy to track and they go straight to the recipient's email or payment app. So you don't have to worry about the "gift" getting lost in the mail. If the email is accidentally deleted, most merchants can help restore, resend or replace a lost egift card as well.
Though older generations may not appreciate digital gifting, I am finding that most people are increasingly comfortable with the convenience this method affords. In fact, egifts are particularly ideal for younger people who always have their phones in hand. eGifts can be received, activated and redeemed with a few clicks that tech-savvy teenagers and beyond have no trouble making.
If you need a last-minute gift delivered and you don't want to blow your budget on shipping charges like I did, then take my advice and try one of the digital gift options above.
If you have other questions about last-minute gifts, let me know in the comments below or contact me on Twitter (@GCGirlfriend) or Instagram (@Gift.Card.Girlfriend). I'd love to help you out.
Happy Gift Carding!
~Shelley Hunter, Gift Card Girlfriend