32 of the best gift card trees and gift card wreaths on the Internet. Perfect for giving more than one gift card during the holidays, at weddings, for Teacher Appreciation and other group-gifting occasions.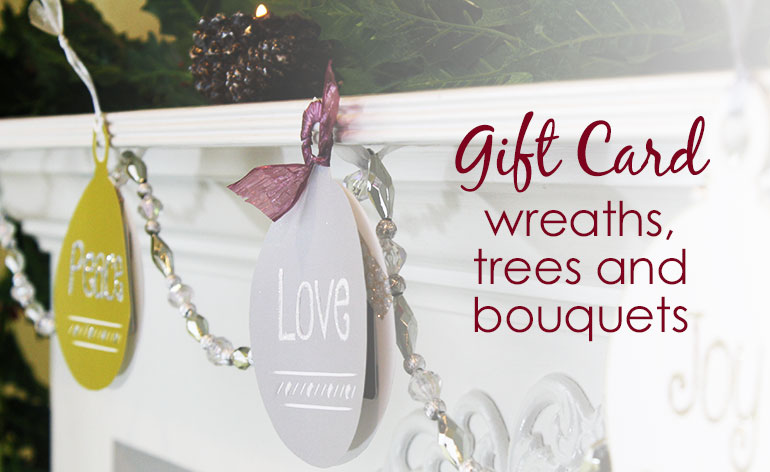 If you're looking for a group gift card idea for the holidays, teacher appreciation, a bridal shower or a wedding shower, then look no further. I just spent hours combing through the Internet and diving into the black hole that is Pinterest to curate a fabulous collection of gift card trees and gift card wreaths that make perfect group gift card holders. Below you'll find my favorites–the ones that are elegantly crafted, beautifully photographed and inspirational. In other words, the gift card trees I want to make. The gift card wreaths I want to present. Most come with crafting tutorials as well. So hold on to your glue guns and get ready for my top picks of the best gift card trees and gift cards wreaths I could find.
1. Patio Planter
All you have to do to make this gift card patio planter is glue gift card holders to bamboo skewers and stick the the skewers into a potted plant. That's easy enough, right? Whether you pool donated money from the group and buy a bunch of gift cards ahead of time or bring the plant to the party and have people stick their gift cards into it when they arrive, creating a gift card "tree" doesn't get much easier than this. Find additional instructions at trisha b designs.
2. The Monogram
This monogram gift card holder can be a note holder or picture holder after the gift cards are taken off. Make it yourself using 23.5 paper mache letters from Jo-Ann Fabric and Craft Stores, large wooden letters from the craft store or try some over-sized unfinished wooden letters from The Home Depot or the hardware store. Paint the letter, add some small clothespins, attach the gift cards and you're done! Wish I could find the original artists, but for now, I found this image from a Pinterest User.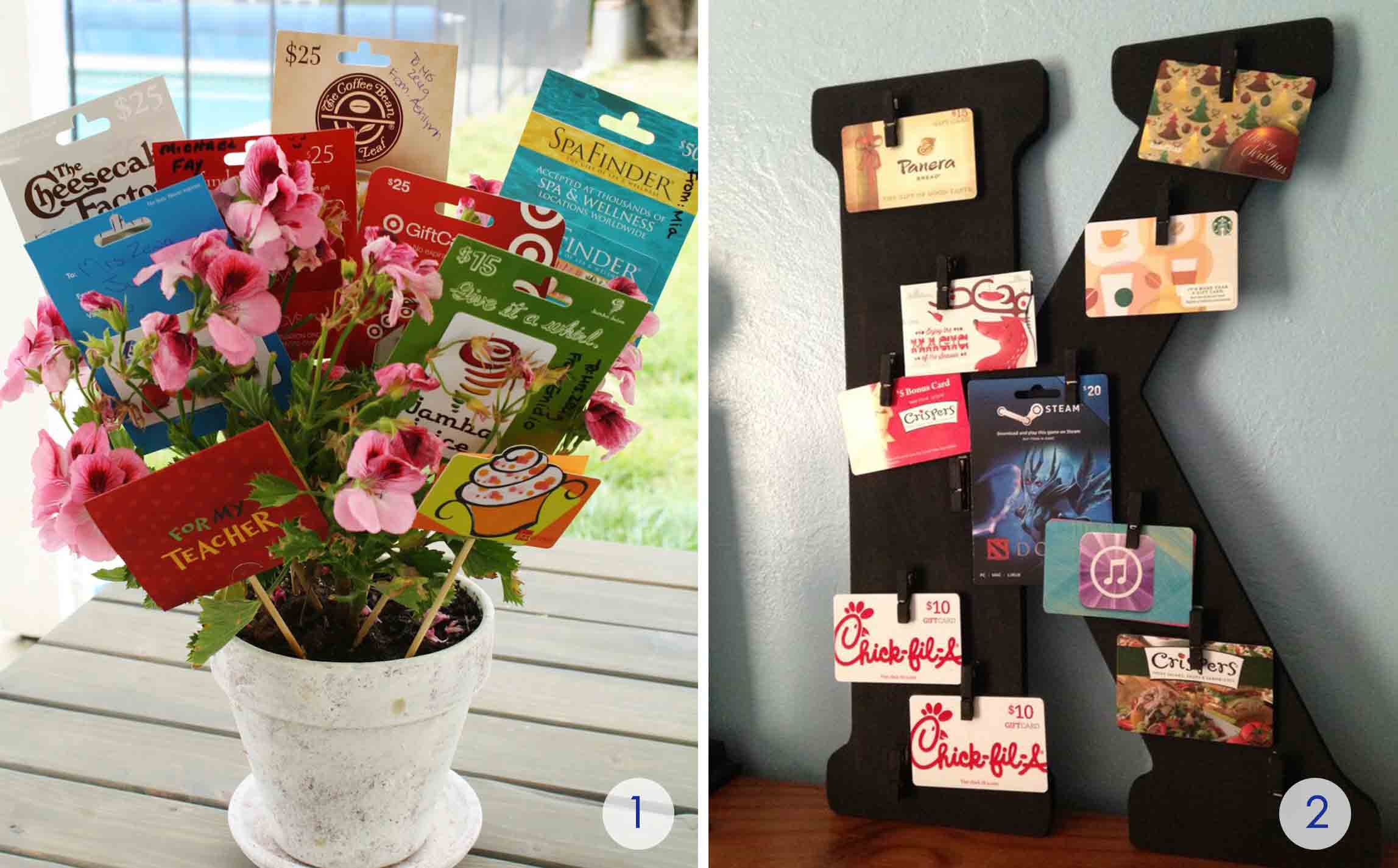 3. Hair clip Flowers
I've made gift card flowers before, but I usually print the flowers on cardstock. I like how Southern Mess (who is clearly not a mess) used flower clips instead. Reading her description of the "flower kabob" made me laugh. Buy flower clips, attach to sticks, attach gift cards with glue dots and it's bloomin' easy to get this group gift done in minutes! Find the tutorial on Southern Mess.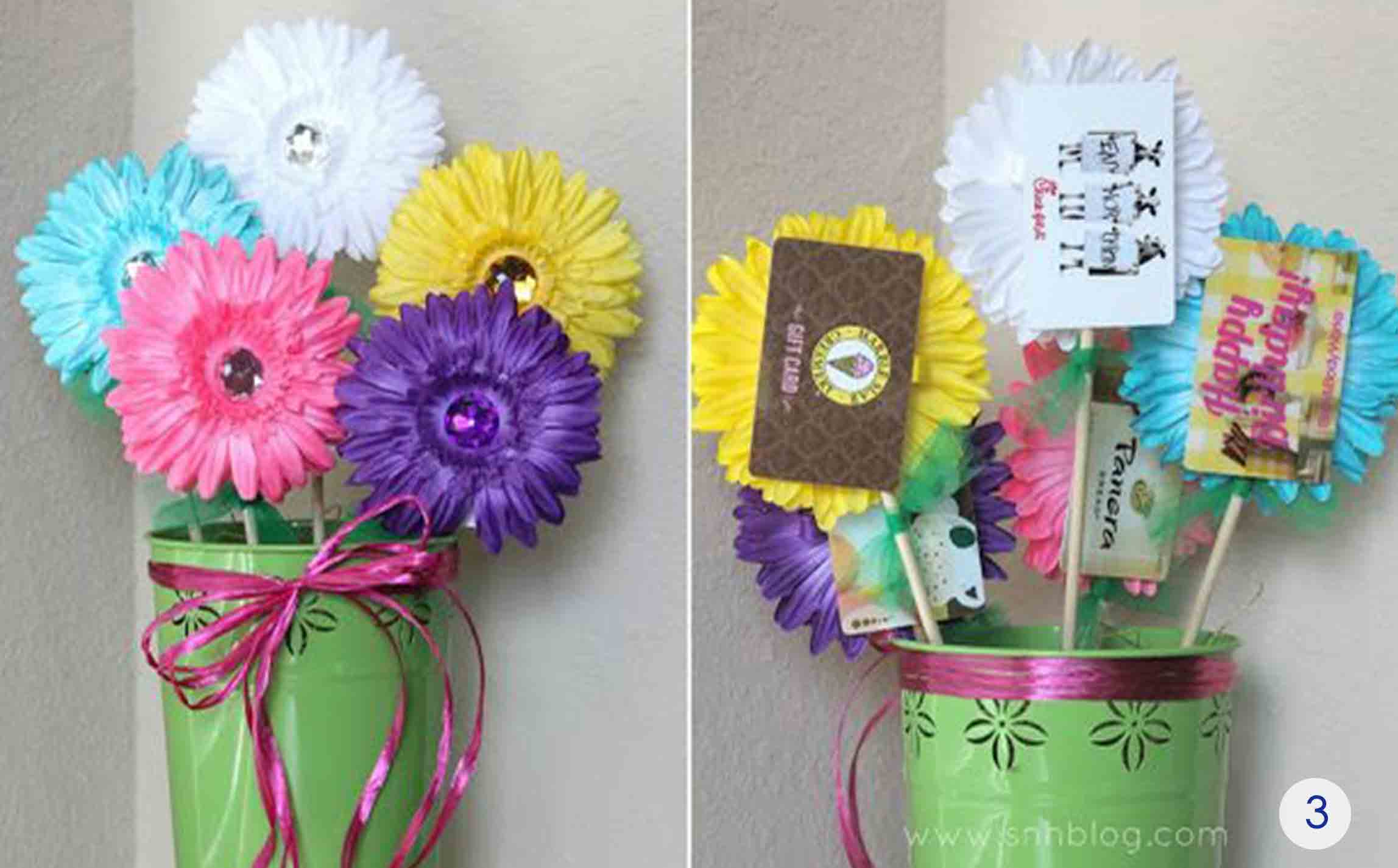 4. Burlap Wreath
If you're making a group gift for the holidays, then pick up some burlap at the fabric store, a straw wreath, greening pins and clothespins. Then get out your ruler, scissors and glue gun for some semi-serious crafting. Actually, this burlap wreath doesn't look like that much work and Jo-Ann has a tutorial that makes it even easier. Check out the other burlap wreaths on the website too because you can easily adapt these instructions to a baby shower gift card wreath or a wedding gift card wreath. Find it at Jo-Ann Fabric and Craft Stores.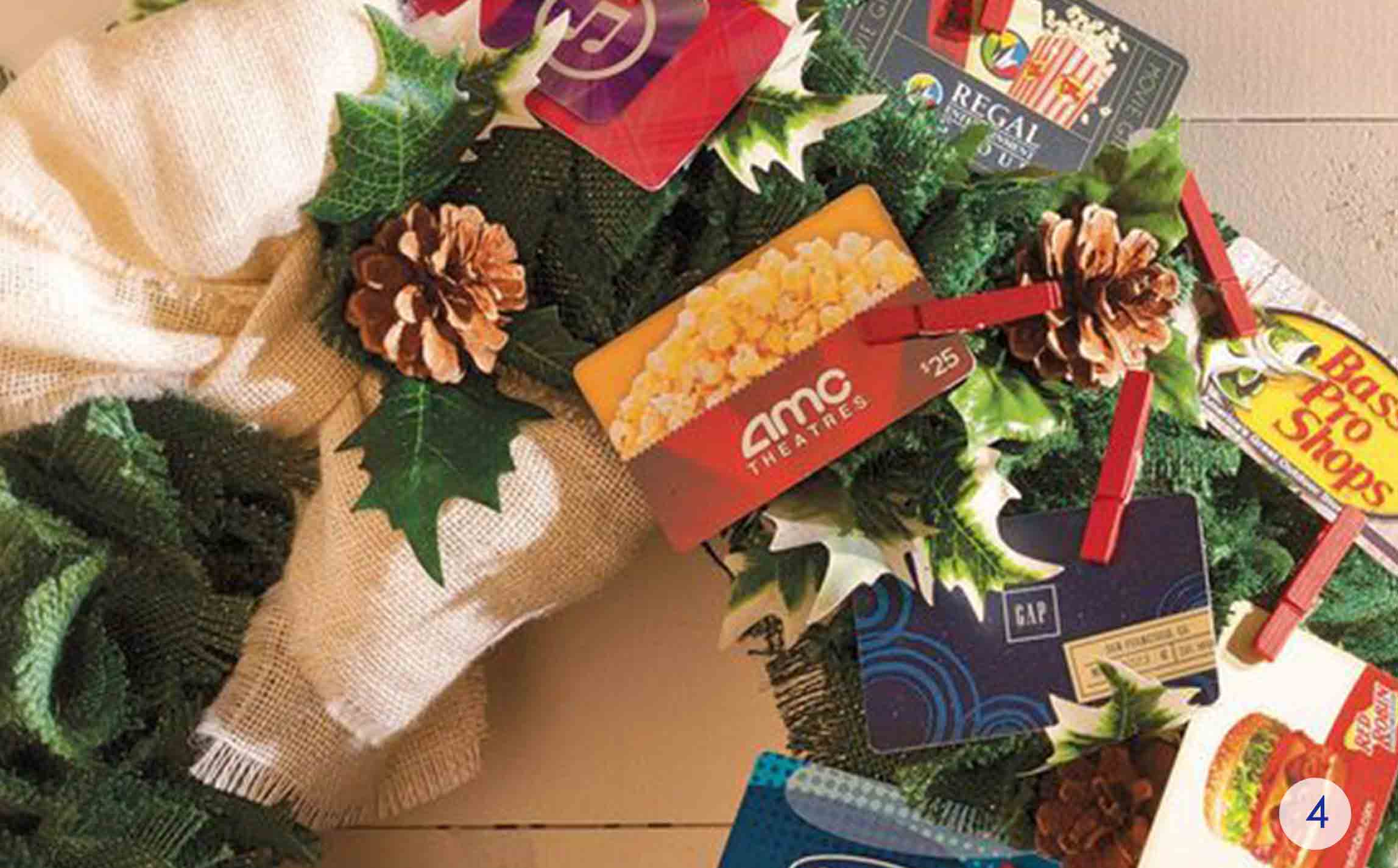 5. Tree in a Mug
Rather than clip gift cards to flowers, in this gift card tree, the gift cards ARE the flower. Hard as I tried, I couldn't find the original instructions on Pinterest or the Internet, but had to show it to you just the same. I assume that to make this gift, you would first connect the cards in a flower design using glue dots (being careful not to hit the magnetic stripes). Then you would attach the plastic flower to a stem that goes into floral foam tucked inside the mug. Add embellishments as needed. See the source of inspiration from this Pinterest User.
6. Hand-cut Tree with Clamps
This hand-cut gift card tree not only inspires me, but cracks me up as well. I L-O-V-E how the designer clipped the Home Depot gift cards to the tree using metal clamps. How manly! How rugged! How perfect! I imagine dad using these clamps on his next project, paid for with the Home Depot gift cards. What a great idea for Father's Day, a housewarming gift or a wedding present. See other designs on Simple Images Studios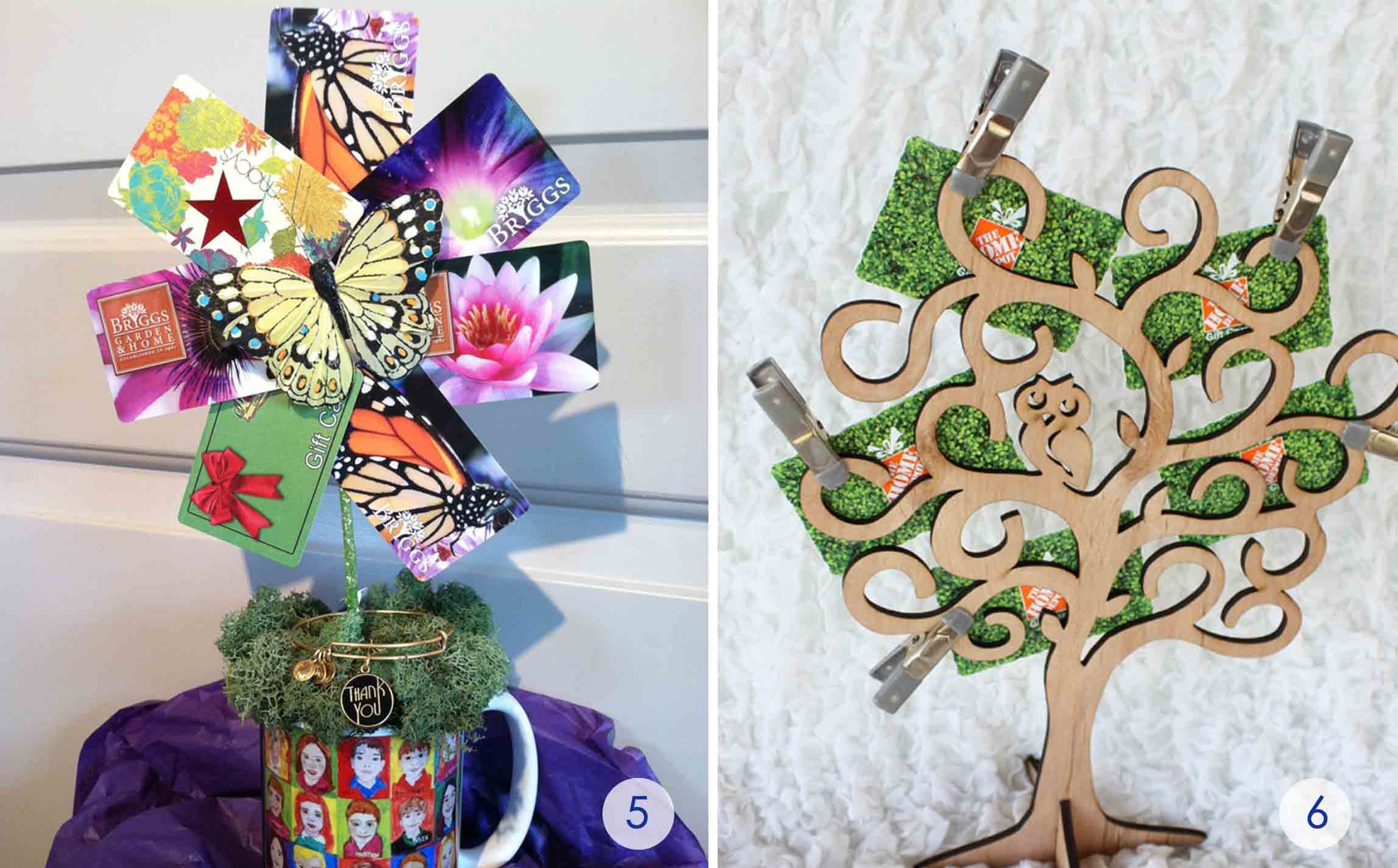 7. Mother's Day Gift Card Tree or Flower Bouquet
The tree doesn't have to be a tree and the cards don't have to be gift cards to make this lovely idea come to life. What a crafty idea! Collect branches from the yard, arrange them in a vase, clip on some fake flowers and tie on the gift cards to make this beautiful, but durable Mother's Day gift card tree. For a less expensive alternative, attach homemade coupons and handwritten love notes to a bouquet of flowers. I have to agree with the designer on this one, "moms will love this!" Get more inspiration from Michelle Paige.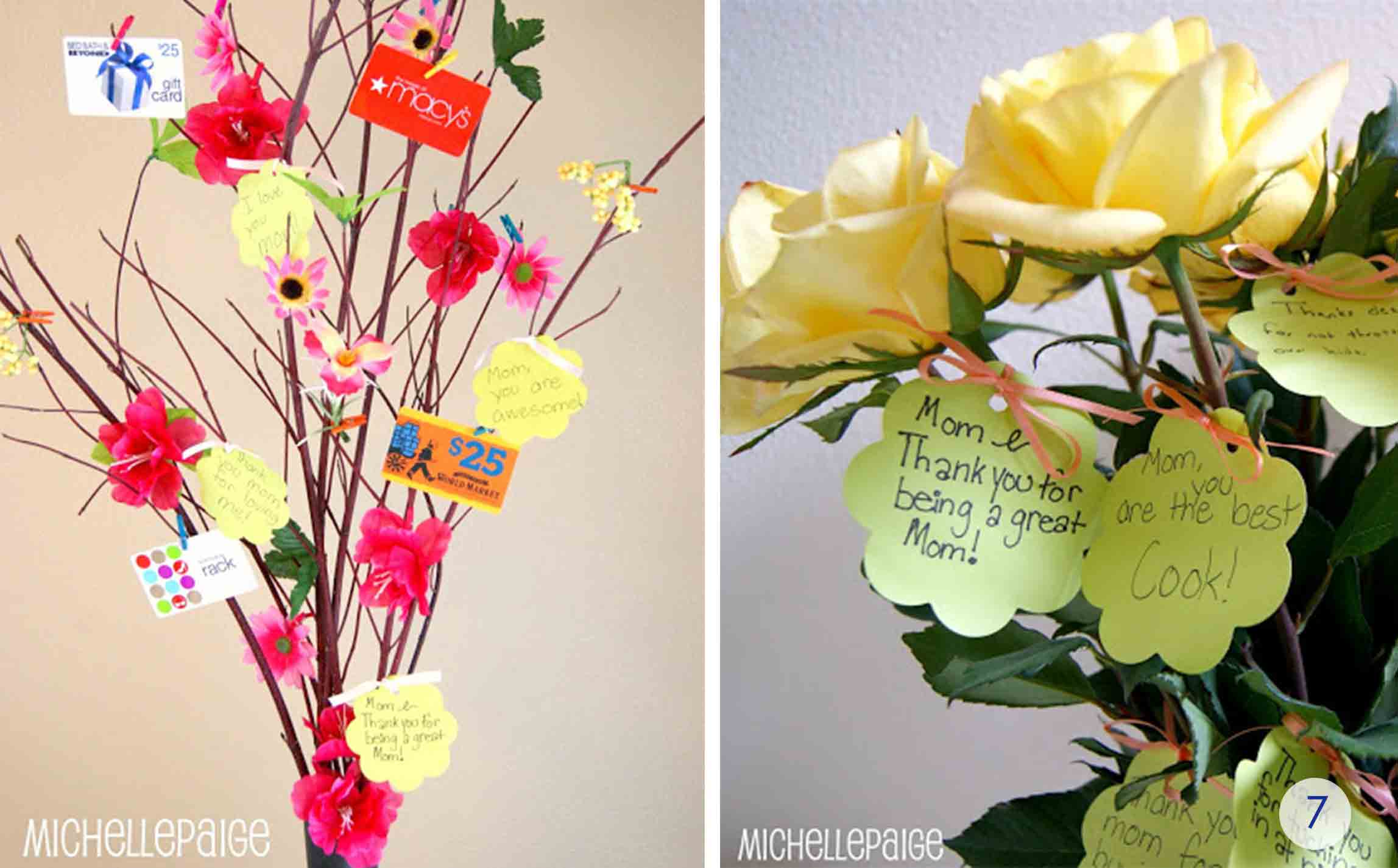 8. Fall Teacher Wreath
Here's another Pinterest find that I couldn't locate the original artist for, but am hoping one of our readers will help me out. With so many beautiful details and embellishments, it's a shame not to be able to give someone credit. I did, however, find the original printable. I'll keep looking for the wreath designer as well. In the meantime, here are some of the supplies you'll need: a twig wreath, a small clipboard, ribbon, gift cards and this amazing teacher printable. I found the wreath pinned by ask anna.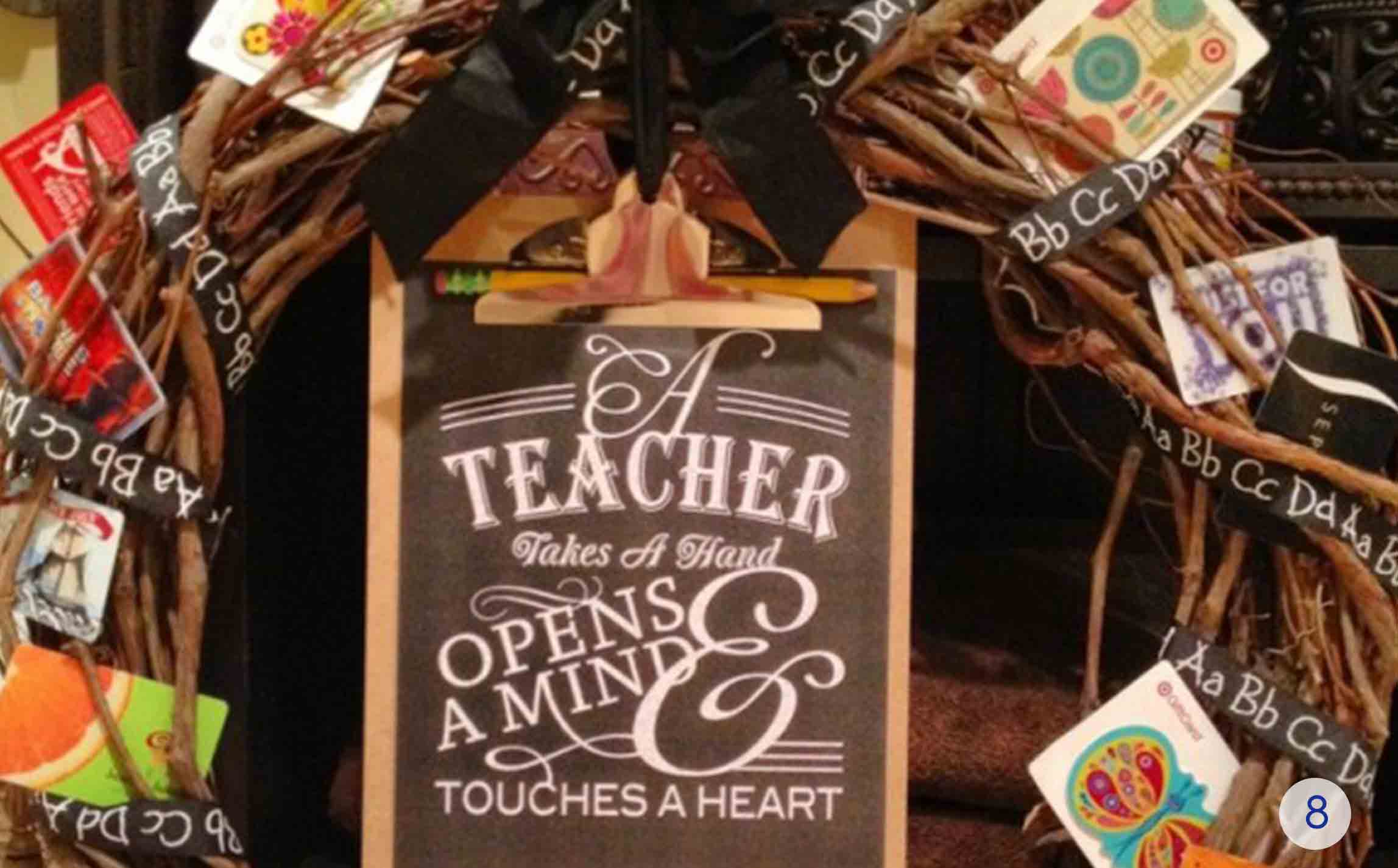 9. Free Printable Holders
This teacher appreciation flower pot is one I made back when I first started being the Gift Card Girlfriend. Even though the photography isn't great and the printables are pretty basic, it continues to be one of my most popular blog posts and pins. What's different about my flower pot gift card holder is that each flower gives a hint to the gift card inside. For example, the flower holding a gift card to the ice cream store reads, "Thanks for keeping your cool!" You can download the free printable teacher appreciation gift here.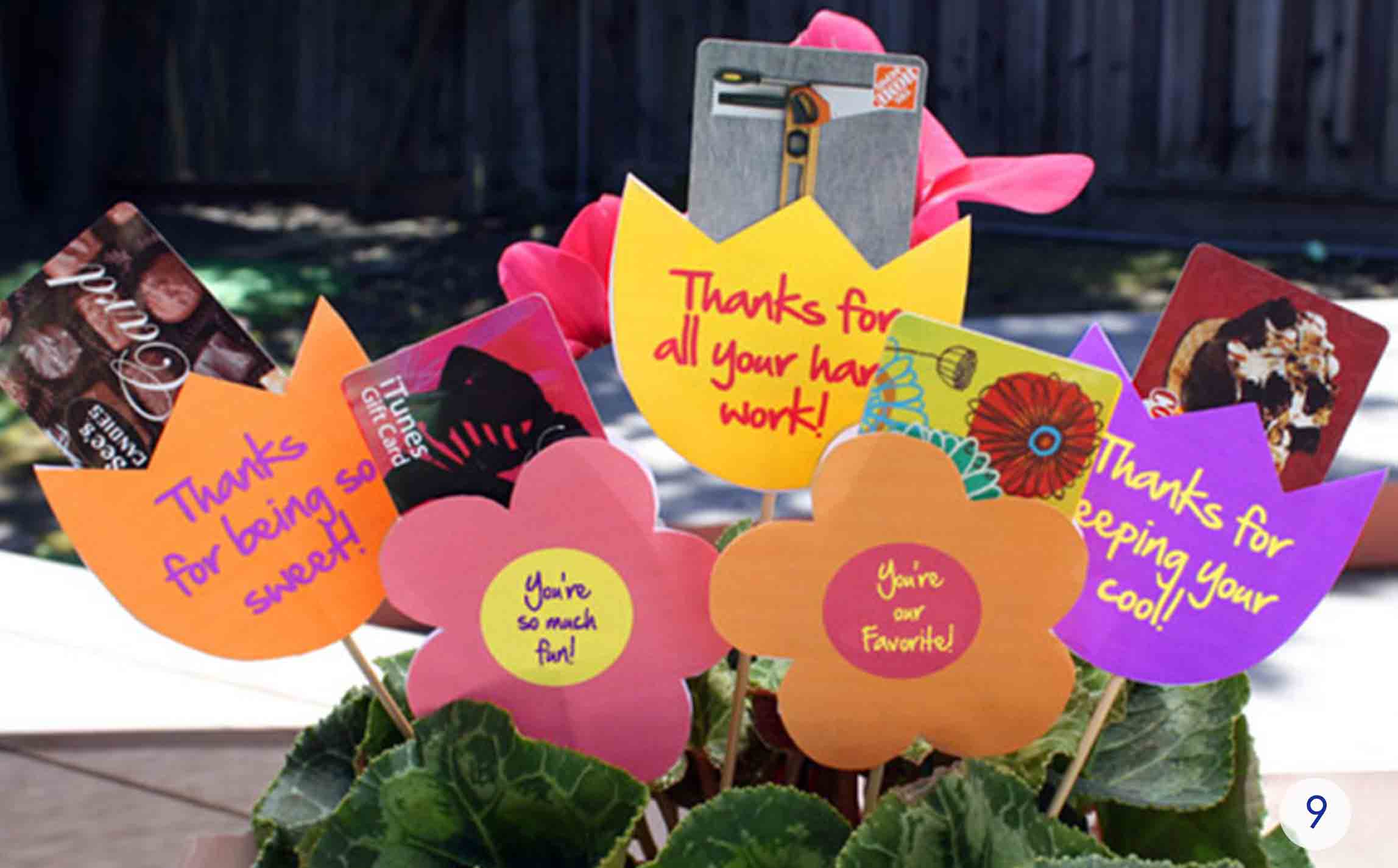 10. Crayon Wreath
Not all of the wreaths I found had gift cards photographed on them, but I think you'll agree that a gift card would be a welcome addition. This teacher appreciation gift card wreath, for example, would get an A+ if it had a gift card to Target, Staples or another one of our most popular gift cards for teachers glued right on front. Learn how to make it on Moms' Party Cafe.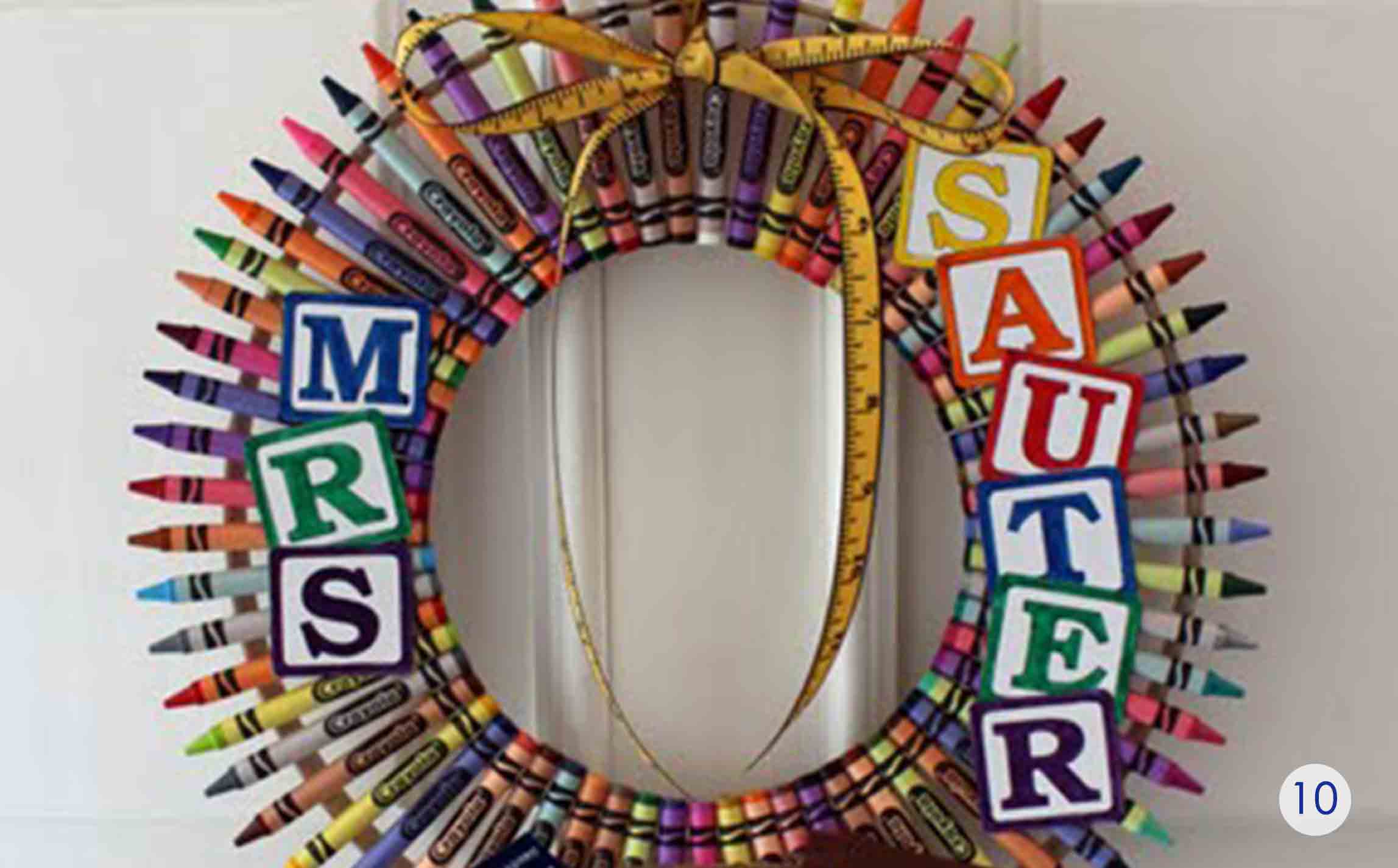 11. The Money Tree
I may be the Gift Card Girlfriend, but I can still appreciate cash and I think the recipient of this money tree would as well. With instructions on how to fold each dollar bill to create a Christmas tree shape, you can wrap this highly-coveted gift up in no time. Find everything you need on Then She Made…
12. Plant Stake Holder
While not every retailer understands the benefits of selling gift cards, I have to say that Home Depot is a believer. From their clever gift card designs to in-store gift card displays (have you seen the Father's Day toolbox with gift cards inside?) and creative gift card holders, this hardware store knows plastic. (And virtual too! Their egift cards have all the features!) Find out more about these plant stakes at The Home Depot Apron Blog.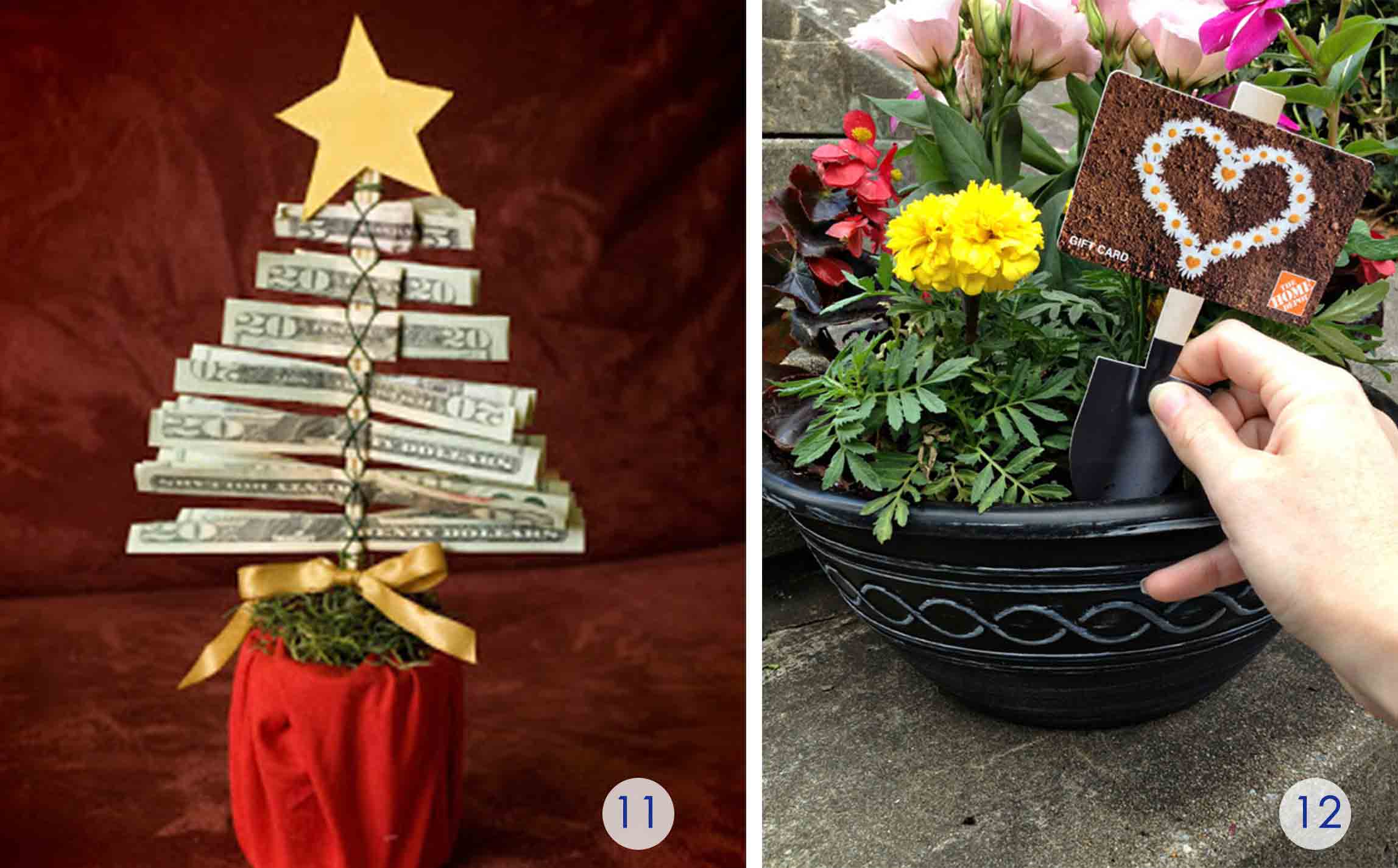 13. Dollar Tree Wreath
This dollar store gift card holder is virtually free because the designer made it using gift cards with zero-balances. In other words, she made it for a decoration. But you can use this idea to make a group gift instead. Since this design calls for 18 gift cards, spread the group gift contribution into appropriate denominations. For example, you might get a $10 gift card to Starbucks and a $20 gift card to Target. As a courtesy to the recipient, add a sticker to the back of each card specifying the dollar value. Get instructions at Dollar Store Crafts.
14. The Lottery Tree
I included the Lottery Tree in this round up because it's another twist on the same gift card tree idea. Instead of a plant, however, the designer used branches in a vase filled with rocks. Gift cards are tied to the limbs. Again, super simple. Find more on the Craft Elf.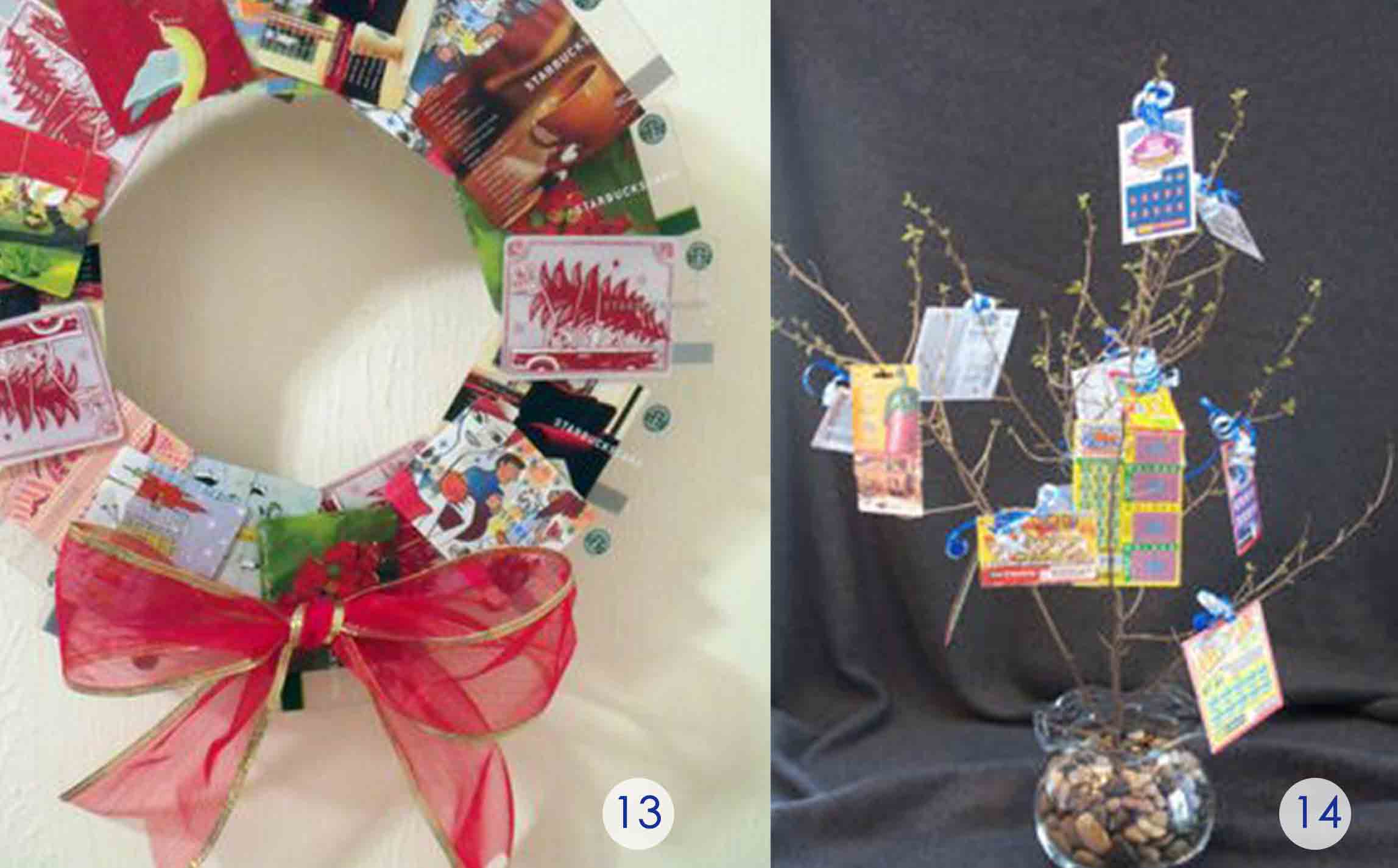 15. Teacher Clothespin Wreath
Clothespins apparently go with gift card wreaths like coupons go with shopping–you can have one without the other, but having both is better. This teacher appreciation gift card wreath is a delightful mix of kids and cards. See how it was done at Michaels.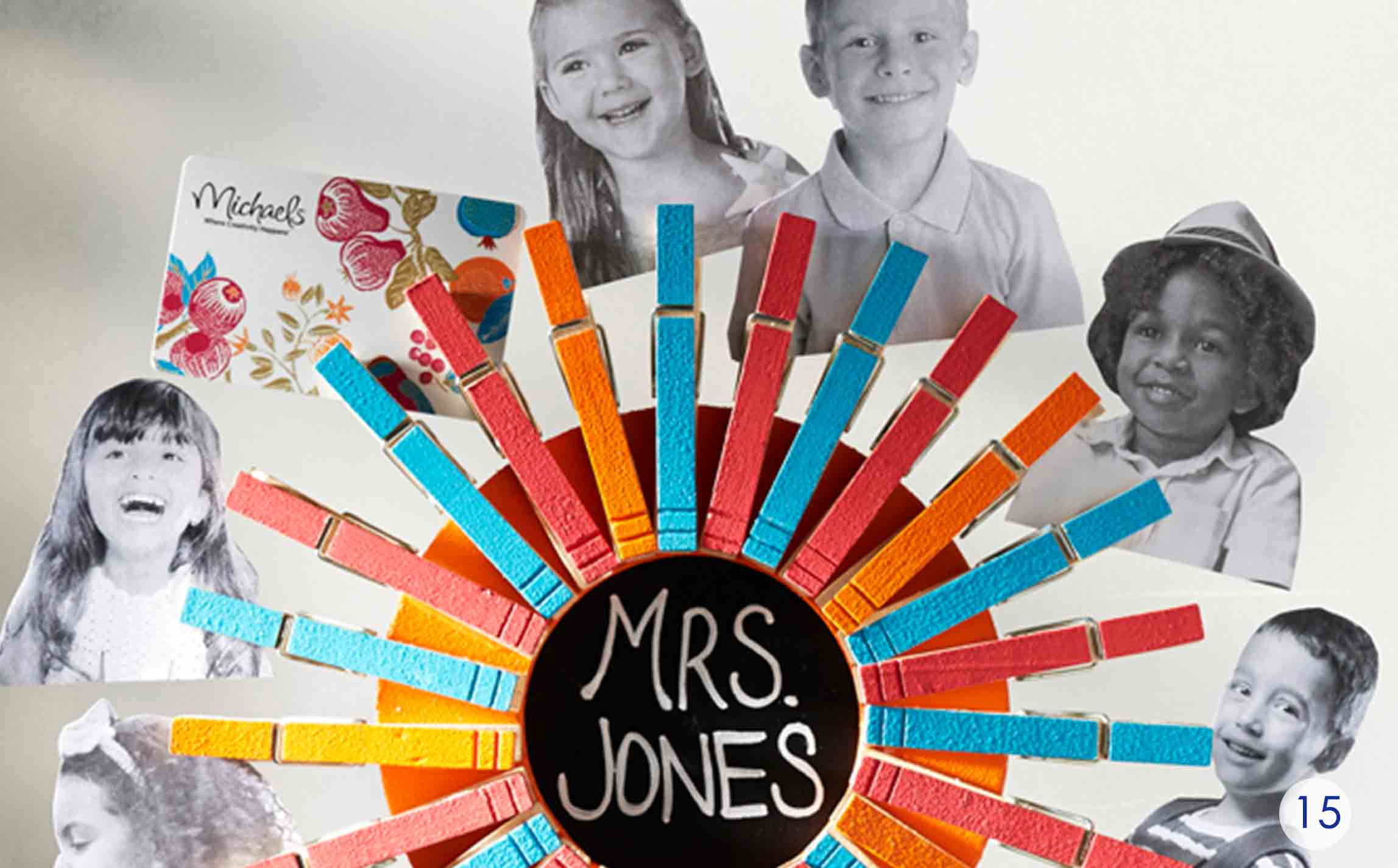 16. Baby Shower Gift Card Tree
I know it's fun to give a pink fluffy romper or a set of mustache-printed pajamas to an expectant mom at her baby shower, but I promise you she does not know what she needs until that baby arrives. When I think of all the pink clothes I received at my first baby shower but my daughter never wore (too small, wrong season, too hard toget on, etc.), I imagine hundreds of dollars being dumped into the dirty diaper pail. Get a gift card instead. Check out this baby shower display with a gift card tree waiting for cards and wishes to be attached. See more pictures at Reasons to Come Home.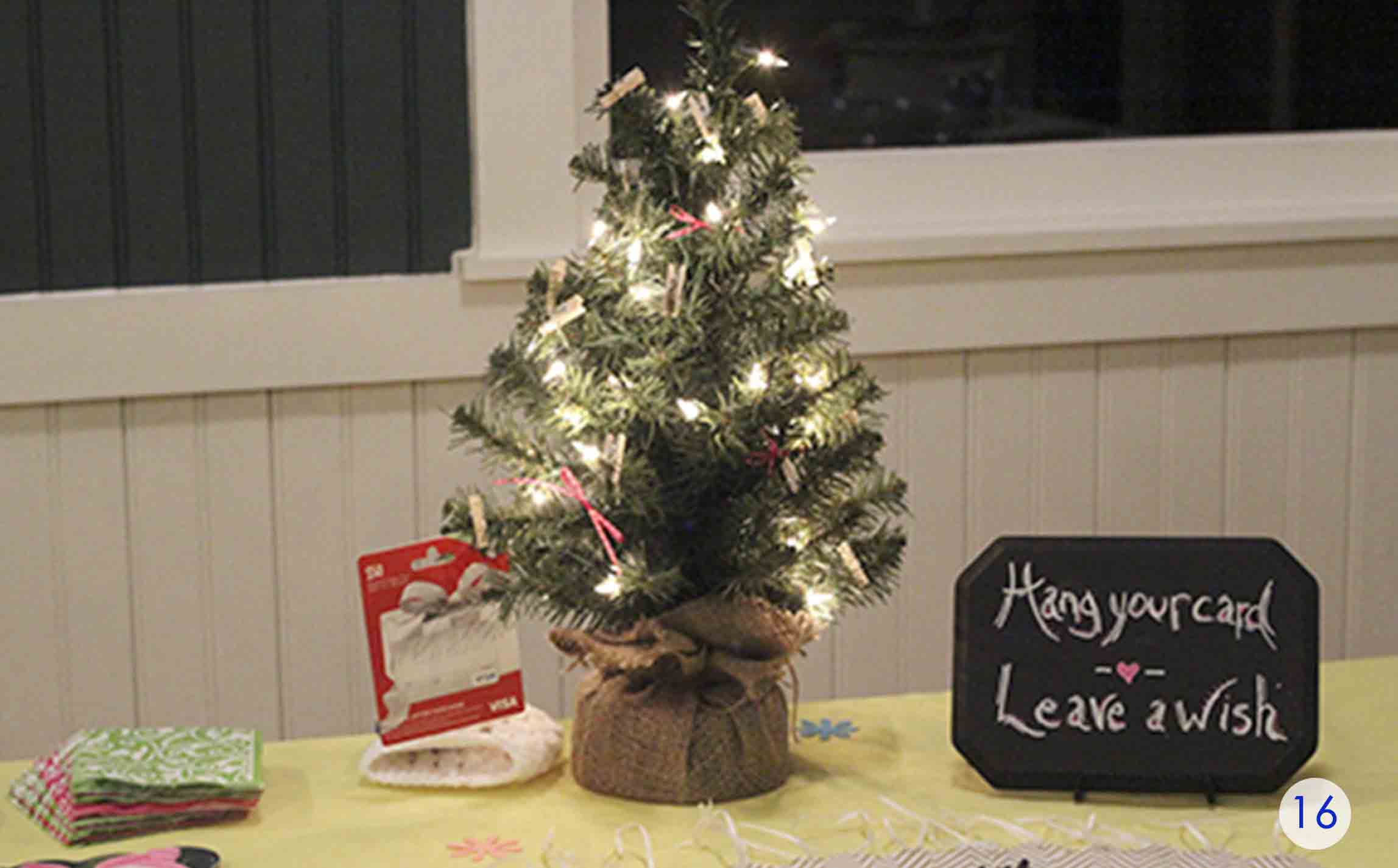 17. Silver Tinsel Wreath
Get your tinsel in a tangle with this gift card wreath. From what I can see, it's tinsel on a wreath with a mix of gift cards tied to it with ribbon. I like how the designer added a bell and a greeting card to the top. It's so easy to present multiple gift cards in an inspiring way. Read more on Doodlebug Design.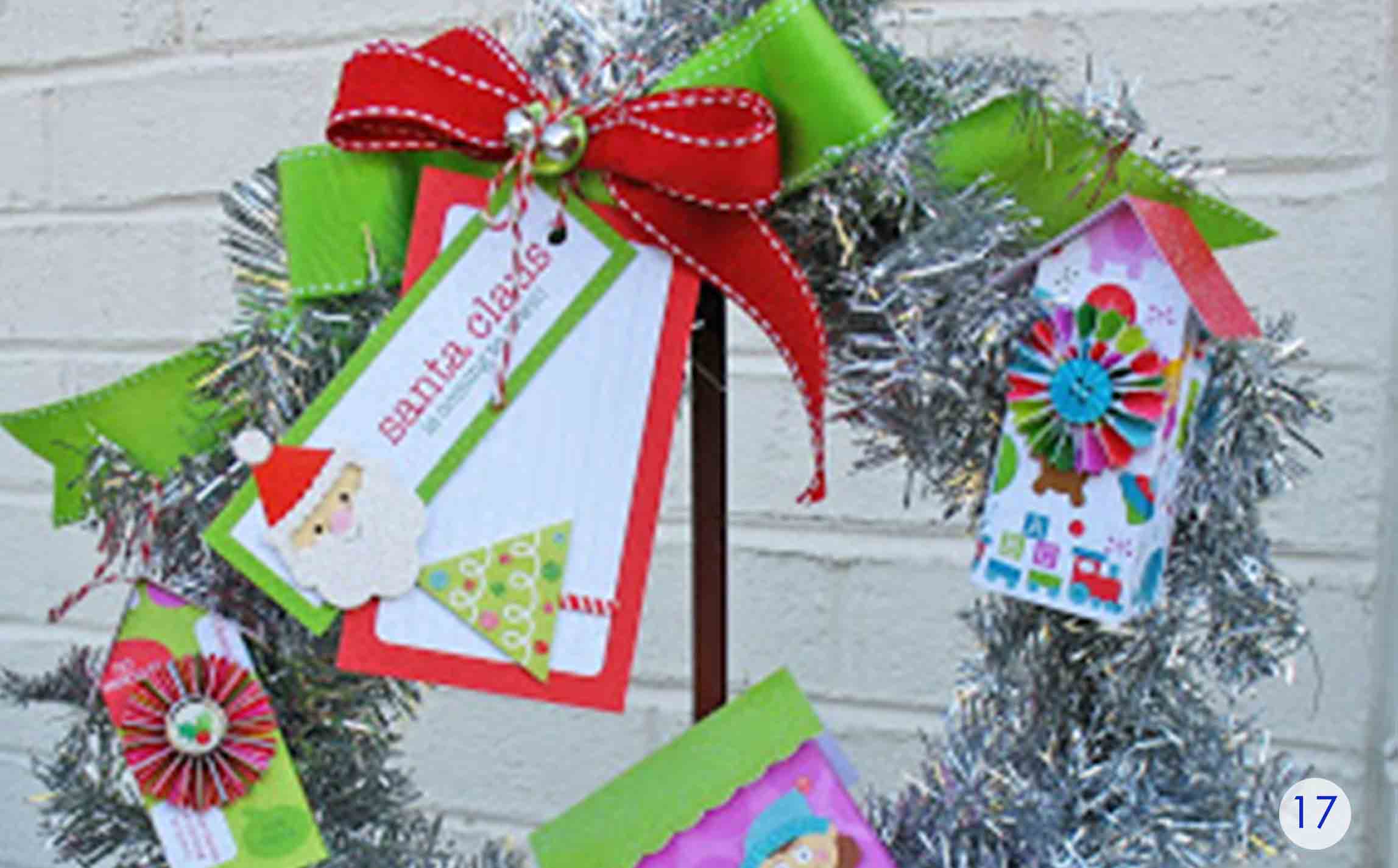 18. Gift Card Birthday Bag
Here's a fun twist–a birthday gift bag holds the gift card bouquet. I checked out the tutorial and it's super easy. Put floral foam in the bottom of the bag, stick the gift card sticks inside and tuck tissue paper all around. This is adorable and might be my next venture. Check it out at Making it in the Mitten.
19. Ribbon Wreath
Similar to the burlap wreath above, this simple gift card wreath is made of festive ribbon, clothespins, gift cards and a monogrammed initial. If you're thinking of copying this wreath for a teacher, then move to the head of the class because it was posted by a teacher on Creative Lesson Cafe.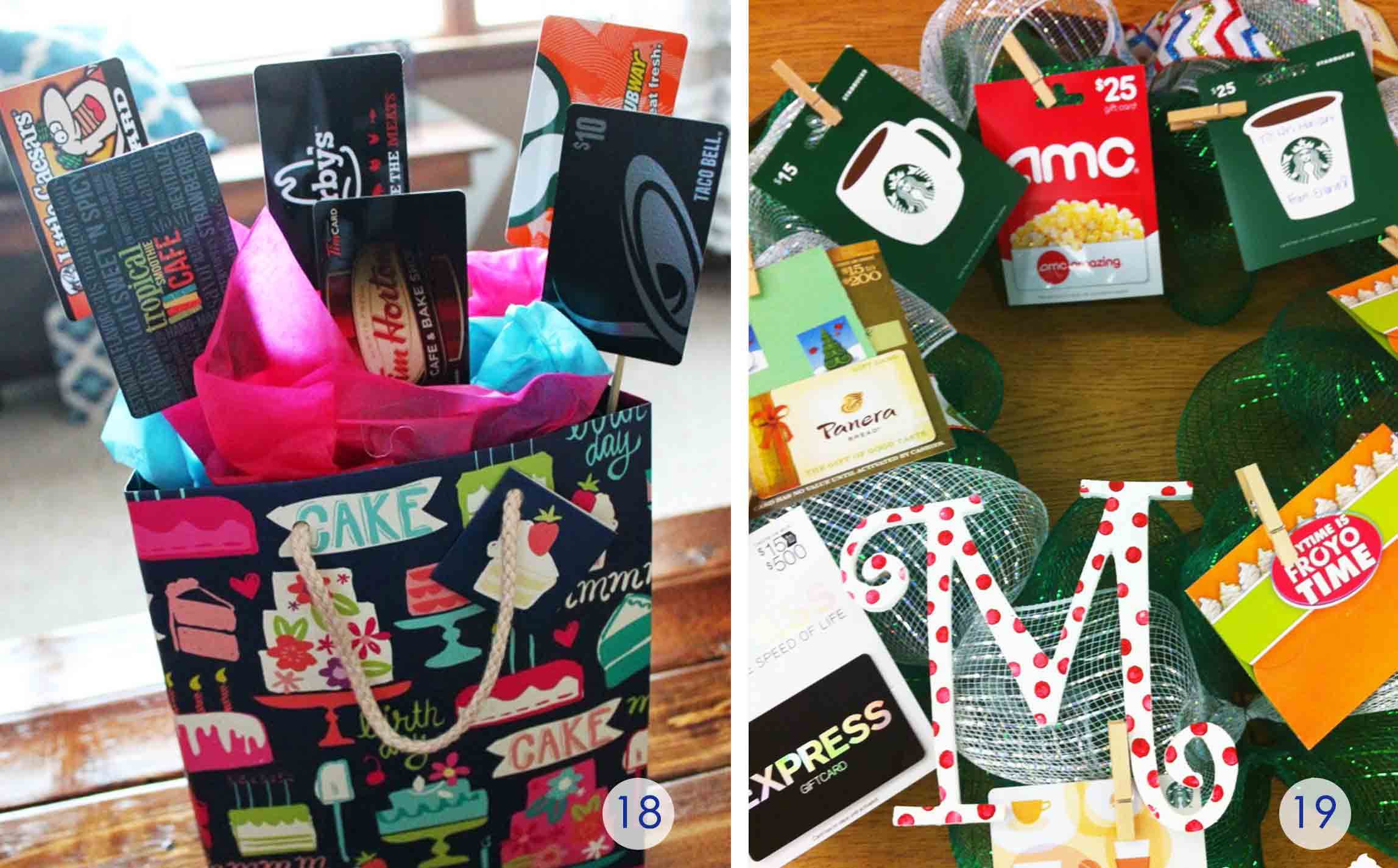 20. Wedding Gift Card Tree
This metal gift card tree is the perfect way to receive gifts at a wedding reception or bridal shower. Place it at the gift table, hang a picture of the happy couple in the middle and make it easy for guests to attach their gift cards to the other branches. In this example, it looks like the designer used group contributions to buy a bunch of different wedding-themed gift cards to Target. Great idea from this Pinterest User.
21. Tufted Memo Board
Ok, this is not a wreath or a tree, but is still a great way to give a group gift for a teacher, a bridal shower or a baby shower. You can also use this idea simply to give a variety of gift cards your mom on Mother's Day or your graduating daughter going off to college. The gift cards can be used right away and the tufted memo board can be hung on the wall afterwards. Learn more at Positively Splendid.
22. Swirly Tree
I'm pretty sure that I've seen a similar metal stand like this at Target, Walmart or another home accessories store. Look for a metal tree either in the holiday section or in the organization area of the store where it might be advertised as a necklace organizer. If you can't find one, search online with keywords "necklace organizer tree" and you'll find several alternatives. Posted by Pinterest User.
23. Woodsy Gift Card Tree
You probably don't have to go shopping to find this tree, but will need to spend some time out in the yard looking for branches. This rustic greeting card holder would make an ideal gift card holder. Have a holiday wedding in the works? Put this woodsy tree on display and let the guests fill it up with their gift cards. Find out how to make it on Songbird.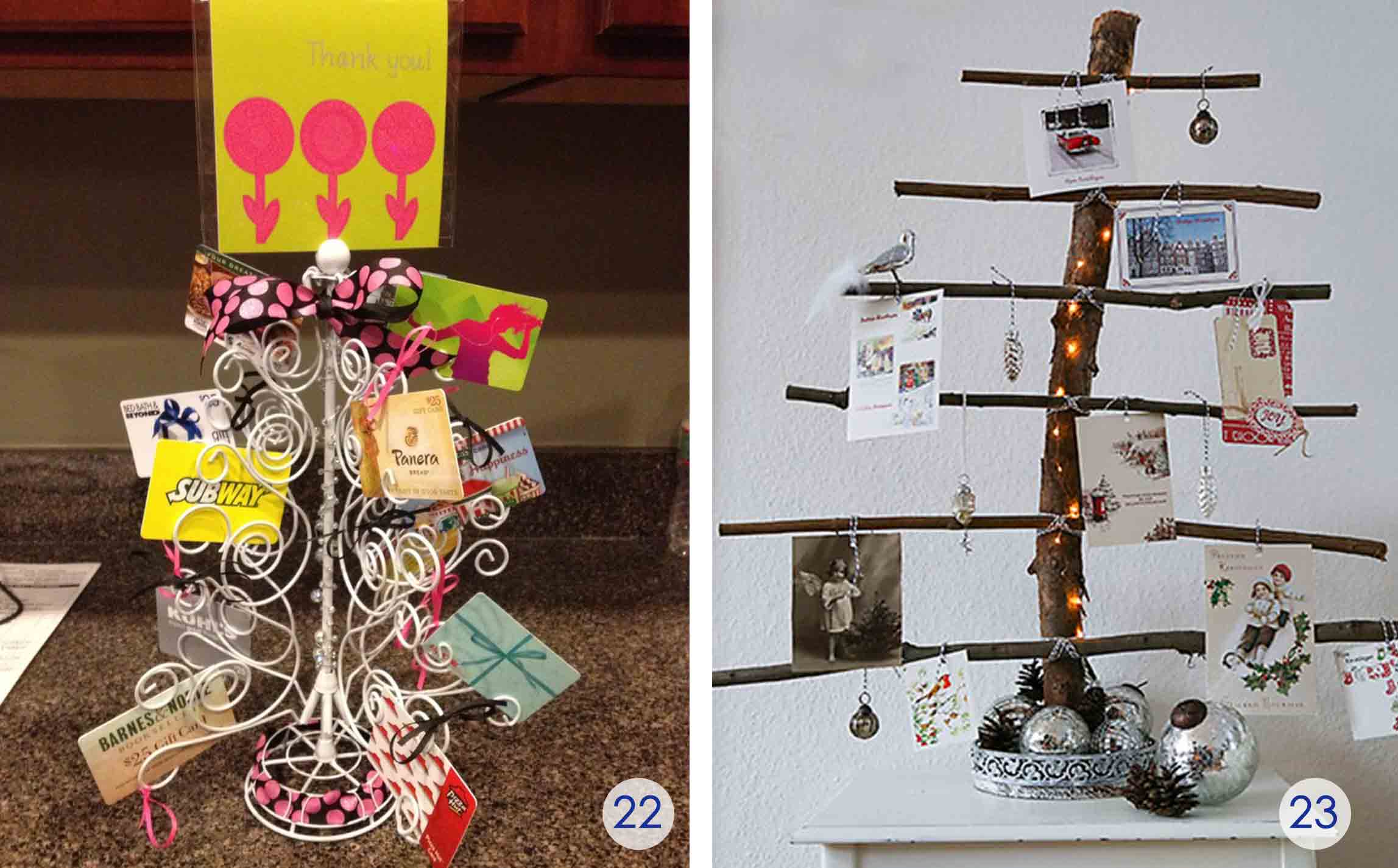 24. Clothespin Christmas Wreath
Here's another greeting card holder that I have to envision gift cards taking over. Why not alternate a little bit of each? Add gift cards to some clothespins and well wishes to others. See more pictures on Catch My Party.
25. Wedding Gift Card Tree
There's no tutorial on this wedding shower gift card tree, but I don't think you'll need one. Buy a metal stand–again, looking for a necklace organizer stand or tree, then use ribbon to attach the gift cards. I like how this designer used ribbon to tie a present-style bow on the plastic gift cards and then attached those cards to the stand. See more ideas on Wedding Fanatic.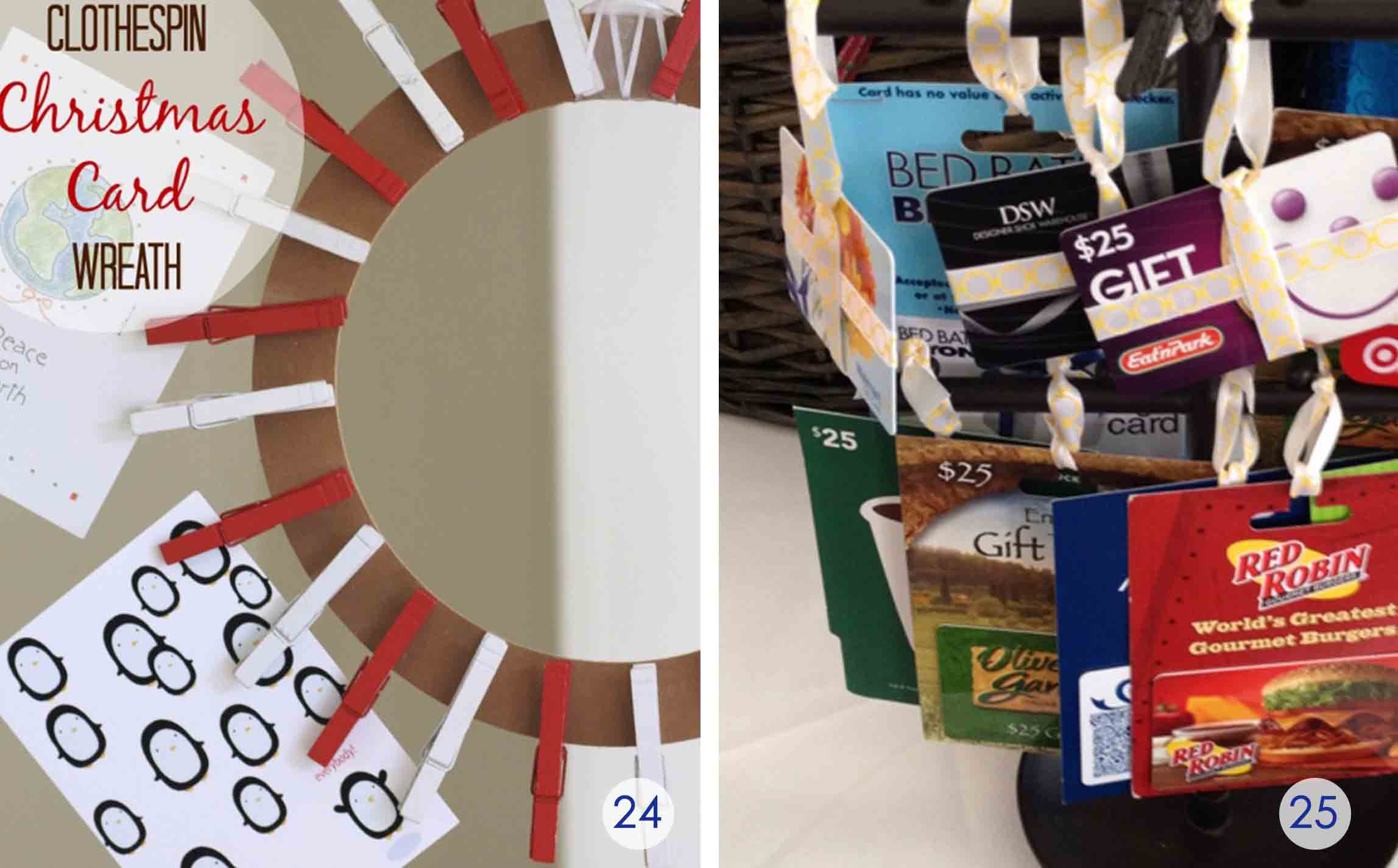 26. Shanty Boards
I know we are not supposed to compare ourselves to others, but when I see ideas like this, I feel like the kindergartner who can't stop eating the paste while all the other kids are using it to glue perfect construction paper mosaics. I'm literally in awe of the creativity (and photography skills) of this designer. The only thing I would change is to add a few gift cards and turn it into a present instead of a holiday decoration. But that's just me. Find the tutorial at Shanty to Chic.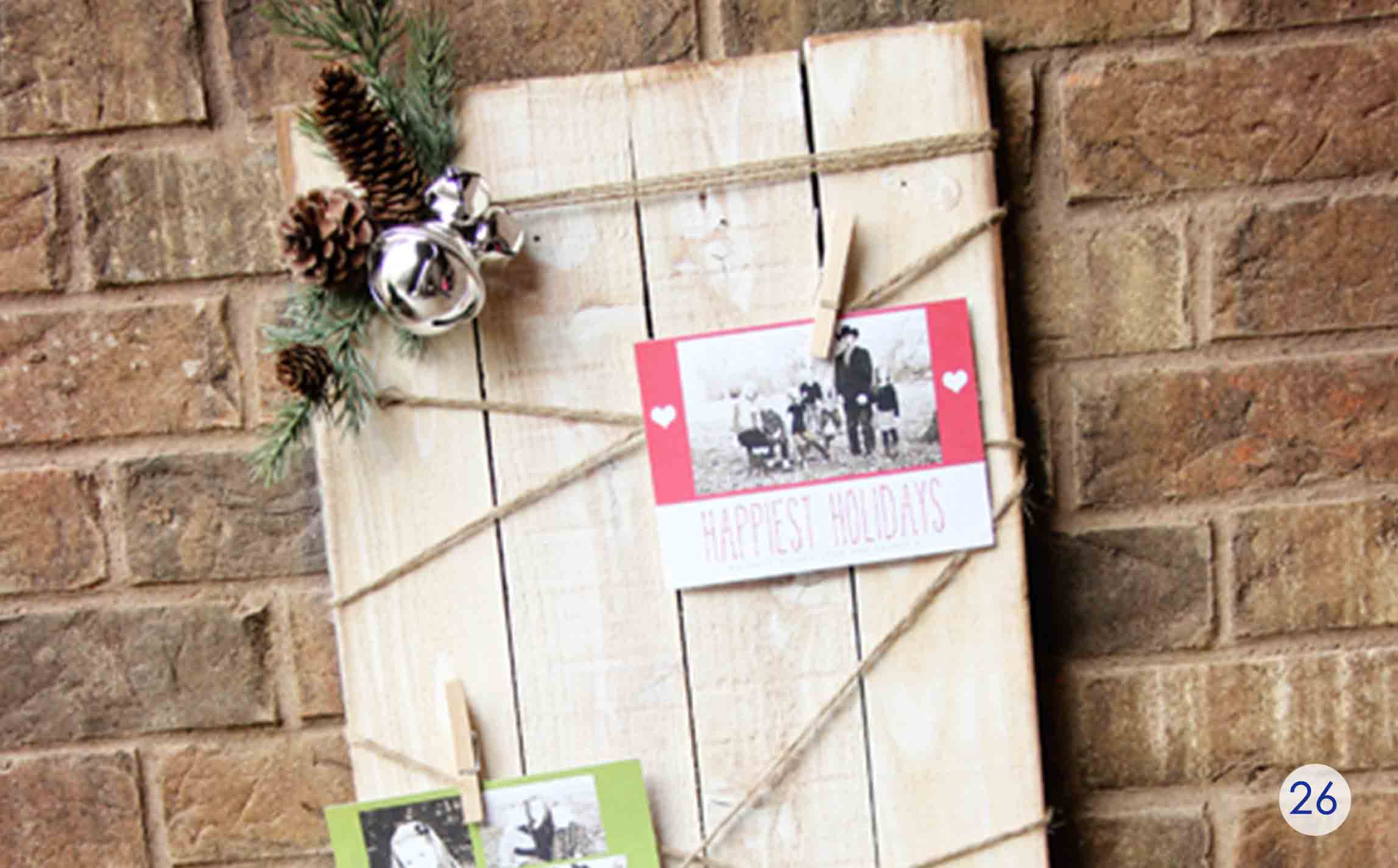 27. Silver Clothespin Wreath
Kick that clothespin wreath up a notch with decorative duct tape! Add a little ribbon and you've got a gift card wreath with bling. Easy to do and super fun to give. Read how to make this shiny wreath on Two Zero One.
28. Wire Hanger Tree
Again with the creativity! You people are so inspiring (and maybe even a little bit crazy, which I love!) So this gift card tree is made from wire hangers from the dry cleaners, clothespins, and some decorative washi tape. I think this would be a fantastic group gift display at a bridal shower. Keeping the "laundry" theme going, in addition to hanging gift cards, guests could hang handwritten household tips or small cleaning essentials. Put a laundry basket at the bottom of the tree to store the non-gift card presents that people bring. Silly as this may be, I love it. Straight to you from Made in a Day.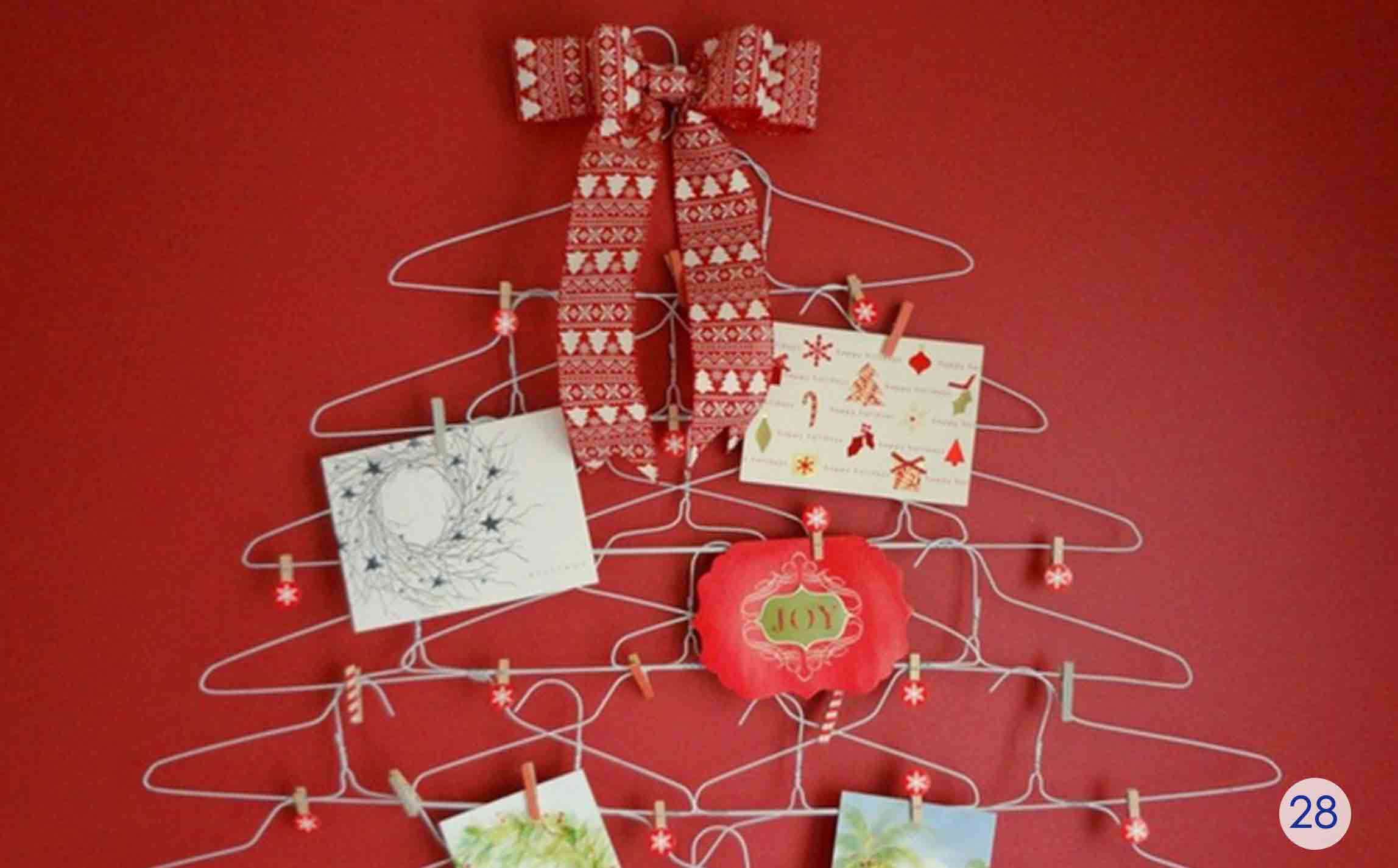 29. Clothespin in Frame
Taking the clothespin wreath to a new level, this one is hanging inside a darling frame. I love the vintage look of the pins, the buttons between each pin, the ribbon, the frame, the background…I love it all. Add a gift card and we can be friends. Learn how to make beautiful gifts like this one at Fern Creek Cottage.
30. Slat Christmas Tree
Lastly, one more slat Christmas tree to hold greeting cards or gift cards. Made with rough cut boards from the hardware store, some decorative paint and our trusty clothespins, this tree is ready to rock. If it's too big for your needs, buy smaller pieces of wood and make it a desk-size gift card holder. Read the tutorial at Little Lucy Lu.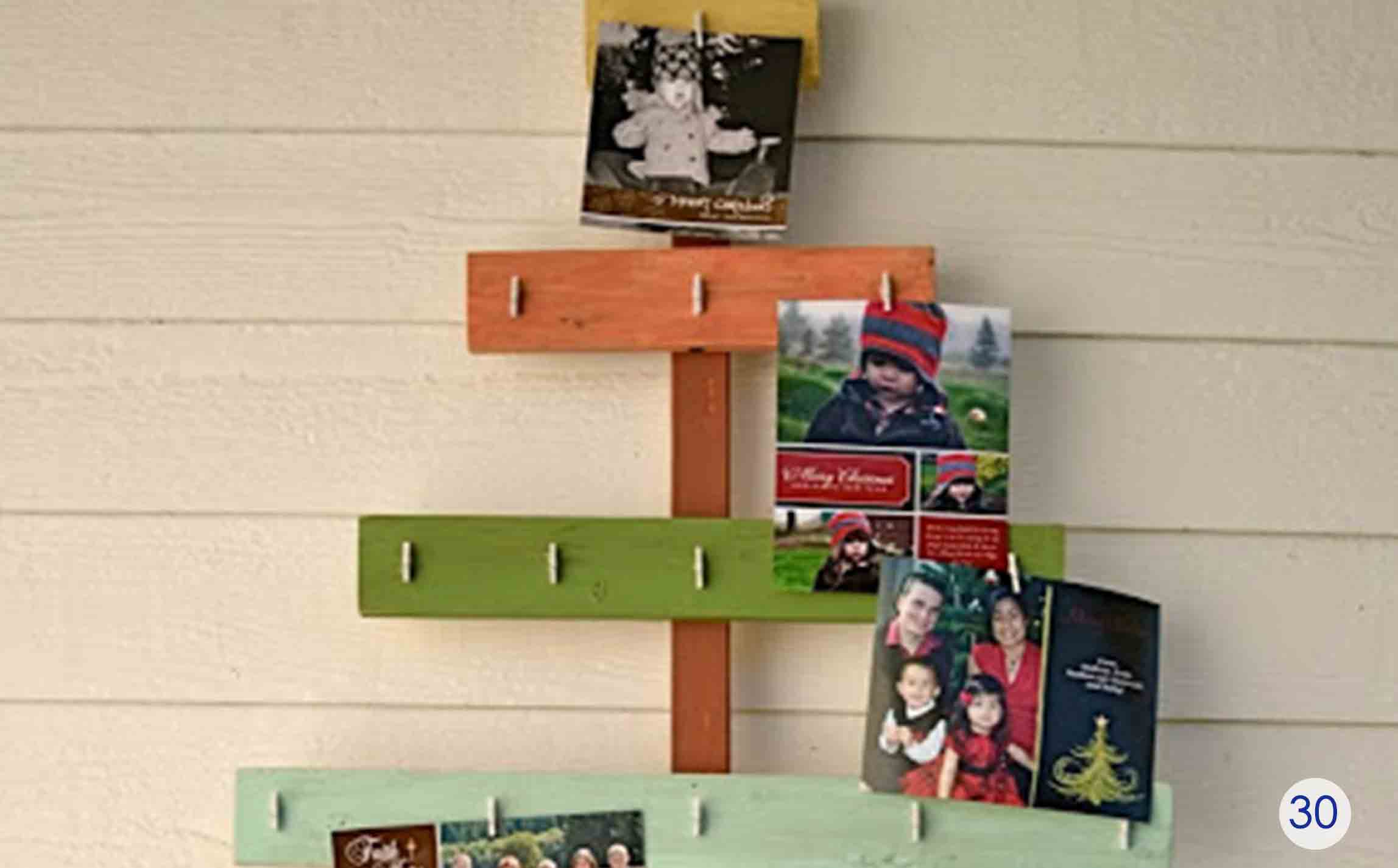 31. Peace, Love, Joy Ornaments
JUST ADDED: I just added this collection of gift card ornaments to our array of free holiday printables. There is a matching gift card, but you can also add gift cards from your favorite stores or restaurants. I like the idea of putting a spa gift card into the "Peace" ornament, a favorite shoe store gift card into the "Love" ornament and a fanciful gift card into the "Joy" ornament. There are six ornaments to print and to add to a tree, wreath or garland. Find the free holiday printable on the Peace, Love and Joy gift card ornament blog post..
32. Monogrammed Gift Card Tags on a Jewelry Stand
JUST ADDED: When my daughter turned 17, I wanted to get her some gift cards to celebrate her birthday. Rather than get just one gift card, I wanted to give her a collection of cards so she had more than one present to open. Since this is for a teenager, I wanted to put the gift cards onto something she could use rather than a wreath, tree or bouquet. She loved this fun surprise. She loved opening each tag to find a different gift card inside each one and she took the necklace stand up to her room and started rearranging her jewelry right away. One of the things I love most about a good gift card presentation is when you can give the recipient something to enjoy immediately, plus one ore more gift cards to be enjoyed later. Find instructions for creating this birthday gift card "tree" on a necklace stand here.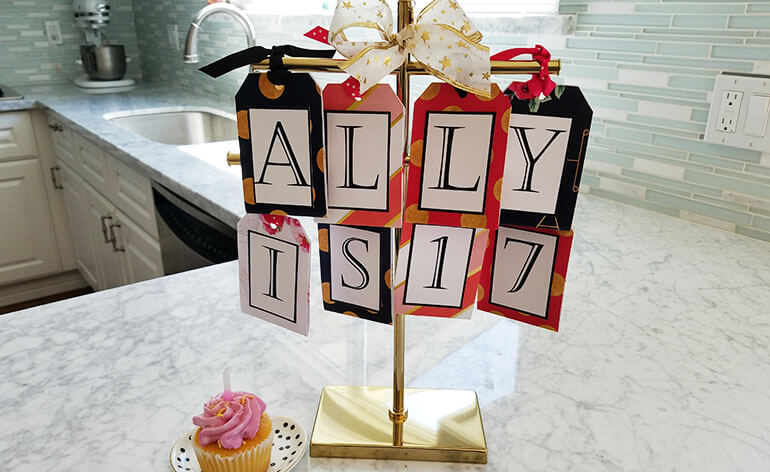 Why Gift Card Trees are so Popular
The reason multiple gift card holders are popular group gifts is because the organizer doesn't have to collect money from anyone. Rather than taking contributions for a single gift card or requiring a designated dollar amount, participants are invited to donate gift cards in any denomination. There may be a gift card theme such as entertainment (movie gift cards, iTunes gift cards, etc.) or restaurant gift cards (Outback Steakhouse, Applebee's, etc.), but most often people are invited to deliver any gift card in any amount. Plus, if there are more spaces in the holder than gift cards received, greeting cards and well wishes can be substituted.
Keep it Simple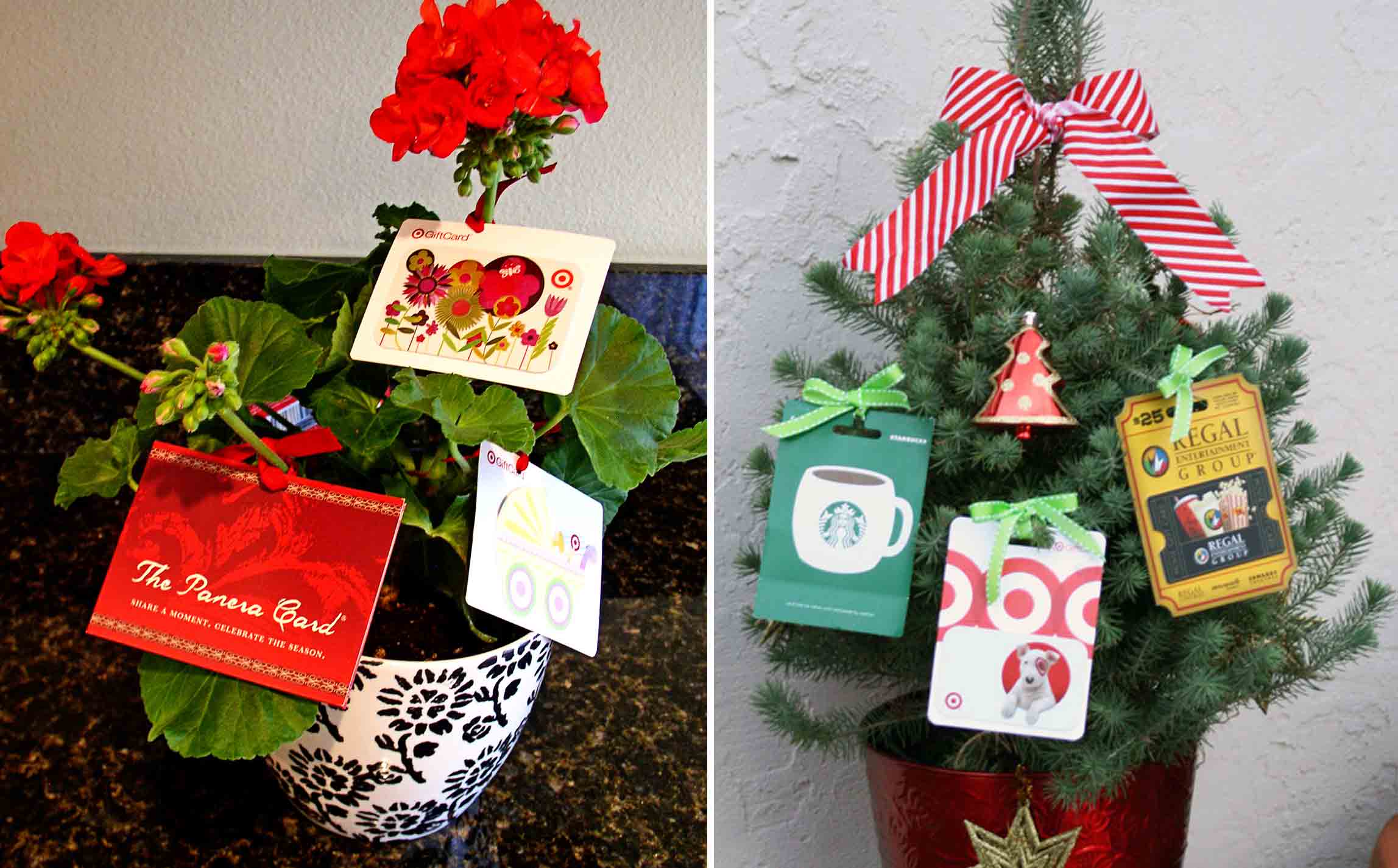 If you're overwhelmed by the creativity of other bloggers and designers on the Internet, you're not alone. I love my gift cards, but I rarely have time to get super crafty when it comes to the presentation. Simple potted plants or Christmas trees can be picked up at the store. Gift cards can be tied on with ribbon. Although I always like to deliver something extra with a gift card, I don't like to spend a great deal of money on the "holder." I'd rather put my funds towards the gift card itself. With a simple delivery, I can do just that. Keep it simple while you're making the following:
Trees. Plants, trees, metal trees, flower bouquets, and even painted sticks with gift cards tied to the stems in various fashions will all work. Some gift cards are tied directly to the tree while others are tucked into decorative gift card holders before being attached to the tree. Some gift cards are tied to the foliage with ribbon, some are clipped on with clothespins and others hang like ornaments. One of my favorite gift card trees even has gift cards tucked into the planter box below.
Wreaths. Here again, the wreath can be anything from foliage or floral to curly-ribbon craftiness. Gift card wreaths can be designed to hold a random display of gift cards or a set number of gift cards.
More on Pinterest
Whether you're giving a group gift for the teacher, the office staff, the admin, your boss, a baby shower, a bridal shower or even collecting for a family in need, you'll find even more ideas when you follow Gift Card Girlfriend on Pinterest. The pinned ideas are mostly scalable so they can accommodate however many gift cards you collect.
Think how magical it would be to receive a tree dripping with gift cards, a wreath stuffed with gift cards, or a personalized group gift card funded with enough money to do some serious shopping. All three options make it easy for you to organize, collect and present an amazing group gift this holiday season. If I missed a great one, let me know in the comments below. I would love to see what you've got!
Happy Gift Carding!
~Shelley Hunter, Gift Card Girlfriend