A new survey shows that people surveyed MOSTLY remember to use the gift cards they receive. Learn more about this gift card survey and get advice on improving gift card usage below.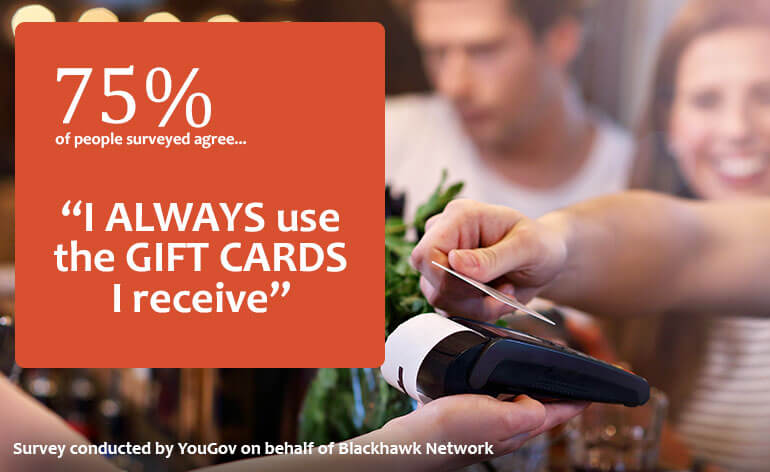 2018 Survey on Gift Card Usage
On behalf of Blackhawk Network, YouGov conducted a survey of over 1,100 people to get a new read on gift card usage*.
In 2015, CEB Tower Group (Now Gartner) predicted that U.S. gift card spending would hit $130 billion. The company also estimated that unused gift card volume would "decline significantly to less than 1% of total volume."
The YouGov survey on gift card usage supports the CEB study, indicating that people ARE using the gift cards they receive.
For other research results, see this list of the latest gift card statistics.
Do People Use The Gift Cards They Receive?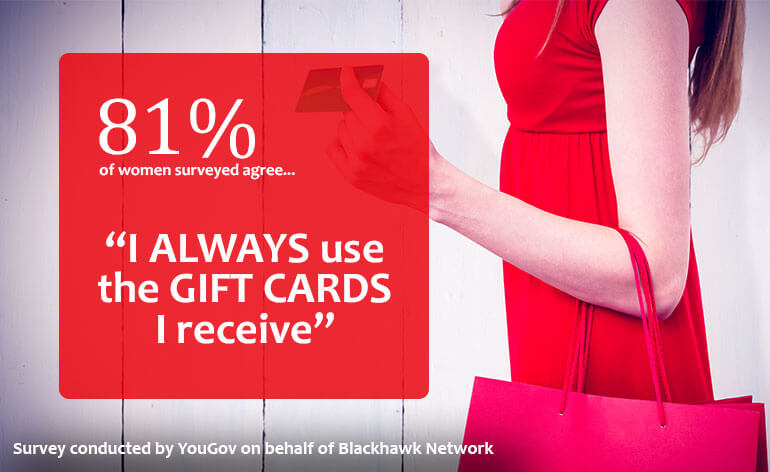 In this survey, adult men and women living in the United States were asked if they agree or disagree with three statements about gift card usage. Let's take a look at the results overall, by gender and by age group:
"I always use the gift cards I receive."
Seventy-five percent of the people surveyed claim that they always use the gift cards they receive. Women, however, are more likely to be out shopping with their gift cards and people over the age of 34 are more likely to always use their gift cards.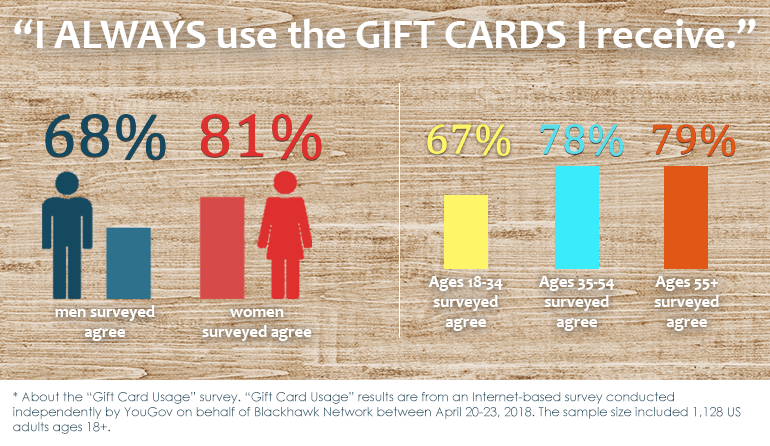 Do People Remember to Use Their Gift Cards?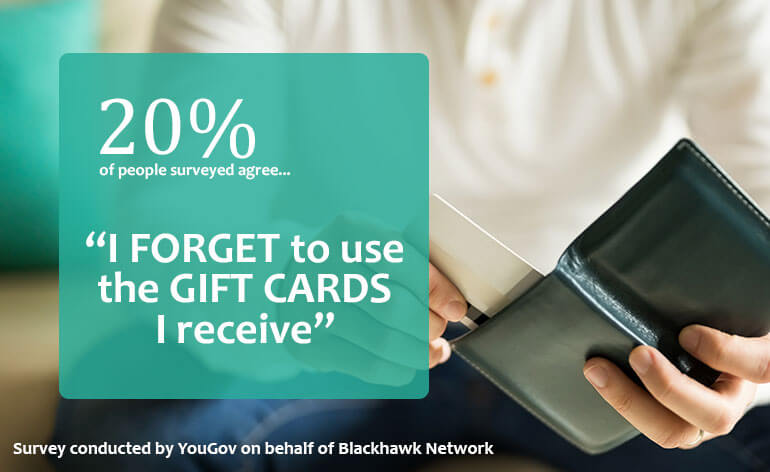 The second question in the gift card survey asked participants whether they agreed or disagreed with the statement, "I forget to use the gift cards I receive."
Though most people who responded to the survey remember to use their gift cards, I want to help the one in five people who is forgetting to use his or her gift card.
In my experience, the longer you hold onto a gift card, the higher the likelihood you will lose the gift card or forget you have it; so, follow my advice: 8 Ways to Remember to Use Gift Cards.
"I forget to use the gift cards I receive."
One in five people say they sometimes forget to use their gift cards. Like the question above, the women surveyed are less likely to forget their gift cards as are middle-aged adults.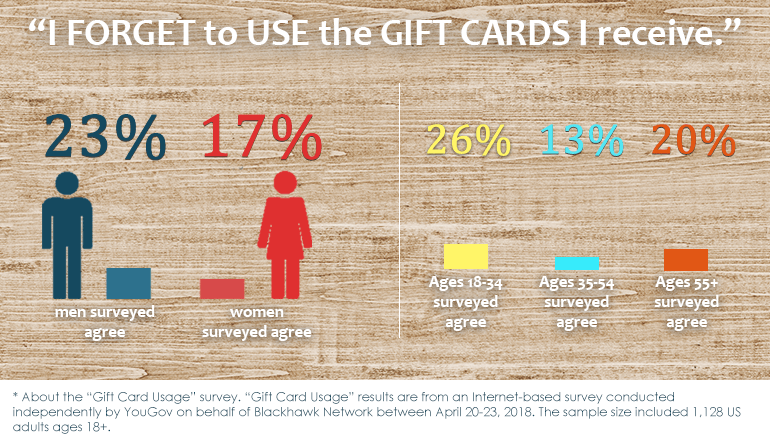 Do Gift Cards Go to Waste?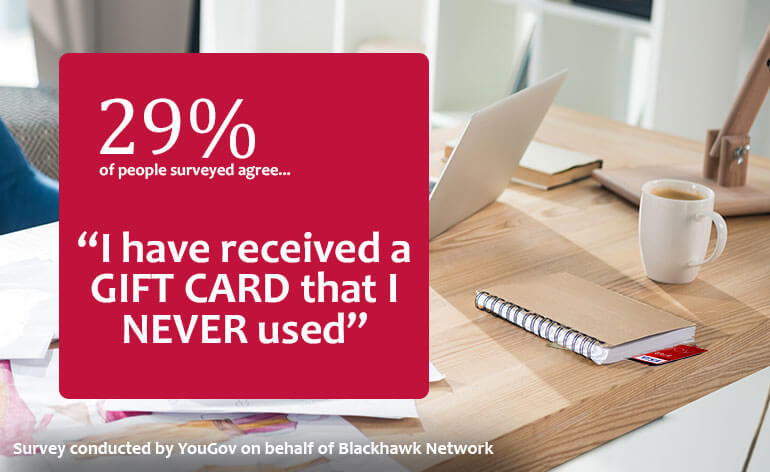 Though research shows that the number of unused gift cards has declined in recent years, I think even one unused gift card is too many. In my opinion, gift cards most often go unused because people forget to treat their gift cards like cash or they receive the wrong gift cards in the first place. Let me explain.
When you receive cash, the first thing you do is put the bills in your wallet so the money will be handy. You should do the same with gift cards. Additionally, if you have a Visa or Mastercard® gift card, or a promotional gift card, check the back of the card for any expiration date or non-use fees that will affect the value of the card. Putting the gift card where you can easily find it and knowing for how long the funds will be valid can help you use your gift cards in a timely manner.
If you receive a gift card that will be challenging to spend (e.g. no location nearby, don't like the brand, etc.), then do something else with the card immediately. Here's a list of 7 Things to Do with Gift Cards You Don't Want.
"I have received a gift card that I never used."
Fifty-eight percent of the people surveyed say they've used all the gift cards they've received. I am fairly certain I fall into that category. I can't think of a single gift card I haven't been able to use (in some way), even when I do occasionally struggle to use the last small amount left on a gift card. Here is what the survey participants said: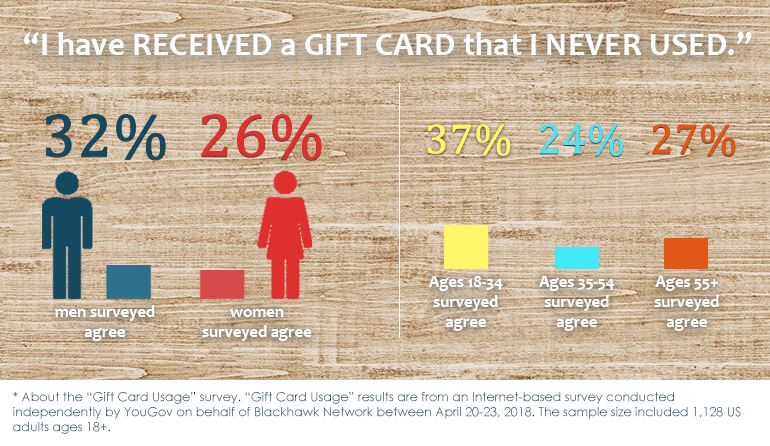 Help Using Your Gift Cards
In addition to the many blog posts I've written, I have answered hundreds of gift card questions via the blog post comments. A question I get all too often is what to do when a gift card is no longer valid. Thanks to Federal and State gift card laws, most store and restaurant gift cards do not expire so they can generally be used for years to come. However, bank-issued gift cards and promotional gift cards often have expiration dates. Though the terms and conditions of these cards are clearly stated, people still tuck them into drawers at home with the intention of saving the funds for future purchases.
If you fish a store gift card out of your sock drawer five years from now, the card will still be good if the store is still in business. (More on bankrupt gift cards here.) But that's not the case if you're finding a promotional gift card. In most cases, the plastic will be expired, the funds depleted and the gift card will no longer be redeemable.
So please take my advice and use the gift cards you receive right away. I'd love to see this survey repeated next year with improved results–every gift card used, no gift card left behind.
If you have any other questions about this survey or about gift cards in general, please let me know in the comments below or contact me on Twitter (@GCGirlfriend). I would love to address all of your gift card needs.
Happy Gift Carding!
~Shelley Hunter, Gift Card Girlfriend
* All figures, unless otherwise stated, are from YouGov Plc. Total sample size was 1,128 adults. Fieldwork was undertaken between April 20–23, 2018. The survey was carried out online. The figures have been weighted and are representative of all US adults (aged 18+).