Tuesday 7.03.2018
What To Do with Gift Card to Store in Bankruptcy
Quickly use gift cards to stores in financial trouble. If store goes into bankruptcy, courts will decide if (and for how long) gift cards will be honored.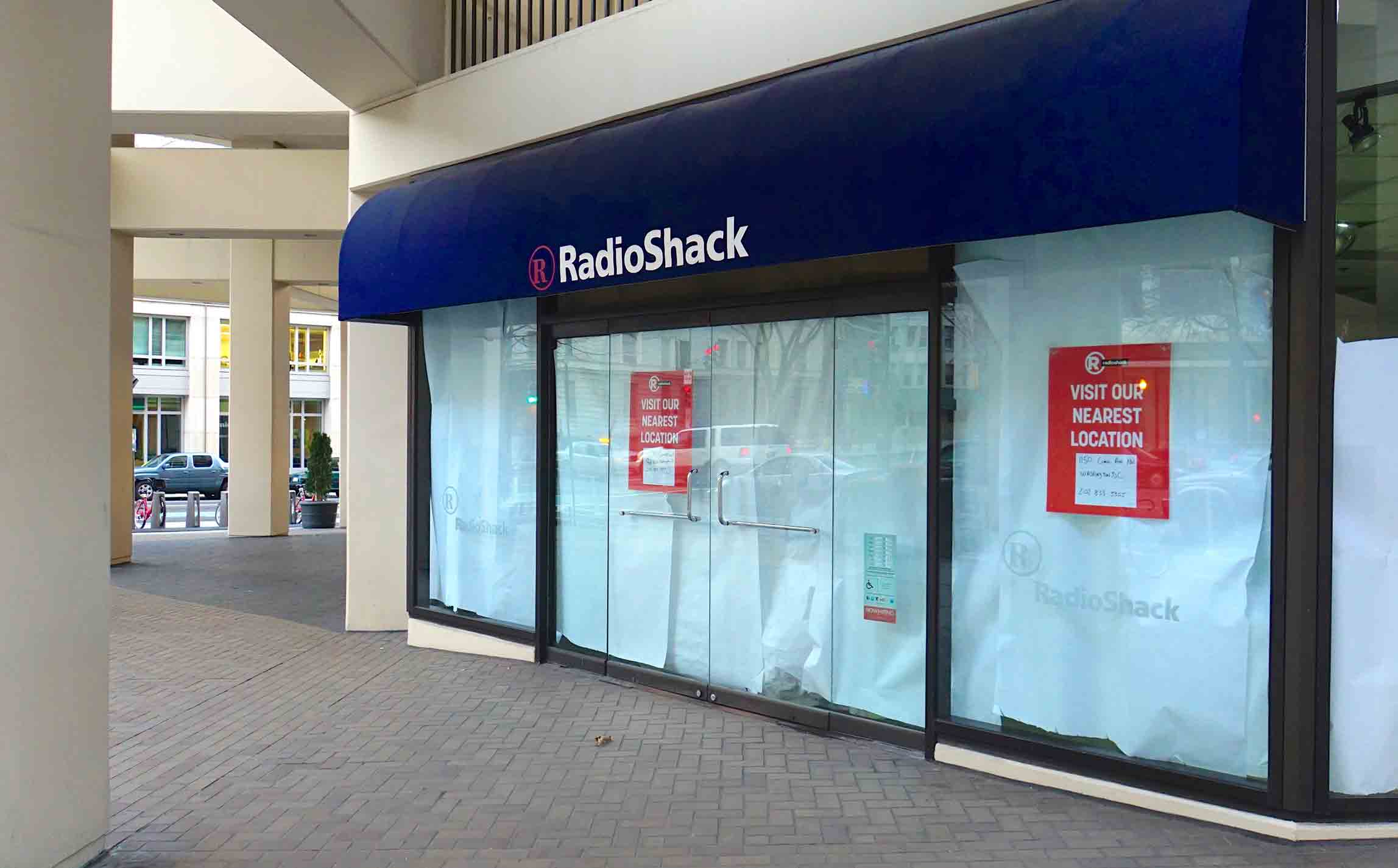 photo credit: Shuttered Radio Shack Store Washington DC 52160 via photopin (license)
RadioShack Pulls Plug on Gift Cards
Here's a story. When RadioShack filed for bankruptcy, the company originally said the store would only honor gift cards through March 6, 2015. But with pressure from the Attorney General, the deadline has been extended. According to the company's website, RadioShack gift cards extended acceptance of the cards for a few weeks (March 31, 2015), pending court approval. The Wall Street Journal reported approximately $44 Million worth of RadioShack gift cards were outstanding at the time. Radio Shack stopped accepting the cards, but then lawmakers got involved and for a year, consumers had the option to file a claim until eventually the cards were fully defunct.
That was a couple of years ago now. Since then, a barrage of stores have also filed for Chapter 11 and the trend does not appear to be stopping as online shopping continues to dwarf in-store sales. So if you have a gift card in your wallet that is on my Chapter 11 Gift Card Watchlist, please read these tips on what to do with a gift card to a store in bankruptcy.
8 Ways to Use a Soon-to-be-Bankrupt Gift Card
Sometimes people hold onto gift cards longer than they should because there's no immediate need for the merchandise available, using the card is inconvenient, or they simply forget. When a store is rumored to be in financial trouble or it officially goes into bankruptcy, however, consumers need to act quickly before the value of their gift cards short out. Below are eight ways to use a RadioShack gift card today:
1. Buy Stuff You Need
While using the gift card to buy something you need might seem like obvious advice, a store like RadioShack carries a wide selection of merchandise that customers often don't go into the store to buy (hence, one of the reasons the stores are struggling.) RadioShack sells cell phones and accessories, computer peripherals, toys, gadgets, electronics and more. They also have in-store repair and services available. So if your son has a cracked smartphone screen or your daughter needs a new phone charger, use a RadioShack gift card to take care of those things. Since closeout sales are likely to deplete inventory quickly, use your card before the shelves are picked clean.
2. Buy Gifts
When a store's balance sheet is making headlines, use your gift card to start your Christmas shopping early or pre-buy gifts for graduation, weddings, birthdays and other gift-giving occasions on the horizon. RadioShack, for example, sells remote control cars, gaming accessories, wireless speakers, fitness trackers and a bunch of other items on wish lists. Though the recipient won't be able to return the gift if you buy it from a store that subsequently folds, you may be able to get more product for your money thanks to lower than normal prices.
3. Donate Supplies
Use a soon-to-be extinct gift card to buy necessities for your office, church or school. RadioShack sells things that are always in demand such as batteries, extension cords and spare cables. The store also sells small appliances like microwaves, coffee makers and portable fans. Think about products the organizations you run (or support) could use and buy products they will appreciate receiving.
4. Get a Tax Write-Off
Usable gift cards are great for donating to charities and schools because the organizations can use the gift cards to buy needed products or auction them off at fundraisers. When a store's gift card is on the brink of being unusable, however, don't pass the problem on to anyone else. Instead, use the gift card to buy products you can donate. A school, for example, might be in need of a new camera for the yearbook department or they could put a set of headphones into an entertainment gift basket to be auctioned off at the year-end fundraiser. Either way, the organization gets much-needed help and you get a tax write-off for the contribution.
5. Trade for Cash
With news of RadioShack's short circuit, gift card resellers will likely stop buying the electronic store's gift cards immediately, so you can't get cash back for your cards that way. But you could buy items at the store to sell for cash in another venue. For example, you might be able to buy a new Xbox at RadioShack (at close-out savings!) with the gift card and sell it on eBay or Craigslist for a profit. Advertise the item as "New in Box" to fetch the highest price.
6. Stock Up!
Time is ticking. If the courts don't approve RadioShack's March 6th deadline, the gift cards could be defunct even sooner than expected. If you're not sure what to buy, stock up on batteries. They've got them, you need them, end of story. Do the same with a gift card to any store in jeopardy–stock up on things you know you'll need. The purchase might not be that exciting, but it's better to use the card before you lose it.
7. File a Claim
Probably the least satisfying way to use a gift card for a store that is going out of business is to simply file a claim. While processing could take months, there's no guarantee you'll get paid and your claim won't get paid until the company's other creditors are satisfied, there is a chance you could get the load value of your gift card back. You'll need to provide proof that you have a gift card and you should hold onto the gift card until the case has been fully settled. Download the RadioShack claims submission form here.
8. Look to Competitors
When Sharper Image filed for bankruptcy and stopped accepting gift cards, Brookstone, one of their competitors, offered consumers 25% off any purchase if they surrendered a Sharper Image gift card in the process. Since Brookstone had no way of confirming the balance of the Sharper Image card, the dollar value didn't matter. Perhaps one of RadioShack's competitors will do the same?
What NOT to do with Bankrupt Gift Cards
Normally when you have an unwanted gift card, I suggest cashing it out or regifting it to someone else as a first choice. Not in this case. The best thing to do is use the gift card yourself as quickly as possible. If you're a gambler, you might be able to buy discount RadioShack gift cards by the dozen from a gift card reseller trying to unload inventory before the cards expire. Stacking discount gift cards on top of close-out prices could net huge savings, but you're the one who will be stuck if the store stops accepting the gift cards before you are able to use them. Proceed with caution.
Another thing you should not do with a bankrupt store gift card is get rid of the card. RadioShack extended their acceptance period after initially calling the cards defunct. And as you'll see in the Sharper Image story below, customers who could later prove they had a gift card to the bankrupt gadget store received compensation even though the cards had been declared nonredeemable three years earlier. Since Chapter 11 relief (bankruptcy protection) doesn't always end up in Chapter 7 (bankruptcy), there is a possibility your gift card may still be worth something. So hold onto it if you didn't get a chance to use it.
What Happens to Gift Cards When a Store Goes Bankrupt
When you buy a gift card, you are giving the merchant an unsecured loan until the full value of the gift card is redeemed. When a store files for bankruptcy, payments are frozen and creditors must file claims in order to get paid. Since gift card holders are a unique set of creditors, the company must ask the courts for permission to redeem gift cards through a certain date. The situation can be confusing for consumers because stores in bankruptcy protection are often open well beyond the gift card acceptance period. At my local RadioShack, for example, the shelves are starting to clear, but there are no rock-bottom prices or "going out of business" signs visible. I predict customers who didn't hear about the deadline will blow a fuse when they try to redeem their cards a few weeks from now.
While gift card holders who miss the deadline have the option to file a claim to recover the value of their cards, their claims will be processed behind the company's major creditors. Although gift card holders are most likely out of luck when a store files for bankruptcy, they should still hold onto the plastic just in case. Take Sharper Images customers, for example.
Sharper Image Not So Sharp
In 2008, Sharper Image stopped accepting gift cards when the company filed for bankruptcy protection. A month later, the store announced they would only accept gift cards if the holder bought double the value of the card (e.g. a $100 gift card could only be redeemed if the consumer bought at least $200 worth of merchandise). When customers complained, the company told them they could file claims, just like other creditors. Three years later, the company announced plans to settle up with remaining gift card holders. Those who could provide proof of having a Sharper Image gift card, however, were given priority over those who couldn't.
Borders Out of Order
When Borders bookstore shuddered their shelves, the company had nearly 18 million gift cards outstanding, representing close to $211 million in load value. Although the courts initially acknowledged that gift card holders were due a settlement, nobody bothered to tell them to file claims. Thus the claim deadline passed, bankruptcy proceedings continued and the courts ultimately ruled it was too late for Borders cardholders to file claims in order to be compensated. To date, Borders gift card holders have not received anything.
Linens 'n Things Stayed, Gift Cards Didn't
In 2008, Linen's n Things (LNT) filed for bankruptcy protection. Although the company accepted gift cards throughout the proceedings, they also sold gift cards nearly up until the moment the doors closed for good. During restructuring, another company purchased the failing company's name and website. Although from a consumer perspective, LNT appeared to up and running online, the new holding company refused to accept gift cards issued by the LNT store.
Coldwater Creek Gift Card Holders Left in the Cold
When Coldwater Creek filed for bankruptcy protection, they too allowed customers to redeem gift cards and merchandise credits throughout the process. However, when a new company bought the brand and relaunched the website, the gift cards became useless. According to the new company's website, "Coldwater Creek in its original incarnation went through the bankruptcy process, which makes it impossible to honor any financial agreements with the previous company."
Although companies often ask the courts for permission to redeem gift cards throughout bankruptcy proceedings as a show of good faith toward consumers, they don't have to make the request and the courts may not grant permission anyway. When they do allow redemption, the deadline for using the cards may be well ahead of when the stores are actually closed, catching customers off guard and unaware they are holding useless plastic. If restructuring is successful, gift card holders who held out hope of being able to use their gift cards with the new company may be disappointed to find out they can't use their cards anymore either. Much as I'm a fan of gift cards, there is a risk that you'll buy a gift card for a company on the brink of bankruptcy without even knowing it.
As with any gift card you receive, the best thing to do when you have a gift card to a store rumored to be in financial trouble is use the gift card right away. If you miss a deadline for doing so, file a claim or keep the card until you find out whether or not the company (or a competitor) will honor it.
Have you ever been stuck with a gift card to a bankrupt business? Tell me what happened in the comments below or leave a message for @GCGirlfriend on Twitter.
Happy Gift Carding!
~Shelley Hunter, Gift Card Girlfriend