Break out of the (gift) box and give someone the gift of adventure!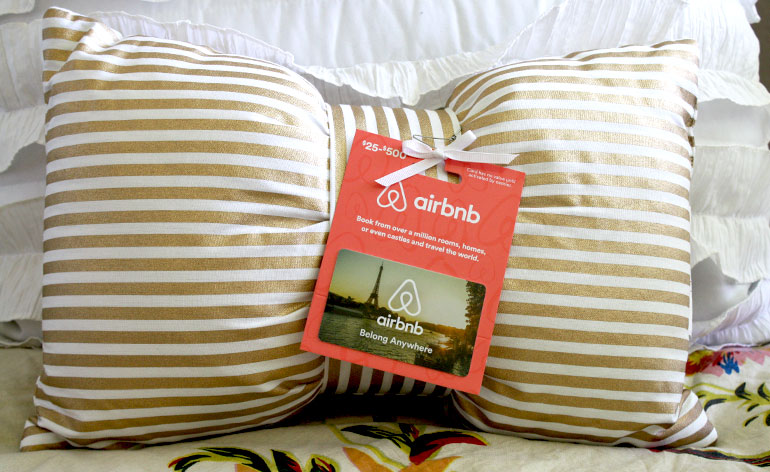 What is Airbnb?
Let's start with a few basic questions. What is Airbnb and how does it work? Airbnb is an online "marketplace for people to list, discover, and book unique accommodations around the world." That's what the Airbnb website says. What my friends tell me is that it's a great way to find reasonably-priced places to stay anywhere you want to go. Whether you're looking for a studio apartment in the city, a cottage in the countryside or a home large enough to host your next college roommate reunion, Airbnb is the answer. In addition to finding a variety of places to stay, another advantage to staying with an Airbnb host is that you feel more like a "local" than a tourist because you're staying at someone's home rather than a hotel.
How do Airbnb Gift Cards Work?
To redeem an Airbnb gift card, you first need to create an Airbnb account. Then, when you enter the gift card number or egift card code, the funds on the card will be added to your Airbnb account. Funds in your account will automatically be applied to your next booking. It's that easy!
Here's a Tip: Although Airbnb gift cards do not expire, the longer you hold onto the card, the more likely you are to lose it or forget to use it. To avoid either scenario, create an Airbnb account and redeem the card immediately. That way the funds will be available when you book your next trip.
5 Great Reasons to Give an Airbnb Gift Card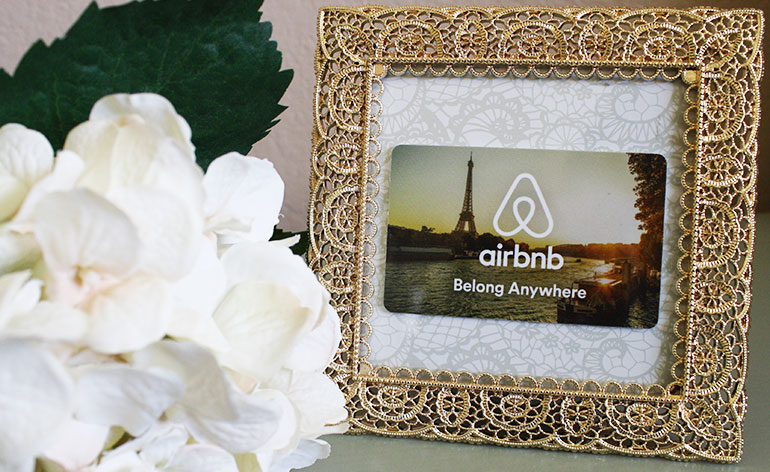 Now for the fun part! I like gift cards that allow the recipient to have an experience. Of course, all gift cards provide some type of adventure such as the gift of dining, the gift of going to the movies, the gift of getting to pick out your own clothes and so forth. Travel gift cards, however, are even more experience-based and I love them! Below are five times I think Airbnb gift cards would make the perfect present.
1. Wedding Gift
Whether used for the honeymoon or for a couples getaway months after the big day, an Airbnb gift card makes for a perfect wedding gift. To deliver the card in a fun, romantic way, pick up a set of "Mr. & Mrs." hand towels. Put the gift card on top and tie everything together with a bow that matches the couple's wedding colors.
Kelley from California used Airbnb to book a house for a good friend's bachelorette party. She says, "We paid less than we would have for hotel rooms, plus, we got an AMAZING five bedroom house in LA with a pool and a hot tub! By staying in the house, we were able to spend more time together, and save money on food by cooking meals in our state-of-the-art kitchen. The owners of the home were amazing to work with and Airbnb was so easy to use."
That's another idea. Skip the traditional wedding party gifts and buy Airbnb gift cards for everyone who is standing up for you on your big day.
2. Graduation Gift
Since Airbnb is for people 18 years or older, a gift card to Airbnb would make a terrific gift for a college-level (or higher) graduate. If you know a graduate who likes to travel or who plans to take a well-deserved celebration vacation after receiving his or her diploma, then buy this adventure-filled gift card for a graduation gift. Deliver the gift card tucked into a new travel journal, luggage tag or passport holder. The graduate might as well take a break before starting a new job or enrolling in higher education classes next semester.
3. Anniversary Gift
If mom and dad are about to celebrate their 50th wedding anniversary, then get the kids to chip in for an Airbnb gift card from the entire family. You might have to walk your parents through the process of using the gift card (and possibly even booking the trip), but they'll get the chance to experience something new together after all these years. Deliver this travel-themed gift card with a kit full of travel-sized accessories such as mini shampoo bottles, toothpaste and lotion. Tell them you'll pick up the mail, feed the cat and water the lawn while they're off enjoying someone else's home for a change.
4. Retirement Gift
I can only imagine the feeling of turning the alarm clock off for good and hanging up the business clothes one final time. What freedom! Get an Airbnb gift card for someone who is headed out the office door and entering into the world of retirement. The recipient can use the gift card to take a much-needed vacation or to visit family and friends without staying in a hotel. Deliver an Airbnb gift card tucked into the pocket of a new Hawaiian shirt or between the pages of a new book–both essential for taking time off!
5. Family Gift
Traveling with kids can be costly. What a treat it would be to get an Airbnb gift card to offset the expense of your next family vacation. Whether someone you know is packing the kids in the minivan for a staycation or corralling the children at the airport for a trip overseas, an Airbnb gift card could make the entire excursion more enjoyable. With an Airbnb home that is family-friendly, parents will find nearly everything they need upon arrival.
Laura, also from California, used Airbnb for a trip to Paris. She says, "I recommend Airbnb for the convenience of feeling like you're in a home away from home while traveling, especially with a young child. We used Airbnb for our stay in Paris last September, and after long days of sight-seeing, we were able to come 'home,' unwind and have our own space. Cooking, napping–you name it–were all done comfortably for our little traveling family! My daughter even took her first steps in our Airbnb apartment overlooking the Saint Germain-des Pres/Odeon neighborhood, 6th eme, Paris."
Well, I guess that just says it all! Anything that makes traveling with kids a little easier is a five-star gift to me!
Where to Buy Airbnb Gift Cards
The last thing you need to know is where to buy these great gift cards. Below is a list of just a few places you'll find them.
In Stores. You can pick up an Airbnb gift card at your local grocery store that has a Gift Card Mall inside. Those stores include Safeway, Krogers, VONS and others. You should also be able to find an Airbnb gift card inside your local Staples store.
At Airbnb. If you create an account on Airbnb and log into your account, then you can send an egift card directly from the site. The recipient has 90 days to claim the gift card. If the gift card isn't claimed within that time period, the balance of the gift card will go back to the purchaser's card.
All this talk about travel is making me want to take a trip. I've stayed in all manner of hotels and a few timeshares in my day, but I've never stayed with a host family that I'm not related to. For privacy, I think I'd be more inclined to book an entire house rather than a room, but many of the hosts say they aren't home that often anyway. The idea is intriguing.
What do you think? Have you used Airbnb? Do you have another creative suggestion for sending an Airbnb gift card? If so, tell me about it in the comments below or reach out to me on Twitter (@GCGirlfriend).
Happy Gift Carding!
~Shelley Hunter, Gift Card Girlfriend