Did you receive one of the new Happy Cards Gift Cards and need help using it? Read the tips below to learn how to use Happy Cards Gift Cards.
Watch this video above to see which Happy Cards Gift Cards this Happy Family Likes!
What are Happy Cards Gift Cards?
In 2018, Blackhawk Network (parent company of Giftcards.com) launched a new collection of gift cards called Happy Cards. Under the Happy Cards Gift Cards umbrella, you'll find a variety of gift cards to choose from including Happy Lady, Happy Teen, Happy Student, Happy Bride, Happy Dining and more. On each of these cards, is a collection of stores and/or restaurants that will accept the respective Happy Card.
Happy Cards are Usable at the Brands Listed on the Front of the Card
The stores and restaurants listed on the front of each Happy Card tell you where the gift card can be redeemed. The merchants listed on the Happy Bride gift cards, for example, include stores like Bed Bath & Beyond, David's Bridal, Ulta Beauty, JCPenney and SpaFinder.
As you hopefully can see, the bundled brands are meant to go along with the theme of the card. A new student, in theory, might need to shop for electronics at Dell, dorm room decorations at Bed Bath & Beyond or new school clothes at American Eagle. A new bride may need beauty supplies or a spa treatment before her big day.

Happy Cards Give You a Choice of Restaurants Too!
Have you ever given someone a restaurant gift card and worried that he or she wouldn't like the restaurant you selected or would have difficulty finding a nearby location? In addition to the themed cards listed above, there are a number of dining-related Happy Cards that give recipients a selection of restaurants to choose from.
With a variety of restaurants listed–from fast-casual to five-star–the Happy Dining, Happy Eats, Happy Bites and other Happy gift cards can all be given knowing the recipient will get to choose where he or she would like to eat.
And guess what? The gift card balance can be split across the brands listed on the card. So you could use your Happy Card for dinner at one restaurant and dessert at another.
How Do You Redeem Happy Cards Gift Cards?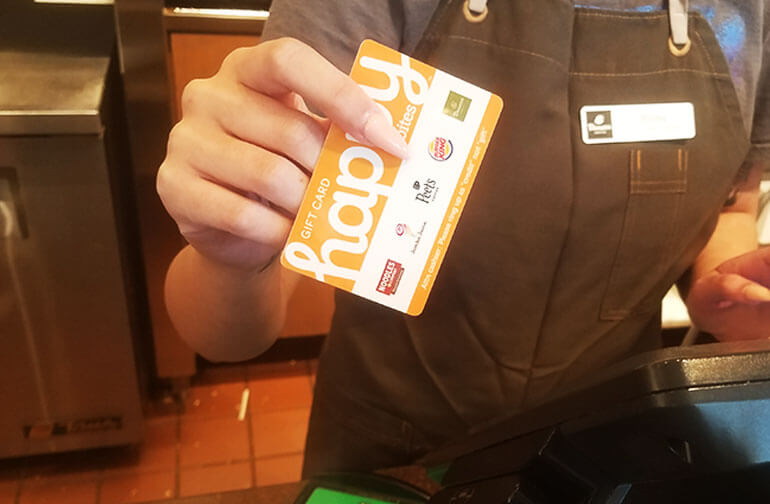 As I mentioned above, Happy Cards are redeemable at the stores and restaurants listed on the cards. Knowing how Happy Cards Gift Cards must be redeemed, however, can make using the cards a more positive experience. So here's what you need to know about how Happy Cards work.
1. Ring Happy Cards as "CREDIT," not "GIFT"
Because Happy Cards Gift Cards work across a variety of stores and restaurants and run on what people in the industry call "network rails", the participating merchants can accept the Happy Cards without changing their payment systems or gift card solutions. The card just works like any other bank-issued signature debit card. So, although we think of Happy Cards as "gift cards," they actually need to be treated as "credit cards" when presented to a cashier.
NOTE: The instructions for redeeming Happy Cards Gift Cards are written on the front and back of each card. The instructions say, "Attn cashier: Please ring up as "credit" not "gift".
2. Use Happy Cards in Stores
Happy Cards Gift Cards are primarily usable IN STORES ONLY. While some of our partner merchants have upgraded their online systems to accept Happy Cards Gift Cards, at this time, not all do. So you are welcome to try using your Happy Card on a participating merchant's website, but just know that it might not work. On each Happy Card, you will also find instructions that say, "Online redemption may not be available for all merchants."
3. Happy Cards Must be Redeemed in U.S.
As with all of the gift cards that we sell here at Giftcards.com, Happy Cards are only usable at participating stores and restaurants in the United States. These gift cards are not usable overseas nor will these gift cards work in Canada.
If you have trouble using a Happy Card, read this blog post what to try if your Happy Card Gift Card doesn't work or read this college student's review of the Happy Student Gift Card where she talks about what she loves (and wishes could be better) about the Happy Card experience.
If you have any other questions about Happy Cards, let me know in the comments below or contact me on Twitter (@GCGirlfriend). I would love to help you out.
Happy Gift Carding!
~Shelley Hunter, Gift Card Girlfriend