Know the difference between the two types of charity gift cards so you can make your donation count.
As the calendar turns to November, I am reminded that I have much to be thankful for. One of the things I am most grateful for is good health, both my own and that of my immediate family members. We have our share of bumps, bruises, aches and pains, but fortunately we have thus far been spared from life-threatening illnesses. However, not everybody is so lucky. In the spirit of Thanksgiving and what is now popularly known as No Shave November ("a web-based, non-profit organization devoted to growing cancer awareness and raising funds to support cancer prevention, research, and education"), I thought I'd talk a little bit about charity gift cards–namely how they work and how you can find the ones you want to give this holiday season.
Two Types of Charitable Gift Cards
When I think of charitable gift cards, two different kinds come to mind. The first is a full-value gift card that the giver buys for the recipient to spend. At the time of purchase, a portion of the face-value is earmarked to be donated to a charity previously selected by the issuing company. The other type of gift is quite the opposite. The recipient never gets to spend the gift card received but rather has the honor of designating which charity will get the money. Below are examples of each.
Company Selects Charity and Donates a Portion of Sale
As you walk through the mall this holiday season, I expect you will see a few gift cards that are tied to some type of donation. For example, Nordstrom will donate one percent of all gift card sales to qualified nonprofit organizations within the communities they serve. For every H&M gift card sold this holiday season, the company will donate five percent of the total gift card amount to providing children in Myanmar with quality education through UNICEF.
Photo: Nordstrom.com
The best thing about this type of gift card is that money goes to a worthwhile cause with very little effort on the part of the consumer. The customer buying the gift card pays full price for the card and the recipient gets the full face value to spend however he or she chooses–just like any other gift card. But unlike regular gift cards, the issuing company then donates a portion of that sale to an organization. So if a customer buys a $50 Nordstrom gift card, for example, the recipient receives a $50 gift card to spend at Nordstrom. The merchant then donates 1% of the $50 to the charitable organization. Though the individual donation is small, many gift card sales will result in a collective donation that could be a sizable amount. This is a great way to give a gift and to give back during the holidays because the process is so easy.
Here's a Complete List of Charity Gift Cards that Give Back in 2016.
Customer Donates Sale and Recipient Selects Charity
The gift card program mentioned above is created to entice customers to buy a charity-related gift card as part of their planned gifting with the expectation that the recipient will spend the gift card on whatever he or she wants and a small percentage of the sale will go to a pre-designated charity. This other type of charity gift card, however, works entirely different. The buyer purchases a charitable gift card knowing that nearly the full value of the gift card will be given to a worthy organization, but the recipient is the person who selects which organization gets the money. The recipient does not get a gift card to spend. He or she simply gets the honor of selecting where the money goes.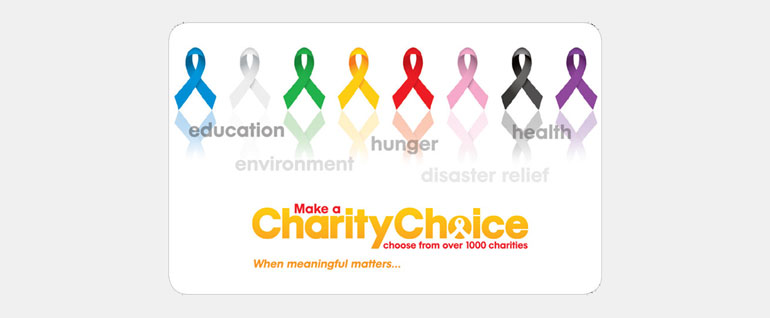 The best thing about this type of gift card is that a larger donation is made with each purchase. For example, if a giver buys a Charity Choice gift card for $50, the selected charity will receive that amount minus a small portion that is deducted to cover credit card processing fees and an administrative fee. The recipient simply has to activate the card and select from hundreds of deserving charities including popular organizations such as ACS, St. Jude Children's Research Hospital, American Red Cross and more. Nonprofits such as JustGive.org and TisBest Philantropy work similarly.
So if you're planning to give someone a gift card this holiday season, why not do a little good with your money? Either buy gift cards from companies that will make a donation as part of the purchase, or buy gift cards that allow the recipient to make a difference instead. Whether your gift leads to a small donation or a significant contribution, I'm sure the beneficiaries will be grateful for anything received.
Have you seen any other charitable gift cards on the market? Let me know in the comments below or post something on Twitter (
@GCGirlfriend
) so we can all learn something.
Happy Gift Carding!
~Shelley Hunter, Gift Card Girlfriend