Not sure how to help friends or family members in need? 12 simple ways to start helping out instead of saying, "Let me know if you need anything."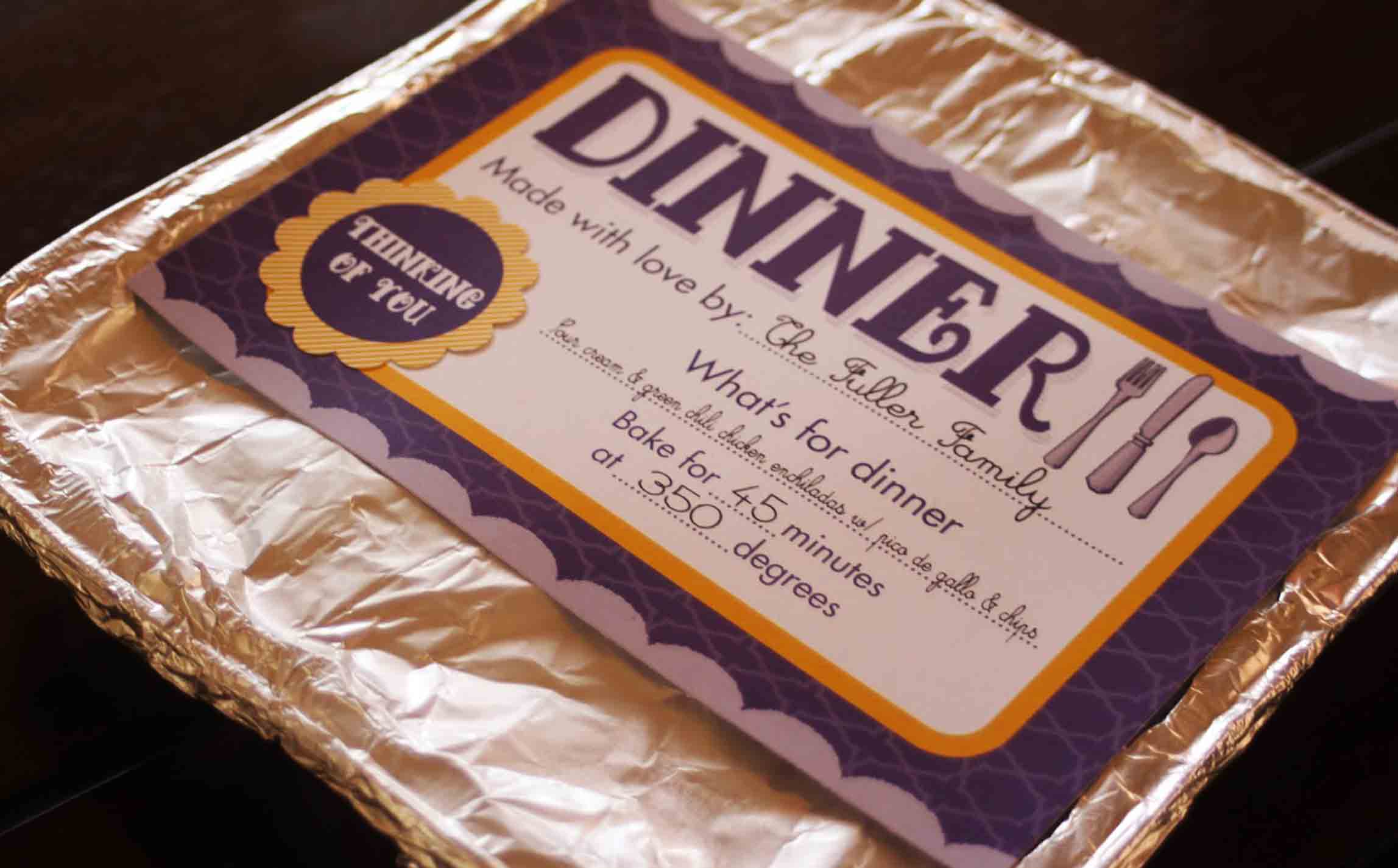 Image credit: Embellish.

A Different Approach to Helping
When I am in crisis, the phrase I generally hear from others is, "Let me know if you need anything." Often times there is nothing I need–or nothing I would ask for–but that doesn't mean there isn't an opportunity lighten my load. Having been through a trauma or two, I have been overwhelmed by kind gestures and significant service from people who didn't say anything or wait for an invitation. They just showed up. Their example provided much need strength and comfort and has inspired me to take a different approach when I hear that others are struggling.
Rather than making a general statement, I look for needs and make a specific offer. I also phrase the offer to help in a way that the person cannot refuse the service. For example, instead of asking, "Can I bring dinner for your family?" I say, "What night can I bring dinner for your family?" Rather than ask a friend if I can babysit her toddler or drive her carpool, I ask what day she needs me to babysit or what time I need to be at the soccer field to pick her son up from practice.
The Benefits of a Specific Offer
By making a specific offer to help versus asking how I can help, three things happen. First, I'm more likely to get the opportunity to ease the burdens of others. Second, the recipient doesn't have to wonder if the thing she needs is something I can accomplish. For example, she may need help driving carpool or might really appreciate a dinner, but without knowing my schedule or capacity to do either of those things, she will likely hesitate to ask at all. Finally, by making an offer rather than asking how to help, I am picking something that is doable for me as well. If I ask the open-ended question of what I can do to help, the person could make a request that creates a hardship for me as well. If I am specific in what I can provide, then I'll know it is a service I can deliver as promised.
12 Things You Can Do to Help
If you have a friend or family member going through a physical or emotional challenge, make a specific offer to help or use one of the examples below to help you be inspired to do something the recipient needs most. Here is a list of things you can do to help someone in need:
1. Deliver Dinner
As a member of a close-knit church community, delivering dinner is often the "go to" service we provide each other. Though we typically send out an email or pass around a sign-up sheet during Sunday services, I just got a Meal Train invitation for a family at our school and it is brilliant. Meal Train is a website that makes it easy to organize the delivery of multiple meals for a family who needs help for an extended period of time. I especially love when people add a note about what food will be delivered so the family in need does not receive spaghetti two nights in a row.
2. Organize Childcare
When mom or dad is at the hospital (for their own recovery or to be with another family member), worrying about the kids at home can be stressful. If you want to know how to help, offer to take the kids yourself or use a service like SignUp Genius to set up a regular childcare rotation. Parents function so much better when they know that ALL of their kids are having fun and enjoying themselves despite difficult circumstances. If appropriate, send regular updates of what the kids are doing and pictures of how much fun they are having. I always appreciate seeing pictures of what my kids are doing when I am unable to be with them.
3. Fill the Carpool
When a dear friend of mine had a baby, I simply took over her assignment in our football carpool. Knowing she wouldn't be able to drive initially and taking an infant in the car would eventually present other challenges, I simply told her I would be doing the driving. She hesitated at first because she wanted to do her part, but then admitted she didn't know how she would be able to handle it anyway. We all get our chances in life to serve others and to be served. I find that sometimes the latter is the hardest one to do.
4. Hire a Housekeeper
Of all the gifts I've received in my life, having a friend pay someone else to clean my toilets when my husband was in the hospital may have been the best. With three small children at the time, I could barely keep the house in order, much less do the deep cleaning. She didn't ask how she could help. In a very sweet note, she wrote, "I can't make everything all better, but I can pay to get your house clean." What a gift. If you can afford it, hire a housekeeper. If you can't, show up on her doorstep with a toilet brush in hand.
5. Get a Lawn Service
During that same hospital stay and subsequent recovery (my husband broke his neck, if you're wondering), the youth from our church showed up one night with lawnmowers, rakes and trash bags. They didn't knock on the door or ask ahead of time if they could help. They just showed up and started working. I'll never forget my little kids watching the big kids work in our yard. What a wonderful example of service to them and what a blessing to me. A couple of days later, another friend who must have had the same idea, hired a lawn service to mow our lawns for three months. This happened more than a decade ago, but it still tops the list of ways people have helped me in my times of need.
6. Drop off Small Gifts or Flowers
Not every gesture has to be ongoing or significant to make a difference. Over the years, I've had several people drop little gifts on my doorstep, flowers on my porch or letters in my mailbox. Although some of those gifts have been delivered with fancy bows and beautiful packaging, a good many more have simply been picked flowers, handwritten notes or "favorite things" such as a can of Diet Coke, a box of malt balls or a cupcake. Those little gestures can be such a bright spot in a difficult day.
7. Deliver Care Packages
A teenage girl in our area has Cystic Fibrosis. During one particularly tough battle, she was in the hospital for weeks, including over Christmas break. To let her know we were thinking about her, we sewed pillowcases out of holiday-themed fabric and sent those to the hospital along with some other goodies and pictures the kids had colored. Though I'm sure this care package didn't change the course of her treatment, I do believe it helped her to know that she hadn't been forgotten.
8. Collect Restaurant Gift Cards
One summer, my children's former Kindergarten teacher found out her son had a significant heart condition. In what seemed like a few hours (maybe it was a day or two), he went from being a kid we saw around town to a kid on the heart transplant list at a medical center over an hour away from home. This family's summer vacation plans turned from beach trips to hospital drives, leaving one parent at home to be with an older teenage son while the other parent stayed at the hospital. Sometimes both mom and dad went to the hospital together. To ease this family's burdens, one mom suggested we all give restaurant gift cards to the family. Some went to the teenager at home so he could buy meals around town and the rest went to the parents so they didn't have to pay for every meal at the hospital.
9. Gift a Visa Gift Card for Expenses
When people are unexpectedly away from home, the expenses can pile up. In addition to eating out, families often end up with higher than normal transportation costs such as additional gasoline, parking fees and bridge tolls. They also might face unexpected insurance co-pays, a cell phone with additional usage charges, toiletries to purchase for surprise over-nighters and more. Give a family in need a Visa gift card or a Mastercard gift card. Since these cards can be used anywhere debit cards are accepted, the recipients can use them to pay for meals, parking and anything else that comes up.
A few weeks ago, I came home after a long day to find that a friend had dropped off two Visa® Gift Cards at my home. She said it was something she'd been meaning to do for a long time as a thank you gift for the many times I'd helped her with her computer. She didn't know it, but I had been stressing that day about making our finances stretch to the end of the month. What a gift! With those Visa gift cards, I was able to pick up groceries, buy school supplies my kids had been asking for, pay off a bill that had been bugging me, and take care of a few other things that would have made staying in the black until payday rather difficult. Gift cards that are redeemed in the most mundane ways can be quite a relief during troubled times.
10. Make a Donation in Their Name
Sometimes, despite all efforts, the unimaginable happens. Though it may seem there is nothing left to do at that point, perhaps the one way you can help is to make sure others never have to go through the same ordeal. To do this, find a charity or organization working to find a cure or to solve the problem your friend faced, then make a donation in his or her name or actively participate in upcoming fundraisers or awareness programs. Consider becoming a donor as well. In my experience, people who endure such losses want their loved one to be remembered long after the services are over and they need comfort themselves after everyone else's life has "returned to normal." Taking the time to be part of the cure or solution beyond the initial crisis is a wonderful way to provide comfort for an extended period of time.
11. Deliver Gas Station Gift Cards
I recently spoke to a reporter about how convenience stores can sell more gift cards. Though I was supposed to be the expert in the article, I learned something instead. After all the talk about how to sell more gift cards, one store owner said that they use gift cards to ease some of the expenses of less well-off cancer patients. He said that his daughter-in-law's mother had cancer and she "got an envelope in the mail and it had several gas gift cards." I love that idea. It's so simple. It tells the person that you care in a very practical way.
12. Drop Off Supplies
When we had to move a couple of years ago, a neighbor came to my door with a bag full of packing tape, marking pens, boxes and wrap. Another friend scanned the Nextdoor App for "free boxes" and picked up as many as she could find. Moving is a lot of work and can be expensive as well. The purchased supplies lightened the cost for our family and the pickup and delivery of the free boxes saved me a great deal of time. Another friend dropped off staple groceries such as milk, bread and butter when we arrived in our new home.
When I first posted this blog, someone commented on social media that a friend came to her house and dropped off paper goods such as paper towels, paper plates and toilet paper when relatives needed to move into their home temporarily.
What I am saying is that you do not have to deliver something fancy, tied up with a bow, to ease the burdens of another. Some of the most mundane, basic supplies can be the most-welcomed gifts. Both convey thoughtfulness, but the supplies can eliminate trips to the store and costs that are incurred when unplanned events occur.
Doing Makes it Easier for Others to Accept Help
I know from my own experiences that it can be difficult and humbling to accept service. It is also near impossible for me to ask for it. But when somebody approaches me with a specific idea, I'm more apt to acquiesce to the request because I know he or she is serious about helping out–and probably won't take no for an answer. Though making a meal or driving a child to soccer practice may not solve the big problem or heal the big hurt a family is facing, sometimes those small gestures are really all you can do in the moment. So rather than ask if there is anything you can do to help, look around, see what needs to be done and just do it.
In the face of a larger crisis or natural disaster where helping only one person may not seem like enough, consider this list of "Simple Ways To Help The People Next Door…And Around The World. There are some great suggestions for local service as well as options for getting involved on a grander scale. I'm also a fan of JustServe which is a website full of ways to provide volunteer service in your community."
If you know other ways to help out and provide service during times of crisis, let me know in the comments below or reach out to me on Twitter (@GCGirlfriend). I would love to add to this list.
Happy Gift Carding!
~Shelley Hunter, Gift Card Girlfriend