With just a couple of clicks and tips, you can make your own custom gift cards this holiday season. Deliver digitally, by mail or in-person.
For the umpteenth year in a row (I've seriously lost count), gift cards are the most-requested gift on holiday wish lists. Gift cards have been my favorite gift to give for longer than that. I love that recipients get to create their own experiences with the gift cards they receive.
Though I may get someone a gift card thinking he or she will spend it one way, the recipient might have entirely different plans. For example, my neighbor just gave me some movie gift cards as a thank you gift and suggested I use the gift cards to go to the movies with my friends. Though I could do that, I'd rather use the gift cards to take my kids to the movies on Thanksgiving Day–one of our favorite holiday traditions. She picked the movie theater (based on the gift cards she bought), but I still get to pick what movie I see, when I see it and with whom I sit. (I also get to decide how much popcorn I'll eat when I get there. The answer is always the same: too much.)
If you're planning to buy gift cards for the holidays, an upcoming birthday celebration or as a thank you gift, then I have a tip for you. Make the gift card yourself. If you've never made your own gift card, then you're in for a treat. In just a few simple steps, you can create a gift card that is as unique as the experience it delivers.
How to Make Your Own Gift Cards
There are three kinds of gift cards you can make yourself. The first, is a custom plastic gift card with a personalized image. The second is a digital gift card or an egift card that is sent electronically and the third is an egift card that you print at home on paper. In the steps below, I'll show you how to make all three types of gift cards and give you tips on how to make each one memorable.
STEP 1: Choose How You Want to Deliver the Gift Card
Though I've been making personalized gift cards for years, I'm still surprised that few people know that plastic gift cards can be customized. You can add a personal photo, change the message on the card and have it delivered (without express shipping) in about a week. If you need a gift delivered more urgently than that, you can either send an electronic gift card or make one that can be printed on your home printer. Here's what each type of gift card looks like:
Give a Personalized Plastic Gift Card
For just $1 (plus the Visa activation fee) at Giftcards.com, you can add a photo to a Visa gift card plus two lines of custom text. I promise you, this is the only gift card I've ever given anyone that gets passed around the party for people to see. And people hold onto their custom gift cards long after the money has been spent. This is just a fun gift card to make and to give.
Make personalized Visa gift cards here.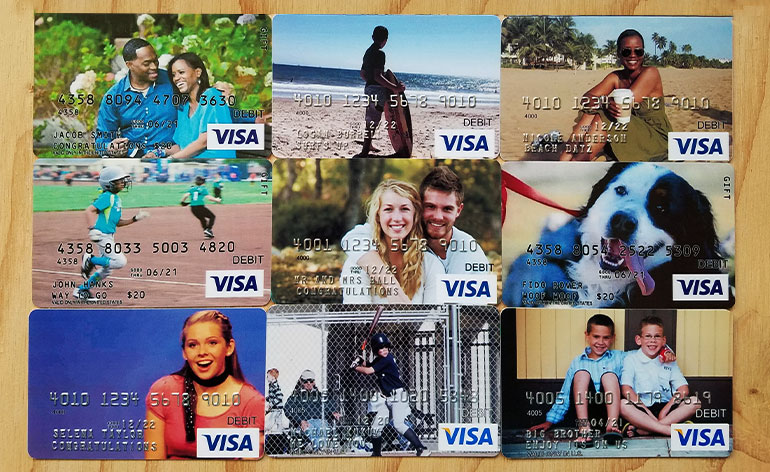 Send an eGift Card
With egift cards, customization is totally free and so is delivery. At Giftcards.com, you currently have the option to upload a personal photo and/or select a video. You can also customize both Visa egift cards and branded egift cards such as Sephora, Target, Regal Cinemas and more. Your egift card will be delivered as soon as payment is processed or it can be scheduled for delivery several months in advance.
Make personalized egift cards here.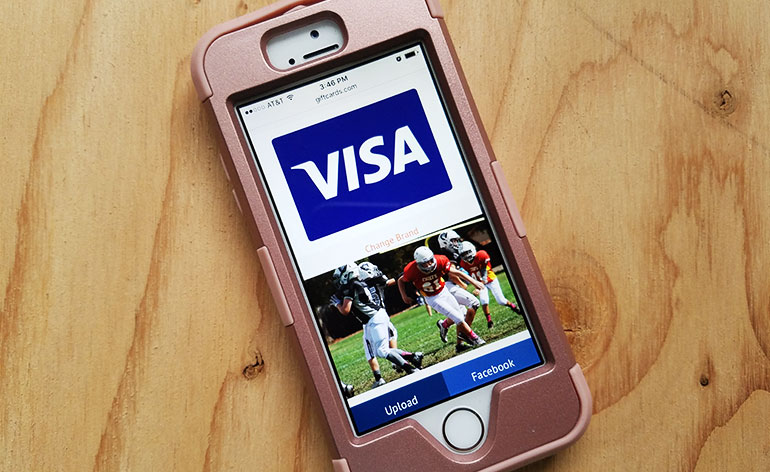 Print a Paper eGift Card
Now let's say that you need a gift card immediately, but you still want to hand-deliver it to the recipient. Many online merchants will give you the option to order an egift card but print it at home rather than deliver it electronically. Though you could send any egift card to yourself and print the email when it arrives, these "print-at-home" egift cards are designed for gifting.
Here's a list of gift cards you can print at home.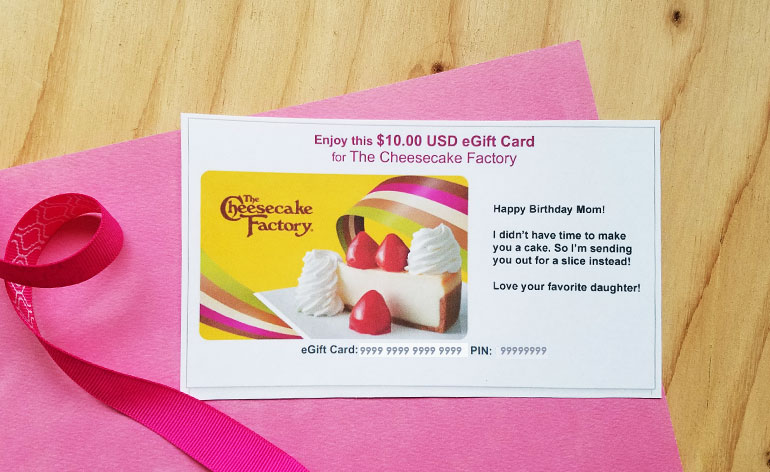 STEP 2: Upload a Picture or Video
Picking an image or video to use is the most fun part of making your own gift card. Here are a few tips for picking the perfect image to put on a gift card:
1. Horizontal Orientation.
Since the image will be placed horizontally on the gift card, images taken in landscape mode (rather than portrait) will be easier to place on the gift card. If you're taking an image with your phone, turn the phone sideways to get a wider shot.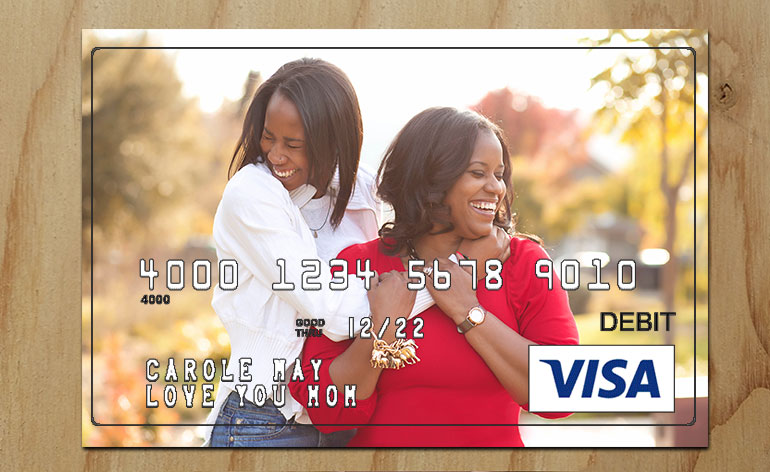 2. Don't Fill Up the Frame.
For plastic gift cards only, keep in mind that there will be a Visa logo plus the card number, name, greeting and "good thru" date printed on the bottom half of the gift card–over the top of the image. So you will want an image that is still visible above the numbers. Shots that include ample space around the focal point or have simple backgrounds are good choices.
For egift cards or print-at-home cards, go ahead and fill up that frame! The more close-up the shot is, the better you'll be able to see it on a mobile device or paper print-out when it gets delivered.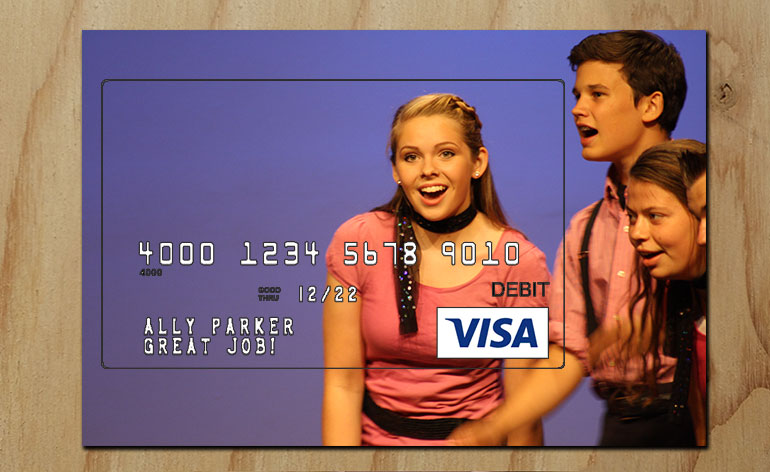 3. Get an Action Shot.
Though not easy to do, some of my best personalized gift cards include pictures of the coach's kid in action–swinging a bat, sliding into home plate, kicking a soccer ball or doing something more than just standing there. That said, I've also taken several shots that just didn't work on a gift card and opted for a headshot instead. Both will be equally amazing when done.
4. Take a Team Photo.
Though you might not see all of the kids close-up, team photos and group shots are especially fun to put on a gift card. I've also taken pictures of the coach huddled around the kids because that's also a great "action shot" for a team.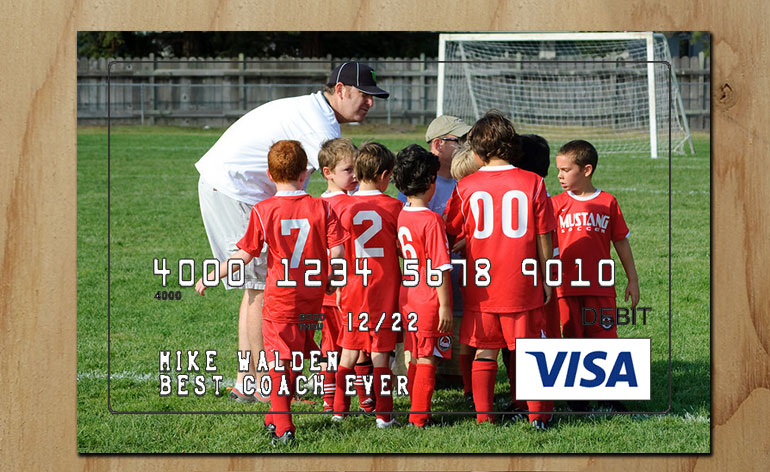 5. Use a High-Quality Image.
When you upload a photo, you'll get a warning if the quality isn't good enough for print, but gift cards are pretty small. In my experience, if the image looks good on the screen, it will look equally good when printed on a 2.25 x 3.5 inch card.
For egift cards that allow you to record or upload a video message, just speak clearly into the camera and have fun with it. You might even want to practice a few times before pressing record. But don't worry about scripting your video…just speak from the heart! And don't forget to smile.
For a list of egift cards that allow you to upload a video, check out my ranking of top brand egift cards. Scroll though the list to see which ones have video or audio capabilities.
And, trust me on this, personalized gift cards get passed around the party for all to see! No other gift card gets bragged about in this way because the typical gift card is a piece of plastic with a brand name or logo printed on the front. A personalized gift card, on the other hand, will be totally unexpected and will literally get almost the same reaction that a puppy or newborn baby gets. Don't believe me? Make your own gift cards and see what happens!
Here's the gift card I made for a baseball coach and the gift card I made for a football coach.
Both coaches loved the gift cards so much that they asked me how I made the cards and vowed they'd be keeping them in their wallets long after the gift cards got redeemed. And yes, both passed the gift cards around the party for everyone to see.
STEP 3: Add a Custom Message
Whether you're making a plastic gift card, a digital card or a print-at-home gift card, all types of gift cards will give you the option to add a personal message. Although you can certainly add a canned greeting such as "Happy Birthday" or "Happy Holidays," I think it's particularly fun to be creative and use inside jokes, nicknames or other messages that are obviously of your own creation.
For example, you might write "BEST PAPA EVER," "LOVE YOU J-DAWG" or "TURNING 29 AGAIN" on the 18-character message line of a plastic gift card. For an egift card or print-at-home card, you'll have even more room to write.
Have fun with the message line, but please use the recipient's actual first and last name (e.g. SUE SMITH not AUNT SUE) in the recipient name field (first line) because that is the name that will be associated with the gift card. If the recipient uses the gift card online, the online payment processing system may look for the name on the card to match the name on the customer's online account. If the names match up, then the transaction is more likely to be approved.
Need some inspiration? Here's a list of puns and other things you can write on an egift card.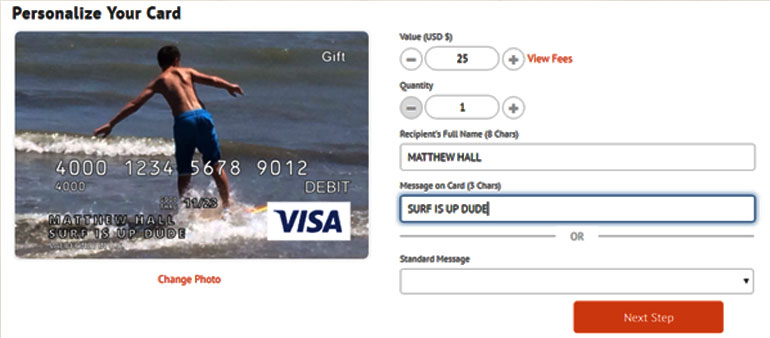 STEP 4: Deliver the Gift Card
Now all that's left to do is decide how the gift card will be delivered.
Deliver by Email
If you're sending an egift card, then you will enter an email address (or mobile number if sending it by text) and schedule delivery. For most websites, egift cards will be sent as soon as your payment is cleared. Many gift card sellers (including Giftcards.com) also allow you to schedule delivery. That way you can create a gift card, pay for it in advance and then have the egift delivered on the perfect day–right on mom's birthday, Christmas morning or during your Hanukkah celebration.
Send in the Mail
Plastic gift cards can either be sent to your home for personal deliver or you can ship them directly to the recipient. If you have the opportunity to deliver a gift card that you created yourself, then you might also consider making a homemade gift card holder. On my "free printables" page, there are several free printable gift card holders that you can download, print at home and craft up for a complete D-I-Y presentation.
Hand Deliver
Lastly, if you opted for a print-at-home gift card, then the last thing to do is download the gift and print it on your home printer. If you don't have a good quality printer at home (or the ink is low), then you should be able to take the file to an office supply store to have it printed in full color on a nice piece of card stock. You can also mount the paper gift card to a piece of scrapbook paper for a personal touch. That's what I would do, anyway.
See our collection of free printable gift card holders here.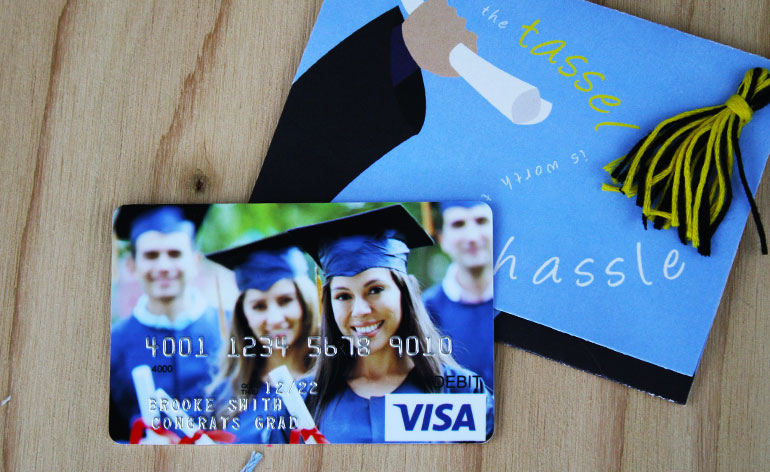 Obviously, I'm a fan of gift cards. When I'm out shopping, I notice every gift card display, plastic design and gift card holder available. I can't help but organize the card displays when I'm at the cash register and the plastic gift cards are all awry. I also appreciate when a merchant makes their gift cards eye-catching with fun messages like "You Deserve This!" or unique designs like Target's gift coin or their gift card Pez dispenser or gift card transformer. As much as I enjoy seeing the creativity, however, there is still no gift card that rivals personalized gift cards.
I base my opinion on the reactions I've seen giving various styles of gift cards. Cute slogans, holiday designs and even gimmicky gift cards draw a smile from the recipient and maybe even warrant him or her holding up the gift card, but not always. Personalized gift cards that you make yourself, however, always get a bigger reaction. So if you want to give a gift card that will truly impress the recipient and everyone else at the party, then make your own.
Have you made your own gift card? If so, how did the person you gave the gift card to react? I'd love to hear about it. Reach out to me in the comments below, on Twitter (@GCGirlfriend) or on Instagram (@Gift.Card.Girlfriend).
Happy Gift Carding!
~Shelley Hunter, Gift Card Girlfriend