Deliver the perfect gift this Valentine's Day with a free gift card holder. It's both practical and romantic and so fun to give to your sweetheart.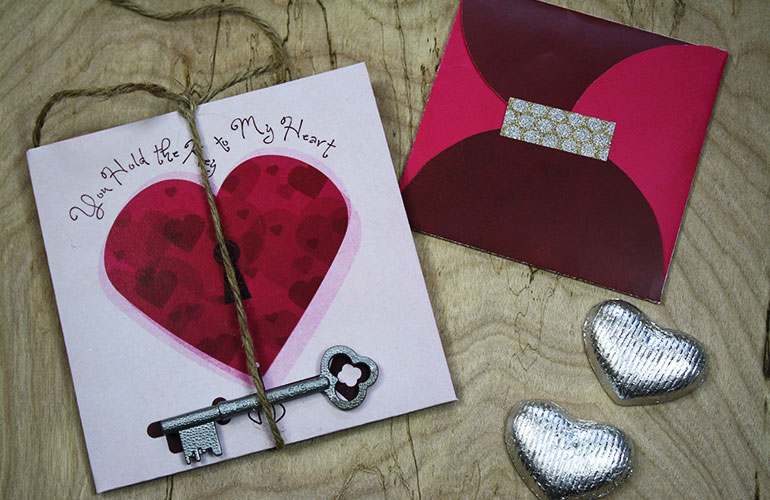 "Gifting Made Easy" by Gift Card Girlfriend
Valentine may hold the key to your heart but this free printable holds the key to a perfect Valentine's Day. With a little help, your gift will be both practical and romantic. The practical part is that you get to give your sweetheart a gift card for Valentine's Day which is so much less stressful than picking out a present. The romantic part is that you're going to make a homemade Valentine to go with it. That little extra time spent making the gift card holder will show your Valentine how much you care.

Order Gift Card and Download Printables
I don't have a matching gift card to go with this printable, but I think there are plenty of other options to choose from. Of course, a personalized gift card is always a great idea. If you don't have time to make one, then pick up a gift card that holds the key to your Valentine's heart. Is he into sports? Then get a sporting goods gift card. Is he into gaming? Then a GameStop gift card is just a stop away. I think you get the idea.
Download the Key to My Heart Gift Card Holder
Order a Personalized Gift Card to go with it.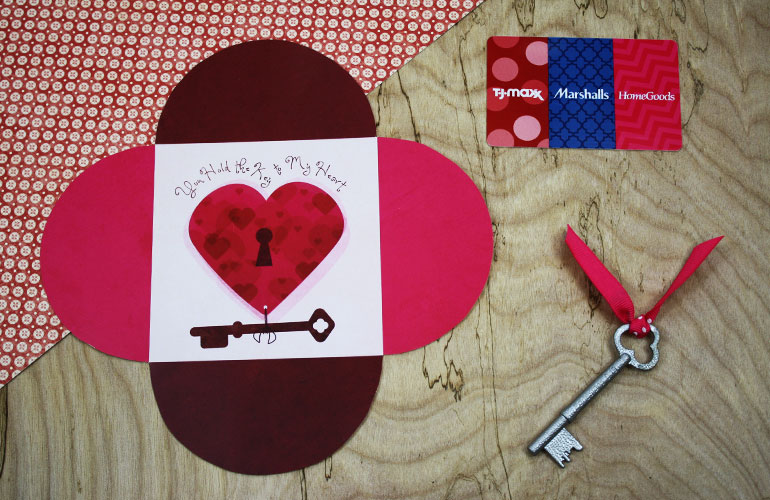 Print and Cut
Like the Valentine Latte gift card holder, I printed this gift card holder in two different sizes. For the smaller sized gift card holder (original size), download the gift card holder, print it on a color printer using "best quality" and "actual size" settings. (Do not select "shrink to fit" or any other setting that will change the size of the printed .pdf image.) White card stock paper measuring 8-1/2 x 11 inches works best. For the larger sized gift card holder, the instructions are the same except you can select 11 x 17 inch paper and check the "Sized to fit" box (or whatever the setting is on your printer that will stretch the image to fit the size of the paper.) Once printed, cut the holder out, carefully following around the lines.

Put the Gift Card Inside
After you cut the gift card holder out, get ready to score and fold the flaps. I always score card stock paper before folding because it gives the fold a nice, clean line. Using a ruler and a bone folder, score the holder from corner to corner until you have a square in the middle.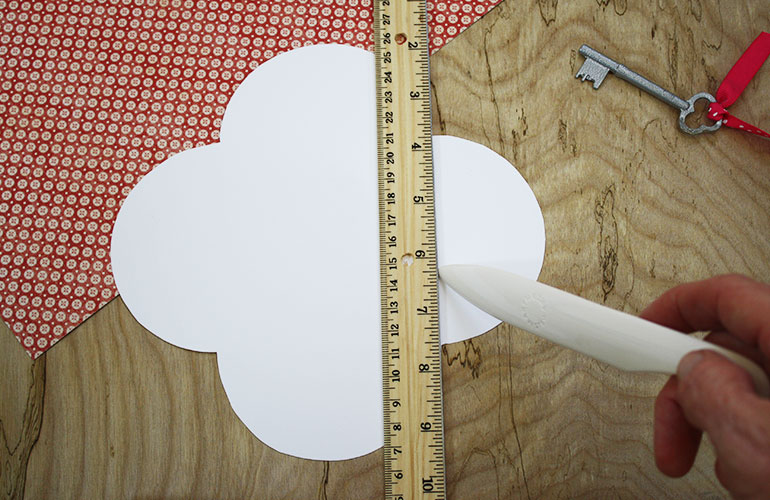 Then you can either place the gift card directly into the middle of the holder, or you can cut out a matching piece of scrapbook paper to add some color. Secure the gift card inside with washi tape, regular tape or glue dots.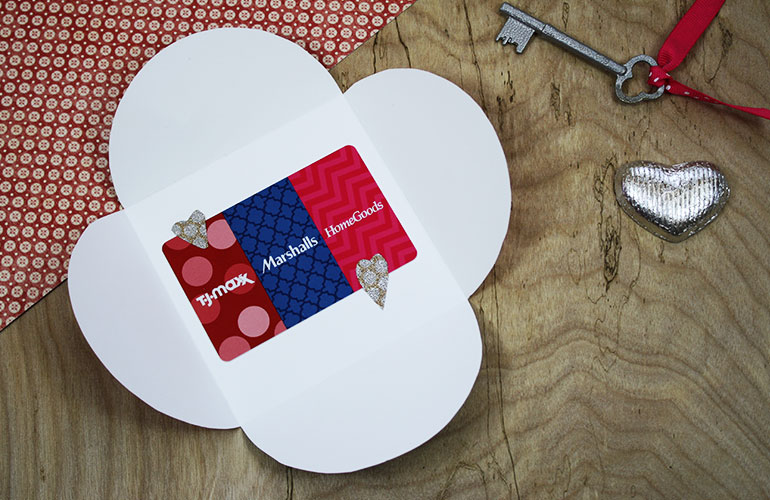 Now you can fold the flaps to hold the gift card inside. There are a couple of ways to fold this holder. You can either fold one flap at a time, working in a clockwise order, or you can fold the sides in and then fold the top and bottom flaps afterwards. I honestly can't decide which I like best. Once you fold the flaps, secure them with another piece of tape.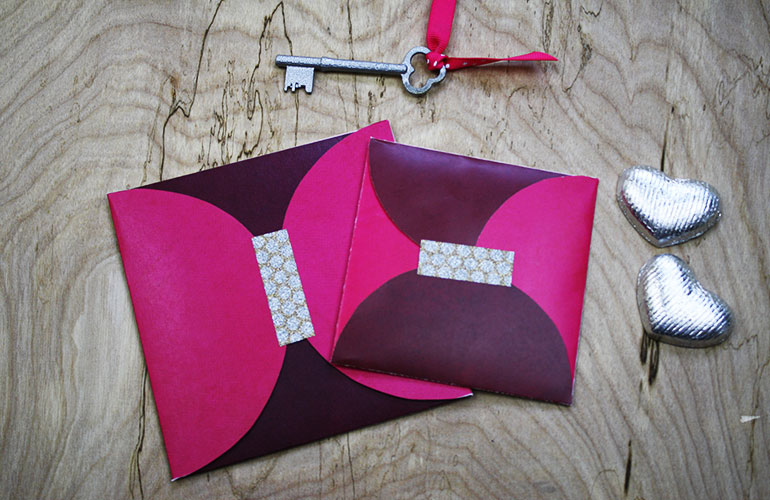 Crafty Touches
I found an old-fashioned key to put on the outside of the larger gift card holder. You don't need it, of course, but I like adding small embellishments to show even more effort went into making the gift. I always say that the best way to make a gift card appear more thoughtful is to actually put a little thought into it. Picking out the perfect gift card plus spending time on the presentation is a great way to show thoughtfulness.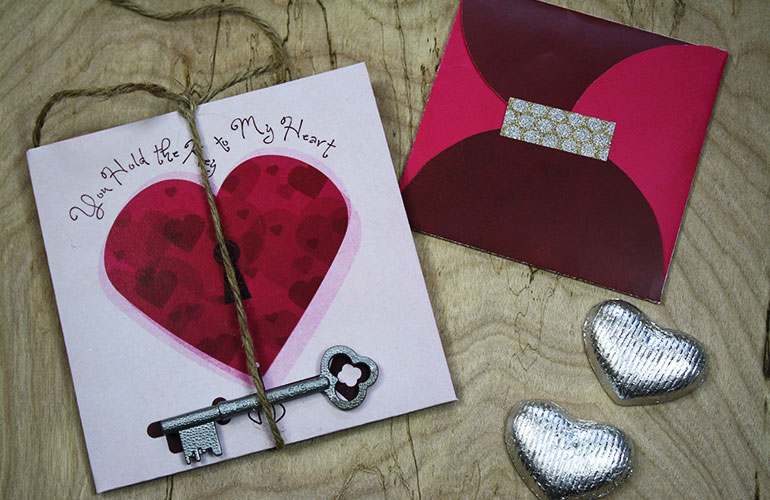 More on Pinterest
For more free printable gift card holders, check out the free prints page or follow Gift Card Girlfriend on Pinterest. This fun gift is on our Love Gift Ideas board and on our free printables board. If you use this gift card holder, let me know. I'd love to see a picture of what you come up with. Send me a link in the comments below or post it on Twitter (@GCGirlfriend).
Happy Gift Carding!
~Shelley Hunter, Gift Card Girlfriend