Valentine is the king of my heart (and queen!) with these Visa playing card gift cards and free matching printable gift card holders.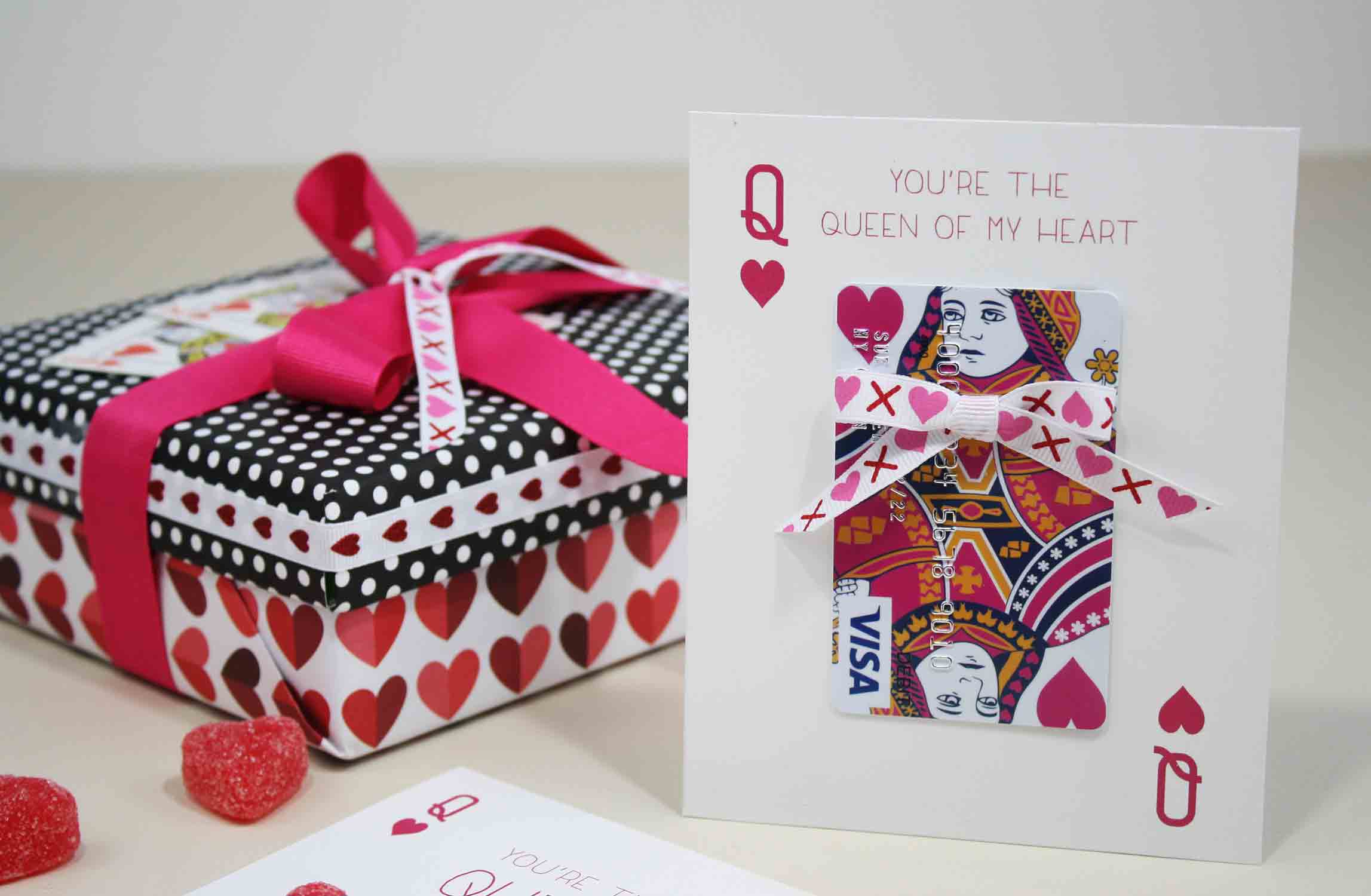 "Gifting Made Easy" by Gift Card Girlfriend
I'm a sucker for the play on words–especially when it comes to gifting and even moreso when it comes to gift cards. Adding the right words is such an easy way to show that you purchased a gift card with intent. Buying your mom a gift card to Home Depot, for example, could seem random. But if you add a note that reads, "You're what makes our house a HOME," the gift card to the hardware store suddenly appears very heartfelt and planned. For the printables below, I used a deck of playing cards for inspiration and asked our talented designers to create Visa® gift cards that look like the King and Queen of hearts. (I love how they turned out!) Each card comes with two free printable gift card holders–one flat and one folded–to craft up for the kings and queens in your life.

Order Gift Card and Download Printable
The first thing to do is order the "King of Hearts" or "Queen of Hearts" gift cards then download the matching gift card holder you want to use. If you prefer a store brand gift card, a Dairy Queen or Burger King gift card would fit perfectly. The folded gift card holders work for any brand of gift card because the outside of the holder contains the message. The flat gift card holders, on the other hand, showcase the gift card design. So pick one that works for your gift card and the way you ultimately want to present it.
King of My Heart
Order "King of My Heart" Visa Gift Card
Download free matching "King of My Heart" Flat Gift Card Holder
Download free matching "King of My Heart" Folded Gift Card Holder
Queen of My Heart
Order "Queen of My Heart" Visa Gift Card
Download free matching "Queen of My Heart" Flat Gift Card Holder
Download free matching "Queen of My Heart" Folded Gift Card Holder

Print and Cut
After downloading the holder, print it on a color printer using "best quality" and "actual size" settings. (Do not select "shrink to fit" or any other setting that will change the size of the printed .pdf image.) White, card stock paper measuring 8-1/2″ x 11″ works best. Although these can be printed at home, I often print the holders at Staples or Office Depot for a professional look that costs less than a dollar. Cut the holder with a paper cutter using the trim marks as a guide.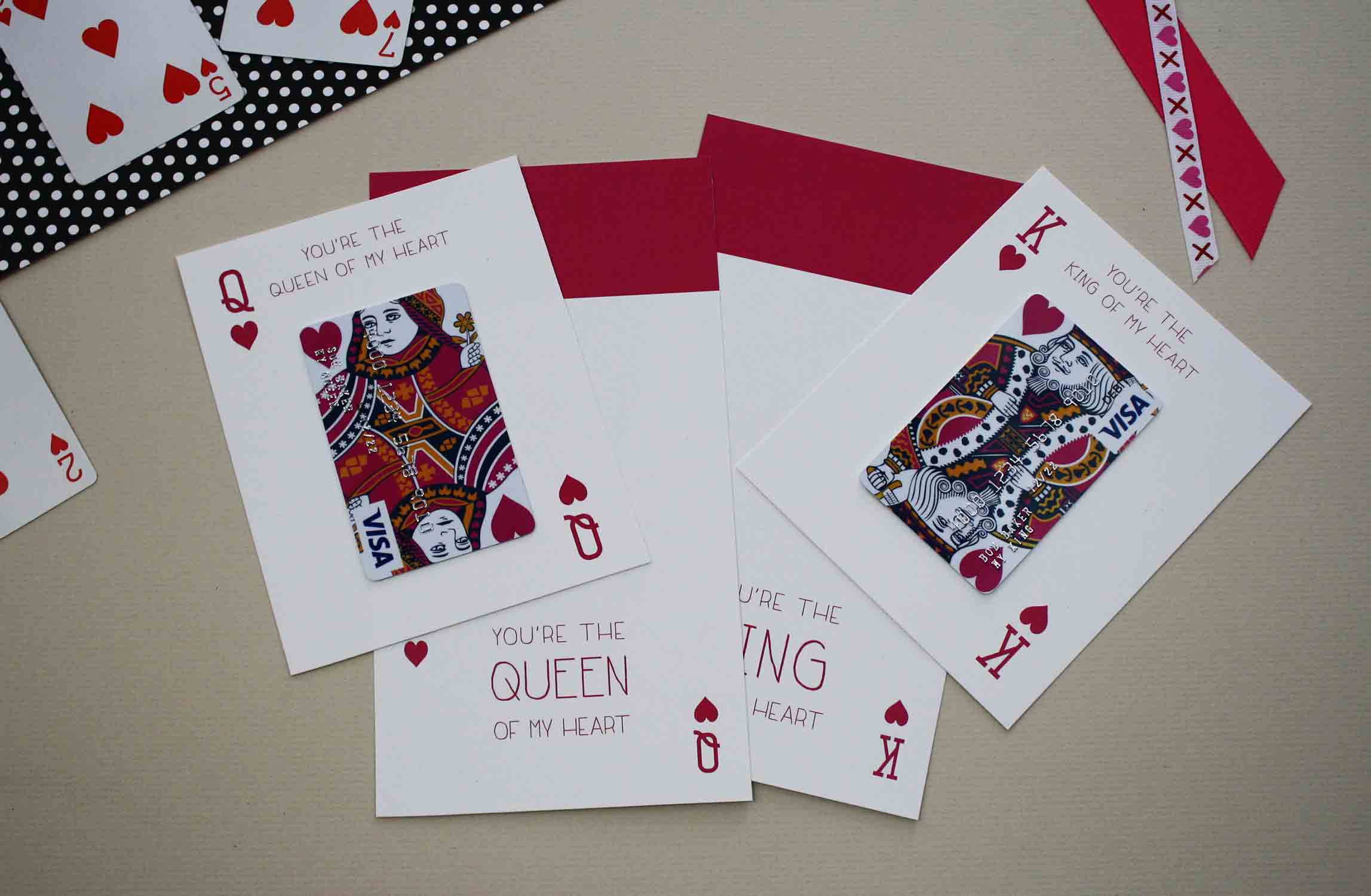 Make the Folded Holder
If you look at the printed side of the folded gift card holder, you'll see "fold" indicators (which may have been cut-off when you clipped the card). The pink area is the bottom fold and there might be an ever-so-faint line indicating where the top fold goes. To be safe, however, I always measure the fold lines. They are at the 3″ and 6-1/4″ marks.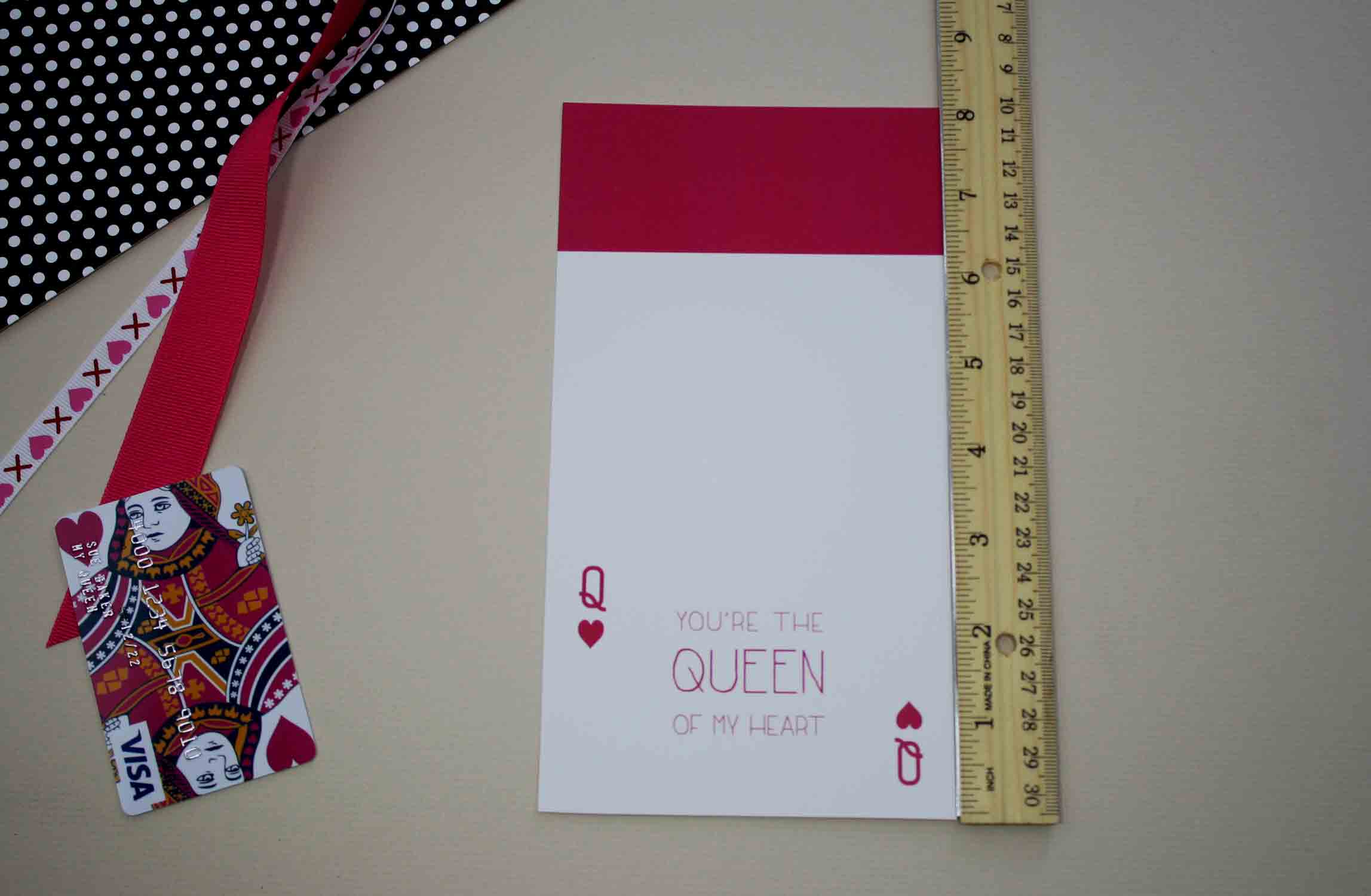 Using a pencil, mark the back side (white side) of the carrier at those measurements.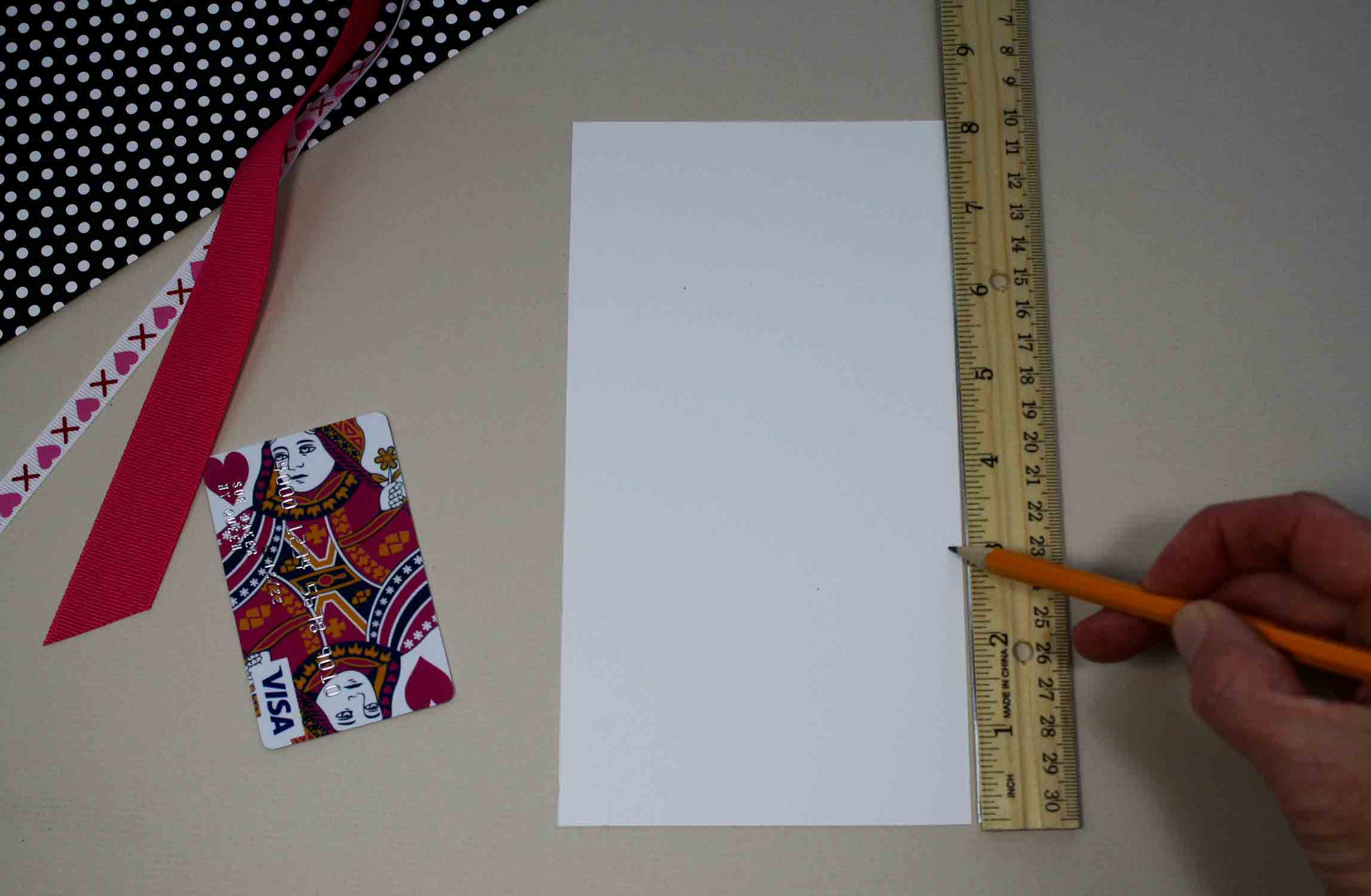 The easiest way to fold card stock is to score it first. For this step, I just use the end of whatever blunt-pointy object I have on hand. (I've used the back of a butter knife, the end of a pen, a toothpick…probably none of them recommended, but handy at the time.) Using a ruler and the measured marks, score the paper on the fold lines.

Add the Gift Card
Fold up the gift card holder as shown. Using double-sided tape or a glue stick, seal the edges of the gift card pocket, then put the gift card inside. Write a personal note in the white space above the card. You can add other embellishments here if you'd like, such as washi tape, stickers, glitter or other creative objects.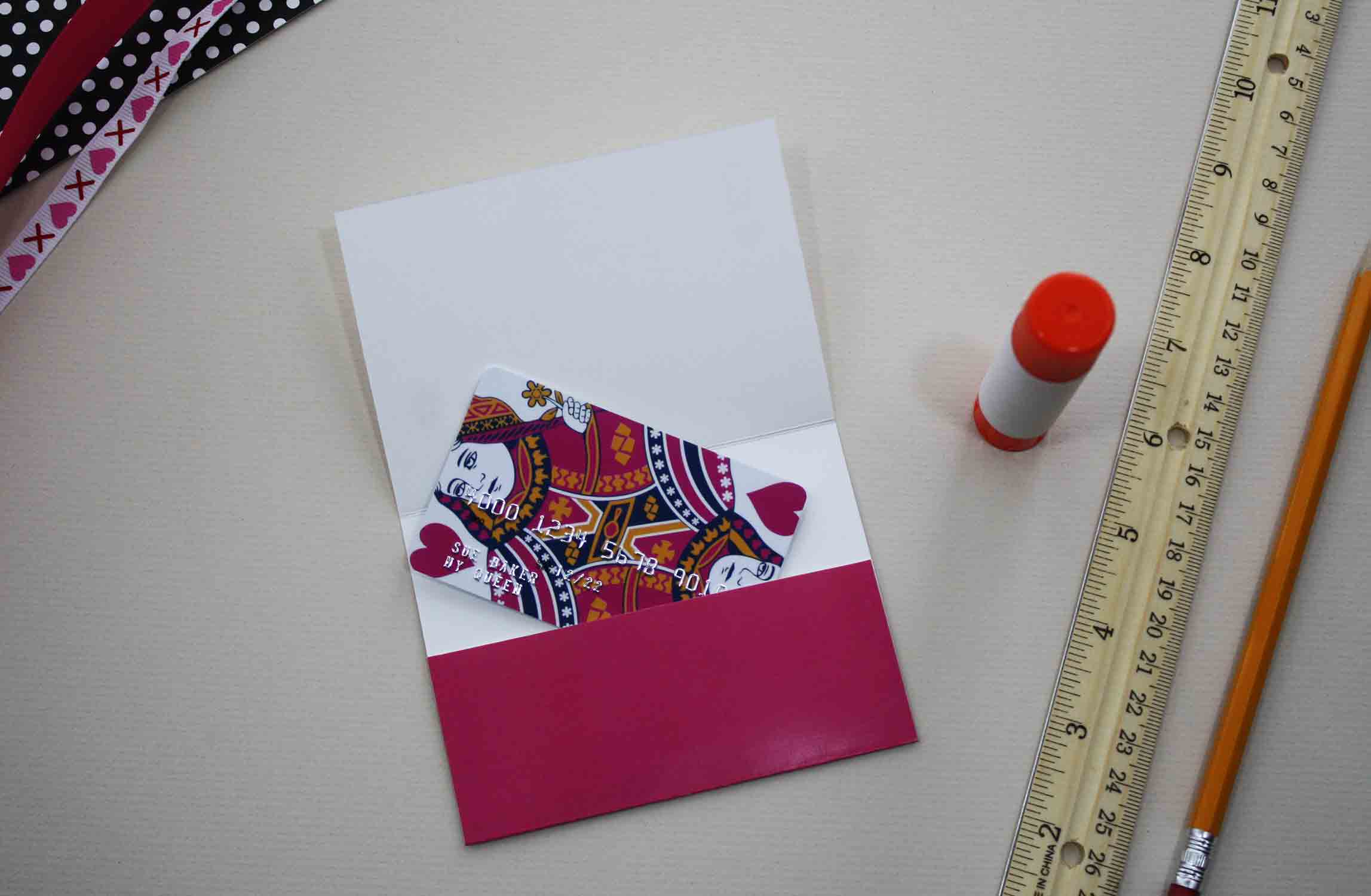 Wrap it Up
Now the fun begins. With the folded gift card holders ready and the flat holders proudly displaying their little king and queen cards (seriously, aren't they cute?!?!), you can add the next level of creativity. Simply give the cards like this, or add to a little something extra.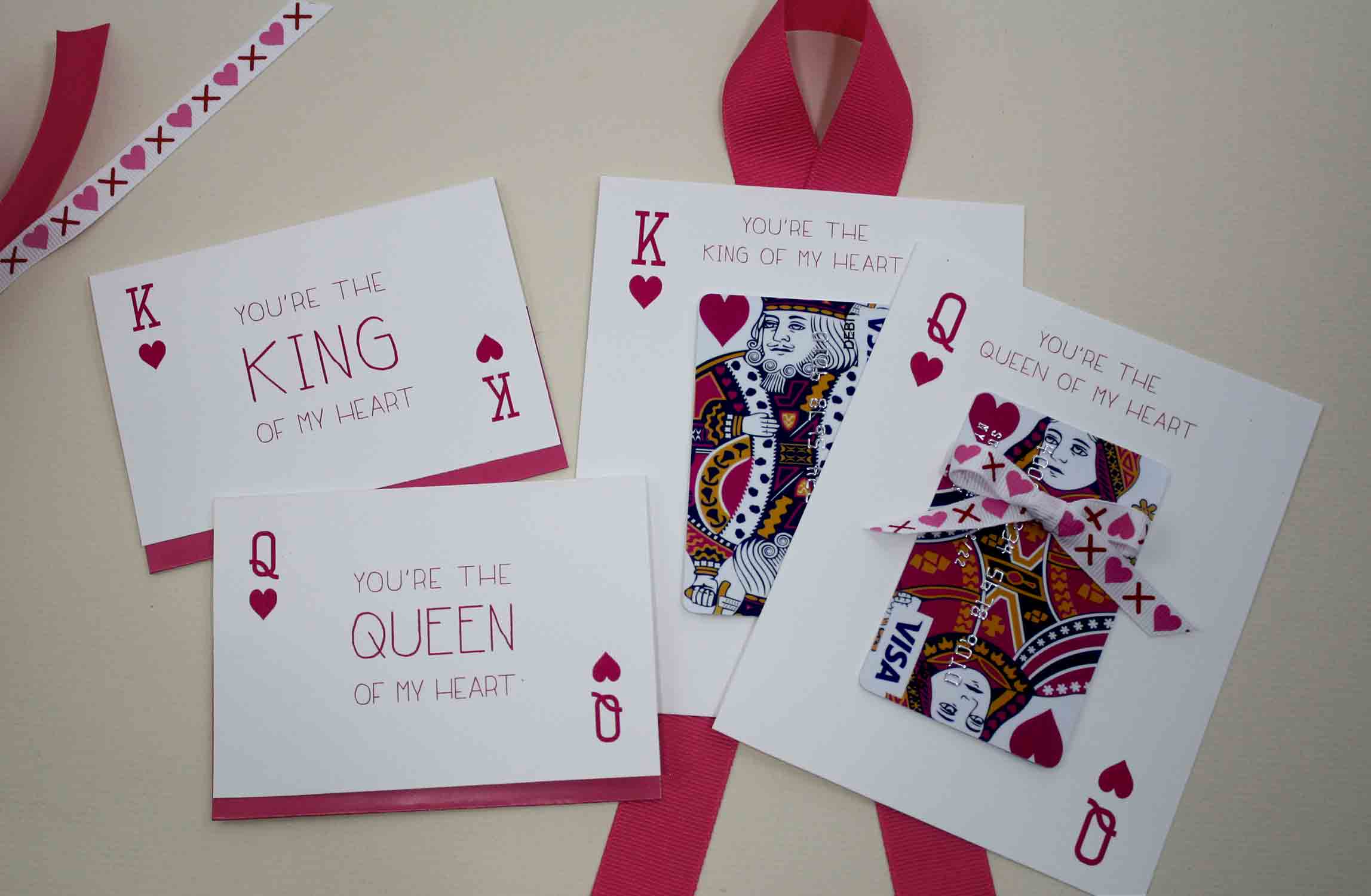 I borrowed some inspiration from this present wrapped with playing cards to make a cute box that I filled with heart-shaped candies. The gift card can be put inside or placed on top. I think it turned out adorable and hope that you like it too.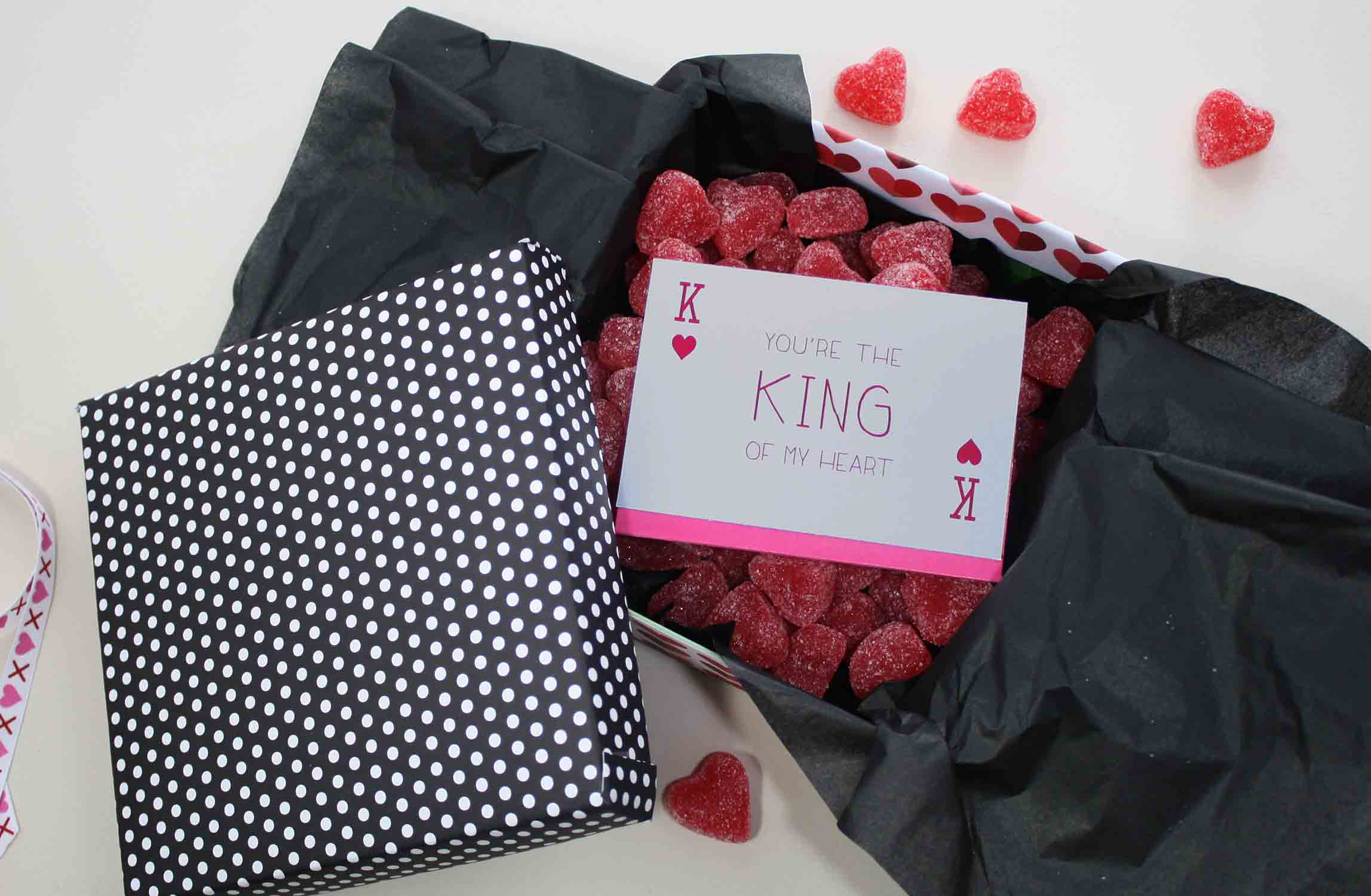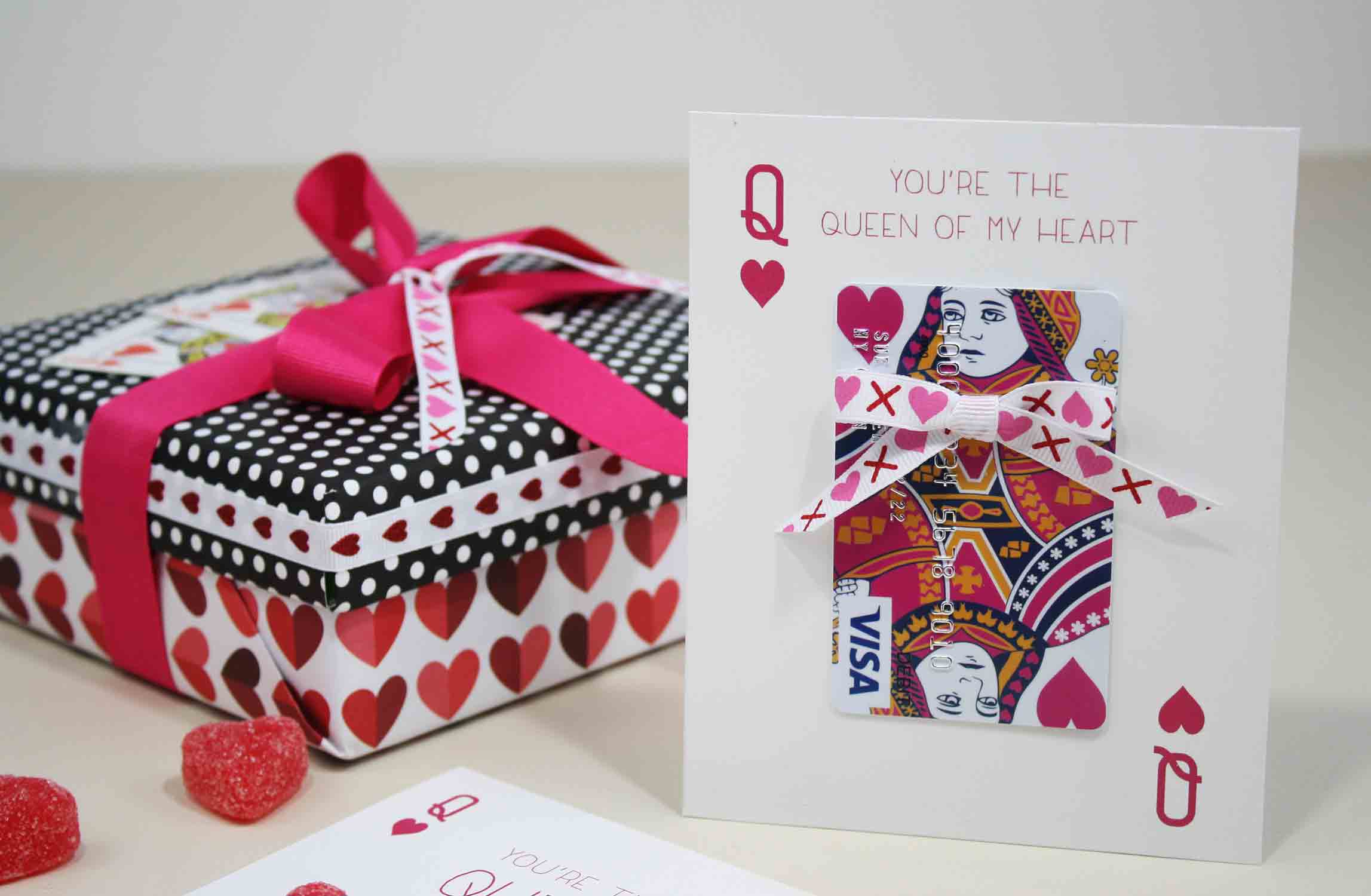 Bonus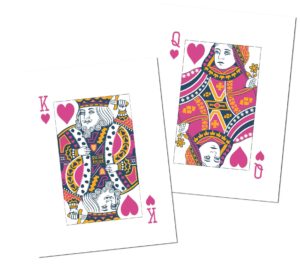 If you like this idea, but don't have time to make the Valentine yourself, then let us stack the deck in your favor. Order either the "King of My Heart" or "Queen of My Heart" Visa gift card. Select the standard greeting card option and then take a moment to personalize the gift card and greeting card combo. You can write "My King" on the card's embossed message line and "You're the King of My Heart" on the inside of the greeting card.
For more free printable gift card holders, check out the free prints page or follow Gift Card Girlfriend on Pinterest. This fun gift is on our Last-minute Valentines and Valentine's Day Gift Ideas board and on our free printables board.
If you use this printable, send me a link to your page in the comments below or contact me on Twitter (@GCGirlfriend). I want to see what inspires you.
Happy Gift Carding!
~Gift Card Girlfriend