Ready to give a different gift card this year? From Happy Cards and NASCAR to new underwear and live streaming, here's a list of new gift cards to try this holiday season.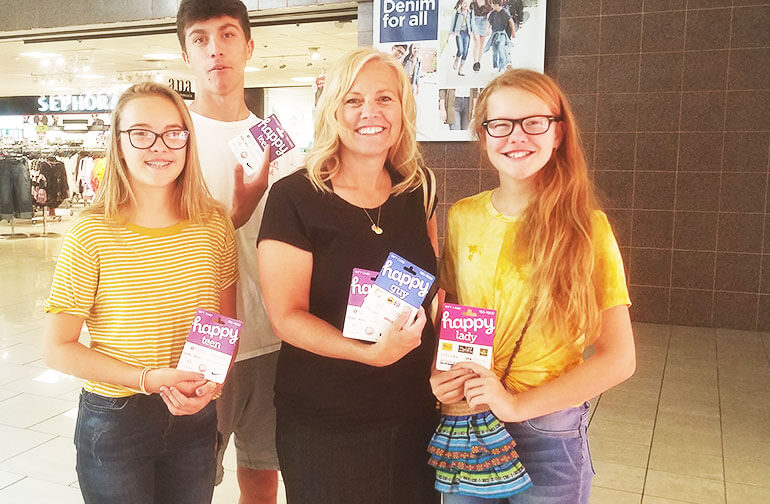 New Gift Cards to Try
Growing up, I gave my dad the same type of shirt every Christmas. He had a style that other siblings sometimes questioned, but I knew he enjoyed. His ideal shirt required four things…short sleeves, stretchy fabric like a knit or a soft terry cloth, a waist band so he didn't have to tuck the shirt into his pants and a pocket for holding pens. I know you're thinking this clothing item sounds bad, but in the 1980's, I didn't have to look very hard to find these shirts. And he was always glad that I did.
Whether you're picking out clothing, shoes, household items or electronics, my number one rule of gift-giving is to pick something that you know the recipient wants versus something you think he or she should have. While others tried to update my dad's look by giving him shirts they wanted him to wear (which he never did), I consistently gave him the shirts he liked. This rule of gifting applies to gift cards too.
If you have given someone the same gift card every year and it has gone to good use, then keep giving it. Chances are, the person is hoping you will bestow the same gift and has possibly even earmarked things to buy with it. But if you legitimately think it is time for a change, then look at some of the new gift cards available this holiday season. From unique experience-based gift cards to Visa and Mastercard® category cards, there are several new gift cards to try this holiday season. In no particular order, here are some suggestions:
1. Happy Cards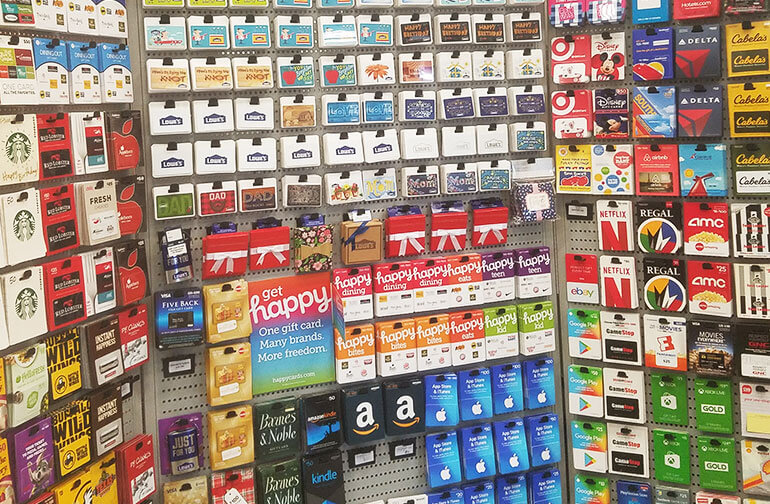 More Choices Without the Fees
Happy Cards is a new line of gift cards featuring a curated selection of stores and restaurants based on a theme. The Happy Teen gift card, for example, is usable at Sephora, Jamba Juice, Regal Cinema and other places that teens like to shop. The Happy Lady gift card is redeemable at The Cheesecake Factory, Spafinder, Sephora, Macy's, Bed Bath & Beyond and more. The Happy Bite gift cards is redeemable at Panera, Jamba Juice, Peet's Coffee, Burger King and other restaurants—for an easy way to grab a quick bite. There's a growing list of Happy Cards available including Happy Lady, Happy Teen, Happy Kid, Happy Guy, Happy Bites, Happy Beauty, Happy Bride and MORE! ALL to help you wish someone a Happy Holiday!
Buy Happy Card Gift Cards online or at your local grocery store.
2. Stockpile Gift Cards
The Gift Card that Could Triple in Value!
The Stockpile Gift Card is truly one of the most unique gift cards on my list. If you've never heard of Stockpile, you're essentially giving someone the opportunity to buy a few fractional shares of stock and see what happens!
The founder of Stockpile came up with the idea because he wanted to give stock to his nieces and nephews for Christmas, but found the stocks he wanted to buy (Apple and Google) were too expensive. Stockpile makes it possible to quickly and easily buy your favorite stocks for family and friends because you don't have to buy full shares (the dollar value of the gift card is the amount that will be invested) and the sign-up process is significantly easier than is typically required to be an investor. So in a few simple steps and for a few dollars, Stockpile gift card recipients can pick a stock, make an investment and possibly even earn more than the gift amount given. Is there any better way to learn about the stock market than to make an investment and see how it performs?
A friend of mine gave Stockpile gift cards to her nieces and nephews and then offered another gift card as a reward to the person who earned the most money within the first quarter of the new year. Talk about a gift card that keeps on giving both monetarily and as an education tool. Here's a free printable gift card holder for your Stockpile gift card.
Buy Stockpile Gift Cards online or at your local grocery store.
3. Everywhere Cards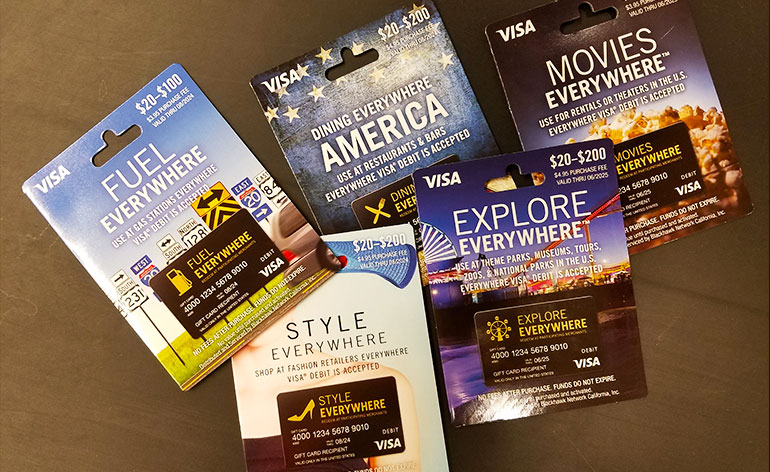 The Great Alternative to Local Gift Cards
Have you ever wanted to give someone a gift card to a restaurant but didn't know which restaurant to select? Or maybe you wanted to buy movie tickets for a friend but didn't know which movie theater she lived near. Or you had the bright idea to get a gas station gift card for your nephew going off to college but didn't know which gas stations he would stop at on the way. Well your gifting needs are stymied no more thanks to a new set of Visa gift cards that are usable within a particular category. There's Style Everywhere (usable at any fashion retailer), Movies Everywhere (for rentals and theaters), Fuel Everywhere (for gas stations), Dining Everywhere (usable at restaurant and bars) and Explore Everywhere (for theme parks, museums, tours, zoos and national parks). The idea is that the recipient can use the card at ANY merchant within the category listed.
Any merchant? Yes! Take the Dining Everywhere gift card for example. The recipient can redeem the Dining Everywhere gift card at a local cafe, at a nationwide restaurant or at a downtown eatery. As long as the card is used at a bar or restaurant–no matter how big or small the establishment is–the card should work. The other category cards work the same.
Here's a list of "Everywhere" cards you can buy this holiday season:
| | |
| --- | --- |
| Fuel Everywhere | Fuel Everywhere Gift Card is redeemable for fuel, snacks and services at national and local service stations everywhere Visa debit cards are accepted. |
| Dining Everywhere | Dining Everywhere Gift Card is usable at restaurants and bars, everywhere Visa debit is accepted, even online. |
| Movies Everywhere | Movies Everywhere Gift Card is redeemable for tickets, food and rentals, everywhere Visa debit is accepted in the U.S., even online. |
| Style Everywhere | Style Everywhere Gift Card is usable at any fashion retailer everywhere Visa debit cards are accepted, even online. |
| Explore Everywhere | Explore Everywhere gift card is the gift card that lets you play! Redeemable at parks, museums, tours and zoos–everywhere Visa debit is accepted in the U.S., even online. |
4. Airbnb Gift Cards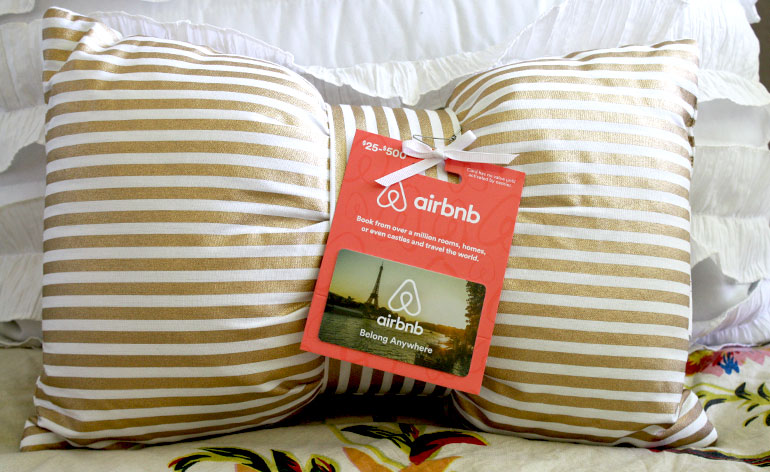 The Gift of Living Like a Local
According to the Airbnb website, Airbnb is an online "marketplace for people to list, discover, and book unique accommodations around the world." I tend to think of this business in more simple terms–it's a way to book a private house and/or rooms for your next vacation. Rather than staying at a hotel or a timeshare, you can actually rent someone's house. The benefit to doing so is that the options are vast and varied. You can stay in someone's downtown loft or book a room at someone's countryside cottage. Plus, for the cost of the rental, you get the benefit of amenities such as the use of a full kitchen, a hot tub on the balcony or bicycles to ride along the beach. Many say they prefer to use Airbnb over traditional rentals because staying in someone's home is a more authentic experience. Rather than living like a tourist on vacation, you get to live like a local.
With an Airbnb gift card, you can gift the experience of local living to someone. It's a great option for newlyweds, graduates, a couple celebrating an anniversary and just about anyone else who likes to travel. An Airbnb gift card is even a great idea for people who just need a place to stay for an event such as a wedding, family reunion or funeral. Here are five reasons to give an Airbnb gift card plus five free gift card holders for travel gift cards..
Buy Airbnb Gift Cards online or at your local grocery store.
5. Paint Nite Gift Cards
The Gift of Creativity and Conversation
A dear friend and I used to meet regularly to paint pottery and catch up on each other's lives. Neither of us is an artist. That didn't matter. We found the combination of creativity and conversation to be very therapeutic. If she still lived near me, I would insist that she and I try Paint Nite as well.
Paint Nite is a company that brings local artists to bars and restaurants to guide people through a painting experience. I don't want to say that the artists teaches you how to paint, because I don't think that can be done in a couple of hours. But with guided help, each person will walk away from the event with a personal masterpiece. More importantly, the event includes ample time for socializing and having fun with the other painters. Like my friend and I, you don't have to be artistic to enjoy trying something new.
With a Paint Nite gift card, the recipient can sign up for an event in his or her local area. This sounds like a great gift card for a friend, a group of friends, a mother-daughter activity or a wedding party. I would love to see a Paint Nite gift card given to a new mom who could use a break from the sometimes overwhelming task of caring for little ones 'round the clock.
Buy Paint Nite Gift Cards at your local grocery store.
6. Groupon Gift Cards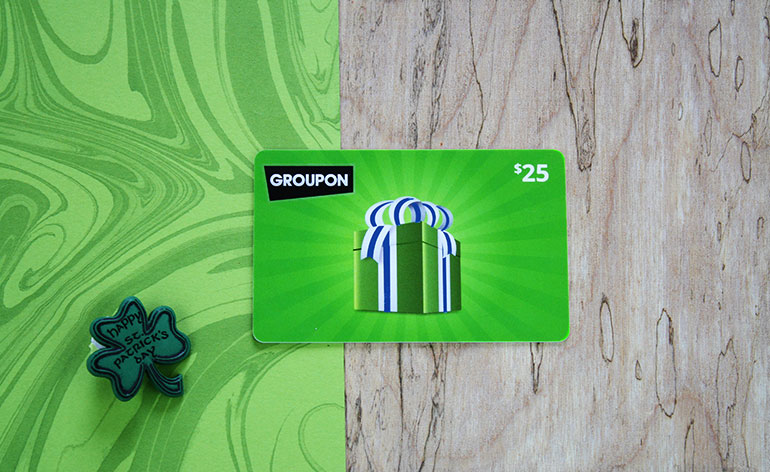 The Gift Card that can Save You Money
Do you have a deal junkie on your Christmas list? You know who I mean. This is the friend who never pays full price. She shops with coupons, uses discount gift cards, has all the store apps on her phone to get loyalty points and she knows how to maximize fuel perks. If there is a way to save, this girl knows how to do it. So chances are this friend is already a Groupon customer.
With a Groupon gift card, your money-saving friend can structure her next buy with even less of her own money. Whether she buys tickets to an Escape Room, grabs an insane deal on makeup brushes or uses the gift card to try out a new restaurant, a Groupon gift card can foot most of the bill. Daily Deal sites are a great way to save money on gift cards. If you have a gift card TO a daily deal site, then the potential to save is even greater.
Buy Groupon Gift Cards at your local grocery store.
7. Five Back Visa Gift Cards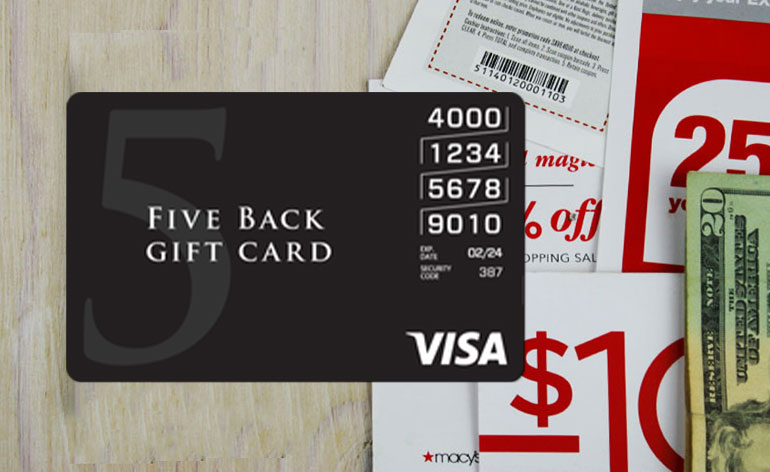 The Gift Card that Gives you Money BACK!
Speaking of savings, I have to tell you about the new Five Back Visa gift card. I seriously had to do the math (a couple of times) to make sure I understood how it all works because it seems like you can easily earn money with this gift card. And as it turns out, you can!
Basically, if you use the gift card to shop at a growing list of merchants, then you get 5% of the purchase price put back on the card. So, for example, if you use the gift card to make a $20 purchase at JCPenney, you'll get $1 loaded back onto the card after the transaction is complete. Now, keep in mind that it costs $6.95 to activate the card, but you'll pay the same dollar amount no matter how much money you load onto the card. The break-even point is at about $140. If you load $200 onto the Five Back Visa card and use it at Bed Bath & Beyond, CVS or Gap (among several other choices), you'll get $10 put back onto the card. The cash back amount more than covers the activation.
So if you want to give someone an easy way to make a little money back when they shop with a gift card, the Five Back Visa is a great option.
Buy Five Back Visa Gift Cards online or at your local grocery store.
8. Go Play Golf Gift Cards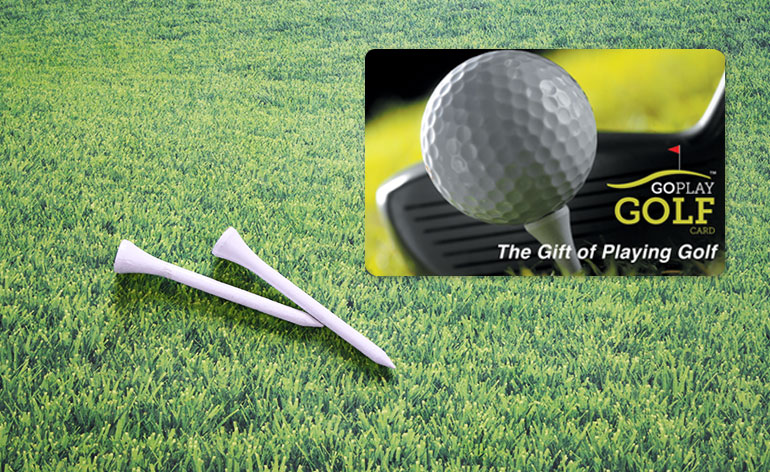 The Gift of Green Fees
Though most gift cards purchased in the U.S. are only redeemable in the U.S., this gift card is an exception. It can be used to pay for green fees at over 5,000 golf courses nationwide PLUS it can be used at golf courses in Mexico, Europe and The Caribbean. The Go Play Golf gift card can also be redeemed for golf equipment and apparel. So whether you've got a U.S. Open contender on your holiday gift list or a sub-par duffer to buy for, the Go Play Golf gift card is the perfect choice.
Buy Go Play Golf Gift Cards online or at your local grocery store.
9. Spafinder Gift Cards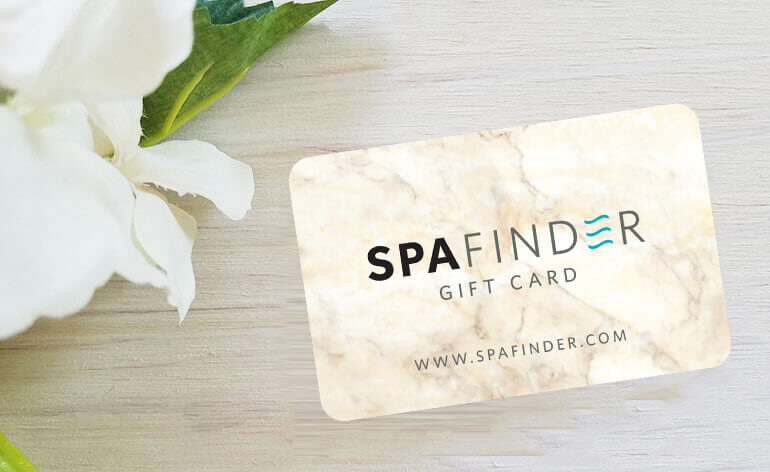 The Gift of Relaxation
What Go Play Golf is to golf courses, Spafinder is to thousands of spas, fitness & wellness centers, yoga studios, salons, hotels & resorts, and more. With a Spafinder gift card, you can literally pick out the pampering you want most. If you want to spend a day in the spa, you can do that. If you'd rather sign up for Pilates class at a yoga studio, you can do that instead. Want your feet rubbed and your toes polished? Done. With so many places to choose from, you're sure to find the relaxation you need.
If you have someone on your gift list who could use a little pampering, then this gift card is the perfect choice. And if you don't believe me, then listen to the editors at Faveable.com magazine who just voted the Spafinder Wellness 360 gift card as the Best Gift for a Single Mom. The recipient doesn't have to be single to enjoy this gift card, of course, but if she is, then all the more reason to give it to her this year.
Buy Spafinder Gift Cards online or at your local grocery store.
10. GiftofCollege.com Gift Cards
Gift card image from www.giftofcollege.com
The Gift That Can Last a Lifetime
It didn't take much for this new gift card to capture my attention. It's called "The Gift of College" and I'm a fan. Several years ago, I paid my own way through college. I earned a couple of small scholarships, got a grant, took out a few student loans and worked (and worked and worked) to pay everything from tuition to books to room and board. My parents chipped in when they could, but I had five younger brothers and sisters at home at the time, so money rarely stretched out to Utah where I attended school. It wasn't easy, but I wanted to graduate so I did everything I could to make that happen.
GiftofCollege.com is based on a social saving platform. Create an account, invite friends and family to donate and the money earned can be used to pay for new college expenses or pay off an existing student loan. A statistic on the company's website says, "Just by opening an account for the ones you love, you increase the likelihood that they will attend college 75%." I'm not sure that's true, but I do believe there is something to be said for expectations. When mom, dad, grandma and grandpa put their money towards your college education and say words like "WHEN you go to collage" versus "if you go to college," I have to believe the odds of attending do go up.
If you want to get a gift for a child this holiday season, then check out the Gift of College. You might not get the "jump up and down response" that a gift card to an amusement park would get, but the ultimate impact could be so much greater in the end.
Buy GiftofCollege.com Gift Cards online.
11. Personalized Visa Gift Cards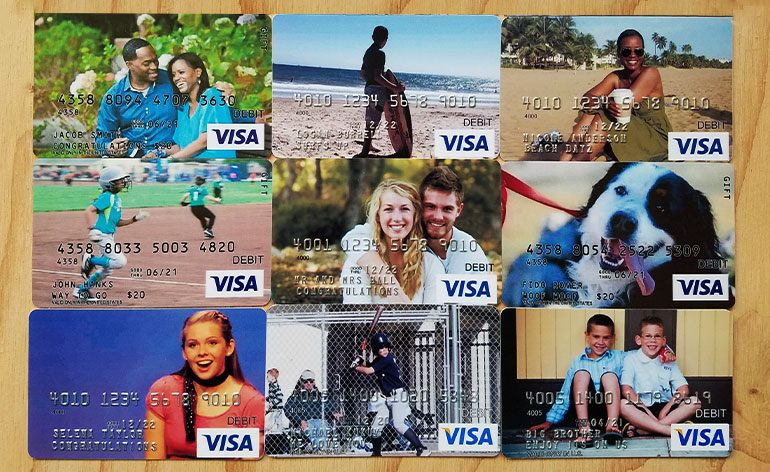 The Gift Cards They Hold onto Forever!
I know what you're thinking…this isn't a new gift card. You're right. It's not new to me. But I would wager that this gift card will be a first for whomever you give it to. I've given hundreds of gift cards over the years, and personalized gift cards are pretty much the ONLY gift cards that both the receiver and I remember (and still have). There's just something about this plastic gift card with your picture on front that is captivating and unexpected. And tossing it in the trash after the money doesn't even seem like an option.
If you want to give someone a gift card to remember, then add a photo to a personalized gift card this holiday season and be prepared to watch the recipient gush all over it. It's my favorite gift card to give and recipients always ask me how I made the card, assuming that I have some special connection because of my job, but I don't. I order personalized gift cards just like everybody else–straight from the website.
Buy Personalized Gift Cards online.
12. Category Gift Cards
The Gift Card That Gives Choices
Category gift cards are a new breed of gift card that offers the recipient a range of places to use the gift card within a category. Unlike Visa gift cards and Mastercard gift cards that require an activation fee, category cards are fee free. (I love them!!!!) Blackhawk Network recently released Dining Out and Teen's Choice gift cards. You'll find each gift card has about 8 to 10 merchants listed on the card. The only catch is the gift cards have to be used in stores (not online.)
Here's a little more information about these new category gift cards.
Buy Category Gift Cards in grocery stores.
13. Cloud 9 Living Gift Cards
The Ultimate Experiential Gift Card
Cloud 9 Living Gift Cards offer experiences throughout the United States ranging from race car driving to hot air ballooning, sailing on the bay to sky diving and zip lining to flying lessons…plus a range of less extreme adventures such as cooking classes, scenic tours and spa treatments. If the recipient does not like the outing you select, it can be exchanged for another one. Cloud 9 Living is a one-stop shop for experiences nationwide.
If you're not sure whether or not to give someone an experience this holiday season, think about your social media accounts. What are people posting? They post about the things they do and with whom they are doing it. With a Cloud 9 Living gift card, you're not just giving someone a gift. You're giving them a post-worthy, memory-making adventure.
Buy Cloud 9 Living Gift Cards online.
14. MaidPro Gift Cards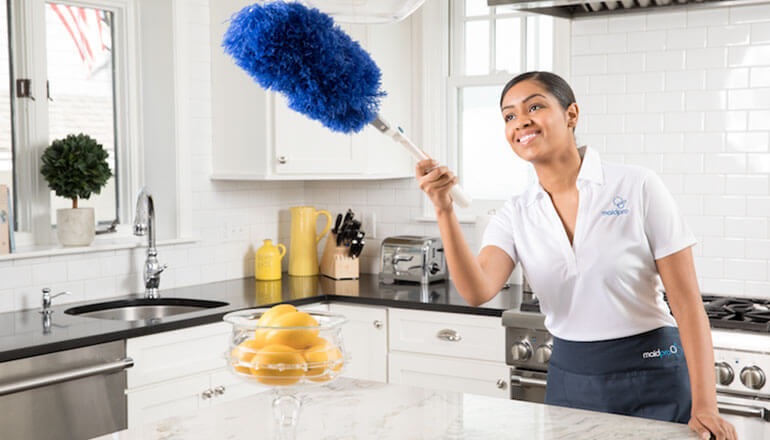 The Gift of a Clean House
Now THIS is an experience I would enjoy–the gift of a clean house! Not only does a clean home promote health and wellness, but it is truly the gift of time. Time not spent cleaning your home, buying products (or even thinking about having to clean) is time better spent with your families, friends, hobbies and even just relaxing.
I recently hired a cleaning service to clean my sister's house after we had invaded her space for more than a week with five teenagers. Seriously…cleaning her house was the least I could do! She loved coming home to a clean house and I didn't worry so much that we had destroyed her beautiful home and then departed. Because I live next door to my sister, I simply hired the neighborhood housekeeper. If you don't live near the person you want to gift or don't know who to hire, then MaidPro gift cards are the perfect gift.
Buy MaidPro Gift Cards online.
15. US Wellness Meats Gift Cards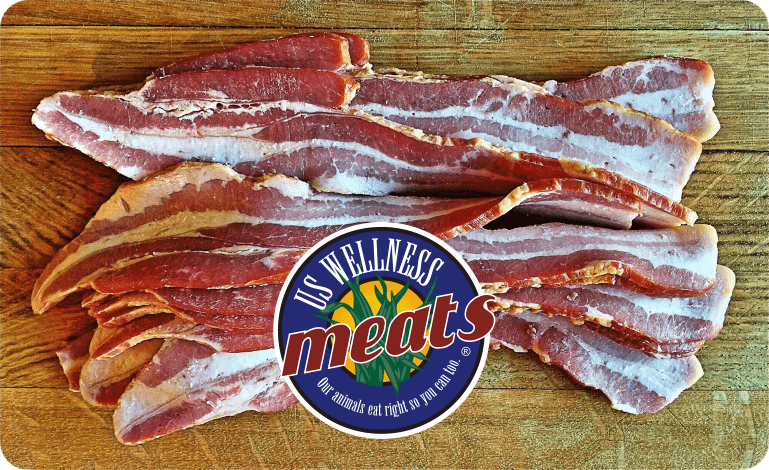 The Gift of Grass-Fed Beef
This gift card is for all you meat lovers out there (including me.) US Wellness Meats specializes in nutrient rich, 100% grass-fed beef, lamb, bison, and dairy, wild-caught seafood, free range poultry and more. USWM is on the forefront of the sustainable food movement with family farms dedicated to sustainable farming methods that provide for a healthier planet and more nutritious foods.
US Wellness offers gift cards in a variety of denominations for anything in their store including pork bacon, all-natural bbq sauce, sugar-free, grass-fed beef franks, burger, bacon, steaks and more. Their best selling item is sugar-free, sustainably raised pork bacon. They also offer a wide range of products tailored for Whole30, Paleo, Ketogenic, Auto-Immune Protocol, and Sugar-Free diets.
Yum. Sign me up!
Buy US Wellness Gift Cards online.
16. Collier Leeds Gift Cards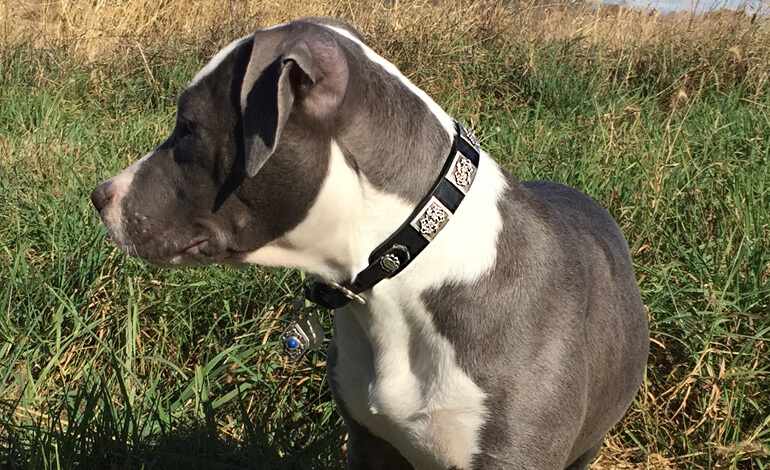 The Gift of Fashionable Collars
If that special someone in your life has a special dog in theirs, check out Collier Leeds. This is growing company that specializes in custom fitted, handcrafted leather dog collars made in Pennsylvania. The recipient of this gift card can choose from old world leather collars, leads, collar charms and more. All are made with quality, vegetable tanned leather with solid brass decor. Each collar is made to order and can be customized to give your dog the best possible fit.
Buy Collier Leads Gift Cards online.
17. iKotton Gift Cards
The Gift of Comfortable Cotton Undergarments
Have you ever thought about giving someone underwear for Christmas or Hanukkah or another winter holiday? If not, it's time to refresh your thinking. iKotton features undergarments that accentuate the natural body contours through designs and cuts that are not restrictive or uncomfortable. They use organic cotton that is kind to your skin and gentle on the planet. 1% of the money you spend will go to fund environmental programs.
With an iKotton gift card, you don't have to pick out the actual underwear. Instead, deliver an iKotton gift card and let the recipient choose from camis, bikinis, hipsters, boyshorts and briefs.
Buy iKotton Gift Cards online.
18. McCrea's Candies Gift Cards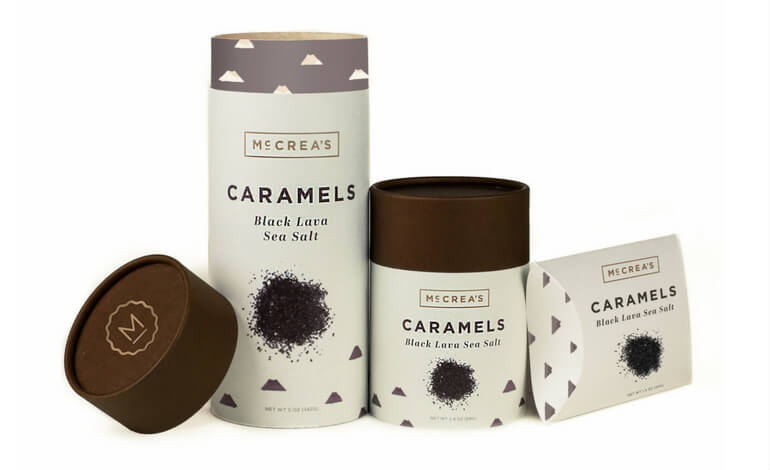 The Sweetest Gift Cards
McCrea's Candies makes luxe caramel using the finest salts, spirits, and seasonings to produce handcrafted candies in beautiful biodegradable packaging. They start with butter and sugar and slow cook it to just the right temperature. Milk from the local dairy is added as are real-food flavorings.  From there, McCrea's hand rolls the caramel and sends it through a restored early 20th century cutting and wrapping machine.
Sound delicious? It gets better. McCrea's Candies is on a quest to find perfect combinations of smooth, sweet, fresh, and unexpected using the fewest possible ingredients. Their mission is to make the world's best caramel.
Buy McCrea's Gift Cards online.
19. Madi Apparel Gift Cards
The Gift of Confidence
Now let's talk about underwear from a different perspective. MADI Apparel,(which stands for Make a Difference Intimate Apparel), is a line of elegant underwear, sleep tops, robes and bralettes, that donates a new pair of underwear to women in domestic violence shelters, homeless shelters and rape crisis centers for every MADI garment purchased.  Buy one, give one. MADI is the TOMS Shoes of underwear.
But why underwear? Underwear tops the most urgent needs list of nearly every domestic violence and homeless shelter and rape crisis center. Those organizations receive clothing and household goods donations, but rarely new underwear. According to the MADI website, "Underwear is a woman's most intimate article of clothing. Numerous organizations credit underwear as an assisting factor in helping a woman feel confident and comfortable during times of distress and healing.
So if you want to do some good this holiday season with the gift cards you give, consider giving someone the gift of underwear…and confidence.
Buy MADI Gift Cards online.
20. My Heart Wall Gift Cards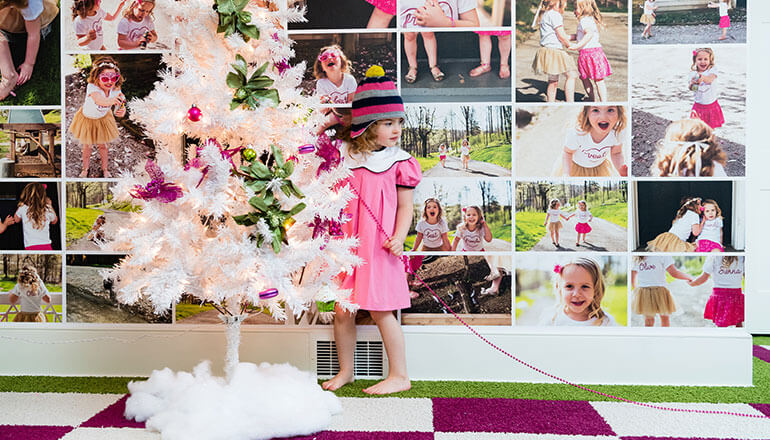 The Gift of a Lifestyle Gallery
My Heart Wall makes personalized photo wallpaper through a simple self-guided process. You can choose from a variety of photo collage and gallery style designs that can either be affixed as regular wallpaper or as repositionable wallpaper. You can also create a unique mosaic style print or a large miracle mural which prominently features a single image. If you don't want to wallpaper an entire room or even an entire wall, you can select smaller dimensions at the start of your project.
My Heart Wall was recently featured in the TODAY Show's "26 gift ideas for the ultimate "Fixer Upper" fan on your list. So if you have one of those, check it out. Also, note that a portion of each purchase goes towards pediatric cardiology initiatives to support children born with heart disease.
Buy My Heart Wall Gift Cards online.
21. Xperience Days Gift Cards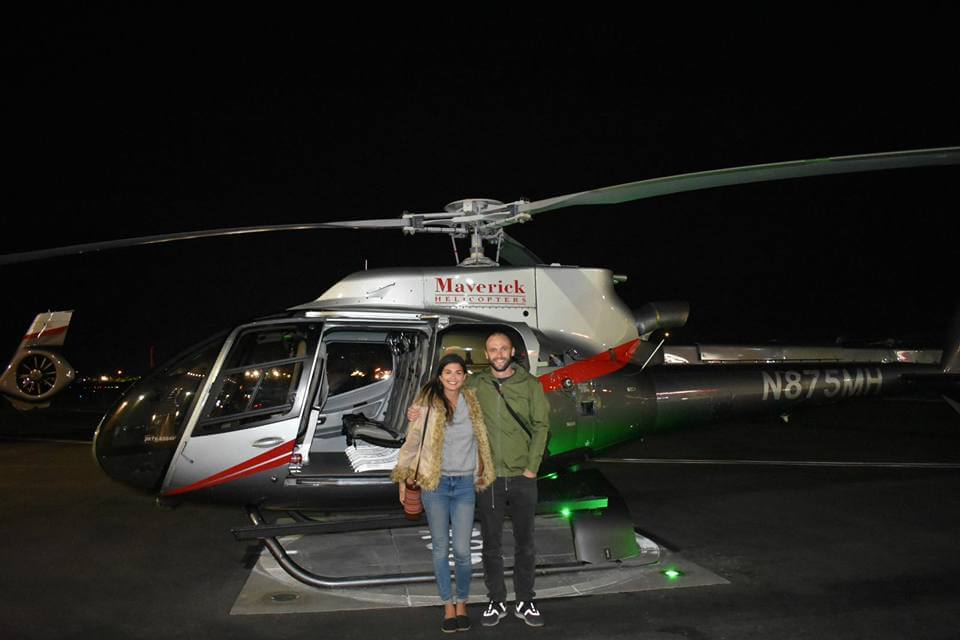 The Gift of a Unique Experience
This Holidays Season you can gift a gift card that allows the recipient to learn to fly a plane, drive a NASCAR, taste their way through the city on a Chocolate Tour, learn to sail a boat, write their own song and hundreds of other memorable adventures across the Country. The Experience Gift Cards can be redeemed at the recipient's convenience; and, can be sent instantly via eMail, printed out upon purchase or mailed in an attractive gift pack.
Think of experiential gift cards this way. An evening spent with a top chef learning how to cook is more more memorable than simply giving someone a restaurant gift card…though I wouldn't mind either. Experience Days® offers a range of over 1,500 Adventure Gifts across the US in over 50 major metro areas.
Buy Xperience Days Gift Cards online.
22. TAPPP Sports Streaming Gift Cards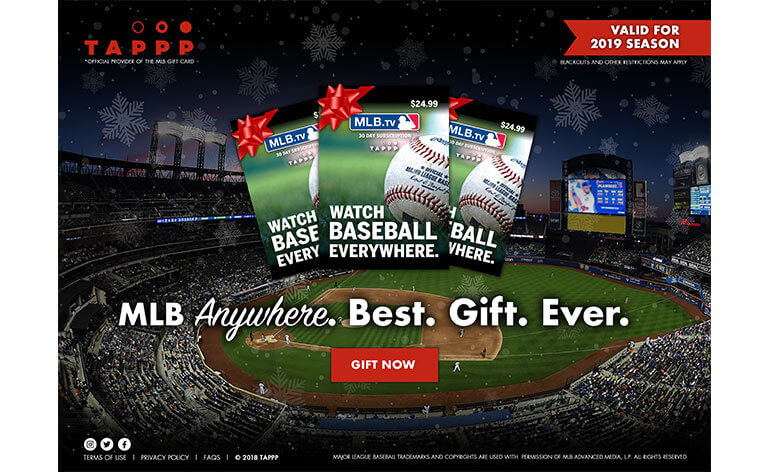 The Gift of Streaming Sporting Events
MLB – People are tired of spending big dollars on cable TV when so much of what they want to watch is available elsewhere. But cutting the cord often means missing out on live sporting events, especially when you don't live in the same region as your favorite teams. When you're tired of hearing your husband complain that he can't watch the Red Sox because you don't live in New England, check out the new TAPPP gift card. TAPPP is working directly with major league sports teams to give fans access to out-of-market games live or on demand. You can even watch up to four games simultaneously. Their flagship product, the MLB.TV gift card, is the perfect gift for any baseball fan this holiday season. Just $24.99 for 30 days of unlimited Major League Baseball.
NFL – Are you ready for some football? TAPPP has also partnered with the NFL to bring you the NFL Game Pass gift card for only $49.99. Watch live out-of-market preseason games plus condensed games in replay mode and more.
Buy TAPPP Gift Cards at partner stores or Buy Tappp.com egift cards online.
23. Glamping Hub Gift Cards
The Gift of Glamping
According to the Glamping Hub website, "Glamping means luxury camping or glamorous camping." Glamping Hub has over 35,000 accommodations in over 120 countries ranging from yurts and tree houses to tents and converted barns. Give someone a gift card to Glamping Hub for an experience of a lifetime.
Buy Glamping Hub Gift Cards online.
24. INKED Gift Cards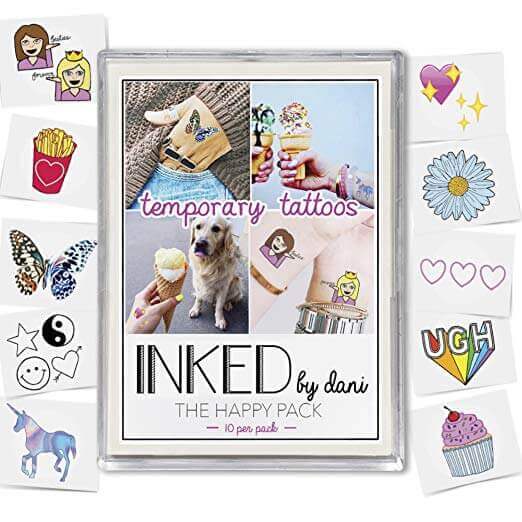 The Gift of Temporary Tattoos
Unlike other temporary tattoo brands targeted to kids and tweens, INKED by Dani's adult temporary tattoos offer wearable fine art designed by contemporary artist Dani Egna. In addition to mimicking the look of popular tattoo designs (allowing for an easy test-drive before the real commitment), INKED by Dani is inspired by celebrity tattoo trends such as tiny tats, as well as millennial pop-culture with tattoos featuring avocados and tacos, emojis, and empowering sayings. Plus, INKED by Dani's charitable tats collection gives back to various organizations.
Buy INKED Gift Cards online.
25. Wink & Rise Gift Cards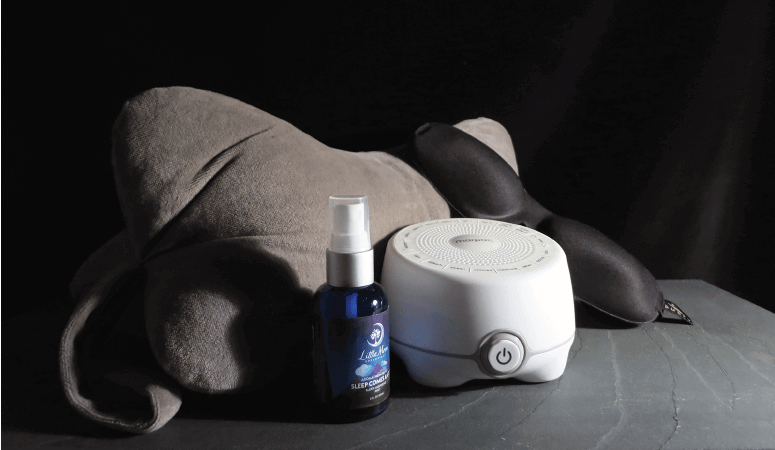 The Gift of a Good Night's Sleep
Wink & Rise is the first (and currently the only) retailer devoted to helping people celebrate sleep, offering a variety of luxurious small goods that make sleep easier and more enjoyable. From luxury throw blankets and orthopedic pillows to innovative sound conditioners and organic aromatherapy preparations, we help shoppers discover the perfect things to make healthy, rejuvenating sleep an experience to savor. We curate the best products on the market so finding the right sleep-enhancing accessories is easy and fun. Items come wrapped in our distinctive, beautiful packaging, so the pampering starts the moment your order arrives.
Buy Wink & Rise Gift Cards online.
26. Nanno Gift Cards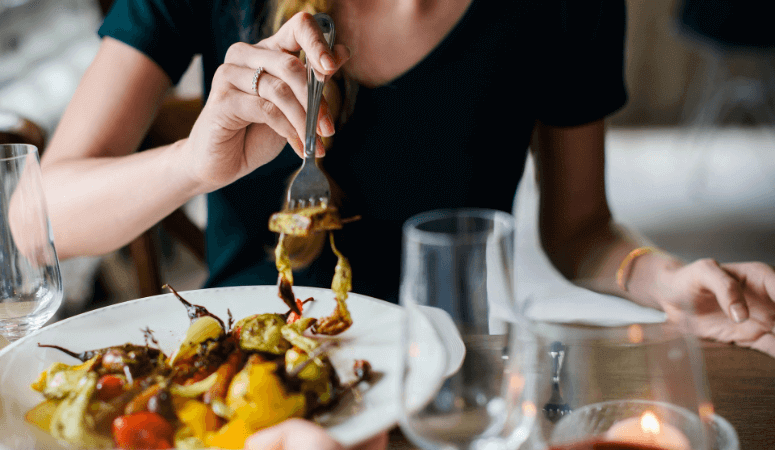 The Gift of "Me" Time
A great gift idea for parents who have everything is a gift card for childcare. Time is something that every parent needs and never seem to have enough of. Nanno, founded by two busy professional moms in Denver, now has fully vetted sitters and nannies 42 states, available to be booked on-demand. Also great for family travelers, who want a night out while on vacation. Nanno gift cards in $100, $50 and $25 denominations.
Buy Nanno Gift Cards online.
27. NanaGram Gift Cards
The Gift of Reaching Out to Loved Ones
NanaGram mails monthly printed photos to parents, grandparents and other loved ones on your list. All you have to do is text your photos and Nanagram does the rest. I can't think of anything easier than texting a picture knowing someone else will print it, package and ship it. Having a baby? Sign up for Nanagram so you can quickly and easily send pictures to grandparents and friends. Wish you could see more pictures of the grandkids? Send a Nanagram gift card to families you'd like to hear more from then get ready to check the mail for your pictures to arrive. Gift cards are available in 6-month ($59.99) and 12-month ($99.99) denominations.
Buy NanaGram Gift Cards online.
28. Happy Rosy Day Gift Cards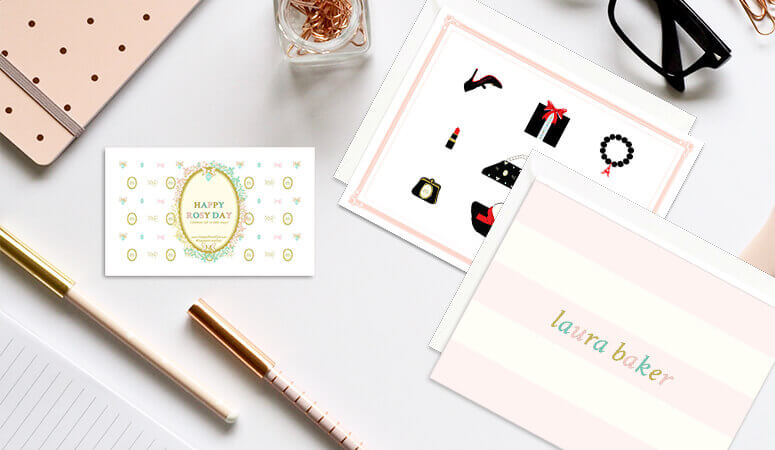 The Gift of Designer Stationary
Happy Rosy Day is a designer stationery and lifestyle brand that is on a mission to brighten your day with delightful products designed to bring beauty, inspiration, gratitude, and joy to everyday moments. A portion of profits are donated to charities that feed and empower women and children. This gift card can be used to purchase chic and uplifting stationery for home and office or design services for personalized stationery and custom stationery, note cards, invitations, letterhead, and business cards.
Buy Happy Rosy Day Gift Cards online.
29. Canagon Gift Cards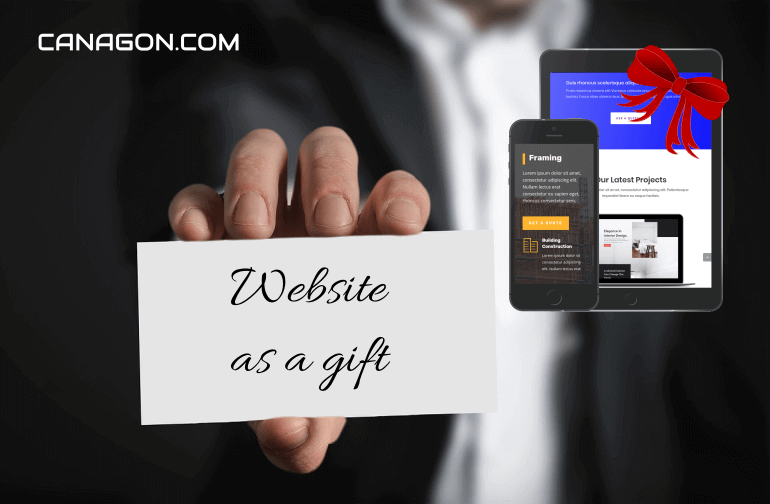 The Gift of a New Website
In today's economy, I think it's increasingly challenging to be self-reliant or to support a family on a single income. For this reason, I'm a big fan of small businesses and side hustles. That's how I started Gift Card Girlfriend, after all. And though I talk to many would-be-entrepreneurs with great business ideas or side gigs in the making, several fail to launch because they don't have the ability to create their own websites or they think they can't afford to pay web developers to develop sites for them. Let's help people get over that hurdle with the gift of a website this holiday season.
Canagon.com provides website creation, hosting and maintenance services. They also sell a gift card for $499 that delivers all of those things. After purchasing their "Website as a gift" product, the gift giver will receive a printable digital gift certificate with a coupon code for 100% off the Website+ price from Canagon.com. The gift certificate can be customized with a message or picture. The gift recipient will then order Website+ service without any payment, so it is a true gift, not a discount voucher. Website+ service includes everything that is necessary to set up a website: domain name, hosting, mobile-friendly design, SSL certificate, security, updates, back-ups and plenty of features to choose from like e-commerce, newsletter, browser notifications, visitor statistics and more.
Buy Website as a Gift online.
What Other New Gift Cards Should I Know About?
It's hard for me to stop listing gift cards right here when I know of so many others that may not be new, but are less well known than some of the national brand gift cards you see at the grocery store. So if you have a favorite gift card that you'd like me to consider, then tell me about it in the comments below or let's talk gift cards on Twitter (@GCGirlfriend). If you make a comment, I promise you'll hear from me, so don't be shy.
Happy Gift Carding!
~Shelley Hunter, Gift Card Girlfriend