If you are a fan of Overstock.com, then you'll want to know how to save even more with Overstock.com gift cards.
Overstock.com Gift Cards for the Deal Seekers
According to a recent study by Experian, there are six categories of deal-seeking consumers. I won't go into all of them here, just know that I think Overstock.com customers generally fall into the "Deal-Seeker Influentials" group. These are people that are "always seeking the best deal and the next hot thing"–both of which can be found on Overstock.com.
Well, for all you deal seekers out there, I want to let you know about a couple of ways to increase the savings you're already getting on Overstock.com. Although there are a variety of posts you can read about saving on Overstock.com in general, none of them mention the gift card tricks I have in my arsenal of money-saving maneuvers. I have a couple of tips for helping you save on Overstock.com gift cards and ways to increase the savings even more.
Here's how I save even MORE on Overstock.com with gift cards:
Tip #1 – Earn 5% Back on Gift Cards Purchased

When you sign up for Overstock.com's Club O loyalty program, you earn rewards on eligible purchases. For just $19.95 a year, you get a ton of benefits including free shipping in the continental United States, access to special shopping events and 5% in Club O Rewards on every eligible purchase…including gift cards!
I review a lot of gift card programs and most merchant loyalty programs say gift card purchases are not eligible for rewards, but that is not the case at Overstock.com. So if you plan to buy Overstock.com gift cards for friends and family this holiday season, sign up for Club O first and earn 5% back on the gift cards you buy. (When I do the math on that, you would break even on the membership when your gift card purchases total $399.)
Tip #2 – Buy Overstock.com Gift Cards on Sale
Nearly every week, I add a listing of gift cards on sale from our digital partners such as Staples.com, eBay.com, PayPal.com, Kroger, Samsung Pay and more. Overstock.com gift cards frequently make the list and seem to sell out just as fast.
The best thing about buying gift cards on sale is that you can stack those savings onto the promo codes and coupons found on other sites. Because gift cards are valid for the full face value (regardless of how much you paid for them), you can use gift cards to complete purchases that include sale-priced merchandise, coupons and other promotions. Here's an example of how I routinely stack gift cards with coupons for blog-worthy savings.
Check my Gift Card Deals post before making your next purchase at Overstock.com.
Tip #3 – Buy Discount Overstock.com Gift Cards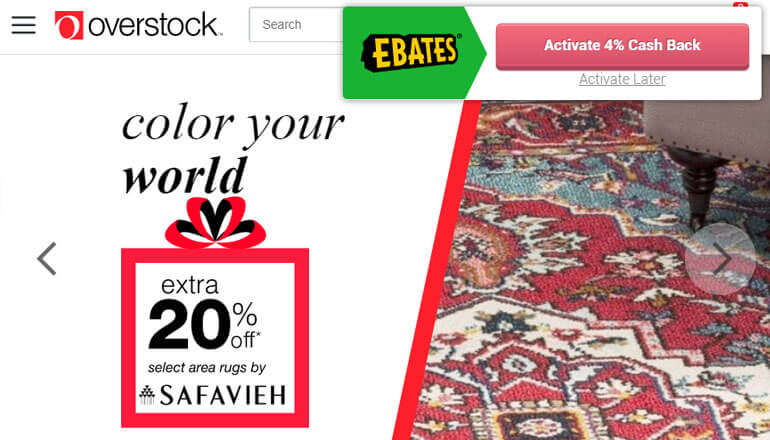 In addition to new Overstock.com gift cards on sale, you can also check for discount gift cards on gift card exchange sites. The savings you get will depend on the number of gift cards in inventory. A quick look today shows that I could save about 8% on Overstock.com gift cards in varying amounts. Though you could buy these gift cards for gifting, I generally buy pre-owned discount gift cards for personal shopping. So if you're in the market for household accessories, furniture, electronics and more, buy one of these gift cards first. Then head over to Overstock.com with your coupons and promo codes to stack up the savings.
If you're super deal hungry, then try this combination:
– Buy a discount gift card for around 8% savings
– Sign up for the Overstock.com newsletter and get a 15% off coupon
– Sign up for Ebates and activate the Overstock.com cash back offer when you get to Overstock.com
– Sign up for Club O before making your purchase
– Use the discount gift card to complete your purchase.
Now each of those offers can fluctuate. You might find a new gift card on sale for more and your Ebates offer might be a little less. But stacking these discounts all together can add up. In this example, you would save about 34%. Now, it's important to remember that you do not get all of the savings in the form of a discount at the cash register. Ebates money goes into a cash back account. Club O savings go into your Overstock.com account. But if you use these sites regularly, you can save a lot of money on your future purchases.
Check your Overstock.com Gift Card Balance
If you already have an Overstock.com gift card and want to check the balance, click the link below. Overstock.com also has one of my favorite gift card redemption features. You can actually redeem the gift card now and save the balance to your account for a future purchase. I encourage you to apply gift cards to your account because it is a great way to prevent issues that arise when people lose their gift cards or simply forget to use them.
Overstock.com Gift Card Balance Check
Do you have other ways to save with Overstock.com gift cards? I often get coupons in the mail and see advertisements online. When I have household products to buy, this site is one of first places I shop, but I rarely buy without looking for a coupon or promo code. If I cannot find one to use, I check for gift cards on sale as well. Most of the time, I stack both together for some pretty decent discounts. It takes a little bit of effort, but I find that it is worth my time. And joining Club O is a great way to get even more for your money. Let me know if you have some other suggestions for using gift cards to save at Overstock.com.
Let me know in the comments below or reach out to me on Twitter (@GCGirlfriend).
Happy Gift Carding!
~Shelley Hunter, Gift Card Girlfriend