When it comes to new baby gifts, this diaper fund is the perfect starter kit for new parents. Diapers and money to buy more!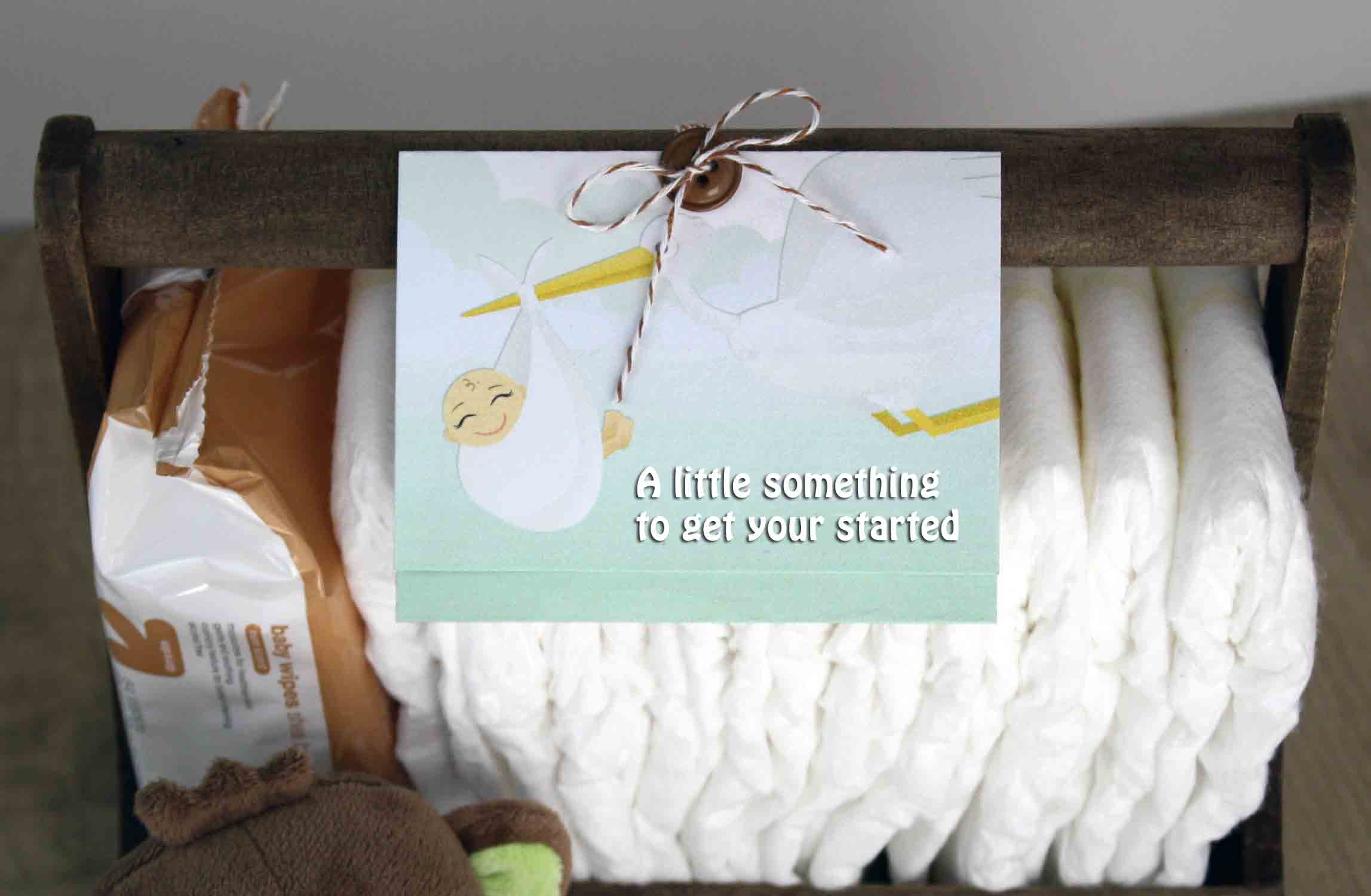 "Gifting Made Easy" by Gift Card Girlfriend
When it comes to having a new baby, there are two things I know for sure. The first is that you will need diapers–a lot of them. The second thing is that you don't really know what else you need until the baby arrives. Every baby is different. The products that work for one, may or may not work for another. So, stocking up on the must-have items that experienced parents peddle like infomercial salespeople ("This swaddler s-a-v-e-d me." "This pacifier is the ONLY one my baby will take." "You HAVE to use this diaper rash cream.") may not be the best. Instead, give Mom a gift card she can use to buy diapers and the things she discovers HER baby needs.
In the steps below, I'll show you how I turned this "Diaper Fund" gift card into a gift that any new mom will love, need and be able to use.

Order Gift Card and Download Printable
Because you can buy diapers at the grocery store, drug store, baby store and frankly, even the convenience store, a gift card to any of those merchants will work perfectly for this gift card holder. However, what if New Mom wants to put the money towards a new stroller or a crib set she found at a downtown boutique? With the matching Visa® gift card that goes with this holder, she can buy whatever she wants from almost anywhere.
Order the "Diaper Fund" New Baby Gift Card
Download the matching Flat "Diaper Fund" Holder
Download the matching Folded "Diaper Fund" Holder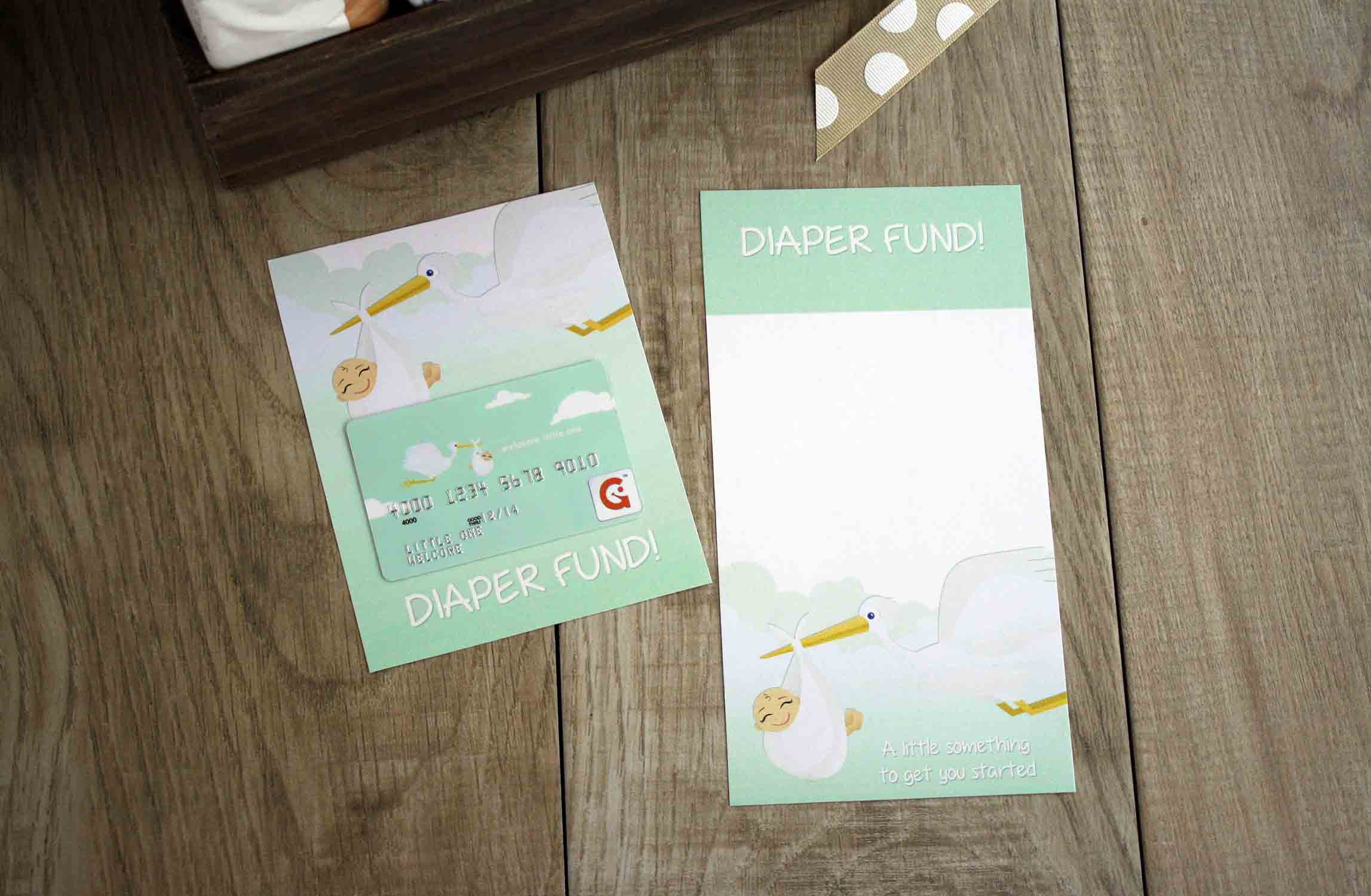 Print and Cut
After downloading the holder you want, print it on a color printer using "best quality" and "actual size" settings. (Do not select "shrink to fit" or any other setting that will change the size of the printed .pdf image.) White, card stock paper measuring 8-1/2″ x 11″ works best. Cut the holder with a paper cutter using the trim marks as guides.
If you selected the flat holder, all you have to do is affix the diaper fund gift card to it. Using double-sided tape or glue dots, attach the gift card to the holder in the marked spot. (Be careful not to damage the magnetic stripe.) I like to hang gift card holders on a "little something extra." If you're planning to do the same, punch a hole in the top of the carrier and loop a piece of ribbon, twine or string through the opening.
Attach the holder to a small gift New Mom will enjoy. I think diapers and wipes are the perfect complement.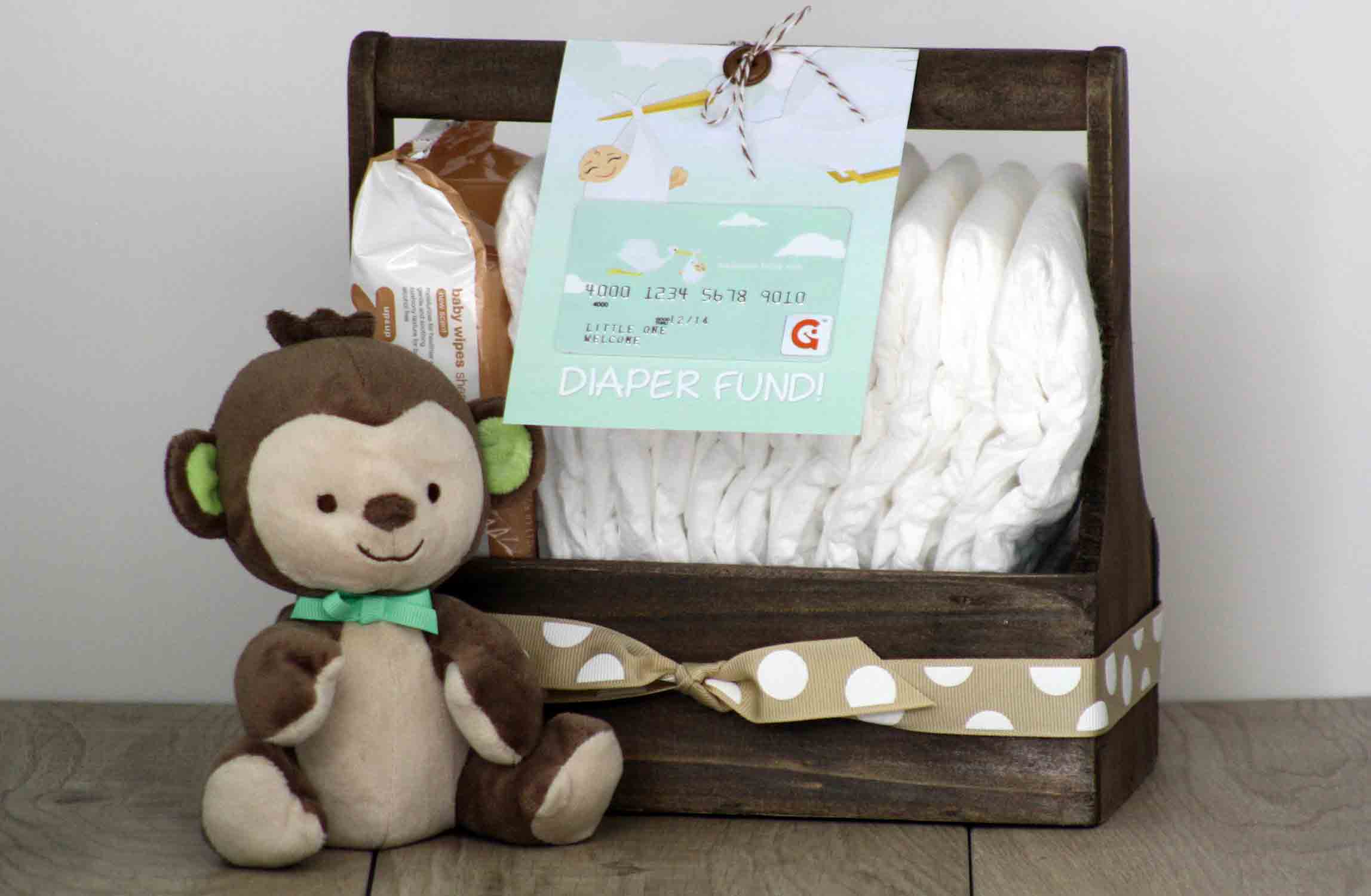 Measure the Folded Holder
If you look at the printed side of the folded carrier, you'll see a faint line that indicates where to fold the card above the stork. The folding lines are at the 3″ and 6-1/4″ marks. Using a pencil, mark the back side (white side) of the carrier at those measurements.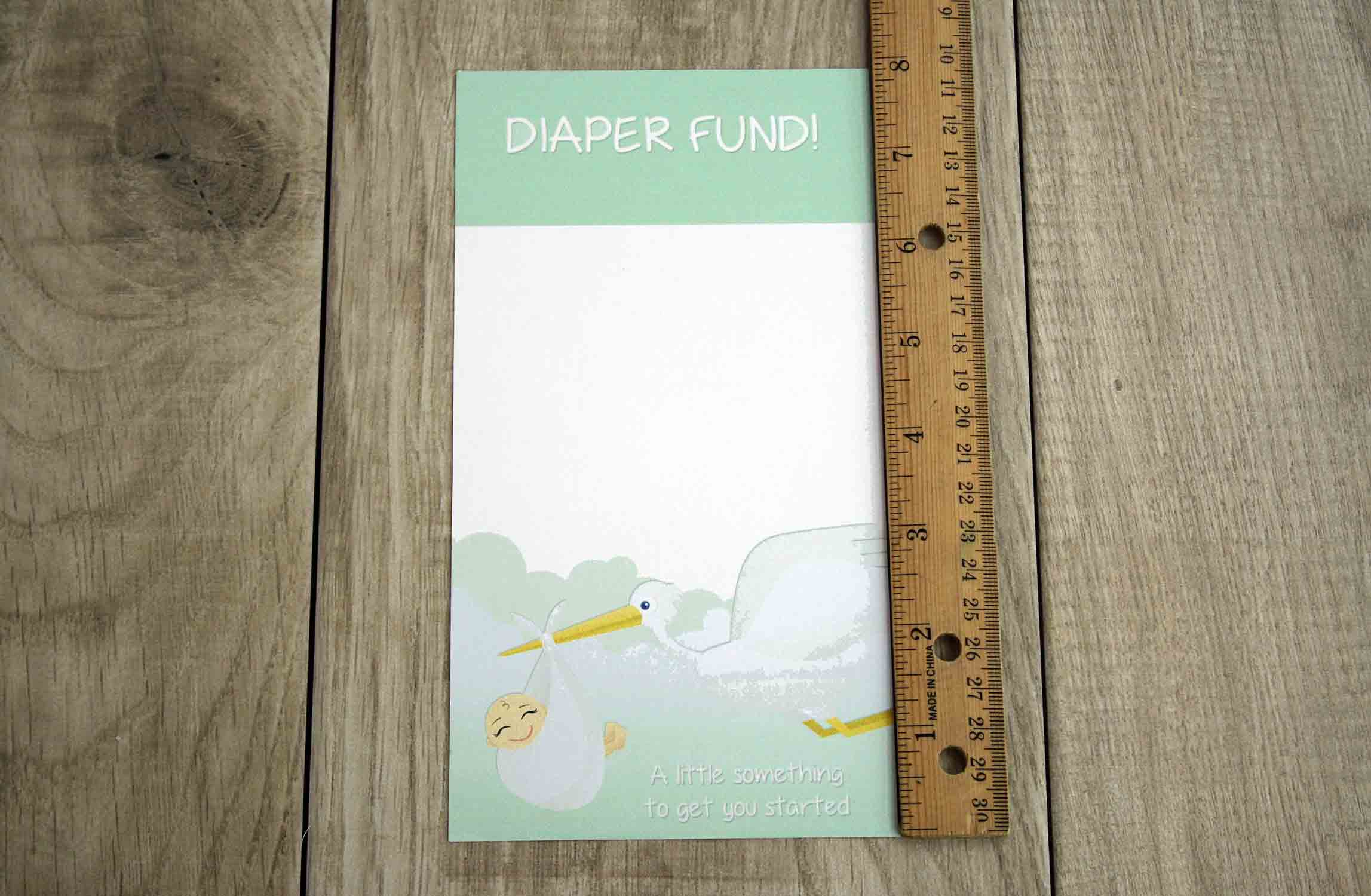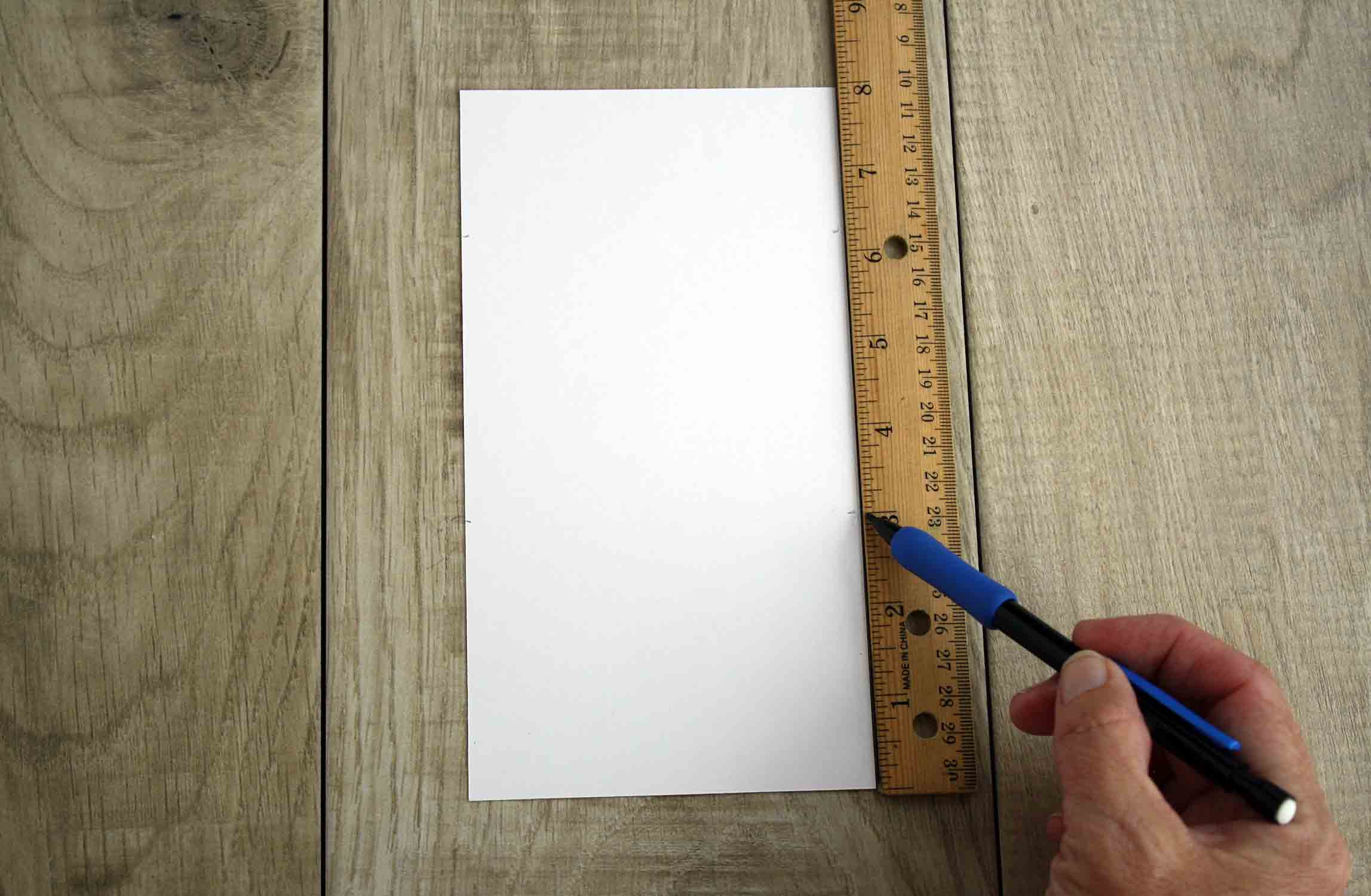 Score the Folded Holder
The easiest way to fold card stock is to score it first. Although there are scoring instruments, I've found any sharp object that doesn't mark or cut the paper will work. Using a ruler and the measured marks, score the paper on the fold lines.

Fold the Holder
Fold up the gift card holder as shown. Using double-sided tape or a glue stick, seal the edges of the gift card pocket. Then, put the gift card inside. Add a personal note in the white-space above the gift card, if you'd like. With that, the gift card is ready to go. Deliver it as-is, tuck the card inside a larger gift or punch a hole through the top (careful not to nick the magnetic stripe) and attach it to a simple, new baby gift.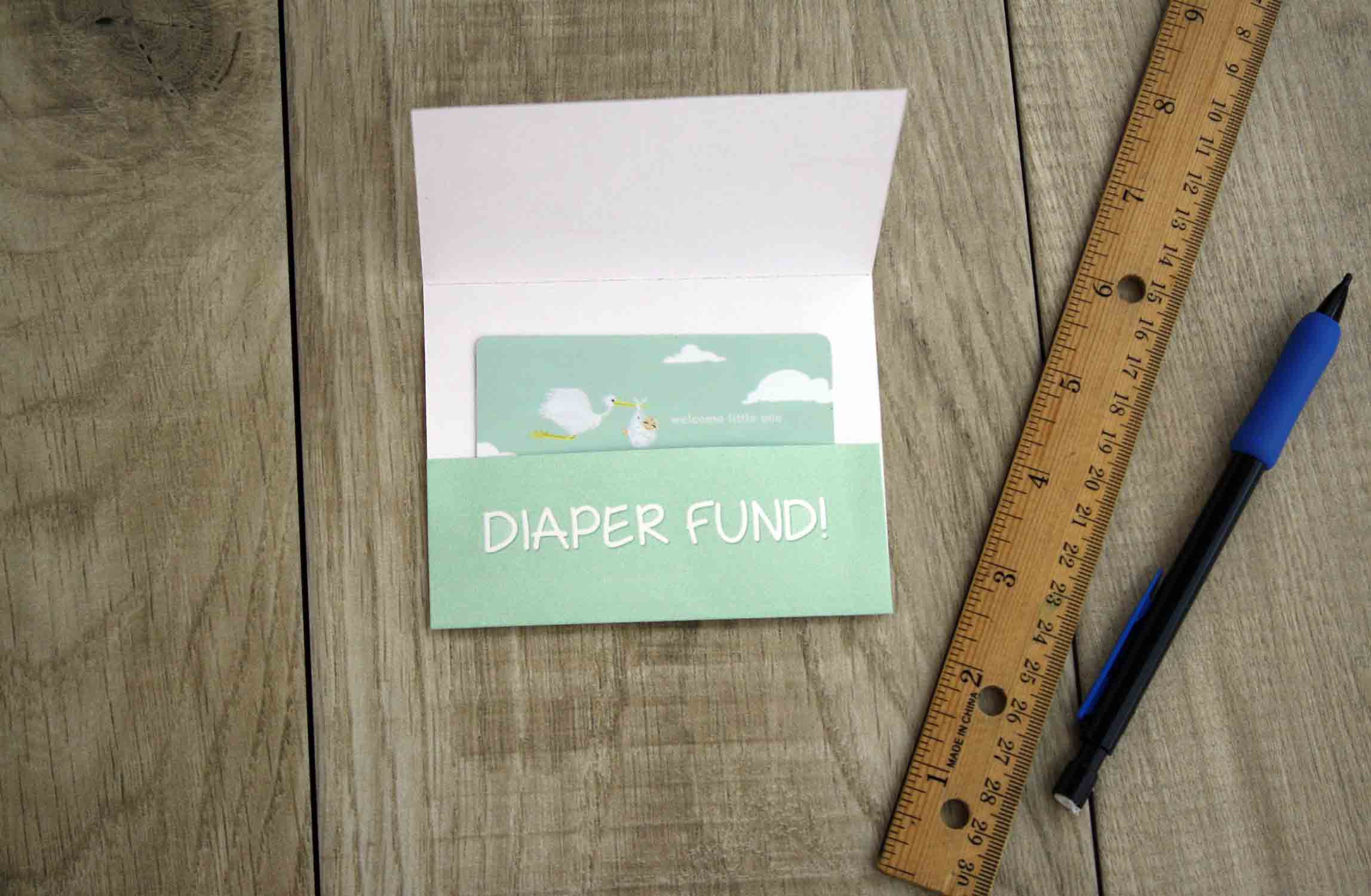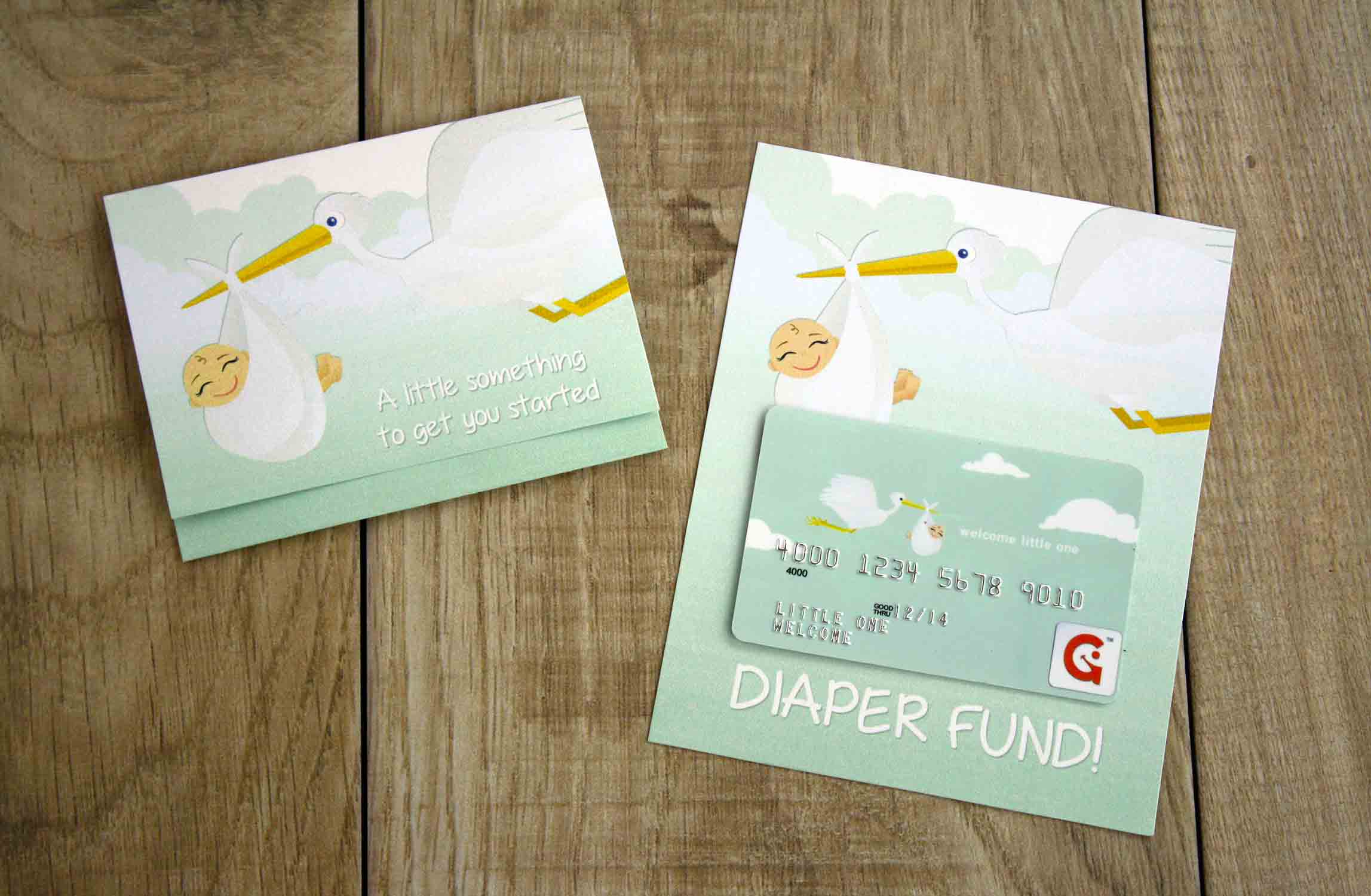 Present
For my presentation, I wanted to deliver diapers and wipes in something New Mom might like to keep in Baby's room. I found this simple, wooden holder at Jo-Ann Fabric and Craft Stores along with a polka-dot ribbon. I loaded it up with diapers, added some wipes and bought a cute little toy as well. (Oh, and don't you love how I tied the twine through a button to hold the gift card carrier in place? Too cute.) New Mom will love this presentation, but the gift card is the real gift. She can use it to buy whatever it is she wants or, as instructed, use it buy more diapers.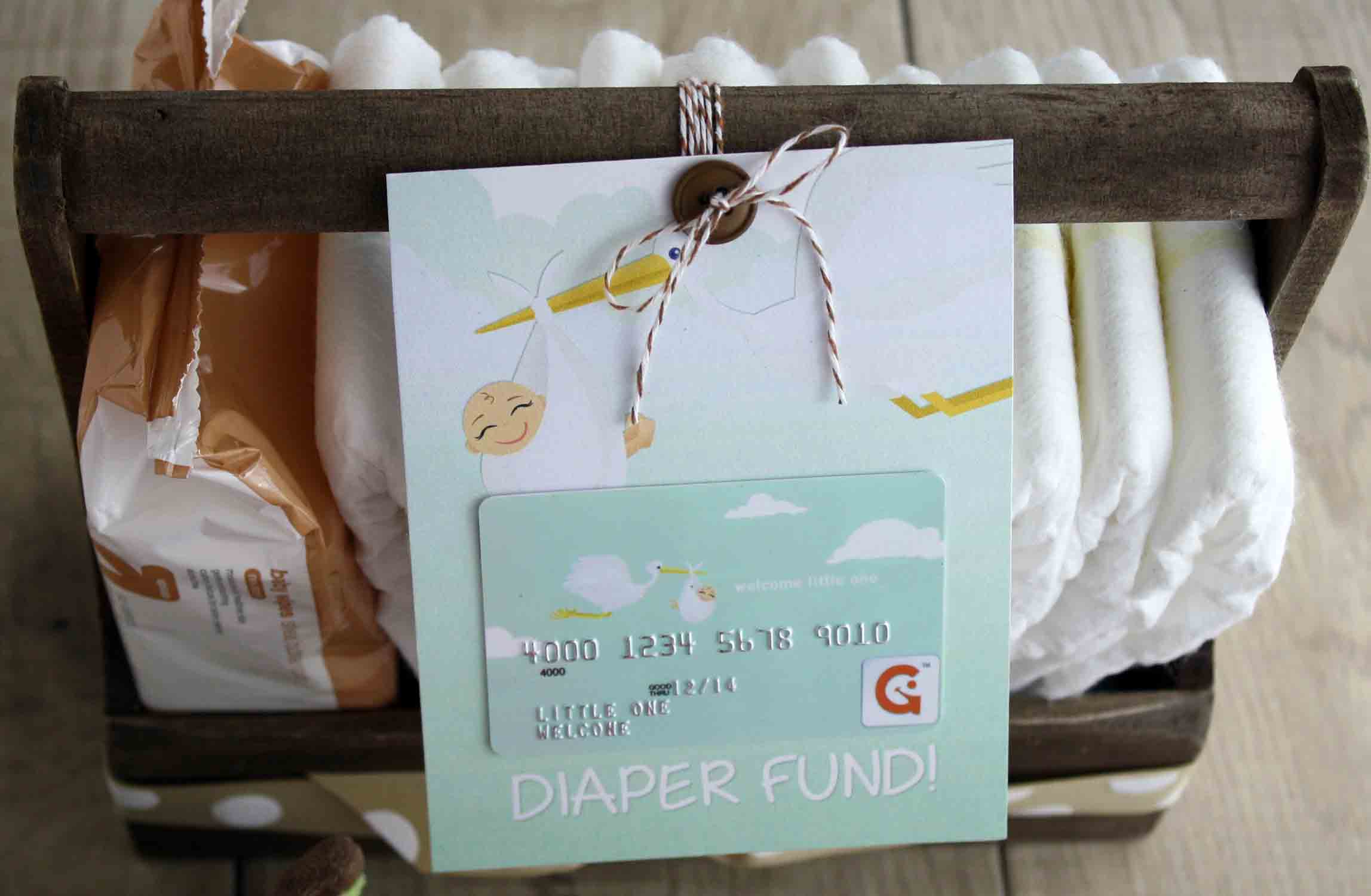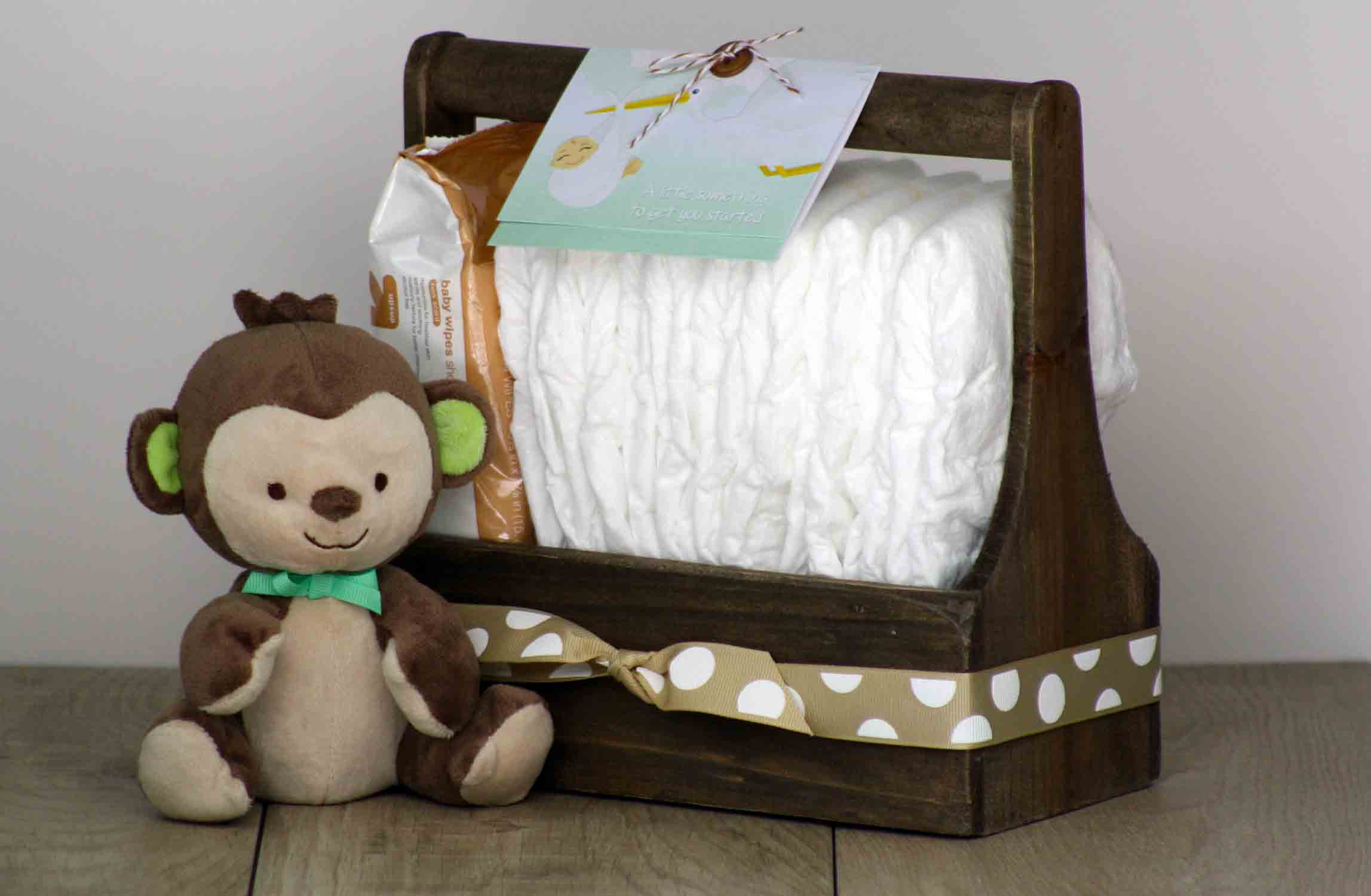 Bonus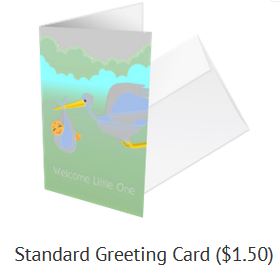 If you don't have time or don't want to craft up a printable gift card holder, then let us send a new baby gift card for you. When you order the
"Diaper Fund" New Baby Gift Card
, order the standard greeting card to go with it. Have both delivered to your home or let us ship the cards directly to the new parents. Having a child can be expensive. Your sweet delivery will be welcomed. For more free printable gift card holders, check out the
free prints page
or follow
Gift Card Girlfriend on Pinterest
. For more new baby gift ideas, try the personalized gift card suggestions on our
New Baby Gift Ideas
page. With personalized Visa gift cards, you can turn old baby pictures into new gift cards and make special deliveries of your own! If you use this printable, send me a link to your page in the comments below or hit me up on Twitter
(@GCGirlfriend)
so I can check it out!
Happy Gift Carding!
~Shelley Hunter, Gift Card Girlfriend