WAIT! Before you buy that new phone or sign up for that new service, see what gift card rewards and rebates you can get! Save a little on a lot!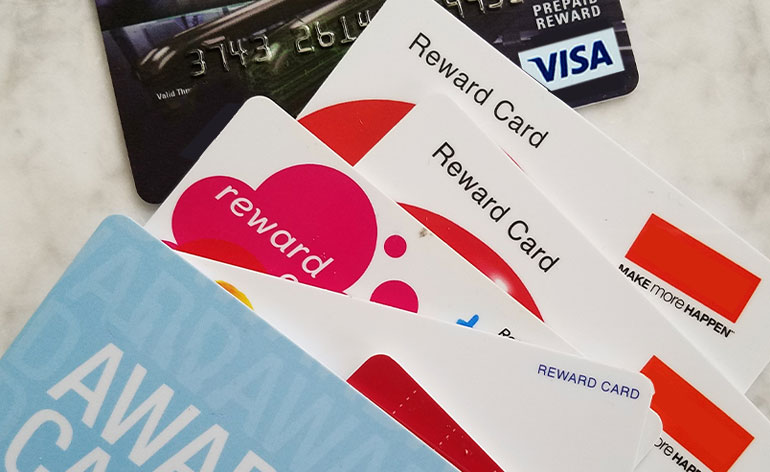 Think you're the victim of a gift card scam? Read this post on Gift Card Scam Protection.
2016-2017 Gift Card Rebates and Rewards
Below is a list of gift card rebates and gift card rewards you can get just from buying the things you're already planning to buy. The great thing about these rebates is that you can use the gift card or prepaid card received on just about anything. If you receive a Visa® prepaid card for buying a new KitchenAid mixer, for example, you can use the reward card to buy a new attachment for the KitchenAid, use it at the grocery store to stock up on baking ingredients for use in that appliance or go completely rogue and treat yourself to lunch at your favorite restaurant. There are no rules when it comes to how you can use your Visa reward card! (Actually, there are some rules, but I mean you are generally free to use the rebate card however you want.) Since Visa Prepaid Cards can be used wherever Visa debit cards are accepted, the number of ways you can spend your rebate are basically endless. So check out this growing list of ways to earn Visa gift cards from your favorite merchants.
But wait…before you hit the list, let me clarify some of the terminology. A "gift card" refers to a closed loop card from a specific retailer, and a prepaid card refers to an open loop card bearing the Visa or Mastercard logo. When I search for rebate gift cards, I'm looking for bonus cards that I can get as a reward for buying something or for my customer loyalty. Sometimes those rewards are called gift cards, rebate cards, prepaid cards, incentive cards, reward cards and even promotional gift cards. Why each one has the name it has, doesn't matter to me. All I know is that I'll get a gift card for free. So look below to find gift cards rewards and rebates.
Why are gift card rebates so popular? Read: Why Gift Cards Make the Best Rewards.
Why Gift Cards and Prepaid Cards Make the Best Rewards
It used to be that in order to get a rebate for a product you bought or for a service you subscribed to, you had to send in a bunch of original paperwork and then wait several weeks for a rebate check to arrive in the mail. Once the check arrived, you had to run to the bank to make a deposit and then wait for the check to clear before you could use the funds.
Thankfully, gift cards and prepaid cards have now become the best way to reward customer loyalty. Whether you get the reward while you're standing at the cash register (e.g. Get a $5 gift card when you buy 4 bottles of this shampoo) or receive it in the mail (e.g. Get a $50 prepaid reward card when you order this type of contact lenses), the rebate is ready to use the minute you get it. That's not the only reason why gift cards make the best rewards, but it's at the top of my list.
Below are all of the reasons why I think gift card rebates and prepaid card rewards are good for consumers and for the companies that issue the rewards.
1. Rebate is Ready to Use. As I already mentioned, you don't have to deposit a check when a rebate gift card arrives in the mail. Simply pull the card out of the packaging and put it in your wallet. Even if you have to register the card via telephone or a website, the process is usually quite quick.
2. eGift Card Rebates go Straight to Your Phone. When gift card rewards are delivered electronically, they are ready to redeem even faster. Rebate egift cards typically arrive via email. When you receive an electronic or digital rebate, you can open it on your mobile device, claim the code (if necessary), and load the egift card into your mobile wallet for speedy use and easy tracking. In addition to being fast and convenient, it's easy to remember to use egift cards because they are stored on a device you always have handy.
3. Prepaid Reward Cards Can be Redeemed Almost Anywhere. One of the best things about getting a prepaid reward card from either Visa or Mastercard is that the rebate card can be used just about anywhere. Because Visa prepaid cards are redeemable wherever Visa debit cards are accepted and Mastercard gift cards are similarly flexible, you get to decide how to enjoy your customer loyalty reward. Use the prepaid card towards a treat or use it for more practical purchases. The choice is yours.
4. Rebate Cards can be Regifted. I probably wouldn't regift a card that says "reward card" on the front (or any other verbiage to reveal that I had received the gift card as part of a promotion), but I would definitely regift a branded merchant reward card. A bonus gift card such as a Target gift card, Amazon gift card or iTunes gift card that looks identical to (and works just the same as) a gift card purchased at the grocery store is absolutely fair game for gifting to someone else.
5. Gift Cards are Cheaper than Checks. While you can certainly argue that a check is the most flexible of all customer rewards, it actually costs companies anywhere from $4 to $20 to issue checks. A lot of that money is wrapped up in the labor of mailing, collecting, reconciling and cancelling the checks as needed. With gift cards, the cost is lower and the reconciliation is automatic. When the gift card is redeemed, the gift card account balance goes down. If the company issues egift card rewards instead of plastic, sources say electronic payment is up to 10 times cheaper than checks. Companies that spend less money issuing rebate checks may have more marketing dollars left to spend on extending the rebate period, offering higher loyalty rewards or creating other rebate incentives. That creates more savings opportunities for us consumers, so I'm a fan.
6. Consumers Keep the Brands in their Wallets. The source of a rebate check may be forgotten as soon as the money is deposited into a bank account, but a reward card provider will be top of mind until the gift card is fully redeemed. Where is that Staples Reward Card I got? What happened to the CooperVision Reward Card they sent me? What about my AT&T Prepaid Loyalty Card? Oh yes, that's right. All three are in my wallet (with visible logos), ready to spend.
7. Unused Gift Cards are Recoverable. If a company orders 10,000 key chains to give out as loyalty rewards and then only distributes 9,000 of them, the company is still out the cost of the 1,000 key chains that didn't get used. With gift cards, depending on the program selected, the company may be able to get money back for the gift cards that never got activated and they may also be able to recover funds from promotional prepaid cards that don't get used before the expiration date.
That last benefit is the only thing you need to watch out for when it comes to prepaid reward cards. Since reward cards and rebate cards are outside of the scope of the CARD Act, prepaid cards that are issued through some type of a promotional program (e.g. rebate reward, loyalty reward, employee recognition award, etc.) can have expiration dates and I've noticed that the "good thru" date is often fairly short. It's not unusual to receive a prepaid Visa reward card that is good for less than a year. So when you receive a gift card of any kind, no matter who you got it from, it's a good practice to check for a "good thru" date that should be clearly written on the front or back of the card. And while I always suggest using gift cards promptly upon receipt, using promotional gift cards quickly is even more important.
So what do you think? Have you heard of a gift card rebate or reward that I don't have listed here? Are you a fan of gift card rewards in general or do you have questions about a gift card you received from a rebate program? Let me know in the comments below or at @GCGirlfriend on Twitter. I'm happy to help in any way that I can.
Happy Gift Carding!
~Shelley Hunter, Gift Card Girlfriend