How I pay less for shoes at Famous Footwear by stacking coupons, promo codes and discount gift cards.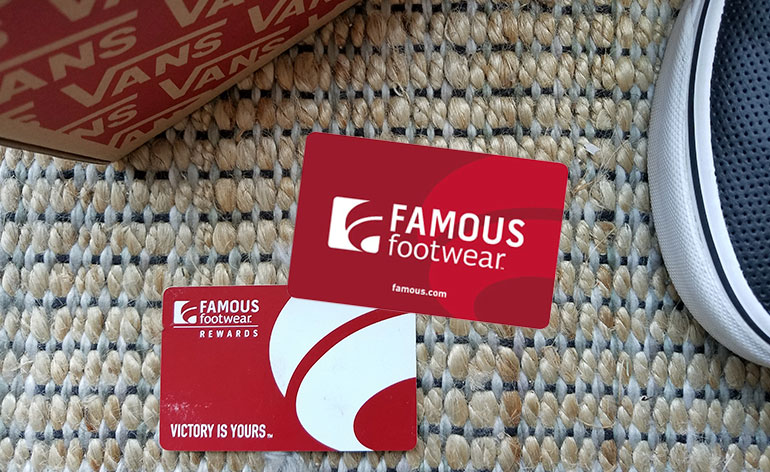 Why Saving on Shoes is Important
For me, buying shoes for kids is a little like doing the laundry. The task is never done. It seems as though every time I look down, I see one of my boys has a big toe popping out of his sneakers. Even shoes that still fit often get so stinky that I can't stand to have them in the house. Invariably, I gag and ask, "Didn't we just get those?" To which the answer doesn't really matter because either way we have to buy new shoes. That doesn't even count the cleats, basketball shoes and Sunday shoes I have to buy as well.
Since I have to buy shoes for kids so often, I loathe paying full price. I'll do anything to get a discount on kids' shoes because I can't afford to overspend on something we buy so frequently. Often, my savings tool of choice is the trusty coupon. If I don't have one available, however, I get more creative.
Since Famous Footwear is family-friendly, easy on the budget and provides additional savings opportunities, this is exactly the type of shoe store I turn to when we are in a family footwear crisis. Below are the ways I save on shoes at Famous Footwear.
1. Check the Famous Footwear Promo Page
I love when a store makes their coupons available via their website and mobile app. Having access to coupons and promo codes anytime and anywhere makes it easy to duck into the store to see what's available without worrying that I should have checked online or dug through my stack of paper coupons at home before going shopping. Famous Footwear has a promotions page that tells you deals currently being offered in the store and they have a Famous Footwear app that allows you to access coupons, app-only deals and your rewards all in one place. Nice.
Famous Footwear Promotions Page
2. Find a Famous Footwear Coupon or Promo Code Online
If you don't have a coupon for Famous Footwear, look online at deal sites like Groupon, RetailMeNot and Coupon Sherpa. If you're planning to visit a Famous Footwear store, you'll most likely have to download the coupon on your computer at home so you can print it and take a paper copy with you. If you're planning to shop the Famous Footwear website, then all you have to do is remember to add the promo code at checkout.
The plus side of coupon sites is that you can see all of the offers available, see if other customers have had success using the coupons and look for the offer or promo code that meets your shopping needs. The downside, in my opinion, is that often times there are exclusions (e.g. "Coupon not valid on Nike shoes"), the offer might not be what I need, and sometimes the offers aren't anything special. For example, many stores offer free shipping if you purchase more than $100 in merchandise. I frequently see that promo code on coupon websites even though the offer is available to everyone, all the time.
These are the coupon sites I check for deals at Famous Footwear:
Many of these sites have mobile apps as well, so check to see if you can download the app for each coupon access and to set alerts on the coupons you're most interested in hearing about.
3. Buy Famous Footwear Gift Cards at a Discount
It used to be that gift cards were just for gifting, but that is no longer the case. With new and pre-owned gift cards readily available for less than face value, savvy shoppers are now buying discounted gift cards for personal use. Shopping with discount gift cards is the easiest way to save without a coupon. And unlike a coupon, there are no exclusions—if a gift card is redeemable, it can be used to purchase anything in the store (except perhaps another gift card). You also can decide how much to save by checking regularly to see how deep a Famous Footwear gift card is discounted.
I also update my post entitled, the "The Hottest Deals on Discount Gift Cards!" on a weekly basis with all of the gift card promos I can find. Bookmark this page (listed below) and follow the hashtag #GiftCardDeals on Facebook and Twitter to see when new gift cards are added.
Check these sites for new gift cards on sale for less than face value:
Hottest Deals on Discount Gift Cards
The BEST news of all about discount gift cards is that you can stack the gift card savings with coupons, promo codes, in-store sales and more! Seriously. If you want to save double-digits on the things you're already planning to buy, then this is the secret sauce.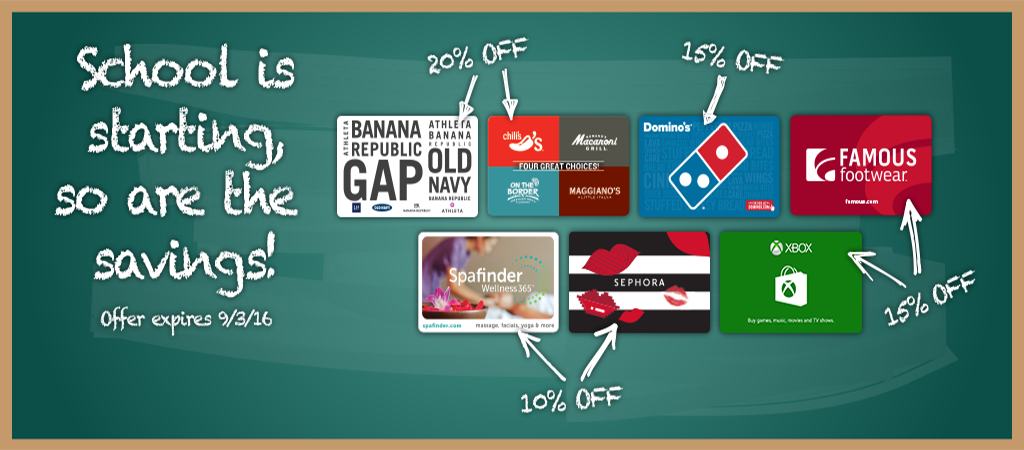 How to Stack and Save
Stacking and saving with discount gift cards requires a little forethought, but the process is so much easier than it used to be. I used to order plastic gift cards online and wait about a week for the gift cards to arrive before I could go shopping. Now the time between buying an electronic gift card (or gift code) and having it in my hands is down to a few hours at most, often times I receive the card within minutes. Here is an example of how to stack Famous Footwear coupons and Famous Footwear discount gift cards to save a ton of money:
| Stacking | Saving |
| --- | --- |
| Buy $50 Famous Footwear Gift Card at 15% Discount: | $42.50 |
| Pair of Boys Nike Low-Top Sneakers: Subtract: Famous Footwear Coupon for 15% off Entire Purchase: Total Amount Due: | $54.99 $8.25 $46.74 |
| Apply Gift Card Face Value: Amount left on Card (or given as cash back*): | $50.00 $3.26 |
| Total Amount Spent ($42.50 for gift card minus $3.26 balance): Total Savings: | $39.24 $15.75 29% |
* In some states, you can request cash back for a balance that falls below a particular threshold. See if your state's laws will allow you to get cash back on a gift card.
So check my math. By stacking the discount gift card with a Famous Footwear coupon, I'm able to save 29% on a new pair of sneakers for one of my kids. Like I said, it takes a little more work to save, but the savings stack up and, in my opinion, are worth the effort.
Here's a Tip: Before purchasing a discount gift card, check to see where the gift card can be used. Some pre-owned discount gift codes are only usable online, but many new discount gift cards are usable both in stores and online. While you're at it, double check where the coupons and promo codes can be used as well. I don't want you walking up to the cash register thinking you're about to save a bundle only to find out that neither the gift card nor the coupon work.
Whether it's time to get the kids ready to go back to school, start shopping for the holidays, have a birthday on the horizon or your kids just grow out of shoes as fast as mine do, there are many ways to save on shoes at Famous Footwear. While a coupon is great, you can buy shoes for less using discount gift cards at any time. If you stack the gift card discount with the savings available from in-store sales, coupons and promo codes, then the savings might be enough to make shopping for shoes exciting–if not just a little less painful.
If you have a stack and save triumph to share, let me know in the comments below or reach out to me on Twitter (@GCGirlfriend). I'm always looking for tips on how to buy shoes for less.
Happy Gift Carding!
~Shelley Hunter, Gift Card Girlfriend