With a bucket full of "Swedish" fish and this gift card, dad is O-FISH-ALLY the Sweetest Dad this Father's Day.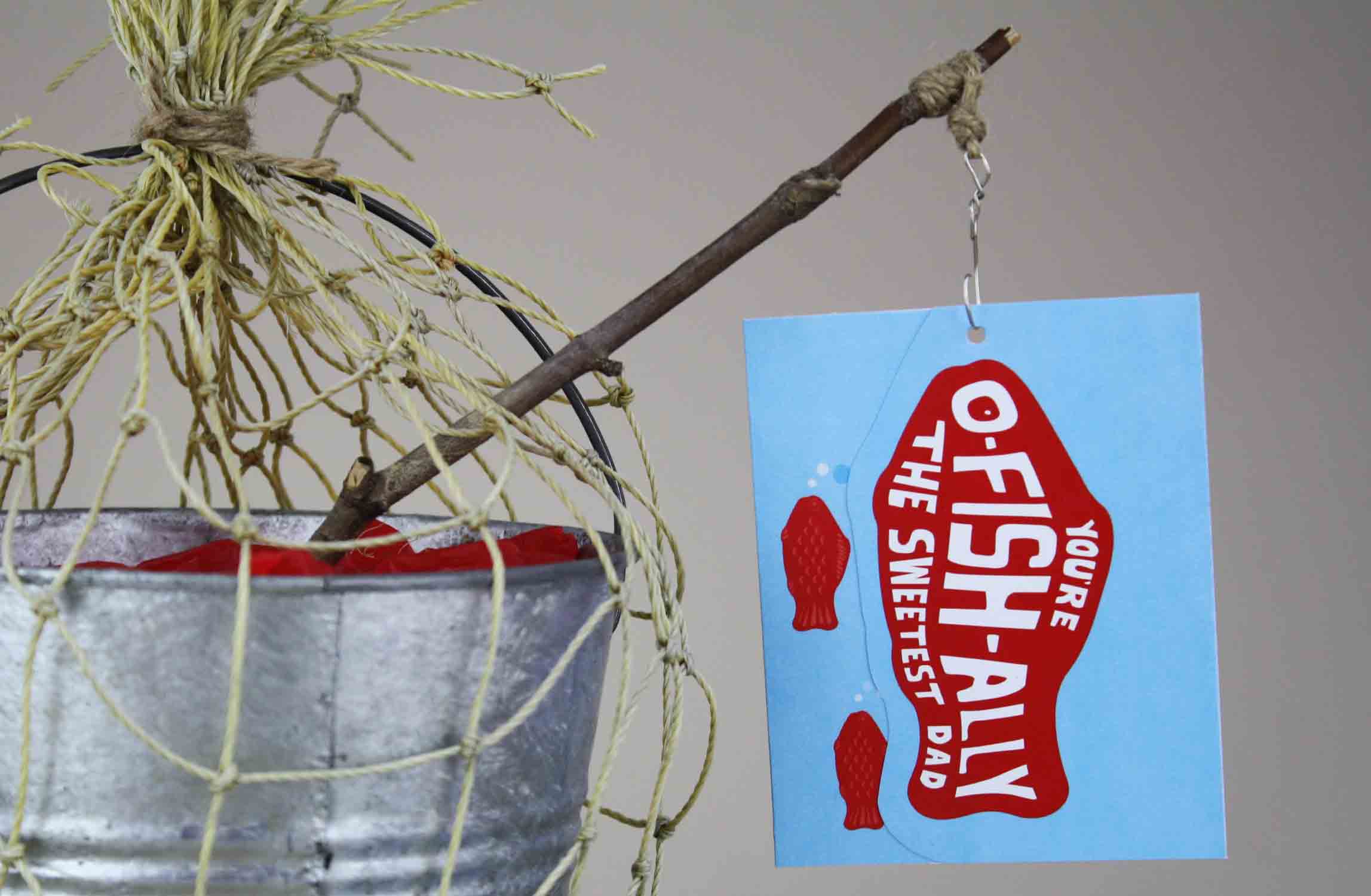 "Gifting Made Easy" by Gift Card Girlfriend
Dad will fall for this special Father's Day gift card hook, line and sinker. It's a cute combo of fish (O-FISH-ALLY) and sweet (Sweetest Dad) that is as fun to make as it is to deliver. All you have to do is order the sweet fish Visa
®
gift card and download the matching printable gift card carrier to go with it. To give the gift a little fishy flair, I fashioned a hook out of metal wire and put it on a line of twine tied to a branch for a super-easy, makeshift fishing pole. Stick that into a bucket of fishy candy or fish crackers and you're all set. Step-by-step instructions are as follows:

Order Gift Card and Download Printable
Although the printed fish Visa gift card is the perfect match, this printable would be cute with any "sweet" gift card such as a candy store, ice cream store or dessert shop. It would also be adorable with a gift card to a sporting goods shop like Bass Pro Shops or Cabela's. I suggest hooking the matching gift card to the flat gift card holder and the merchant gift card to the folded printable, but you can decide.
Order a "Sweetest Dad" Visa Gift Card
Download Free Matching "Sweetest Dad" Flat Gift Card Holder
Download Free Matching "Sweetest Dad" Folded Gift Card Holder


Print and Cut
After downloading the "Sweetest Dad" holder of your choice, print it on a color printer using "best quality" and "actual size" settings. (Do not select "shrink to fit" or any other setting that will change the size of the printed .pdf image.) White, card stock paper measuring 8-1/2″ x 11″ works best. Cut the holder with a paper cutter using the trim marks as a guide.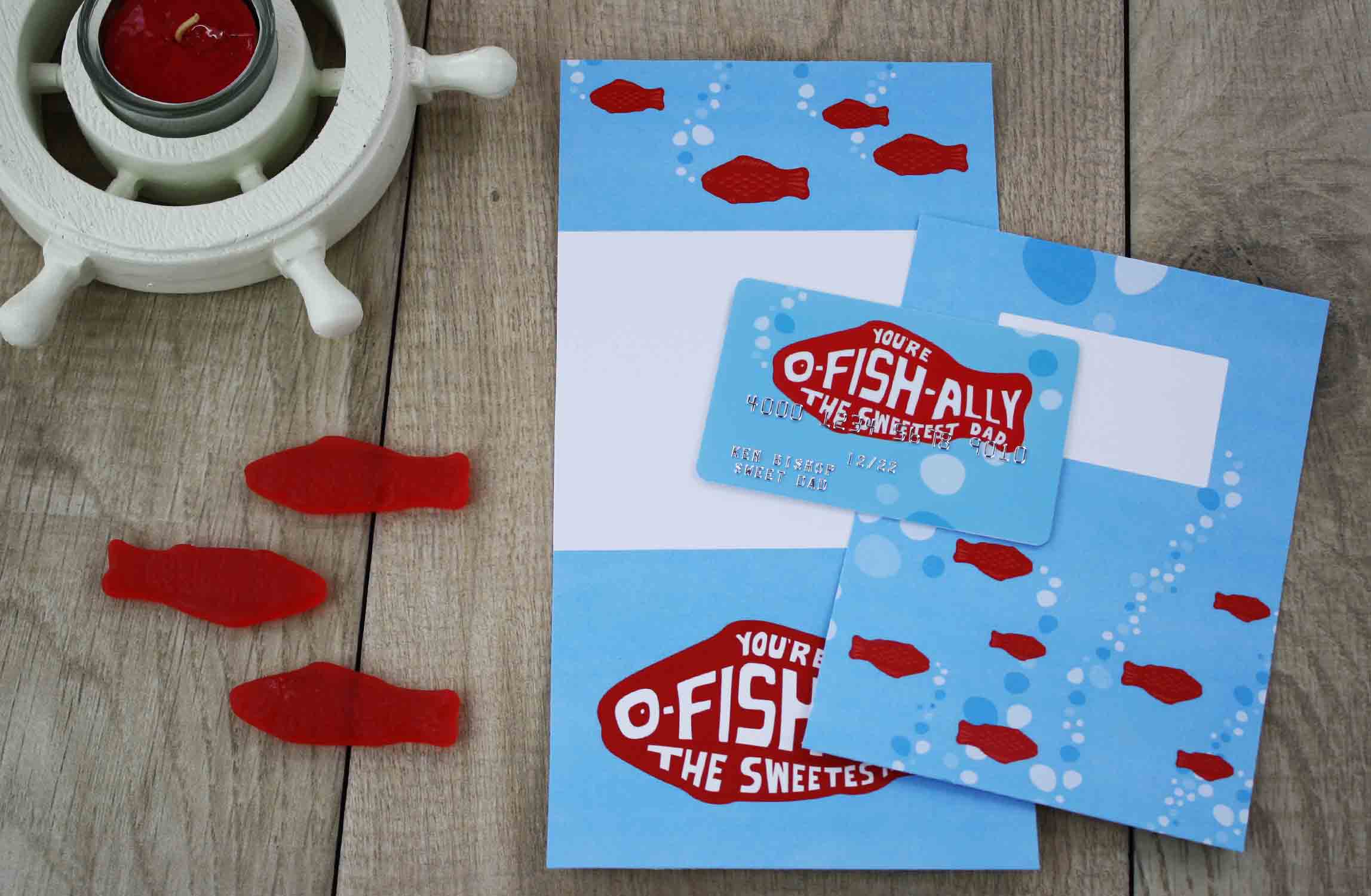 Craft the Flat Holder
The flat gift card holder can be presented as soon as the gift card is attached to it. Sometimes I attach the gift card with double-sided tape or a glue stick (being careful not to touch the magnetic stripe on the back of the card.) Other times, I've used washi tape right across the gift card. Check out some of the other designs on our free printables page.
For this holder, I scalloped the top edge to look like water, added some actual gummy fish and poked a hole through the top. Of course, I used my fishing pole to hook this cute Father's Day gift card holder.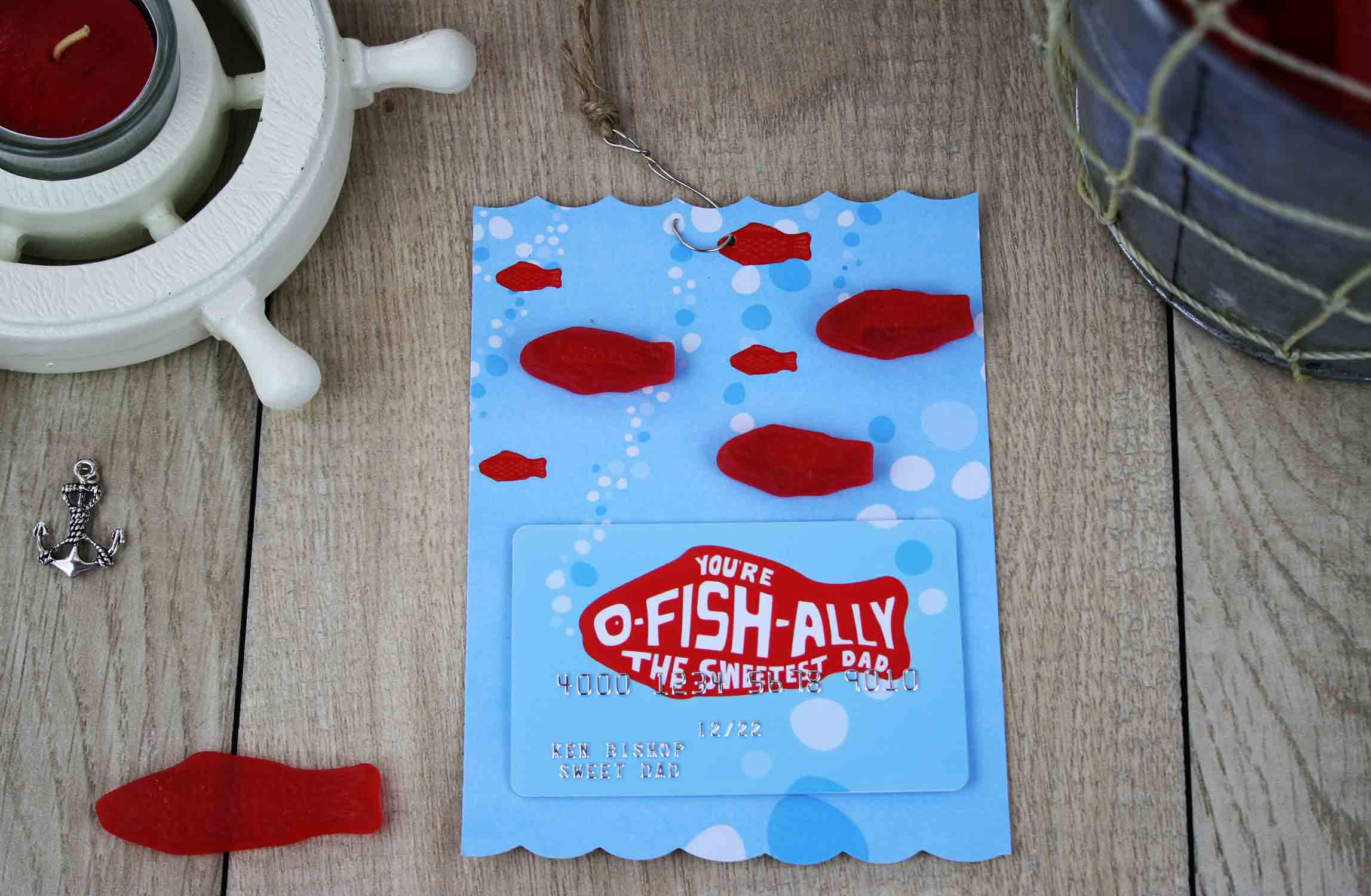 Make the Folded Holder
If you look at the folded gift card holder, you'll see that it should be folded where the printed areas meet the white space. The first thing I did to hook the folded gift card holder is measure where the card should be folded. For me, the fold lines are at the 3″ and 6-1/4″ marks. Using a ruler, mark your fold lines and then flip the card over to mark those same measurements on the back.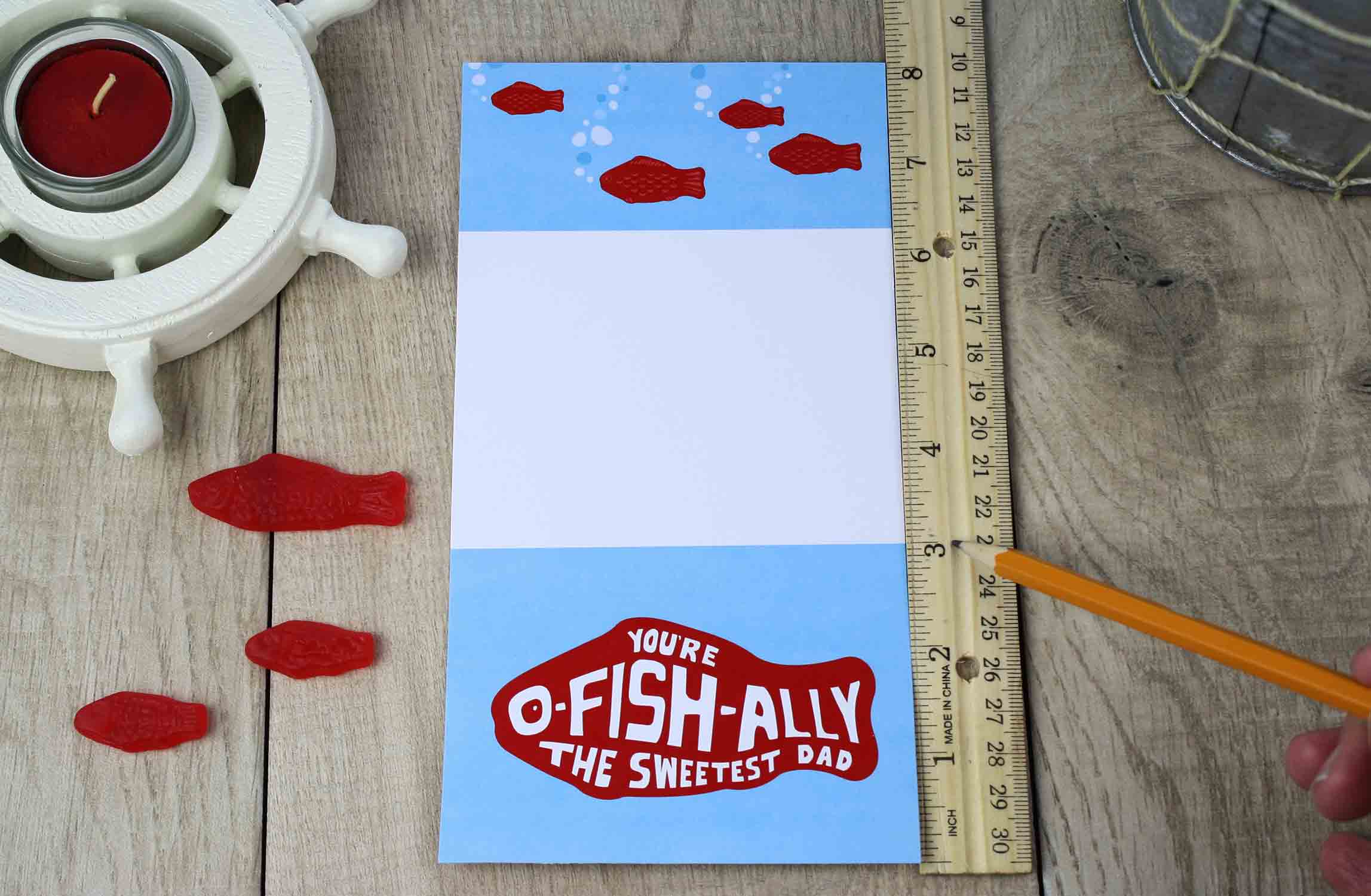 Using a
bone folder
(or another semi-sharp tool you have around the house like the back of a butter knife or the edge of the plastic gift card), score the paper on the fold lines using a ruler as your guide.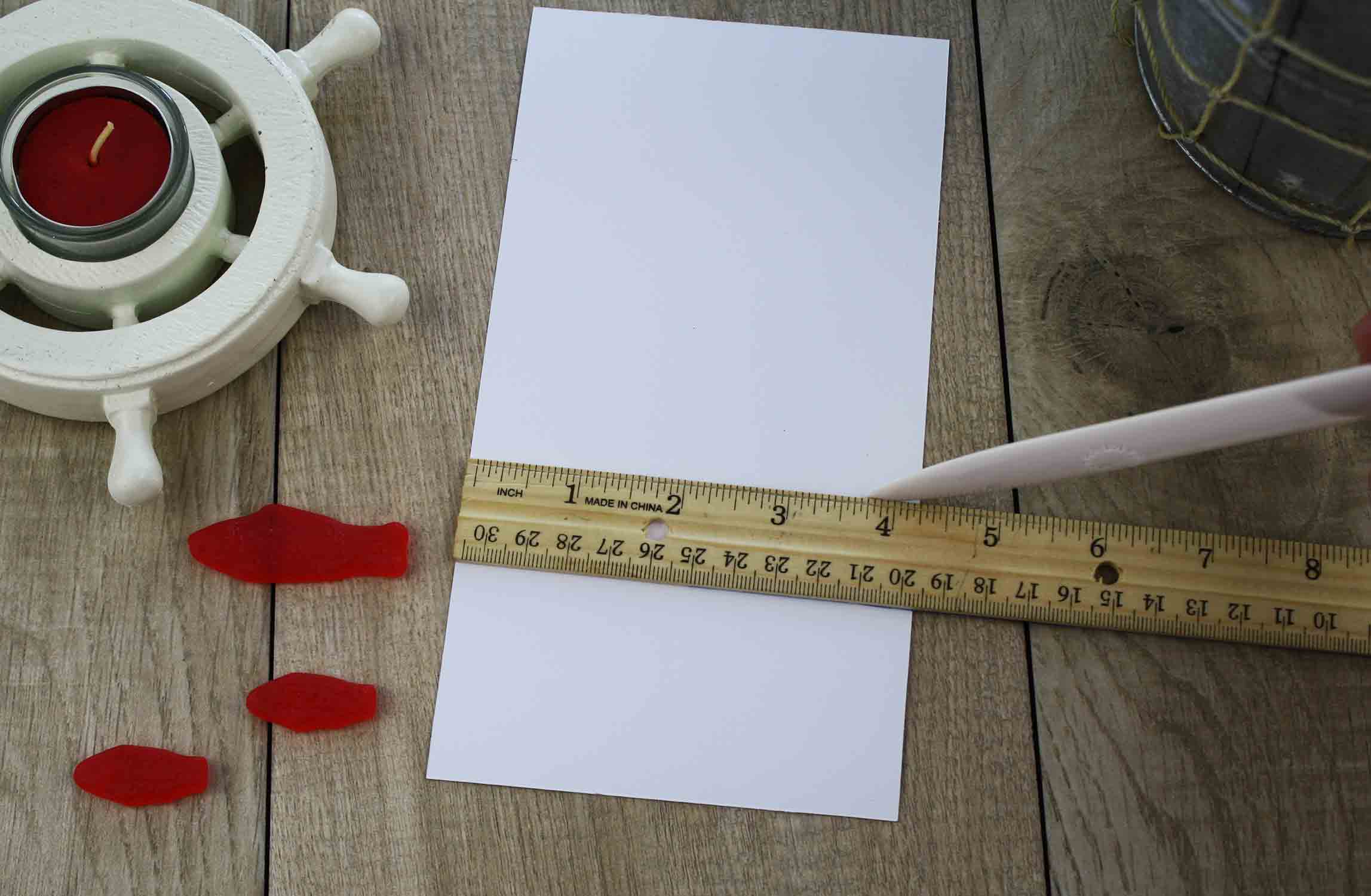 Fold the gift card holder as shown so it makes a little pocket, perfectly sized to hold the gift card of your choosing. Using double-sided tape or a glue stick, seal the edges of the gift card pocket, then put the gift card inside. After I folded the holder, I decided to cut the edges a little differently. I scalloped the bottom edge (the one with the little fishes on it) to make the edge look like water. Then I cut around the shape of the big fish on top. Look closely and you'll see what I mean.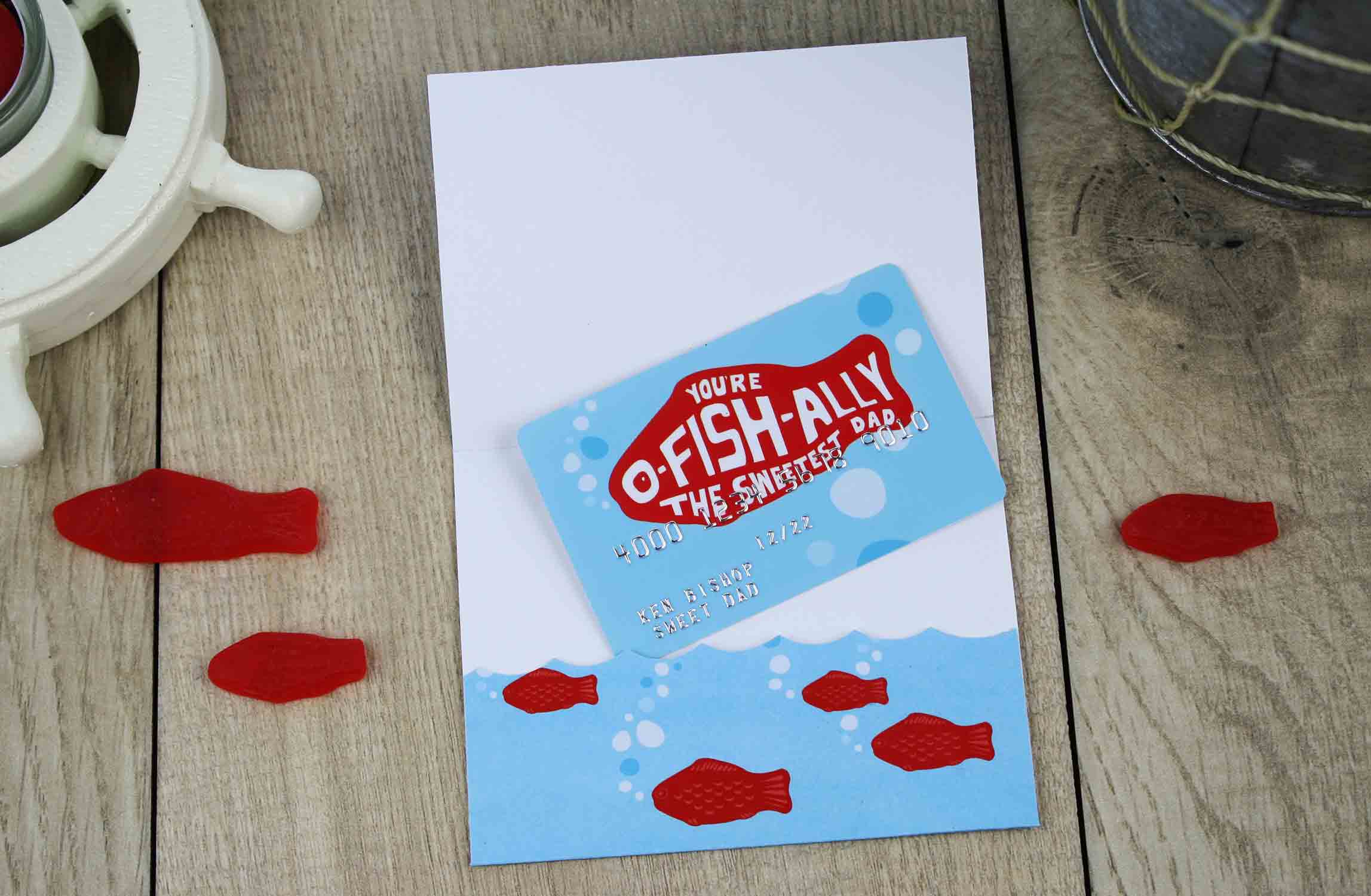 With the folded Sweetest Dad gift card holder, get dad any gift card you want for Father's Day. Sweet-themed cards work nice (e.g. candy shops, ice cream shops or dessert restaurants), plus anything with a fish theme (e.g. Bass Pro Shops, Bonefish Grill) would be fun too.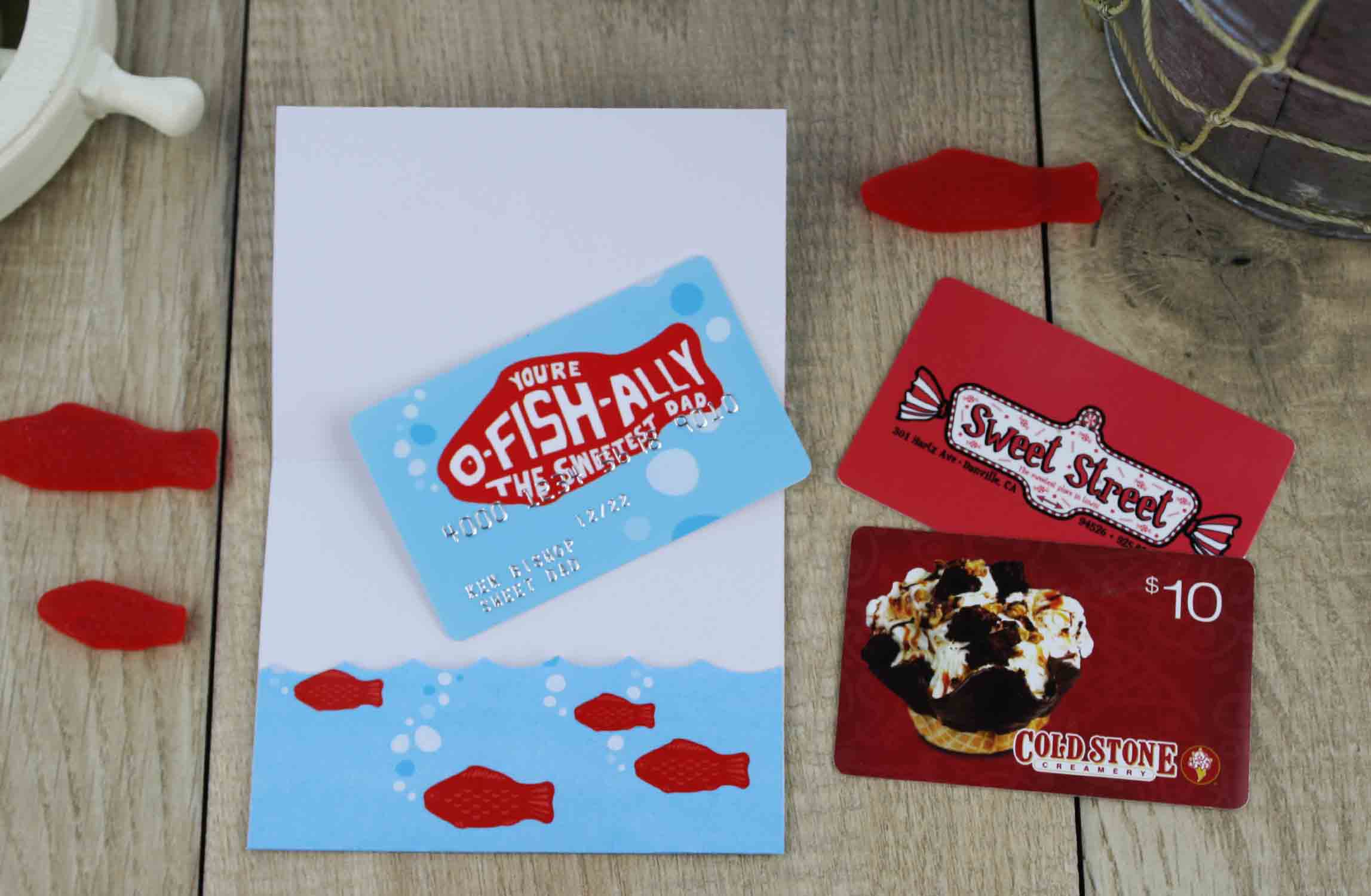 Look closely to see how I cut around the bottom of the big fish. Cutting the top this way allows the little fishies to show when the card is all folded.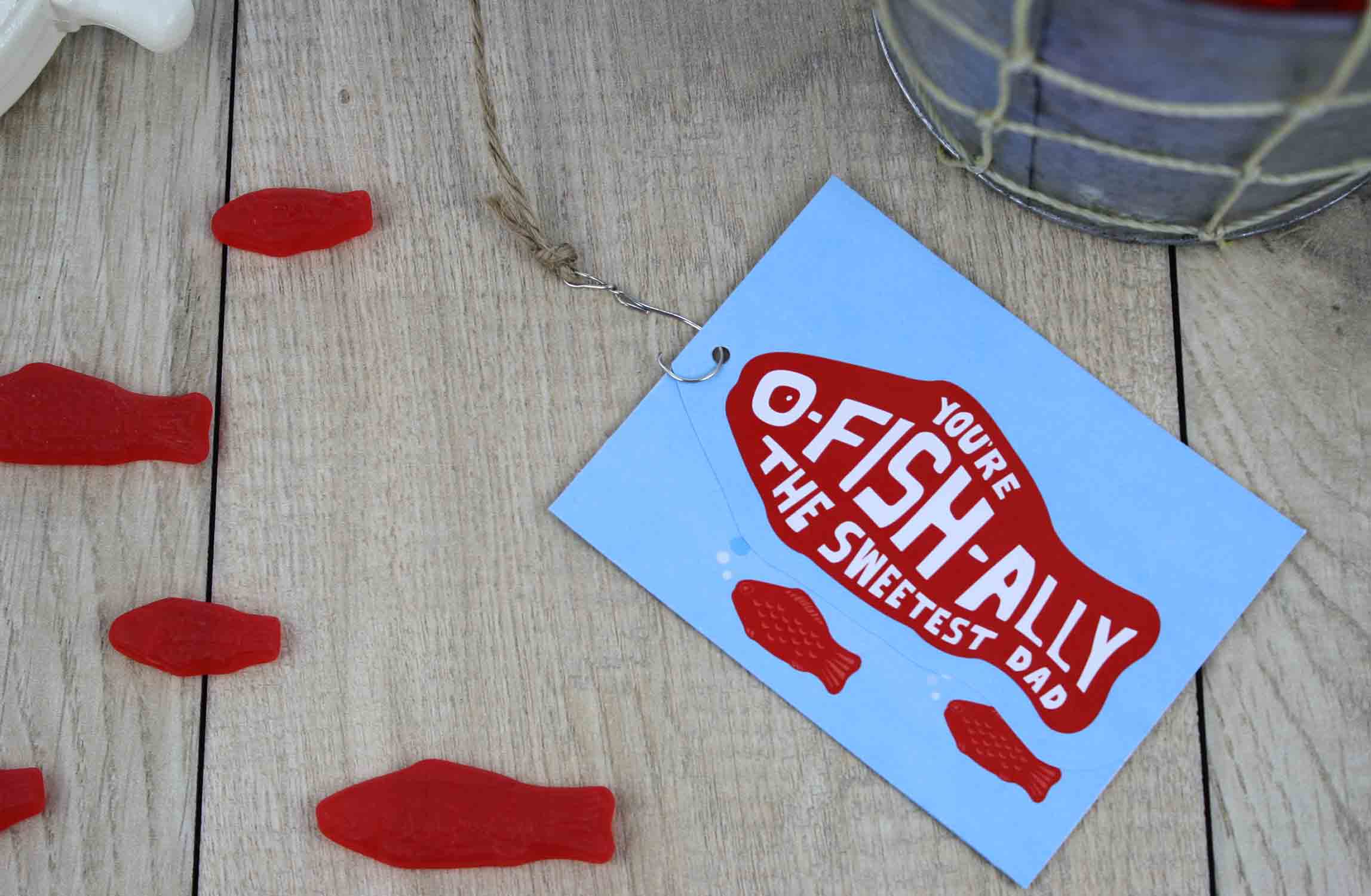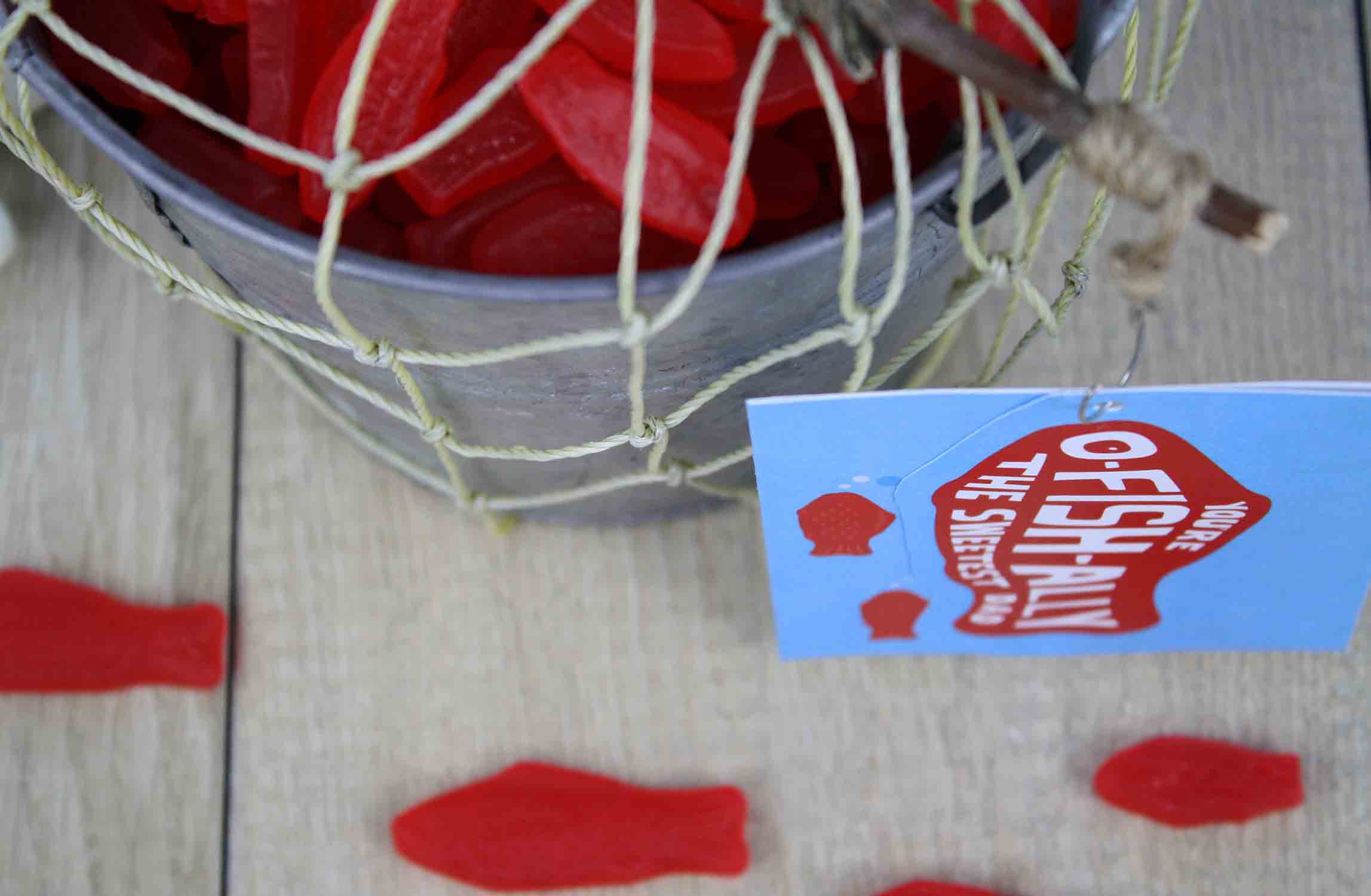 And there you have it – Dad is "O-FISH-ALLY" the sweetest dad with this gift card holder. It's all hooked up and ready to go. I grabbed a branch from my yard and tied a piece of twine to the top to make a fishing rod. Then I took a simple piece of wire and spun two cirles–one closed and one open. It's a pretty simple hook that perfectly grabs the gift card.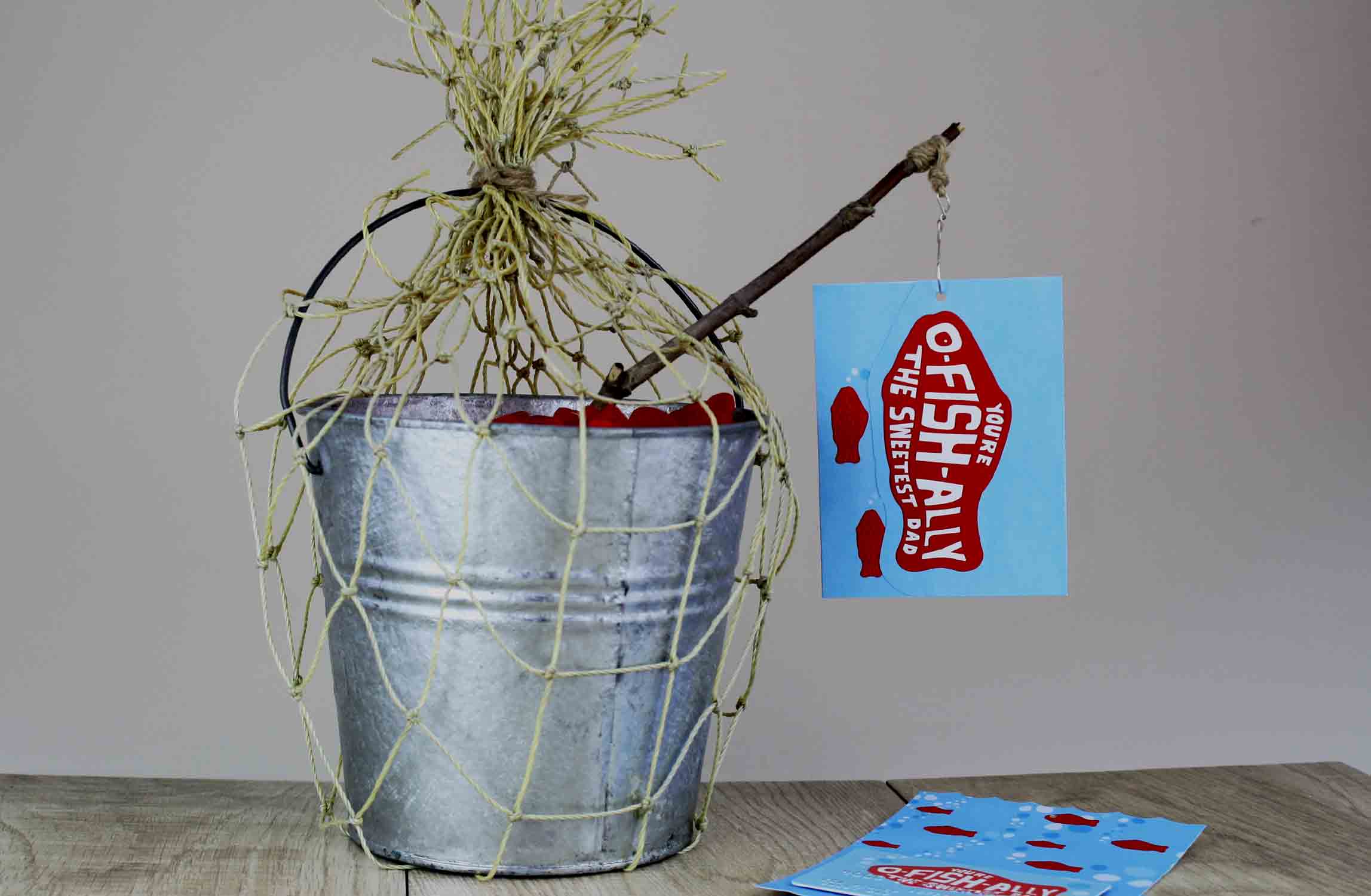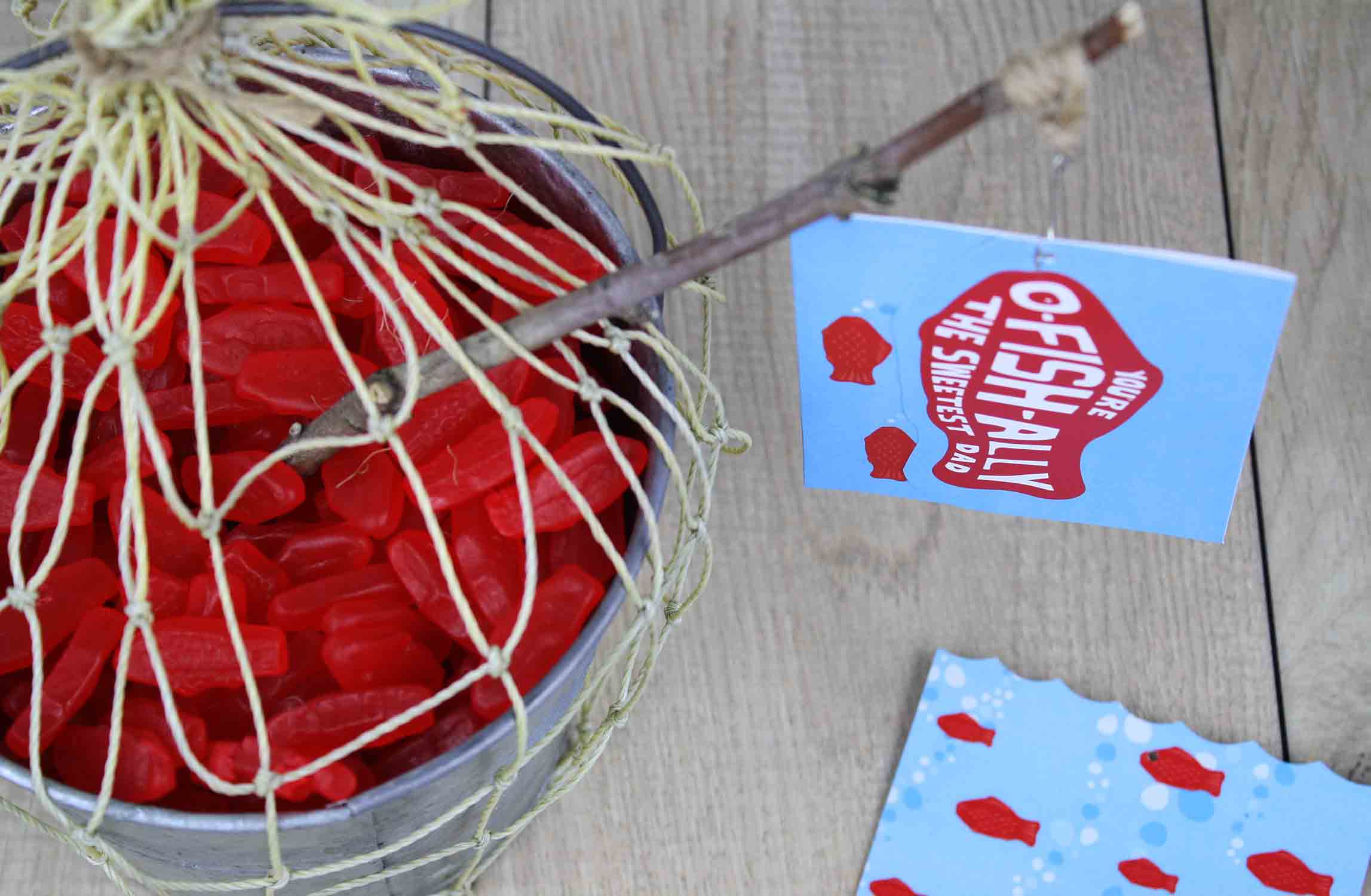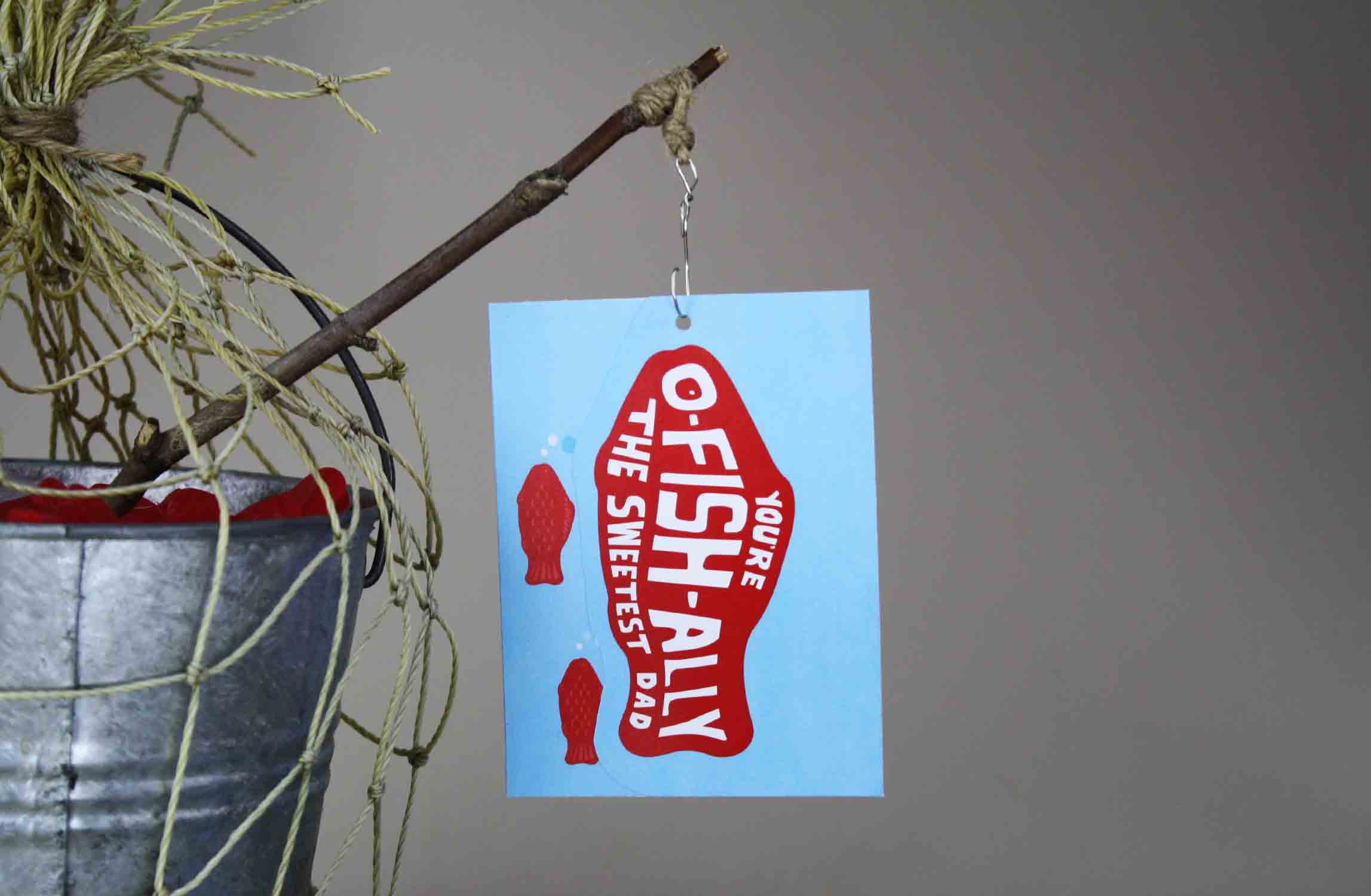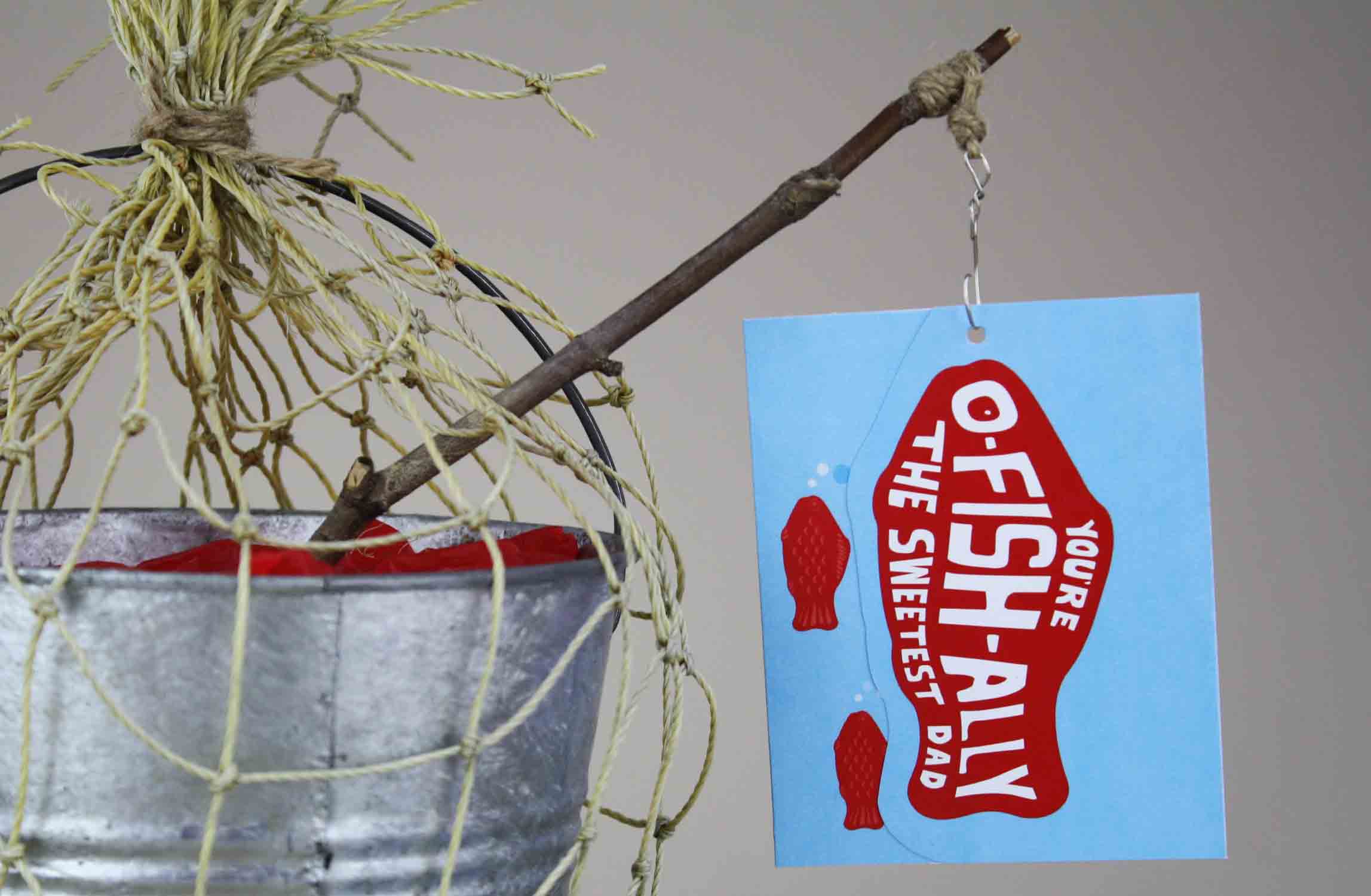 Send it in the Mail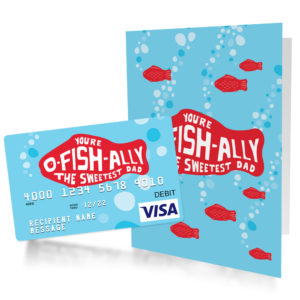 If your best fishing partner doesn't live nearby or you don't have time to get your fishing gear in order, tell dad he's O-FISH-ALLY the sweetest with our predesigned gift card and matching greeting card instead. In other words, we'll hook you up and do the work for you. Simply order the
Sweetest Dad
Visa gift card and select the standard greeting card option. Take a moment to personalize each with dad's name and a special message. Tell us where to send the card and we'll take care of the rest!
More on Pinterest
For more free printable gift card holders, check out the
free prints page
or follow Gift Card Girlfriend on Pinterest. This fun gift is on our
Father's Day Gift Ideas board
and on our
free printables board
. If you use this printable, send me a link to your page in the comments below or contact me on Twitter
(@GCGirlfriend)
. I want to see what inspires you.
Happy Gift Carding!
~Shelley Hunter, Gift Card Girlfriend