The Target Trade-In program lets you trade unwanted gift cards for Target gift cards. Follow these instructions to learn how Target gift card exchange works.
How Target Gift Card Trade-In Works
There are many places to sell gift cards for cash and a few places that let you trade unwanted gift cards for different brand gift cards. Among those options is the Target trade-in program in the electronics department of select Target stores. In addition to accepting unwanted gift cards, the store will also exchange unwanted phones, tablets, video games and other electronics for Target gift cards as well. If you are not familiar with how the gift card exchange at Target works, keep reading. The process is fairly easy, but I have a few tips to make the experience even easier.
Below are my step-by-step instructions for trading unwanted gift cards for Target gift cards:
1. Find a Participating Target Trade-In Location
For several years now, Target has been honing a service that lets customers exchange unwanted electronics such as phones, calculators, DVDs, iPods and so forth for cash or gift cards through a partnership with NextWorth. A couple of years ago, Target partnered with a gift card reseller to add gift card exchange to the line-up of products you can exchange in stores.
When the gift card exchange program launched, an estimated 1,500 of the company's 1,800-ish stores were said to be participating. I do not have an exact number, but I'm not sure that matters all that much. What matters to YOU is whether or not YOUR local Target store offers gift card exchange. Check the list below to find out.
2. See If Your Gift Card is Accepted
Before driving down to Target to trade in your unwanted gift card, check to see if the store will accept the brand you have. Gift card exchange sites are most likely to accept top-brand, national retailers that are high in demand from other customers. They also need to be able to automatically check the balance of your gift card before accepting payment. In this guide to gift card resellers, you'll find an explanation on gift cards that resellers will not accept.
List of Gift Cards Currently Accepted at Target Trade-In.
3. Go to the Electronics Department at Target
When you get to Target, go directly to the electronics department and look for a Target employee wearing a black shirt–these are your Target Tech employees.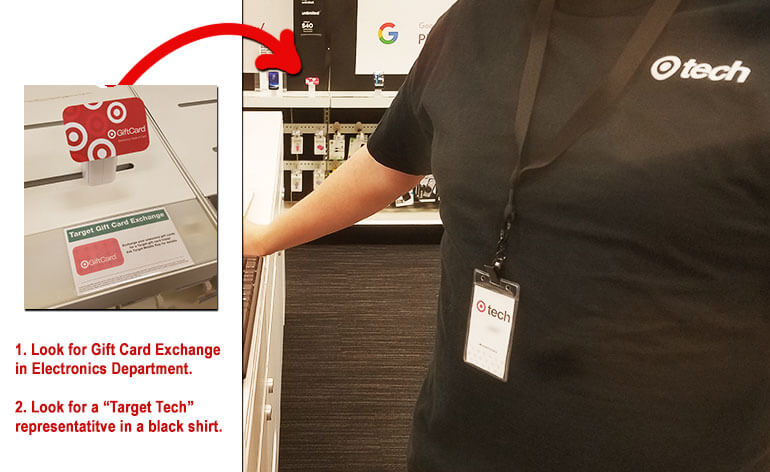 I have found that other Target employees are not all that familiar with the trade-in program and some have even indicated the service does not exist. Others mistakenly point me to customer service. You absolutely MUST go to the electronics department and know that only the Target Tech employees are able to do the exchange.
4. Give Your Unwanted Gift Card to the Target Tech Employee
When you get to the electronics department, hand the unwanted gift card to the Target Tech employee. He or she will scan the card to confirm the gift card balance and will then make you an offer. The offer comes directly from the gift card reseller.
I submitted a $25 Best Buy gift card and received an offer for $16.50. Card offers vary depending on the popularity of the card. (Gift cards that are easier to sell to other customers will fetch higher prices than those that appeal to a smaller audience.)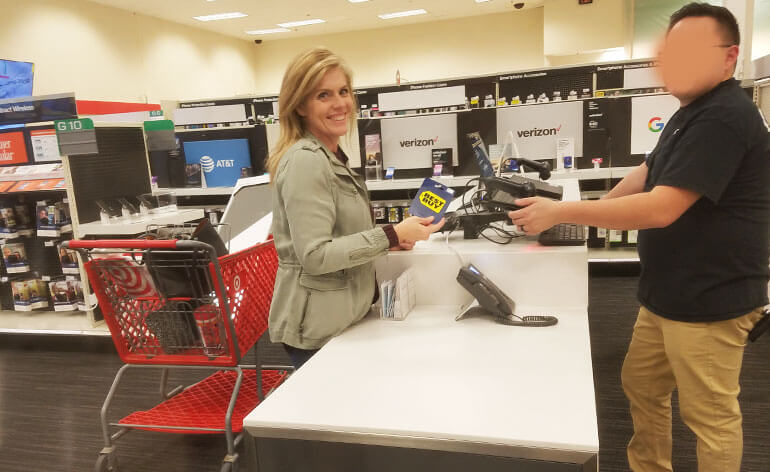 5. Evaluate the Exchange Offer
You are under no obligation to accept the Target gift card exchange offer. If you don't want to accept the offer, then just keep your gift card. If you do want to accept the offer, then the Target Tech employee will begin the gift card exchange process. In addition to surrendering the card, you will be asked to provide your telephone number, email address and a photo identification card for security purposes.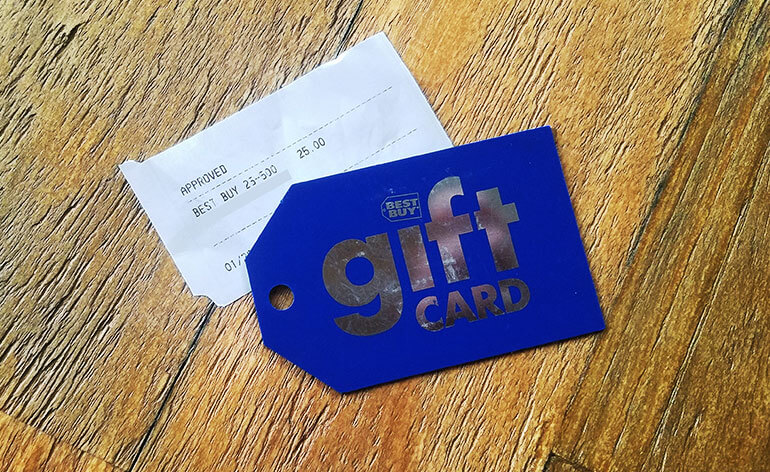 6. Receive a Target Gift Card
Once the balance of the unwanted gift card is confirmed and your personal information is given, the Target Tech employee will activate a new Target gift card for the offered amount. In this case, I received a Target gift card for $16.50.
Although the value of the new Target gift card is less than the unwanted gift card amount, trading it gave me a gift card I could use immediately in a store I love to shop. The other gift card, though great for someone else, is not one that I had much use for. If you are debating whether or not to exchange a gift card at Target, read my advice on when trading a gift card is a good idea.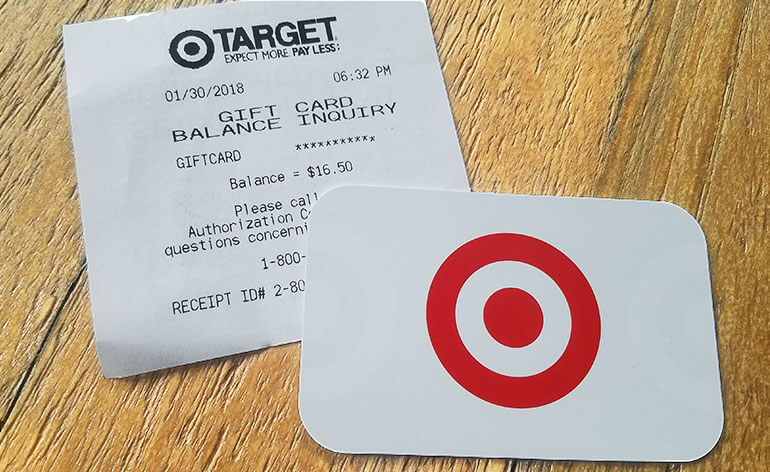 Is the Target Gift Card Trade-In Offer Worth it?
In general, I think trading gift cards you don't want for Target gift cards that can be used immediately is a great way to use unwanted gift cards. But many will read this post and think it is not worth giving up some of the unwanted card's value. I understand why you might think that. After all, somebody paid full value for the gift card you received. If you want to get that card's full value, then please redeem it at that merchant. If, however, redeeming the gift card is not possible, not convenient or not likely to happen, then I think you should consider alternatives. Here's a list of ways to use unwanted gift cards.
One way to increase the amount you receive on trade from a gift card is to sell the card directly to a gift card reseller. I did a quick check tonight and found that I could get a check for about $22 or an Amazon egift card for $23 in exchange for a $25 Best Buy gift card. That's quite a lot compared to the Target gift card exchange offer. So just keep this in mind. If you sell your gift card through the Target Trade-in program, the offer will be less but payment will be immediate. If you sell directly to a reseller, the offer will be higher but you will have to wait a little bit (hours or days, depending on the payment method selected) to get your money.
So what do you think? Is it worth giving up some of an unwanted gift card's value to get a Target gift card you can use immediately? Are there certain gift cards that are easier to give up than others? I'd love to hear your thoughts. Leave a note for me in the comments below or reach out to me on Twitter (@GCGirlfriend). I never get tired of answering your gift card questions and offering gift card help.
Happy Gift Carding!
~Shelley Hunter, Gift Card Girlfriend