Seven easy ways to turn gift cards into thoughtful gifts of appreciation. Perfect for friends, family and associates. Easy to make, fun to give.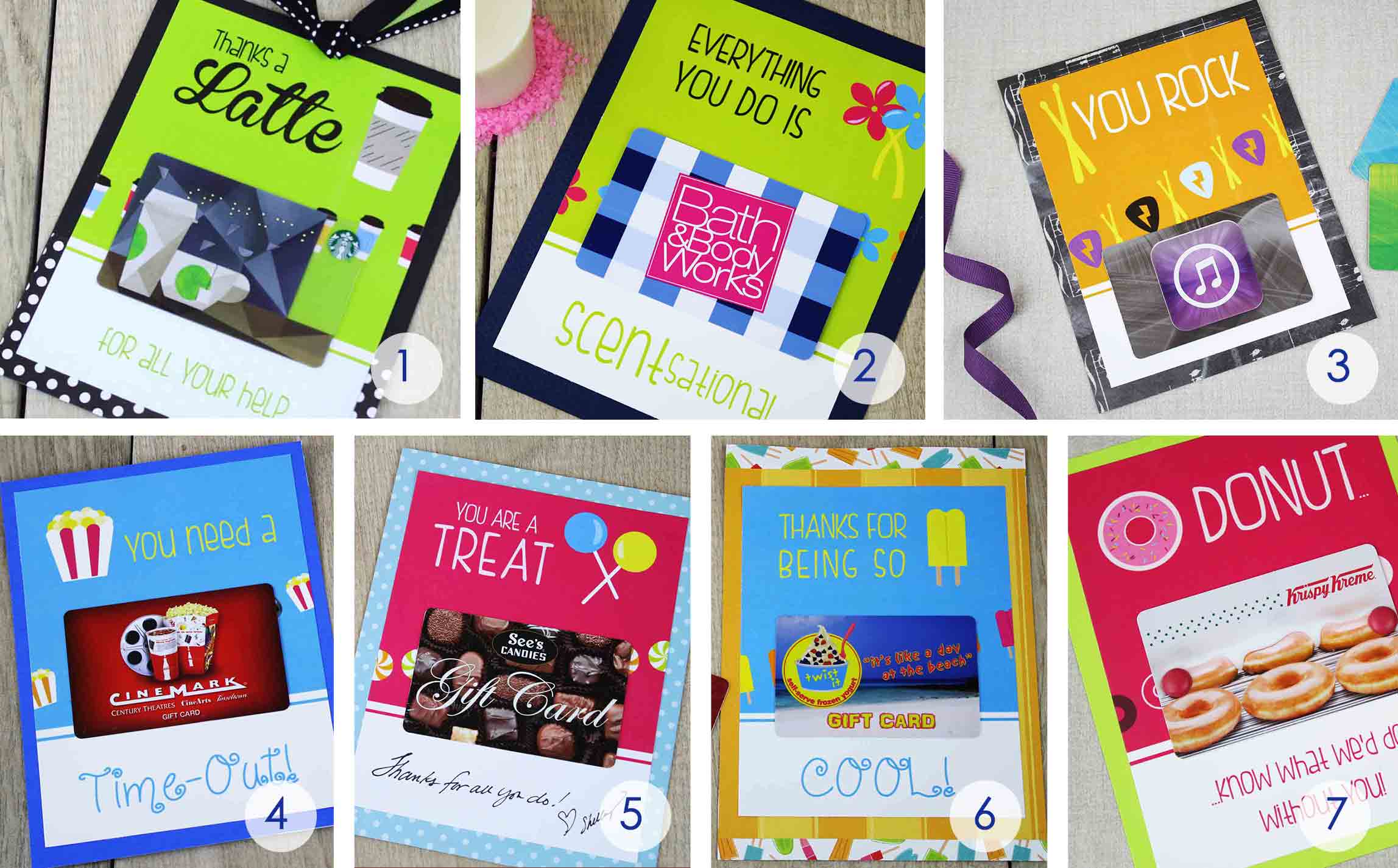 Gift cards are popularly used to express appreciation or to tell someone thank you for lending a hand, doing a good job or being supportive in a time of need. With gift cards available online, in stores and even at the gas station, there is no shortage of thank you gift cards to buy. But what should you present the gift card in? I'm so glad you asked. Below you'll find seven printable thank you gift card holders that can be downloaded and printed at home, for free! Order the gift card you want, grab the printable that goes with it and you're done! (You can thank me later.)

Thanks a Latte!
I don't even drink coffee, and I'm still a fan of Starbucks because they sell more than just java. For example, my kids love to walk over to Starbucks on a hot afternoon to buy a cool, chocolaty frappuccino. I like the warm hot chocolate on a cold morning. And we all agree that the pumpkin scones are worth trying. With Starbucks and other coffee shops being some of the top thank you gift cards available, this printable that says "Thanks a Latte for all your help" is a big hit with gift givers as well as the recipients. Download it and buy a Starbucks gift card, a Caribou Coffee gift card or a gift card to a local shop in town that also serves lattes.
Download Free "Thanks a Latte" Printable here.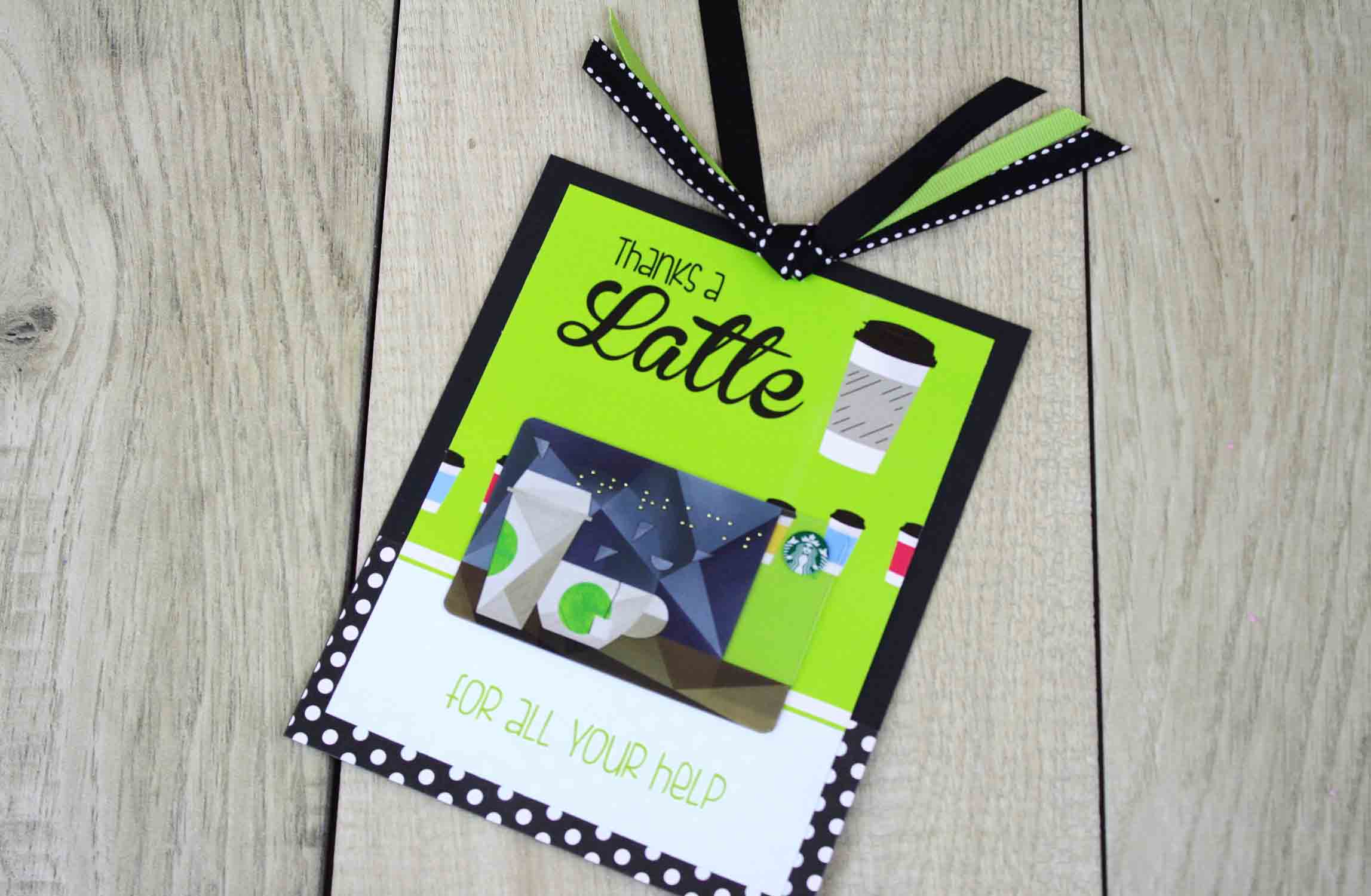 Everthing you do is SCENTsational!
This gift card holder reads "Everything you do is SCENTsational," so it's a perfect fit for a fragrance-related gift card such as Bath & Body Works or Yankee Candle. Another way to make a fun thank you present with this printable is to buy a non-smelly (you know what I mean) gift card and deliver it tucked into a sweet-smelling bouquet of picked flowers.
Download Free "Everyhing you do is SCENTsational" Printable here.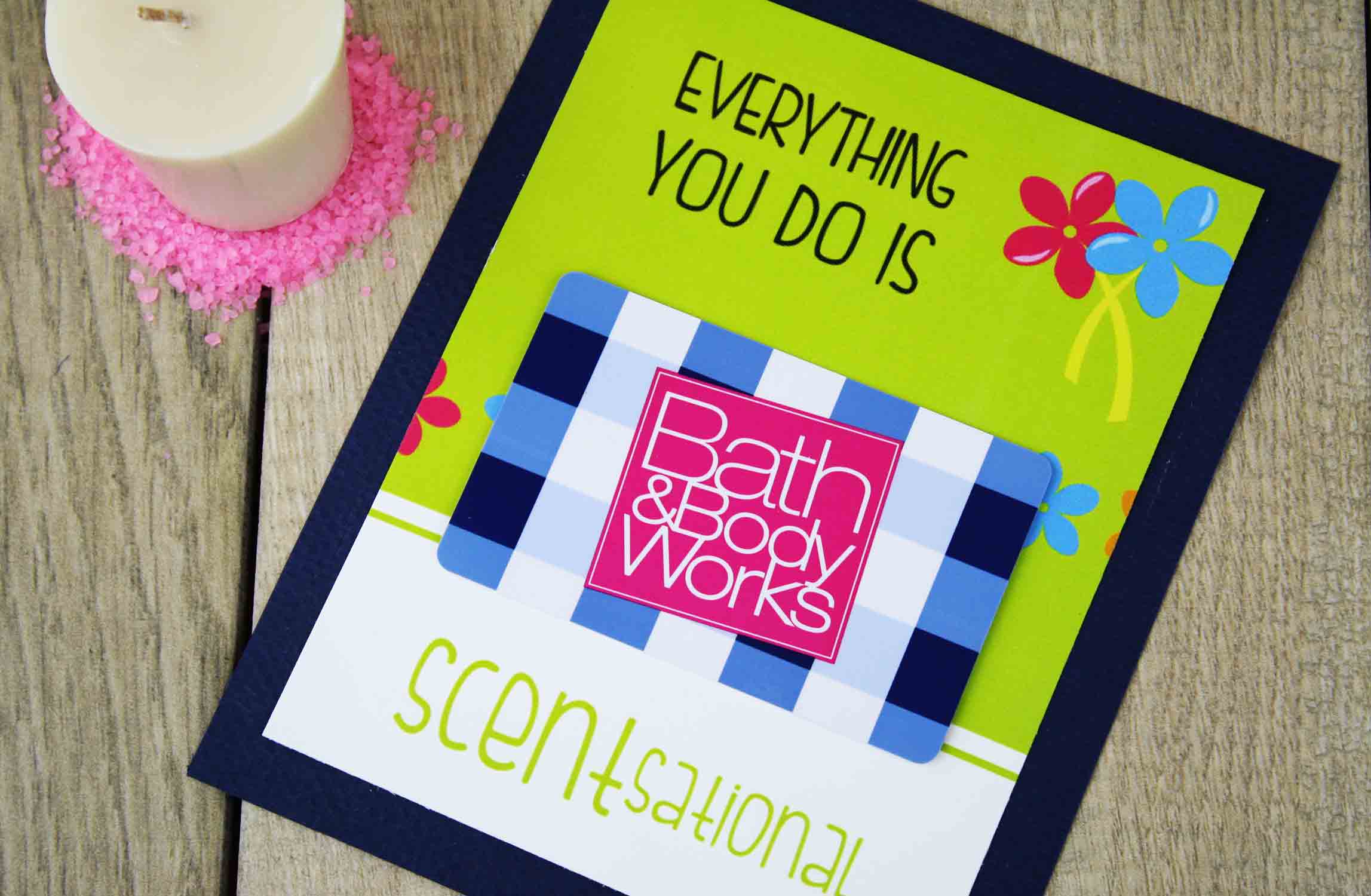 You ROCK!
If you're giving someone a music-inspired gift card such as an iTunes gift card, Spotify gift card, Disney Music or Amazon MP3 gift card, then this holder is the perfect match. It says "You Rock," and it has ample space for you to add a personal note of thanks as well.
Download Free "You Rock" Printable here.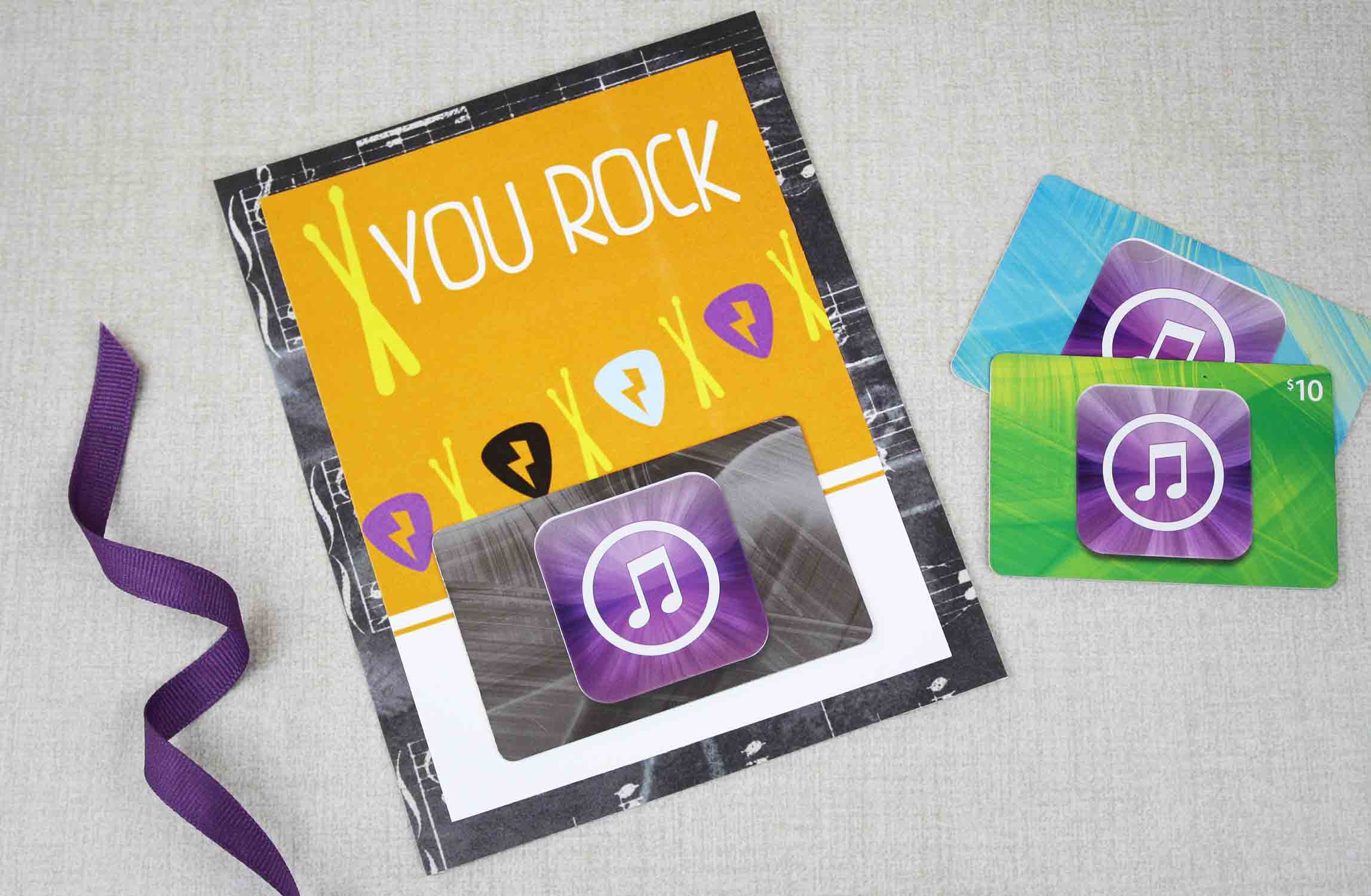 You need a TIME OUT!
Couldn't we all use a time out every now and again? I know I need the occasional break from reality, and for me, a great way to get that is to settle into a good movie with a big bucket of popcorn–with layered butter, of course. If you want to send a friend off to the movies as a thank you gift, then get a Regal Cinemas gift card or a Cinemark gift card. All would look adorable on this printable holder that reads "You need a time out!"
Download Free "You Need a Time-out!" Printable here.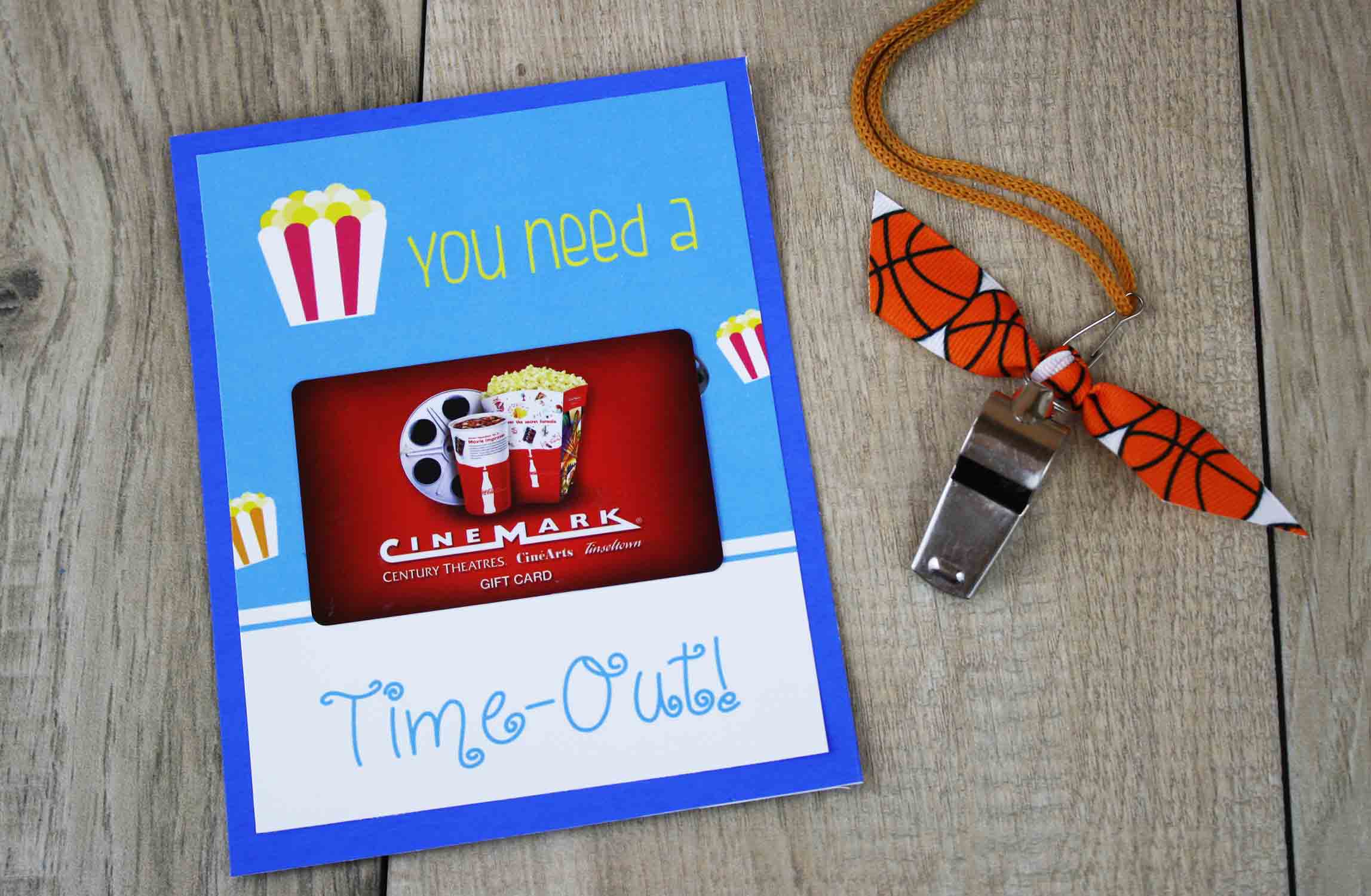 You are a TREAT!
For the friend who has a sweet tooth, this gift card holder is the perfect present. It says, "You are a TREAT!" and it also has enough room on the bottom to write a heartfelt expression of gratitude. Add a sweet gift card such as a See's candy gift card or a Cheesecake Factory gift card. For an extra touch, deliver your present with a homemade sweet treat of your own.
Download Free "You're a Treat" Printable here.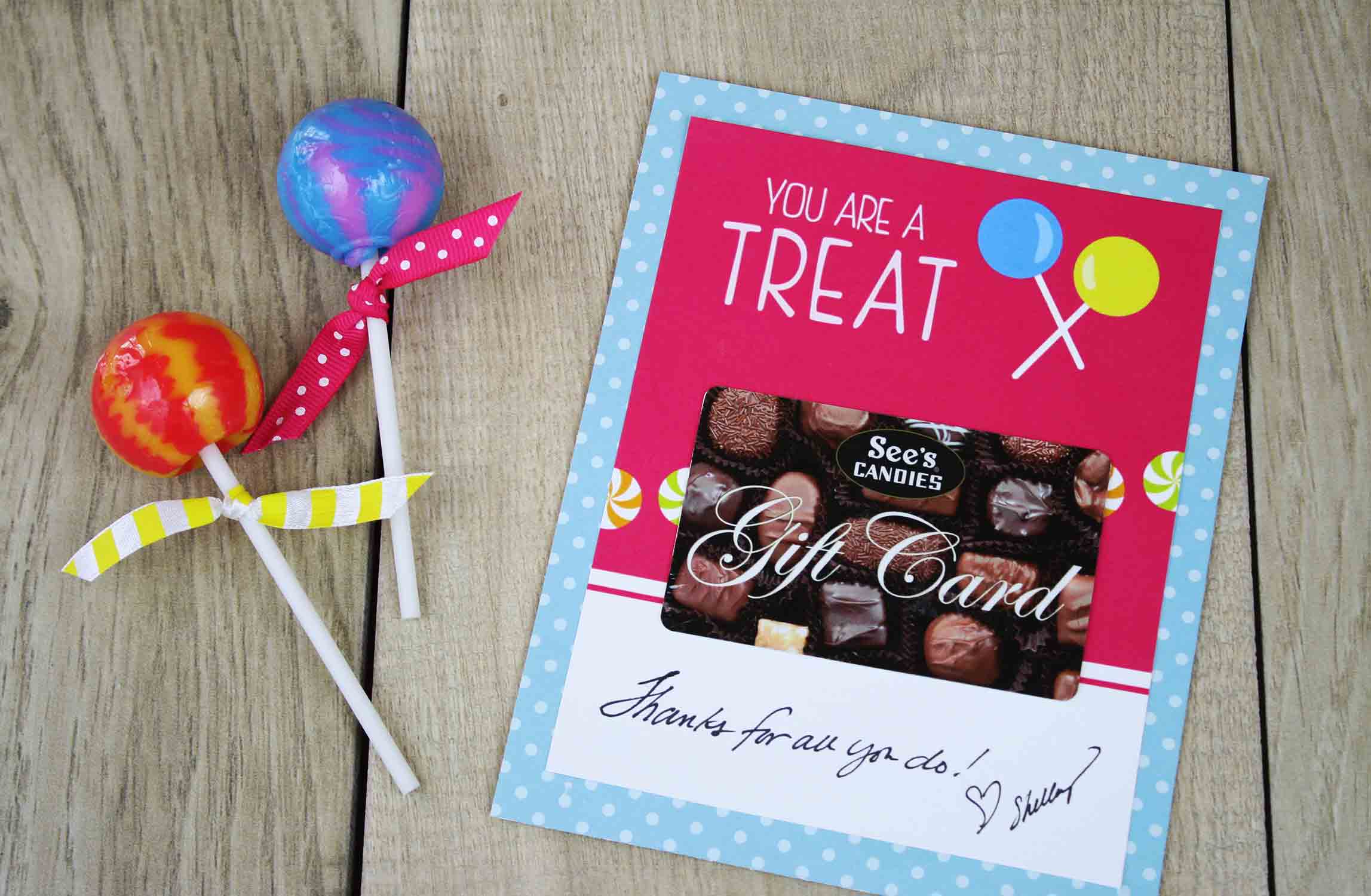 Thanks for Being So COOL!
Whether you're sending thanks to an elderly friend who picked up your mail while you were on vacation or a high school student who babysat for you all summer, this "Thanks for Being so COOL!" gift card holder is perfect for any age. Use it to deliver a gift card that sells ice cream, frozen yogurt, smoothies or frozen custard. (Think Cold Stone Creamery!)
Download Free "Thanks for being so COOL" Printable here.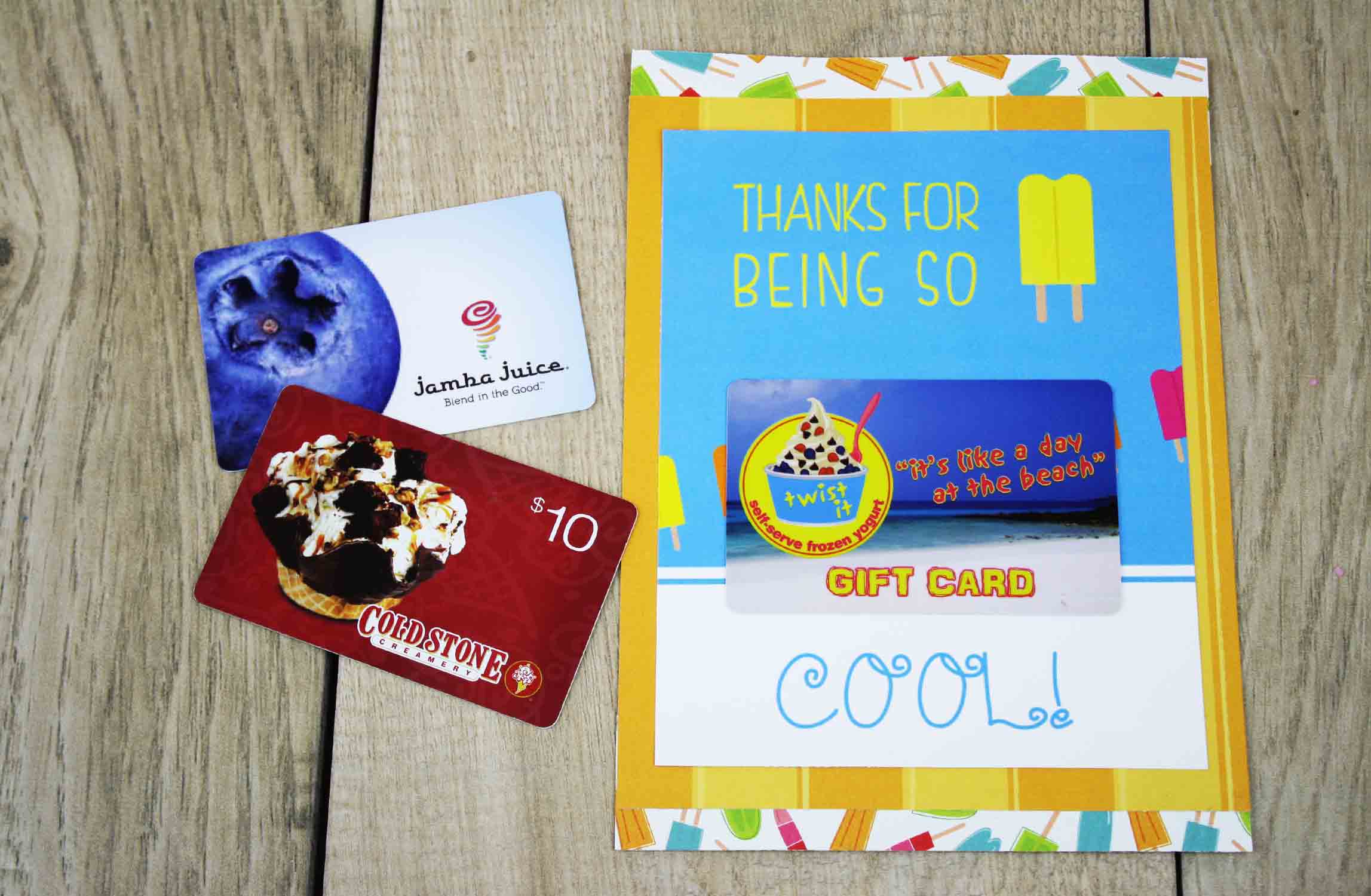 DONUT Know What We'd Do Without You!
This is the final thank you gift card in the "play on word" series for today and it's one of my favorites because it's pretty versatile. You can use it to deliver a doughnut store gift card (such as Krispy Kreme or Dunkin' Donuts) or you can use it to deliver any gift card along with a box of doughnuts. Super easy.
Download Free "DONUT Know What We'd Do" Printable here.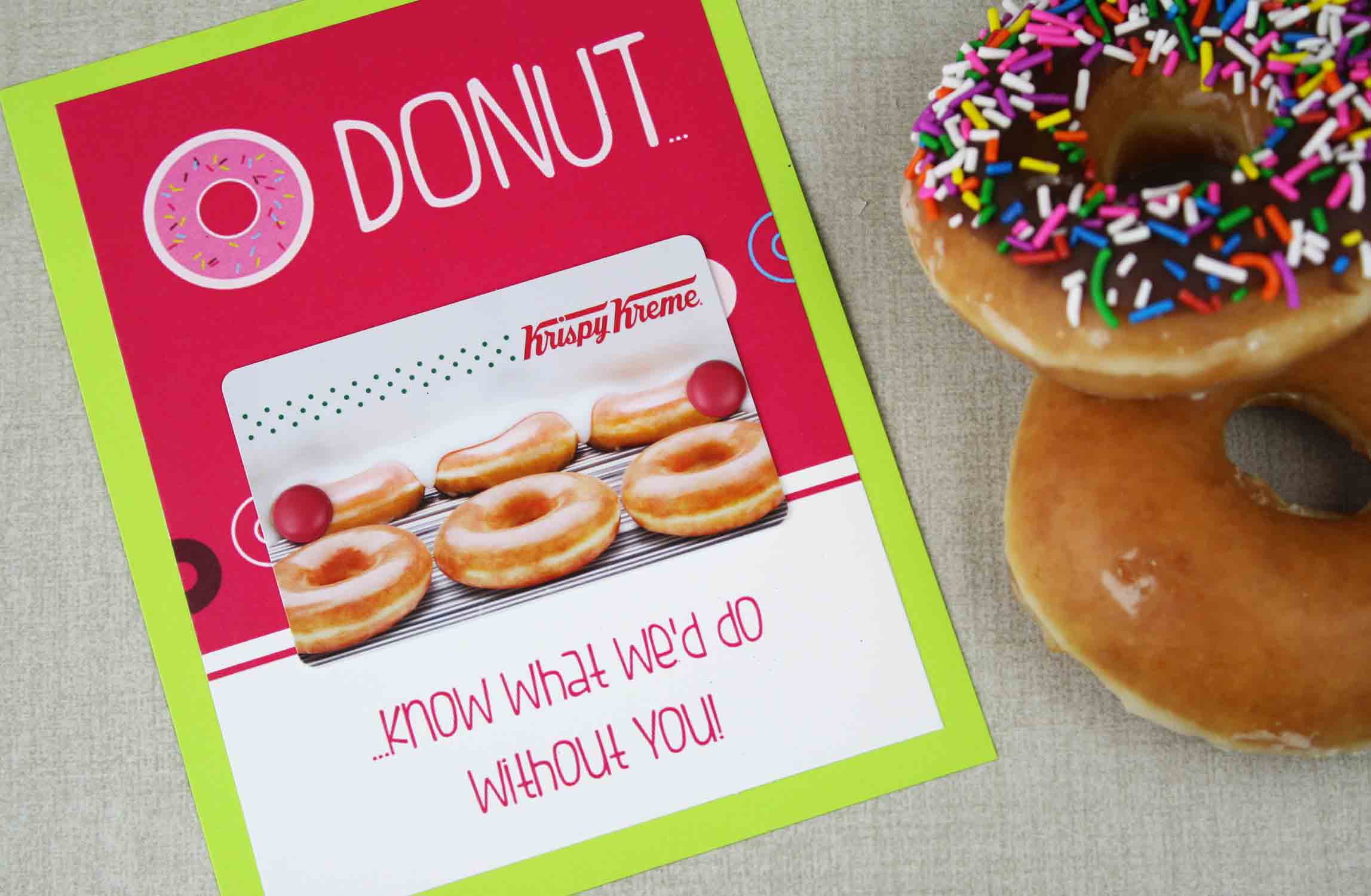 If this set of gift card holders looks familiar, it's because I crafted up a similar set for teacher appreciation and another version to say thank you to coaches. Download all seven or pick the ones you want. I don't think we can ever be too thankful–so please feel free to use these as much as possible.
Got any other suggestions for thank you gift cards? I'd love to see what you come up with. Add a comment below or reach out to me at
@GCGirlfriend
on Twitter.
Happy Gift Carding!
~Shelley Hunter, Gift Card Girlfriend