Printable gift card holders to give coach. Works for football, basketball, soccer, baseball, water polo and other sports.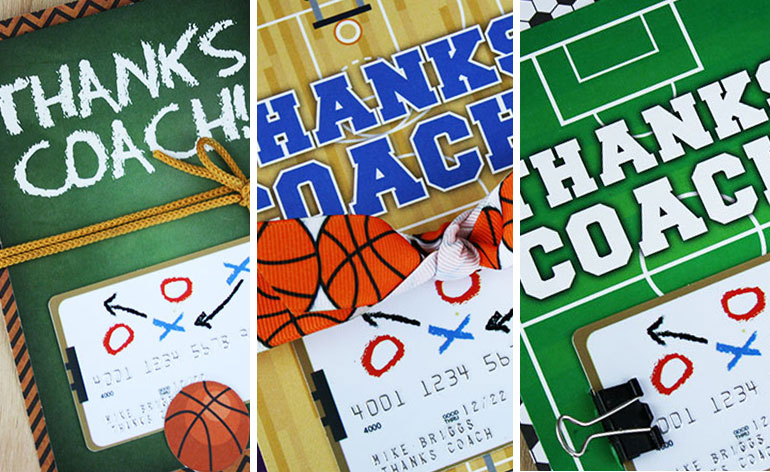 "Gifting Made Easy" by Gift Card Girlfriend
At the end of every sports season, it's time to round up all the parents, collect money and buy a thank you gift for the coach. With gift cards being so popular, the choice to buy a gift card for the coach is an easy one. All you have to decide after that is which gift card to buy, how much money to put on the card and how to present the card to the coach. With these free printable "Thanks Coach" gift card holders, two of the those decisions just got easier.
These printable gift card holders can be customized and adapted to the sport your son or daughter is playing. We've included a couple of props for basketball, football, baseball, soccer and water polo, but you don't have to be limited by our selection. The chalkboard gift card holder can be modified for any sport. Below you'll find instructions for how to download each gift card holder, links to the gift cards you might want to buy for coach and easy ways to customize the presentation.
Gift Card Suggestions
Let's start with gift card suggestions since these will all work with the free printable gift card holders in this post.
Chalk Talk Visa Gift Card
Picture of the team on a Personalized Visa Gift Card
Sporting goods gift card like Foot Locker
Coach's favorite restaurant like Darden Restaurants or Outback Steakhouse

Chalk Talk Gift Card Holder
This basic gift card holder has the words "Thanks Coach" written across a chalkboard. It also comes with five possible balls that you can cut out and glue to the holder as desired. If your son or daughter is not playing football, basketball, baseball, soccer or water polo, then either skip that step or add a sticker of your own.
This gift card holder also comes with a matching Visa® gift card that looks like a coach-drawn play on a clipboard. I think the combo looks nice together. You can, of course, select the matching gift card, make a personalized Visa gift card or choose a popular store or restaurant brand gift card instead.
Download the Chalk Talk Gift Card Holder
After downloading the gift card holder, print it on a color printer using "best quality" and "actual size" settings. (Do not select "shrink to fit" or any other setting that will change the size of the printed .pdf image.) White, card stock paper measuring 8-1/2 x 11 inches works best. Once printed, use the guide marks and a straight-edge paper cutter to trim the gift card holder.
Also notice that there are five balls on this printable that you can cut out for embellishments. I cut right along the ball design, but I wish that I had left a little of the white space showing so the ball would stand out more when put against the chalkboard holder. I'll do that next time to give the design a little depth.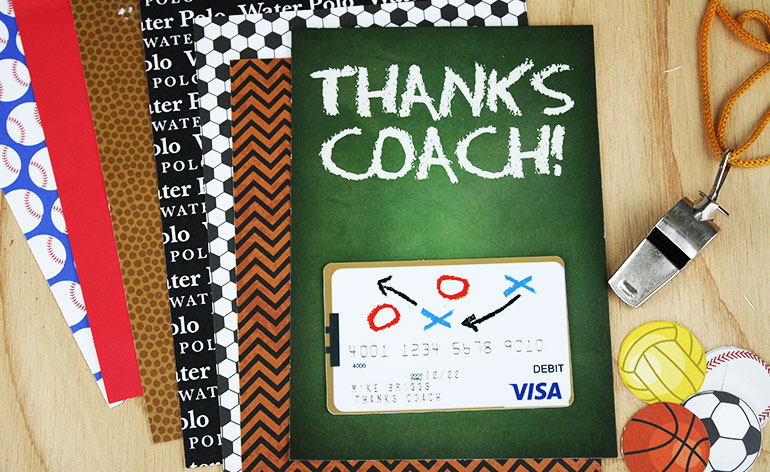 After you trim the printable gift card holder, all you really have to do is attach the card with double-sided tape or glue dots. The gift is ready to go! I have a hard time stopping there myself. I like to add layers of scrapbook paper to build the card's interest, give it a little texture and show that I put some effort into making the gift. (Even if that effort takes only a few minutes.)
An easy way to give this gift card holder some pop is to layer the card holder with the team's colors. The other choice is to layer the card with designs reflective of the sport. So you'll add a soccer ball print to a gift for the soccer coach, a football print to a gift for the football coach and so forth. After I layered the paper, I tied it all together with a whistle. This gives the coach something to use immediately plus a gift card to enjoy later.
The gift shown below is for the football coach. The background texture looks like the old pigskin. (It really doesn't, but that's what we still call it.) I could optionally add the football decal as well using a glue stick or double-sided tape.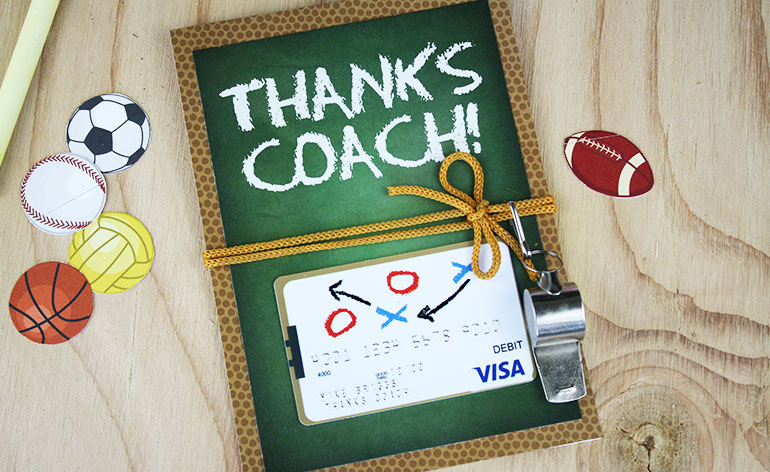 This gift is for the basketball coach. I chose a black and orange chevron-striped paper backing for this card and added that very same whistle.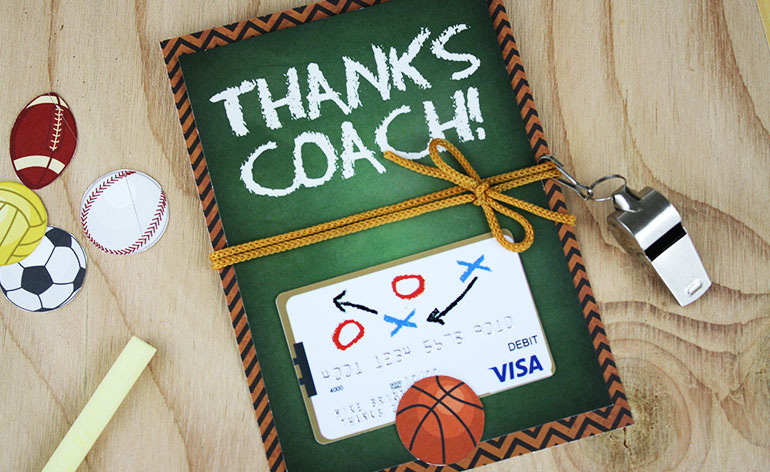 And this card is for the soccer coach. Soccer gift are easy to make because there is some great soccer card stock available, but if you can't find it, you can always choose a black and white pattern.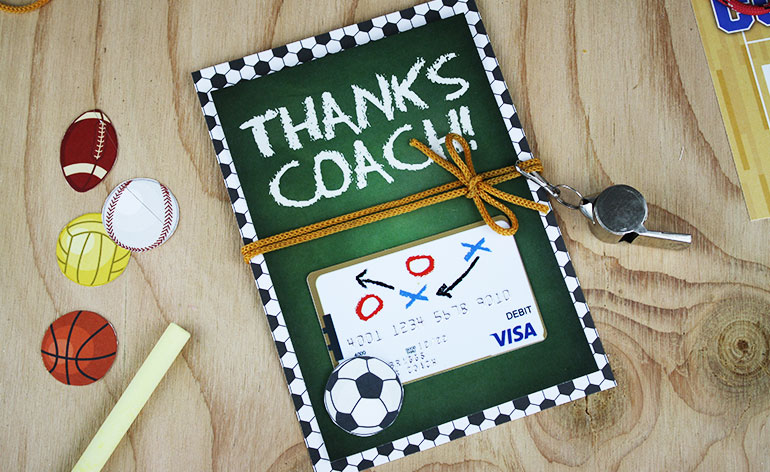 I bet you weren't expecting to find water polo in this list! This gift card holder can truly work for a variety of sports. Add the background paper to match your sport or add your team colors instead. Better yet, add both!
I intended to put the baseball background paper with the same Visa Chalk Talk gift card, but baseball plays don't look like the x's and o's pictured on the card. I couldn't do it. I didn't want you thinking that I don't know my sports. So I used a baseball paper to complement a restaurant gift card instead.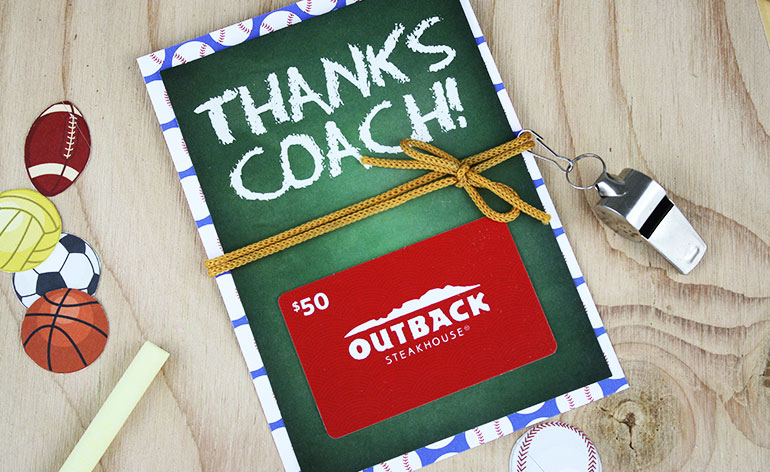 Speaking of restaurant gift cards, these gift card holders look equally great (maybe even a little better) with popular store and restaurant gift cards. If you know coach's favorite restaurant or sporting goods store, then pick up a card and try to match it with the overall decor of the gift. If your team colors happen to match the brand colors of his favorite merchant, then all the better! Below are a few more examples of mixing and matching this gift card holder with various gift cards for the coach.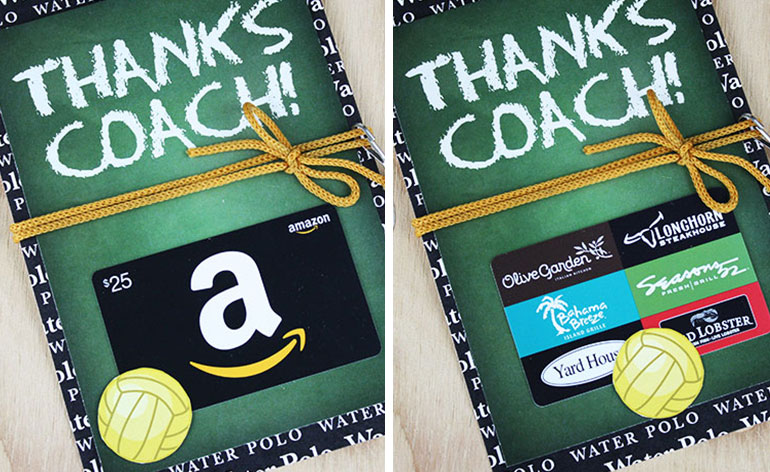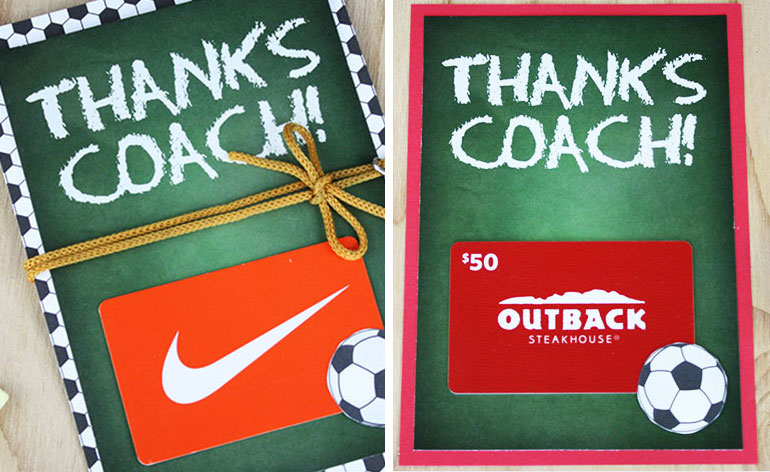 Basketball Coach Gift Card Holder
For kids who play court sports, this gift card holder is perfect. The same "playbook" gift card matches it, but so do a variety of other popular store and restaurant gift cards. Pick the one you think your coach will appreciate the most.
Download the Basketball Court Gift Card Holder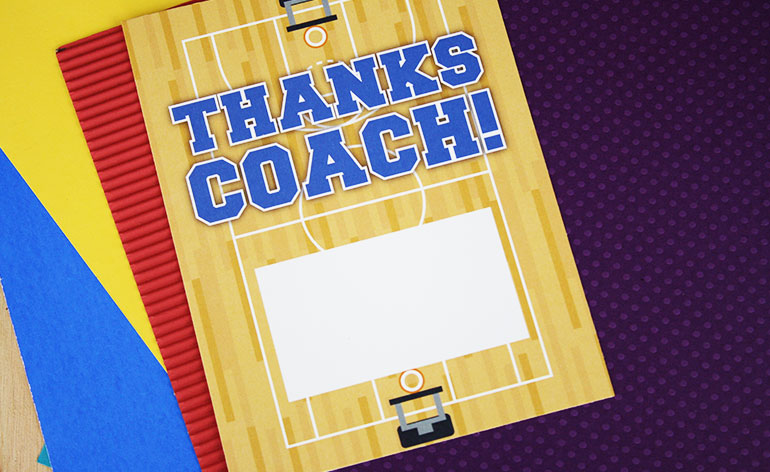 Like the Chalk Talk gift card holder, print the downloaded file on white card stock paper for best results. Trim it using a paper cutter and attach the gift card of your choice. Game over!
If you want to get a little crafty, then look how cute this gift card holder is when it's layered with card stock in your team colors. I grew up purple and gold (Go Dons!), so that's what you're getting below.
The only thing left to do is add a basketball-themed ribbon. Adding ribbon to a gift is like following through on your jump shot. The gift and the shot might work without it, but your chances of success are even greater if you add that finishing touch.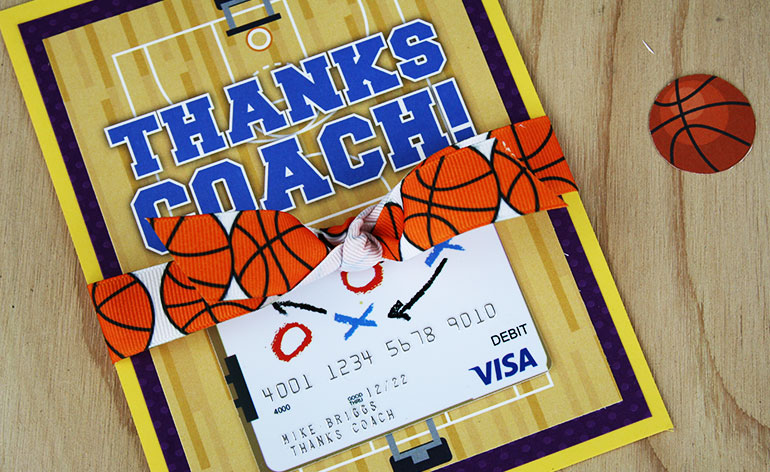 Below are some examples of the basketball coach gift card holder with some favorite store or restaurant gift cards.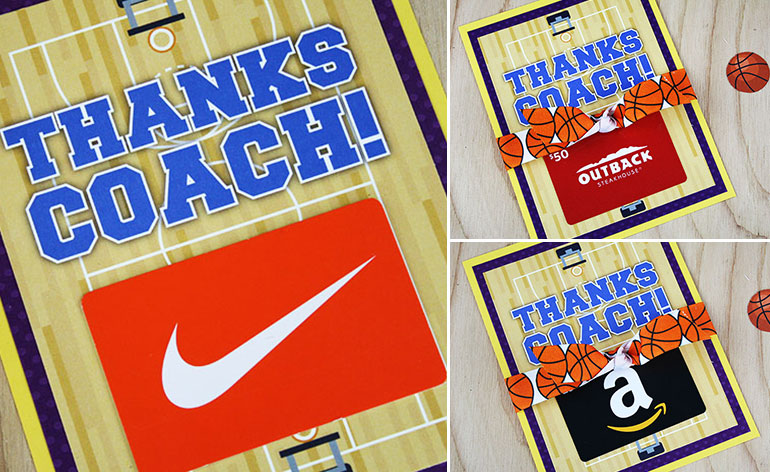 Soccer Coach Gift Card Holder
If you son or daughter plays soccer, then this thank you gift for the soccer coach is the perfect play. Line it up nicely with the matching Visa gift card or pick a gift card your soccer coach will enjoy instead. I promise you can put this gift together in less time than it takes to get all the parents to make a tunnel after the game.
Download the Soccer Field Gift Card Holder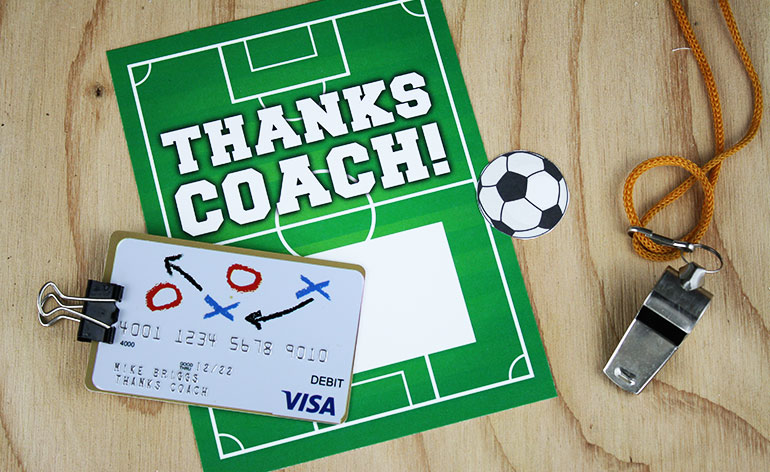 Like both of the gift card holders above, print the downloaded file on white card stock paper for best results. Trim it using a paper cutter and decide what type of gift card to get for coach. Order one now to be delivered or pick one up at the store. Easy! If you want to do a little more, then read on.
Since the Visa gift card looks like a play drawn up on a coach's clipboard, I thought it would be cool to clip the gift card to this holder in similar fashion. Once I figured out how to do that, it only took a minute or two to get the job done.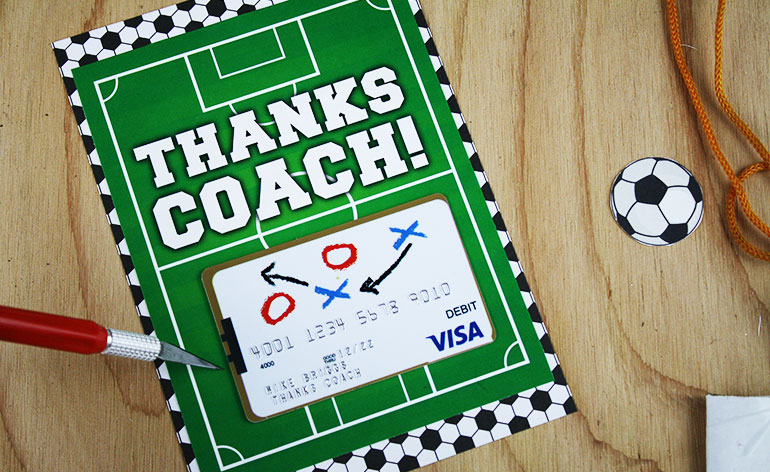 With a craft knife, I cut a slit into the holder right where I wanted to insert a binder clip. I debated painting the clip silver, but decided that the black looked just as good with less effort required. With a little pinching and prying, I was able to get the back of the binder clip through the gift card holder.
Then I simply clipped the gift card in place.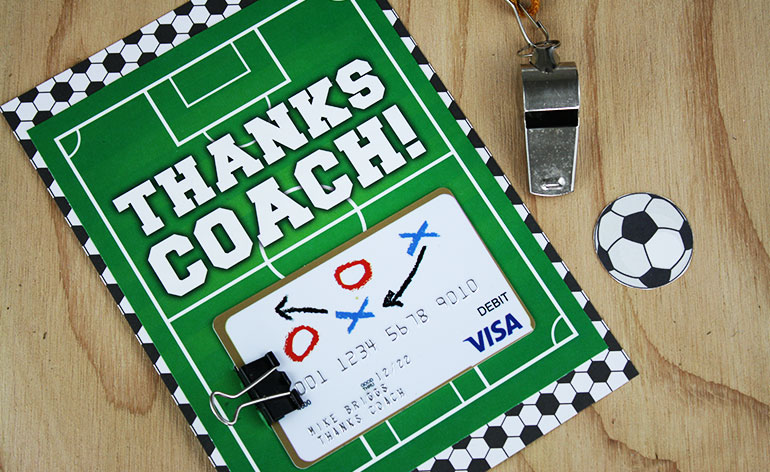 I also had to how this soccer coach gift card would look with some other popular gift cards for coaches. The Nike gift card looks great and is super easy to redeem both online and in stores.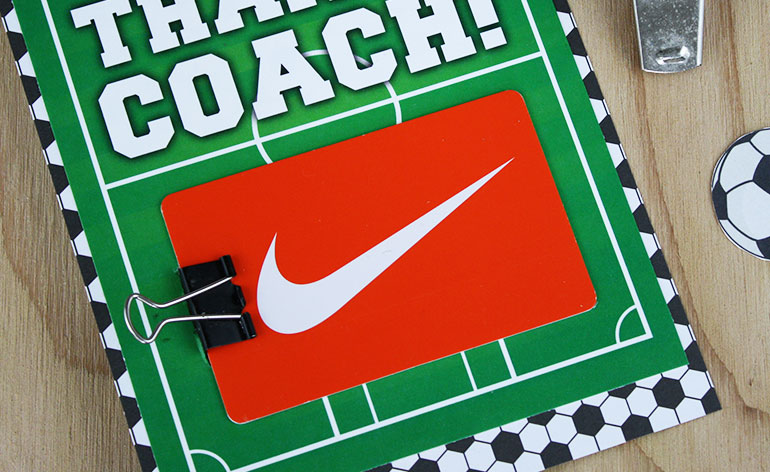 The Starbucks gift card is always a popular choice for soccer coaches. I think it's because we know how often they have to arrive at fields for early morning soccer games when the grass is still wet.
Click and Send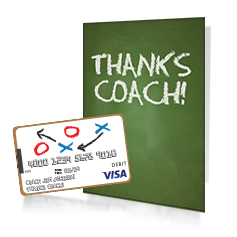 If you want to send a thank you gift to the coach but don't have time to use our free printable gift card holders, then order the "Chalk Talk" gift card online and let us send it for you.
Simply choose the "Chalk Talk Visa gift card" and select the standard greeting card carrier. Take a couple of seconds to personalize the gift card and add a note to the greeting card. Add shipping and payment information and place your order. In a couple of minutes, your card will be processed and you can get back to watching the game.
More on Pinterest
If this holder isn't exactly what you're looking for, then check out the other coach thank you gift ideas on the
free prints page
or follow
Gift Card Girlfriend on Pinterest
. If you use this printable, send me a link to your page in the comments below or contact me on Twitter
(@GCGirlfriend)
. I want to see what inspires you.
Happy Gift Carding!
~Shelley Hunter, Gift Card Girlfriend