Friday 8.15.2014
Top Gift Cards for Women
Best Types of Gift Cards for Women + 10 Nationwide Gift Cards to Please the Ladies you Love!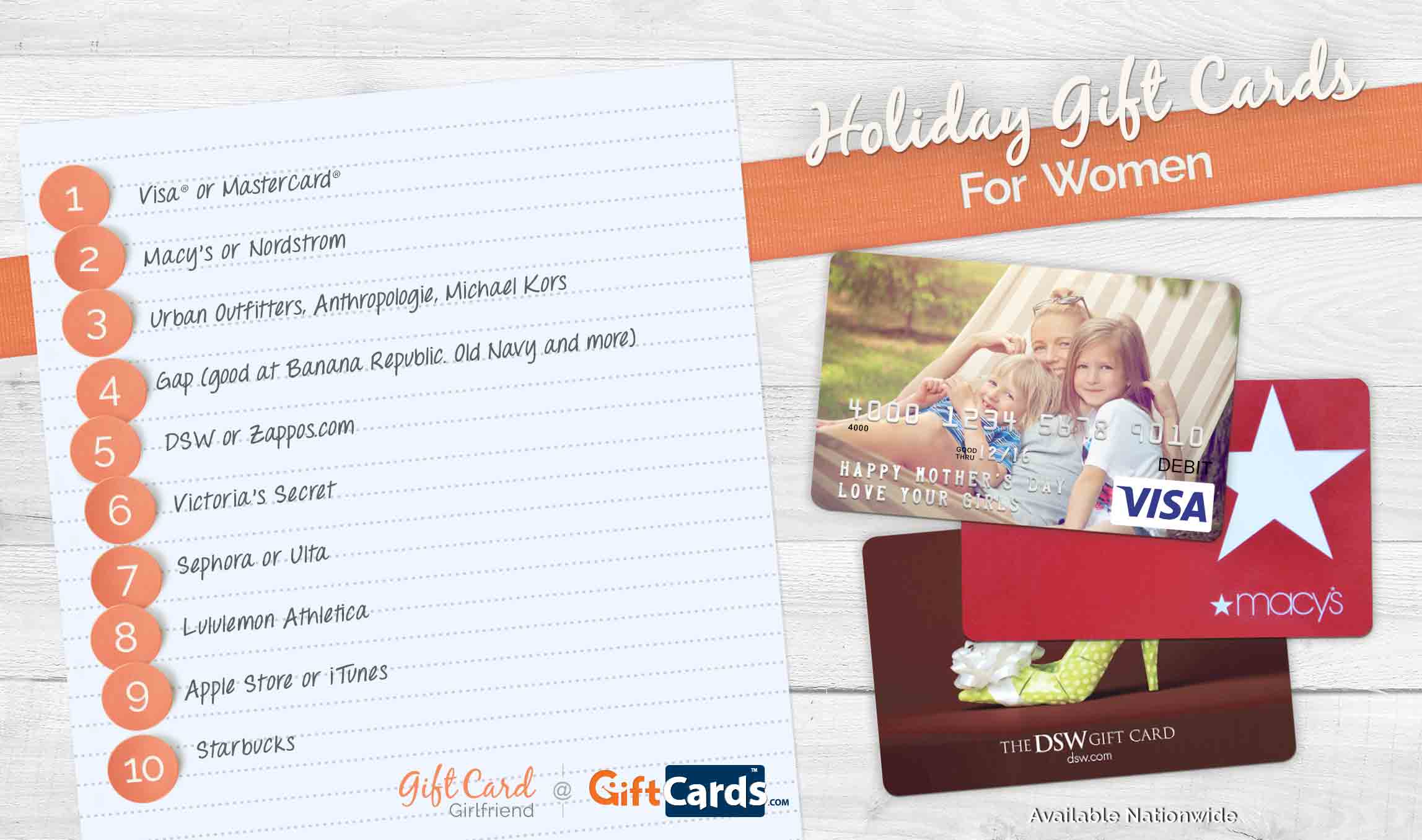 Before I had kids, I shopped Ann Taylor, Banana Republic, and other stylish stores in the mall. Though I kept a modest budget and shied away from high-priced boutiques, I bought nice-enough clothes. Now, with three active kids, volunteer work, and a full-time job to keep me busy, I only have time to buy clothes in the same stores that carry the milk and bread on my grocery list.
My wardrobe reputation has also been tarnished by other people's sweet generosity. The boat neck blouse, the ankle strap heels, and the corduroy blazer I received as holiday gifts, all should have gone back to the stores from which they came. But I didn't have time to return the items, so I kept them. I didn't have money to buy other clothes, so I wore them. (I really shouldn't have. Boat necks do not look good on me.)
So at the risk of sounding selfish and ungrateful, I make a plea on behalf of busy women everywhere. Please get gift cards for women so we can make one trip to the store (or shop online) to get the things that best fit our needs and our style.
Below are the five best holiday gift cards for women:
1. Visa or Mastercard® gift cards
Whether she chooses to buy her clothes at the mall, at a boutique, or in aisle seven of the warehouse store, universal gift cards issued by Visa or Mastercard can be used to make the purchase. Busy women can even use these bank-issued gift cards to get a haircut, visit the spa, pay a parking ticket, or enroll in culinary academy. Whether shopping online or in-store, this is a time-saving gift card that can be used in multiple ways.
2. Personalized Visa or Mastercard gift cards
Exactly the same functionality as the gift cards above, but with one distinction—personalization. These custom Visa or Mastercard gift cards can be personalized with photos, text messages, and greeting card gift card holders. Women will enjoy the flexibility of bank-issued gift cards, plus will appreciate the dose of personality that comes along with them.
3. Department store gift cards.
Women are not typically secretive about where they shop. If you compliment her blouse, she'll tell you where she bought it. If you comment on her necklace, she'll tell you where to buy the bracelet that goes with it. With just a little bit of effort, you can find out at which stores she regularly shops, and get gift cards accordingly. Department store gift cards are popular with women because they carry a wide selection of merchandise, are often conveniently located, and can be redeemed online as well.
4. Specialty gift cards
Despite being pressed for time , many women still make detours to their favorite specialty stores like Victoria's Secret, Lululemon Athletica, and Anthropologie. A gift card to indulge her guilty pleasure will be a welcome treat.
5. Girls Night Out gift cards
Nothing blows off steam like a night out with the girls—laughing, commiserating, or celebrating. Whether it's a pottery party at Color Me Mine, one of the new "painting and sipping" classes everyone is talking about, or a simple get-together at a local restaurant, women will appreciate a night out with friends and the gift card that makes it all possible.
When it comes to getting gifts for women, the gesture of taking time to pick out a traditional present will not go unnoticed. But the likelihood that you'll get it right—the right clothes, the right style, the right accessories, and the right size—is slim. So rather than waste your time searching for presents that will probably get returned or worn with regret (curse the boat neck blouse!), get gift cards for women instead. It's the best gift for busy women this holiday season.
Happy Gift Carding!
~Shelley Hunter, Gift Card Girlfriend