10 creative ways to collect gift cards at your wedding reception, bridal shower or engagement party. Find the perfect gift card holder for your wedding.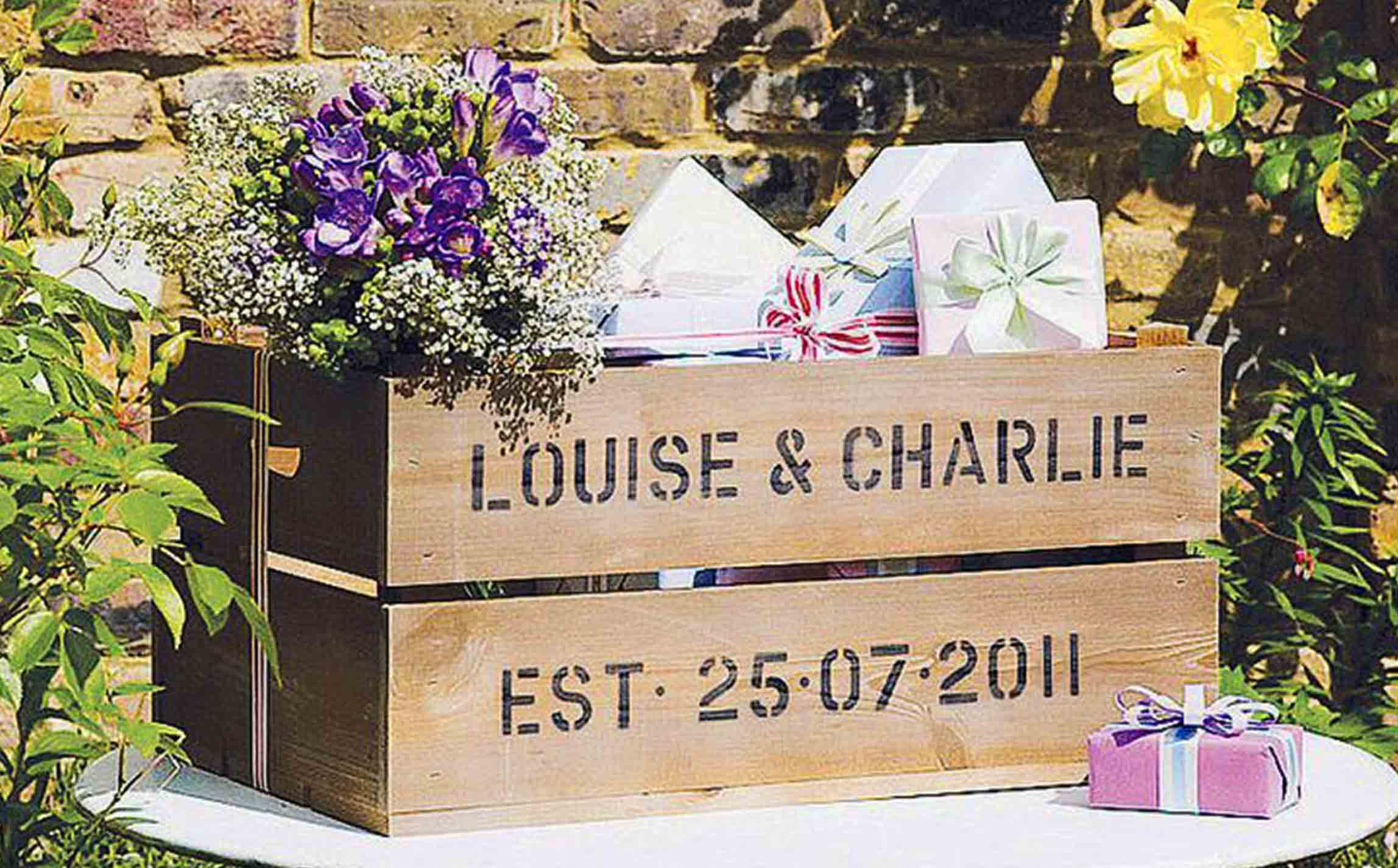 Personalized Wedding Gift Crate NotOnTheHighStreet.com
Savvy Couples Register for Gift Cards
Although many couples still request traditional gifts for their bridal showers, engagement parties and weddings, I haven't purchased anything other than a gift card for newlyweds in years.
I'm a practical gal. Remembering the impractical things my fiancé and I registered for many moons ago reminds me that newlyweds are more likely to need a toilet brush than brushed nickel dinnerware.
Sometimes I get creative with wedding gift cards, such as giving an active couple a sporting goods gift card, or giving a couple of starving students a grocery store gift card, but most often, I give a gift card to the store at which the bride and groom are registered…just in case they really do want fancy place settings.
If you've been trolling Pinterest, you'll notice I'm not alone in my gifting choice. Gift cards are the most popular item on wish lists from holidays to birthdays and beyond. Gift registries are no exception. Savvy brides and grooms put gift card holders on their gift tables to make it easier for guests to know where gift cards are being collected.
10 Ways to Collect Wedding Gift Cards at the Gift Table
Of the gift card holders I've seen (and pinned on my Wedding Gift Table Pinterest board), I prefer the ones that can be used in the couple's home after the party is over. I also like displays that go along with the theme of the party and holders that can be made secure to deter theft. There are many ways to collect gift cards at your wedding and below are a few of my favorites:
1. Stacked Gift Card Boxes and Hat Boxes
Whether you create a wedding gift card box of your own or buy one of the beautifully decorated gift card boxes on Etsy, there are many benefits to using a box or hat box to collect gift cards on the wedding gift table.
First, this is a relatively inexpensive idea because you can wrap and stack boxes on your own and tie the bundle all together with a simple ribbon. Second, by adding a small opening to the box, gift cards can easily be deposited but can't be removed without some effort. Creating both a large and visible display that's difficult to open is a good way to prevent gift cards from being stolen at your wedding.
(Read other ways to prevent gift card theft.)
Find adorable wedding gift boxes and wedding hat boxes like the ones shown below at Jamie Kim Designs.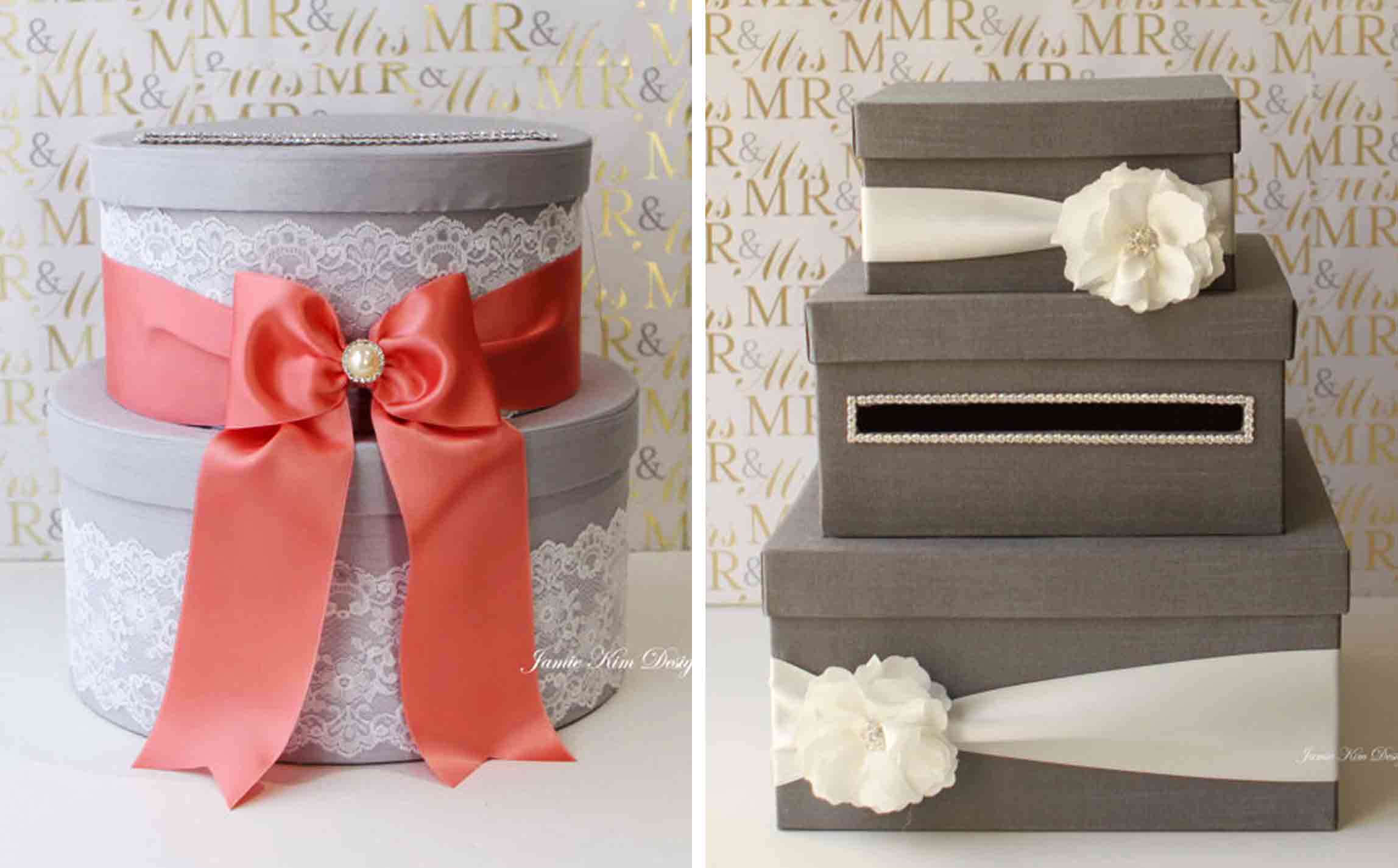 2. Gift Card Birdcages
I've had a vintage metal birdcage sitting on a shelf in my living room for over a decade, not knowing when I got it, that birdcages would turn into a wedding season staple. A couple of friends have borrowed it already to hold gift cards at various wedding receptions.
Though this beauty came from an antique shop (I think), you can buy a variety of wired gift card holders at craft stores, home design stores and several online shops. I like these adorable gift card birdcages from The Lace Moon.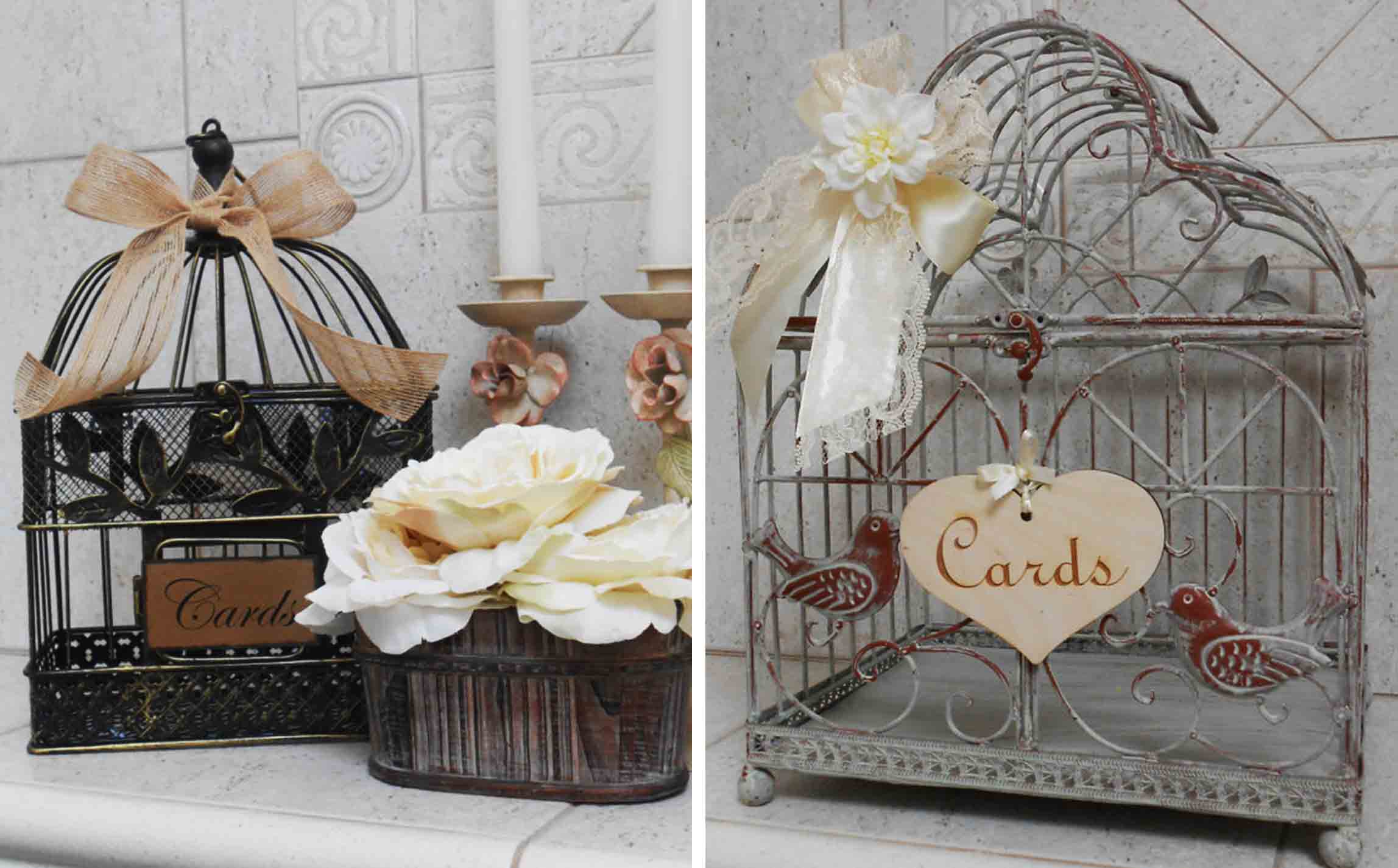 3. Gift Card Suitcases
Talk about an upgrade! A vintage suitcase goes from drab to fab when it's converted to a wedding gift card holder.
Dig through grandma's closet or hit up local garage sales to find an old school suitcase, briefcase or other travel bag. Flip it open, get out your burlap, ribbon and other embellishments, and get ready to create a one-of-a-kind gift card holder that will be pretty enough to put on display even after the ceremony is over.
Although a gift card suitcase is perfect for any wedding, it's especially appropriate for destination or travel-themed weddings. Put it on the gift table at the reception, then use the luggage to store wedding albums and other keepsakes afterwards. The gift card suitcases below are from The Shabby Chic Wedding on Etsy.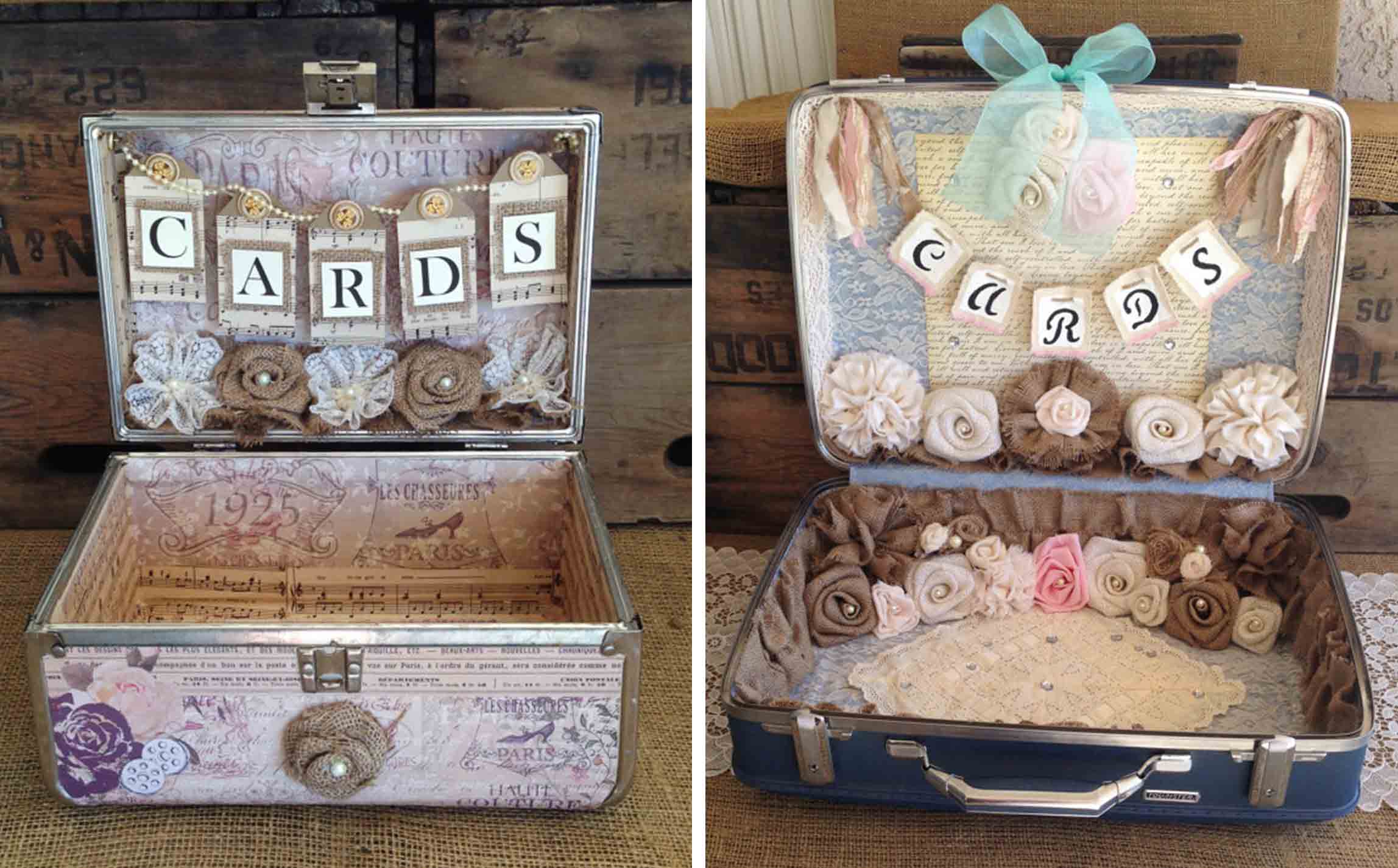 4. Gift Card Crates and Barrels
Setting up a gift card display on your wedding gift table can literally be as simple as putting a basket on the table and tossing the first few gift cards into it. Subsequent guests will follow your lead and drop their cards into the basket as well.
By "basket," I do mean all sorts of crates and barrels. This D-I-Y tutorial on Love of Family and Home is a perfect example of turning a simple bushel barrel into an adorable gift card holder.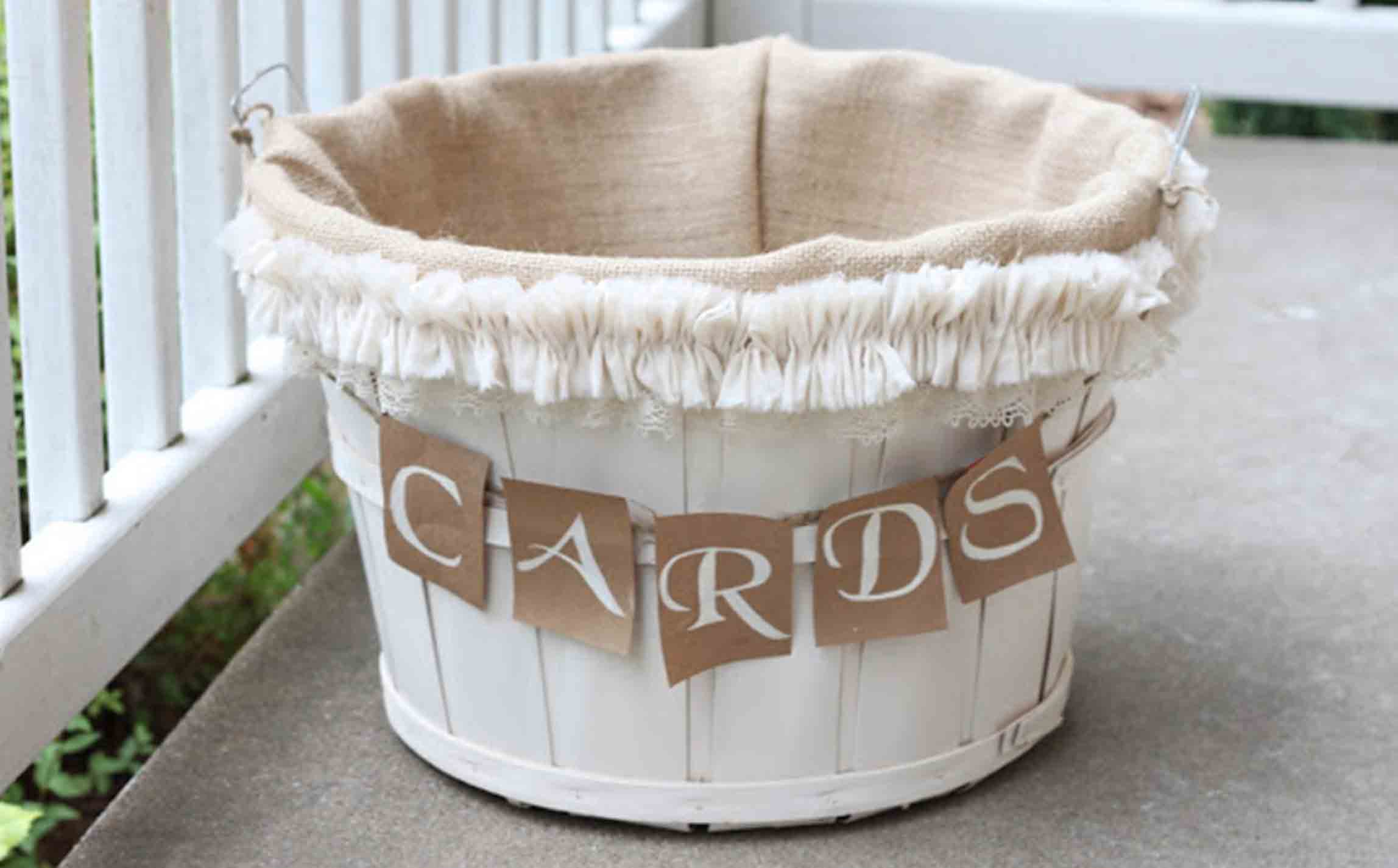 5. Gift Card Mailboxes
Well it makes sense that the best place to put a card is in the mailbox. Notice how simple the gift card holder below is–a white mailbox with a burlap ribbon. No extra banner, ribbon or flowers needed.
You can buy a brand new, white mailbox on Amazon.com for less than twenty bucks.
If you want more of a distressed look, check out local flea markets, garage sales and salvage yards. When we replaced the mailbox in front of our house, I put the old mailbox on Craigslist (for free) and it was gone the same day.
Special thanks to a Pinterest User for posting the gift card mailbox below.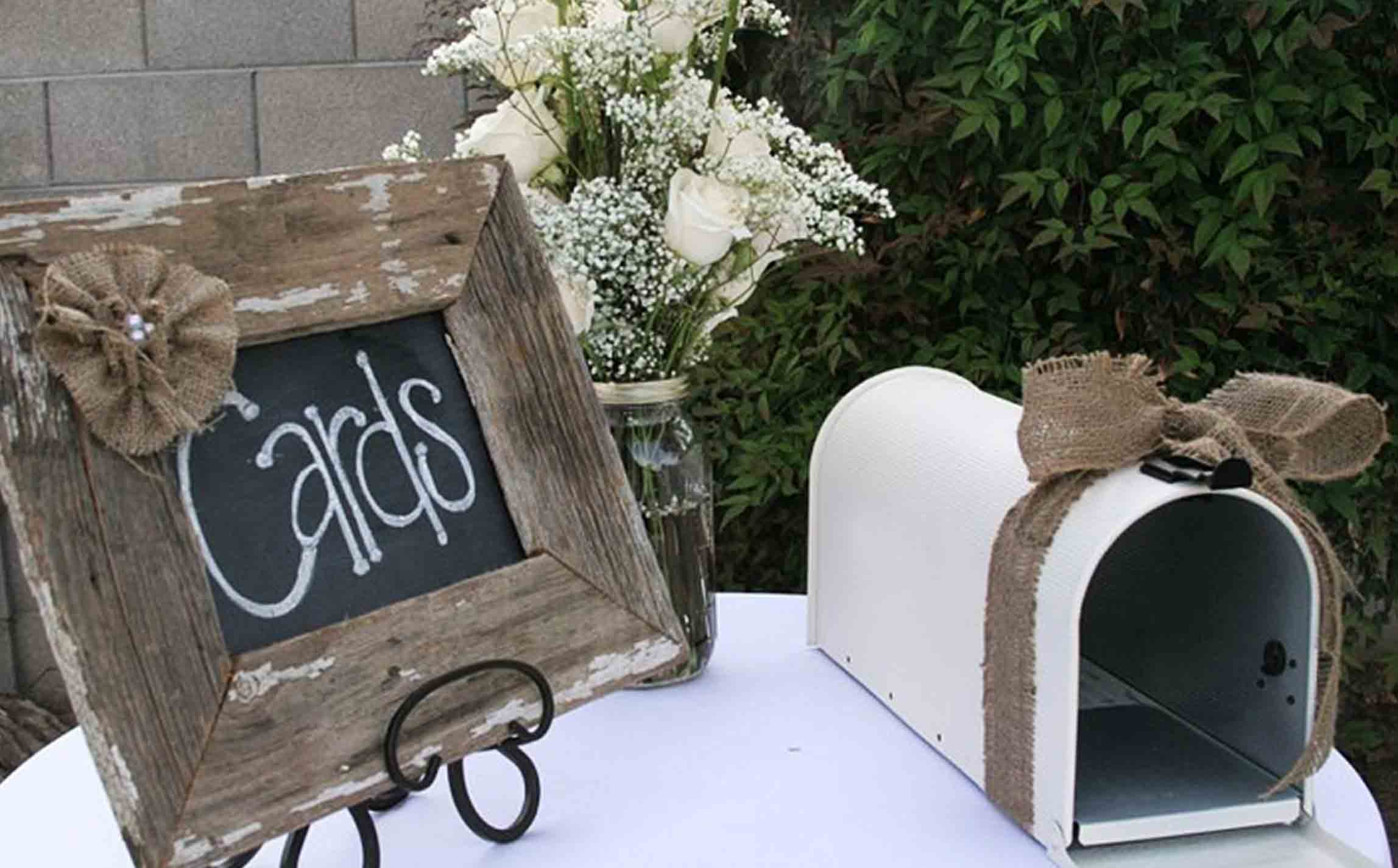 6. Gift Card Houses
From the simple to the extreme. Check out these gift card houses, each handcrafted and customized with the bride and groom's name on the door.
I want to say that you can make this yourself, but I'm not sure you can unless you are super crafty, have woodworking tools and are very patient. I do, however, think you might be able to use a miniature doll house as a starting point or a mailbox that looks like a house. I'm not sure any will match the design and detail of those provided by Door County Woodworks. Very impressive.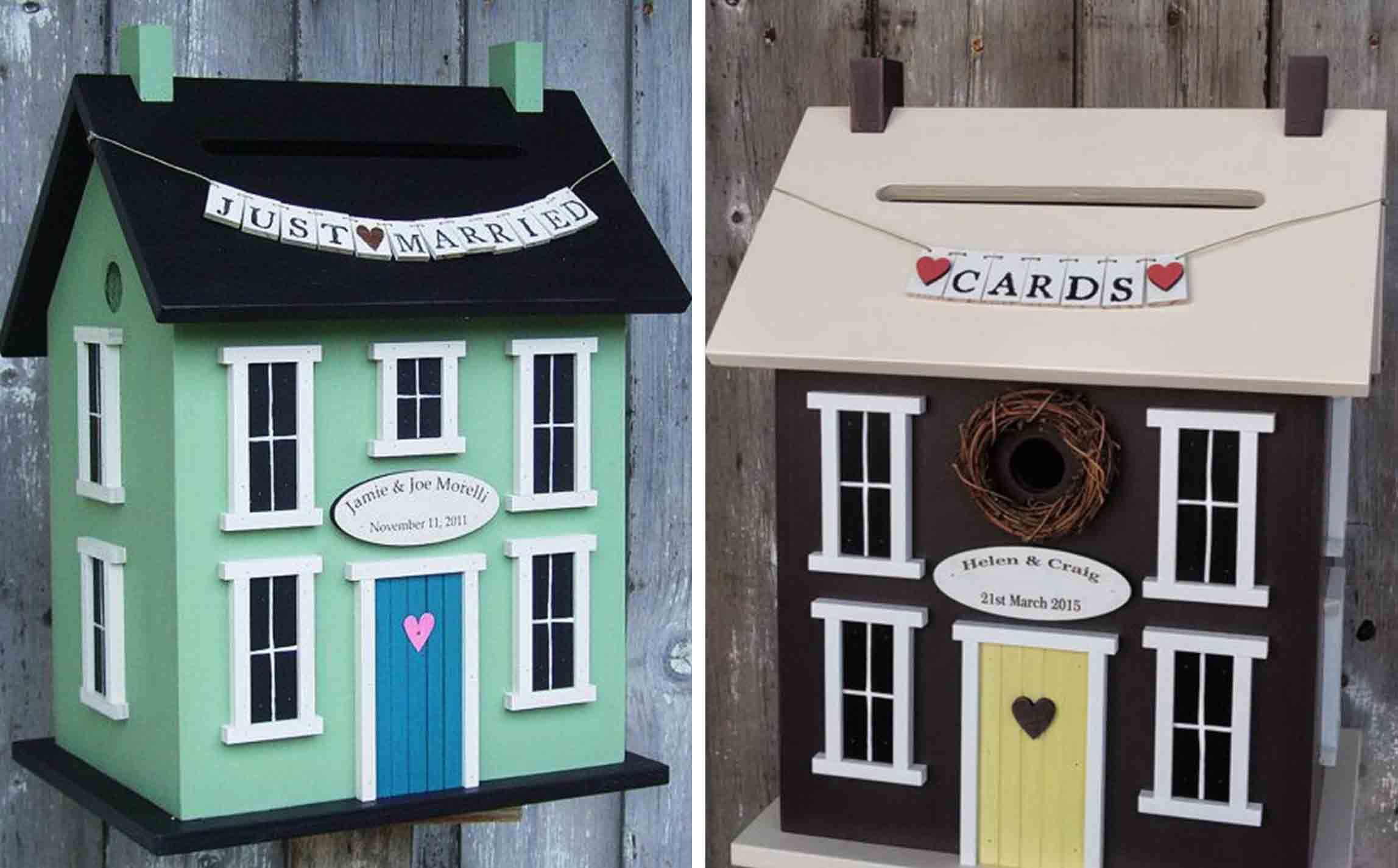 7. Wooden Gift Card Boxes
If you do a search on the Internet with keywords "wooden box with deposit slot," you'll find a variety of beautiful boxes that could be turned into wedding gift card holders. Some of them look like suggestion boxes. Others look like donation boxes. Some are fancier with embellishments, and others are plain. Some even have locks on front, which is a bonus for deterring gift card theft.
If you take "deposit slot" out of the search terms, you'll find wooden boxes without the slot. Those can still be used to hold gift cards if you leave the lid open or cut a slot yourself. Again, some boxes are more ornate than others, but all can be put on the wedding gift table with a little lace and a flower or two.
If you don't want to make the box yourself, check out ready-made boxes, like the one pictured below, at Jumbled Brains.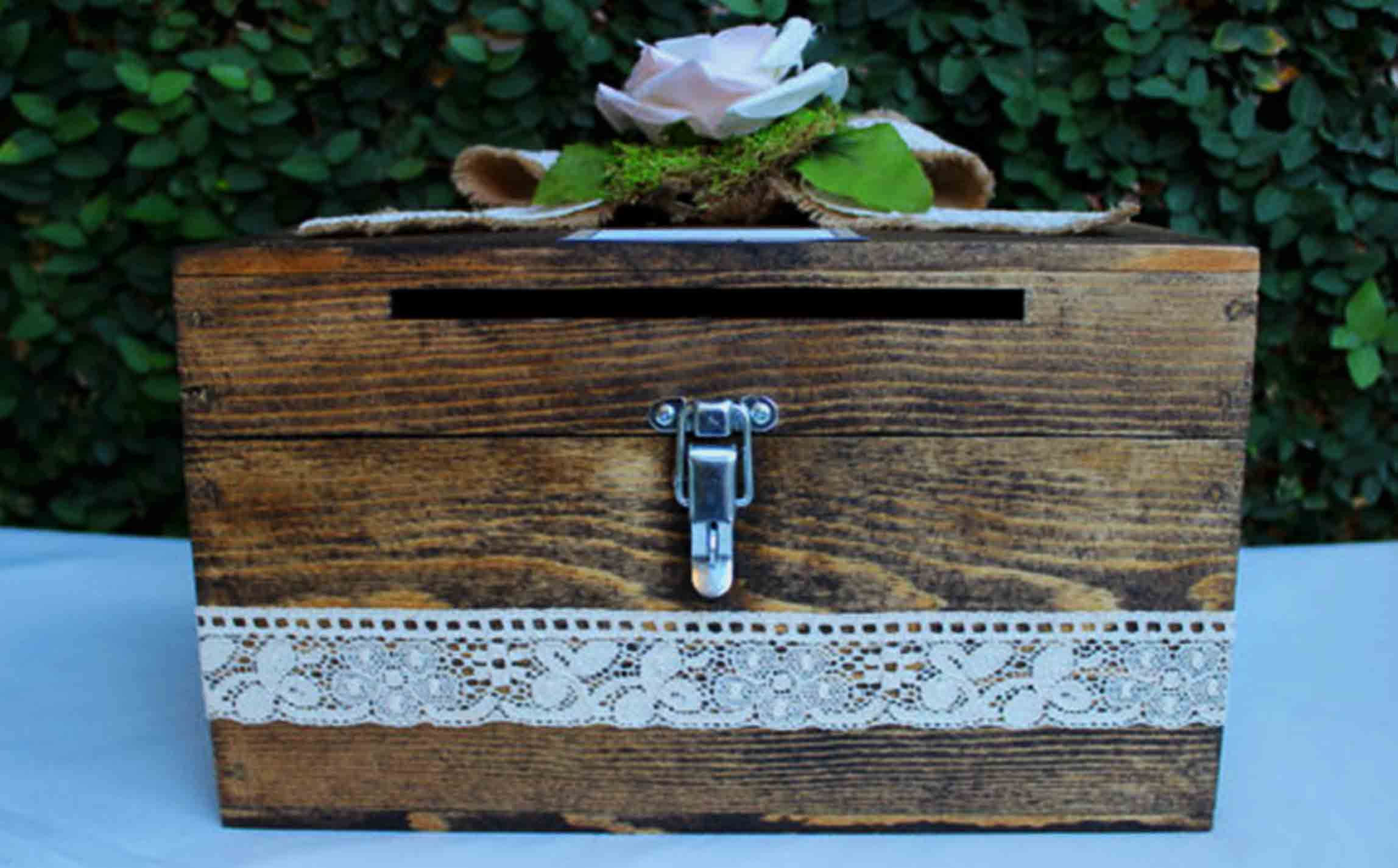 8. Gift Card Trunks
Bigger than a breadbox and probably bigger than a suitcase too, a trunk can be used as a gift card holder as well.
Trunks are available at home decor stores, garage sales, flea markets and more. They can be used as-is or adorned with embellishments such as ribbon, lace and flowers. You can even line the inside of the trunk with fabric to match the wedding if desired.
Small trunks can be placed on the gift table while larger trunks should be placed on the floor near the table.
Encourage guests to put cards and other small gifts inside, making it easier for the wedding couple to carry the trunk filled with small presents home after the reception is over. You might even give a trunk as a wedding gift or an engagement gift since it can be used for everyday storage at home.
Find beautiful gift card trunks like the one pictured below at La De Da Designs.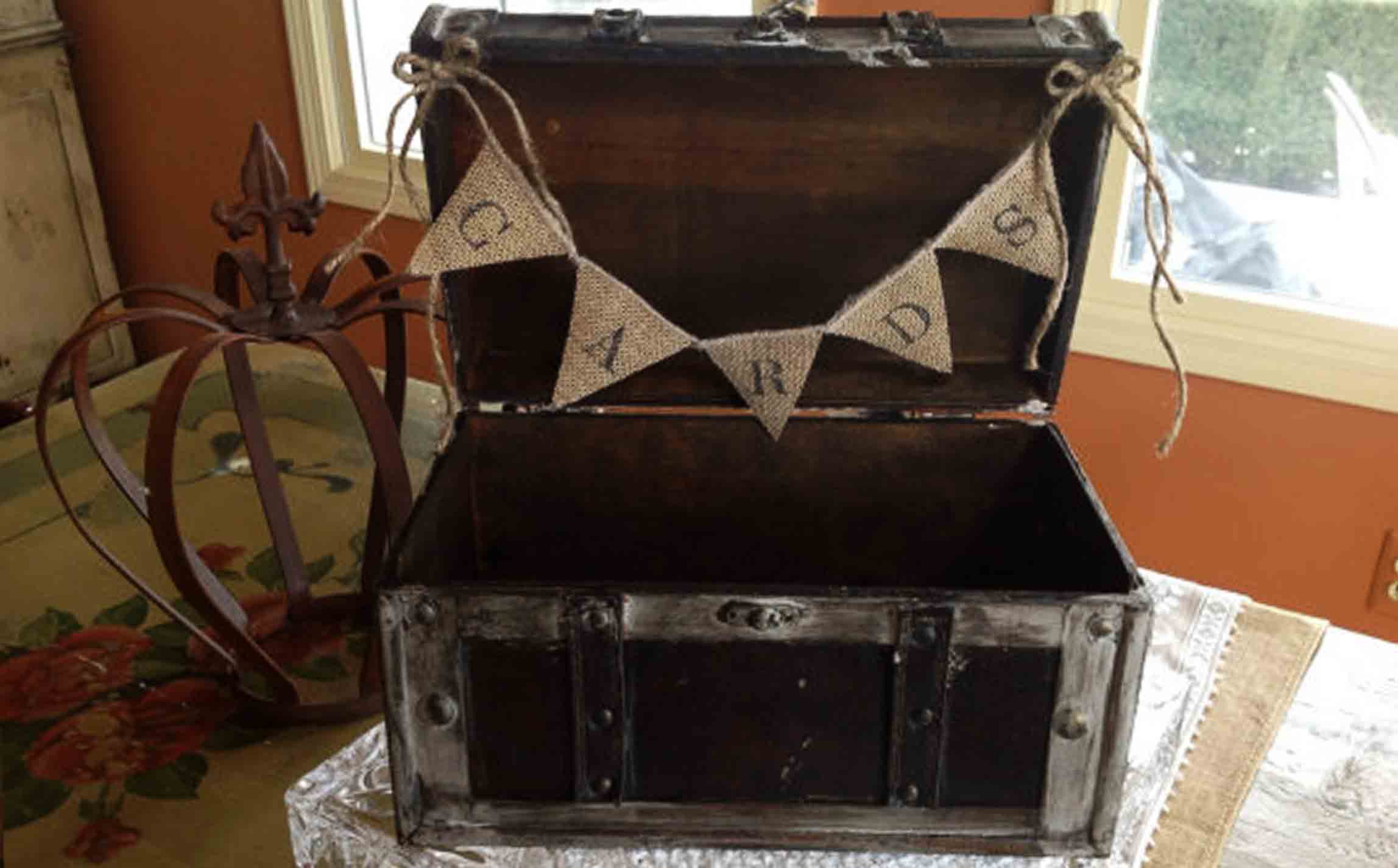 9. Wire Gift Card Baskets
From the elaborate to the insanely simple, this wire basket has nothing more than a "cards" banner on it for decoration, yet it is perfectly suited to hold gift cards on almost any wedding table.
While searching for the best wedding gift card holders, I found several baskets to choose from, but I also found simple banners to buy instead. There are burlap banners for the country wedding, elegantly layered paper banners for the formal wedding and wood burned banners for the rustic reception. Craft stores carry all the supplies you need to make a banner yourself, but you can also buy a finished banner online from stores like The Glittered Barn (banner pictured below).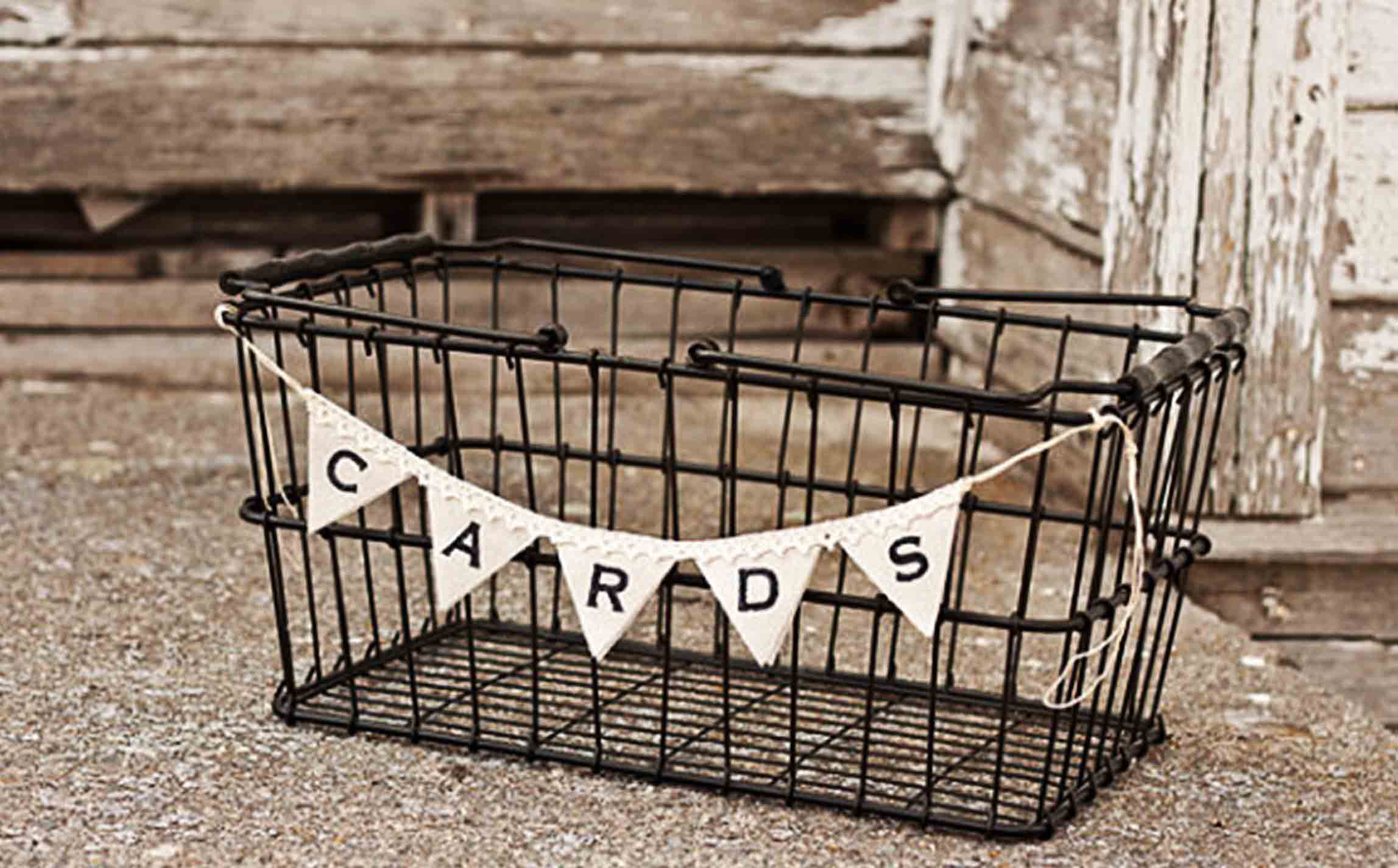 10. Tree Stump Gift Card Holders
I know you did not see this one coming because neither did I.
If you want your nature-loving bride to be happier than a woodchuck in a lumber yard, hollow out a tree trunk and turn it into a gift card holder.
I've seen a couple of versions online. One style is made from an actual tree trunk with a box hidden inside, another version is a faux trunk wrapped around a bucket or smaller circle hat box. I found both of these tree trunk gift card holders below on Pinterest ("M & K" on the left (link removed from Pinterest), "Michael & Andrea" on the right.)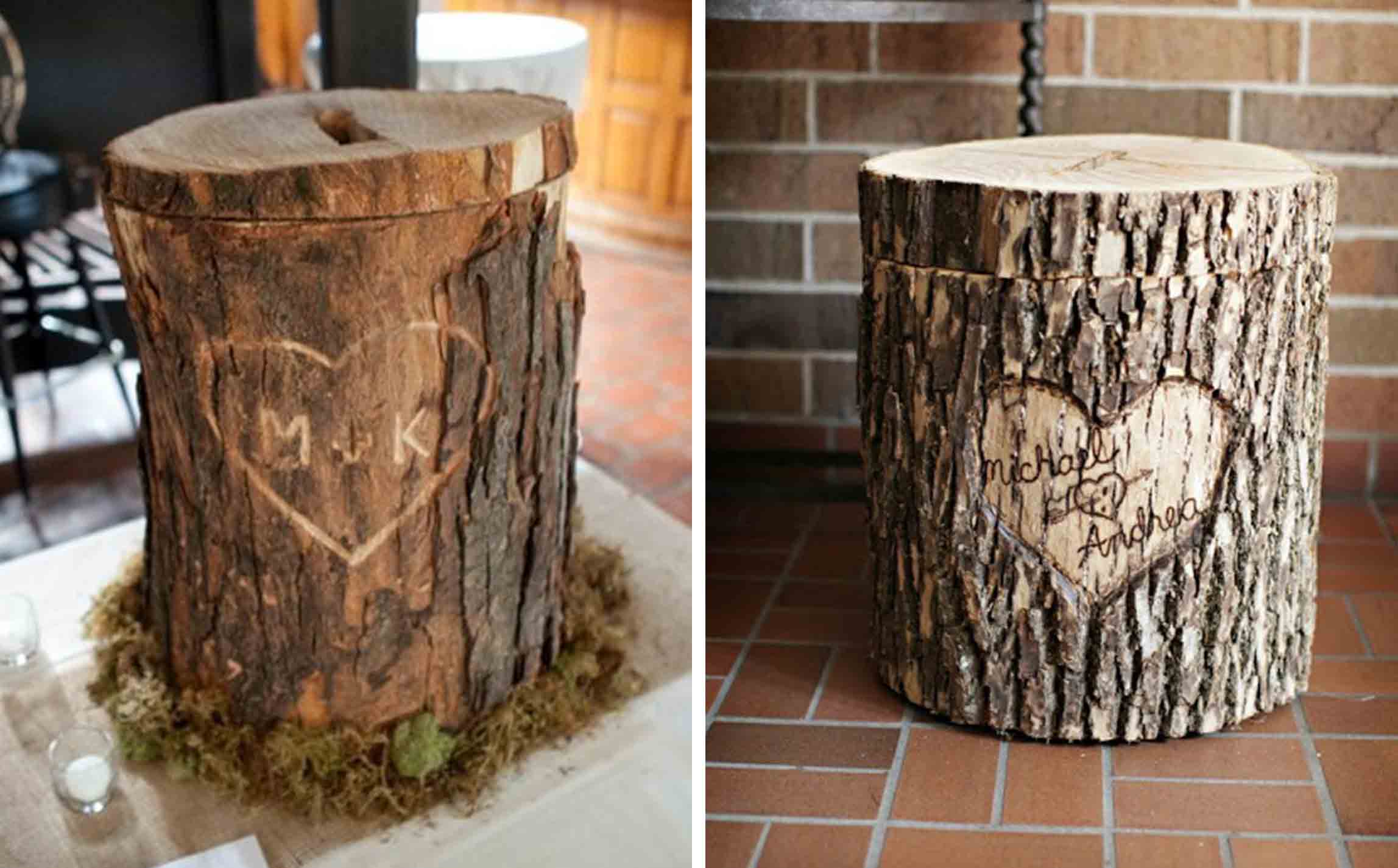 With the popularity of gift cards at weddings, the creativity of gift card holders is only on the rise. Though we may eventually see all gifting moved to digital format–and egift cards are no exception–people still like to bring physical gifts to the party. So as long as there is a need for a wedding gift table, there will also be a need for wedding gift card holders.
If you have any other creative suggestions, please send them my way. "I DO" appreciate hearing from you.
Reach out to me in the comments below, on Twitter (@GCGirlfriend) or on Instagram (@Gift.Card.Girlfriend).
Happy Gift Carding!
~Shelley Hunter, Gift Card Girlfriend