Ten of the best gift cards to buy for a wedding reception, bridal shower or engagement party, chosen from top stores and restaurants in the country.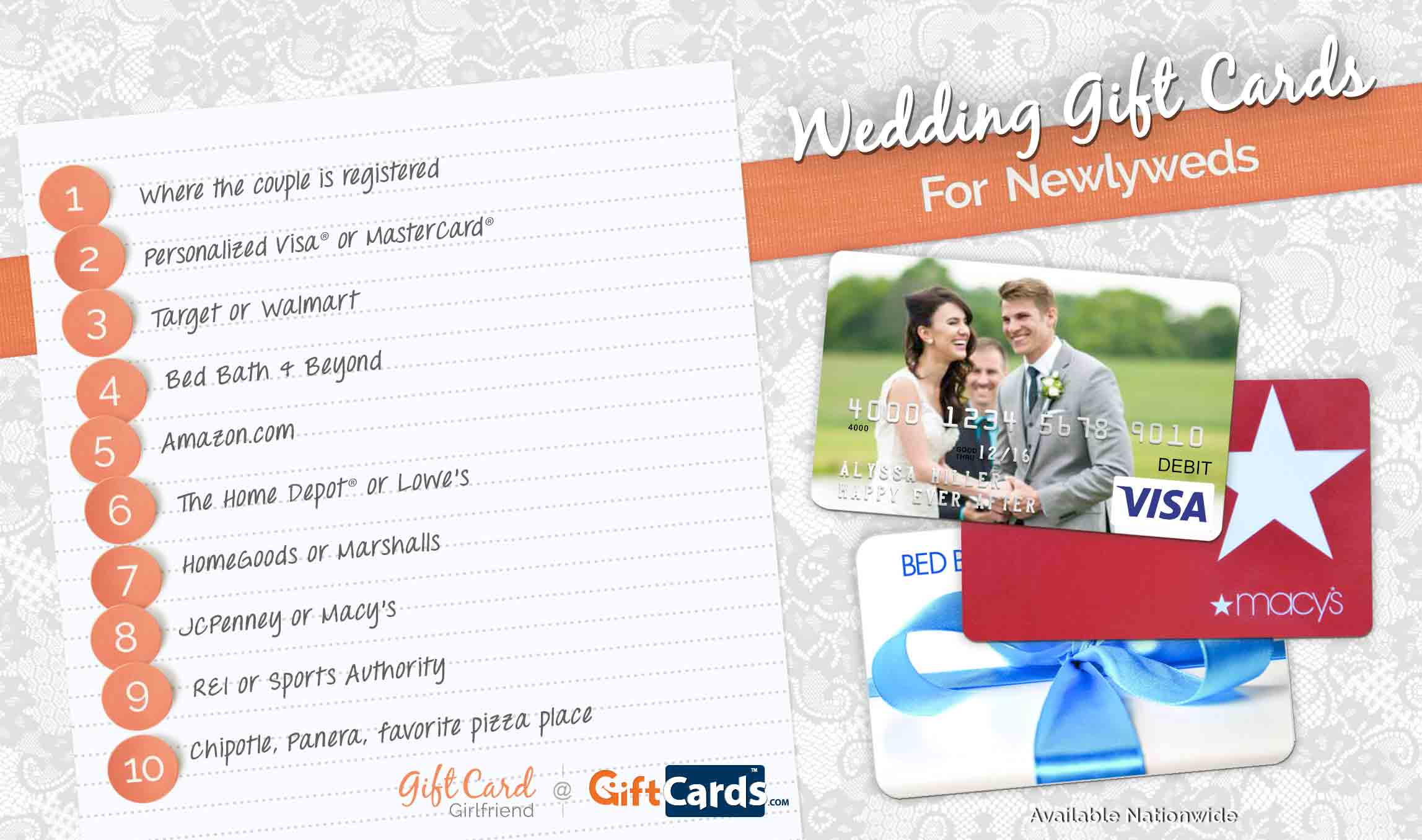 Wondering what gift card to buy for the bride and groom? Have a bridal shower on the calendar and want to pick up a gift card on the way to the party? Below is a list of the ten best gift cards to buy for newlyweds, selected from nationwide retailers to make it easier for you to buy and for the happy couple to spend.
1. Where the Couple is Registered
The easiest and best wedding gift card to buy is the one listed on the bridal registry. If the newlyweds registered for gifts at a store such as Target, Bed Bath & Beyond, Macy's or another department store, then simply get a gift card to that store. On every wedding registry I've seen, gift cards are listed as an item you can put in your online shopping cart and have delivered to the happy couple, typically free of charge. A gift card on the wedding registry is, in my opinion, the best wedding gift to buy because you know the couple will use it and the store will ship it directly to the couple's desired address.
2. Visa Gift Card or Mastercard® Gift Card
For ultimate flexibility with a side of sentiment, order a personalized Visa gift card or a Mastercard gift card that can be used to buy almost anything. Upload a picture of the couple when they were first dating, use their engagement photo or send the card after the wedding using a snapshot you took at the ceremony. The card will be easy to use but hard to get rid of–most people I know keep personalized gift cards even after the value has been redeemed.
3. Target or Walmart
I just read a report that says Millennials prefer Walmart to all other stores, with Target being a close second. The report further says that people ages 25-34 years old are growing up, getting married, and starting families amidst rising personal debt (and outstanding student loans) requiring them to focus more on saving at the cash register. Both Walmart and Target meet their needs. If you're buying a wedding gift for a millennial couple, then a Walmart gift card is right on "target."
4. Bed Bath & Beyond
Since Bed Bath & Beyond tops the list of best places to register for your wedding, their gift card gets props from me as well. A Bed Bath & Beyond gift card can be used to buy a variety of housewares from cutlery to towels, shower curtains to laundry baskets and even infomercial darlings like Oxiclean, the PedEgg and The Mattress Genie. The store also lets registered couples buy remaining gifts on their registry for a discount. So you could actually save the newlyweds some money if you give them a gift card instead of a gift off the registry because they can use the gift card themselves to buy leftover wishlist items for less.
5. Amazon.com
Amazon.com is the "go to" destination for nearly all of my shopping needs. When my time is constrained (which is pretty much every day), I find it easier to click, order and ship than to get in my car and drive to the store–or, as is often the case, drive to several stores. I have to believe that newlyweds are probably crunched for time as well, particularly if they are setting up a home together for the first time. With a gift card to Amazon.com, the couple can comparison shop and redeem the gift card while writing thank you notes or watching their wedding video for a fifth time. To make shopping even easier, send a digital Amazon.com Gift Card because it can be accessed and redeemed right from a phone.
6. The Home Depot® or Lowe's
With a gift card to a favorite home improvement store, newly married couples can shop for home project supplies or even finished projects. For example, they can pick up new tile for the bathroom or new patio furniture for the backyard–one means work, the other means play. The Home Depot and Lowe's both sell great outdoor plants, welcome mats, picture hanging kits and more. With so many things to choose from, there's bound to be something the happy couple needs.
7. HomeGoods or Marshalls
When it comes to stretching dollars, HomeGoods and Marshalls are great stores to help newly married couples get more for less. With designer housewares and bedding at budget prices, a gift card to either store will allow the couple to get their shared abode in order after the wedding.
8. JCPenney or Macy's
Macy's and JCPenney also have wedding registry services that couples can use to put china, silverware and other household items on a wedding wishlist. With a gift card to either store, the couple can purchase said items for their home or they can buy more personal products such as clothing, beauty supplies and more. Both stores also have a "completion offer." JCPenney gives registered couples a 10 percent discount on items not purchased from the registry and Macy's offers 15 percent off on remaining items plus anything new the couple wants to add, plus 10 percent off on furniture and a few other exceptions.
9. REI or Sports Authority
I firmly believe that the couple who plays together, stays together. And not to be sexist, but I don't know as many grooms who get as excited over monogrammed towels, tea cups and toasters as their fiancés do. So one way to kickstart a good marriage is to help the happy couple stay happy with a gift card to REI or another outdoor sporting goods store. The couple can use the gift card to buy his and hers hiking boots, water bottles and backpacks. If the couple has an outdoor honeymoon planned, then all the better.
10. Favorite restaurant
When I think back on all the transitions I've had in my life from getting married and moving to having a new baby or starting a new job, the service I most appreciated through the life upheaval has to be getting meals delivered. Homemade is great, but a restaurant meal is just as appreciated because it means I'll eat a good dinner without having to pay for it, cook it or find what box the pots and pans have been stored in. Give newlyweds a gift card to a favorite restaurant so they can eat without worry as well.
In addition to these gift cards that are available nationwide, I also encourage you to consider buying a gift card to a local store or restaurant. Just be sure the business is conveniently located for the newlyweds and that it has a variety of merchandise or services to choose from. You can also get creative and buy a gift card to a local grocer (everybody has to eat), a downtown spa (we could all use a good massage) or a nearby cultural arts center (for date night). And if time permits, deliver the gift card ahead of time so the couple has the option to use the gift card on their honeymoon.
Happy Gift Carding!
~Shelley Hunter, Gift Card Girlfriend