This FREE printable Valentine gift card holder is a piece of cake to make–literally!
"Gifting Made Easy" by Gift Card Girlfriend
I'm a sucker for a good pun. Pairing gift cards with small tokens or other gifts creates ample opportunity for me to dabble in word play, often turning ordinary gift cards into presents that seem quite purposeful and thoughtful.
Today's free printable Valentine's Day gift card holder is a perfect example of how the right words can make any gift card feel personal. The holder says "Being with you is a piece of cake." I'm pairing it with a gift card from the Cheesecake factory. It can also be used to deliver any gift card along with a homemade cake, a box of cake mix or a tray full of fancy cupcakes. All would be delicious gift card holders that tell the recipient you put thought and effort into making this special presentation for Valentine's Day.
Here are the steps needed to make this "Piece of Cake" Valentine's Day gift card holder.
Download Printable
In the pictures below, I added a Cheesecake Factory gift card because of the obvious "cake" reference. If you're not sure what gift card to give with this printable holder, check out my list of suggestions. I have your Top Valentine's Day Gift Cards for Men and Top Valentine's Day Gift Cards for Women. There's sure to be a gift card to match your needs.
Download Free "Piece of Cake" Valentine's Day gift card holder.
Make the Gift Card Holder
After downloading the Valentine's Day gift card holder, print it on a color printer using "best quality" and "actual size" settings. (Do not select "shrink to fit" or any other setting that will change the size of the printed .pdf image.) White card stock paper measuring 8-1/2 x 11″ works best. Cut the holder with a paper cutter using the trim marks as a guide.
You can simply use the gift card holder as it is, but I often like to add some extra layers of paper and other embellishments to give the card dimension. For this Valentine, I added a piece of pink cardstock to the back of the holder. Then I taped the gift card to the holder using some decorative tape. You can also use double-sided tape or a thin swipe of glue. Just be sure to avoid putting anything on the magnetic stripe on the back of the card. Although the card is quite durable, I take caution to avoid doing anything that would make the gift card unreadable.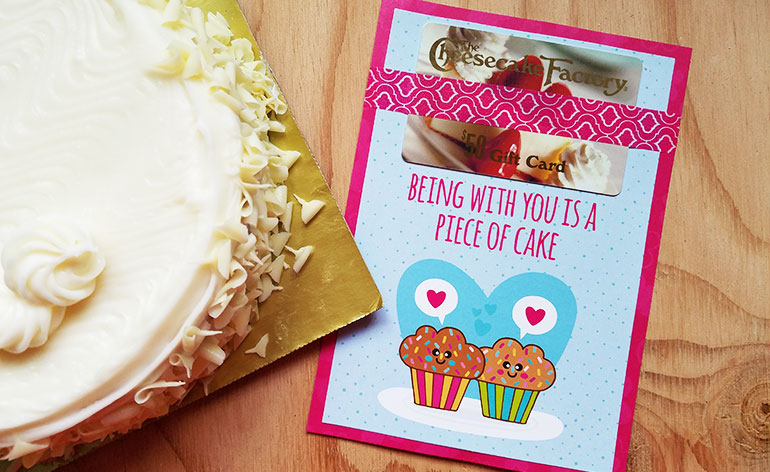 This gift card is ready for delivery with a cake I purchased from the store. If you don't have time to make a cake or if you want to send this Valentine to someone in the mail, then deliver it with a cake mix instead.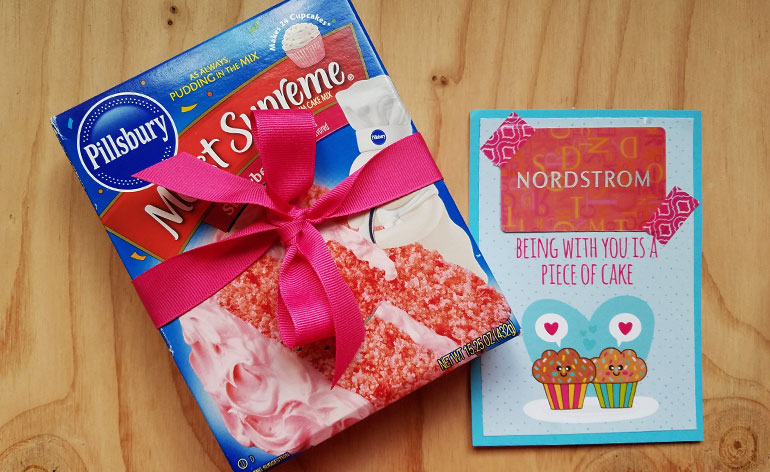 Did you notice that when I added the gift card holder to a cake mix, the gift card I selected became less important to the Valentine word play? The card and the cake mix complete the story. The gift card you add will be a bonus. You can add a Nordstrom gift card like I did, add a shoe store gift card or you can make a personalized gift card instead.
Any gift card you choose will work. Easy, right? Piece of cake? Yes!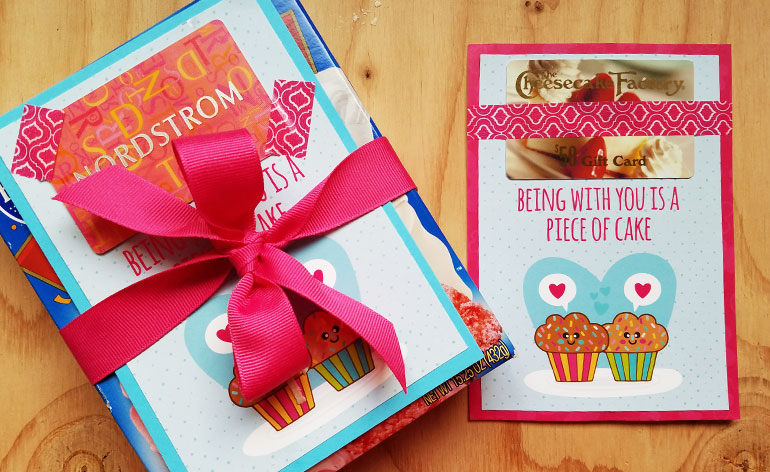 This lovey gift card makes the perfect Valentine gift, but it can also be given to your sweetheart as an anniversary gift or a loved one on a special birthday. For other ideas, follow Gift Card Girlfriend on Pinterest.
What other Valentine's Day puns do you think I should turn into gift card holders? Let me know in the comments below or contact me on Twitter (@GCGirlfriend). If I use your suggestion, I'll be sure to let you know.
Happy Gift Carding!
~Shelley Hunter, Gift Card Girlfriend