From Sephora to Spafinder, the 10 BEST GIFT CARDS to get for women, your girlfriend or your wife on Valentine's Day.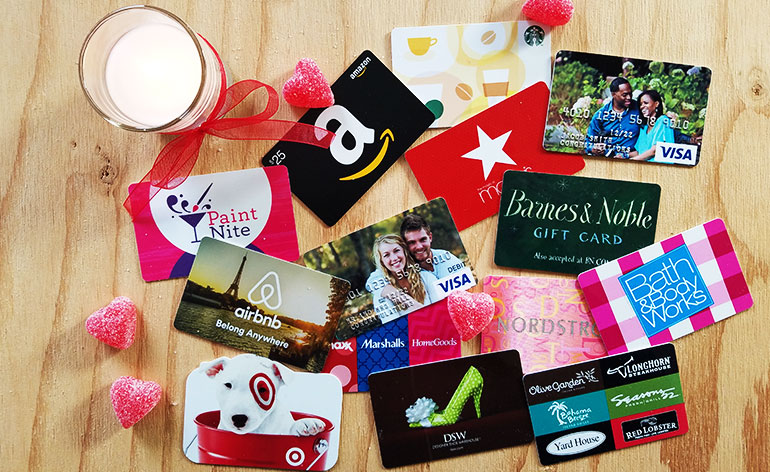 Top Valentine Gift Cards for Women
I know what you're thinking…if I get my girlfriend a gift card for Valentine's Day, she'll break up with me. Not true. In fact, a couple of years ago, we asked people to share their worst Valentine's day gifts ever and not one gift card made the list. Instead, some of the more creative gifts (like the beef sticks or the new toilet seat) were the ones that backfired. So open your mind to giving a gift card on Valentine's Day with these suggestions.
Now a little caveat. The challenge in creating a list of the top Valentine's Day gift cards for women, wives and girlfriends is that no two ladies are alike. So I expect you to take this list, cull through it, use it for inspiration and then add your common sense in picking out a present. If I suggest a Sephora gift card, for example, but your wife never wears makeup, then don't listen to me. Instead, pay attention to her habits, interests, wish lists and wants. I promise you, a gift card can be perfectly romantic if you use it to show your wife, girlfriend or friend that you picked it out because you took the time to notice the things she likes to do.
With that in mind, below is my Top Valentine's Day gift cards for women:
1. Personalized Visa or Mastercard
The reason this gift card tops the list is because your girlfriend can use it to shop wherever she wants. From her favorite boutique downtown to the mega shoe store at the mall, if debit cards are accepted, this gift card will be as well. To make general use gift cards more romantic, find a picture of the two of you together and upload the image to make your own Visa® gift card. She will love the sentiment and appreciate the flexibility.
BUY IT HERE: Personalized Visa Gift Cards or Personalized Mastercard Gift Cards
2. Spafinder
In 2016, the Spafinder Wellness 365 gift card was voted one of the "Best Gifts for a Single Mom" by Faveable.com. If you're not familiar with this gift card, it's a single gift card that can be used at thousands of spas, salons and fitness centers across the country. I love this.
In the past, if I wanted to get a spa or salon gift card for a friend, I had to figure out exactly which place she liked to go and then, if possible, drive to that merchant to buy the card. Often times, I'd arrive only to find out that the shop didn't sell gift cards or that they only carried paper gift certificates.
With the Spafinder gift card, the entire spa gifting experience is better for both parties. I can buy a Spafinder gift card online or at a grocery store and the recipient can use it practically anywhere she wants. This is a great time-saving gift and one of my favorite new gift cards to give.
BUY IT HERE: Try Spafinder Gift Cards
3. Macy's or Nordstrom
The women in my family shop Macy's. When we go to this department store, I usually head towards the athletic wear or career clothing departments, my daughter steers toward the makeup counter and younger fashions and my mom goes straight to the shoe department. Some of my best friends, on the other hand, are Nordstrom people. In addition to regular visits, the gals stock up during the half-yearly sales and go out of their way to visit Nordstrom Rack every chance they get.
If you are looking to buy your wife, girlfriend or mother-in-law a gift card to a department store, then you probably know which one she likes best. Buy her a gift card to shop until she drops this Valentine's Day and she will love you more than ever.
BUY IT HERE: Macy's Gift Cards or Nordstrom Gift Cards
4. DSW or Zappos.com
This Valentine's Day, get your wife or girlfriend a gift card to her favorite shoe store and deliver it tucked inside a pair of heart socks. Add a little note that reads, "I'm ready to take the next STEP," "You are my SOLE mate" or "I'm lovesick and will never be HEELed." Too much pun for you? Then how about a simple "I love you like you love shoes." She'll get the message.
If you're getting a gift card for a woman you're not romantically involved with, then you can still get a shoe store gift card for Valentine's Day. Download this free printable gift card holder that says, "Life is Short, Buy the Shoes" for a super fun (and free!) gift card delivery.
BUY IT HERE: DSW Gift Cards or Zappos.com Gift Cards
5. Lady Footlocker, Athleta or Other Sporting Goods
For the sporty lady in your life, get a gift card she can use to buy a new pair of running shoes, leggings or a puffy vest. With fitness and yoga clothing being what many women wear on a daily basis, she doesn't have to workout hardcore or even take a yoga class to appreciate good-quality, yet fashionably-hip sportswear. Deliver this gift card with her favorite sports drink and a mason jar full of homemade Valentine granola for the win!
BUY IT HERE: Lady Footlocker Gift Cards, Athleta Gift Cards or Hibbet Sports Gift Cards
6. Sephora or Ulta
Voted Specialty Retailer of the Year by Women's Wear Daily in 2011, Sephora is a popular store among women, young and old. Ulta, which bills itself as "Home Depot for women," is another favorite beauty emporium. If your wife or girlfriend likes to wear makeup and she often tries different products, styles and fragrances, then hook her up with a gift card to one of these beauty supply stores that has a salon-type feel.
This free printable gift card holder that I made for Mother's Day can totally be re-purposed into a Valentine's Day gift card holder for a Sephora or Ulta gift card. On the inside of the gift card holder, add a handwritten list of the qualities you love about her beyond the way she looks.
BUY IT HERE: Sephora Gift Cards or Ulta Gift Cards
7. Starbucks, Panera or a local coffee shop
I don't even drink coffee, and I still have the Starbucks app on my phone all queued up with a reloadable gift card for easy payment because I like a warm drink on a cold day. Like many other women, I also like to meet friends in the cozy cafe. My girlfriends and I also regularly meet up at a local bagel shop for quick visits when we have time.
Whether the lady in your life likes to hang out at popular coffee shops or she prefers the quaint cafe downtown, get her a gift card she can use for a quick morning fix or a chat with friends. Drop it into this free gift card holder that says, "I like you a LATTE."
BUY IT HERE: Starbucks Gift Cards, Panera Gift Cards
8. Amazon or Barnes & Noble
There may be days when your sweetheart would like nothing more than to curl up on a cold February day with a good book to read. Get her an Amazon or Barnes & Noble gift card so she can do just that. Of course, she doesn't have to wait for the book to arrive if she has a Kindle or a Nook. Hand the gift card over on Valentine's Day and she can be absorbed in her reading by lunchtime. If reading isn't her thing, she can order one of millions of other products on Amazon instead.
Make this gift more romantic by delivering it with a homemade bookmark made out of photo booth images.
BUY IT HERE: Amazon Gift Cards or Barnes & Noble Gift Cards
9. Michaels or Jo-Ann Stores
Sewing and craft store gift cards are perfect for the DIY girl who isn't afraid to mess up a manicure with a little acrylic paint or who sews her own pillows so they perfectly match the sofa. Michaels and Jo-Ann store gift cards can be used for hundreds of crafting supplies, but they can also be used to pay for classes, custom framing and online orders as well. Get creative yourself when delivering this gift card by adding it to a love mirror with post-it notes or tucking it into a box of conversation hearts.
BUY IT HERE: Michaels Gift Cards or Jo-Ann Stores Gift Cards
10. Mulit-Store Gift Cards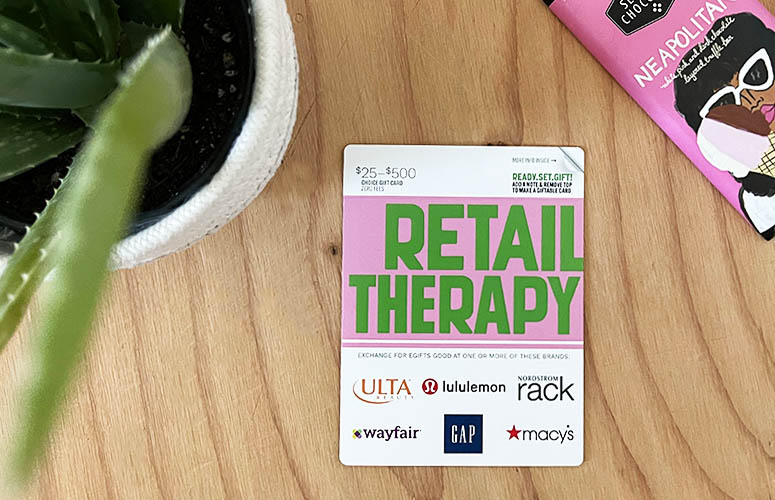 The new Retail Therapy gift card is a fan favorite. Each of the multi-store gift cards is usable at a collection of stores and restaurants. I also love the Treat Yourself gift card because it has so many fun options for people of all ages. But you can see the others by clicking the link below.
BUY IT HERE: Multi-store Gift Cards.
Other Gift Cards for Women
Although the cards on this list are mostly for nationwide retailers, you don't have to be locked into well-known stores. If your wife has a favorite coffee shop on Main Street, a boutique she stops by regularly on her lunch break or a nail salon she visits for special occasions, then get a gift card to one of those establishments. If your girlfriend is more into off-beat activities, then get a Groupon gift card so she can try a new adventure or get her an eBay gift card so she can shop for gently-used items. Even the most practical gift cards can be romantic if the person who receives the gift card can tell you selected it just for her.
Since it's Valentine's Day, take a few extra minutes to add a heartfelt note to any gift card you buy. Write down all of the reasons you love her, bake her a chocolate cake from scratch or slip the gift card into a calendar full of activities you have planned for the rest of the year. Do just a little bit more on this special day than you normally would. She's worth it.
Happy Gift Carding!
~Shelley Hunter, Gift Card Girlfriend