From the popular Starbucks Card to the unique Personalized Visa Gift Card, here is a list of The 11 Best Gift Cards for Teachers.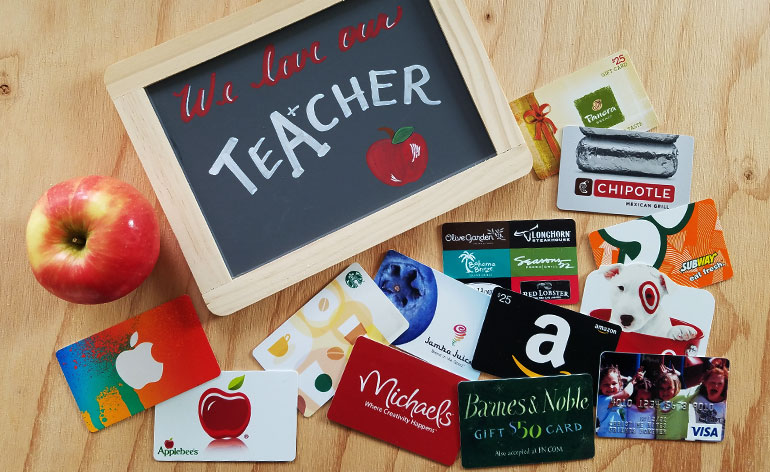 Top Valentine Gift Cards for Teachers
In addition to Teacher Appreciation Week, back to school time and year end teacher thank you gifts, many parents express gratitude to educators on Valentine's Day as well. But what is the appropriate amount to give a teacher and which gift card is best?
In Massachusetts, state laws prohibit teachers from accepting gift cards worth more than $50 and teachers must disclose accepting gift cards that are worth less. When I first heard about this law, I was a little puzzled because we frequently hear that teachers are underpaid and surveys show that teachers often spend their own money on school supplies. So giving a teacher a nice-sized gift card would seem like a good idea. But upon further review, I discovered that the law is designed to make sure gifts to teachers are not misconstrued as bribery. That makes sense. So what is the right amount to give a teacher? I'm no tax expert so I can't give specific tax or legal advice here, but I suggest keeping gift cards for teachers below the $50 mark, just to be safe.
Now let's get to the fun part. Below is a list of gift cards that are, in my opinion, the best Valentine's Day gift cards to give a teacher.
1. Visa or Mastercard
The homeroom teacher needs paper, the science teacher needs new beakers, the art teacher needs new paintbrushes and the physical education teacher needs new footballs for intramural games. With Visa® and Mastercard® gift cards, teachers can buy the supplies they need from the places they prefer to shop, including educational stores and websites. If the teacher doesn't need to use the gift card for school supplies, then all the better! To make the gift card more personal, make your own Visa gift card using a picture of the kids in the class.
If you don't want to make your own gift card using a personal photo, you can select one of our pre-designed gift cards. This one is perfect for teacher. It says, "It takes a big heart to shape little minds." Get the free Valentine's Greeting Card for Teacher.
BUY IT HERE: Personalized Visa Gift Cards or Personalized Mastercard Gift Cards
2. Amazon or Barnes & Noble
The way online bookstores like Amazon and Barnes & Noble have evolved, teachers don't have to limit their gift card spending with these merchants to just books. They can buy personal items as well as props and visual aids to make their jobs easier.
Since teachers spend the bulk of their days in the classrooms, another great benefit to getting an Amazon.com gift card is that teachers can do their shopping at lunch or while on a break without taking time to go to the store. Deliveries can be made to their homes, the schools or even secure Amazon Lockers. As an added bonus, if your school is signed up as an Amazon Affiliate or is part of the Amazon Smile program, then the school can earn a portion of the sale when the teacher redeems the Amazon.com gift card through the school's website.
BUY IT HERE: Amazon Gift Cards or Barnes & Noble Gift Cards
3. Target or Walmart
Since Target and Walmart carry a wide selection of merchandise, teachers can decide whether or not to spend gift cards to these stores on personal items or school supplies–maybe even a little of both. My son's Kindergarten teacher loved Target so much that she went there almost every day after school. So when it came time to collect money for a teacher gift from all of the parents, we knew exactly which one to pick for her. She loved it.
BUY IT HERE: Target Gift Cards or Walmart Gift Cards
4. Starbucks or Jamba
Starbucks, Jamba and other breakfast beverage restaurants are a popular choice for teacher gift cards because small dollar values are easily spent–even $5 can buy a morning caffeine fix or an afternoon pick-me-up. If your teacher has a favorite place she likes to stop each morning, get a gift card to that place so your teacher can start the day off with a little extra love this year.
Here's a cute way to give a Starbucks gift card. Use the "Thanks a Latte" free printable gift card holder.
BUY IT HERE: Starbucks Gift Cards or Jamba Gift Cards
5. Michaels or Jo-Ann Stores
Not only do craft stores carry traditional art supplies like markers and colored paper, but they also sell decorations, frames, wood projects and more. Creative teachers can use these gift cards to supplement their classrooms or decorate their homes.
BUY IT HERE: Michaels Gift Cards or Jo-Ann Stores Gift Cards
6. Staples or Office Max
In writing this list of best Valentine's Day gift cards for teachers, I'm including a mix of gift cards that can be used to benefit the teacher's classroom as well as gift cards that can be used for personal redemption too. Though I certainly don't think teachers need to use their gifts to buy school supplies, the reality is that many of them do. So a gift card that can be used to purchase office products such as paper, glue sticks, binders, tissues, hand sanitizer and more might allow the teacher to purchase items with the gift card so personal funds are freed up for personal needs. That's the idea anyway. When it comes to giving a gift card to pay for school supplies, stores like Staples and OfficeMax or Office Depot are the perfect choice.
BUY IT HERE: Staples Gift Cards or Office Max Gift Cards
7. SpaFinder or Retail Therapy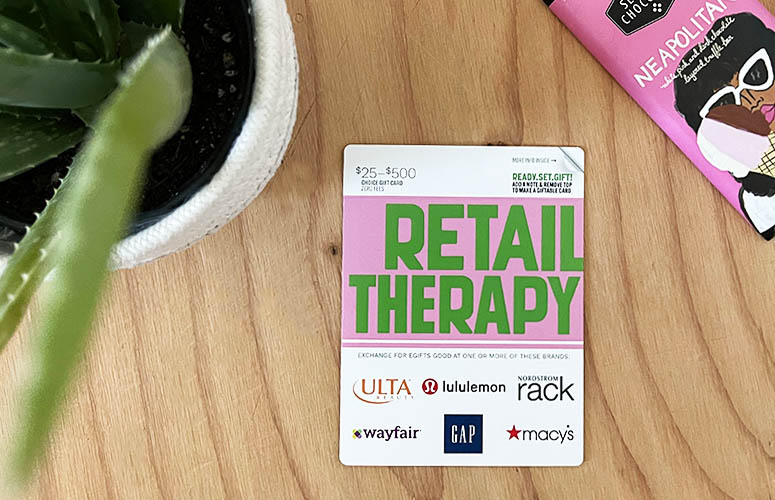 Leave the classrooms behind and get teachers gift cards they can use for some well-deserved pampering. With a SpaFinder gift card, you can give teachers access to literally thousands of spas, salons and other fitness locations with a single gift card. Or try the Retail Therapy gift card for a trip to the stores. Both offer fun and a choice of experience.
BUY IT HERE: Try SpaFinder Gift Cards or Retail Therapy Choice eGift Card.
8. Chipotle, Subway or Local Lunch Spot
Teachers often don't have time to take long lunches so gift cards to restaurants that serve food quickly are a nice choice. If there's a favorite neighborhood deli or pizza-by-the-slice restaurant in town, try that gift card. Else try Chipotle, Subway or other fresh and easy foods with locations near the school. Deliver a fast-casual restaurant gift card inside a new stainless steel water bottle so teacher can stay hydrated to and from lunch.
BUY IT HERE: Chipotle Gift Card or Subway Gift Card
9. Applebee's, BJ's or other Restaurant Gift Card
Apple(bee's) for the teacher? You bet. Fancy dinners may not be feasible on a teacher's salary so gift cards that can be used for a nice meal are a great idea. Try Applebee's, BJ's or another family-friendly restaurant in town. If your teacher doesn't live near the school and you're not sure which restaurant will be convenient, try a gift card that can be used at a variety of locations. Here's a list of gift cards that can be used almost anywhere. If you scroll down to the bottom of that list, you'll find the "Dining Everywhere" card which is a pretty great solution. The recipient can use it at any bar or restaurant in the United States.
BUY IT HERE: Applebee's Gift Cards or BJ's Restaurant Gift Cards
10. Fandango, Groupon or Entertainment Gift Card
After a hard week of testing, outdoor education or just managing a classroom full of children, teachers might enjoy a night out or an adventurous weekend. Try a gift card to a local museum, an amusement park, a major league ballgame or the local movie theater. Let teachers be the kids for a change.
Since some teachers don't live near the areas that they teach, get a gift card that is usable at many destinations so your teacher has the option to use the gift card before or after school or on the weekends when he or she is far away from the facilities. With Fandango gift cards, teachers won't be limited to a particular brand of movie theaters. With Groupon gift cards, teachers can be adventuresome in even more ways. They might use the gift card to try a new yoga studio, enroll in a cooking class, try hot air ballooning or go on a local sightseeing tour. The options are virtually limitless.
BUY IT HERE: Fandango Gift Cards
11. Happy Gift Cards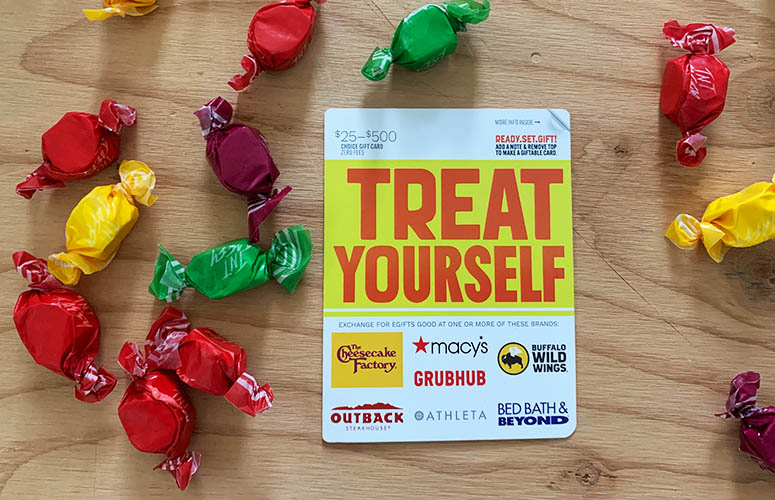 If you're not sure which gift card to get, check out the new multi-store gift cards. Each gift card offers a collection of brands around a particular theme. I love the Treat Yourself gift card because it has so many fun options for people of all ages. But you can see the others by clicking the link below.
BUY IT HERE: Multi-store Gift Cards.
Add a Note of Thanks to Teachers
No matter what gift card you give to a teacher on Valentine's Day, remember to put it into a handmade, handwritten greeting card from your child. Teachers often post the sweet notes they get from kids on their Facebook pages and Instagram accounts, so although the gift card is useful and deserved, the sweet notes seem to be even more appreciated.
Happy Gift Carding and Happy Valentine's Day!
~Shelley Hunter, Gift Card Girlfriend