From Best Buy to Visa, the 11 BEST Gift Cards for your husband, boyfriend or man in your life on Valentine's Day.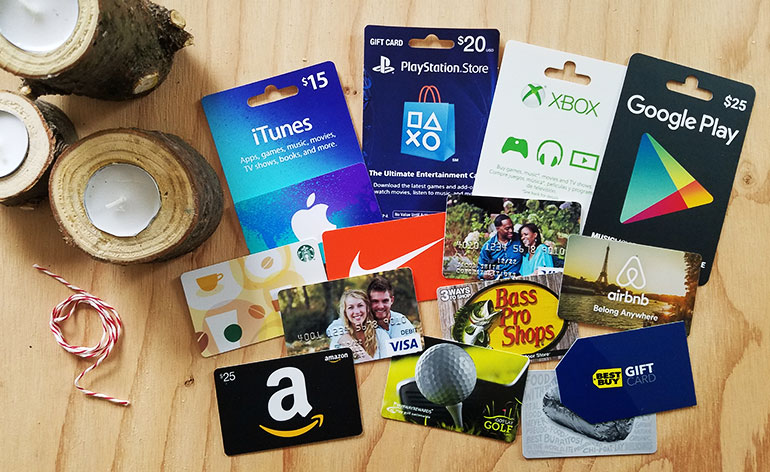 Top Valentine Gift Cards for Men
This Valentine's Day, get the man in your life (boyfriend, husband, good friend or other) a gift card he can use to buy something he really wants. After all, flexibility is the best part about gift cards. There's no faking (and keeping) something you don't like or returning items you won't use. Simply accept the gift card graciously and look for an opportunity to redeem it.
Now keep in mind, in making these "Top Gift Cards for Valentine's Day" lists, I have to be a little stereotypical in deciding which gift cards to recommend for men. I've chosen some for outdoors men, others for home improvement junkies, gift cards for athletes and others for gamers. Though not every gift card will be a perfect fit for every man, I'm hoping that there are a few gift cards on the list that match your gifting needs.
Also, since it is Valentine's Day, I suggest you take a moment to put the gift card into a Valentine greeting card full of handwritten sweet nothings or tuck the gift card into a plate of homemade heart cookies. Don't worry. You don't have to be super crafty or a really great cook to make your own Valentine. Just get out the construction paper or measuring cups and make something simple from the heart. I promise you that adding a gift card to something homemade could be the easiest and best Valentine you've ever delivered.
With that in mind, below is my list of Top 10 Valentine's Day gift cards for men:
1. Visa or Mastercard
You can't go wrong with a Visa® or Mastercard® gift card because your guy will be able to use it to buy almost anything he wants from a store or website. If the merchant accepts debit cards, then it's likely these gift cards will work as well.
But before you grab a generic general-use gift card off the rack at a store, consider making a personalized gift card instead. You can upload any picture (within reason, of course!) and turn it into a thoughtful, one-of-a-kind gift card with unlimited potential.
BUY IT HERE: Personalized Visa Gift Cards
2. iTunes, Google Play or Spotify
If your man has a smartphone, then get him a gift card he can use to download music, books, apps, games and more. Since these gift cards are device-dependent (meaning you'll need an iTunes gift card for an iPhone and a Google Play gift card for an Android device), make sure to pick the gift card that matches his phone. To make this technology gift card a little romantic, deliver it with a personalized CD (remember the old mix tapes?) or a handpicked playlist of songs that remind you of him.
If you're not sure what device he has or just don't want to guess wrong, you could also try a Spotify gift card. That way he can listen to music regardless of the device he owns.
BUY IT HERE: iTunes Gift Cards, Google Play Gift Cards or Spotify Gift Cards
3. Gaming Gift Cards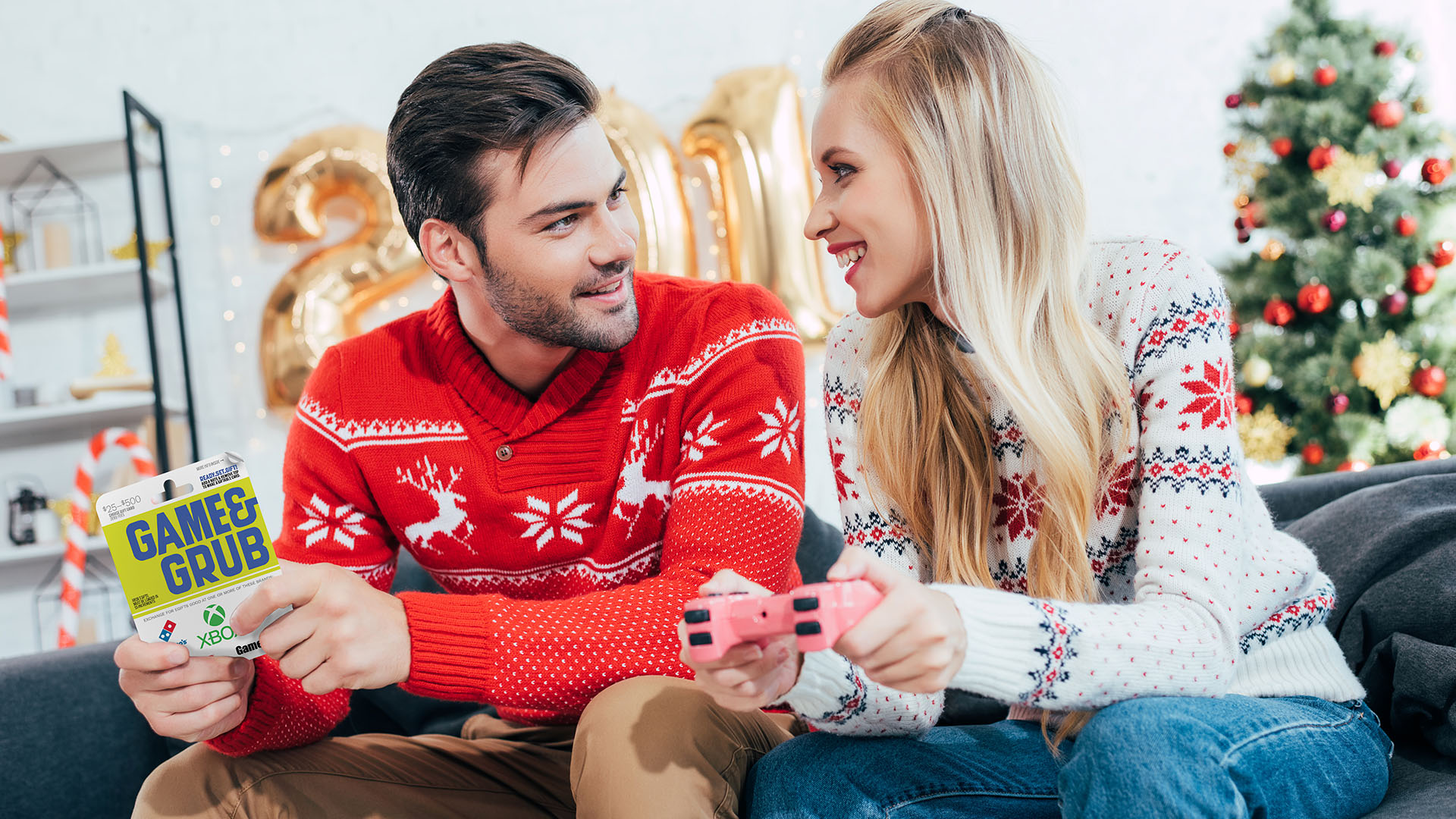 If you're in love with a gamer, then make his day and get him a gift card he can use to download new games, bundles or packs. Like the smartphone gift cards above, these gift cards are also device dependent so make sure you know which gaming system he has before picking the gift card.
To make this gift card a little more soft and cuddly, deliver it with a blanket the two of you can snuggle in when he's done playing his games. If you're not that close, then deliver the gaming gift card in a pair of slippers. (If he's a serious gamer, chances are good he spends a fair amount of time indoors.)
BUY IT HERE: Game & Grub Gift Cards, PlayStation Gift Cards or Xbox Gift Cards
4. Best Buy or GameStop
Whether your husband or boyfriend likes the latest gadgets or he just needs to update the anti-virus software on his laptop, Best Buy or another electronics store gift cards can be used to buy TVs, cameras, computers, cell phones and hundreds of other electronics, plus pay for services such as Best Buy's Geek Squad. Tuck the card into a handmade Valentine and add the words "You electrify me."
For the serious player, a GameStop gift card isn't just a gift, it's permission to spend another day on the couch playing Fortnite. I mean, clearly you wouldn't get him a gaming gift card unless you were okay with his gaming–which makes you the best girlfriend or wife ever and this the best Valentine's gift he'll ever get.
BUY IT HERE: Best Buy Gift Cards or GameStop Gift Cards
5. Hibbet Sports, REI, Cabela's or other Sporting Goods
The great thing about sporting goods gift cards is that they can be used to buy shoes, apparel and gear for a variety of hobbies and sports such as hunting, fishing, camping, basketball, football, baseball, skateboarding, surfing, golf and more. Heck, I know guys who dress the part even if they don't actually play anything. (Not everybody wearing Nike is working out and not everybody dressed in camo has a hunting license. Am I right?) Get your sport-loving Valentine a gift card to a sporting goods store and add a note that reads "To my favorite all-star."
BUY IT HERE: Hibbet Sports Gift Cards, Big 5 Gift Cards, REI Gift Cards and Cabela's Gift Cards
6. Famous Footwear or Footlocker
Speaking of wearing game day gear, Finish Line and Footlocker gift cards are perfect for the guy who loves to sport the jerseys, socks and hats of his favorite teams. If he's not into the latest KD's or Lebron's, no problem. He can pick out a pair of Converse low-tops or grab a pair of Vans for casual Fridays at work. Be a good sport and get your husband or boyfriend a sportswear gift card for Valentine's Day this year.
BUY IT HERE: Finish Line Gift Cards or Footlocker Gift Cards
7. Amazon or Barnes & Noble
The man in your life doesn't have to be a book lover to appreciate an Amazon.com gift card nor does he have to own a Nook to shop Barnes & Noble. Though both started as the go-to destinations for readers, your male friends can buy a range of products including movies, books, music, games, puzzles and more. With an Amazon gift card, there is almost nothing he won't be able to buy.
This Valentine's Day, get your the man in your life a gift card to one of these stores and tuck the card into a handwritten journal of stories about your courtship. End that book with a note that reads, "Looking forward to our next chapter together."
BUY IT HERE: Amazon Gift Card or Barnes & Noble Gift Card
8. Pep Boys or Advance Auto Parts
Not your typical Valentine's Day gift card, I'll admit, but if your boyfriend is into cars and motorcycles, then this is the perfect gift card for him. He can use it to buy a new buffer for polishing his ride or spark plugs to get his car fired up. Either way, he'll thank you for your thoughtfulness. Add a note that reads, "I WHEELIE like you, Valentine" or "I never TIRE of you." This idea works for any transportation themed gift card including the gas station, oil and lube shop, tire shop and more.
BUY IT HERE: Pep Boys Gift Cards or Advance Auto Parts Gift Cards
9. Go Play Golf
If you've got a duffer in your life, then get him a Go Play Golf gift card. This is a fantastic new gift card that can be used at over 5,000 golf courses nationwide PLUS it can be used at golf courses in Mexico, Europe and The Caribbean. The Go Play Golf gift card can also be redeemed for golf equipment and apparel. So whether your Valentine is a serious golfer or he just likes to hit the driving range, this is a gift card he will love.
BUY IT HERE: Go Play Golf Gift Cards
10. Home Depot or Lowe's
For the ultimate in cliché gift cards for men, I can't go through this list without naming Home Depot and Lowe's. But seriously, for Valentine's Day? Yes, indeed! If he loves to build things, if he loves to tinker or he is always looking for another tool, then this is the gift card he wants. So this is the gift card he shall have. Who am I to deny his love of hardware just because this holiday is supposed to be about love and mushy stuff?
If you want to meet him where he lives and loves, then pair a hardware store gift card with a measuring tape and write, "My love for you is beyond MEASURE." Tie a hardware store gift card to a bottle of really strong glue and write, "I'm stuck on you, Valentine." Tuck a hardware gift card into a potted plant and add a note that reads, "My love for you just keeps growing." I'll stop now. (Here's a You Rule! free gift card holder that can be turned into a Valentine!)
BUY IT HERE: Home Depot Gift Cards or Lowe's Gift Cards
11. Multi-Store Gift Cards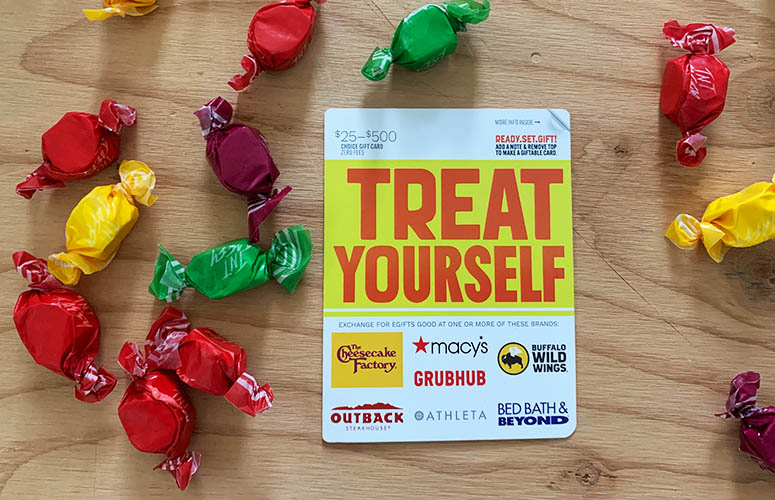 If you're not sure which gift card to get, check out the new multi-store gift cards. Each gift card offers a collection of brands around a particular theme. I love the Treat Yourself gift card because it has so many fun options for people of all ages. But you can see the others by clicking the link below.
BUY IT HERE: Multi-store Gift Cards.
If getting your boyfriend or husband a gift card for Valentine's Day seems a little too easy, then spend the time you would have gone shopping for something more traditional on making a homemade Valentine card to go with the gift card. Put the two together and you have something that is both practical and sentimental, useful yet romantic. If you ask me, it's the best of both worlds.
Happy Gift Carding!
~Shelley Hunter, Gift Card Girlfriend