Send newlyweds or anniversary couples on a "Date Night" with this dinner and a movie gift card combo.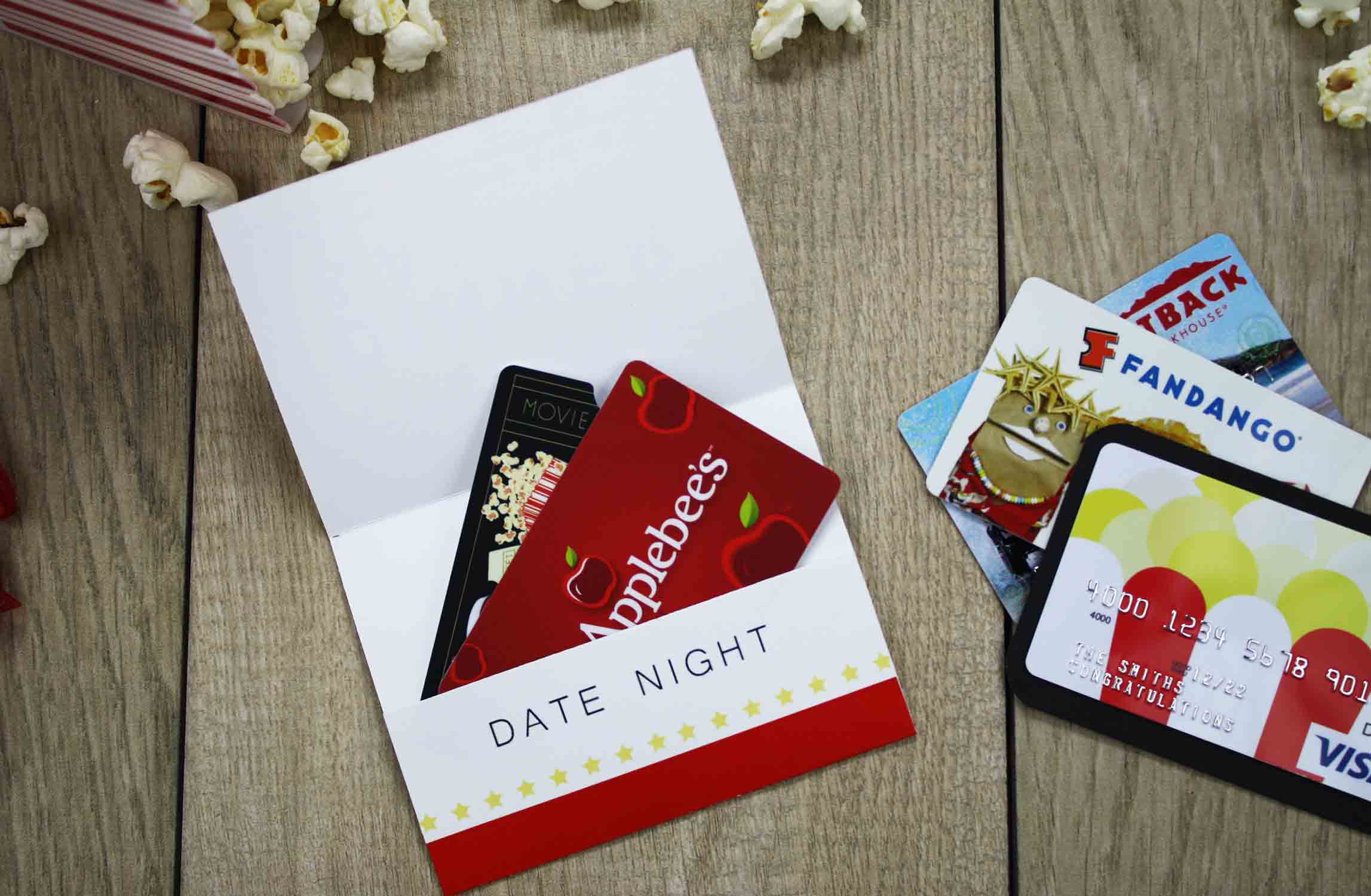 "Gifting Made Easy" by Gift Card Girlfriend
As many marital experts will tell you, one secret to a happy marriage is to continue the courtship even after the ceremony. For some couples, courting means going out to breakfast once a week. For others, dating after marriage means starting up a new hobby together such as learning how to dance, cultivating a garden or simply connecting by more than just texting each day. For a bunch of couples that I know, going out to dinner and a movie for a regularly scheduled weekend "date night" is the perfect solution. It's one of my favorites as well.
For this wedding printable, we are taking that "date night" advice and turning it into the perfect wedding gift or anniversary gift. By adding a variety of potential gift cards, you can send the happy couple out to dinner and a movie at popular nationwide restaurants and theaters or you can let them choose the destination for themselves with a Visa® gift card that can be used anywhere Visa debit cards are accepted. Order the gift cards now, then download the printable when you're ready to present this "Date Night" gift.

Order Gift Card and Download Printable
There are two versions of this "Date Night" printable. The flat gift card holder is designed like a ticket so it holds either one matching Visa gift card or it can be used to hold two different gift cards–such as dinner and a movie, of course. The folded gift card holder will hold more than one gift card as well. You could easily tuck a movie gift card, restaurant gift card and dessert gift card all in the same little envelope. What a date that would be!
Gift Card Suggestions
DINNER: Start with a restaurant gift card such as Olive Garden, Applebee's or Red Robin.
MOVIE: Add a movie gift card such as Regal Cinemas or AMC Theatres.
DESSERT:. Want to throw in dessert? Try Cold Stone Creamery or The Cheesecake Factory. Yum!
COMPLETE DATE:. Instead of buying individual cards, order the "Date Night" Visa Gift Card.
Free Gift Card Downloads
"Date Night" Flat Gift Card Holder
"Date Night" Folded Gift Card Holder

Print and Cut
After downloading the "Date Night" gift card holder of your choice, print it on a color printer using "best quality" and "actual size" settings. (Do not select "shrink to fit" or any other setting that will change the size of the printed .pdf image.) White, card stock paper measuring 8-1/2″ x 11″ works best. Cut the holder with a paper cutter using the trim marks as a guide. I also cut the "notches" out of the flat ticket holder.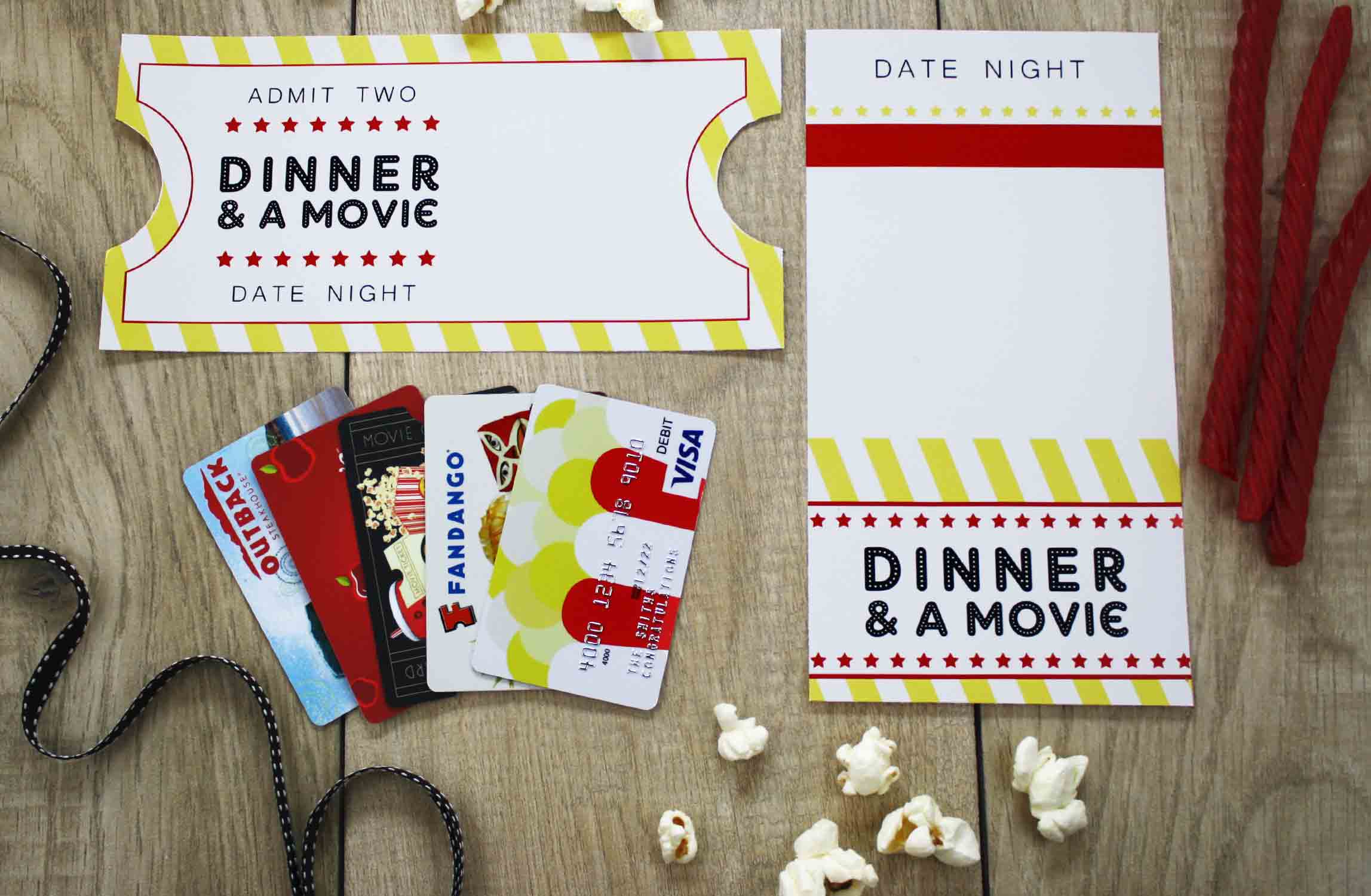 Craft the Flat Holder
The flat gift card holder can be presented as soon as the gift card is attached to it. To give this ticket a little more pop, however, I added a black card stock backing to both the printable and the gift card itself. To add the dinner and movie gift cards to the holder, you can either use double-sided tape to stick the cards in place, or punch a hole through the top of each one and secure them both with a brad. Be careful not to cut the magnetic stripe on the back of the card.
Visit our
free prints
page to see other ways I've changed the shape, added embellishments or taken our basic printables to another level of creativity.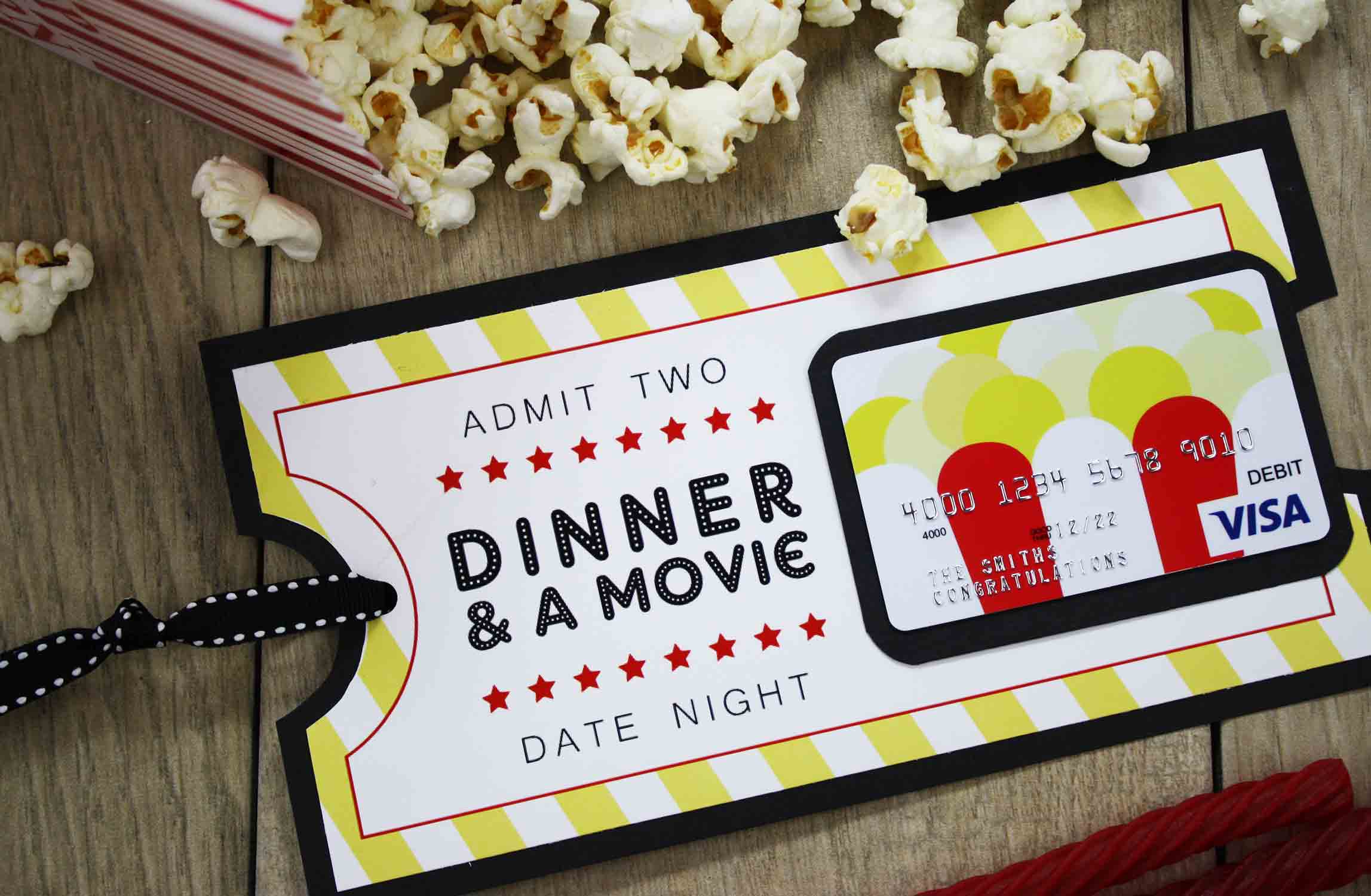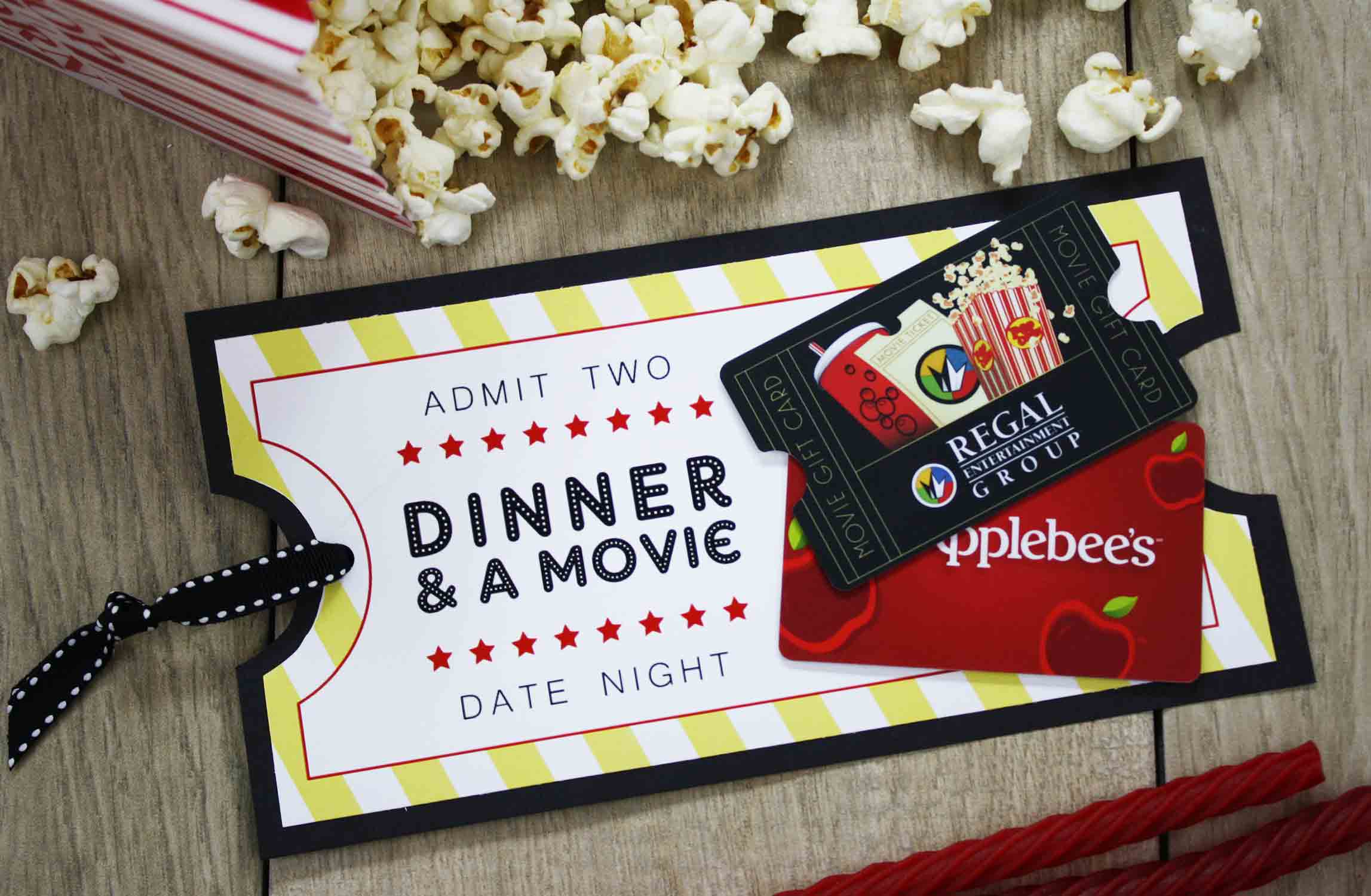 Make the Folded Holder
If you look at the folded gift card holder, you'll see that it should be folded just above the yellow stripes and just below the red line. Although you can probably guess where to make the folds, I always measure the card so I can flip it over and fold it accurately. For me, the fold lines are at the 3″ and 6-1/4″ marks.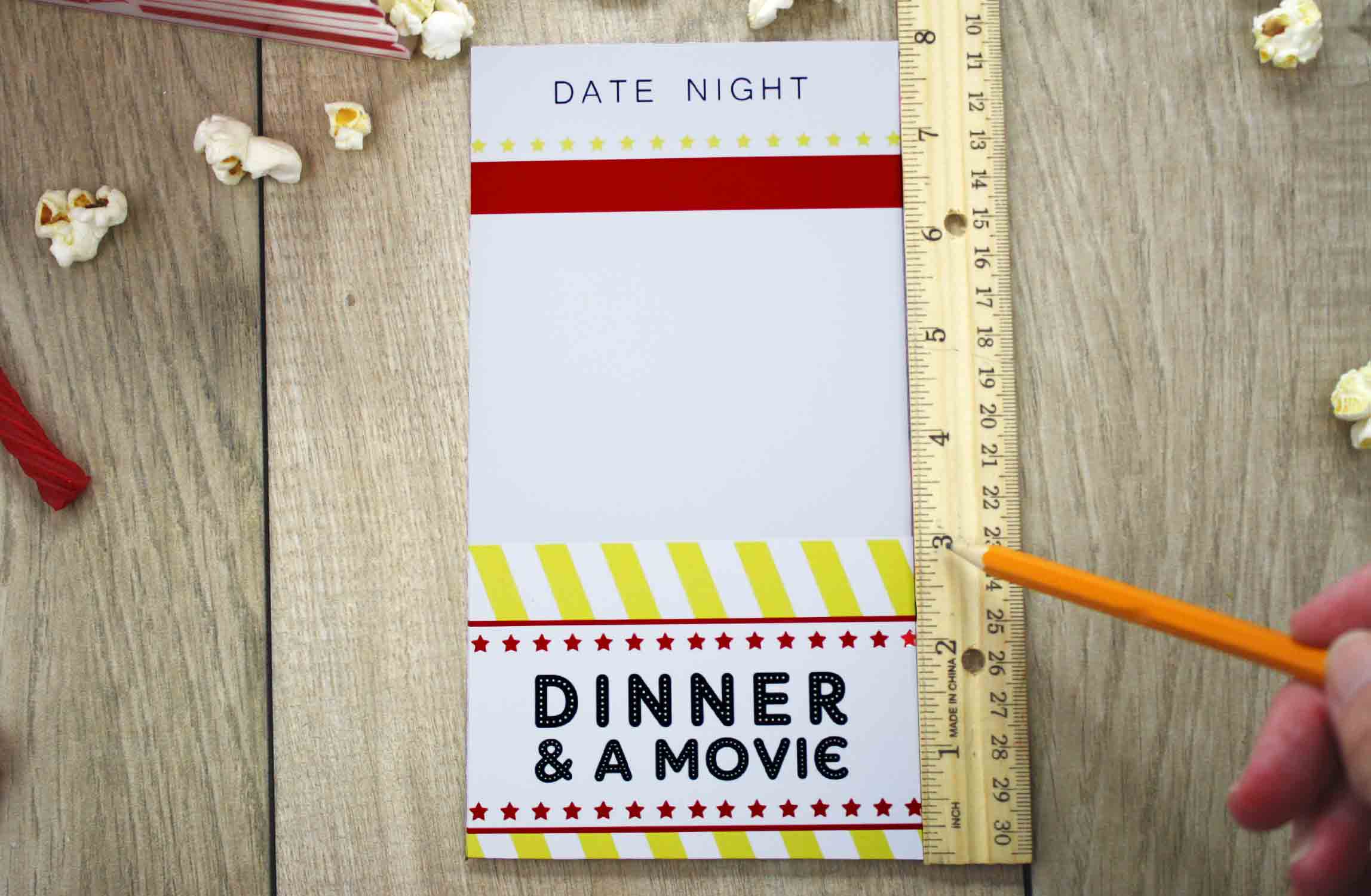 Using a ruler, mark the fold lines and then flip the card over to mark those same measurements on the back. Using a bone folder (or another semi-sharp tool you have around the house like the back of a butter knife or the edge of the plastic gift card), score the paper on the fold lines using a ruler as your guide.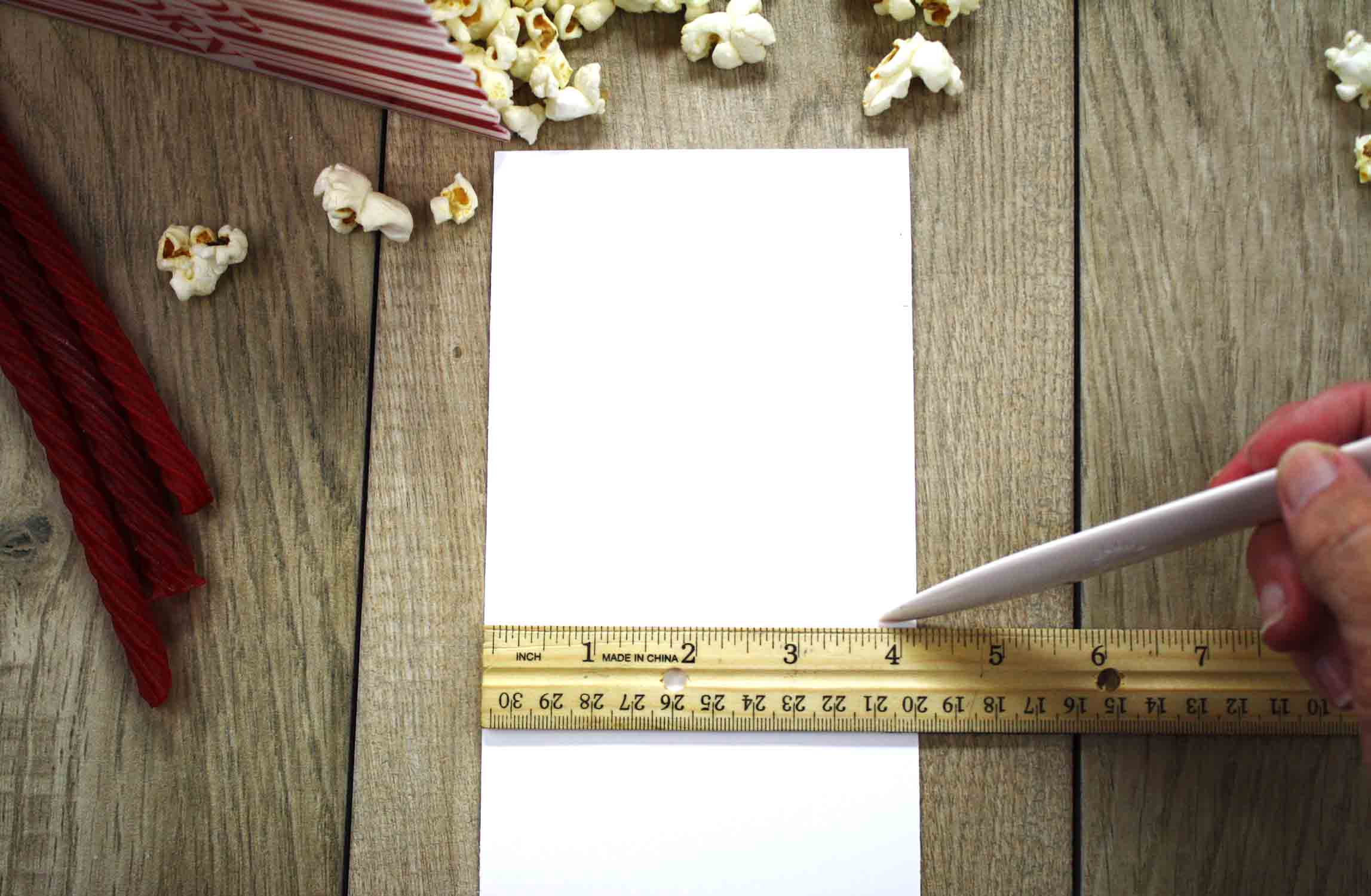 Fold the gift card holder as shown so it makes a little pocket, perfectly sized to hold the date night gift cards. Using double-sided tape or a glue stick, seal the edges of the gift card pocket, then put the gift card (or cards) inside. Write a personal note in the space above the card.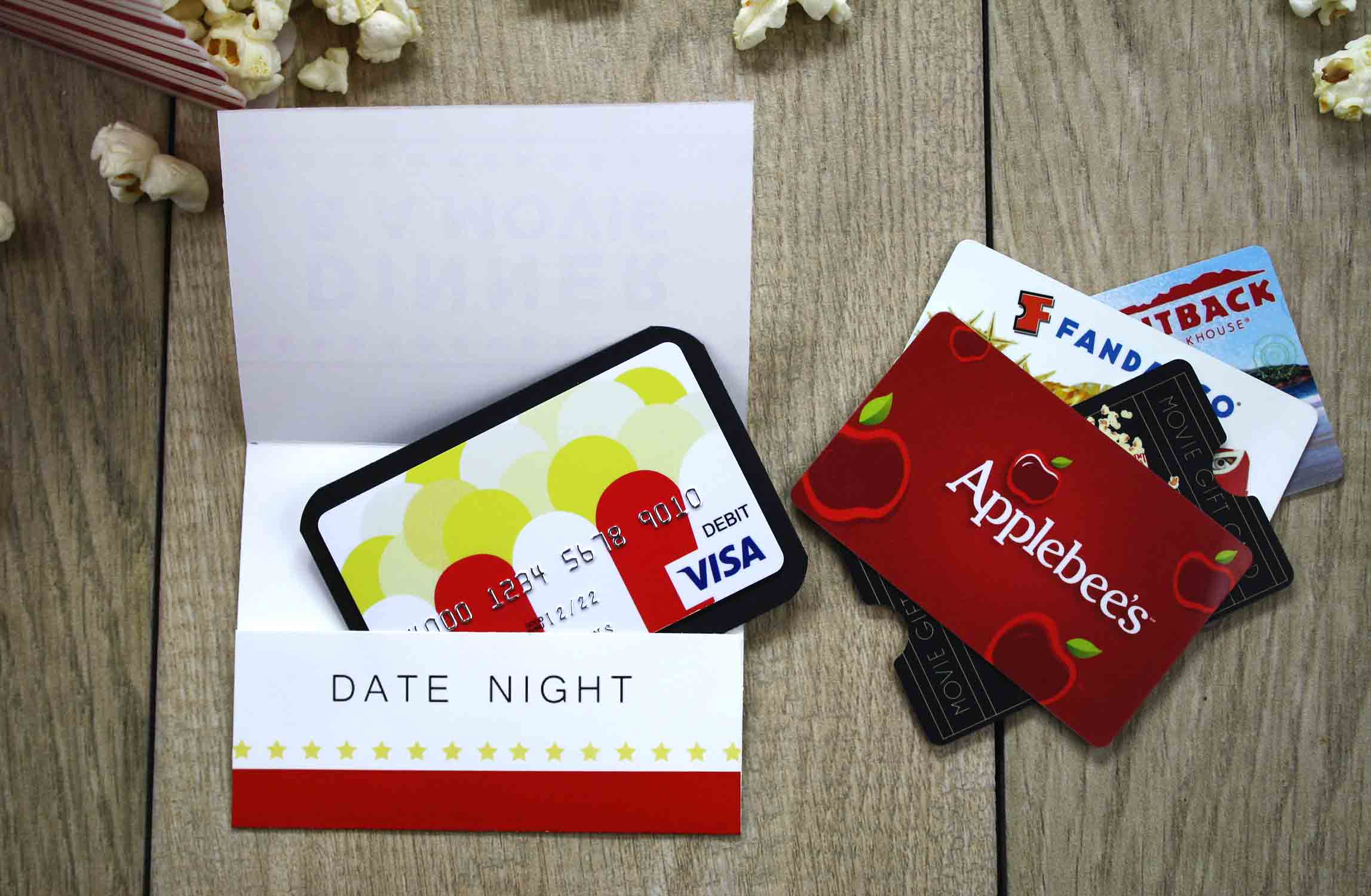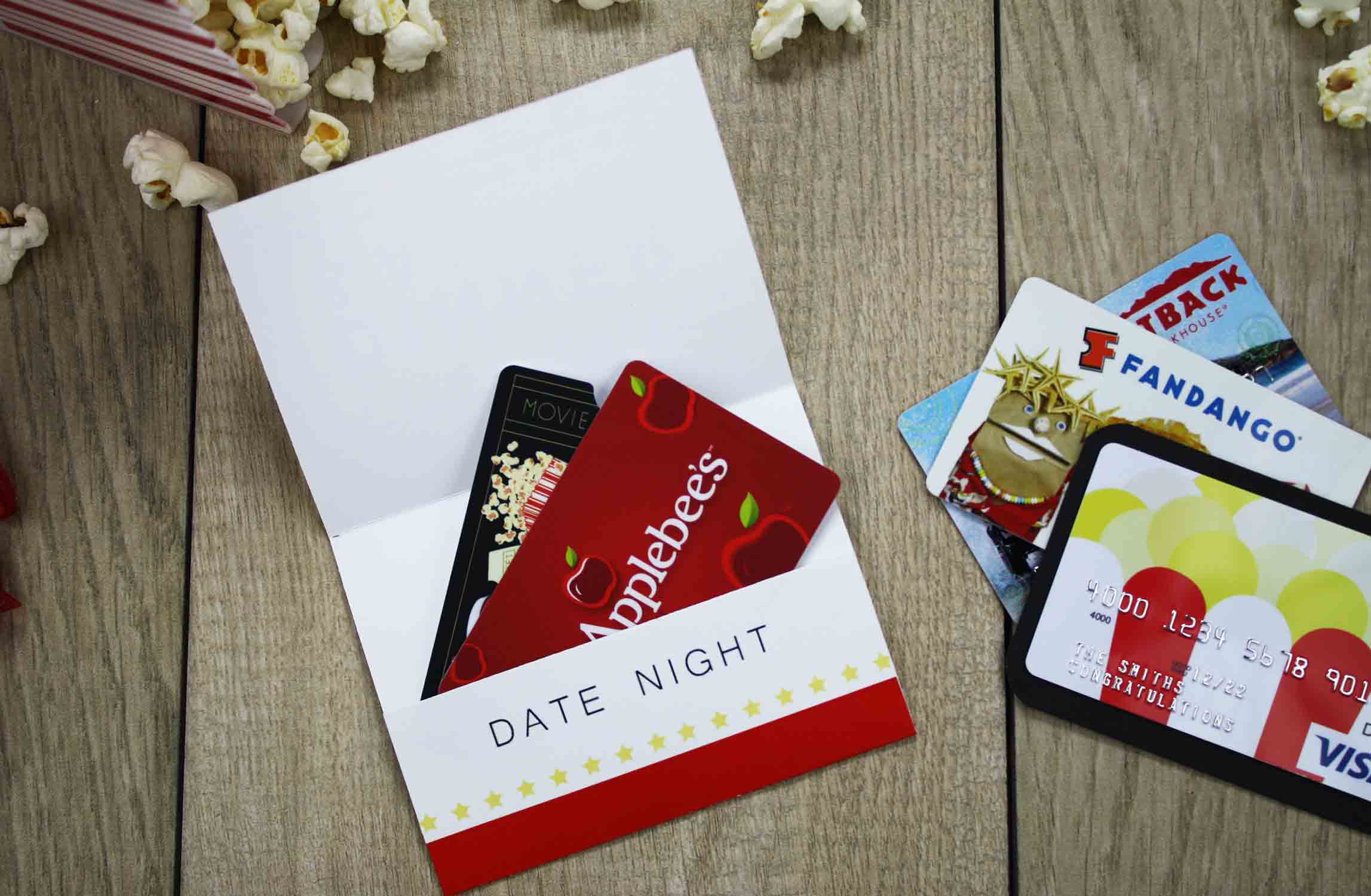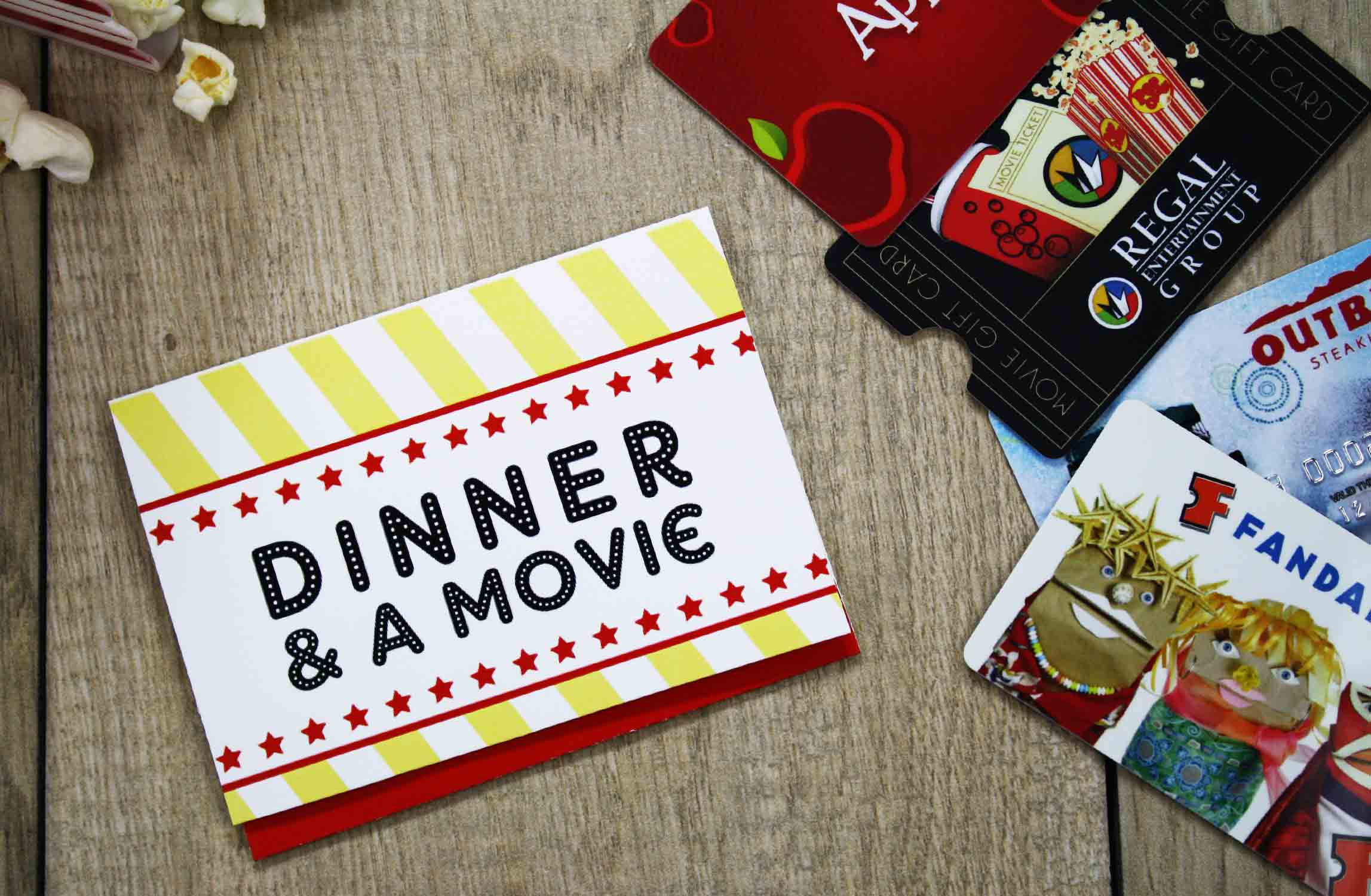 Don't forget to deliver this "Date Night" dinner and movie gift card combo with a tub of popcorn, a bowl for popping popcorn at home, a new popcorn maker or just some simple movie snacks. Keeping with the date night theme of going out to the movies with your sweetheart, you might also add "sweet" candies to the mix. If you're giving this gift card to a couple for their anniversary, then perhaps free babysitting should be considered as well.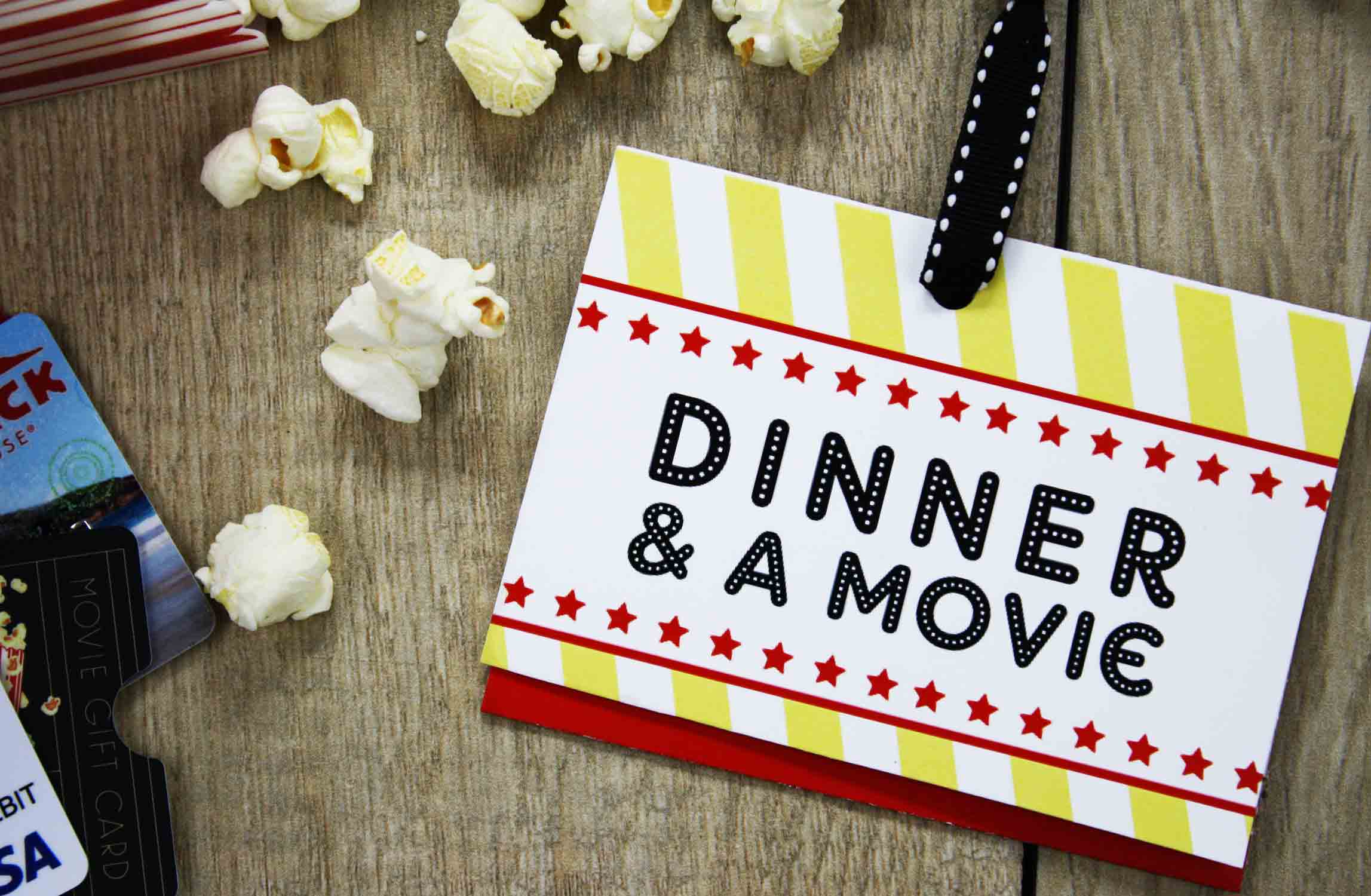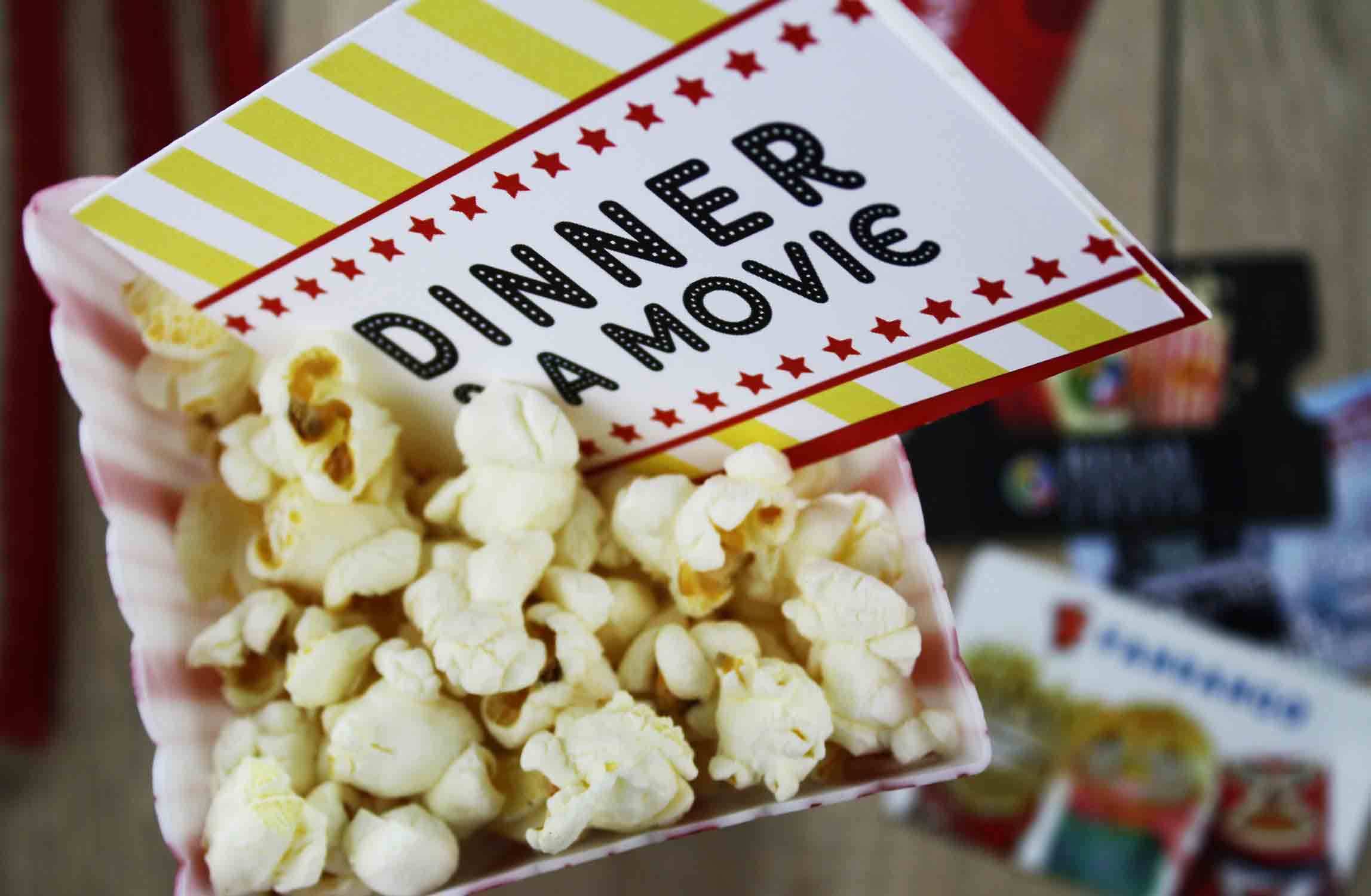 Send it in the Mail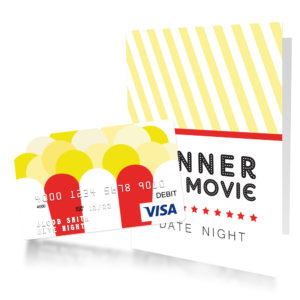 If you don't have time to craft up a movie and restaurant gift card present, then let us do the work for you. Simply order the "Date Night"
Visa gift card
and select the standard greeting card option. Take a moment to personalize the card and the accompanying greeting card with the couple's names and a special message. Tell us where to send the card and we'll take care of the rest!
More on Pinterest
For more free printable gift card holders, check out the
free prints page
or follow
Gift Card Girlfriend on Pinterest
. If you use this printable, send me a link to your page in the comments below or contact me on Twitter
(@GCGirlfriend)
. I want to see what inspires you.
Happy Gift Carding!
~Shelley Hunter, Gift Card Girlfriend