A variety of gift card resellers will give you cash back for a gift card. Below are five places to look, both online and off.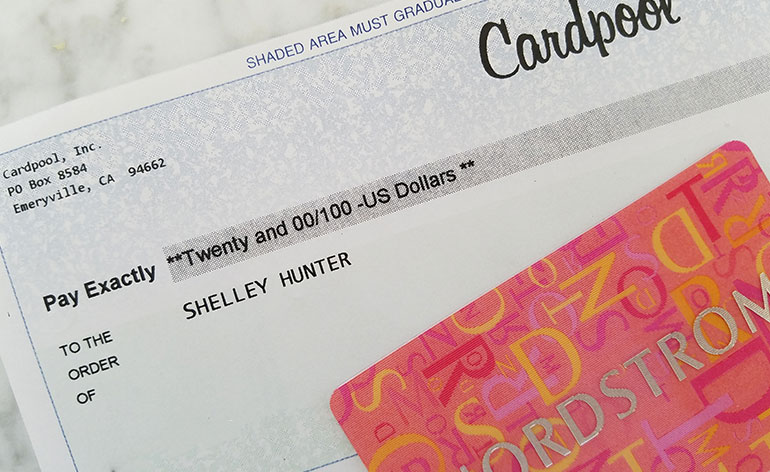 Why Sell Gift Cards for Cash?
Got a gift card you don't want? Then sell it for cash online, at a mall kiosk, in some grocery stores or at select service centers. You won't get the gift card's full value back in cash, but getting some money in return is better than nothing. Depending on where you sell the card and the demand for that particular brand card, the cash back offer can be anywhere from 60 to 92 percent. Payment options typically range from cash, a check in the mail, a gift card to a different store or a PayPal deposit.
Companies that buy gift cards turn around and sell the cards to other people at a slightly higher rate, but still below the face value. Since being the go-between in this gift card aftermarket can be fairly profitable, there are a number of places where gift cards can be sold for cash.
1. Online Gift Card Resellers
A variety of online gift card resellers will give you a cash offer for an unwanted gift card. Typically, the card's balance must be at least 20 dollars, and higher offers are given for gift cards to popular stores that sell a myriad of merchandise. For example, you might get 92 percent cash back on a gift card to Walmart (nationwide store, sells everything from groceries to tires), but only 70 percent back on a gift card to Sunglass Hut (nationwide, but only sells sunglasses). If you sell the gift card online, you will either have to mail the card into the company in order to receive payment, or in some cases, you can submit the gift code electronically. (The gift code is typically a combination of the card's number and, if it exists, the personal identification number (PIN).)
You can cash out your gift cards at Cardpool.com or find a list of online gift card resellers here.
2. Mall Kiosks and Other Stores
At my local mall, there is a kiosk where gift cards can be sold for cash. Run by one of the prominent online resellers, the cashier will make an offer for your card. If you accept the offer, the reseller takes the plastic and you walk away with the money. At this particular venue, the highest amount you can get is 75 percent of the gift card's value. Although the amount you receive may be less, if you're conveniently located near a kiosk, you can obtain money quickly.
Target is also accepting gift cards, but you won't get a cash payment in return. You'll get a Target gift card to spend instead.
3. Service Centers
At GiftCards.com, we buy gift cards at thousands of service centers across the country. Similar to the mall kiosk, the benefit of selling your card at a service center is that you receive payment immediately. The disadvantage is that you won't make as much money since you are likely going through a third party.
4. Grocery Store Machines
At my local grocery store, there is an automated gift card buying machine, made by the people behind Coinstar and Redbox. To sell your card, swipe it, accept the offer, insert card, receive a voucher and take the voucher to the cashier for payment. This machine offers anywhere from 60 to 85 percent of the card's value. Find a Coinstar Exchange machine near you.
5. Online Auctions and Classified
Of course, you can always take matters into your own hands and try to sell a card yourself via an online auction site, classified ad or social media platform. (Tweet: I'm selling my $50 iTunes gift card for $40 cash. Who wants it?") This may work, but be aware that there are no fraud prevention checks or customer service representatives to help you out if the deal goes awry.
A Note on Fraud Prevention
Speaking of fraud prevention, what stops someone from selling a gift card then quickly making an online purchase with the card number? Fraud prevention steps such as requiring the seller to provide identification, a credit card that will be charged if the value suddenly drops and other contact information are helpful. At GiftCards.com, we have other proprietary measures in place as well. Here's everything you need to know about the gift card reseller process.
With so many options to choose from, you should have no problem finding a place to exchange your gift card for cash. My boys sold their Christmas gift cards earlier this year and used the money to pay for things they'd been saving for. Although they hesitated at first (Read why.), both decided having a little money is better than having unused plastic.
If you find other locations or have other gift card questions or need gift card help, add a note in the comments below or send me a note via @GCGirlfriend on Twitter.
Happy Gift Carding!
~Shelley Hunter, Gift Card Girlfriend