Wedding Gift Ideas

Gift cards are the perfect wedding gift ideas! Finding the perfect wedding gift can seem difficult, but can often be made simple. Brides and grooms are likely to register at their favorite home store, but what if that store is nowhere near you? What if the store is close and convenient but, you get there only to realize, nothing is left on the gift registry that fits your budget? Don't panic, the couple also asked for cash. But you don't want your gift of cash to seem impersonal and cold.
As they begin their life together you want to give them something to remember, not just an envelope filled with money. On GiftCards.com you will find the perfect solution, a customizable Visa® or Mastercard® Gift Card.
Personalized Wedding Gift Cards
Start by placing the best photo of them as a couple on the card. Then choose the message you would like on the card. Not only does the couple get what they want, but your gift is something they can cherish forever. Set your gift apart! Use a photo of them on vacation and tell the couple to use the card while they are on their honeymoon. The possibilities are endless with personalized gift cards. A wedding gift card is safer than cash, and allows the happy couple to choose where they want to spend your gift. Here at GiftCards.com we find that Visa and Mastercard gift cards are very popular with brides and grooms. Wedding gifts may not always be obvious, but choosing the best wedding gift idea will make a memory that lasts a lifetime. Choose from wedding gift card designs or opt to upload a picture and create your own personalized gift card and be the gift that the couple never forgets.
Top Wedding Gift Card Designs
Top Brand Wedding Gift Cards
Digital Wedding eGift Cards
The easiest and fastest way to send a gift card is right from your phone or computer. With egift cards, you can upload a personal photo or select a video message and have your egift card delivered in minutes–or scheduled for a future date—whichever works best for your timeframe.
Free Wedding Gift Card Holders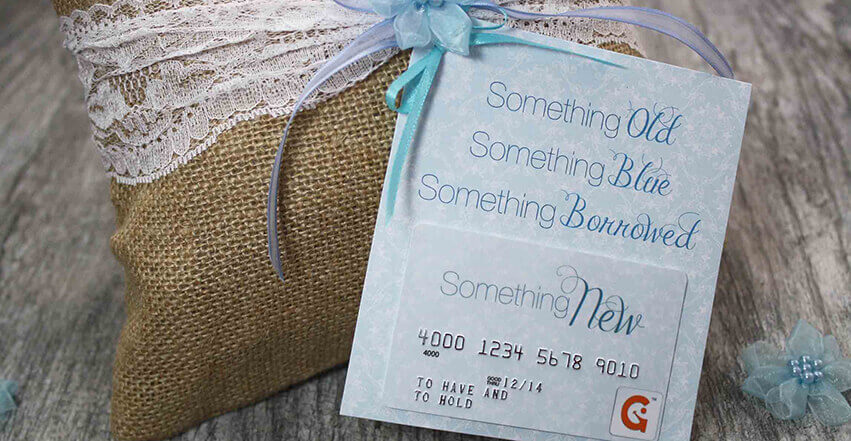 If you want the convenience of gift cards, but still want to be able to put a little D-I-Y love into your Wedding gift, then try one of Gift Card Gifrlfriend's free printable Wedding gift card holders. Just select the gift card holder you want, download it, print it and follow the directions on the blog.
Ask Your Wedding Gift Card Questions Here: