From whitewater rafting to learning how to line dance, these unique gift cards offer experiences of a lifetime.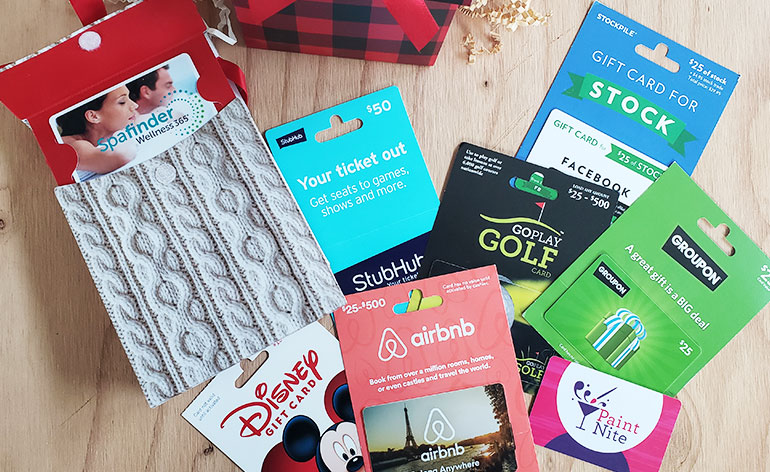 When your sister gives you a spa gift card, she's not just giving you a present–she's giving you an afternoon of relaxation, a deep-tissue massage from her favorite masseuse or a pampering facial. When you get a gift card to the movies, you're getting more than just admission. You're being whisked away to a frozen kingdom, shooting arrows with Katniss or trying to help Sandra Bullock get back to Earth. Even a gift card to the clothing store nets you more than the sweater you bought. You also receive an excuse to go shopping and the freedom to pick out your own present.
Though I could argue that every gift card is experiential because each results in an adventure of sorts, the ones below are special. These unique gift cards could be life-changing at best and worth posting on Instagram at the very least. However, whether the outing goes public or stays private, I believe the recipient will always remember the person who gifted the experience worth having.
In addition to the typical movie, restaurant and clothing store gift cards (which I still think are awesome), there are a myriad of ways to treat people to experiences they will never forget. Below is a list of my Top Experiential Gift Cards that Make Unique Gifts.
1. Ballpark or Sporting Event
Wrigley Field and Fenway Park may be the top stadiums to visit, but any trip to a Major League ballpark is fun. In fact, you don't have to visit the highest level to have a positive experience. Minor league ballgames are less expensive and often more accessible. Treat your friend to a baseball game, football game, hockey game, tennis match, basketball game, truck rally, speed race, golf tournament or other sporting event. Deliver a sports-themed gift card with a box of Cracker Jacks or fixins for a pregame tailgater. Win or lose, it will be a game to remember.
2. Concert, Play or Musical
From hot concert tickets to box seats at a musical in the city, gift cards for live music events may be just the experience you're looking for. Although you can buy tickets for a specific night and hope it fits the recipient's schedule, most outlets offer gift certificates or gift cards as well. You can also buy a Visa® gift card with a music-themed image on it and deliver the card with a calendar of events.
3. Amusement Park
Send a family or a group of friends to a nearby amusement park or water park. Or choose something less costly such as a gift card to a trampoline park, laser tag facility, paintball playground or dodge ball gym. Because it's more fun to go with others, make sure to gift a dollar value that allows more than one person to go. Deliver this unique gift card with water bottles to stay hydrated, matching t-shirts to keep track of everybody or headbands the group can all wear together.
4. Spa or Salon
From the rambunctious to the serene–if the amusement park doesn't fit your friend's personality, then try a gift card to the spa or salon instead. Deliver this peaceful moment with a promise to babysit or make dinner after she comes home from a day of pampering.
5. Cooking, Pottery or Photography Class
I love the idea of gifting an experience that could turn into a lifelong hobby. With a gift card to a cooking class, sewing class, art class, music class, photography class or something else fun, you are creating an opportunity for the recipient to learn a new skill and possibly meet new friends. The venue doesn't have to be fancy. Local community centers offer a wide range of classes, and if they don't have a gift card, you can ask about gift certificates or prepaying for a class. A Visa or Mastercard® gift card can be used for this experience as well.
6. Gardening or Outdoor Learning
For people who prefer to work with their hands in the great outdoors, get a gift card to a local nursery, organic garden or botanical garden where the recipient can take a class or enjoy a presentation. On the surface, it's just a present, but learning how to compost, grow organic vegetables or create a community garden could be the start of a lifelong hobby or lifestyle change. Just think. All you have to do is buy the gift card to plant the seed.
7. Hiking, Golf, Outdoor Sport
If the person you're buying a gift for would rather hike the hills than dig into them, then get a gift card for a sporting goods store, golf course or other outdoor activity. REI, for example, not only sells outdoor gear, but they hold camping classes and arrange hiking trips as well. This unique gift card could be used to buy supplies and sign-up for an adventure of a lifetime.
8. Yoga Class or Dance Lessons
So you think your friend can dance? Would he like to learn the Cha-Cha? What about the West Coast Swing? With a gift card to a dance studio, you don't have to decide. He can sign up for any class he likes. For people who want to limber up, but don't want to do the Limbo, try a gift card for a yoga or Pilates studio instead. Deliver this unique gift card with a new mat for Yoga or a pair of cowboy boots for learning how to line dance.
9. Travel
Travel is a broad category–it can mean sending someone across the country with an airline gift card or across the bay with a gas station gift card and toll for the bridge. Hotel gift cards can be used in exotic places or at a bed and breakfast in a neighboring town. Ever thought about giving someone a gift card to rent an RV for the week? It's time to get creative. Think of places your friends would like to travel, then get the gift cards they'll need to get there. You can go big with a cruise line gift card or stay closer to home with a national park gift card and some marshmallow roasting sticks.
Buy Southwest Airlines gift cards
10. Extreme Sports
Buckle up your seat belt and strap on your helmet, these gift cards are for extreme sports enthusiasts or people who just like to try new things. In addition to zip-lining and para-sailing, you can find gift cards for local tourist attractions, indoor go-kart racing, hot air ballooning, skydiving, whitewater rafting, race car driving and more. Although you can look for places to buy these gift cards individually, there are some package experience gift cards available through sites like Cloud 9 Living and Experience Days. Of course, a Visa gift card can be used to pay for these experiences as well.
Although I believe every merchant–every restaurant, clothing store, dentist office, bait and tackle shop and so forth–should have a gift card, some still only have gift certificates or nothing at all. Don't let that stop you. Get a Visa gift card that can be used wherever Visa is accepted or ask the merchant if you can prepay for an adventure. My only word of caution is to avoid booking the experience for a particular date and time. The recipient should still have some flexibility in deciding how and when to use the gift card. If you must book a class (hike, play, etc.), ask if the recipient will have the option to change the itinerary as needed.
For people who argue that cash is better than gift cards, I submit that people tend to spend cash mindlessly but are more likely to redeem gift cards with a purpose. Redeeming an experience gift card may additionally require commitment, scheduling or getting time off work. If you don't care how a gift is used, then go ahead and gift someone cash or a check. However, if you really want the recipient to have a new experience–to enjoy a new adventure or simply to have a break from the stress of life–then get an experiential gift cards. It will make for a unique gift the recipient will always remember.
Happy Gift Carding!
~Shelley Hunter, Gift Card Girlfriend