Ten of the best gift cards to buy for new moms on Mother's Day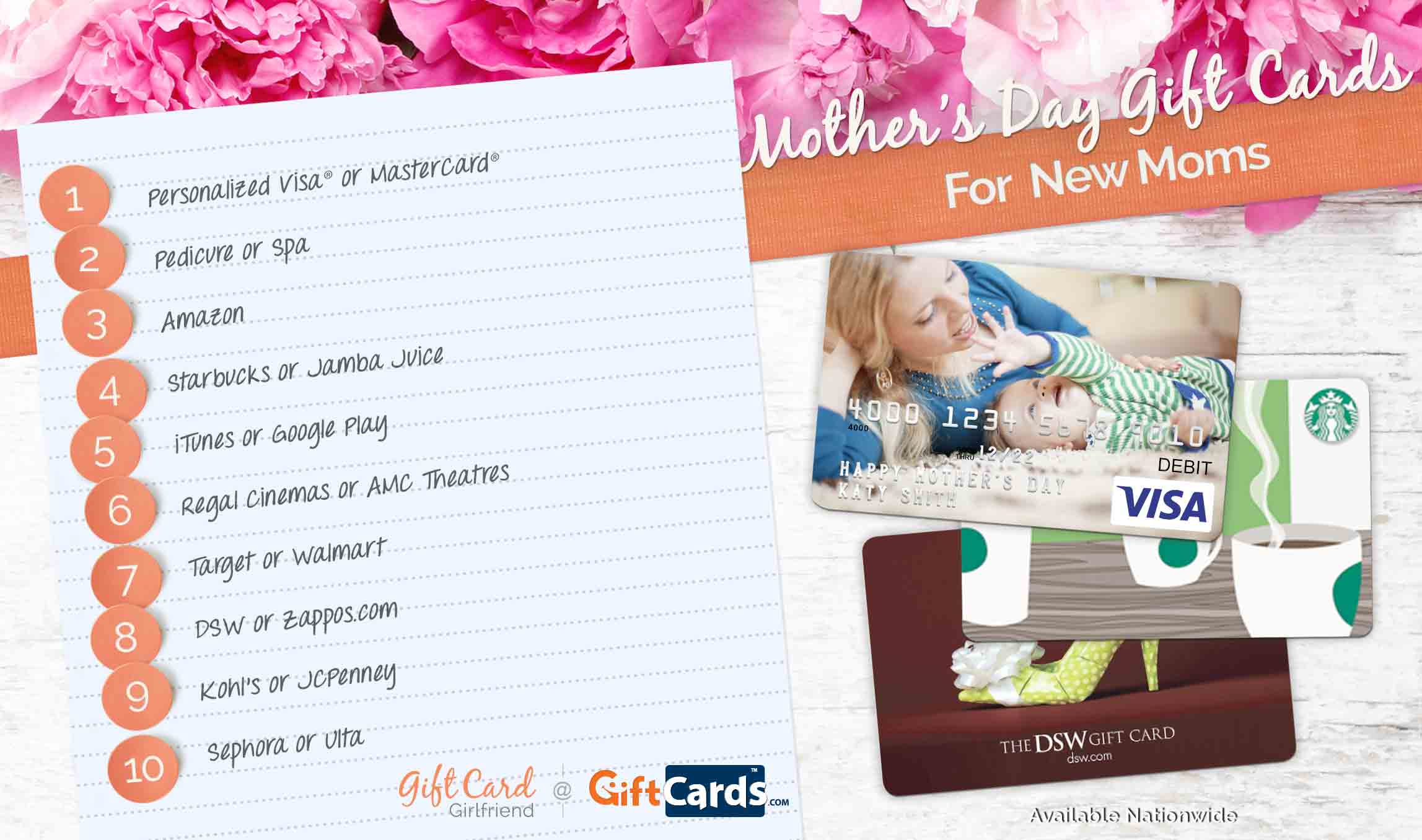 10 Best Mother's Day Gift Cards for New Moms
I've been celebrating Mother's Day as a mom now for nearly 16 years. When the kids were little, Mother's Day festivities weren't that relaxing (kitchen torn up from the kids making me breakfast, scraps of paper all over the house from handmade cards and so forth). Now that the kids are older, however, I can legitimately sit on the couch and be served. It's awesome. Though much as the past decade of Mother's Day celebrations have been a blur, I still remember my first Mother's Day as a new mom. My daughter was not even a month old at the time so we spent the day at home. Nothing spectacular happened. I just remember it being the first time I got to celebrate my most cherished title of "mom."
As you celebrate Mother's Day this year, remember new moms are just easing into this role and lifestyle. Below is a list of the best gift cards to get new moms on Mother's Day to make the day extra special.
1. Visa® Gift Card or Mastercard® Gift Card
No matter how many books, blogs and articles mom reads on having a newborn, the experience will still be unique and surprising. Despite all preparations, I guarantee new mom will have a pile of things she doesn't need plus a list of things she wishes she had. With a personalized Visa Gift Card or a Mastercard Gift Card, mom can start checking things off that list. Whether she wants a jogger so she can get out of the house more often, a pair of in-between pants so she has something to wear until the pre-pregnancy clothes fit again or she simply wants to go downtown and sit at a coffee shop by herself, this gift card is the ticket to make it happen. No rules–just mom and a few guilt-free dollars to spend however she wants.
2. Spa or Pedicure
Hard as it will be to leave that newborn at home for the first time, new mom needs to know that it's okay to recharge her own batteries from time to time. Get her a gift card for a pedicure or a spa treatment and get out your calendar to schedule an appointment–both for her and for you to stay home with the baby. She won't be able to relax unless she knows her little one is well cared for, so make sure you offer this service willingly.
3. Amazon.com
How did moms meet the needs of their households before they could order stuff online? Thank goodness for the information age! What a gift it is to be able to research, comparison shop and buy products without having to trek the baby all over town. Get new mom a digital Amazon.com Gift Card for Mother's Day. When baby falls asleep in her arms, she can whip out that smartphone, access the egift card, make a purchase and still have time to take a little snooze herself.
4. Starbucks or Jamba Juice
Whether baby is a newborn or already to the sitting-up stage, each trip out of the house can be an adventure–sometimes all goes well and you have a peaceful outing, other times your precious has a blowout in the middle of the grocery store and you have to ditch the shopping cart to go change a diaper in the back of the car. Little trips to places like Starbucks and Jamba Juice are much needed and have a high chance for success because the trip is short, the outdoor seating is a plus and mom gets to interact with other adults.
5. iTunes or Google Play
Like the benefits of being able to shop online, getting mom a gift card to buy new music or new apps from stores like iTunes could be a huge blessing when she suddenly finds herself home with an infant all day. I'm not saying that being there is a burden, but having been a stay-at-home mom for 16 years myself, I know that some of those early days can be a little isolating. Plus there are some great apps for new parents such as a nursing tracker, milestone app, journaling app and photosharing tools. Get mom a gift card to bump up her technology skills for Mother's Day.
6. Regal Cinemas or AMC Theatres
Another simple outing for a new mom is a trip to the movie theater. I took all of my kids to matinees when they were newborns–and I'm not talking about the kid movies. I took them to the movies I wanted to see. Since the theaters were mostly empty, I didn't worry about a little cry here or there, but it didn't happen that often either. My babies mostly slept in their strollers. If one did wake up, I would put him or her in a carrier and just bounce while watching the rest of the movie. If the new mom in your family is equally brave, get her a gift card to Regal or AMC theaters to catch a mid-morning flick. If she's not, offer to babysit so she can go to a movie with her husband or a friend.
7. Target or Walmart
Target and Walmart are great stores for families of all ages. Mom can buy clothes for herself, a new pair of flip flops, jewelry or even some baby gear if that's what she needs to get through the day. I wouldn't necessarily get mom a gift for the baby on Mother's Day, but if you give her a gift card to Target and she uses it to buy a new playpen, then that's her call.
8. DSW or Zappos.com
The pants may not fit right after the baby is born, but hopefully the shoes still will. No need to draw attention to anybody's waistline on Mother's Day, no matter how old the baby is. Get mom a gift card to the shoe store like DSW so she can shop worry-free and buy something pretty for herself.
9. Favorite Department Store
When my daughter was born, I loved to take her shopping to a nearby outdoor mall. We didn't necessarily buy anything, but I could stroll her around and be outside with other adults. Plus, the Mother's Lounges at both Nordstrom and Macy's were ideal. If mom is need of some new duds, then get her a gift card to a favorite department store such as Kohl's or JCPenney. She can decide if she's there to shop or just get out of the house.
10. Sephora or Ulta
It took me a few weeks to get back into the swing of things after having a baby and I also discovered that some of the old routines didn't work so well anymore. I wanted a fresh look that I could put on faster in the morning without looking like I'd just traded the corporate world for farm life. With a gift card to a favorite beauty store like Sephora or Ulta, mom has a chance to stock up on the things she already likes or reinvent herself as needed.
Did I miss any of your favorite gift cards for a new mom? Although I focused primarily on nationwide stores so they would be easily accessible for you and for new mom, there are some great bagel stores in my neighborhood, fun boutiques to browse, and a chocolate shop that calls to me every so often. For a local experience, get new mom a gift card to her favorite haunt and offer to watch the baby if she'd like to go solo.
If you have other Mother's Day gift cards you'd like to suggest for new moms, let me know. My kids are turning into teenagers so maybe there are some retailers and restaurants I hadn't considered. I'd love to hear about them.
Happy Gift Carding!
~Shelley Hunter, Gift Card Girlfriend