Need a gift card for Teens? Here's a list of top gift cards for teenagers (or tweens) plus what to keep in mind when buying teen gift cards.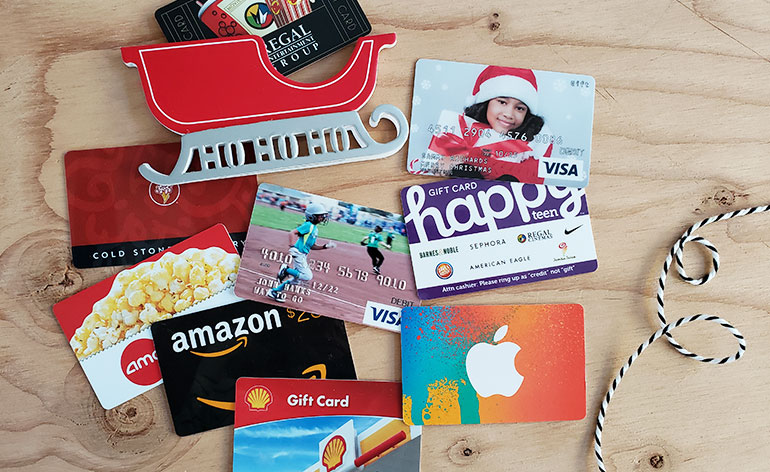 When I think of what teenagers want, "meals and wheels" top the list. From a ride to Sam's house to $10 for lunch, this group of highly-independent (but actually still quite dependent) people want gift cards to help them get where they want to go, and food to eat when they get there. If you can also help them look stylish en route, then all the better. Below is a list of Top 10 Gift Cards for Teens, plus why I think these cards make the grade.
What Makes a Good Gift Card for Teens?
Like the rules for buying gift cards for kids, there are some sensitivities around gift cards for teenagers that you must be aware of in order to pick the right card. Although I'm certain there are exceptions to my experiences and some exceptional teenagers in this world, for the most part, it seems kids ages 13 to 19 are moving toward independence, but aren't quite there. As such, gift cards they can use to buy what they want (or get where they want to go) are most helpful. Therefore, gift cards for teens should meet the following criteria:
Rule #1: Teens Shouldn't Have to Spend Their Own Money to Use Gift Cards
Just like their younger counterparts, teenagers shouldn't have to spend their own hard-earned babysitting money in order to buy something with a gift card. Best stores or restaurants for teens include those that have a range of products to choose from such as inexpensive accessories or a great lunch deal. That way, no matter how much you put on the card, a teen should be able to use it.
Rule #2: One Big Card is Better Than Several Smaller Ones
Typically teens would rather have one gift card with a decent dollar amount on it than a variety of gift cards that can only be used to buy small items. Unlike younger kids who are easy to please with little toys and generic-labeled clothes, teens have brand-name wants, adult-size clothing needs, and they'd rather have one coveted pair of Uggs than five off-brand shoes from Target. (I'm not judging. I'm just saying that's the way it is.) So, if your budget is limited, stick to the first rule and select a merchant that carries products in a range of prices. If you have more to spend, put it all on one card that teens can use to shop around.
Rule #3: Gift Cards with Options Are Best
My teens get stymied when a well-meaning relative buys them gift cards to stores they've outgrown or even a favorite clothing store that doesn't have a style they want at the moment. Though us parents may think bank-issued gift cards aren't personal enough, teenagers like them just fine. In fact, they prefer gift cards that can be used to buy almost anything they want. My daughter, for example, would use a Visa gift card to buy the hair and makeup products online or in her favorite stores. My boys would use Visa or Mastercard® gift cards to buy "rare" shoes online or a bunch of other things I don't understand.
Rule #4: Must be Accessible or Online
While some teens can drive, others still need to borrow mom's car or get a ride. Gift cards that can be easily redeemed within walking distance, are close to school or only require a short trip in the car are preferable. Gift cards that can be redeemed online are even better.
10 Best Gift Cards for Teens
With that criteria in mind, below is my list of the 10 Best Gift Cards for Teens and why I think these nationwide merchants should be considered.
1. Visa or Mastercard Gift Card
Since these gift cards can be used wherever Visa or Mastercard are accepted, teens can use them to buy gas, school lunches, after-school snacks, movie tickets, a smoothie during break-time and more. They can even be used to buy essentials such as school supplies, hygiene products or clothes. The point is, teens need flexibility, and there is no gift card more flexible than these.
Buy Visa gift cards or Mastercard gift cards
2. Happy Gift Card
Check out this line of gift cards called Happy Cards. Happy Cards are a line of gift cards that are redeemable at a curated selection of stores and restaurants all around a particular theme. Happy gift cards are perfect for teenagers and I would also consider Happy Bites and Happy Student.
Buy Happy Teen gift cards, Happy Bites gift cards and Happy Student gift cards
3. Target, Walmart or Amazon
Target and Walmart offer products in a range of dollar values and are widely accessible. With a range of product price points, teens are sure to find something they want–makeup, hair products, clothes, electronics, food and so forth. If a store isn't nearby, both have websites that carry a wide selection as well. And speaking of websites, Amazon has it all. Amazon gift cards can be used to buy electronics, downloadable music, books and other things teens need. Though shipping typically costs extra, with a decent load value, kids can get most of the things they want. If you have an Amazon Prime account your teen can use, then all the better.
Buy Target gift cards and Amazon gift cards
4. Electronics Gift Cards
Living in a digital world, teens are all about their electronics. Gift cards to Crutchfield Electronics, GameStop and other electronics stores can be used to buy phones, games, music players and so forth. Make sure the load value is useable, however, because this is an area where a $20 gift card might be more like a coupon–only good if you're willing to spend more than the value of the card.
Buy Crutchfield Electronics gift cards or GameStop gift cards
5. Games, Music and Apps Gift Cards
iTunes or Spotify or other downloadable music and app store gift cards are the perfect solution for giving teens usable gift cards in price ranges that fit your budget. With downloads available at just over a buck, even a $10 gift card can be used more than once. Though not as flexible as the other cards (you can only buy downloads), iTunes gift cards are easy to use, offer a wide selection and are highly accessible.
Buy Google Play gift cards, Spotify gift cards, Xbox gift cards, Nintendo gift cards or Playstation gift cards
6. Gas and Go Gift Cards
Meals and Wheels! Kids can get both with this gift card. Granted, the "meal" might not rank high on the nutrition scale, but the gas will be enough to get teens off campus for a higher-class menu. With gas prices what they are, I imagine teens might appreciate a full tank of gas as much as anything else on their list. If your teen doesn't drive and you approve of the sharing economy, then Uber gift cards are a nice choice.
Buy Uber gift cards
7. Starbucks, Dutch Bros, Peet's Coffee
Teens these days loiter around coffee shops like they used to hang around convenience stores, but they don't have to drink coffee to enjoy Starbucks, Dutch Bros or Peet's Coffee. They can grab a hot chocolate on the way to school or a blended strawberry lemonade after soccer practice.
Buy Peet's Coffee gift cards, Starbucks gift cards or Dutch Bros gift cards
8. Chick-fil-A, Sonic, Subway or other Fast Food
A gift card for the daily soda bargain at Sonic or the meal deal at Subway could make grabbing lunch easier than swiping a gift card at the cash register. While you may prefer teens to skip eating out entirely, my guess is they won't. So, if you want to influence their choice, get a restaurant gift card for where you want them to eat. Just make sure to pick a place teens can travel to without using too much gas.
Buy Subway gift cards, Burger King gift cards, Wendy's gift cards or Jack in the Box
9. Shoe Stores
Two things I've noticed about teens and tennis shoes–the older they get, the more expensive their shoes get. But, they do eventually stop outgrowing their shoes. So I didn't mind investing in higher quality shoes when my daughter's feet stopped growing. If you want to surprise your teens with trendy tennis shoes, then I suggest a gift card to ensure kids get the shoes they want.
Buy DSW gift cards, Footlocker gift cards or Champs Sports gift cards
10. Clothing Stores
You could argue that clothing stores should be higher on the list, but I submit that kids would rather have a gift card they can use at any clothing store rather than a gift card to a single clothing store. That said, if you know your teen has a favorite store and you're willing to put a dollar value on the gift card that allows some shopping freedom, then getting a gift card for fashion is a great option.
Buy American Eagle gift cards, Abercrombie & Fitch gift cards, Nordstrom gift cards or Macy's gift cards
11. BONUS: Sephora and Ulta
I can't end this list without including two very popular stores among teens–Sephora and Ulta. Thanks to a myriad of Youtube Vloggers, teens know how to wear their makeup better than many adults I know. But, cosmetics are expensive. So if the teen on your list likes to wear makeup, then you can't go wrong with these brands.
Buy Sephora gift cards or Ulta gift cards
What Other Gift Cards do Teens Like?
What about your teens? Do they have a favorite store or restaurant that I missed? Besides these national chain gift cards, teens will enjoy local options as well. Is there a teen center, local hang out or favorite entertainment place nearby? Get a gift card for one of those and say goodbye. Once they have a ride and a gift card to spend, you might not see them home for a while.
If I missed any gift cards for teens, let me know in the comments below.
Happy Gift Carding!
~Shelley Hunter, Gift Card Girlfriend