The Largest and Most Trafficked Gift Card Website's Data Indicate 2015 Will Be the Year of eGift Cards.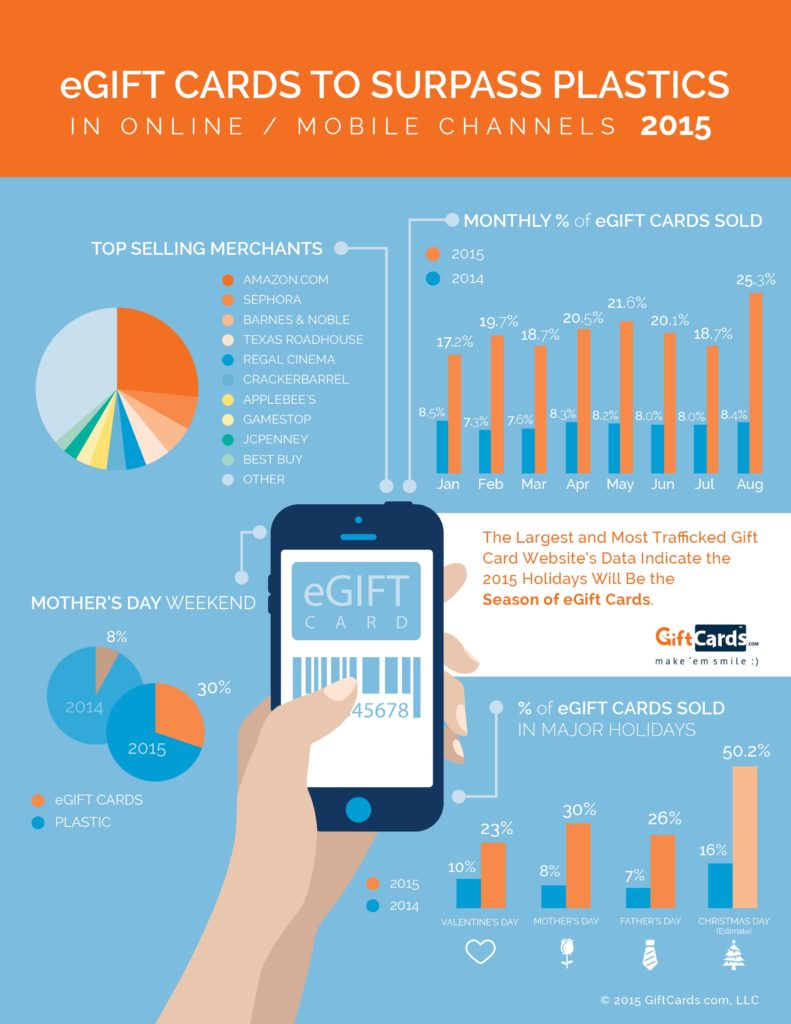 Pittsburgh, PA (PRWEB) October 13, 2015
– Giftcards.com, the largest marketplace for gift cards online, announced today its sales data indicates egift cards will surpass plastic cards in online and mobile channels by the upcoming 2015 holiday season. eGift Cards are virtual cards delivered immediately by e-mail, SMS or social media and redeemable online, in-store, or over the phone at individual merchant stores, or virtually anywhere in the case of an open-loop Visa® or Mastercard®. In August 2015, Giftcards.com has seen an increase of 397% in egift cards over the same period in 2014. This means egift cards have grown from 8.4% of total gift cards sold in the site in 2014 to 25.3% in 2015, or one in four gift cards is now digital. A close look at popular holidays reveal a much more insightful story. As consumers, and even more so online shoppers, tend to procrastinate shopping in these periods, same-day delivery egift cards prove to be a very convenient and effective gifting item. The data measures the week leading to and including the major holiday (7 days worth of data) for Valentine's, Mother's Day and Father's Day, and for the period between Black Friday and Christmas Day for the Christmas season, comparing 2015 vs. 2014 (Christmas 2015 estimates based on growth across other holiday periods). Across the board, the data shows explosive triple-digit growth in 2015, anywhere from 218% for Valentine's to 535% for Mother's day. For Christmas, Giftcards.com's analysis took the weighted average growth of the other three actual holidays and applied it to last year's Christmas figures. The same was done for overall gift card sales to come up with the resulting share of egift cards vs. its plastic counterparts. The resulting numbers indicate that egift cards will make up 50.2%, or just over half of all gift cards sold between Black Friday and December 25th through online and mobile channels. "As the leading online gift card seller, this is the first time we've seen data indicating our egift cards will surpass plastics," comments Shelley Hunter, a.k.a. Gift Card Girlfriend, and spokesperson for Giftcards.com. "As yet another industry migrates to digital format, the inevitable inflection point could come earlier than expected for all merchants and the eventual acceptance of digital wallets seems to be accelerating this trend." Of all the egift card merchant brands sold on the site, Amazon takes the lion share, with more than one in four merchant brands sold, or 27%. Other popular brands include Sephora, Barnes & Noble, Texas Roadhouse and Regal Cinemas.
About Giftcards.com
Since 1999, Giftcards.com has been providing U.S. consumers with an array of gift card products including personalized gift cards, group gift cards, egift cards and local gift cards redeemable at millions of establishments across the country. Giftcards.com is also a leader in gift card innovation with 45 patents filed and 17 patents issued/allowed. The company additionally gives gift cards to underprivileged children through its "You Gift. We Gift." program and makes an annual contribution in each employee's name to the employee's charity of choice. More information about Giftcards.com can be found on the company's media page.
Media Contact:
Carlos Tribino CMO, Giftcards.com 412-979-6786 carlos(dot)tribino(at)giftcards(dot)com