Free printable Easter gift card holders also make great money holders.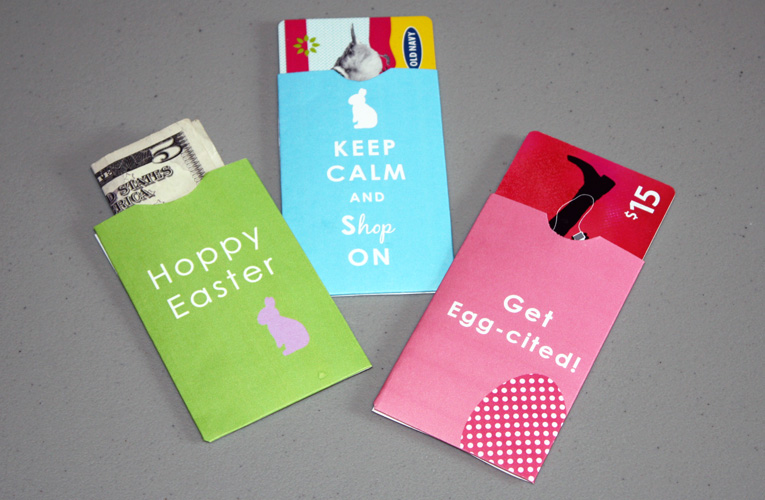 Easter is just around the corner. I just got done buying a few Easter clothes for the kids, and now it's time to start thinking about those baskets. I know the rest of you are probably already done, but Easter comes early this year so I've had less time to prepare. Nonetheless, I can always fall back on my first Easter printables that can be used to hold gift cards, money or even printed egift cards. (I even saved these gift card holders from the previous year and used them again. Store them right alongside the Easter baskets!)

Download Printable
Whether you want to order one of our Easter gift cards or pick one up at the store, these Easter pockets will fit just right. Below are the steps you'll need to download the printable and get started.
Download "Easter Money Holder" Pockets Gift Card Holder
After downloading the Easter printable, print it on a color printer using "best quality" and "actual size" settings. (Do not select "shrink to fit" or any other setting that will change the size of the printed .pdf image.) White, card stock paper measuring 8-1/2″ x 11″ works best. Cut around the pockets using a paper cutter or scissors.

Score and Fold
I've found that it is much easier to fold card stock if I score it first. I first used a ruler and a mechanical pencil with the lead pushed in to score the cardstock, but I have since upgraded to an actual bone folder, but any dull-edged sharp tool will work. Does that makes sense? Like the back side of a butter knife or even the edge of a gift card!
After you score the card stock, fold the pockets and glue each edge with a glue stick. If you prefer to use this download as a template you can do that too. Simply cut the pockets out and lay the pattern onto scrapbook paper. Trace around the edges and cut along the lines. Fold up as described above, then add your own embellishments. After all, that's what Gift Card Girlfriend is all about–helping you add a personal touch to the gift cards you give.
More on Pinterest
For more free printable gift card holders, hop on over to the free prints page or follow Gift Card Girlfriend on Pinterest. If you use this printable, send me a link to your page in the comments below or contact me on Twitter (@GCGirlfriend). I want to see what inspires you.
Happy Gift Carding!
~Shelley Hunter, Gift Card Girlfriend