Whether Back-to-school time or Teacher Appreciation week, this key ring of gift cards is an A+ gift for teachers. Easy to make and fun to give!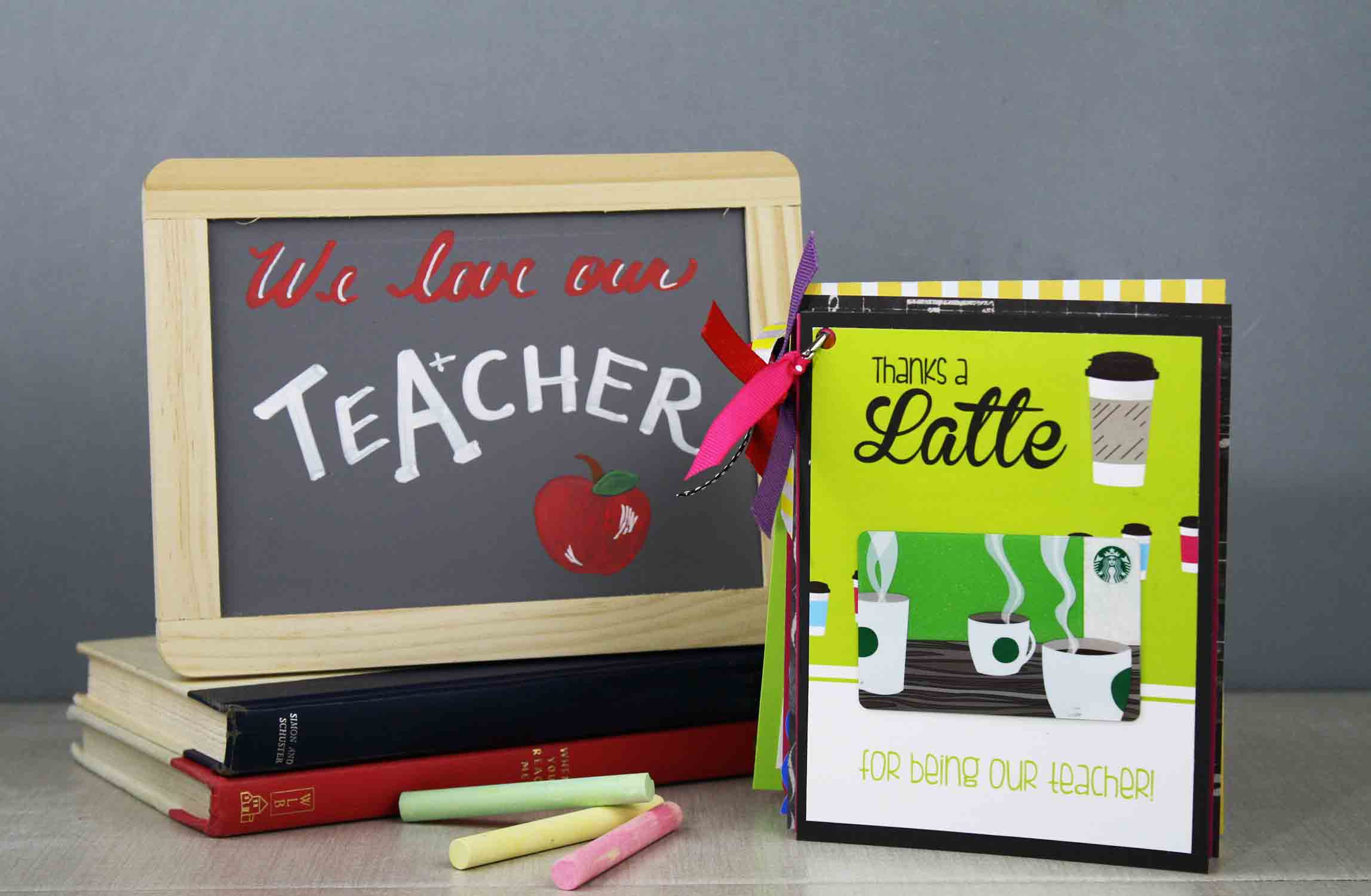 If you're a fan of the Teacher Appreciation Group Gift like I am, then this roundup of free printables is going to make your life so much easier. Are you the class parent? Are you in charge of the PTA? Or are you just someone who wants to gather a bunch of parents together to wish your teacher a happy birthday, happy summer or happy holidays? No matter what the reason, this key ring full of gift cards is the perfect present. Download one or collect all seven–either way, you'll move to the head of the class and be the star of the week for sure. Now pencils up! Let's get started!

Thanks a Latte!
Chances are good, you've seen this clever "Thanks a Latte" word play on Pinterest already, but I'm betting you haven't seen a "Thanks a Latte" gift card holder as cute as this one. (We even have a cut-out version coming! Stay tuned!) Add a Starbucks gift card, a Caribou Coffee gift card or a gift card to a local shop in town that serves lattes, and you're all set.
When I crafted this little cutie up, I cut the gift card holder out, added a black matte card to the back and attached a Starbucks gift card. Then I punched a hole in top to slip the card on the key ring. Super cute and super easy!
Download Free "Thanks a Latte" Printable here.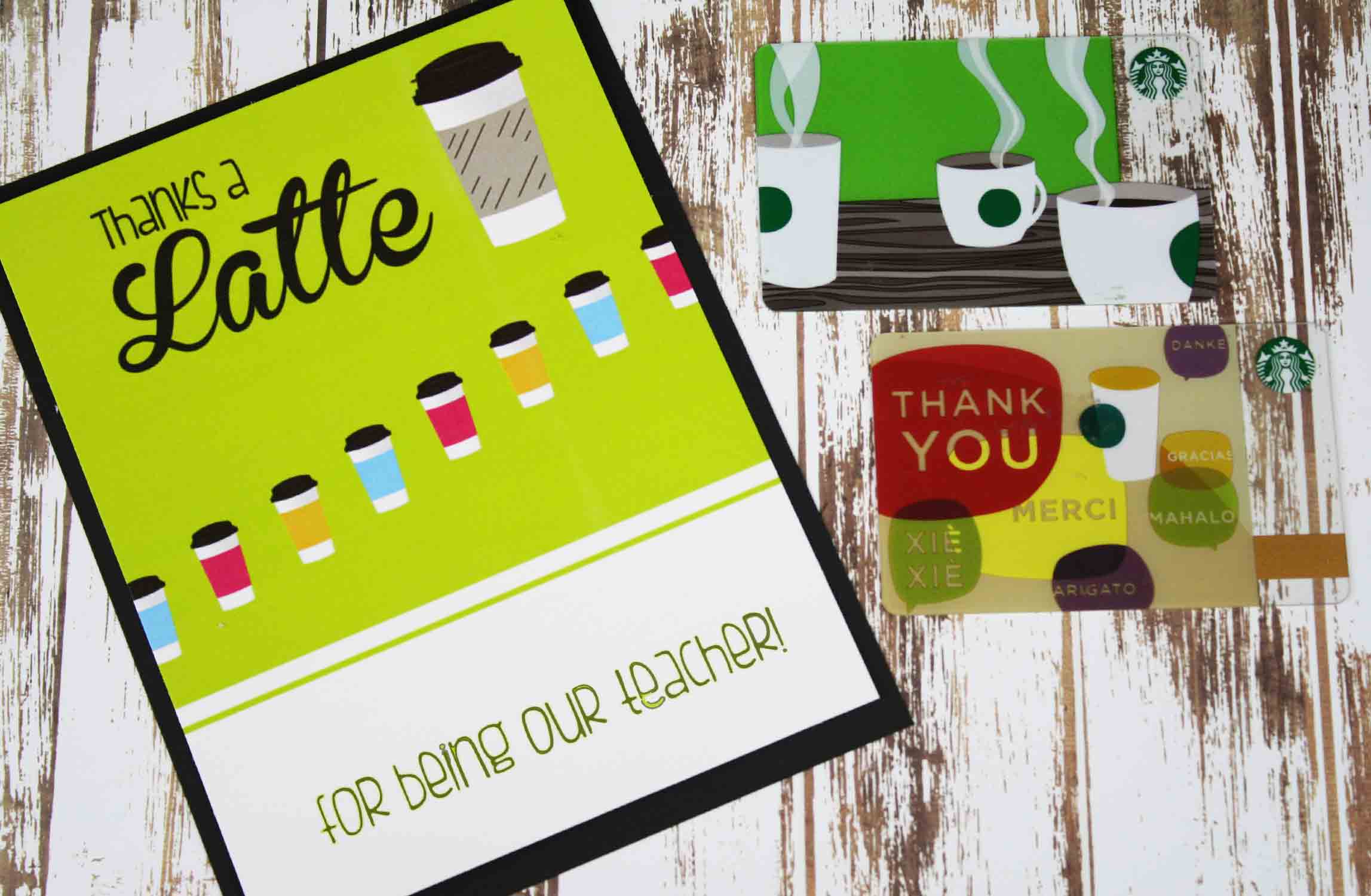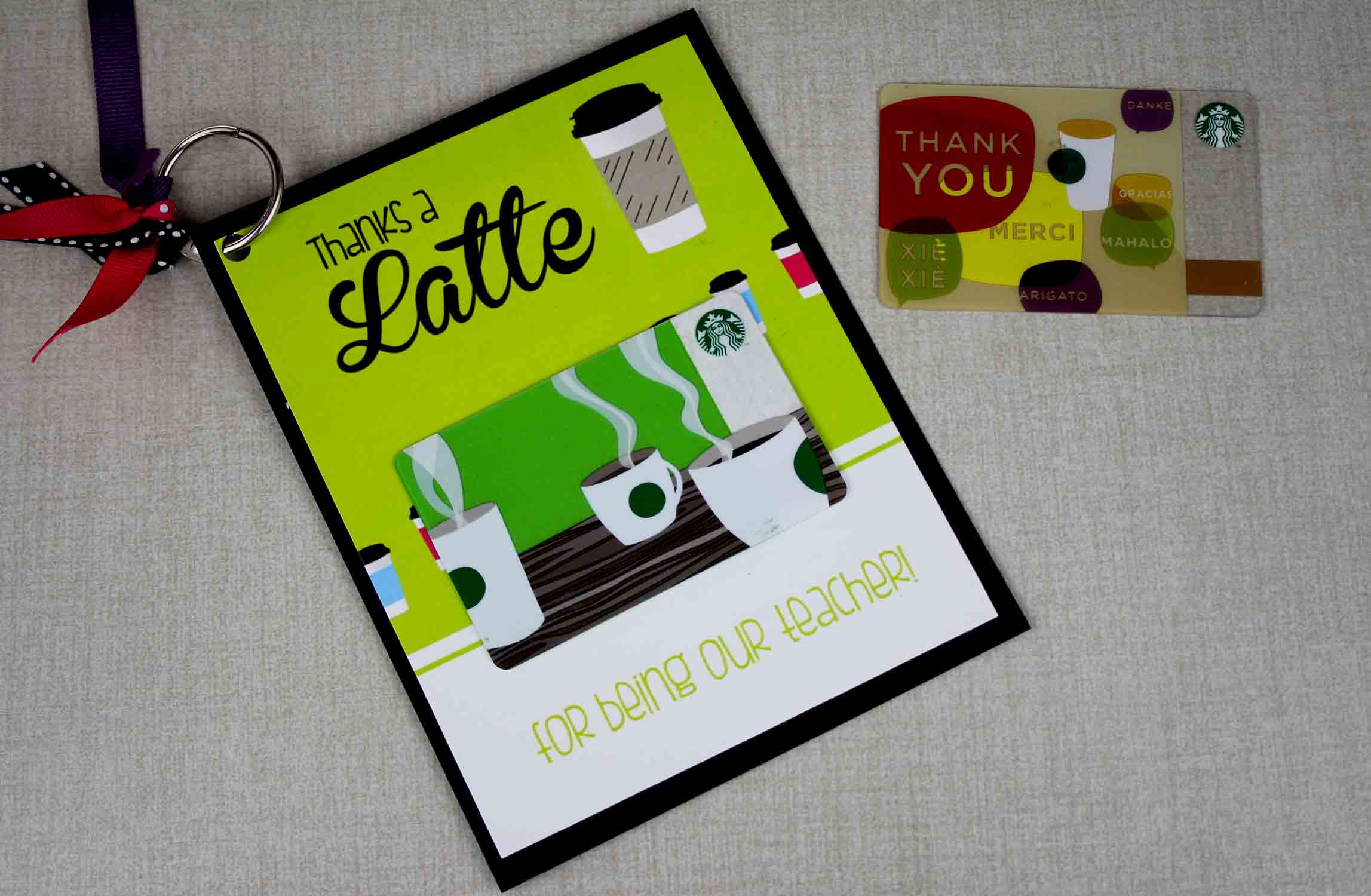 You're a SCENTsational Teacher!
The gift card holder that reads "You are a SCENTsational Teacher" may be a little girly, but the gift card itself doesn't have to be. I just stopped by my local Bath & Body Works shop to find that they have a decent selection of manly products plus car air fresheners and scented candles as well, all ideal products for teachers of either gender. If you live near a Yankee Candle shop, then that gift card would be perfect too. Additionally, my CVS pharmacy carries a fragrance gift card that can be used to buy perfumes and lotions at the store. (I think it can actually be used for anything, but the design implies beauty products.)
Before adding this gift card to the key ring, I put a real flower button on top of the printed flower and glued the holder onto some pink, glittery card stock. Done!
Download Free "SCENTsational Teacher" Printable here.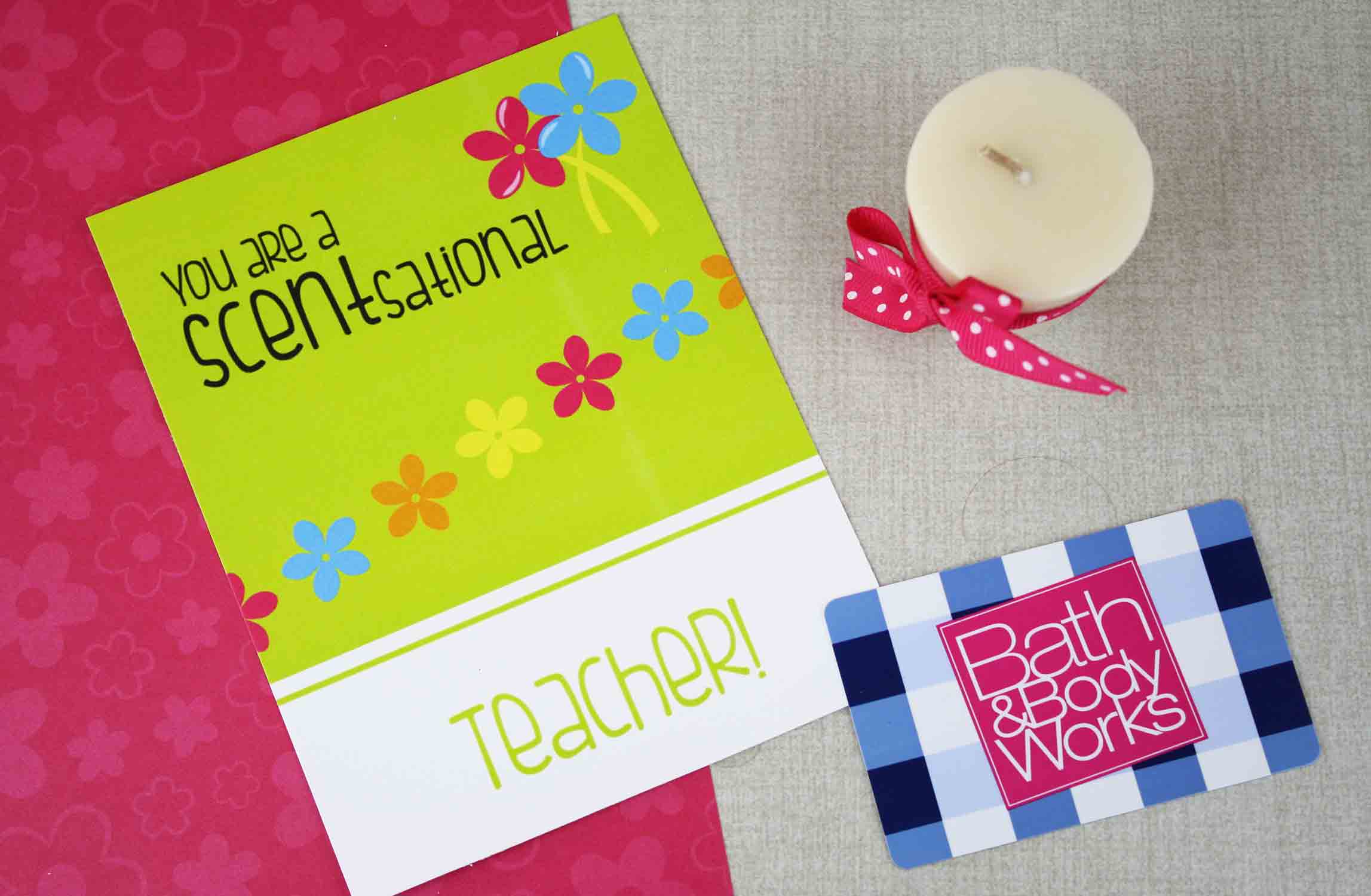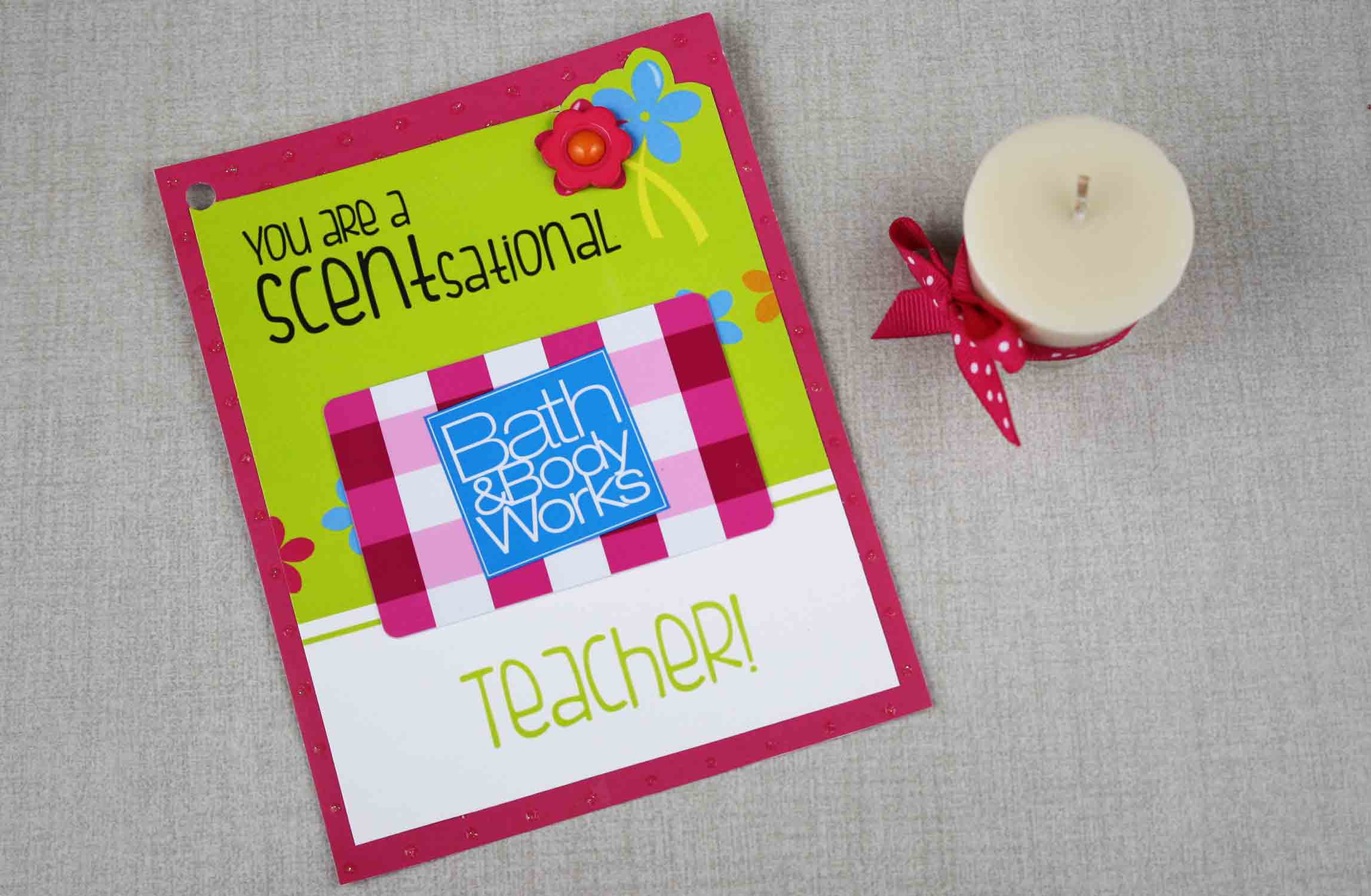 You ROCK!
We made a birthday version of this "You Rock" gift card holder a few months ago because it's the perfect way to present a music gift card such as iTunes, Spotify, Pandora, Disney Music or Amazon MP3–all of which are popular gift cards these days. This music-inspired gift card holder could also be used to present concert tickets, a gift card to Hard Rock Cafe or a gift card to the local music shop in town. (How great would this gift card holder be for the band or choir teacher at your school?!?)
To pump up the jam on this rockin' gift card holder, I added a piece of music-themed scrapbook paper to the background. Then I picked an iTunes gift card that fits the color-scheme perfectly. Punch a hole in top of the holder to slide it onto the key ring and this gift card is ready to go in less time than it takes to sing your ABC's.
Download Free "You Rock Teacher" Printable here.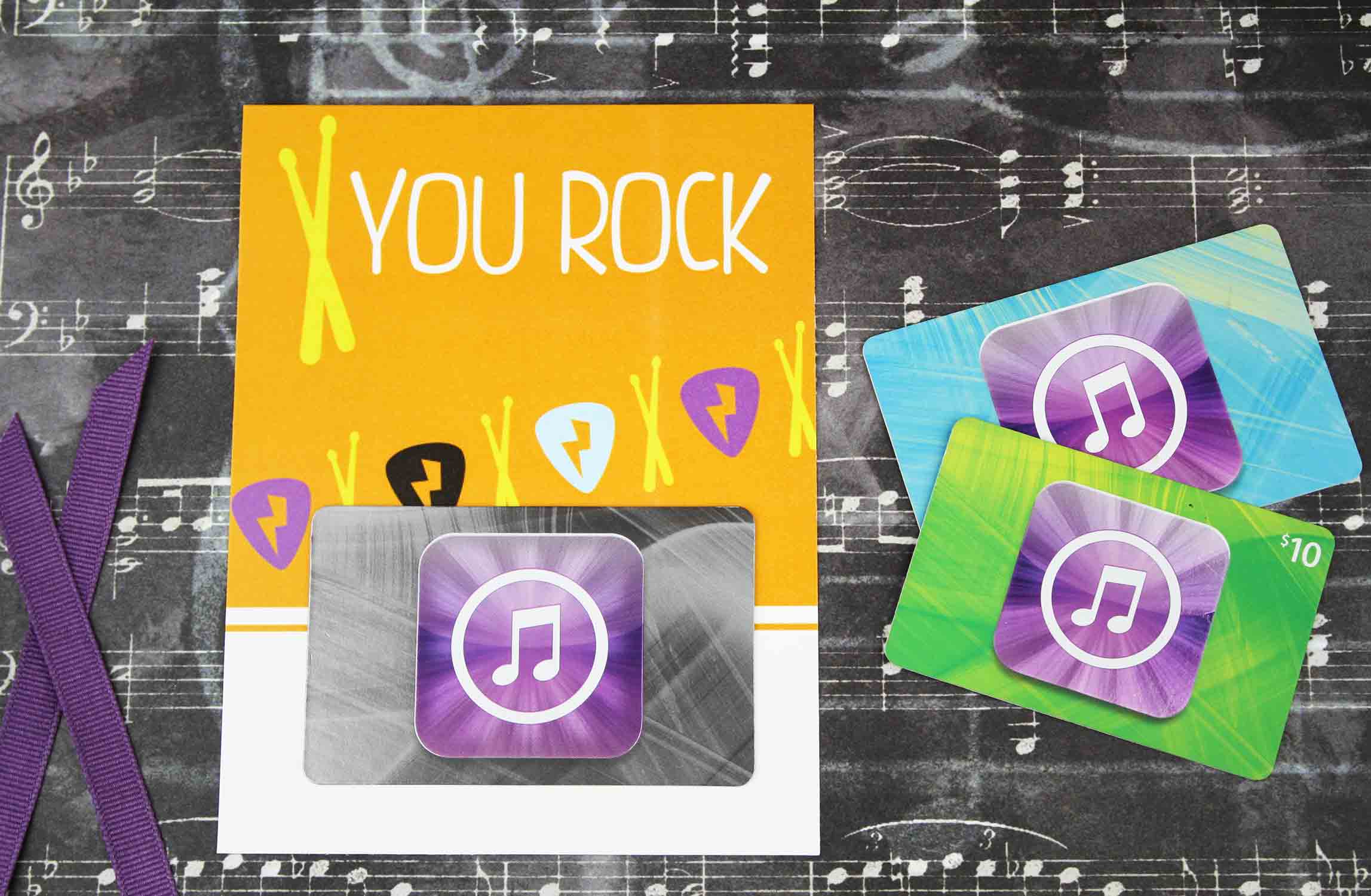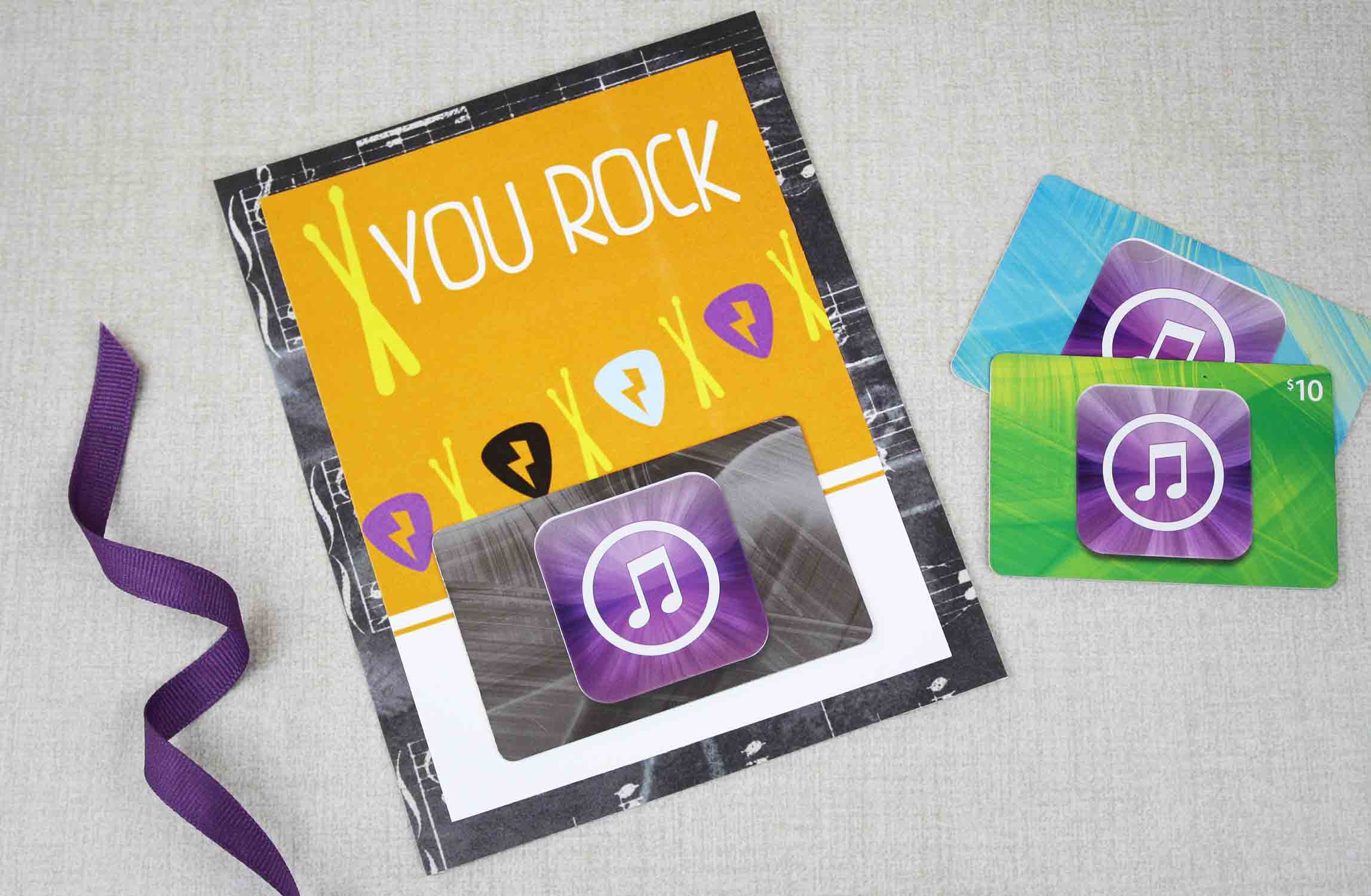 You need a TIME OUT!
It's not just kids who need the occasional time-out! We could all use a break sometimes. I'm guessing the need to refuel and refresh is especially true of teachers. With this free printable gift card holder that says, "You need a time-out," you can send your teacher to the movies with ease. Regal Cinemas, CineMark and other movie theater gift cards are the perfect fit. If you're not sure which movie theater is convenient for teacher to visit, get a Fandango gift card instead. Throw in a little popcorn and "Action!"
I layered this movie-themed gift card holder with a yellow and white striped piece of scrapbook paper. Then I punched a hole in the top and added it to the teacher appreciation gift card ring. You know, this holder can also be delivered individually. Print the holder, add a gift card and deliver it with a bucket for popcorn and some movie snacks.
Download Free "You Need a Time-out!" Printable here.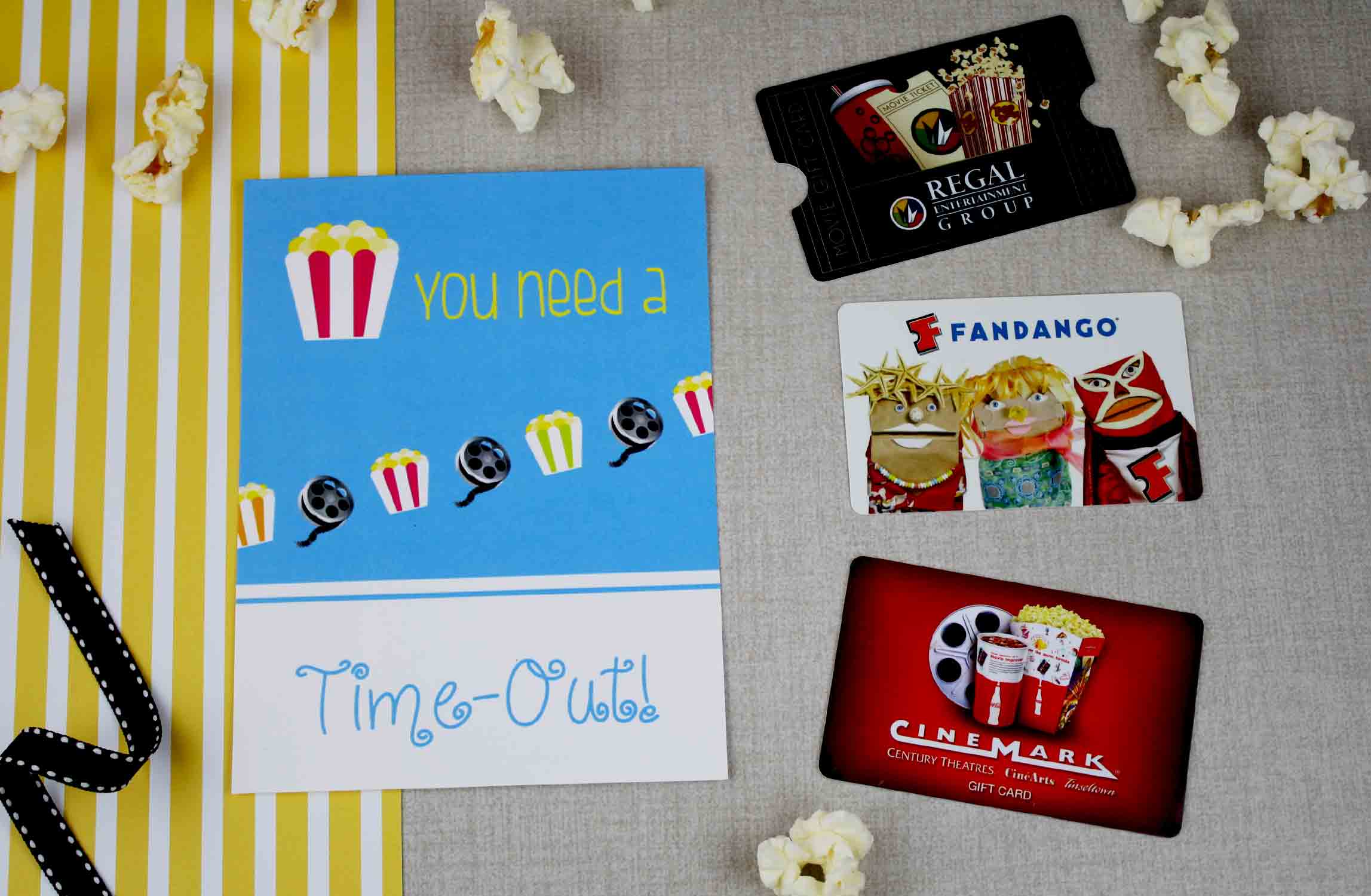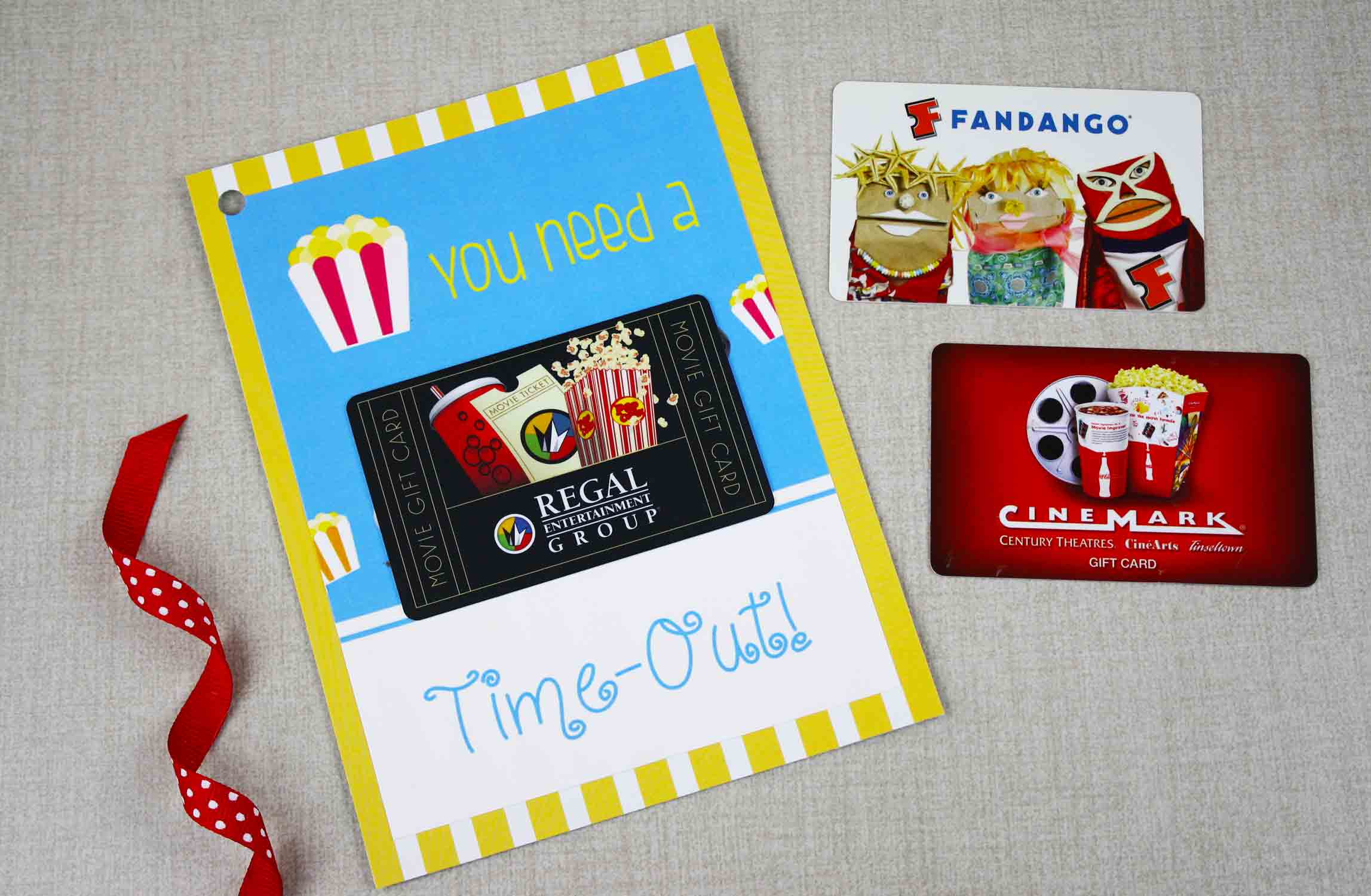 It's a TREAT Having you for a Teacher!
Get your sweet tooth ready for this gift card holder that says "It's a TREAT having you as a teacher." Use this holder to deliver a local candy shoppe gift card, See's candy gift card, Cheesecake Factory gift card or any other gift card with a sweet theme. It can even be used to give the gift of ice cream, frozen yogurt or shaved ice–all of which are treats!
Before adding this sweet gift card holder to the key ring, I glued it to an electric blue colored piece of card stock. Then I used decorative-edge scissors to scallop the edges. Another way to give someone this gift card (if not part of the collection) would be to put any gift card on the front, and simply deliver it with candy or other treats.
Download Free "You're Such a Treat" Printable here.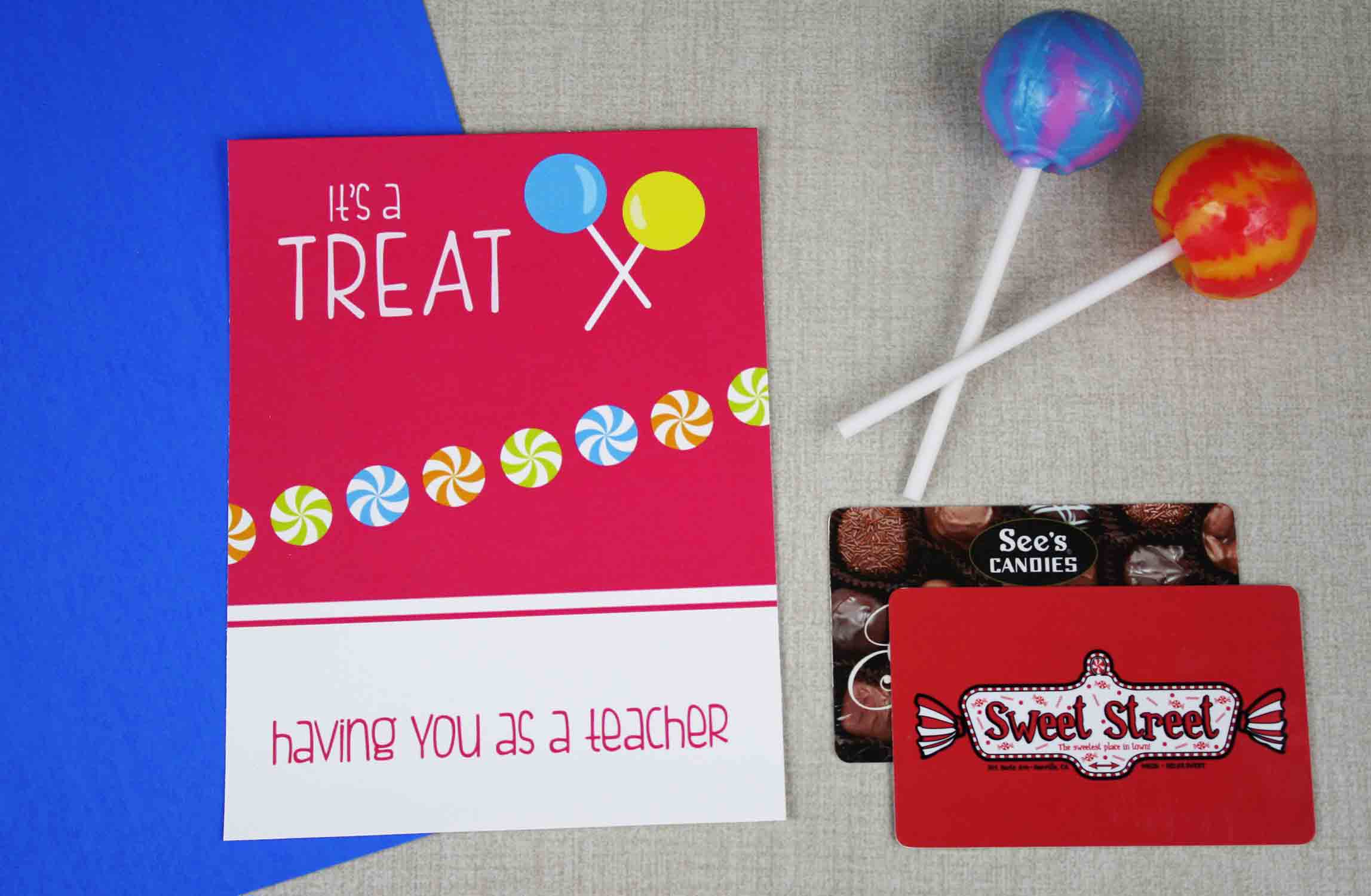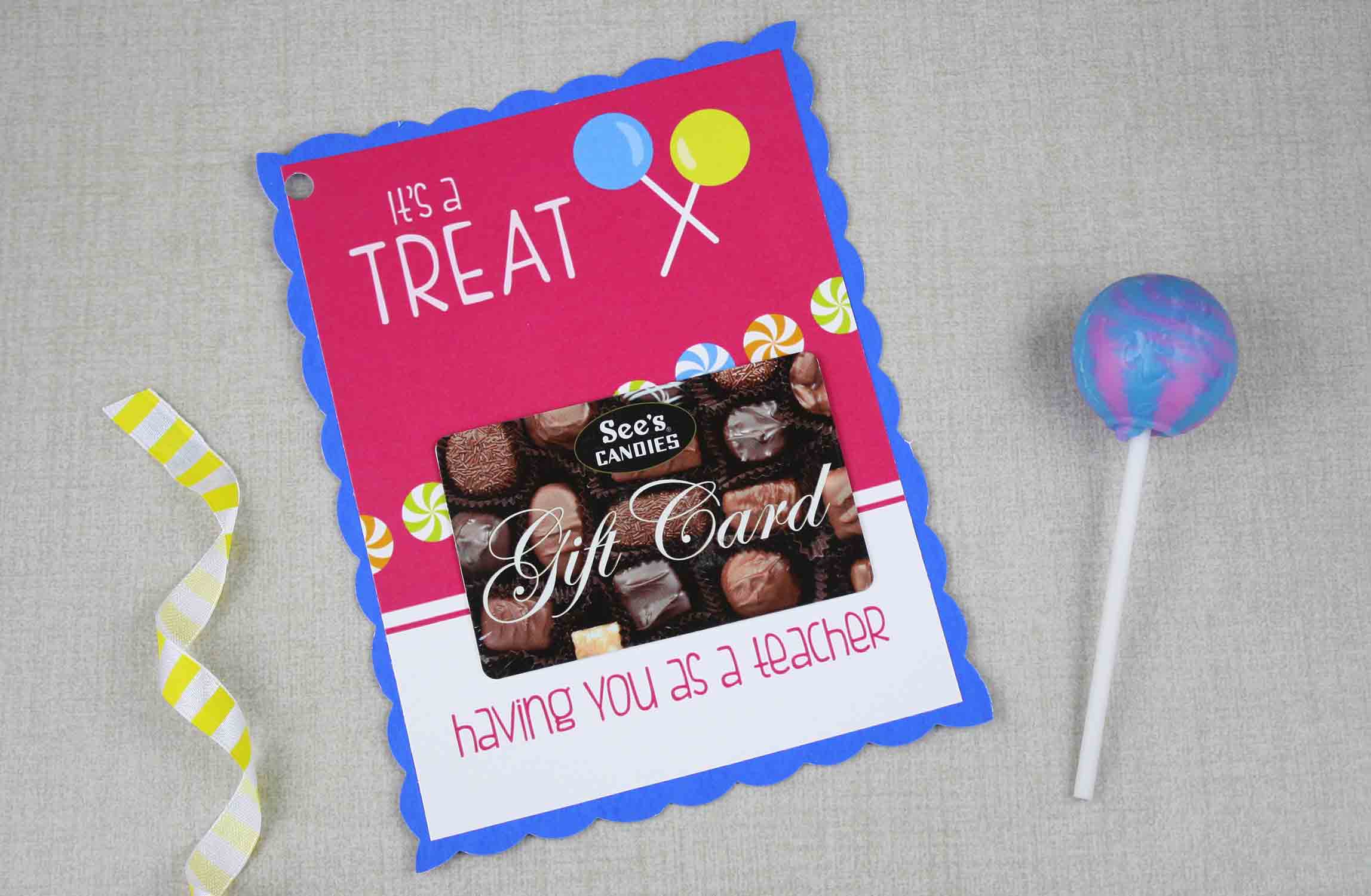 You're the COOLest Teacher Ever!
Treat your cool teacher with a gift card to a local eatery that sells cold treats such as ice cream, frozen yogurt, smoothies or frozen custard. Then deliver it with this gift card holder that says "You're the COOLest Teacher Ever!" National stores like ColdStone, Jamba Juice, Dairy Queen, Baskin Robbins, Ben & Jerry's are a perfect fit. If you want to upscale the gift card, get a Disney gift card featuring the movie "Frozen" or a gift card to a cold weather clothing store such as The North Face instead.
Using a pair of decorative-edge cutting scissors, I rounded the corners of the gift card holder to match the corners of the gift card itself. Then I mounted both to a piece of pink card stock paper. That's just a little touch to make this "cool" gift even cooler.
Download Free "COOLest Teacher Ever" Printable here.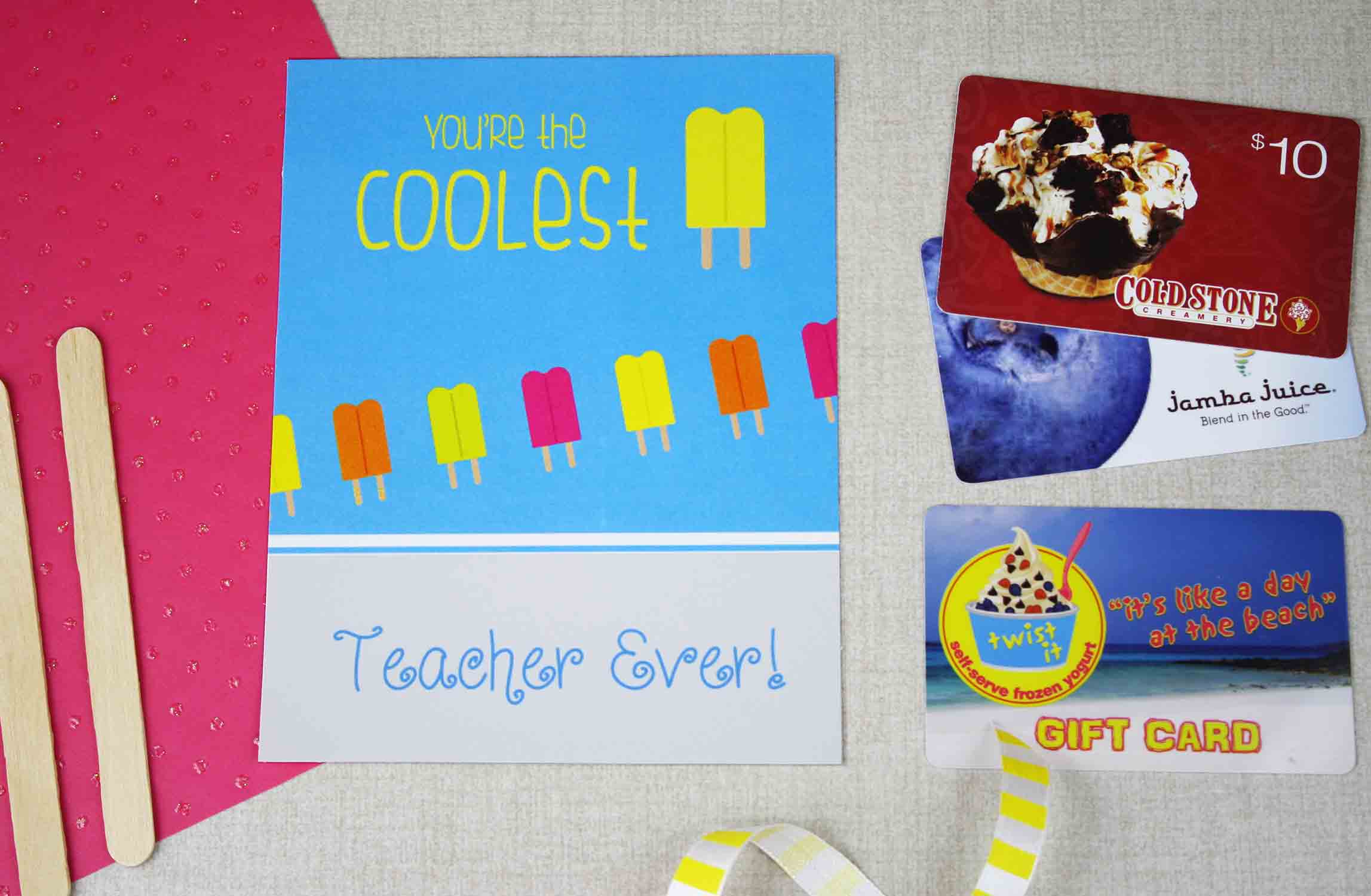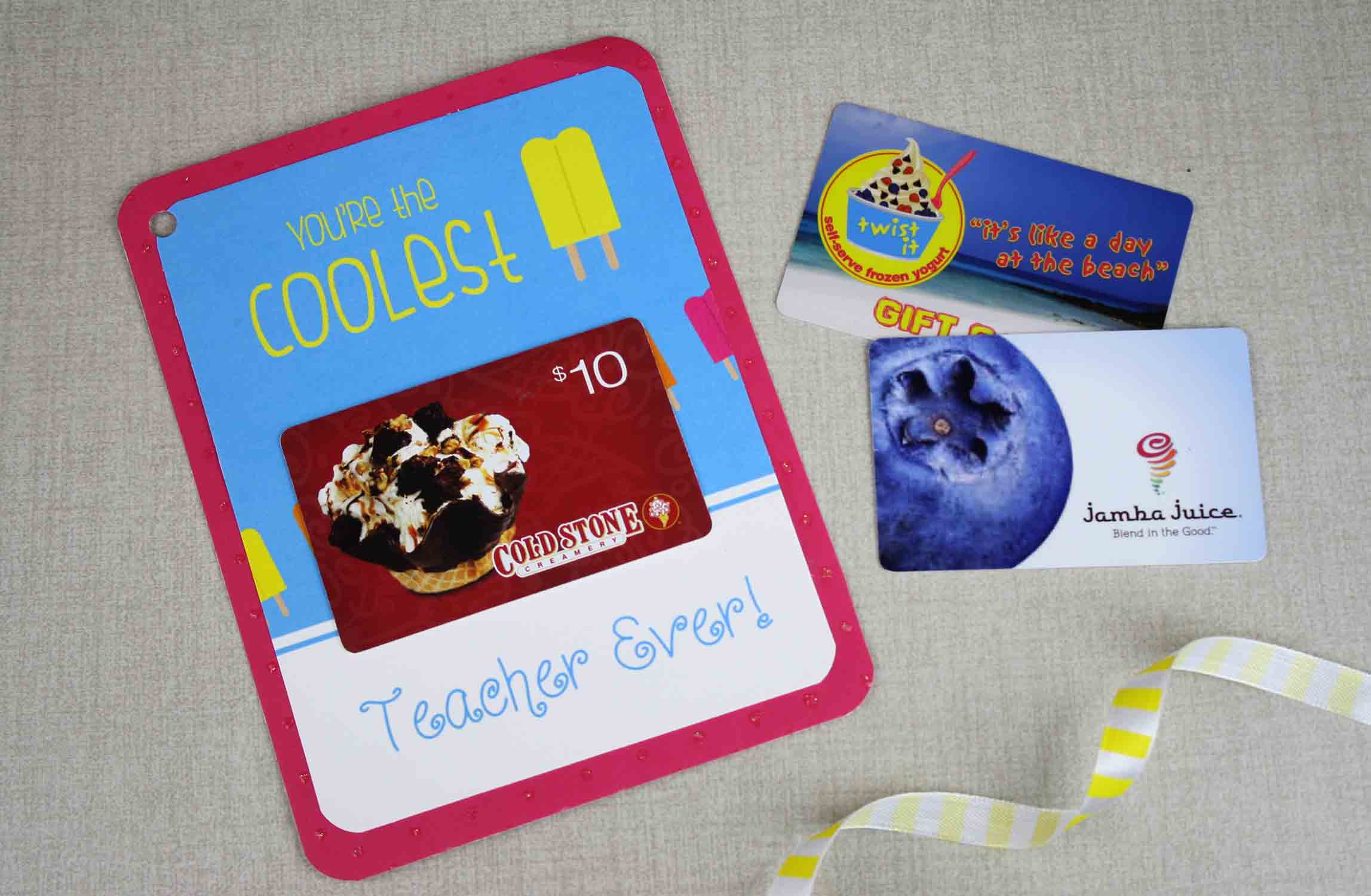 DONUT Know What We'd Do Without You!
Oh, how I love this cute little gift card holder that says, "DONUT…know what we'd do without you." It's perfect for a doughnut store gift card such as Krispy Kreme, Dunkin' Donuts or a local doughnut shop in town. You could even skip the group gift and turn this free printable holder into an adorable solo gift. For example, put a Starbucks gift card on the card holder, then deliver it with a dozen donuts. The presentation is different, but the combination still works.
Instead of using double-sided tape to attach the gift card, as I have in all the other examples above, I punched a couple of holes into the Krispy Kreme gift card (being careful not to cut the magnetic stripe) and used decorative brads to hold the card in place. I sorta love it…a lot. I also mounted the holder to a matching piece of scrapbook paper for a little background pizzazz.
Download Free "DONUT Know What We'd Do" Printable here.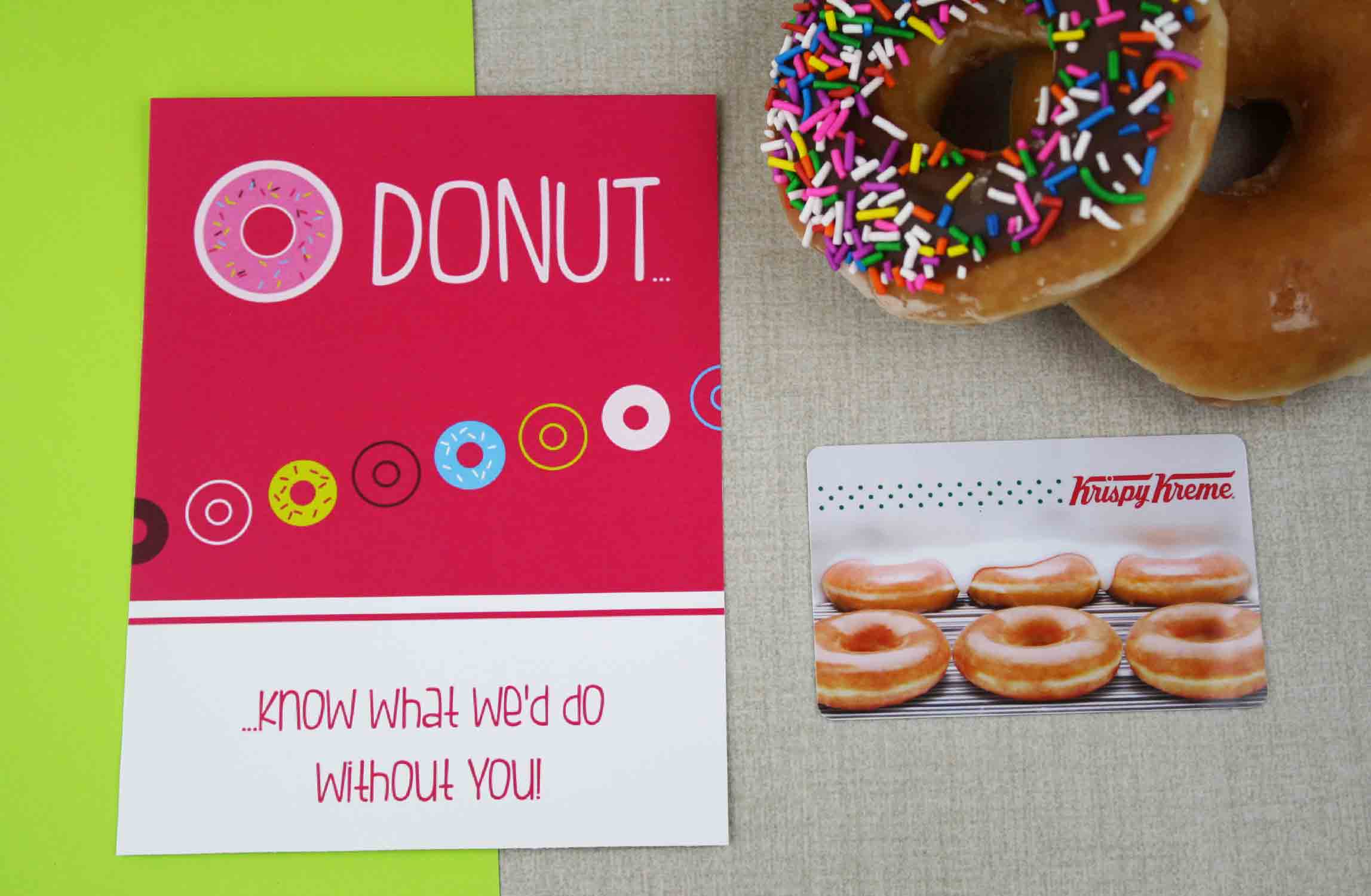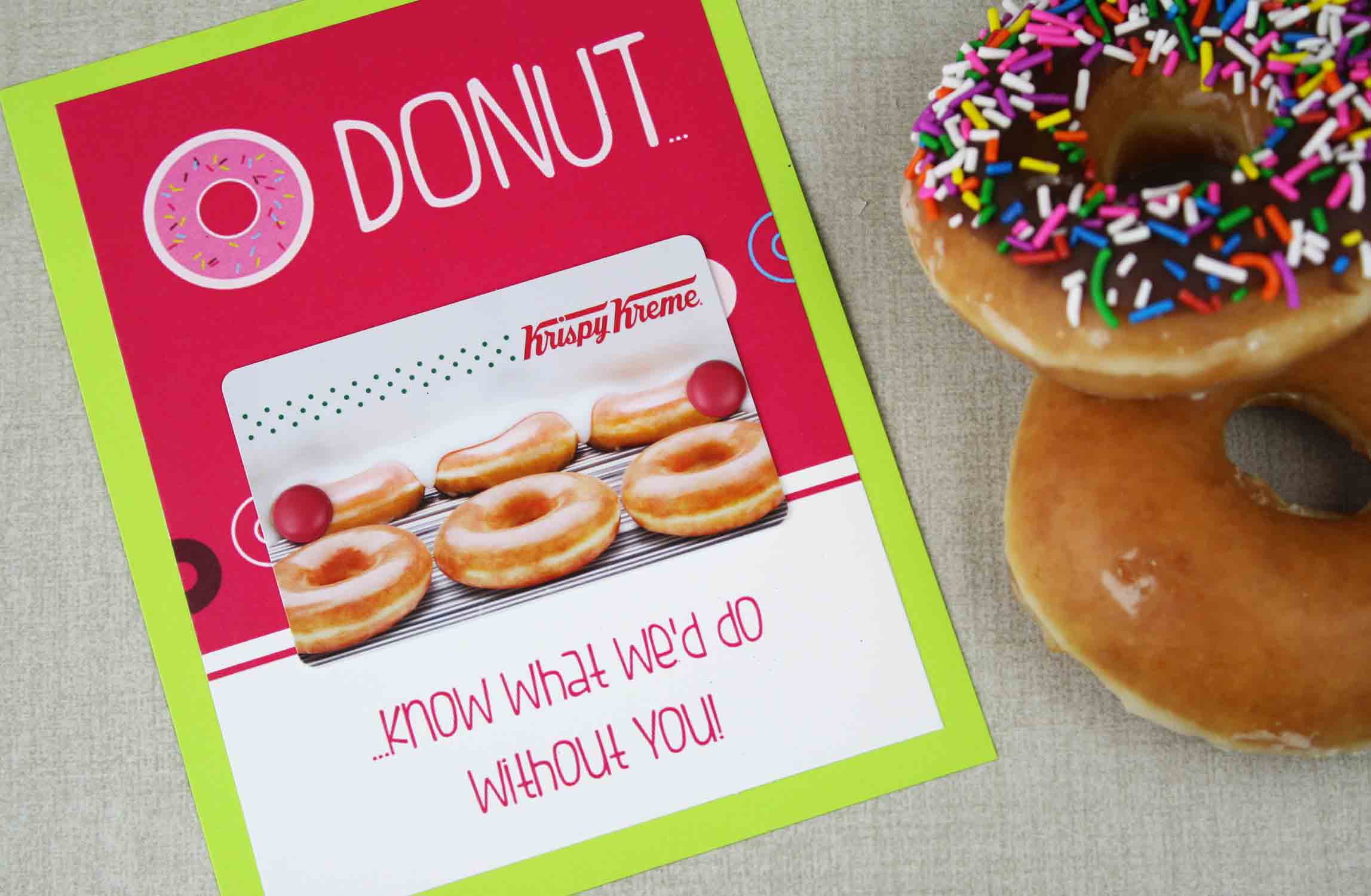 The Finished Gift Card Key ring for Teacher
All done! With each gift card holder placed on the key ring, I simply tied ribbon around the ring to make it more festive. Now all you have to do is turn in your completed project for a grade, which, I can assure you, will be an A+. It's a stack full of gift cards, each with cute thoughts of teacher appreciation. And not one apple! What more could you ask for in a teacher thank you gift?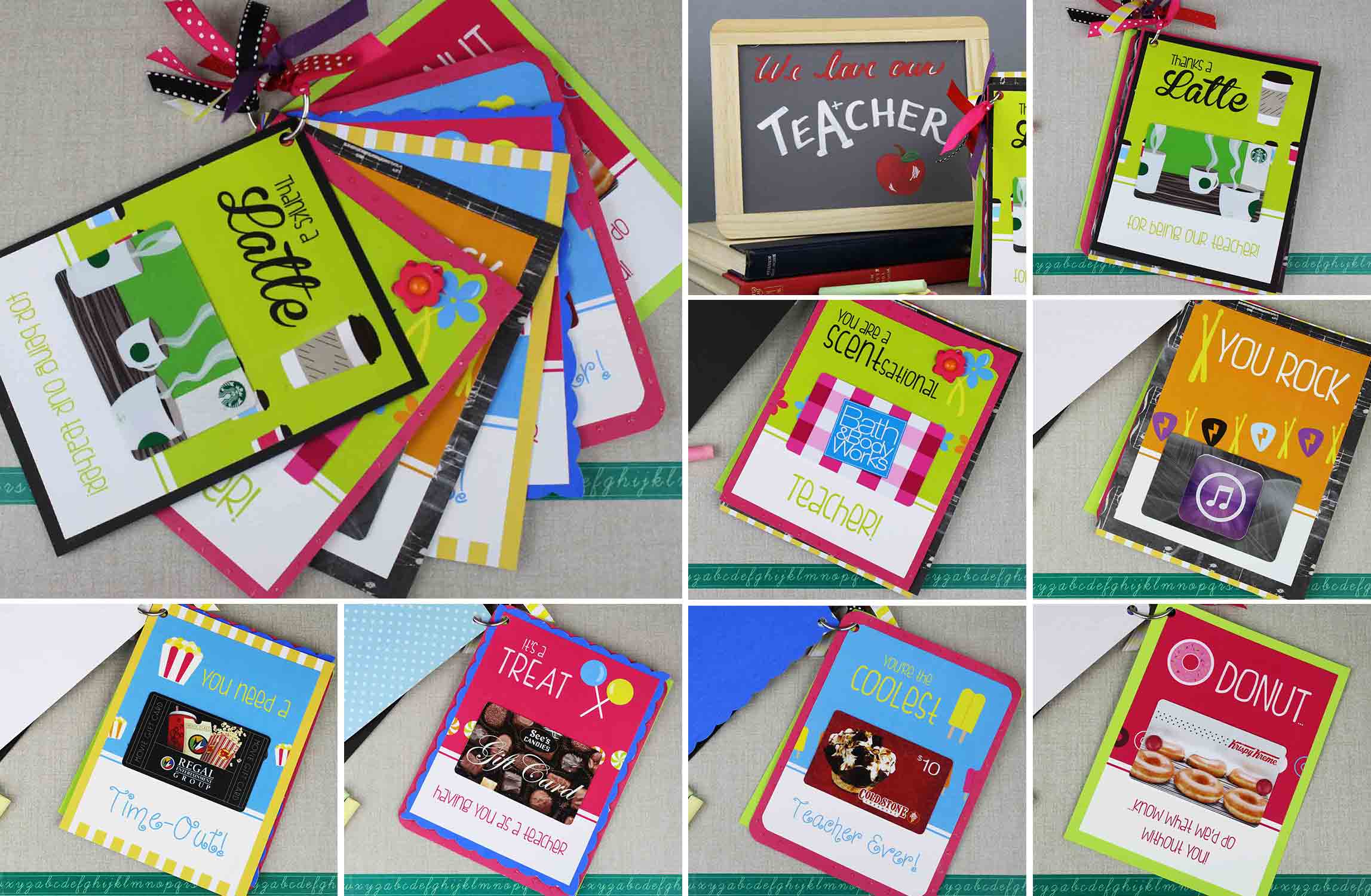 Although this collection includes seven gift cards, you can pick the ones that work for you and omit the rest or double up and give the teacher more than one card per theme–maybe two time-outs are needed. One for dinner and one for a movie!
To collect the gift cards, either ask parents to donate cards for specified locations and specified amounts, or collect money from everybody and buy the cards yourself. Remember, the dollar value doesn't have to be large for these gift cards to be valued, but one of my Gift Card Girlfriend rules is that the recipient should be able to redeem the gift card without spending his or her own money. For each of the cards suggested here, I think 20 dollars would be ideal, but the cards would still be usable at lesser amounts as well. You might also vary the amount put on the card such as 20 dollars loaded onto the movie gift card but only 10 dollars put onto the music gift card. Either works.
Got any other suggestions for Teacher gift cards? I'd love to see what you come up with. Add a comment below or reach out to me at @GCGirlfriend on Twitter.
Happy Gift Carding!
~Shelley Hunter, Gift Card Girlfriend