This post is all treat and no trick. If you want to give someone a gift card for Halloween, then check out these scary simple Halloween gift ideas.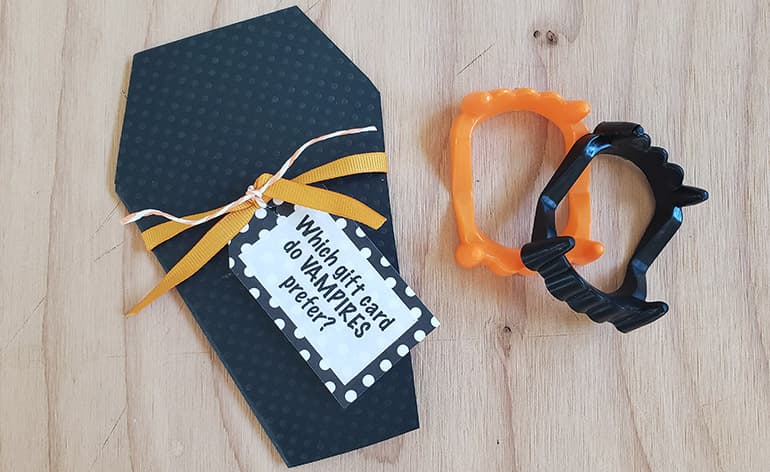 When I think of Halloween, I think of costumes, candy and a little bit of chaos. I'm a low key decorator who puts a few pumpkins on the porch and calls it good. My sister, on the other hand, looks forward to Halloween all year long. She creates a haunted house in her garage, puts lights all over the house and sets up a fire pit on her driveway to warm little trick-or-treaters every October 31st. She's high key in to Halloween.
To combine her obsession for Halloween with my obsession for gift cards, I put together some Halloween gift ideas that are quick and easy to make. In fact, you can (gasp) skip the gift card to make these Halloween gift ideas even easier…though I wouldn't. But you could.
1. Vampire's Favorite Gift Card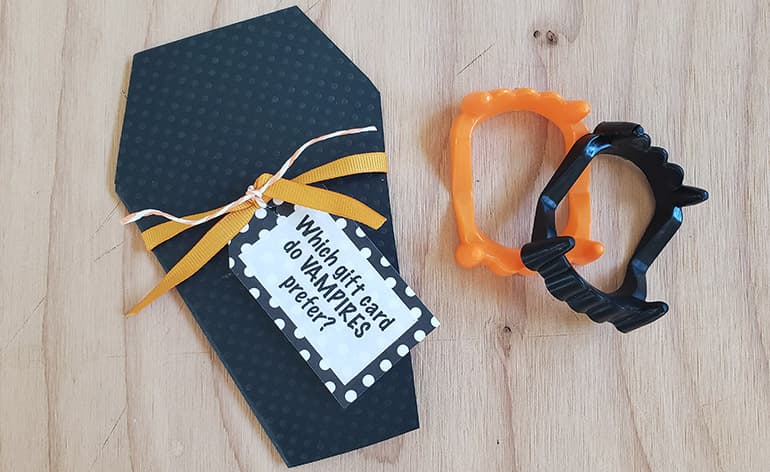 Except this one. This Halloween gift idea requires a gift card, but it's worth it.
Though we don't "exchange" Halloween gifts in the same way we exchange presents for other holidays, there are times in which a Halloween gift is appreciated and appropriate. Grandmas, for example, often send Halloween cards to their grandkids. Children might give gifts to their teachers and parents send Halloween care packages to their college students. We also have fall festivals, autumn carnivals and other gatherings that necessitate door prizes, raffle prizes and Halloween carnival game prizes.
In thinking about the best gift cards for Halloween, this Happy Bites gift idea popped into my mind. Read on for instructions on how to make it and how to get the free printable gift card holder shown.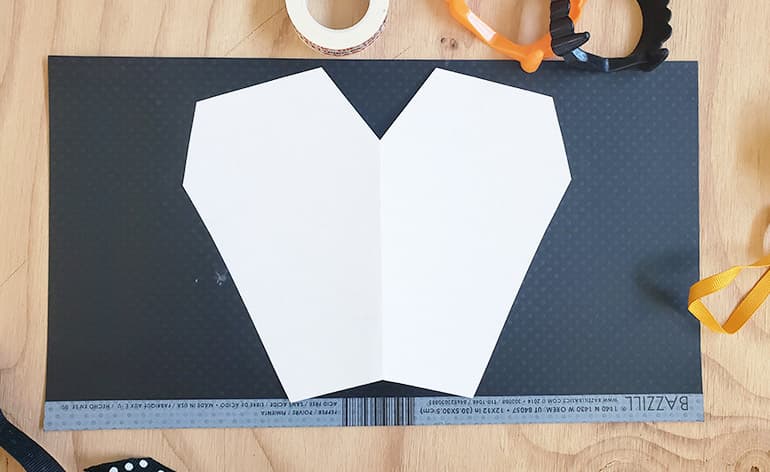 Download the free printable Vampire gift card holder. It's a template for you to trace and cut on paper of your own.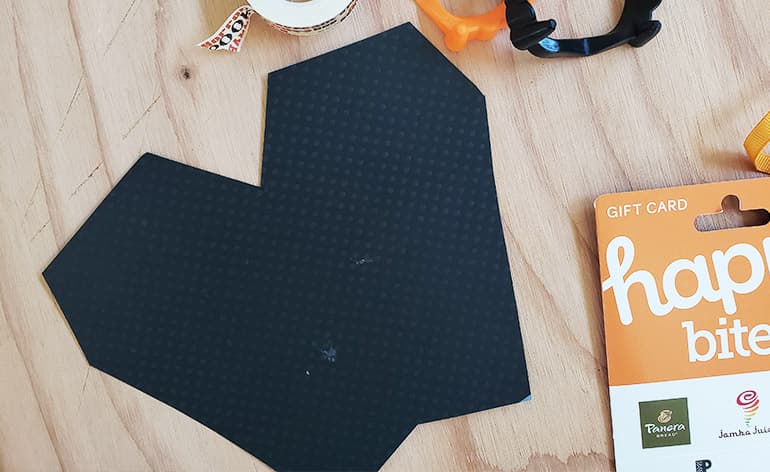 Print the template on white printer paper. Cut the casket shape, following the marked lines. Place the casket on a piece of black card stock, scrapbook paper or construction paper. Trace around the casket and then cut the black paper along those lines.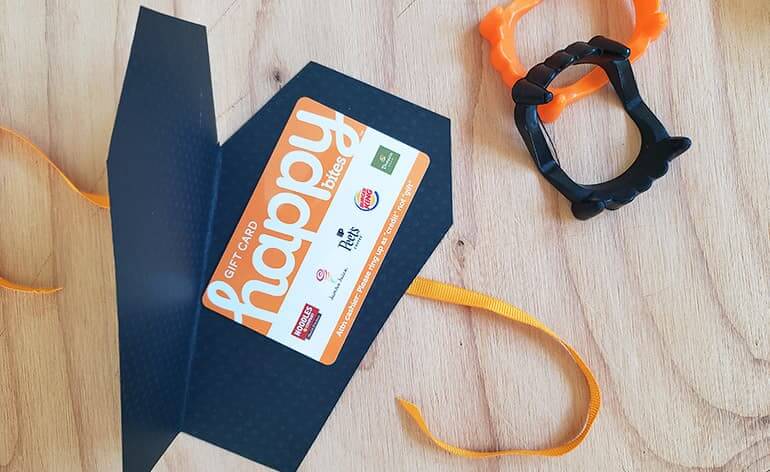 Fold the casket in half. Put the Happy Bites gift card inside and wrap it up with a bow. I included several gift tags so you could reuse the casket template as needed.
Which gift card do vampires prefer? Happy BITES, of course!
BUY IT HERE: Happy Bites gift card.
2. EASIER Version of Vampire's Favorite Gift Card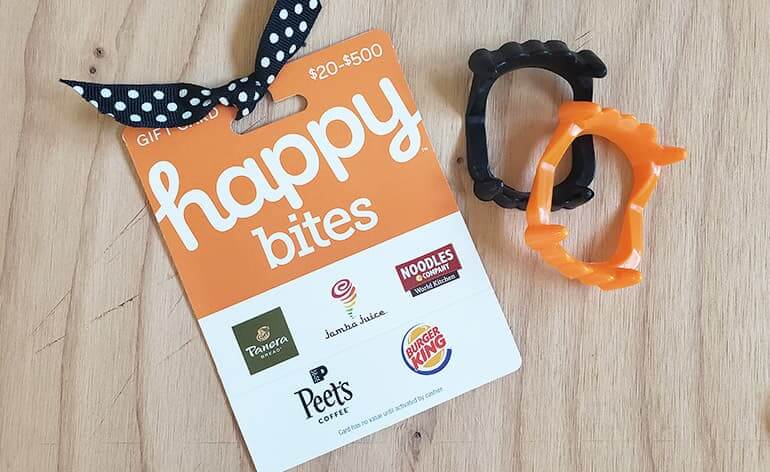 If you like the first Halloween gift idea, but don't want to go to all that effort, then pair a set of vampire teeth with a Happy Bites gift card and you're done.
BUY IT HERE: Happy Bites gift card.
3. Happy Treats Gift Card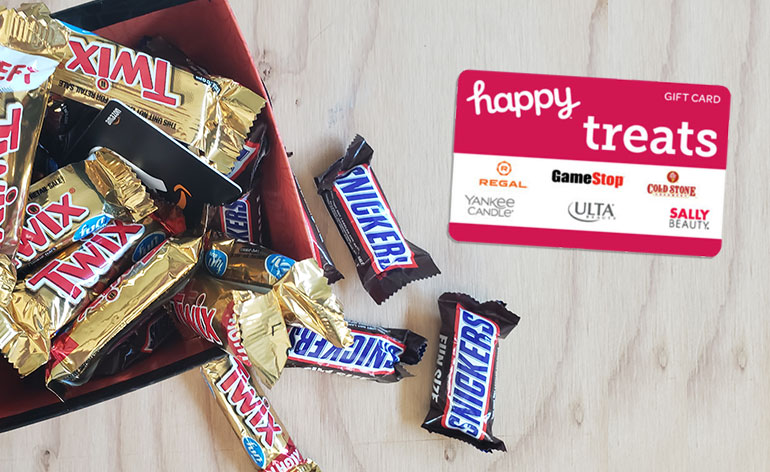 Forget the tricks this Halloween and deliver all treats with the new Happy Treats gift card that is part of the Happy Card Gift Card collection of multi-store gift cards. Happy Treats gift cards are usable at any of the restaurants listed on the card. Deliver it inside a box of Halloween candy, tie it to the stem of a pumpkin or tuck it into a pair of Halloween socks. See? All treats…no tricks.
BUY IT HERE: Happy Treats gift card.
4. Gotta Eat Before You Trick-or-Treat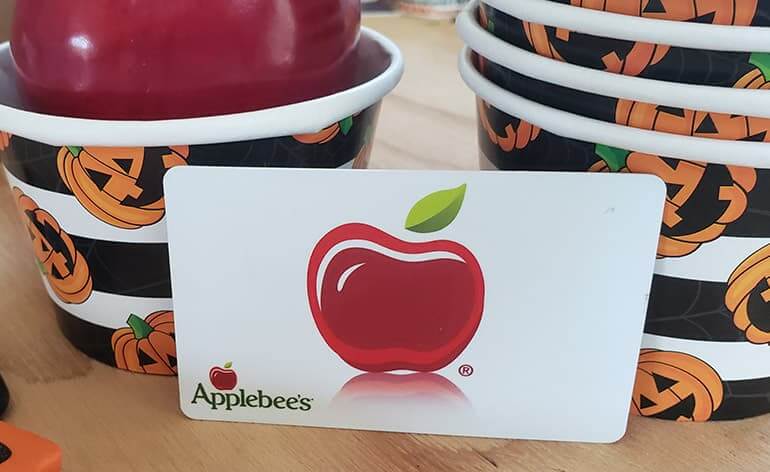 Deliver a healthy snack with a restaurant gift card so families can enjoy a relaxing meal before hitting the streets. If you live nearby, drop off the gift card with a (poison) apple in a cup or carrot sticks (witch fingers) in a bag. If you're mailing this gift, then send granola bars (goblin bars) instead.
BUY IT HERE: Top restaurant gift cards.
5. Costume Card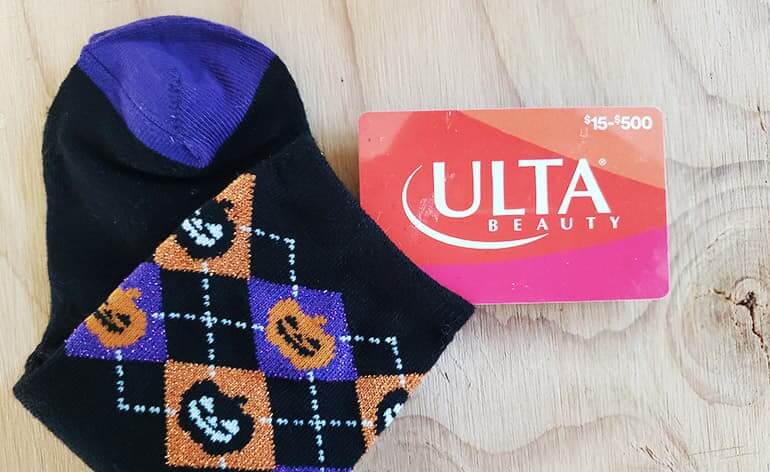 Creating costumes can be expensive. Ease the recipient's Halloween budget with a gift card to the fabric store, craft store or beauty supply store. Tuck the gift card into a pair of Halloween socks.
BUY IT HERE: Joann Stores, Michael's Crafts or Ulta Beauty
6. Monster Mash Music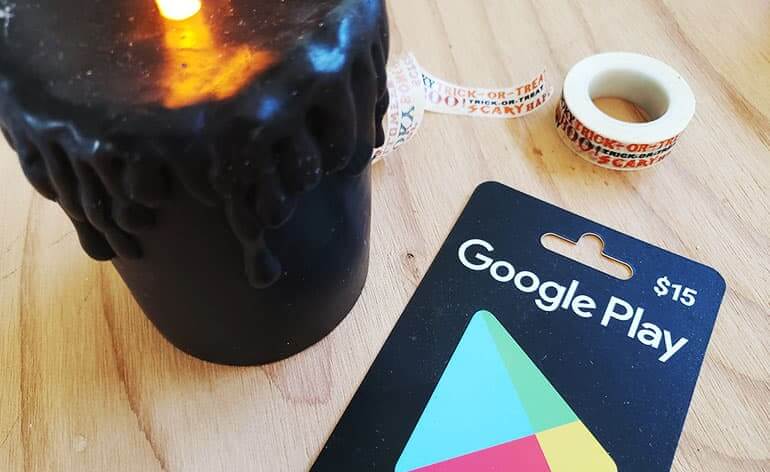 Before your grandson puts together that Halloween playlist, send a musci store gift cad. Send the card with a battery-operated candle to set the mood for some spooky tunes.
BUY IT HERE: Google Play gift card or Spotify gift card.
7. Popcorn and a Movie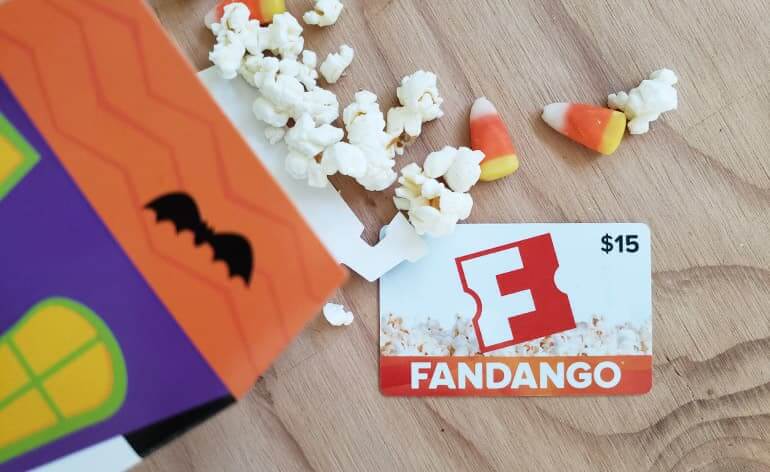 Some kids prefer to watch scary movies on the creepiest night of the year. Deliver a movie theater gift card in a Halloween-themed box of popcorn. If movie theaters are not accessible at the moment, deliver a streaming gift card instead.
BUY IT HERE: Regal Cinema gift cards, AMC Theaters gift cards, Fandango gift cards or Netflix gift cards
If you're not sure which streaming gift card to get, check out this list of the best gift cards for streaming.
8. Candy Corn-ucopia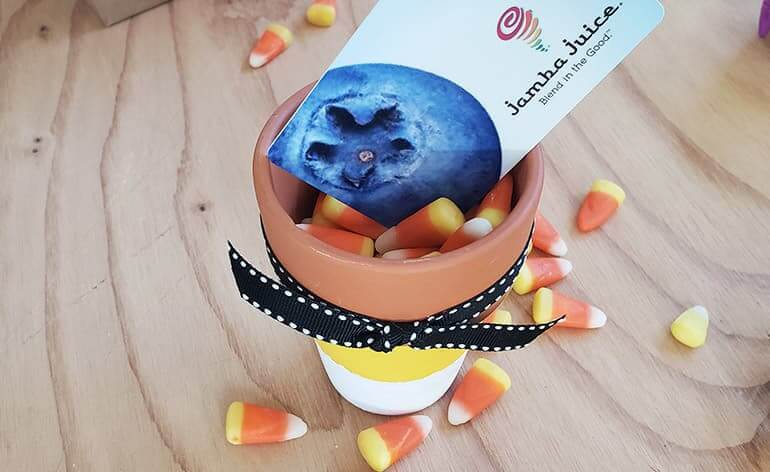 Turn a terracotta pot into the perfect candy corn dish. I used a small pot, just big enough to hold a gift card. You can buy a larger pot if you prefer. With a foam brush, yellow paint, white paint and a steady hand, you can literally make this Halloween gift in minutes.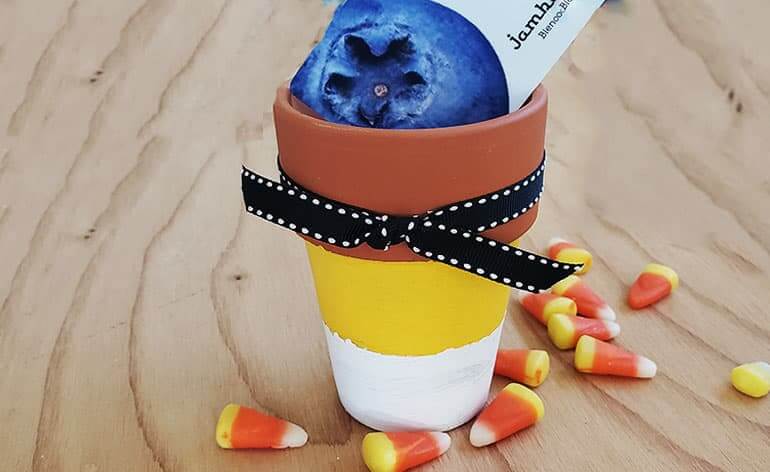 BUY IT HERE: Multi-store gift card for a cornucopia of options.
9. Is It a Trick?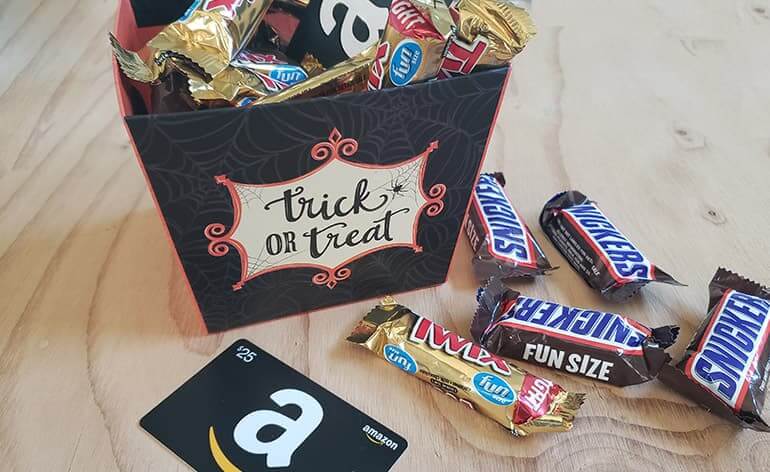 If you received a gift card on Halloween, would you think it was a trick or a treat? Some people think it's funny to take a mostly used gift card to a white elephant gift exchange. I'm not one of them, but if that's your sort of humor, it could work here as well. Tuck a gift card in a trick-or-treat box for an amazing Halloween gift that keeps the recipient guessing.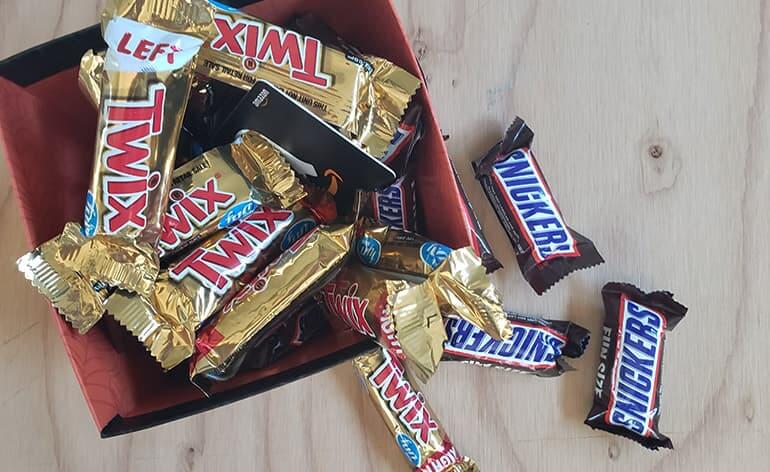 BUY IT HERE: Happy Eats gift card.
10. Custom Halloween Gift Card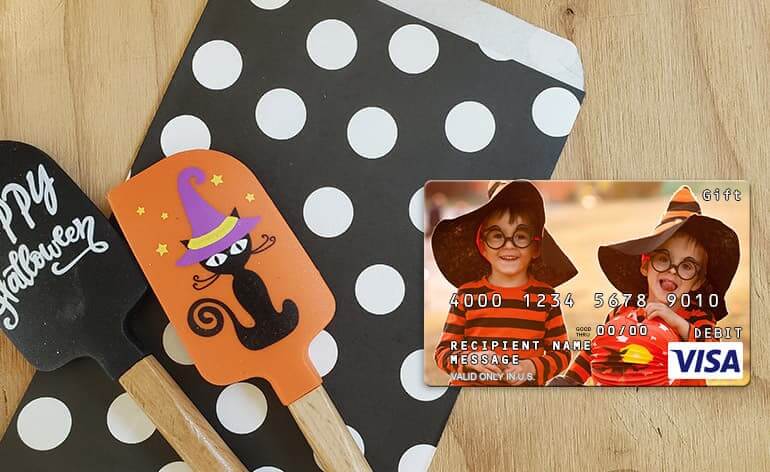 My favorite Halloween gift idea that is quick and easy to make is a custom gift card. Upload a photo from Halloween past or present to make your own custom Visa gift card or start with a Halloween design by the GiftCards.com designers. With just a couple of clicks, you can have the perfect Halloween gift on it's way to your house or delivered straight to the recipient's mailbox. Just remember to allow a few days for delivery.
BUY IT HERE: Custom Visa gift card.
11. Happy OWLoween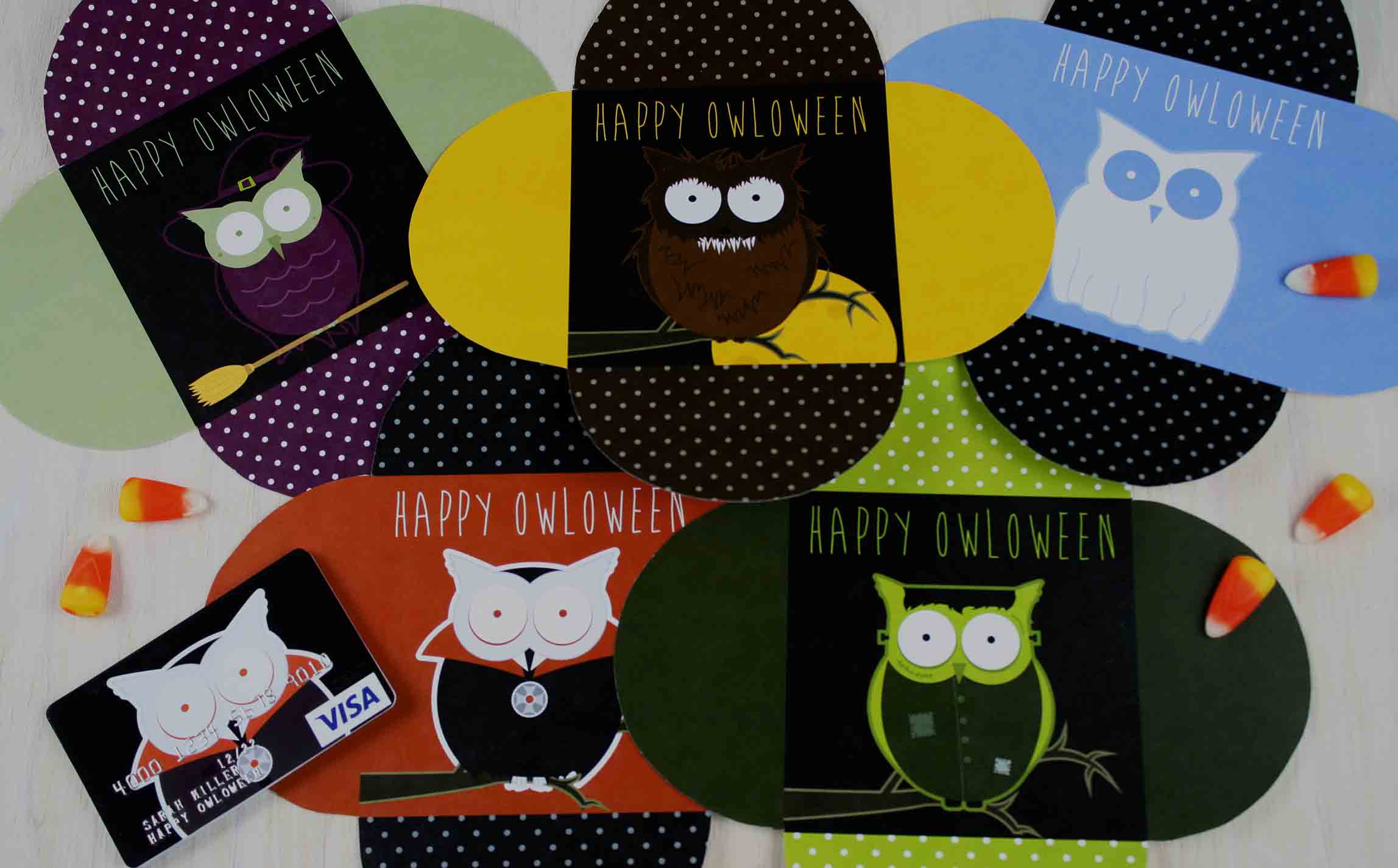 Bust out the decorative tape, paper cutter and glue sticks. These free printable Halloween gift card holders come in five different designs. There are werewolf, vampire, witch, Frankenstein and ghost designs. Each comes with a matching gift card, but you can select one of your own or just tuck a note inside.
BUY IT HERE: Happy OWLoween gift card.
12. Virtual Halloween Gift Card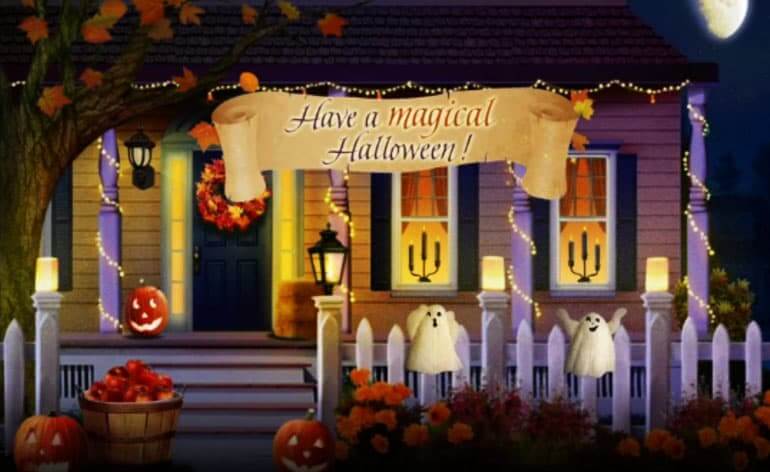 If you're in a hurry, there's nothing quicker than sending an egift card. You can send a Visa or Mastercard gift card or a popular brand gift card like Target or Home Depot. Select a Halloween design, add a custom greeting, pay for the card and have it rushed to the recipient before the monster mash is over. Nothing to cut, nothing to craft and no ribbon to tie. This is definitely one Halloween gift idea that is quick and easy.
BUY IT HERE: Custom egift card.
Other Halloween Gift Ideas
The easy thing about making Halloween gifts is that you simply have to throw some candy in a bag to create the mood. Then anything else you deliver with the candy–a gift card, sweatshirt or pair of socks–is automatically a Halloween gift.
Do you typically give Halloween gifts? I want to hear about it. Tell me about your Halloween gift ideas in the comments below or reach out to me on Twitter (@GCGirlfriend) or Instagram (@Gift.Card.Girlfriend).
Happy Gift Carding!
~Shelley Hunter, Gift Card Girlfriend