Check out these homemade gifts for Mother's Day, mom's birthday, or just because. Free printables included.
A few years ago, we ran a Pinterest contest asking people to choose their favorite homemade Mother's day gifts from the nine we made. Nothing too tricky. Below are the simple "how to" instructions for the ideas we pinned. There's everything from a simple painted pot to crafts that come with free printable. If you're looking for a homemade gift for mom, maybe one of these will work for you as well.
A Child's Hand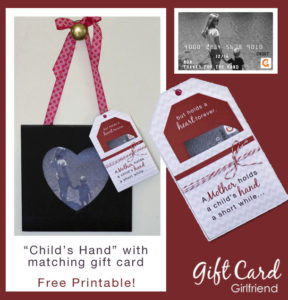 The quote on the gift card tag reads, "A Mother holds a child's hand a short while, but holds a heart forever." This gift is perfect for a personalized gift card with a photo of mom and child holding hands or for a manicure gift card. You can add the same quote to hand print artwork instead. It's all about the hands.
Supplies
Photo of mom holding hands.
Picture frame.
Gift card for manicure or personalized gift card with picture of mom and child holding hands.
Instructions
Put the photo of mom and child holding hands into the frame. Download the printable gift card holder and assemble according to the instructions on the sheet. Tuck a gift card inside holder and attach it to frame. Deliver by hand, of course!.
Painted Pot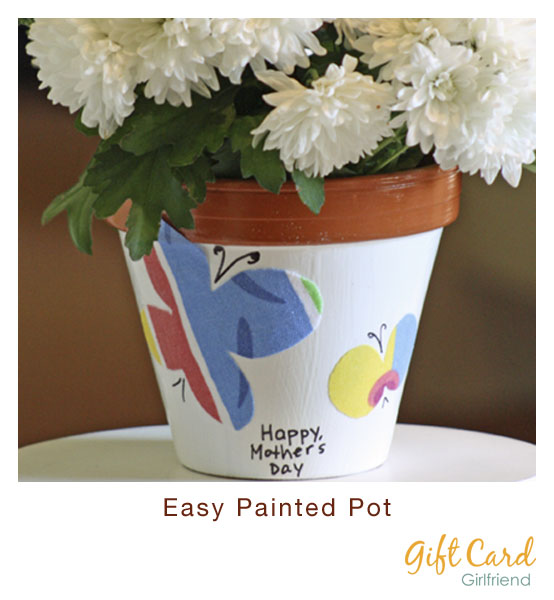 This simple planter holds a flower for mom. Kids can paint, glue, draw on, and embellish a clay pot in a variety of ways. This is how I did the one shown.
Supplies
Terracotta pot.
White paint (I used latex).
Colorful fabric.
Mod Podge decoupage.
Black permanent marker.
Plant in plastic container.
Instructions
Paint the pot. (Since the paint will soak into the clay, you'll likely need multiple layers.) Cut colorful fabric into butterfly shapes of varying sizes. When paint dries, brush Mod Podge onto fabric butterflies and place them onto the pot. Brush decoupage over entire pot so it has an even shine. When decoupage dries, add embellishments and personal messages with permanent marker. Keeping plant in plastic container, place plant inside finished pot. (If plant is placed directly into painted pot without plastic barrier, water will eventually seep through and cause discoloration.) Now that's an easy homemade gift for mom.
Flip-flop Gift Card Holder
While working on the idea below, I had a flash of brilliance: make a flip-flop SHAPED gift card holder for a pedicure gift card. Super easy. Super cute.
Supplies
Ribbon (6 inches for flip-flop, additional ribbon to tie bow at top).
Fancy water bottle.
Pedicure gift card or SpaFinder gift card
Instructions
Download the printable flip-flop gift card holder and assemble according to the instructions on the sheet. Tuck gift card inside the flip flop. Attach it to a water bottle, favorite soda, new re-usable tumbler, or a magazine. Send mom to the salon in style!
Handmade Flip-flops
I love the idea of giving a pedicure gift card with a new pair of flip-flops. But I got a little carried away and thought I'd test out making a pair of fabric flip-flops. There are a bazillion ideas for embellishing flip-flops on Pinterest, but I just wanted to try something simple. This is what I did:
Supplies
Cheap pair of flip-flops.
1/4 Yard fabric.
Pedicure gift card.
Instructions
Cut the straps off the cheap flip-flops. Cut fabric into 4 even strips. Sew strips together for finished look or leave edges unfinished. Tie two strips of fabric into knot on one end. Feed loose ends through bottom toe-hole of flip-flop. Pull fabric through holes until knot is securely on underside of flip-flop and loose ends are on top. Tie into a knot on top of shoe, and a second knot about an inch further up. Separate fabric strips and feed through side holes, tying a knot on underside of flip-flop. Download the printable gift card tag and attach to completed flip-flops.
Custom Gift Card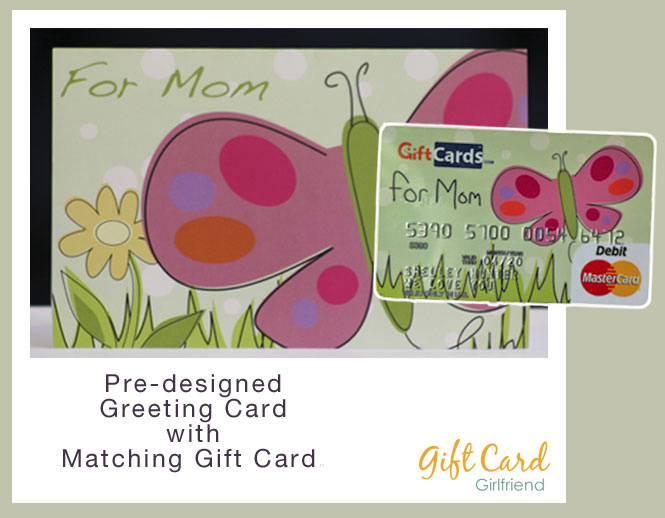 If the "make-your-own flip-flops" idea threw you over the "I don't have time for that" edge, then you'll love this homemade gift for mom. It's personal and as simple as a couple of button clicks on a website.
Supplies
Instructions
Log on to Giftcards.com and order one of our predesigned gift cards. Put Mother in the search field to narrow the number of designs to choose from. Select one of the card designs shown and start customizing it. In just a couple of minutes, you can create a personalized gift card and a matching greeting card to go with it. If mom lives out of town, mail it directly to her. This homemade gift for mom is hassle-free!
Kids Artwork Gift Card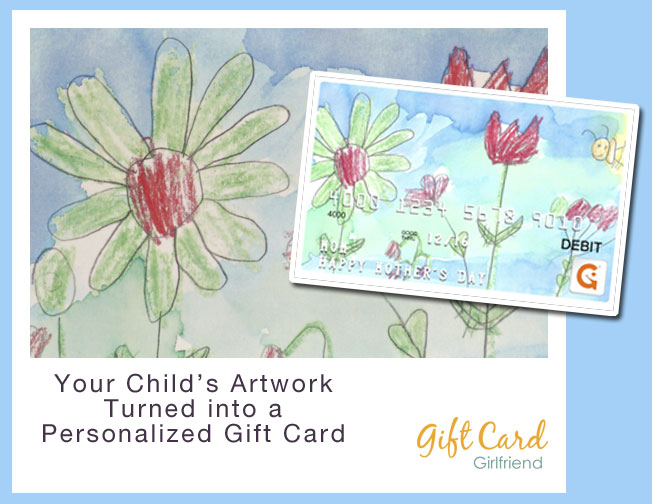 Let's take the idea of a personalized gift card and kick it up a notch by adding artwork created by the kids. Get out the color markers or dig through the stack of artwork that has already been done at school. The image shown is one of the watercolor pictures my daughter made. It makes a great card and greeting card design. Perfect for grandma!
Supplies
Kid created artwork
Scanner or camera.
Instructions
Scan or take a picture of your child's artwork and turn it into a .jpg file. Select Personalize a Gift Card on our home page. From there, you'll be guided through the process of uploading a photo and turning it into a personalized gift card. You can have it delivered for free on a simple piece of paper or create a greeting card to go with it. The greeting card can have the same image on it or you can add a different image–consider using a second piece of art or a picture of the artist in action!
Personalized Gifts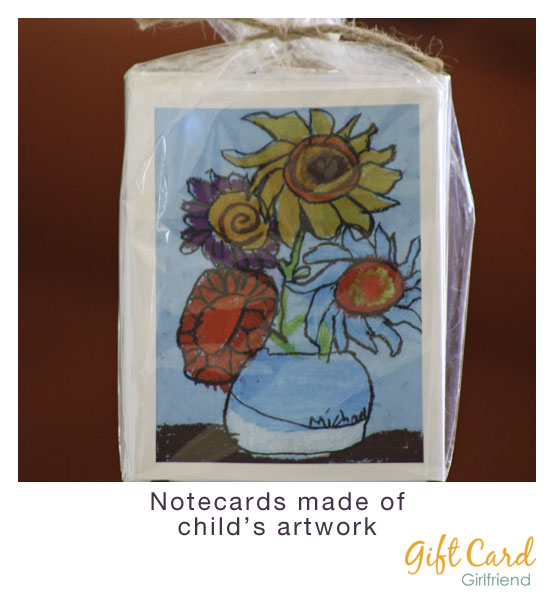 Stepping away from gift cards for a moment, you can also upload your child's artwork to make note cards, t-shirts, or a variety of other personalized gifts. This is a design my 3rd grade son created.
Supplies
Paper.
Pens or Paints.
Scanner or camera.
Instructions
Hand your child some art supplies and have him or her go to work. When the product is finished, scan the artwork or take a picture of it and turn the finished product into a .jpg file. Upload the .jpg to a website like CafePress and turn the artwork into a personalized gift. If you want the gift to be a little more DIY, then take your .jpg to the office supply store and have custom note cards created. Craft stores also have special papers that can be used to create stickers, iron-on transfers, and more.
Recycled Gift Card Mosaic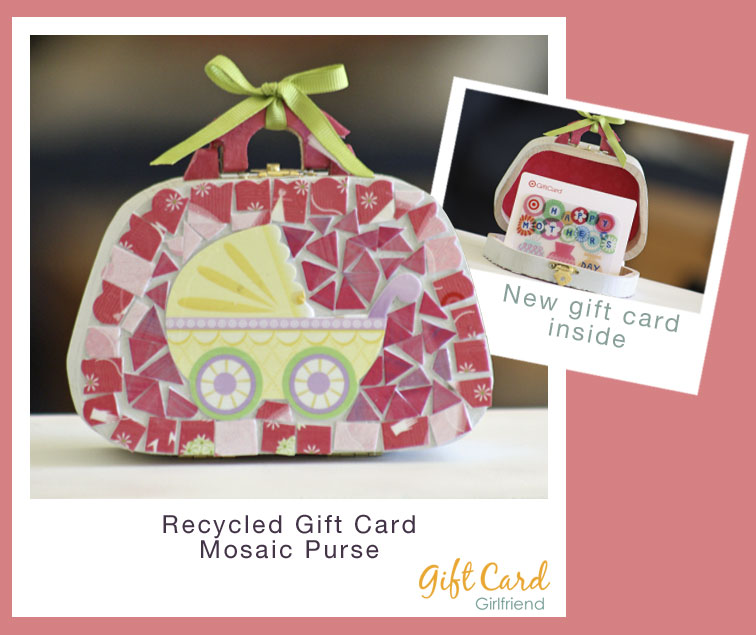 I saw this wonderful tutorial on how to make a mosaic with gift cards and wanted to try it myself. I have hundreds of used gift cards. Since the frame had already been done, I looked at the craft store for something a little different.
Supplies
Used gift cards.
Glue.
Mod Podge decoupage.
Unfinished box.
Paint.
New gift card.
Instructions
For this craft, I painted the unfinished box to create the background. Using a pair of sharp scissors, I cut two Target gift cards into tiny pieces. I thought the baby buggy was cute and left it in tact. The pink squares around the edge are from a Target wedding gift card. Maybe I had a "Love and Marriage…leads to baby carriage" thing in my mind. Using glue, put a dab of glue behind each square and place it on the box, shifting them around as needed to accommodate various areas. When all are in place, use decoupage to seal the entire design. When dry, put a new Target gift card inside! This is an easy homemade gift that I will create again. But perhaps, I'll just turn the kids loose on it instead.
Grandma Then and Now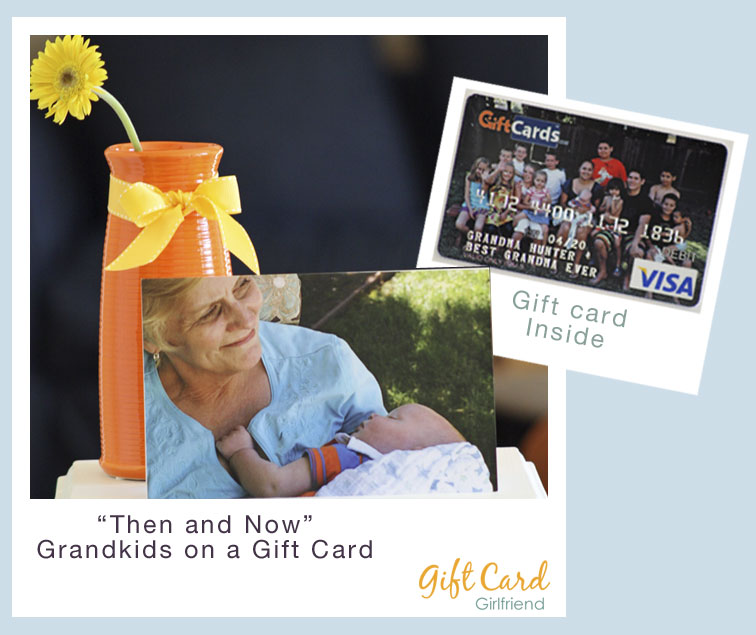 The reason I'm such a big fan of creating personalized gift cards is that people just love them. When was the last time you saw a gift card get passed around a party? Well, I promise you, personalized gift cards will make the rounds. And recipients often confess keeping the custom gift cards in their wallet long after the money has been redeemed. For this idea, I wanted to do a gift card for my mom. She's the grandmother of 18 grandkids…and counting.
Supplies
THEN photo of grandma with first grandchild.
NOW photo of all the grandkids.
Instructions
At Giftcards.com, create your own gift card and follow the instructions to put the NOW photo on the gift card and the THEN photo on the greeting card. When you add the custom text to the greeting card, write, "Look What You Started!"
And there you have it. Nine easy homemade gifts for mom. For more ideas, follow Gift Card Girlfriend on Pinterest and look at the Mother's Day Gift Ideas Board. If you have some better ideas, let me know. I'd love to see them and may even feature you on our site.
Happy Gift Carding!
~Shelley Hunter, Gift Card Girlfriend